HOH: Kyland
HAVENOTS:
Nominations: Claire Britini and DerekF
Power of Veto Players: Kyland, Claire, DF, Alyssa, Azah, Brit
Power of Veto: Alyssa (OTEV winner), Kyland (High Roller winner)
Power of Veto Ceremony: Kyland used the veto on Claire. Britini nominated in her place.
Big Brother 23 Houseguest Rankings – – RANK THE HOUSEGUESTS –
View the previous day ranks on the – Ranking Grid
Big Brother SPOILERS Britini is being evicted. I don't see this changing. 7-1 or 8-0
Brit and DF have been doing their one on ones campaigning.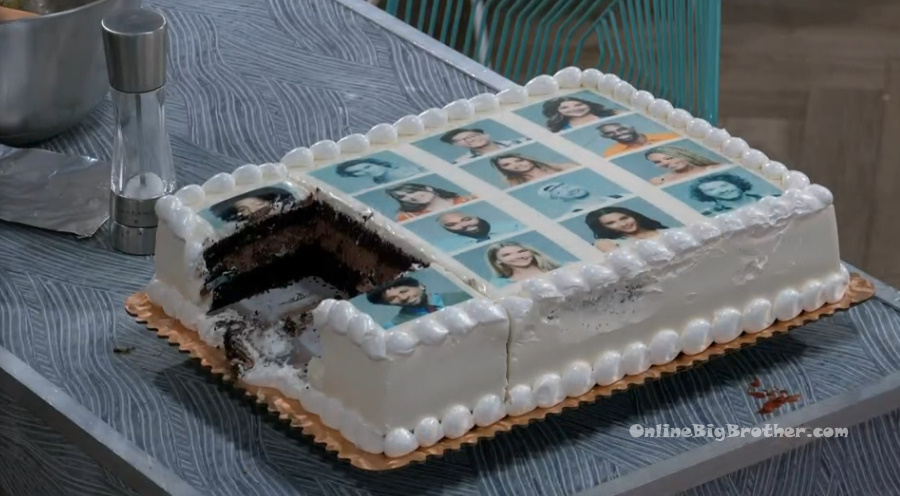 8:06pm The feeds return from being block. It sounds like they had a half way party. They have a cake with all their pictures on it. Most of the house guests are cleaning the house for tomorrows live eviction.

Azah and Britini head into the back bedroom. Britini starts talking about her one on ones with X and Alyssa. X was playing the devils advocate. He asked me nothing about Christian. Alyssa did. Azah – which is understandable. Brit – X asked me the devils advocate questions which I gave him answers.. but also I don't know where Alyssa and X are sitting. So that is really going to be a decision maker for me.. because X thinks he is going to make his decision with her.. that's fine, that's fair. He did find my points very valid. His question was why would the HOH waste getting out Big D. Alyssa agreed 100% with my points. She thought everyone of them were extremely valid. She had a good point about how Christian had a similar point to mine .. and she asked why is it more valid for me than for him. I said it is not more valid. I said I think for you it is more immediate. My argument is a game changer for you starting next week. There is not a difference in validity. She then said last week I think everyone was bullsh*ting me except for you and Tiff. I said that Christian is seen as a much bigger threat than I ever will be. I said the bottom line is, this is my most honest self.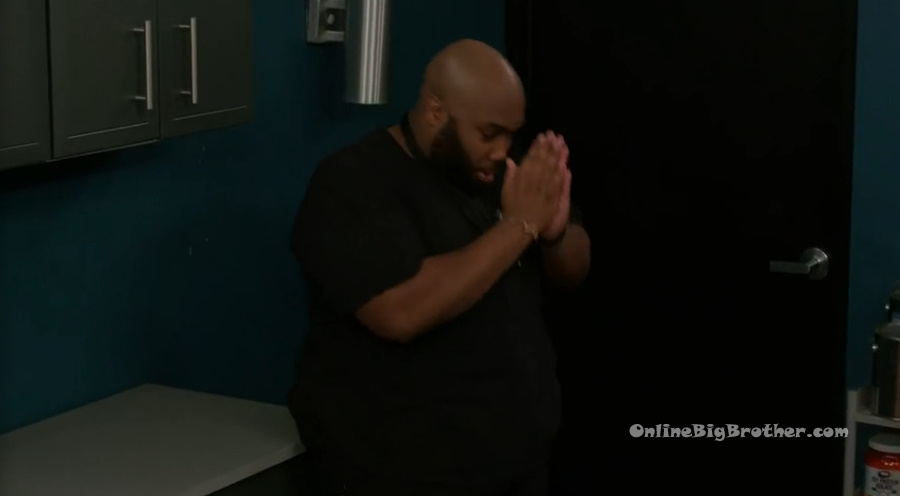 8:22pm Storage room. SB and Big D.
Sarah – I think as of right now I just kind of have to go with my gut and trust who I think I can trust. And as far as I see it, I am pretty sure you're going to be staying. Big D – thank you! Sarah – and its nothing against Brit because I love her, but I think at this moment keeping you is better for my game. Big D – yeah its the truth like I know you're scared to be next to me… but I don't think you need to be scared to be next to me. I think you have to look at it as you can always beat me, if you need to be. I mean its the truth, I am not going to lie. Sarah – its less than that.. I just feel like I can still work with you. Big D – trust me I know its a hard decision.
8:43pm Bathroom. Big D and Xavier
Xavier – I'm making sure you stay. I'm talking with people. Big D – Alyssa goes did X give you an answer? And I said to be honest I didn't really get an answer so I don't know. She said oh if he goes.. we go with the same. I'm like okay. I guess I am staying then. Xavier – no, three votes are a lock right now. Me, Alyssa and Azah.. and Hannah is four. Big D – Tiff wants to vote for Britini to stay. Xavier – Tiff does?! In what world!? Why!? Big D – that's what Hannah was saying. Xavier – why? Big D – I don't know, it makes no sense. Xavier – I know that Claire and DX were going back and forth on it. Big D – no and that is fine. They can do whatever they want. Xavier – that's what kind of frustrates me is because the reason why this plan works is because everyone is supposed to keep their person in check. Big D – I started the cookout.. Xavier – you don't think I was right there with you? I came up with the name. Big D – okay we'll take credit 50/50. Can't I just take credit for one thing?!! You won comps.. Ummm what did you do this season .. I ahhh cooked and cleaned and made everyone laugh. What about the cookout? Oh that is all Xavier! I didn't do that. The thing that kills me is if one of us are in trouble.. Xavier – you do what you have to do. At some point people are going to find out about the cookout.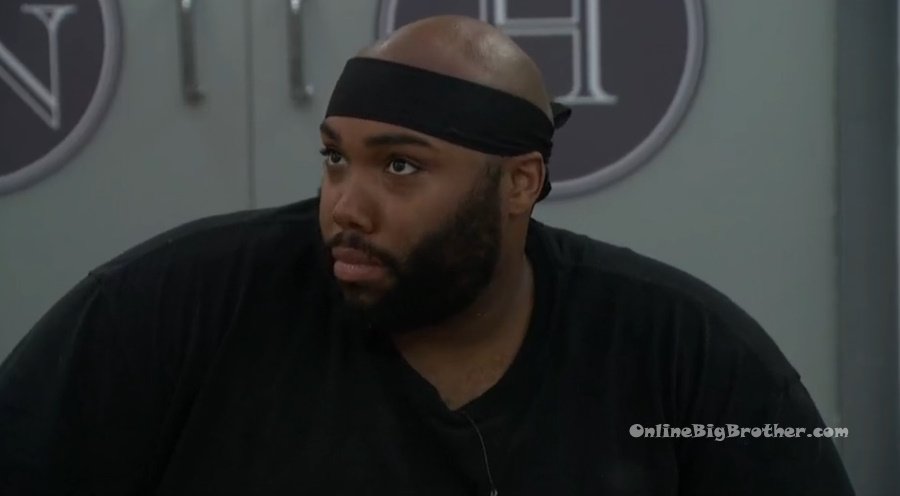 8:55pm Bedroom. Britini and Claire.
Brit – I shield everyone that voted for me because how in the world am I the backdoor. So if I get 5, I shield everyone that voted for me. And in the real case you actually look good because why would they not vote with the majority.. so that actually takes the shield off of all of our backs. If I stay, we control the next 4 weeks of voting Claire! If one of us is HOH and one of us in on the block we still have the numbers to control. Four votes next week.. so even if someone is on the block they're not going home. There is no way! So no matter what happens we control the votes for the next four weeks at least! Claire – yeah, that's true. Brit – which is insane! I told Tiff that and she was like SH*T! Claire – oh my god that is true. Brit – I told Tiff put me up against any one of them and I am staying every time.. and we're sending them out the door because we have the votes to keep me every time. It would almost be our tactic.. why not sit me next to each one of them and send them home. Claire – this is interesting. Brit – we have the numbers.. we guarantee ourselves final six. They go and tell Derek X the same information. Derek – you bring up some good ideas Britini..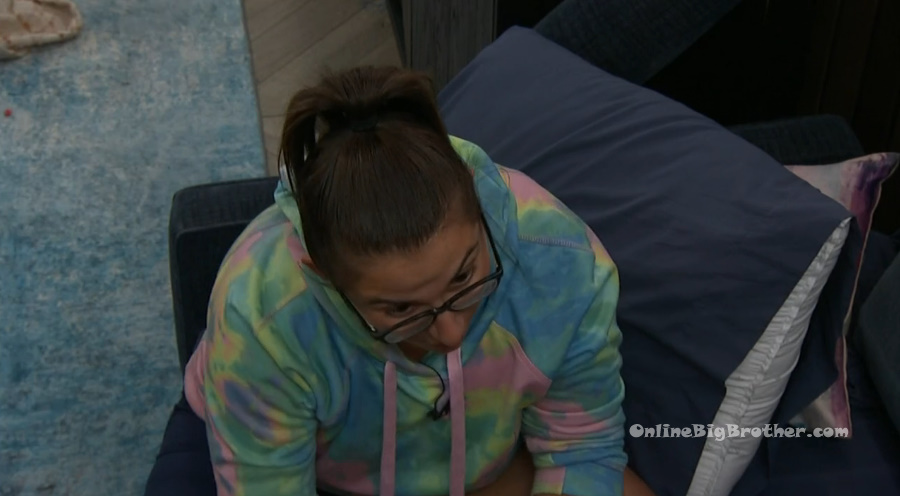 9:04pm Derek X, Claire and Tiffany.
Tiffany – I haven't even had a conversation with DF. Derek – don't. Claire – its not worth it. Derek – he literally gives a 30 second.. like its not even.. Tiff – SB stopped me and said that me, you and Claire need to get together. She said it is a definite no from me and a definite no from X. And its a no from Chaddha.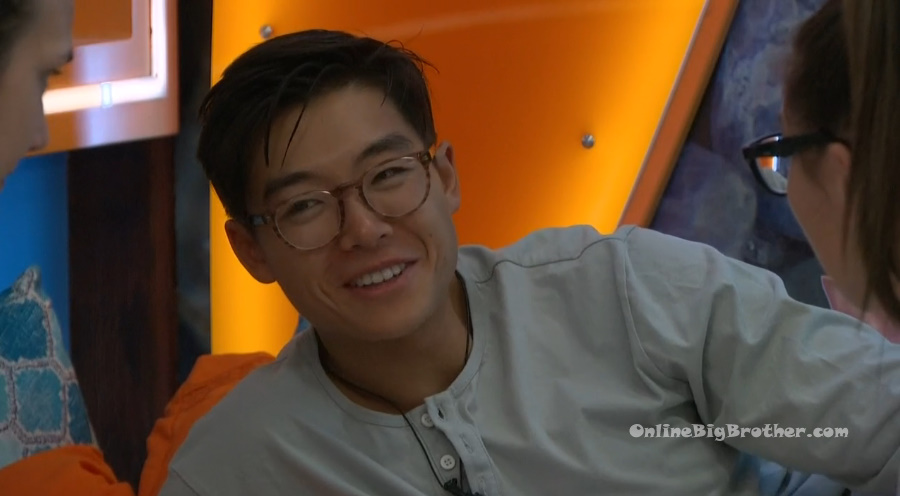 9:40pm Living room. The house guests are sitting around the living room chatting.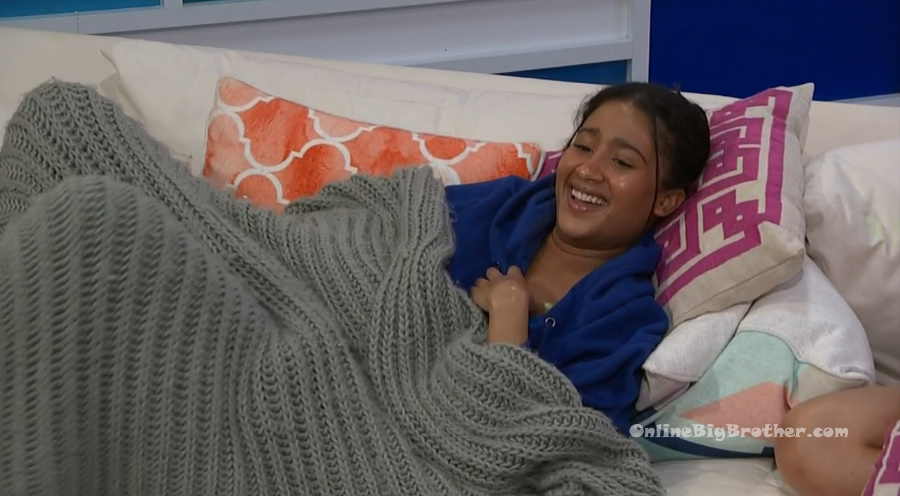 10:23pm The house guests start another episode of The Big Blue Couch.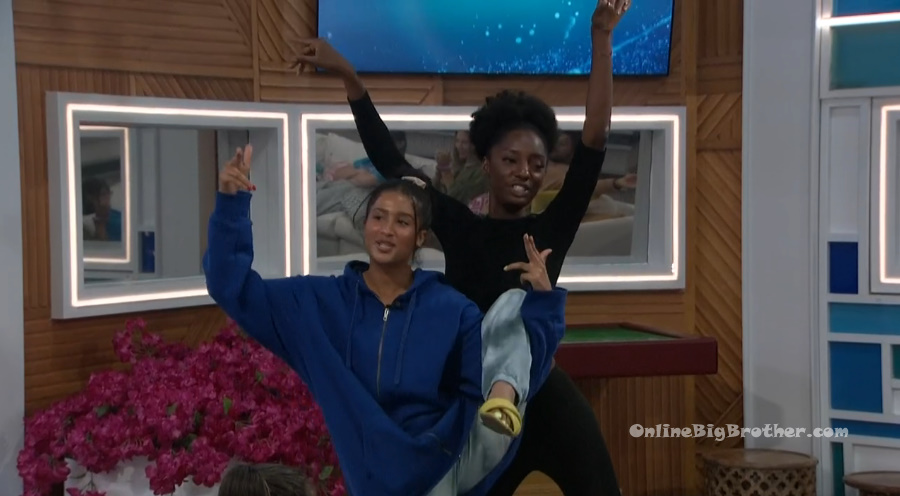 11:20pm Bedroom – Claire is talking to the live feeders about Britini. I think that it could work because lines are already being drawn and I've wanted Britini to stay since the beginning of the week. So if she stays .. good for my game. Big D doesn't do anything for my game. I've wanted Big D out for two weeks. Now the question becomes do we tell Ky!? Or the really good question is what does Chaddha do? If Chaddha lays low what good does that do? It makes the best sense to keep Britini. And if Chaddha gives the okay, then lets do it. And the fewer guys we could have in here the better. I would really like to keep Britini. Britini benefits my game / Big D doesn't.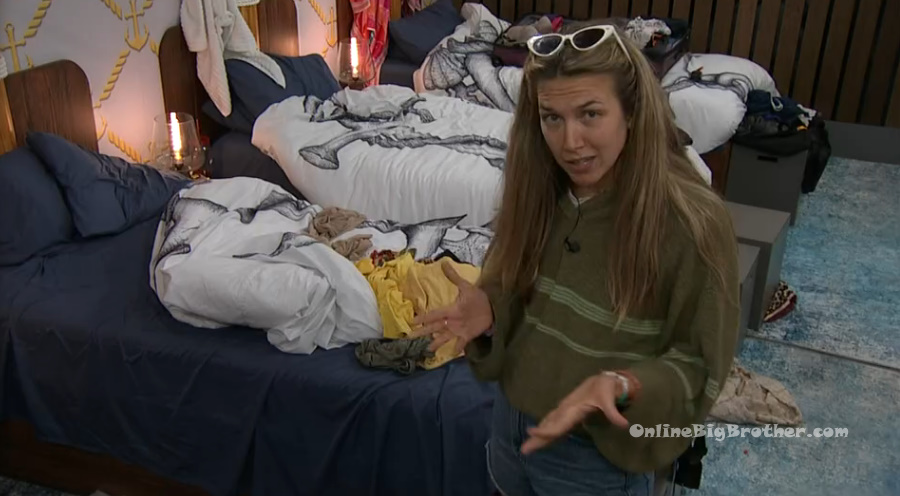 12:25pm Living room. Improv time..

12:45am HOH bathroom. Hannah and Tiffany.
Hannah – so I've been talking to DX and Claire pretty much all day. DX is on the fence, he is like 50/50. Tiffany – no, he is more than that. He just don't want to tell you that. Tiff says that she talked to him and he commented on how Brit's reasoning was good. Hannah – Claire pulled me aside right before BBC and said we have to keep her. Tiff – I know, that's what they think. They feel like you're the vote that makes the difference. If they even think that they've got a yes from you .. then they are going to do it. Hannah – okay so what should my reasons be for why not? Tiff – I don't know. We in the Cookout. Hannah – can you say no as well? Can you say no as well? Tiff – I'm gonna have to I guess. She just presents a really good argument. Hannah – I know. I know and for you and I it would make more sense to keep Britini. Sarah joins them and the conversation ends.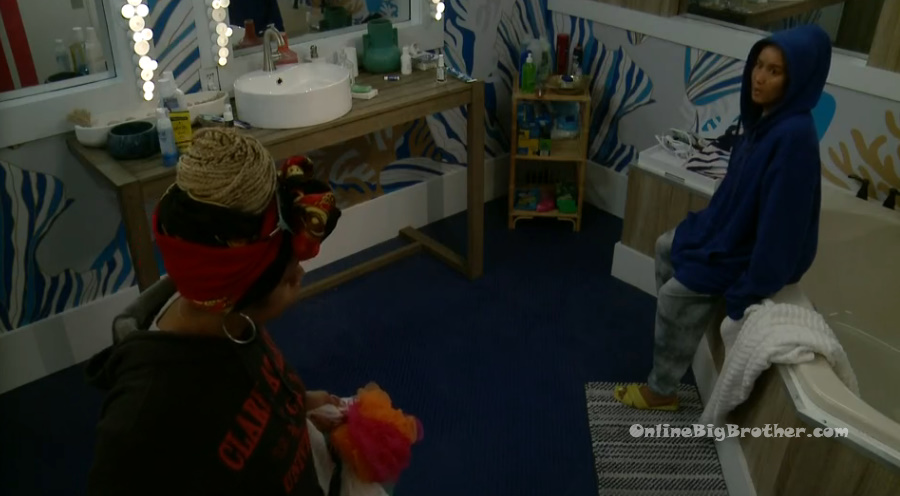 12:50am Bedroom. Derek X and Hannah.
Hannah – Claire really wants to keep Brit. Derek – I am going to vote how you vote. Hannah – Okay, I want us to vote together. Derek – with Alyssa and X or you and I? Hannah – you and I. To be on the same page we have to vote together. Britini being in this house would be a shied for me.. so she would benefit my personal game. However I am much more concerned about your game. Your safety is more up in the air than mine. So lets think about how Brit elects your personal game. Derek – I believe her that she woudldn't come for me. Derek – I also believe keeping her allows me to go up on the block with someone that is not you. She betrayed Alyssa and Alyssa would come after her.. so why would Alyssa leave someone like that in the game. For X he doesn't want it to be 7 – 3. And for me Big D is the only one I would be able to beat in every competition. Ky joins them. Ky says that he is being neutral on the vote. Derek – I told you yesterday that I am 60/40 for keeping Britini. Now after talking with everyone I am indifferent. I think for your game it would be better for Britini to go… So I told you I am with you and down to get rid of Britini.
1:20am – 1:50pm Storage room – Big D and Tiffany.
Big D and Tiffany talk about the fight they had when Tiff wanted to talk to Britini and Big D and Azah followed them. Big D – you know how when I say things I can come off very strong and aggressive at times. When you came in .. we don't have our own person so when you were talking to Britini I was like alright I get where Tiff is coming from but it was coming off very like .. You need to do this! And I was like why is she coming sideways?! And when you said that to Azah I was like that is the wrong time to be saying that. And Brit doesn't even know about this. Tiff – and that don't got nothing to do with that. That wasn't a secret to Brit.. that was a secret to you. Tiff – so if you want to talk to Claire and Brit and I roll up .. that's okay!? Big D – there was no rolling up. I was there. No one was trying to roll up on you. Tiff – you never came to me and asked me why. I wasn't livid then, I am livid now. Big D – the tone that you were giving was very demanding. Big D – I apologize as a man if you felt like I rolled up on you. I did not mean to roll up on you. Tiff – Don't ever in your life .. let that happen again!!! You come at me a whole different way or we won't have nothing! Big D – okay I respect that. Okay so when you do have your tones .. what is the appropriate way to do it? I said it before and you ran off. Tiff – My tone was never directed to you.. When you want to decide that you want to jump into my business.. I can't tell you how to come at me because if I was you I wouldn't jump in it. Big D – I respect you as a mother and as a person. Am I to roll up on you .. what am I do to beat your a$$.. I can't beat your a$$ you ain't a f**king dude! You're a woman! So I can't roll up on you and I don't want it to come off like I am going to beat your a$$ because that's not the case. I wanted to be there for her (Brit), just like you would be there for Claire. At the end of the day hopefully we can just move forward. Tiff – we can move forward. Big D – I respect that. Thank you for your time. I appreciate it.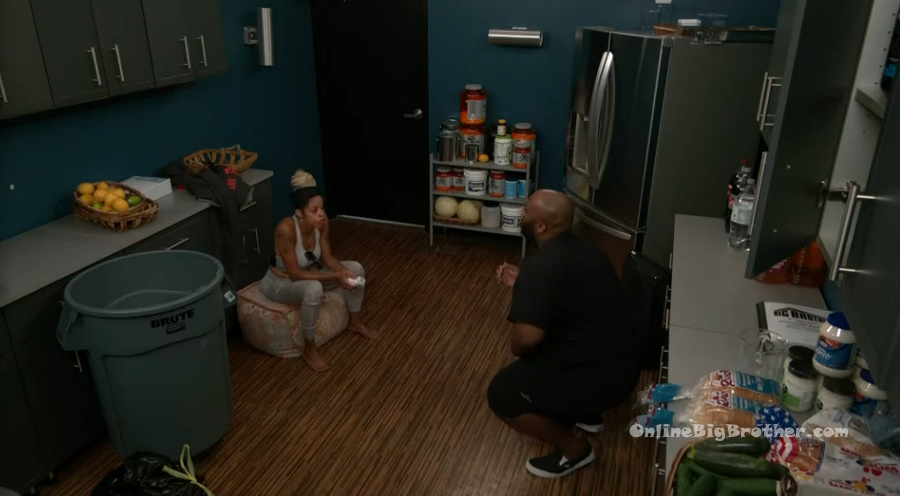 Hannah, Claire, Brit, Derek X eavesdropping..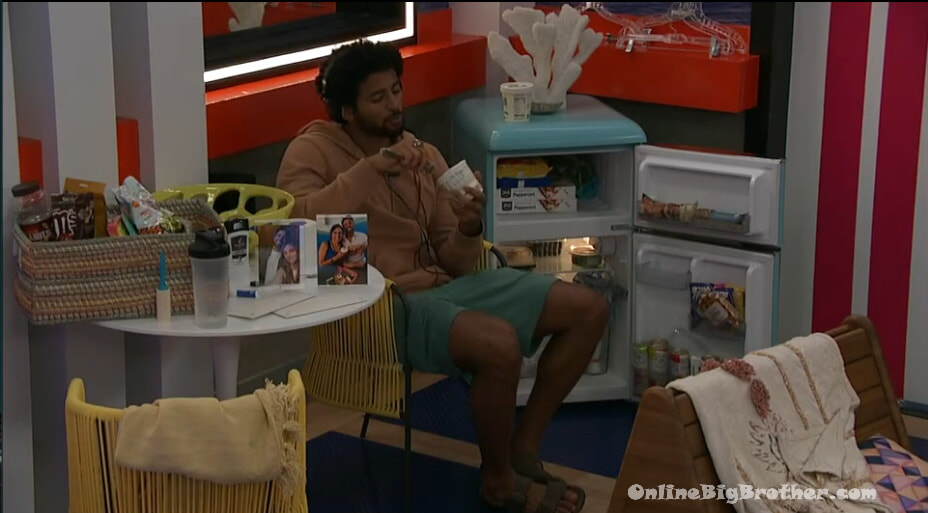 4:11 am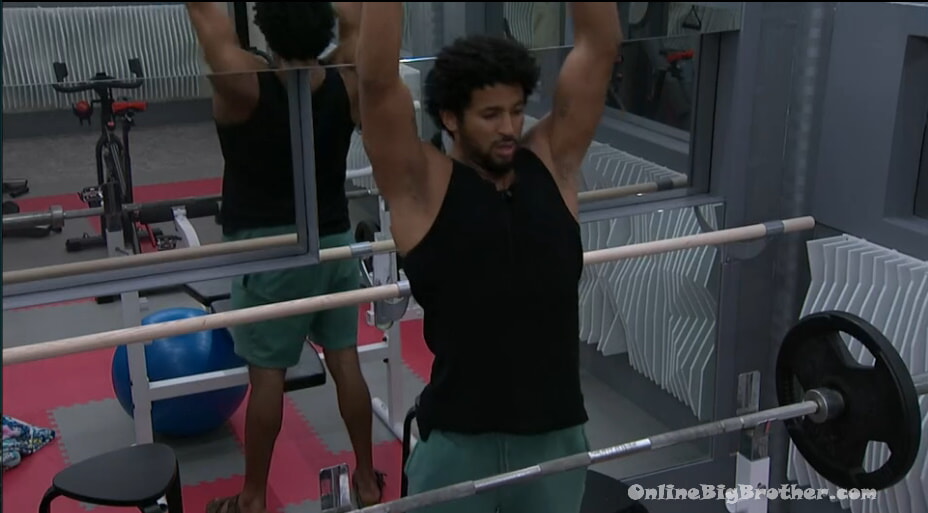 5:00 am Ky working out..
Show your support 🙂 Without your support this site and these spoilers wouldn't be possible.
Please consider a donation to keep the madness going.