HOH: Kyland
HAVENOTS:
Nominations: Claire Britini and DerekF
Power of Veto Players: Kyland, Claire, DF, Alyssa, Azah, Brit
Power of Veto: Alyssa (OTEV winner), Kyland (High Roller winner)
Power of Veto Ceremony: Kyland used the veto on Claire. Britini nominated in her place.
Big Brother 23 Houseguest Rankings – – RANK THE HOUSEGUESTS –
View the previous day ranks on the – Ranking Grid
SPOILERS Britini is being evicted as of right now. I don't see this changing.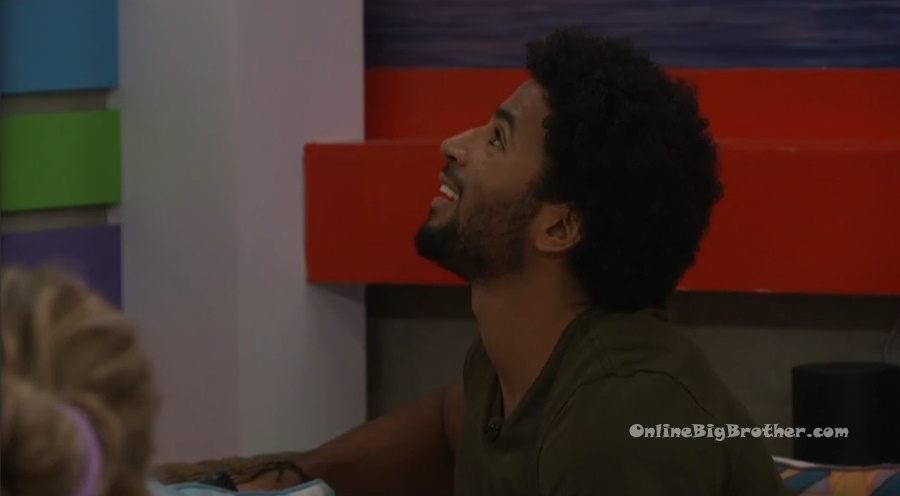 7:05pm HOH room – Kyland and Claire.
Claire – I feel good right now. Of course coming off the block is really nice. So I feel good about the week. I feel good about moving forward. I feel like we're in a nice spot. Hopefully.. the next few weeks might be a little tricky but.. Kyland – yeah that's what I am trying to figure out next week with the powers and such. I don't know even what.. I feel like … like what is best case scenario being .. like basically I don't want it being used at all. But I also wonder about it being used. Claire – yeah I think its hard.. basically there are two tracks you try not to get it used or you try to put someone up that will for sure use or you try to get everyone to spend their money next week. Ky – yeah that is kind of what I am thinking .. everyone spend their money next week. And I look at it like I think of .. of how to go about putting up ahhh… also this week and the vote. How do you feel about the vote? I'm feeling like people are split and I don't want to be in a position where I am pushing my perspective if people have a different perspective. Claire – I think there are arguments for both. Ky – that's what I think. Claire – I feel like right now a lot of people are looking at taking out Britini but there is definitely an argument for taking out Big D. Ky – I lean towards the power and being able to use it. Basically right now Britini and Big D would both have the money to use the power next week. Claire – most likely as long as Big D does well again. Ky – yeah but I don't think anyone will go from getting $100 to getting $50. And both of them if they were up next week .. either one of them would use it. They talk about all the different scenarios for HOH and who they would put up.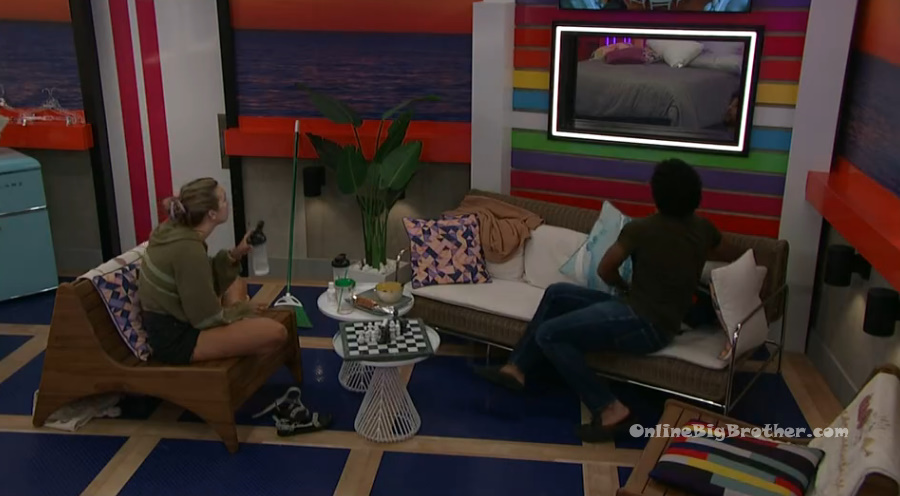 7:17pm Britini scares Azah as she comes out of the diary room.
Azah – EVERY TIME!!! WHY WHY ME!? What are you guys doing to me!! COME ON! COME ON! BRAH!
7:30pm Bedroom – Tiffany and Britini
Tiffany – I have not talked to Kyland about what he wants and I feel like everyone is really up in the air about it. Brit – yup. Tiffany – I don't want to play a personal game .. on a personal level you and I get along a lot better than me and Big D but its not a personal game. Brit – correct. Tiffany – I think we work better together .. you and me over Big D. I don't know where his head is and if he won if he would put me up because I don't know if he is playing a personal game or Big Brother. If I had to say right now you benefit my game to me better than Big D. Brit – I could pitch to you. Tiff – go ahead and pitch to me. Brit – okay basically my pitch is in 6 points and it differs depending on the person. For you it differs a lot because we've been working together since the beginning. So the first thing is competitor. I have won a competition. I can help get the big targets out of the house because at some point they've got to go. But with you I fight for you! I fight with you! I am a number for you! From that standpoint I can help keep people that we don't want in power from getting in power because I am going to compete and obviously I am not afraid to pick anyone because I just don't care. We came to play A Game! We're not here to be wusses! I have proven that I will do what I said I would do. I am fighting with you. For every female in the house I am a shield. There are two female shields in this house.. that's me and Alyssa. We are the female shield. So the longer I am in the house the longer every female stays in this house. I am a shield and I am okay with it. I spend 28 days out of 42 days on the block. That's 2/3 of my game and me staying in the house you have a 50% less chance of going on the block. This game is all about the numbers .. and y'all know I am a number for you. I am not going to say anything bad about Big D but if I leave this week Big D becomes the ultimate pawn meaning anyone that sits next to him WILL go home. This was a personal move by Ky based on him thinking I am unpredictable. This does not mean I am unpredictable for the house. Tiffany – if you stay who do you have with you? Brit – you, Claire, Azah, DX, Hannah. Tiffany – against .. Alyssa, X, Ky and SB. Next week the HOH doesn't have control. Tiff – then how do we know we can get SB out next week? Brit – here is the thing, she did not get $50, she got $75 ..if she plays we know she lied number one. If it is a balancing competition.. I know she is not winning. Tiff – that means if we put her up .. she stays up because she does not win the roulette.. but if someone pulls her off. Brit – who would pull her off? Tiff – Ky. Brit – not if he is up next to her. Tiff – okay.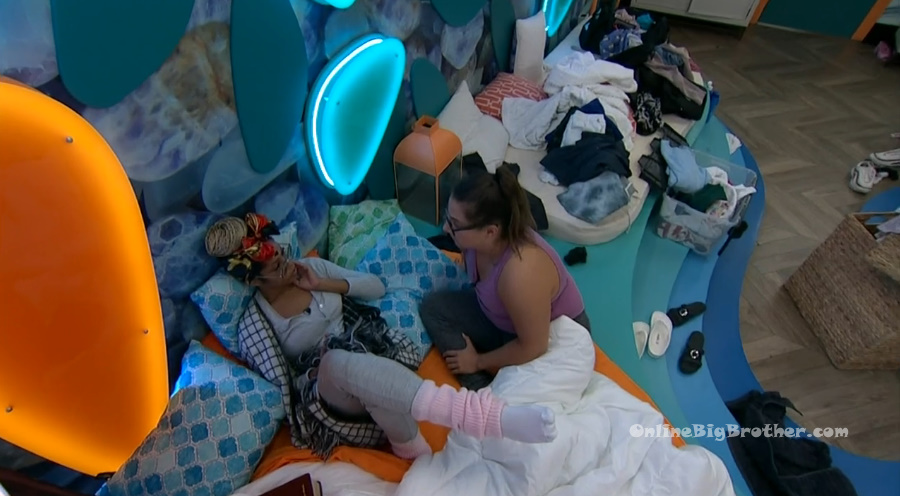 8:05pm HOH room – Kyland and Derek X.
Kyland – Brit and Big D, is there a .. do you have a preference for yourself. Derek – I obviously thought about this.. Big D, is the perfect pawn. Keep him in this game, he is going all the way and anyone sitting next to him .. they are probably going home. If I am sitting next to him, I am definitely going home. Whereas with Britini, I could at least throw some type of campaign. The fact that Christian was able to campaign against SB and almost be successful like that shows in this house you can make some arguments with people and you can be successful. I am not saying I am definitely staying over Brit but at least give a fair shot. Big D, I am out of here. Ky laughs.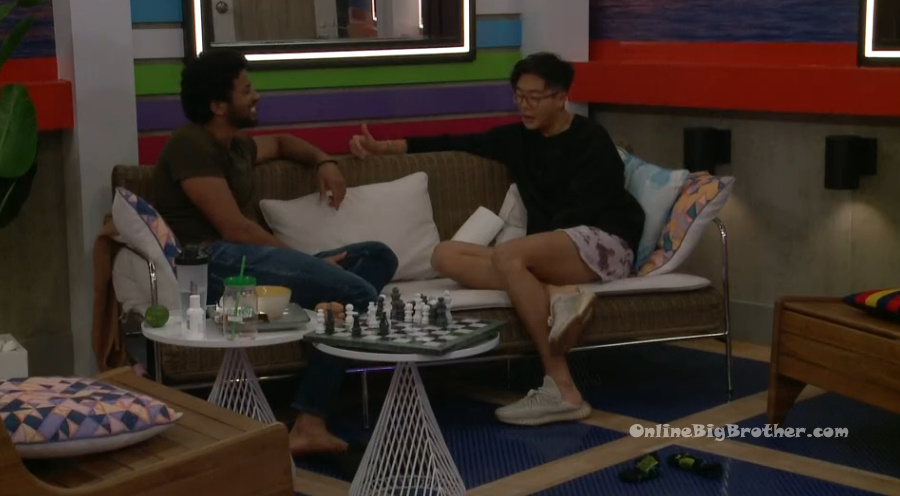 8:30pm Bathroom – Alyssa, Tiffany and Claire.
Alyssa – I've been trying to lay low this week. Tiff – that's good. Alyssa – That was what my plan was because I feel like this week was to kind of lay low and then next week kind of be a fresh start for me and figure things out from there. Tiffany – smart. Alyssa – I already felt like I would be an easy target so I wanted to just lay low and for people to almost forget that I am here.. and then remember me next week. Tiff – where the hell .. Alyssa went on vacation. But I don't see why she would go after you guys. Tiff – I don't think that there is a direct reason, I also don't think she plays a personal game because she hasn't tried to establish personal relationships. I think she would formulate a strategic plan. Alyssa – she is very strategic. When we used to talk in teams she was very strategic. Tiff – I don't see Azah and Big D as actual targets for her or threats to her game unless she sees Big D as an alternate pawn. Alyssa – that is my fear with Big D is him making it to the three and then if you don't make the final round .. whoever is there is picking Big D over you. 100%! Tiff – I understand that. Alyssa – but I also don't want to waste an HOH on him. Its a 50/50.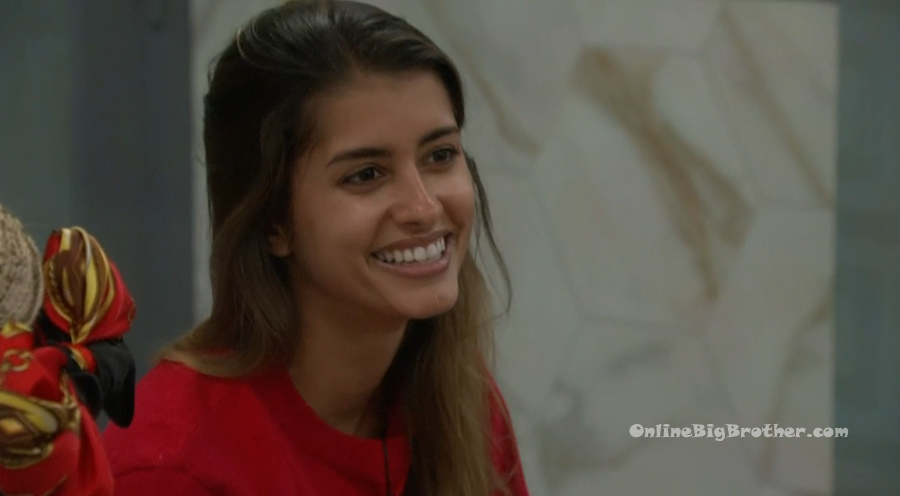 9pm – 10pm Living room. The house guests are sitting around the living room discussing what animals each of them are.. Derek – X is a wiener dog. Tiff – he is a Doberman

10pm – 11:43pm
An episode of The Big Blue Couch starts.. They then move on to multiple games of mafia..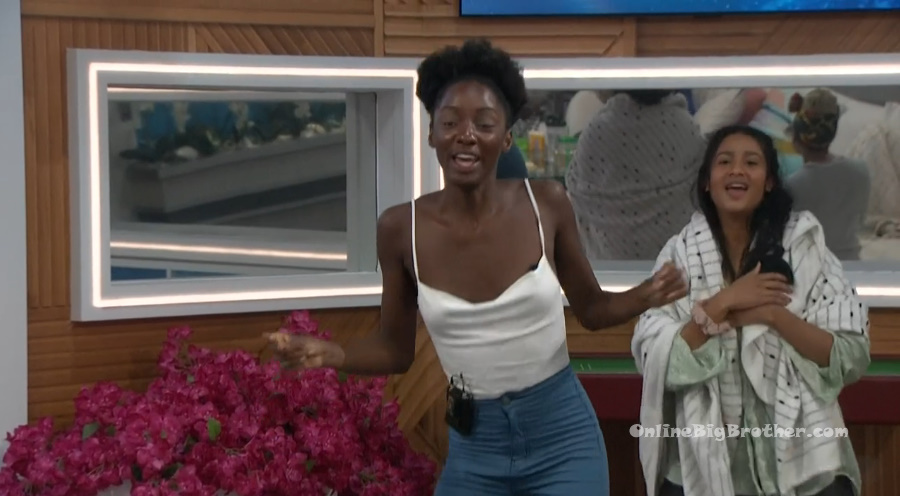 Ky doing "Big D's walk" #bb23 @bigbspoilers pic.twitter.com/XetpmQQY9X

— Dawg (@DawgsBigBrother) August 18, 2021
Who did it better? #bb23 @bigbspoilers pic.twitter.com/firSEInUdk

— Dawg (@DawgsBigBrother) August 18, 2021
11:50pm Bathroom – Hannah and Tiffany.
Hannah – Britini is going to be campaigning tomorrow. Tiffany – I know she pitched to me today and it was good.. and I can't even lie. Hannah – DX talked to Ky for an hours and a half today .. I just haven't gotten a chance to talk to him. Tiff – I saw him coming out when it was time to play Mafia. And I was like how did your talk go with Ky? And he was like, I think it went good. He was like he might think about it. Now I know he is not and he can't but I don't know what he is saying that is making Derek think that. You know Claire is considering it. The only way that Claire will not do it is if, she was like its got to be the whole house. 7 – 1.. other than that she will not do it.
12:03am Bathroom. Tiffany and Alyssa.
Tiffany – how do you feel about it? Alyssa – my whole thing is with Britini .. its better for Britini to stay because she is going to take out Ky and SB.. BUT if the whole house is on that page.. Tiffany – yeah we're all on that page. Alyssa – Right so if we're all on the same page of doing it .. we don't need to keep her. Tiffany – that is very true. I agree with that. Alyssa – I don't know I am open to both.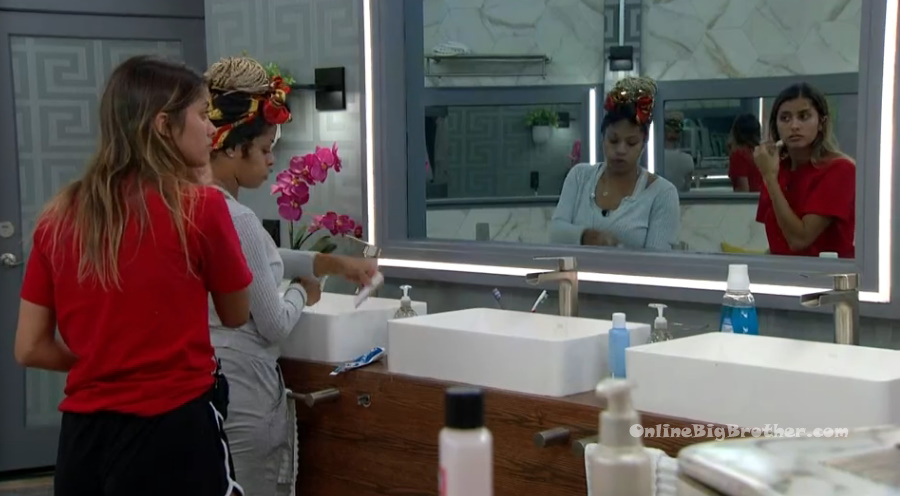 12:18am Bedroom. Britini and Xavier.
Britini – X, I'm being threatened. Xavier – by Ky?! Brit – yeah. Xavier – what did he do now? Brit – no he just keep threatening me all day. He threatened me yesterday he apologized for the veto and then said you better not have this campaign be against me.. you better not have this campaign be against me because that's not your smartest move! So you better not do that! I am sorry about the veto but you better not campaign against me. And then today he said the same damn thing of like oh you better tell everyone in the house that it was a misunderstanding because that is going to hurt my personal game. And if anyone comes back to me, I going to come right back to you that you talked about me in your campaign speech and all this sh*t and I am like YOU'RE THE ONE THAT F**KING PUT ME UP!!!! DON'T TELL ME WHAT TO DO!! DON'T TELL ME WHAT TO DO.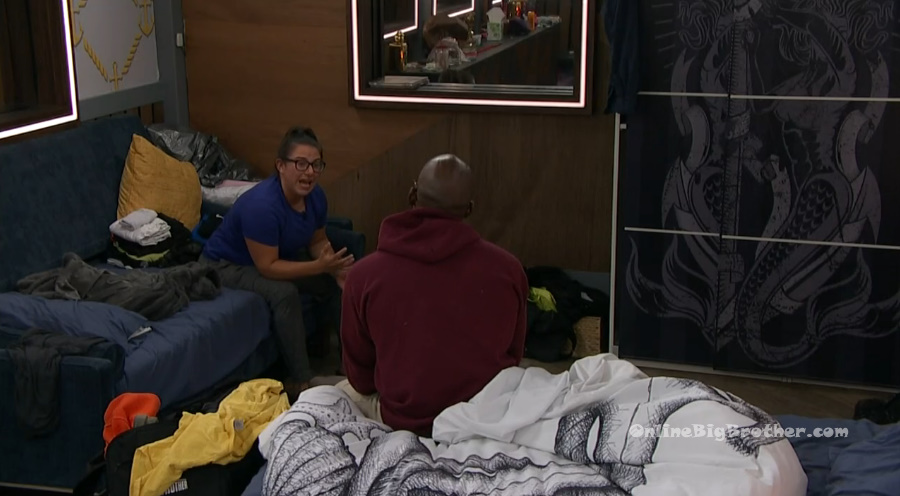 I am so uncomfortable because he keeps threatening me. And you're the reason why I'm up. You don't have a reason to threaten me right now! That is just not RIGHT! He obviously does not respect me X! If he disrespected me in front of all of you and then told me that I have a lack of comprehension. Like its my problem right?! Its not my problem X! Obviously he is trying to cover his own a$$ because he knows I'm right! And it got out because he broke a damn deal and it got out! And he is a liar!! And its not me! But I keep getting threatened because he knows he's in the wrong! And he knows next week he's screwed! I don't know what to do because I am so uncomfortable. He literally told me that by tomorrow night I have to have two people that I am going after .. preferably not him as people that I am targeting next week. He wants my answer by tomorrow night as to whom my targets are for next week. Like you're no longer HOH, you don't have a vote. WHY ARE YOU THREATENING ME WITH THIS!!! I DON'T GET IT! I'm done! I can't talk to him. Xavier – that's what you should do. Don't! Brit – I don't want him to flip on the entire house and tell them to send me home! Xavier – lets say you run his campaign and you go home. Brit – it does me no good. Xavier – lets say you run your campaign and you go home. Do you benefit in that instance? Brit – no. Xavier – what about (Azah and Big D). Brit – absolutely. Xavier – then you run your campaign and potentially convince people to keep you or you can run his campaign and you go home and they're still sitting here as targets too. Brit – why does he think he can talk to me like that X?!!! Xavier – then don't let him. Just don't give him the opportunity to. Brit – like he literally told that people are going to come up to me and tell me if you've resolved it. That you've resolved this thing about the deal. Like I want them to show the f**king tape! Because I am RIGHT and he is WRONG! And he knows he is in the wrong and he shook on something he couldn't keep. I am just so sick of this right now!! I did not sign up for this to be THREATENED when I am the one on the block!!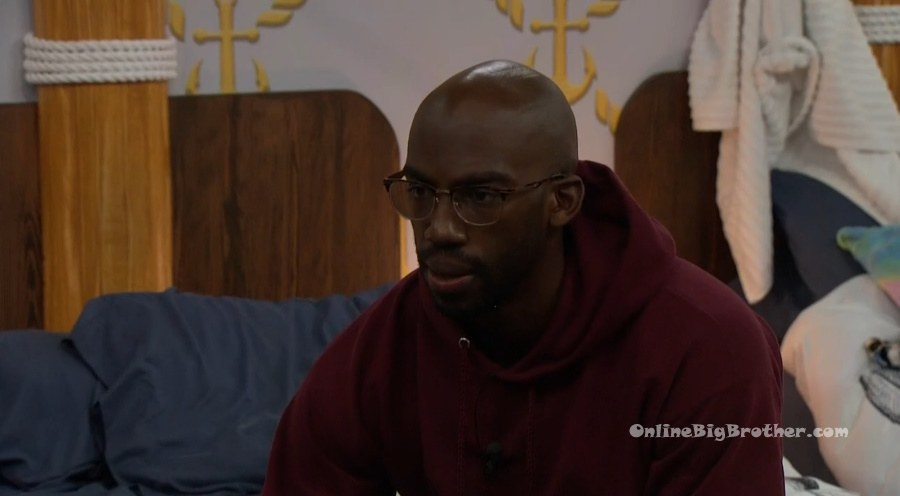 I have never been threatened on the block by the person that is the HOH. I am infuriated right now! I am so pissed!! And I have a really good campaign and really good arguments why I should stay and I want that to show but I don't want to be threatened in the process because his true colours are showing and he does not respect me X. I don't know what I did to him but he does not respect me at ALL! He obviously must think I am stupid as sh*t and I am able to be played by however he sees fit. Xavier – he is going to talk to you like a child, you need to show him that you're a grown a$$ woman. That your game is whatever you decide it to be not whatever anyone else dictates it to be no matter what position of power they're in. Don't let anyone in this house push you around. Big D and Azah will have your back but this is a situation where they can't so you need to show them that they don't always need to come to your defense. You're not some scared little girl. You're a strong independent woman. I know that, you know that! Just be yourself and at least if you do go home.. you go home with you head held high knowing that you fought your fight and not someone elses. You know what I'm saying. Brit – yup. Xavier – and as far as you talking to him.. you don't need to talk to him anymore. Brit – I know. So the next time he tries to talk to me I will just tell him Ky I am not talking to you. Xavier – there is no point. Brit – I have to do this (pack up her stuff) and he is the one threatening me right now. This is all because of one person X! X – MMmmmhhmmm. Brit – it is basically because he is a liar! He also admitted to me today that me going up is a personal game… He thinks he can say whatever he wants to me. I doesn't know anything about my moral and character .. and he wouldn't care about that because he hasn't taken the time to get to know me either.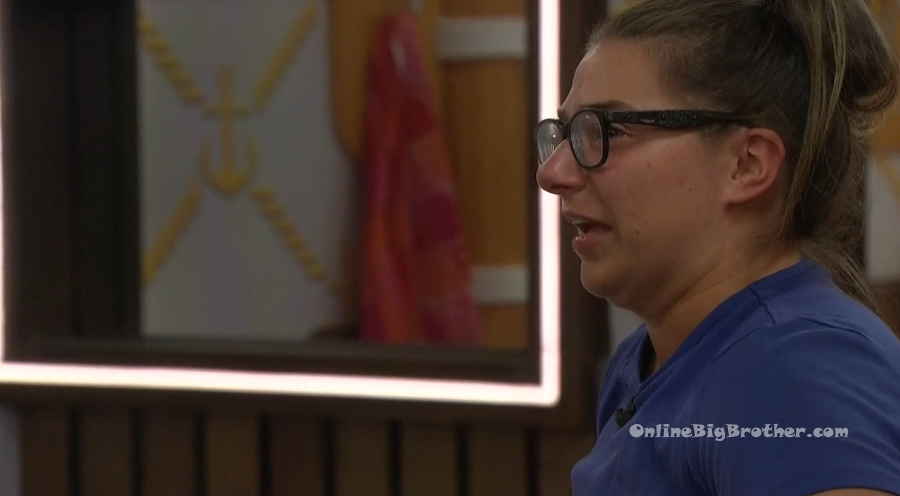 12:40am – 2am Bedroom. Brit continues her campaign pitch to Derek X. After Derek X goes to Tiffany and Hannah and asks do you think we should keep Britini this week? Lets say Ky is not HOH.. its just Big D and Brit on the block. Who for our game is it best to keep? Tiff – I think it might be too early to get rid of her. Claire joins them. Tiff – Brit is a strong competitor. Derek – this is so SUS! All of us sitting here. Derek – adding Brit is just another person that would take that shot (at Ky) so it give us more numbers. Claire – and if Big D win is he really going to go after KY?! NO! Derek – and Big D is not shielding us at all! At least Brit shields every girl in this house. Brit leaves an option to put up on the block. I think the best thing she said is that while she is in the house we have a 50% less chance of going on the block. And the best thing is that two of us don't hit the block at the same time. Hannah – my concern here is that Brit hasn't talked to me yet… so as far as I am concerned she doesn't need my vote. If we vote to keep Brit.. that pushes Ky, SB and X closer together and they're stronger competitors. If Brit is able to get Xavier and Alyssa to flip then I would be on board. Until she has that I wouldn't be comfortable doing that. I'm not so sure we wouldn't lose Ky to X and Alyssa if we didn't just vote to evict Brit. SB joins them. They chat about random things..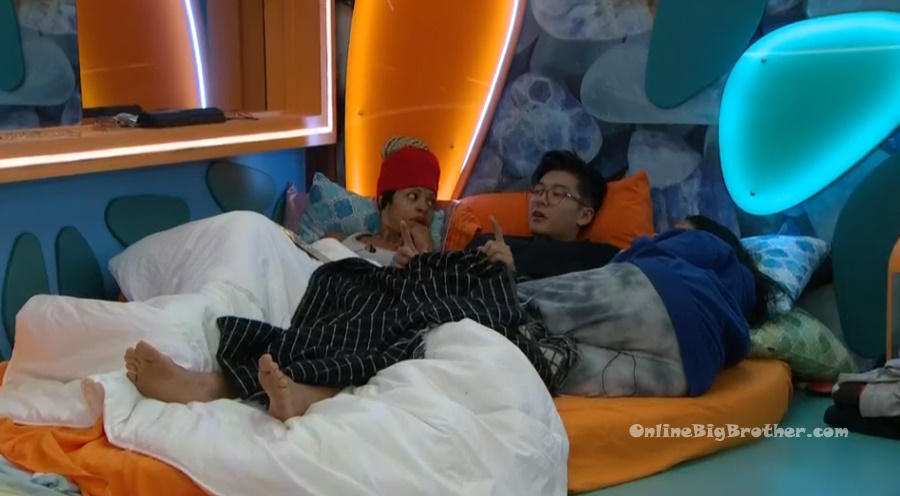 6:00 am Zzzzzzzzzzzzzzz
Updates will resume this afternoon.
Show your support 🙂 Without your support this site and these spoilers wouldn't be possible.
Please consider a donation to keep the madness going.