POV Holder:
Corey
POV Competition
Sept 3rd
POV Used
NO
POV Ceremony
Sept 5th
HOH
Victor
Next HOH
Sept 8th
Original Nominations:
James AND Nat
After POV Nominations:
James AND Nat
Have Nots
None
Watch the next week of the feeds for FREE – 1 week Trial!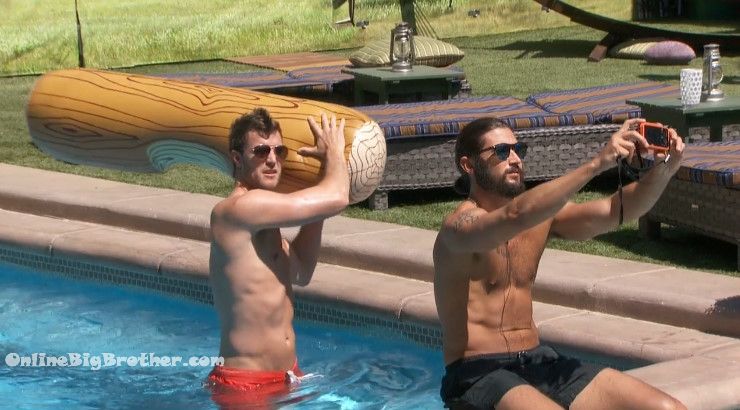 12:18pm HOH pictures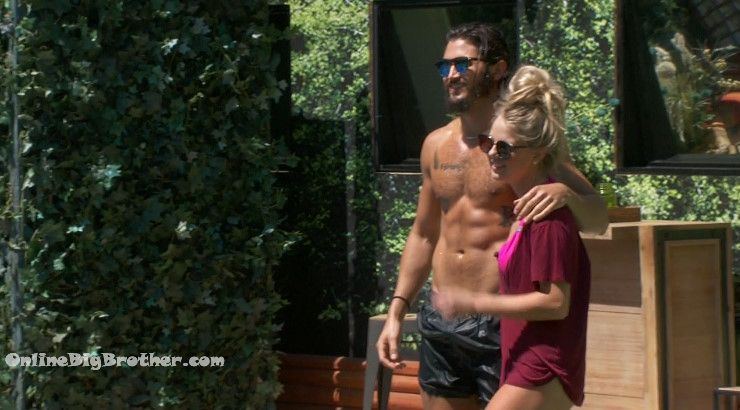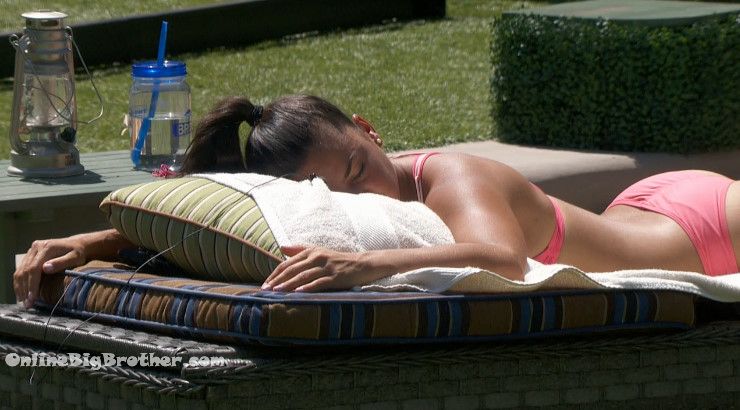 1:01pm …. (psst.. for every Nat picture there's a corey or Vic picture)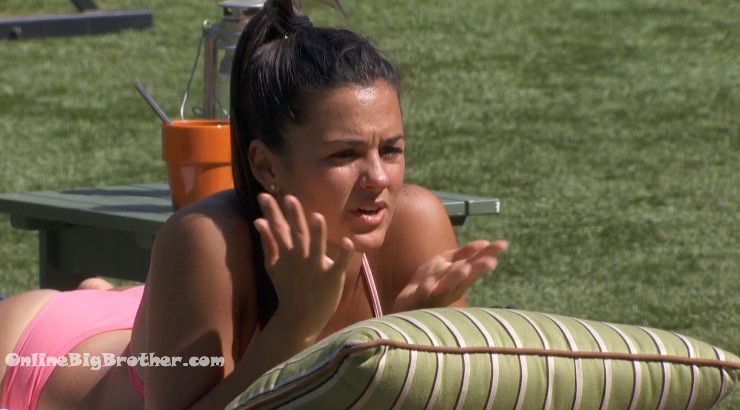 3:01pm Natalie and James
Trying to figure out why the care packages went to the people they did.
Natalie says James was America's Favorite so that's why he got it. She was Close to James so that's why she got it. Nicole was a fan favorite do her and Corey got it because of that. Natalie adds that Michelle was Dan Gooslings cousin and that is why she got it. (ZOMG)
Natalie – You know what the secret to this game is.. you just need an alliance of 4 a$$ strong competitors that are tight lipped..
Natalie- it's just about keeping your mouth shut
James- ya
Natalie – we should have kept team unicorn we would have won comp after comp after comp..
James- I feel one of us would have been picked off..
Nat – ohh ya we would have been the biggest threats in the house..
James- for people that can't win comps the secret is to team up with people that can.
James says that is what he was doing "I was teaming up with all the strong people in the house.. But I would never pledge my full allegiance to them.. They protected me for the most part and then everybody went after them.. Went after Frank, Paulie.. Victor and Paul … It worked out perfectly..
Nat – Victor and Paul kept me safe during their HOH I should have kept them safe
James – ya.. Well Corey and NIcole.. I know they set us up for the next week.. One of us could have gone home last week..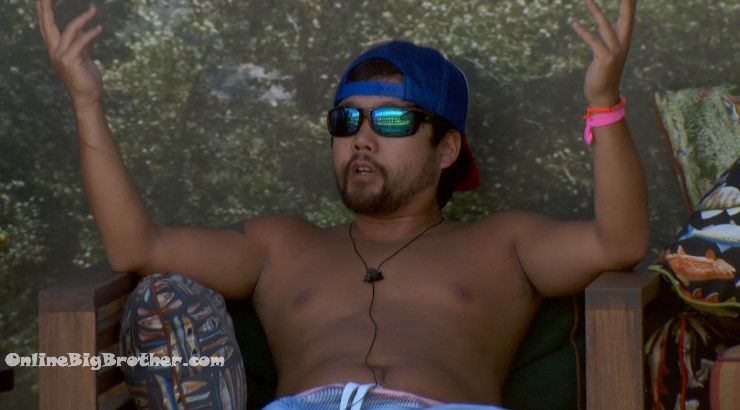 James – wish I was a fortune teller..
Natalie says James played a really good game she had to learn the game as she played it..
James – your social game was on point..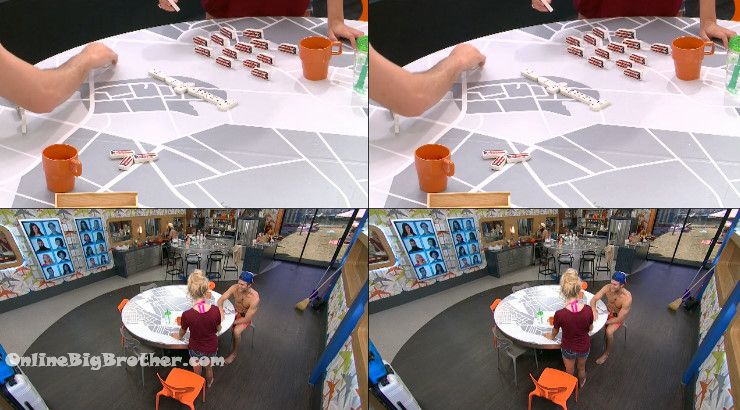 3:24pm DOMINOES!!!!! YES !!!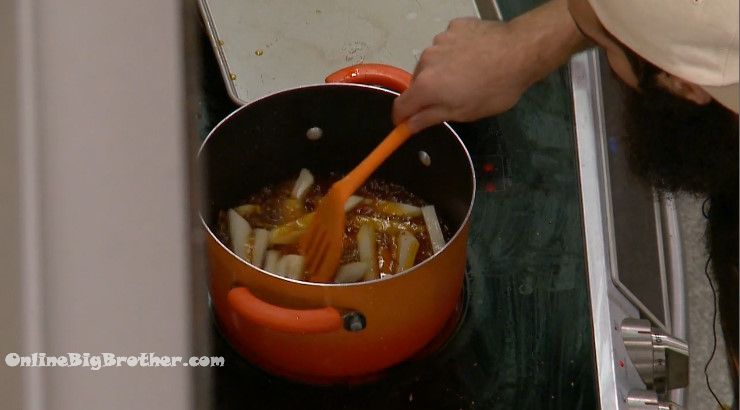 3:26pm OH MY F****G GOD Paul is cooking Fries in plain site in front of Corey and Nicole !!!!!!!
3:29pm "COREEEEEEEEEEEY you almost killed me"
"COREEEEEEEEEEEY you almost killed me" #BB18 pic.twitter.com/1b6FnQpipu

— OnlineBigBrother.com (@bigbspoilers) September 6, 2016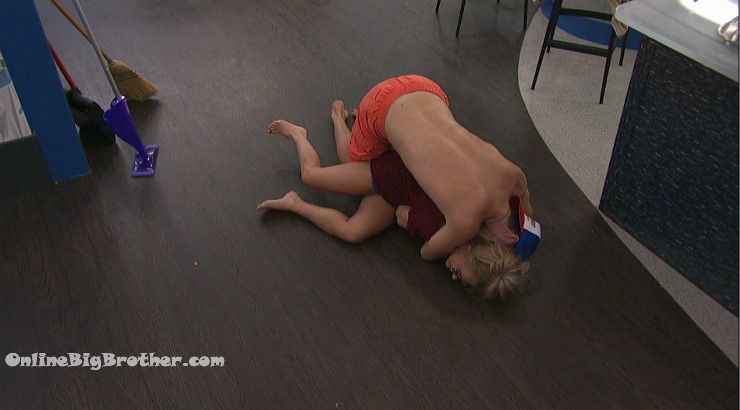 3:36pm Final 4 Kitchen
Talking about James being don e with the game and only wanting to spend the last few days with Natalie. Victor says James told him he's worried about getting played.
Paul and Nicole point out they haven't been "Shunning" them they shunned themselves.
Nicole – they made a pact today if she's thirty and single they'll move in together
4:00pm Backyard.. Nicole and James
James- I can't believe we have 15 days left..
Nicole – 2 weeks tomorrow.. that's insane..
James- 2 weeks that literally 2 HOH's that it..
Nicole- it's 3 something is going to happen..
Paul comes out tells them fries and burgers are ready.. (FRIES!!!!)
They head inside to try the fries..
Nicole – those fries are good they taste restaurant style.
Looks like another domino game is starting up.. hold tight it's going to be a wild night.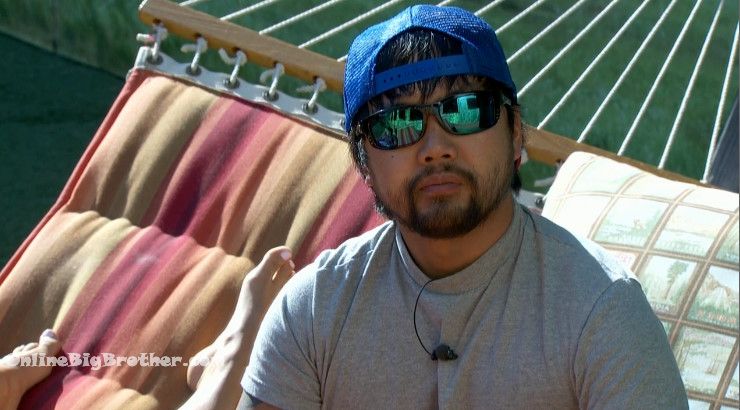 4:22pm Hammock Natalie and James
Natalie tells him she knows she's the target she's just found out.. "I know I'm going"
Natalie – I shouldn't have campaigned to keep you cause it fulls shit on myself.. I want you to stay but.. I made it seem like I didn't want o be here at all and now i'm going home.
Jame s- should I go to Victor say Vote me out
nat – no cause if you were goign to do that you would have done that already..
Natalie – don't do anything you don't want to do
James- you are holding things against me
James asks her why she went to campaign to Victor anyways Victor doesn't have a vote.
James asks why they couldn't just let fate play out. (why did she campaign to keep him)
Natalie – I don't know cause I care about you a lot..
James doesn't under stand the issue.
Natalie tells him there's no issue at all.
James – If I go home..
nat – you're not
James – if I do.. you will feel like crap
nat – you are not going home, 100%
James- they are goign to blindside or will it be unanimous..
nat – doesn't matter you are staying..
Nat – congrats you get to stay
James- rub it in my face.. rub it in there.. Lets reverse it around.. You're staying I'm going..
Nat – I campaigned so hard for you to stay.. you were the target.
James asks her what the point of her campaigning for him was
Nat – I cared so much about you..
James- you should have campaigned to Corey.. they have the votes.
James – I'll be really mad at you if I find out you are a super fan
Nat – I'm not a super fan you know everything else about me. I came on the show to change my life and my families life..
Natalie says the only reason she didn't go on the Bachelor was there was no cash prize.
James- you made money..
Feeds cut..
When we're back.. "I campaigned so hard to keep you and that's not a good move on my end.. "
James- what Game moves was it for me to go to Corey and tell him I am responsible for Natalie goign up on the block and I checked out mentally.
Natalie claims that Victor and Paul were wanting James out before she talked to them.
you hear a grinding sound coming from a backyard camera.
paul – your camera's f***d..
4:35pm feeds cut..
WHn we're back..
James – If I win this game.. I hope you are out there waiting for me..
JAmes says if he wins he's to ask her move with him to Texas or he'll move to New York. preferences this with "when you're settled in"
Natalie – winning or losing doesn't matter I just need time.
feeds cut..
when they are back Natalie and James are both claiming they would have used the veto on the other.
James- you know what drew me to you..
James goes on to talk about their life struggles and how he's gotten close to her because they've shared that..
James says Natalie is very cute..
James- there's days you look like a little gremlin.. that's fine I accept you for who you are.. for me honestly i'm happy with just this.. tshirt jeans.. put on you Nike go fits and lets go out.. put your hair up
nat – there's no guys that exist like you
Nat – we'll always be friends..
4:50pm Natalie starts talking about her dating test..
nat – my number 1 test I always ask who I am dating.. I ask.. bring me sand or rock.. or leaf.. from where you are and they never do that..
Jame s- I would bring you the cutest little jar of sand.. I'll decorate it put pink sh1t on it.