POV Holder:
Corey
POV Competition
Sept 3rd
POV Used
?
POV Ceremony
Sept 5th
HOH
Victor
Next HOH
Sept 8th
Original Nominations:
James AND Nat
After POV Nominations:
? AND ?
Have Nots
None
Watch the next week of the feeds for FREE – 1 week Trial!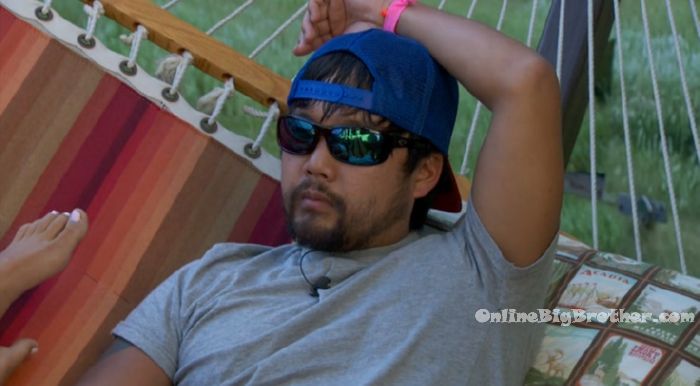 5pm Hammock – James and Nat. Nat – I'm going to miss you. James- I'll miss you too. I'm going to come visit you. James – I just need to decide whether get a plane ticket or get you some plane tickets. James – after you travel all where you're going .. the least I could do is get you a round trip ticket to Texas. Or if you felt weird about it I would pay for half of it. I think a round trip ticket from Texas to New York was like $200 – $270. Nat – If I go to Texas, I would go for at least a week. James and Nat head inside. Nat tells James if I had been cautious about what I ate all season .. I would have been in shape. James – but what fun would that be!?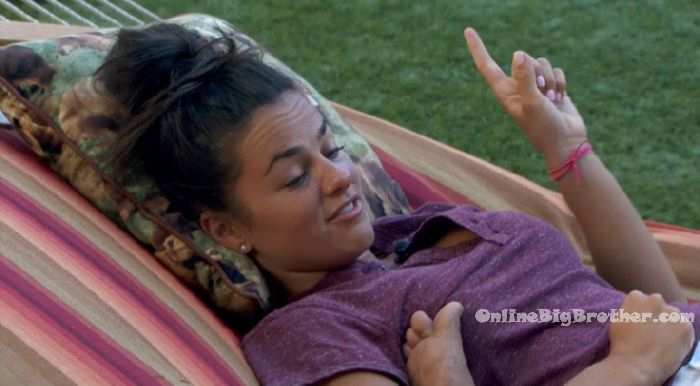 5:30pm – 6pm Backyard – Nicole, Paul, Corey and Vic. Nicole comments on how since the McGyver comp she (Nat) has been hard core dieting. Paul says not eating isn't dieting. Big Brother blocks the feeds. Paul asks Vic and Corey – No s*x for the next 5 years, 10 million. Vic – yeah! Paul – 5 million! Vic – Yeah! Paul – 1 million. Vic – You know I might take 1 million. I would be dating for real. Trying to find my wife. Corey says I wouldn't do it. I'd rather be single and make bank. A million isn't much, you could blow that pretty quick in your 20's. Paul – alright push a button and someone in the world dies. Random, 20 million? Corey – I'd fall on it by accident. Paul you and your family are in that pool but odds are so slim. And don't see the repercussions. Vic – I don't want to kill someone for 20 million. Paul – 100 million. Vic – I couldn't, you would have to live with that for the rest of your life.
Watch the NEXT WEEK of the Live Feeds for FREE! Click here for your: 1 Week Trial
6:15pm – 7:10pm Hammock – Corey and Nicole. Nicole – Michelle really had a crush on Frank that's why she had such a problem with Bridgette. Corey – it was so weird when he dropped Michelle for Bridgette. I think I even remember the exact day it happened. Nicole – he (Frank) did not like James & Nat relationship. He didn't think James would ever cut ties. We both acted like we would drop each other like a sack of potatoes, but I really wouldn't have. I'm so happy I got Michelle out of this house. One of us were going to get each other first .. it just depended. Nicole – I want James to stay because if I am sitting next to James …they (Vic or Paul) would vote him our over me or you. Corey agrees. Nicole – best case scenario for me is if you or James win. Corey – likewise. Nicole – hey its easier for you to pull that trigger against James because he lied to you. He's never done anything to me. Corey and Nicole start studying the days/events of the house.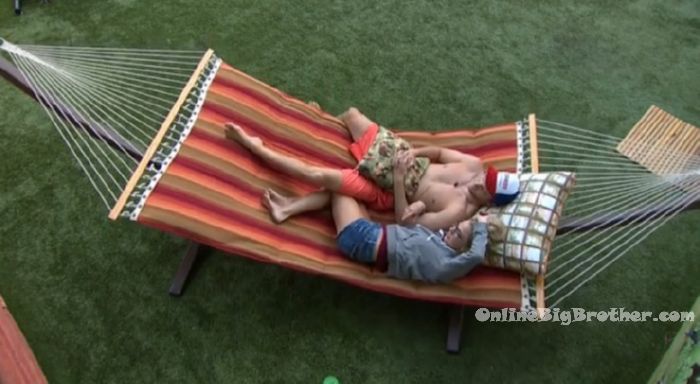 7:15pm – 7:50pm Paul and Vic start playing a game of pool. Meanwhile – Nicole and Corey continue to talk in the hammock. They head inside. Nicole looks in the bathroom mirror and says I'm getting my chubby cheeks back mom. You would be happy because you weren't when I was ninety some odd pounds.
Nat is in the backyard running and lifting weights. Nicole and Corey start running around the backyard. Paul and Vic get into the hot tub.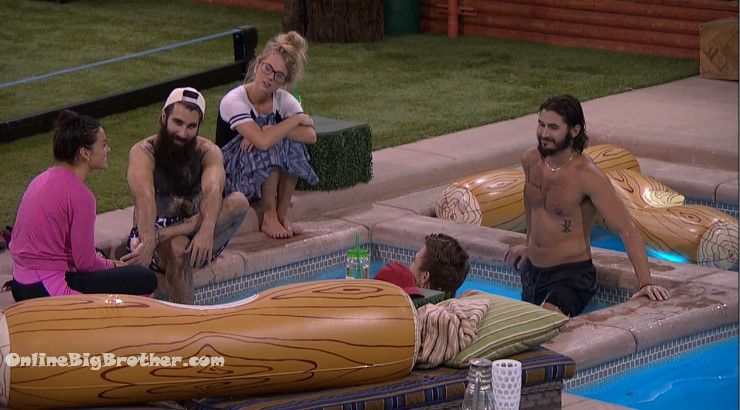 8:06pm Meet and Greet chat, Corey, Paul and Victor.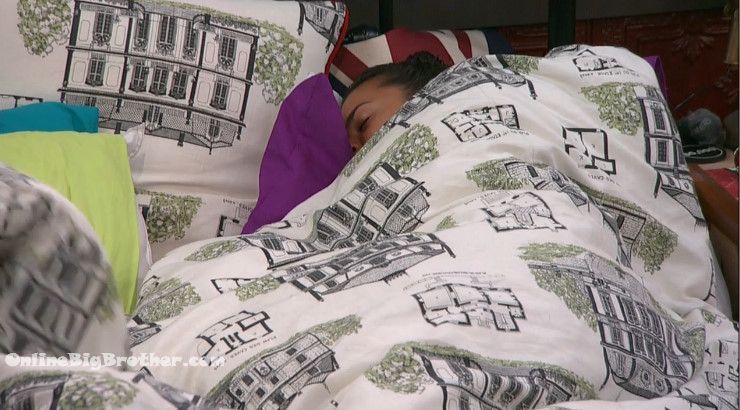 8:48pm London room
James – glad to see your coming back to the sleep world.. Not so bad..
Natalie doesn't reply..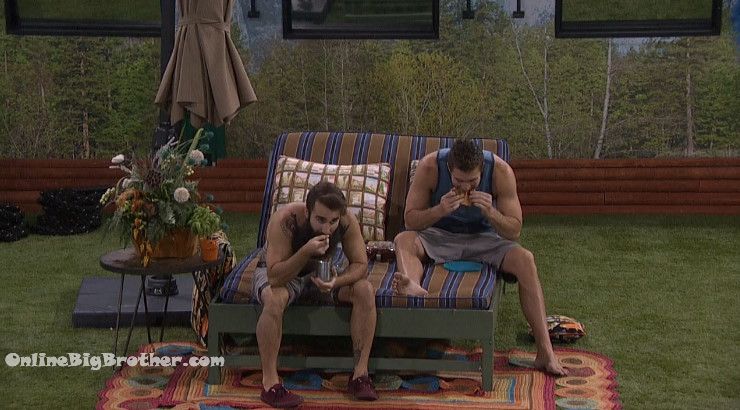 9:31pm Paul and Corey
Paul – 14 days my friend..
Corey – it's nothing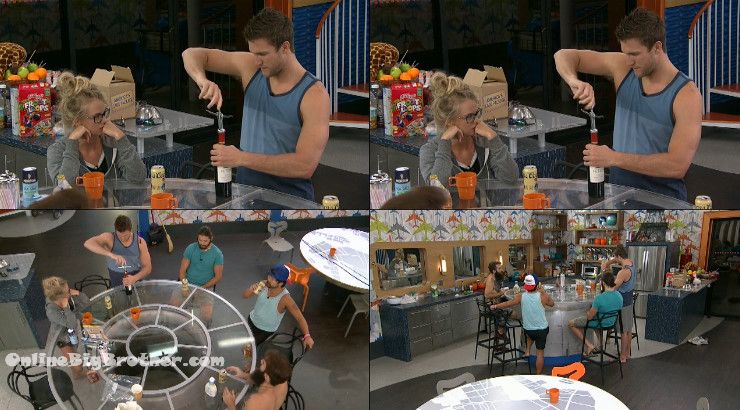 10:20pm – 10:50pm They get alcohol..
4 Coors light and a bottle of red wine.
Random chit chat.. Talking about the first person they are going to text when they get back their phones.
James says his daughter's mother. Feeds cut..
When we're back Paul is talking about "Boning" being the first thing he wants to do when he gets out.
Nicole will hang out with her family. They joke that she goes to "red box"
Natalie says she'll be with Family and lauren
Paul – first artist will you listen to
James- Luke bryan
Corey – T Smith (?)
Nic – Chris young
Nat – Selena Gomez
Paul – fit for a king
Nicole says she had a really good post show experience much better than some of the people she knew.
James says he got a little irritated by his roommate because he wouldn't stop talking about Big Brother 4 months after the season.
Nicole says she sometimes wondered if people only liked her because she was on Big Brother.
Nicole says it gets really awkward at work when people recognize her and they have their phones with them they all try to take pictures. She starts telling a story about a guy having a heart attack that recognized her.. Feeds cut.. (LOL)
Nicole says she went out shopping for this season and got recognized a ton. Adds that Michelle worked at that Mall in the Victoria secrets.
James says one time in Texas some guy tried to fight him. They were pushing him around because he said he liked to hunt ducks.
James- my boss man was there he's about your size he got in there..
James- he was drunk.. He was like I don't care you were on that show Big Brother i'll f*** you up
Nicole says people always come up to her and say "You're that girl from Survivor"
Nicole says she has a PO box "I'm not going to lie I got some weird stuff"
Paul – What's some of the weird stuff you got
Nicole – I think they would be watching..
10:56pm Victor says the only time he got buzzed was when he drank those 6 beers by himself "I got in trouble.. told me not to do that again"
Corey says nobody recycles in Texas
Victor says same with Louisiana
"Walk the line.. The Bun is jiggling.. wasted" #BB18 @DawgsBigBrother pic.twitter.com/oLjj4aQkmD

— OnlineBigBrother.com (@bigbspoilers) September 7, 2016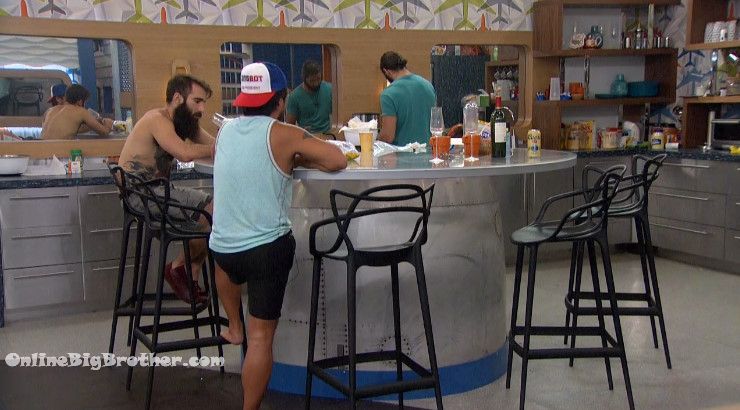 11:10pm Kitchen Paul, Jame sand Vcitor
Talking about Natalie isolating herself.
James – she's taking it hard.
James says Natalie has been hot cold hot cold..
James says she thinks she's goign home and she's balming him
11:25pm Kitchen Paul and victor
Victor – Poor Jamezzz
Paul – Ya
Victor – can't believe Natalie is giving him a hard time.. he doesn't deserve that you know
Paul – wouldn't expect anything less to be honest.
Victor mentions unless Corey talks to Nicole after she'll be heartbroken, Victor is thinking this will happen.
11:33pm Paul talks about his parents mansion and home.. every room has a full bathroom except for 1 it has a 1/2 bathroom.
Paul – Pool, Jacuzzi.. waterfall.. it's f***g crazy..
Paul says there is a basketball court
Victor talks about "The dope a$$ house.. Maid.." when they lived in Panama. Everything was cheap there so they could afford a live they couldn't in the US.
11:44pm Nicole and Corey are with them. Paul and Victor fill them in on the conversation with James. they explain James is upset because Natalie is being tough on him.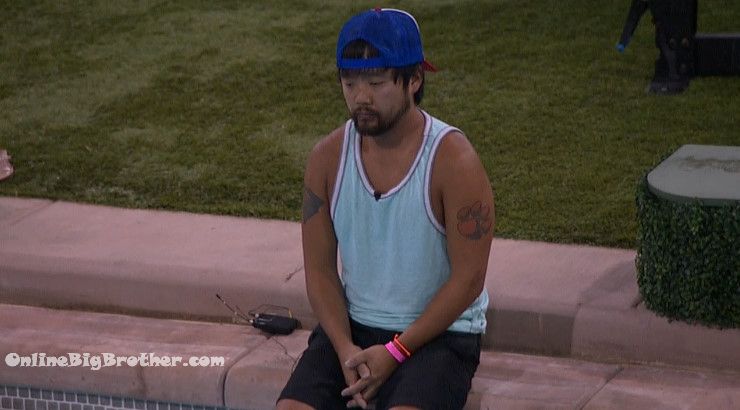 11:45 Natalie and James
James- you can smell the chlorine in here
Nat – ya
James – you miss princess
Nat – ya…
James – were you parking it.. Lauren's house.. people driving it
Nat – I don't know

11:50pm
Nicole going on that she doesn't have even 2 Jury Votes.
Victor and Paul give her a hug and say she has their votes.
Corey jumps in says she has his vote so all she needs is one more
Paul jokes and tells her to ask James.
Niceol -that all you guys that means i'm sitting next to no one..
[polldaddy poll=9511194]
[polldaddy poll=9512103]
Show your support by making a donation.
Donations support this site more than anything. If you dig our spoilers please find a way to support us.