POV Holder:
Corey
POV Competition
Sept 3rd
POV Used
?
POV Ceremony
Sept 5th
HOH
Victor
Next HOH
Sept 8th
Original Nominations:
James AND Nat
After POV Nominations:
? AND ?
Have Nots
None
Watch the next week of the feeds for FREE – 1 week Trial!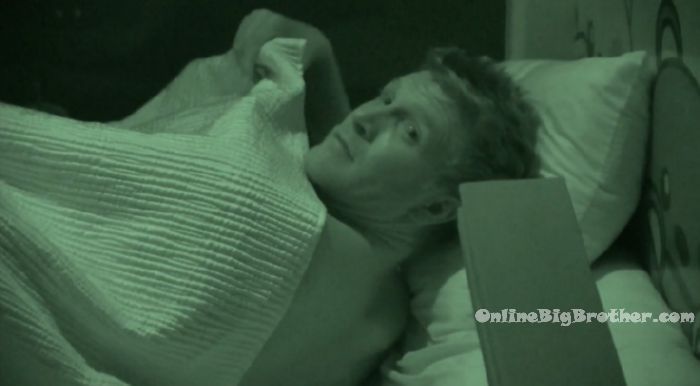 12am – Corey and Nicole moving around under the covers… Corey pops up to see if the cameras are watching.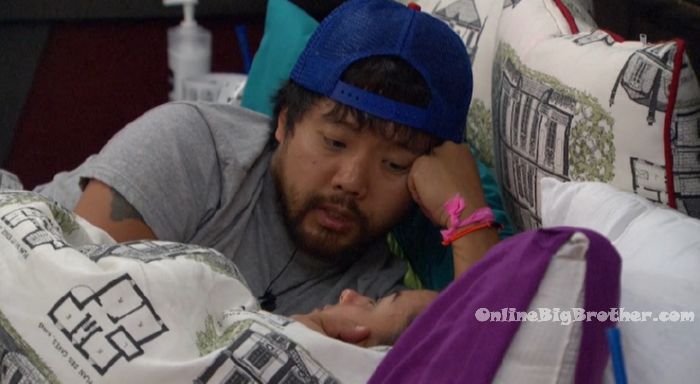 12am – 12:30am London bedroom – James and Nat. Nat – If you're in the final 2 with Corey you would definitely win. People didn't like Corey. James – if Corey and Nicole get evicted, I probably have everybodies vote. Then its like me and Paul or me and Victor. I would have to have a freaking good speech. I know what he's going to say. I battled my way back into this house two times and you evicted me James. That sounds good and all Victor but the object of the game is to not get evicted. And you did twice. The battle back was pretty cool but I didn't get evicted for 80 days. I was flying under the radar. Nat – that's strategic. James – yeah well I have over 10 comp wins. Yeah, I used you to do all my dirty work. You're my work horse. He would be pissed. He might kill me right there. That's what I would say if I was final 2. Paul joins them and asks if they want the light off. James – why not. James start massaging Nat's arm. He moves to her back and she says it tickles her. James gets called to the diary room.


1am Nicole and Corey having an apple and a PB & J sandwich in bed after their exercise. James comes back from the diary room and talks to Nicole & Corey. James thinks there will be an eviction on Wednesday. Corey and Nicole disagree and think it will be normal this week. James asks and then an eviction on Wednesday next week. Corey and Nicole – yeah. James heads into the London room. Corey asks Nicole do you think if you tried to kiss me the cameras would see it? Big Brother blocks the feeds. Paul joins them. Corey does "his presentation" on the days left in the season. Corey – on Thursday, 5 people, HOH comp, noms, then veto. On Sunday we're down to 4 people but they're not planning that till Wednesday. Paul – so in a perfect world .. this Sunday we're cruisin. Corey – or we're in jury. Nicole – they're all talking sh*t about us in jury. Paul – Michelle isn't good for any of our games. She's talking sh*t about all of us. Nicole – except for him (Corey). Paul – you (Nicole) and me in final 2 … pick a snake or an a$$hole. Nicole – that's our final 2 speech ..pick a snake or an a$$hole. Paul – making Victor mad is the funniest thing in the world. I dare you Nicole to tell him.. I've been throwing all the physical comps. He would be pissed! Just wait until I try! They laugh.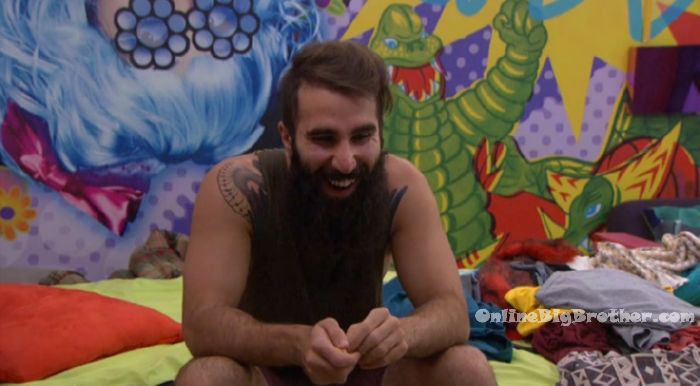 1:35pm – 2:50am Paul asks I wonder if they trade comps with the UK season? Nicole says no but they do have someone from Canada working on the comps this season. Nicole – what's weird to me is that she (Nat) says she is very out going, very out there, very wild but why doesn't she doesn't have a facebook. Paul – and she only has 8 followers on instagram and she has a million best friends and she works for this big company. Corey – and Paulie knows her. Paul – he said he knows her friends. Nicole – you know what they do some times. They put on someone that might know each other and be able to expose each others secrets. Vanessa was a famous poker player and Da was a poker dealer. And they both lied about their occupations. That was obvious what they wanted there. Paul – she (Nat) is something. Nicole – how did she get on the show? Paul – she said her friend applied for her. Nicole – that's a lie. Paul – I think she is some kind of business owner. Nicole – I never took her seriously because she was so boy crazy in the beginning. Paul – her strategy was to latch on to a strong guy. I'm sure Paulie and her flirted around and it just didn't work. Nat joins them. They tell her they think she has a secret .. like she's a secret genius. Nat – no I am not. I barely passed high school. Nat heads to bed. Paul – I know dancers. She is not a dancer. I haven't seen her dance 1 time in here. Nicole – she spins.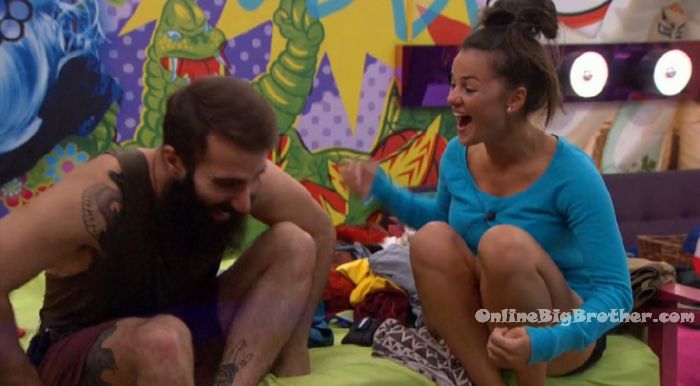 3am All the house guests are sleeping..
[polldaddy poll=9511194]
[polldaddy poll=9512103]
Show your support by making a donation.
Donations support this site more than anything. If you dig our spoilers please find a way to support us.