POV Holder:
Victor
POV Competition
Aug 13th
POV Used
NO
POV Ceremony
Aug 15th
HOH
Victor
Next HOH
Aug 11th
Original Nomi1nations:
Paulie AND Corey
After POV Nominations:
Paulie AND Corey
Have Nots
Michelle AND Nicole
Watch the next week of the feeds for FREE – 1 week Trial!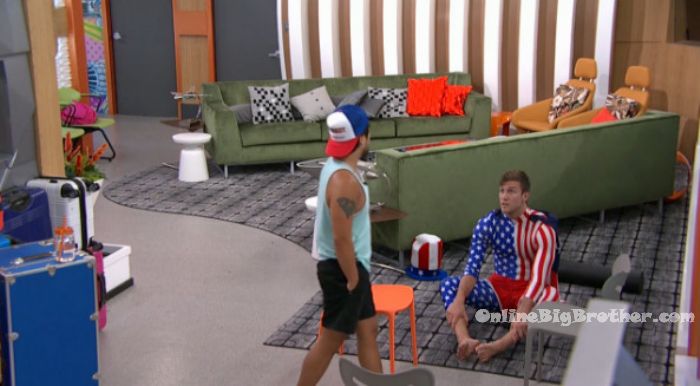 5pm Living room – Corey is doing his prison workout. James joins him. Corey says she's (Nicole) not an emotional player. She gets why you did what you did and I get why you did what you did. I knew it was coming, she knew it was coming. Obviously, I don't care at this point. I would never hold it against you. She doesn't care. James asks is she okay. Corey says yeah, At first she thought you switched to Vic and Paul's side. I told her James isn't like that, she wouldn't do that to us. James has our backs. James says I'll talk to you more later on. I'm just making sure you're okay though. Corey says I'm trying to think of what to say in my speech tomorrow. James says say hi to your family. Just remember you're going to have your bird on your hand. Its going to be funny. Corey says yeah it won't be too serious.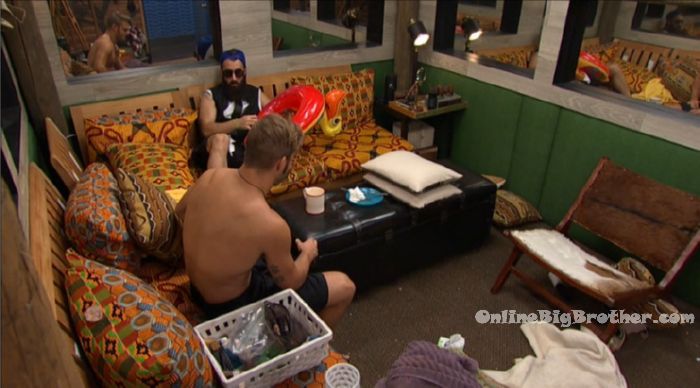 5:30pm Safari room – Paul and Paulie. Paulie says I spoke to two more people about what we spoke about and I was like hey if this is something you would be interested in I'd like to maybe have everybody in a room and just kind of pitch the idea. Paul asks what did they say? Paulie says they were open to hearing it. Paul says okay. Paulie says I have a feeling that James said something to Corey. Paul asks why do you think that? Paulie says because when I came out of here James was talking to Corey and they saw me and dispersed. So I might just tell Corey. Paul says its up to you man. I don't what he said. Maybe you say I'm doing this, feel free to do the same. At the end of the day its a game. Paulie says at the end of the day it would be up to the three people. Paul says I think it would make people more comfortable talking privately. Paulie says yeah I would pitch the idea and let people decide if they wanted to do it. Then they would let me know so that I could mentally prepare. Paul says worst case scenario its a no, best case its a yes. Do you think you should ask Corey about what James was talking about? Paulie says yeah or tell him what I've done. Paul says there's nothing wrong with it. Its fair game. Paulie leaves.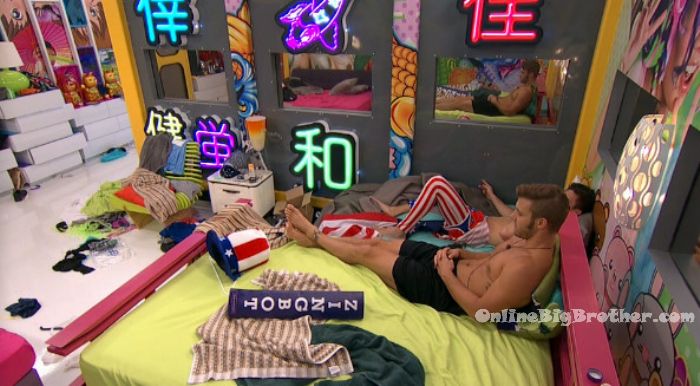 5:45pm Bedroom – Corey and Paulie. Paulie says I would almost feel better if I was sitting next to someone I didn't like and people were lying about wanting to keep me. Corey says right. Paulie says they I would be like one of us is safe. You or I would still be sitting here. Corey says it sucks. Paulie says I just don't like the situation because everyone knows we're down. Corey says kicking us while were down. Paulie says its not even the kicking aspect. ..Its when does the sh*t stop. Its almost as if there's a plan in there's a round trip ticket in play.. to want to pit us against each other .. or have us against each other again. Corey says I would never go against you. Paulie says People tried to do it in real life with me and Cody. Big Brother blocks the feeds. They would try and find dirt on us and be like you guys can't be these golden boys. Corey says I wouldn't do that, I genuinely want you to win this thing if you end up staying. Paulie says same to you. If I go to that jury house I am 100% convinced I want you to win. If I'm in that jury house.. as much as I'd want you in there with me .. I would much rather have everyone else come. You know I could convince the jury that you deserve to win it. Paulie says I wanted it to be both of us in the end. Corey says it was a long shot. Paulie says its good you were talking to James. Corey says he was just asking how I was doing. Paulie says that's good. It seems like an out reach.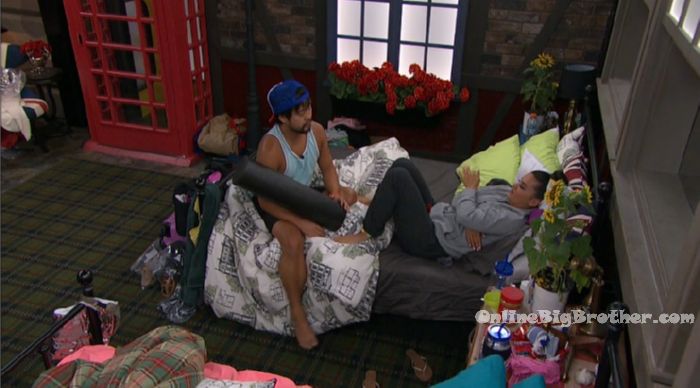 6pm London Bedroom – James tells Natalie I am kind of paranoid because I told Corey what Paulie is trying to do. Nat says yeah, Corey is obviously going to tell him. James says f**k. Nat asks why are you paranoid? One of them are leaving. James says because I'm trying to put us in a good position in the middle in case they win or Victor or Paul win. You know, remember what I said ..stay in the middle. If one of them win and you're seen on the other side .. you'll get shot at. But if you're in the middle .. there are two clear sides and they're going to attack each other. Nat agrees. Corey was just put up on the block by Victor says if he wins he is going to go after him. James says exactly and if Paul wins? Nat asks what put Corey up? James says exactly. And if Michelle wins? Nat says puts Corey up. James says exactly .. so we are 50% safe. Nat says I know I'm going to go home and that's fine. James says you can't leave me in this sh*t hole all by myself. I'll self evict. Nat says I'm not giving up .. but if its my time to go I will leave with my head held high. You know and a smile on my face. James says I can't afford to lose you. Paulie says I don't even know what I'll say .. maybe just compliment the sh*t out of you and take jabs at Vic. Like if we're going by comp wins everyone should take a look at you (Vic). Paul joins them. They talk about who might get the next care package. Nat says Corey might get it. I got one then James did, then Nicole and maybe Corey's next. James says who knows we might be portrayed as the douche bags on the season and they're the sweetheart couple that everyone ganged up on. Paul says based on things that have been said (In the diary room) I know that I've been getting a lot of attention. Big Brother blocks the feeds. Paul says replace 1 nom so essentially a diamond power of veto. Or two weeks of safety. James says I don't think so. Paul says and I think one will be over throw the HOH. Nat says she things it will be a veto.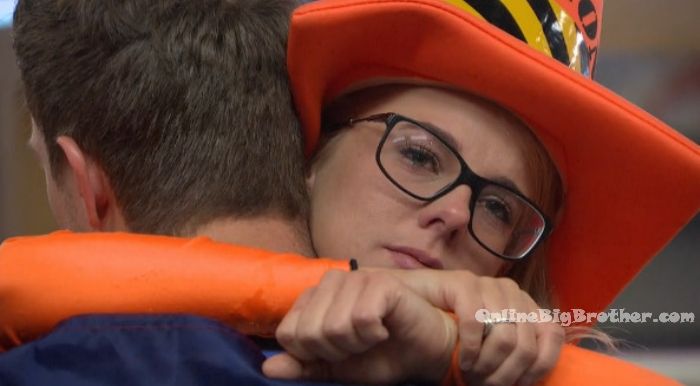 6:25pm Kitchen – Nicole and Corey. Nicole comes by and tells Corey that's the first she's cried. She head to the kitchen. Paulie asks why is she crying, you're not leaving. Corey asks Paulie what should I do. Paulie says go console her. Corey goes to the kitchen. Nicole says I don't want to talk about it. Nicole says god dang! Corey hugs her. Nicole asks you're not going any where are you? Corey says I don't know. I hope not. Nicole says its so hard to think about. Honestly I thought I would be fine. Corey says it will be okay. Corey says I think it will be okay but if its not .. you've got to win. If I'm gone, no one will come after you next week. Nicole says who knows. James had an opportunity to talk to me and he didn't. Corey says just make amends with him. He thinks you're mad at him. He thinks you think he's acting weird. Nicole says he is acting weird. Corey says you're going to have to talk to him. Nicole asks when? Corey says as soon as possible. Even just talk to him and Nat together. Nicole tells Corey to ask Nat if you have her vote. Corey says I think everything will be okay. Nicole says if not I am going to be pissed. Nicole says I just want to ball right now. I just want to throw a temper tantrum right now. I'm so mad.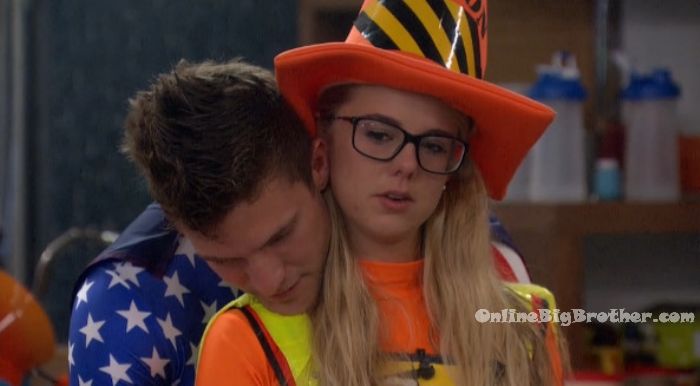 6:35pm – 6:50pm Corey and Nicole head into the safari room. Nicole says Natalie just reminds me so much like Christine. Corey says I think we will be safe next week. Nicole says Michelle would put me up. She won't put you up. Nicole says I would 100% put up Vic and Paul up. You turned your back on my best friend in the house. If there's ever an HOH I wanted to win its this one. I would actually call them a couple. You guys are the strongest couple in the house. I'm just not ready for this house to be turned up side down again. Corey agrees. Nicole says I hope someone doesn't come back. They already brought Vic back and we can't get rid of him. I hope Da doesn't come back that would be trouble. Corey says I hope not.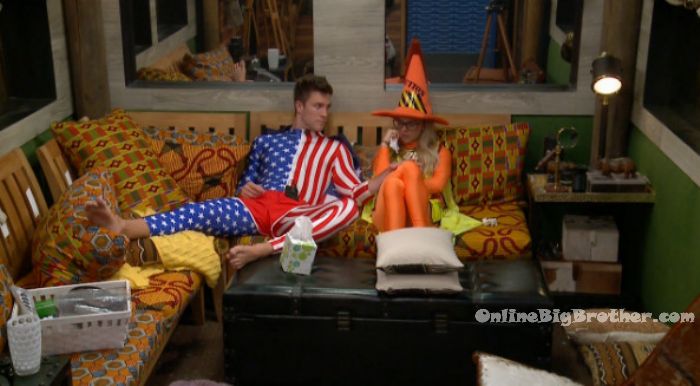 7pm – 7:10pm All of the house guests but Paulie are in the London bedroom chatting about random things. Paulie is in the diary room.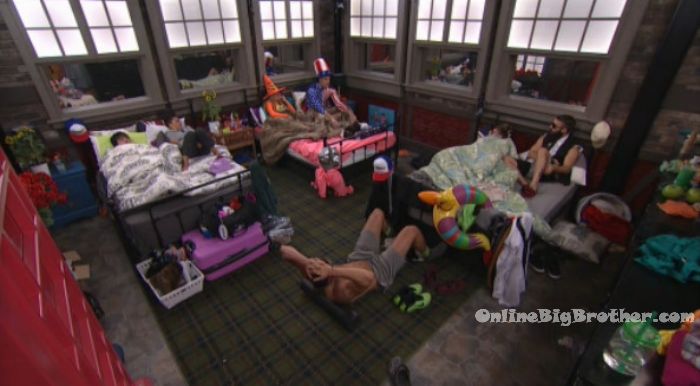 Watch the NEXT WEEK of the Live Feeds for FREE! Click here for your: 1 Week Trial
7:20pm – 7:40pm Bathroom – Paulie tells Nat that he's had the conversation with all of them and he'll let them mull it over. Nat says yeah I will be honest about who I am voting for. Paulie says I will keep the target on myself and put him up if I win .. they lay myself up after that. If my fate is to go to the jury house then I need to prep myself up on how to not leave there. Nat says this whole game I've been out of the loop trying to learn about and finally I think I have a handle on it. I've genuinely fallen in love with it. Nat says I just hope you don't have negative feelings towards James. He always stuck up for you. He always had your back I'll be honest a lot of it was me. Paulie says I don't have any negative feelings towards James. Nat says James always defended you. They talk about Z and how they had to constantly reassure her. Nat says she would literally always tell me that you didn't like her. I always reassured her that you did. Paulie says she called you a fake little b***h. Nat asks she really called me that? Paulie says yeah. Nat says she painted this picture of you. Like she said you once said to her what are you having a f**king pity party?! Paulie says I didn't say that. Nat says it was a headache and a roller coaster for me.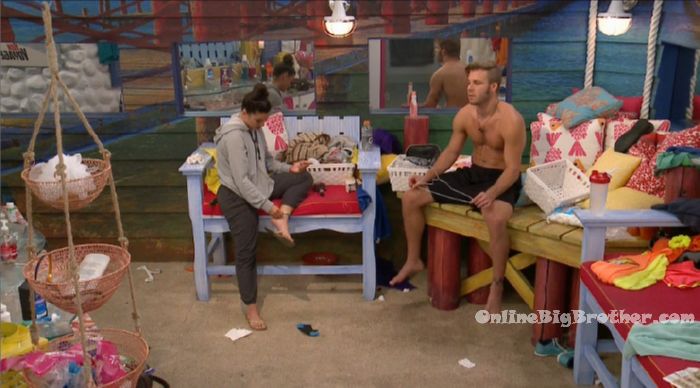 7:50pm – 7:55pm Michelle comes into the room and tells James, Vic and Paul that Paulie is talking to Nat in the bathroom. Paul tells Michelle that she should go and tell Paulie keeps pulling people into rooms … its getting a bit weird. Instill that little thing in their heads you know. Not even to Corey, tell Nicole so that she goes and tells him. Corey is even paranoid because James hinted at him that Paulie was campaigning.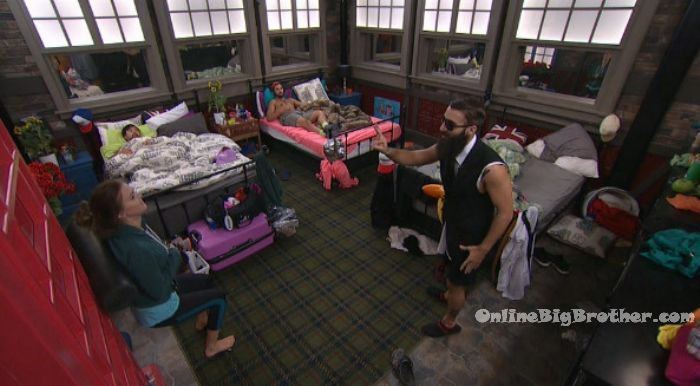 Show your support by making a donation.
"CO-HOH"
WEEK 4 – August 14th to August 19th
This winner automatically becomes Co-HOH, sharing all HOH perks and responsibilities for the duration of the week, including choosing 1 of the 2 nominees.
[polldaddy poll=9499483]
Usernames will have to be a bit more PG please. At the least censor them with @*(#^%_