Head of Household Winner – Dani
Have nots – Da'Vonne, David, Ian
Nominations – David Tyler and Kevin
Power of Veto Players are – Ian, Kevin, Dani, Tyler, Enzo, Da'Vonne.
POV Host: – Nicole
Power of Veto holder –
Power of Veto Ceremony –
Powers – Christmas, Dani, David
Live feeds —-> Grab your Live feeds here. Try it free.
Rank the houseguests —-> Big Brother 22 Ranking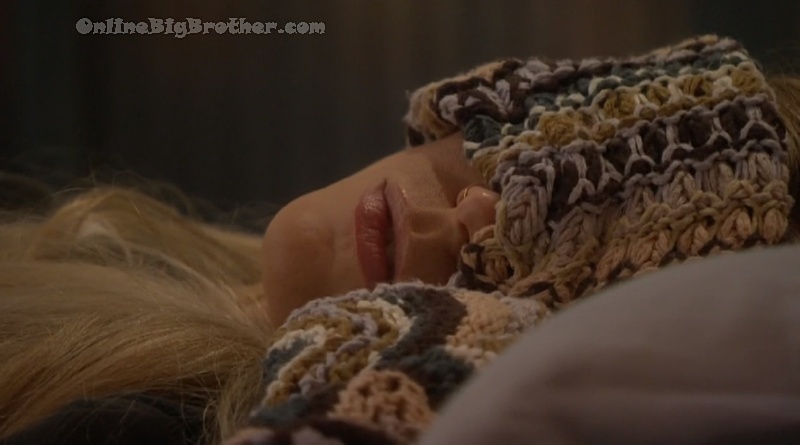 9:16 am Dani and Nicole
Dani – I do not want to play in a veto competition..
Nicole – it's one where you get locked in a room and have to wait for hours for your turn
Dani – that's awful.. i want the noms to stay the same
Nicole says these are the easiest ones to throw "no ones watching"
Dani says most importantly Kevin can't win.
Nicole – I felt bad today because he's so nice..
Nicole says Kevin is the one person in this house she wants out as soon as possible.
Nicole says Da'vonne really thinks Tyler is Dani's target.
DAni – that scares me Nicole what if Kevin goes home what do I do.
Nicole – say the whole house flipped..
Dani – say I thought I had the votes but I don't..
Dani says David was the one person she didn't want to get picked for the veto.
Dani – I have to have a long talk with Tyler. This has put me in a really bad spot with him
Dani – he told Cody that this show says he's at the bottom with me.. so that's really bad. (from production leak)
They agree putting Tyler up under the circumstance was the best choice.
Nicoel says Enzo wouldn't use the veto.
Dani says her or Enzo are the best two to win it. They are the most likely to not use it.
Dani goes on complaining about her power "When I found out about my power I started crying.. I'm kinda worried how I'm coming off on the show now"
Nicole says it's easier if they had people they were against because everyone she's good with. When they have to turn on each other it'll be betrayal.
Nicole – I'm worried if Ian finds out there's a big alliance he'll never ever trust me or any of us.. you know what I mean.
Dani – this week will be over one down four to go and Ian is in that four.
Dani – we have to keep him trusting us for 3 weeks that's all we need then he has to go
Dani – I'm scared of Christmas..
Nicole – don't be
Dani – going against her, she'll go crazy.. crazy..
Nicole – i'm not.. I would rather go after other people for sure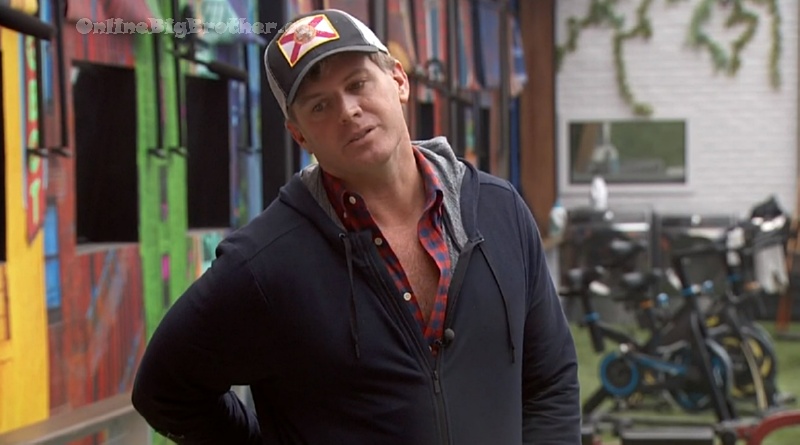 9:44 am Memphis and Cody (they're talking about Tyler)
Cody says the thing that annoys him the most in this game is when people in solid groups start to self sabotage.
Memphis – I'm not cool so far with what I'm getting whether he wins or not I'm not cool with that dude what the f** is wrong with you
Cody agrees.
Memphis – I get it if we didn't have the power and you got to pivot I get it but nothing needed to be done so I'm like what the f** dude.
Cody – maybe he did want to go home.. I don't know what his headspace was.
Memphis – either way he's getting messy
Cody – why was Christmas in a scenario where they tried to push her to get her on the f**Ing block
Cody – I did not expect that from him to be the messy one.
Memphis says Tyler was trying to over play
Cody – they want to be something on the show
Memphis – they want to be like Ohh I made that move I tricked the house.
Cody – you know what is the greatest move in this entire game the fact that this alliance was formed and has won 5 out of the 6 HOH's
Memphis – that's great
Cody – roll with that..
Memphis says if the noms stay the same they need to talk to Tyler because he needs confirmation, "I want to know what he did"
Memphis – we still need the numbers
Memphis says they have enzo he just doesn't want to throw Tyler under the bus "hes a great competitor I don't want to lose that"
Cody – I want those wins where I know we're safe than with someone I don't know if we're safe.
Memphis – Tyler thinks Dani, Nicole and Ian have something going one.. I wouldn't put it past but they're still trying to ride the wave..
Memphis says Tyler is worried about the vote because Dani is the tiebreaker. He said to Christmas "why don't you talk to Nicole and pitch the idea of sending me home and see if she takes the bait"
Memphis – I'm like Tyler what are you doing
Cody – What the f*** is going on dude
Memphis – when he said that It made me start questioning everything
Memphis says he gets why someone would just come on the show make the money and get out before Jury. If Tyler really wanted to do that he had 5 weeks to do it, "You're a smart guy to figure it out"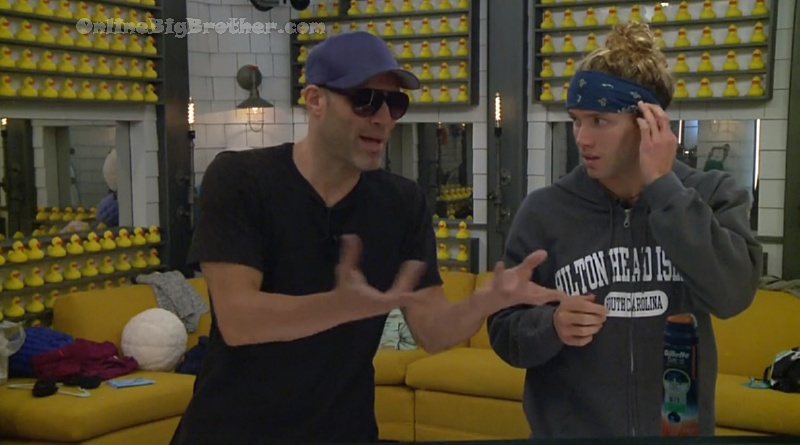 10:07 am Tyler and Enzo
Enzo – you got to get off that block yo they'll flip it yo
Tyler – best case is if you win because if Kevin wins she'll put you up
Enzo – I know me too.. that's what I'm feeling to yo.. you know what I mean
Tyler – they cut a deal for sure (with Da'Vonne)
Enzo – if you win I'm like yo you better not put me up I won HOH I protected you yo
Tyler – she might bro
Enzo – that's why i'm saying she might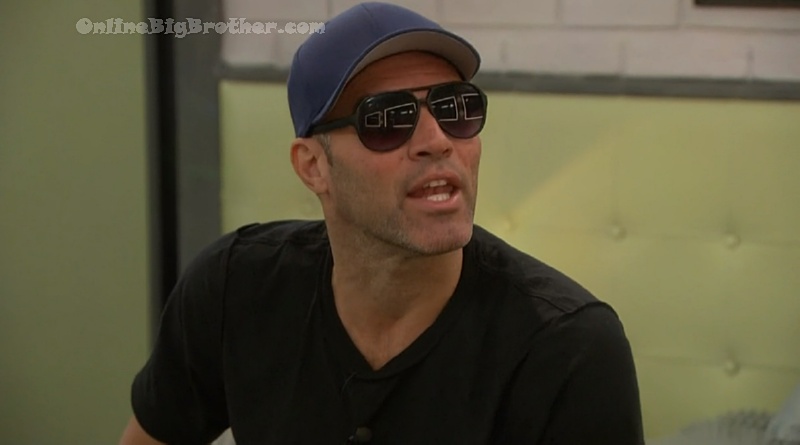 10:26 am Enzo and Cody
Enzo – she wants Tyler out..
Cody – she wants Tyler out
Enzo – f***
Cody – unless Kevin mentions something about Nicole and Me she's going to want Tyler targeted.
Cody – she's already planting seeds.. She thinks she holds all the power in the house.. like if I want someone to go home they're going home
Cody – Tyler going home is not shape or form good for us..
Enzo – it's not
Enzo – between me and you, you're my guy I love you. I'm thinking of using it on him if I win ..
Cody – you don't think that will f** you bad with her.. I don't think it's the play..
Enzo says if he wins POV they need to go to her and push the core 4 and they need Tyler.
Cody – they shook hands yesterday they aren't going after each other then she puts him on the block that night.. so Tyler is now upset with her
Cody – all I want Tyler to win the POV.. she is going to push for Tyler to go this week.. Are we really going to push back not really
Cody – she said to me Christmas is trying to start an all girls alliance.. I went to Nicole land she said Christmas isn't trying to form that it was Dani
Cody – what Dani wasn't is the final 5 to be, You, me, Nicole, Dani, Da'Vonne
Enzxo – Da'Vonne
Cody says if miraculously DA'vonne wins a competitions she'll go after them not Dani and Nicole
Cody says Dani is now not even considering Ian
Cody – Tyler is super close to us
Enzo – Tyler will go after Dani, Ian, everyone ..
They agree Tyler put him in this situation because of what he did
Enzo – Christmas is dangerous she's in everyone F**Ing ear
They agree Ian isn't putting them up.
Cody keeps telling him using the veto on Tyler is not the right play
Cody – Nicole isn't big on voting out Tyler either
Enzo – we have the votes..
Enzo says if he wins the veto they'll pull Tyler, Dani into the HOH and tell Tyler they have the votes to keep him.
Cody – we'll have to get Kevin to slip up some way
Enzo says David is the target next week because of how he's acting denying his power use.
Enzo says Da'Vonne knows she won't win nothing all she has is her mouth
Enzo – I want her out of this house.. I don't trust her.
Cody says Dani keeps telling him "Da'Vonne's not coming after you she's not coming after you"
enzo and Cody agree this is bullshit.
Enzo says Nicoel needs to start winning competitions "I know she doesn't want to get her hands dirty.. enough now.. enough"
Enzo – If Tyler wins POV you got to make a move put up Christmas backdoor..
Cody – Sending Christmas home right now is not the play
Cody – she's brought up multiple times that Christmas is trying to start an all girls thing it' was her
Enzo – stop being so cure yo.. stop with the cuteness yo
Cody – Tyler shot himself in the foot that is why I'm not willing to stick out my neck and use the veto on him
Enzo says Tyler told him Dani will put him on the block if Tyler uses the veto.
Enzo says if he used the veto on Tyler it f**s him up with Nicole, Dani and a bunch of people in the house.
Cody says Dani told Memphis about what Happened to Tyler last week. She then told him that Cody knew. Cody is pissed by this because he's got a relationship with Memphis now Memphis knows he's holding back information.
Enzo – there's 15 alliance in this house.. enough already.. enough.. If I win HOH i'm making a f**Ing move (If only)
Enzo says he's not putting up a Kevin he's putting up someone big.
Cody – I'm putting up a Kevin.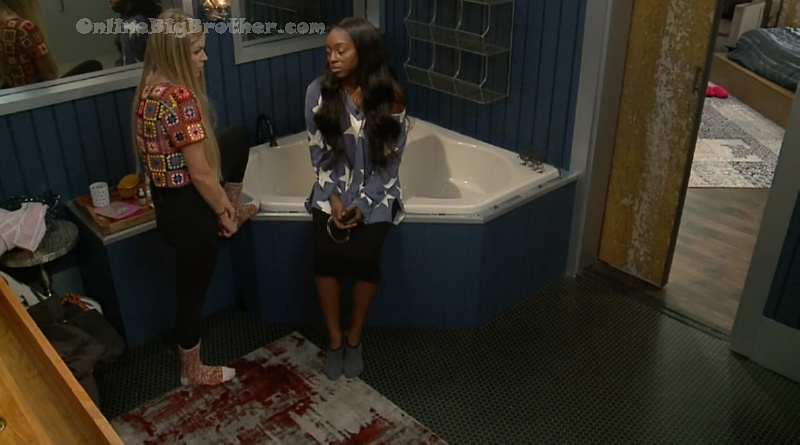 11:16 am Dani and Da'vonne.
Dani saying she wants to the noms to stay the same.
Dani says Da'Vonne isn't a consideration "You are in the no touch zone"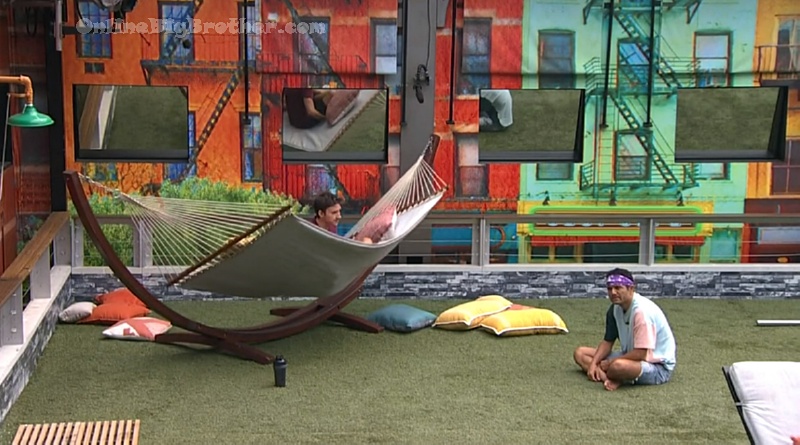 11:35 am Veto waiting game.
They talk about how smokey it is outside. The POV will be inside in the basement.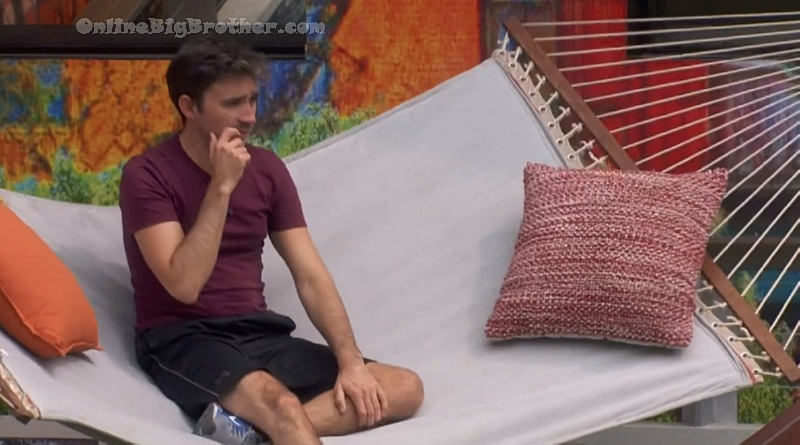 noon waiting for veto
12:32pm The live feeds switch to the kitty pound for the Power of Veto Competition..