Head of Household Winner n> – Dani
Have nots – Da'Vonne, David, Ian
Nominations – David Tyler and Kevin
Power of Veto Players are – Ian, Kevin, Dani, Tyler, Enzo, Da'Vonne.
POV Host: – Nicole
Power of Veto holder – DaVonne
Power of Veto Ceremony –
Powers – Christmas, Dani, David
Live feeds —-> Grab your Live feeds here. Try it free.
Rank the houseguests —-> Big Brother 22 Ranking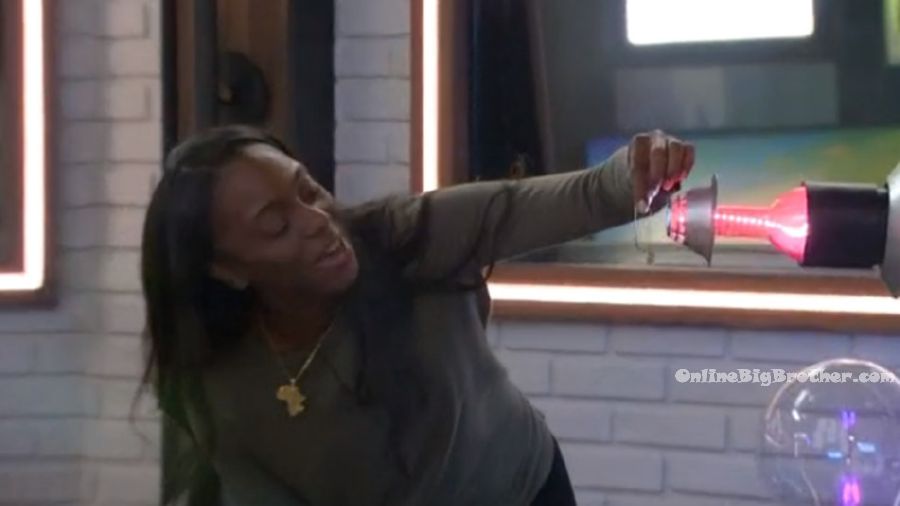 2:25pm The live feeds return – DAVONNE won the veto!
Davonne is in the kitchen holding the tiniest veto in BB history. Dani – it was really hard. Nicole – could you see how each other were doing at all? Dani – No I couldn't see at all. Nicole – that's what I thought. Dani – If I stepped back I could see Ian's but that is the only one that I could see. That was the weirdest comp I've ever seen on BB before. They talk about Enzo was cheating my going past a barrel. Dani – they said if you do it one more time we will give you a time penalty. Enzo – we got yelled at .. we got cursed at!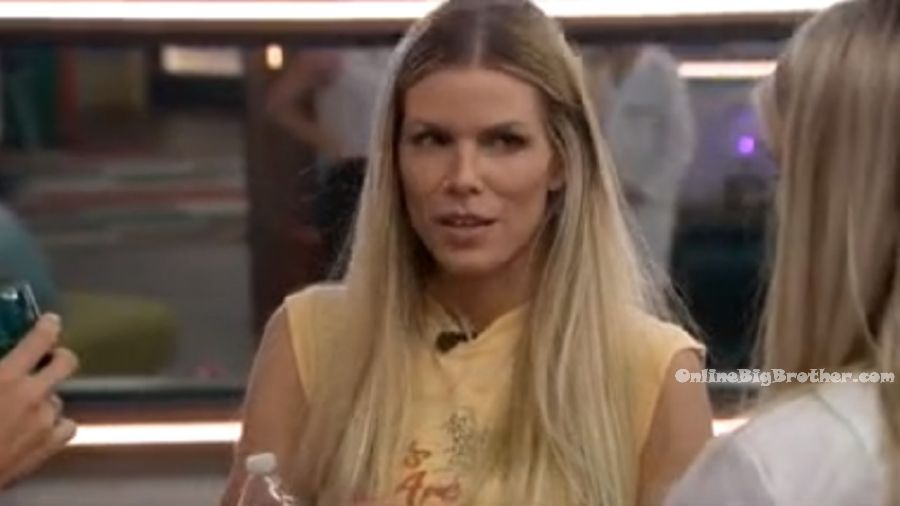 Backyard. David and Tyler.
David – DaVonne won her first comp! Tyler – MMmhhnmmm. Christmas joins Tyler. David leaves. Christmas – you're not going home this week. Tyler – I think I am. Christmas – no, its not happening. Tyler – no I think I am .. Dani and Day have some sort of alliance. A girls thing with Nicole .. and now that Day won they're going to hype it all up. Christmas – no way. She will have to put up Ian. Tyler – No she will put up Enzo. Christmas – they need to tell Day not to use it.. Tyler – Day is not going to let Kevin just go out. You know?! And Dani is going to be forced to flip to Day's side. Christmas – what did did Dani say to you? Tyler – she didn't say nothing. Christmas – are you kidding me? Tyler – she said lets make chicken nuggets. Its alright .. I'm not staying in jury though..
2:45pm Bedroom. Tyler and Cody.
Tyler – if Day uses it on Kevin .. Dani will put up Enzo. Cody – who said that? Tyler – Dani. Cody – no shot. Tyler – if she doesn't then she loses Kevin.. and she has no one. She needs to keep Kevin. Cody – say if you were Dani .. I would be pissed. Tyler – there is a girls thing. Cody – it would be so stupid of her to do that and have to put someone else up. Tyler – Dani is going to be forced to. Cody – you think Day is going to do whatever the f**k she wants? Tyler – because if she doesn't then Kevin is gone. Everyone has to tell Day that they're voting me out (So that Day won't think that she needs to use it to save Kevin.) Cody – I don't really want to do that. Tyler – just up until the veto ceremony. Tyler – there is a girls alliance .. Dani, Nicole, Day .. and Christmas is on the outs. Cody – how do you know that? Tyler – Christmas told me. Cody – no f**king way. Christmas is on the outs because of what went on. Tyler – if Day thinks everyone is going to vote me out .. she won't use it. Cody – why would she force Dani to do that .. that would be so bad. We just have to make it seem like 100% you're going home. I don't think she is going to use it.. that would be a bolda$$ play.
3pm – 3:20pm HOH room. Dani and Cody.
Cody – he was 1 million % convinced .. Day has no one in the house .. she is going to force her to put up Enzo. I was like why would Dani do that it would be obvious that she is trying to play both sides .. he was like Day is going to make her do it so she is going to have to say yes because she is going to use it no matter what. I was like BRO I do not think Day is going to use it. I was like I can just not see that happening. Dani – I think there is more to him and Day that we think. Yesterday he was like I need to throw Day up there and tell her she is a pawn. He kept saying it over and over and over again. Cody – yesterday he was positive you would put up Enzo. Dani – he told Day that I was coming after her .. and then he continued to tell her that I was coming after her. So if he could get me to put her up he would be like I was right the whole time bla bla bla. To make me look bad and him look good. Like I am not putting up Day .. I would never! Like that would be just dumb for me to do. Kevin is going to campaign hard to her to use it. Cody – he was like maybe I need to stage a fake fight .. and I was like what?! Tyler walks in and the conversation ends. Dani – are you okay? You look a little nervous. Tyler – I am nervous.. that was the only thing we could not have happen. If she uses it you know?! Dani – I don't think she will .. it would put her in such a bad spot. Tyler – she might be forced to use it because she knows if Kevin goes .. it is her numbers you know!? Dani – as far as I know and I haven't said anything to her .. she thinks you're going home. Tyler – we just need her to keep thinking that. Dani – don't freak out .. I'll pick her brain and find out. Dani – what if there is another power? Like I will just die!! I am done! Like for real! Tyler – she is going to use it on him I am telling you .. unless she is super secure and she thinks you would be pissed. Cody tells Tyler to stage a fight with Memphis because he is a hot head. Dani – you should stage it with Cody ..he's the actor. Cody – no one would believe him and I are fighting over nothing. Dani – that is true. Nicole joins them. Tyler – I could start a fight with Christmas .. everyone fights with Christmas. Dani – lets remember its not like its Bay sitting up there. Tyler – at the end of the day he is a number for her. Nicole – a fake fight would be cool. I think you're going to be fine. Dani – I need to talk to her before anyone does anything.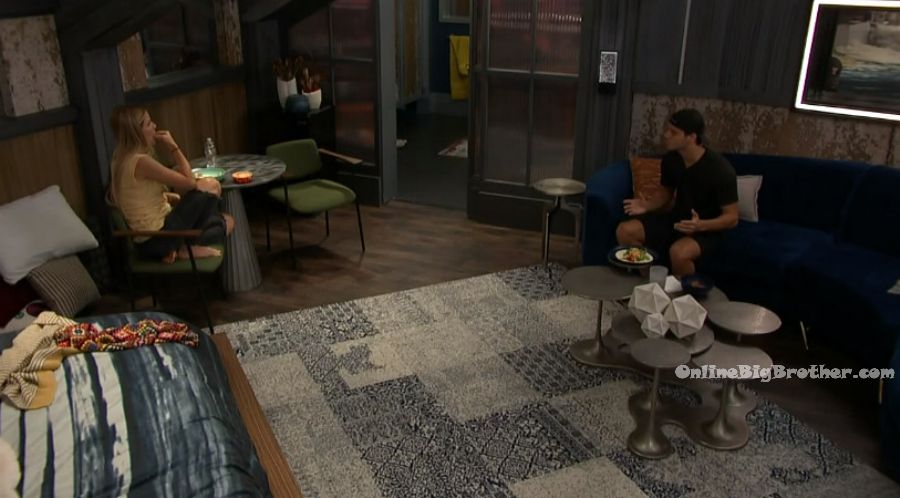 3:20pm Backyard. David and Kevin.
David tells Kevin that he won the Disruptor power. David – What power did you get? Kevin – I didn't get anything. David – would you tell me? Kevin – now that you told me.. I would take myself off right now. David – I just don't know what the other power would be. Low key .. I think Tyler has one that's why he is so chill. That's why I need to convince Day to take me off because he is going to use his power and come off. Kevin – there might be the opportunity for you to tell her that you won the power so that she will want to flush the others out.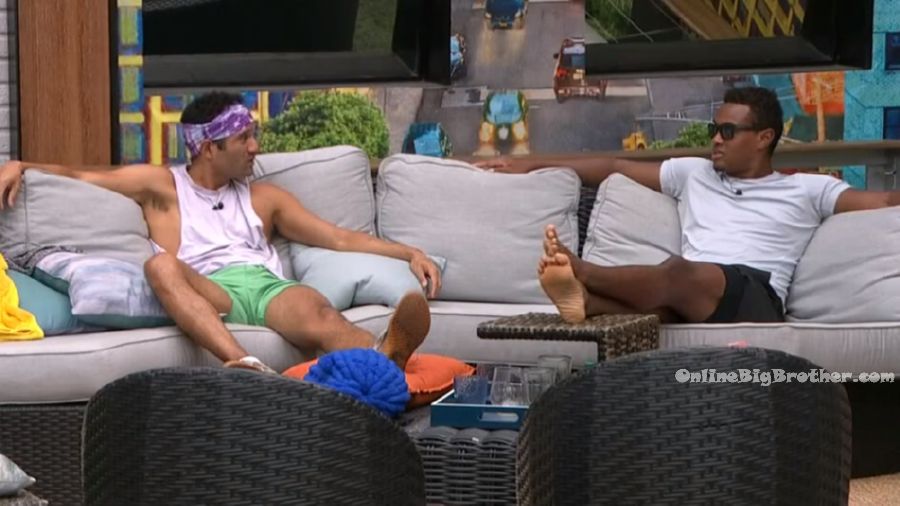 3:45pm Storage room. Day and David.
David – YO.. they are shook! They are so shook! Day – I probably was the backup. David – yes. Day – probably was the back up.. so now what… David – do you think you will save Kevin? Day – I don't know. I want to talk to Dani and see where her head is. David – if you did take him down it would show more of her cards and get more blood on her hands. David – Can I tell you something.. I had the power (Disruptor power).. I won my first comp too. Day – I knew you did!! She hugs him. I'm so proud of you. David – don't tell anyone. I don't want us to become bigger targets. David leaves. Day talks to the cameras. I ain't telling you sh*t! I don't care! I don't care! I don't care! I don't care!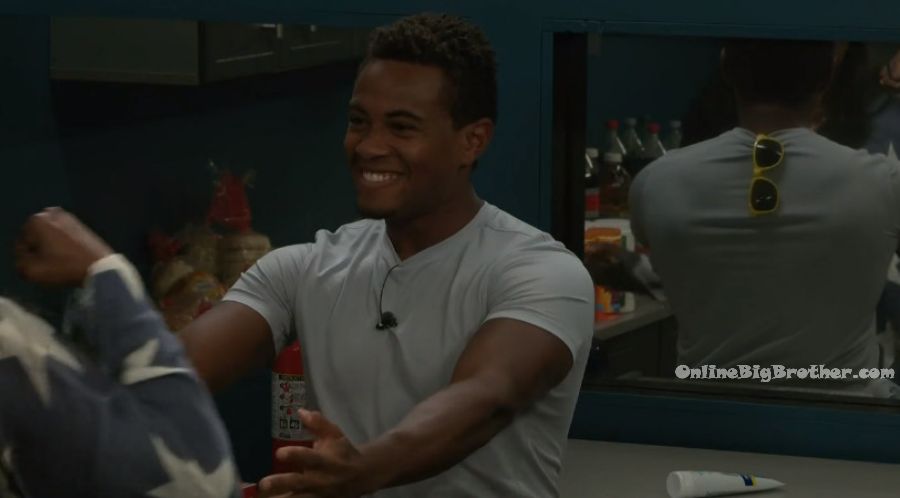 3:55pm – 4:15pm HOH room. Day and Dani.
Dani – oh my god I am so proud of you!! That was so hard! Day – Tyler was doing so good. So as you know Kevin immediately snapped me up.. to use this thing on him so bad. Like on the line of our friendship. Dani – he pulled that with me too! That is too much! That's not nice! Day – he said this is going to say a lot about our friendship. So this just stays between me and you.. there is you and Nicole. You and Nicole both have Cody. To some degree you and Nicole both have Tyler. Dani – I don't feel like I do at all. I promise that is being for real for me. Day – okay .. Cody has Tyler, Enzo and Ian. Somewhere Memphis is trying to get in ya'lls cracks. Christmas is attached to Memphis. Christmas is attached to Tyler. Cody and Enzo have each other with David trying to get in there. Kevin is frantic and then there is me you and Nicole. IN the you Cody and Nicole I know I am a plus one. Dani – I love Nicole. I love Cody. There is no final 3 with them. Where do you want to be in your map in your mind. Day – I need Kevin to stay in this house. What are .. because you don't have options. What about a Memphis. Dani – Memphis .. I don't see as a threat. Day – but if he is on the block next to Tyler .. Tyler would go. Dani – so you want to use it? Day – I don't know .. if you were a viewer what would you be telling me what to do? Dani – WHat I do worry about is if you do pull him off … the whole house would see a spot light on you. Day – why? Dani – because it makes you two a pair. Day – thats what I do not want. Dani – if you took Kevin off .. the only option I would have is to put up the ultimate pawn so that Tyler does go home. Day – I feel like youre only two options are Ian and Enzo. Dani – I can't put up Ian .. he would have a heart attack! Day – how close are you to Christmas? Dani – not at all. Day – Christmas has a power. Dani – she told you? Day – no I was standing next to her. Dani – oh man. We need David to confess to you so that we know how long she has to use it. I don't think I can put Enzo up. We're tight with him. Day – I know. I want to be loyal to you but in this game I also don't want to throw away one of my numbers. Dani – maybe I've have a deep convo with Christmas. We have to plan this .. if this happens .. then Kevin needs to do the things that I want too. Day – he knows.. he basically becomes a puppet.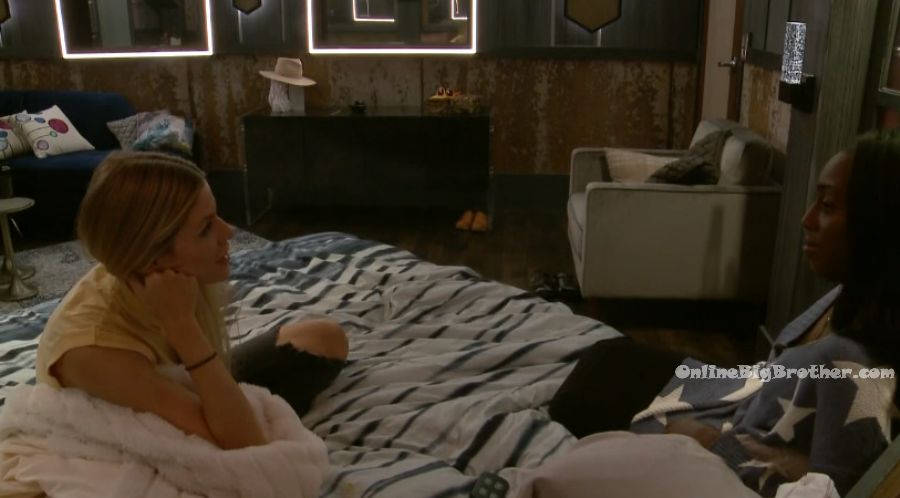 HOH room. Christmas and Dani.
Christmas – did she say she is going to use it? Dani – no she is just really worried about the powers and doesn't know what she is going to do. What if she uses it? Christmas – you will have to put up one of the others. Dani – who? Christmas – there's is literally only two. Dani – this will put me in the worst position in the house. Christmas – you know you have the protection of the comity and Day. I don't know what your standing position is with Ian or Enzo. Dani – I am cool with them. Christmas – but it just doesn't make sense to cannibalize our own. They agree that it had to have been David who won and used the disruptor power. Christmas – why would you even f*king say that if you're not going to say sh*t.. I get frustrated. Christmas heads down stairs.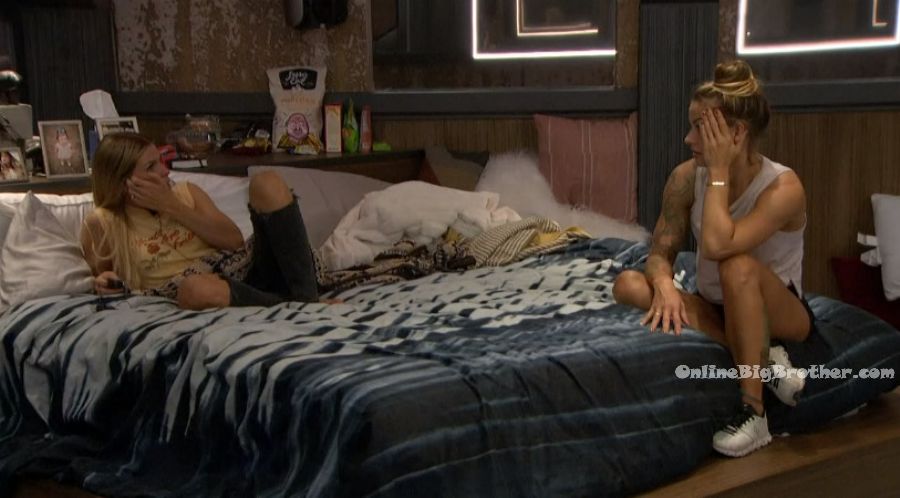 Kitchen. Kevin and Day.
Kevin – did she (Dani) offer her second born child? Day – no. She was more so please don't put me in this position. Kevin – I was talking to David and I was like man there was a moment last week where the two of you were on the block and I was like there is no chance the three of us will get further ahead. There might be a chance this week where all three of us are safe. Day – Yup! 100!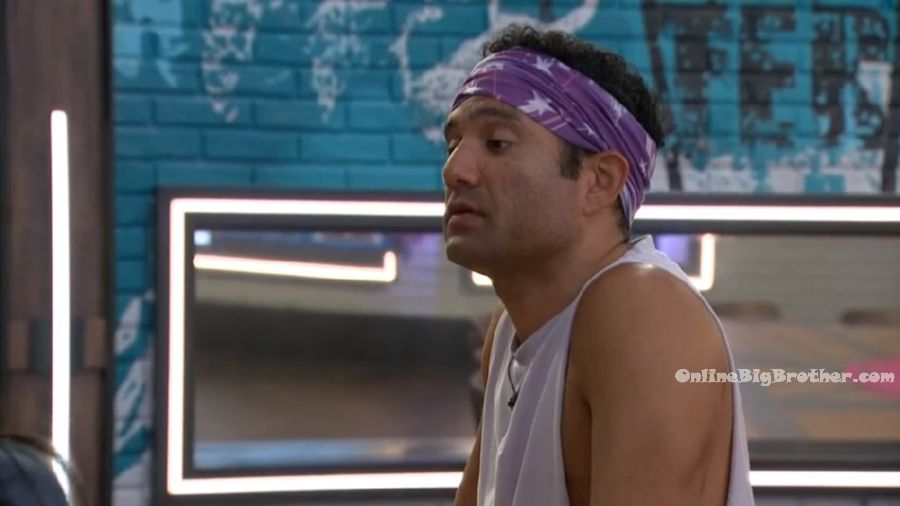 4:50pm – 5:15pm Bedroom. Kevin and Christmas.
Kevin – are you and Dani close? Christmas – not really ..when I went up there she gave me nothing. I don't know if Day is going to use it or not. Its her first win so she can use it if she wants. She is freaked out by these powers. You would have me, Enzo, Day, and most likely David. Kevin – he told me the same thing last time which was the same as what Enzo said .. yes but I have to talk to people .. so it gave him an exit plan. Which it is early, the veto hasn't even been used. Christmas – if she did use it, it would be on you. Kevin – and Tyler might have a power. I don't know his personality well but he seems calm for being on the block. Christmas – he is freaked out.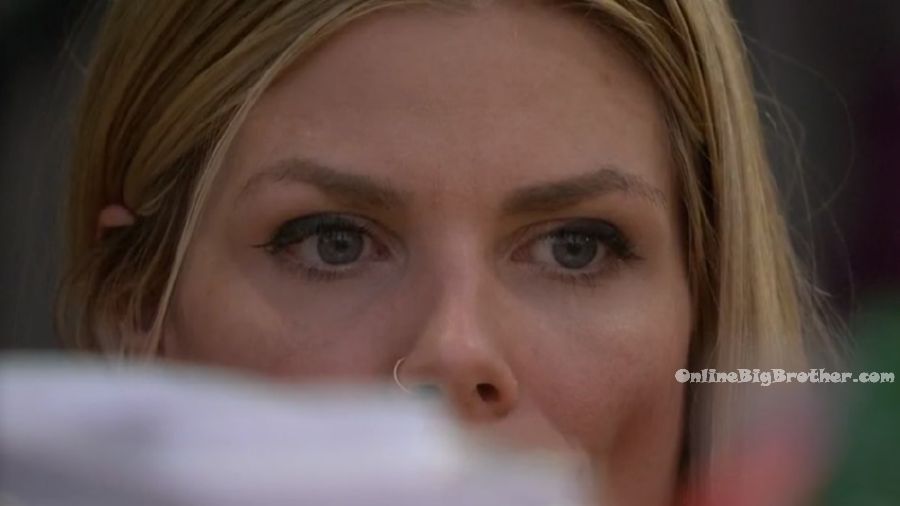 5:55pm Backyard Hammock. Nicole, Ian and Cody
Ian – If someone that we're not in with has a power that gets to pick a replacement. There is not a lot we can do about that. Nicole – but we don't want the veto to be used. Ian – we don't it to be used at all so here is what we do we need to focus on the veto not getting used. Then if it does get used… Dani picks the replacement.. if that falls through because of a power then we can think about what to do after that. One thing we can control .. the other stuff we can't. Nicole – Kevin is going around seeing whos votes he has. I feel like everyone is scrambling secretly. Ian – it is just power paranoia. No one panic .. just stay calm. Focus on what we can control. We can control whether the veto gets used or not.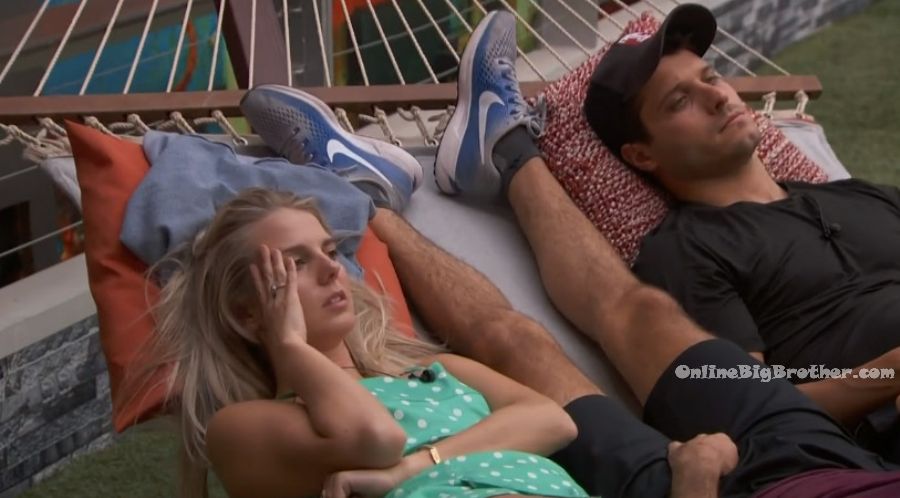 6:10pm Kitchen. Kevin and Day.
Kevin – Who would have thought we would be in this position. You went from being on the block to having the most power in the house. Day – I've got to win HOH. Kevin – remember when we talked .. we have to make it count. When we get power we have to make it count. Day – you're right, you're absolutely right. Kevin – she is going to have to draw a line and you don't have to get your hands bloody. Kevin – After talking to Dani.. how do you feel? Day – she is terrified which lets me know there is a web. Kevin – This will help clarify it.. we can use this to expose it.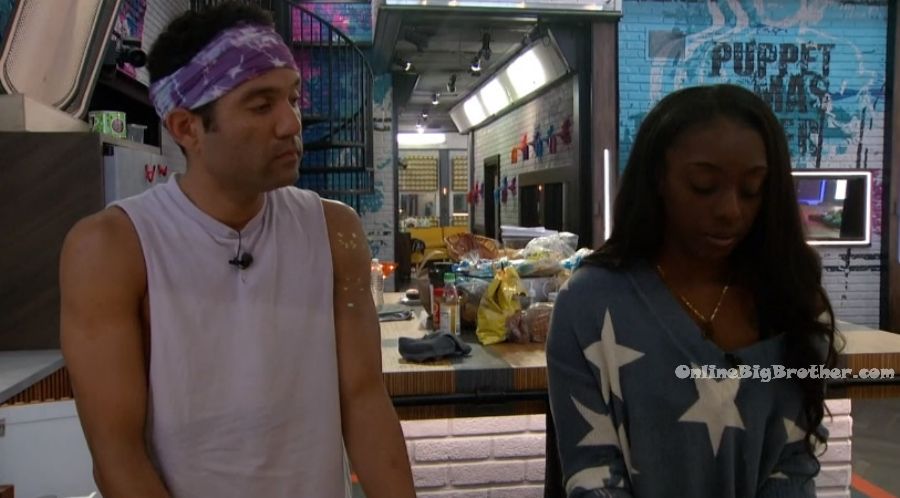 Show your support by making a donation.
If you're enjoying our live feed updates this season, please consider donating.
Any amount is greatly appreciated! Your donations go directly to paying the fees required to run this site.