Head of Household Winner – Dani
Have nots – Da'Vonne, David, Ian
Nominations – David Tyler and Kevin
Power of Veto Players are – Ian, Kevin, Dani, Tyler, Enzo, Da'Vonne.
POV Host: – Nicole
Power of Veto holder –
Power of Veto Ceremony –
Powers – Christmas, Dani, David
Live feeds —-> Grab your Live feeds here. Try it free.
Rank the houseguests —-> Big Brother 22 Ranking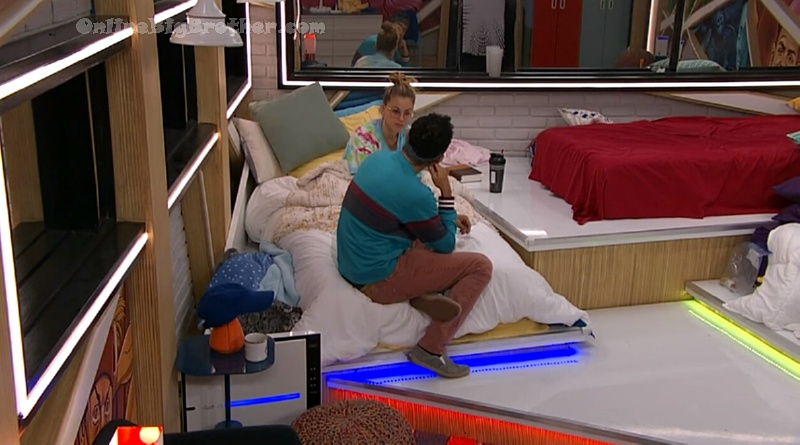 midnight Christmas and Kevin
Christmas – i'm here to do this.. this is my job right now. When I do something I go all the f***ing way I'm here to play and win these comps.. without any stress and nervousness I was like BAM BAM it happened. (ugh)
Kevin – I can do that
Christmas – does that make sense
Kevin – yes it does..
Christmas says his first veto win shows him he can do it his second one he's go to show that he can "Dominate"
Christmas – don't go to go through.. don't go to the finish line go through the finish line..
Christmas – tomorrow you have to go through not to
12:40 am
bible time with Da'Vonne and Tyler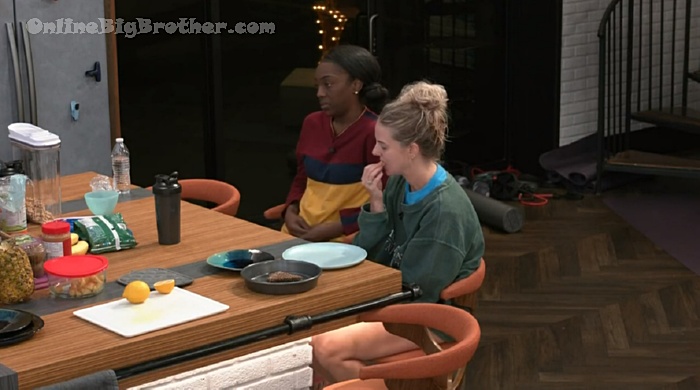 1:09 am Da'Vonne and Nicole
They talk about how well Tyler is handling being nominated.
Nicole – better than anybody in the household
Da'Vonne – good for her
Nicole – better than I would imagine
Da'Vonne – I felt so bad for her .. all she wanted to do was see Tennessee.. I'm pretty confident she didn't expect a night like this
Da'Vonne – moving forward now if you win HOH you have to have 5 in play.. (if you win HOH)
Da'Vonne – oh my gosh.. and you have to figure out what order they'll be in
Nicole – it'll have to be a friend. This house is full of friends.
Da'Vonne – there's three powers they should have done this in the first week or there should have been one
Nicole says with so many powers in the game "No one will want to win HOH"
Da'Vonne – at first I was thinking how Tyler would say he wanted to go home right? Maybe he did it so he could get out of the game but you don't get to go home.. nobody wants to sit in Jury
Nicole – maybe he's planning on leaving
Da'Vonne – I thought what if .. but no it make no sense either.. what if he set a trap to see if Dani would nominate him
Nicole – I don't know about that
Da'Vonne – but she can't play next week and now he has somebody to put up
Nicole – true
Nicole saying how people should just leave David alone about not telling he had a power or finding out if it is him with the power.
Nicole – people are being a little too hard on him because people are like we want to get out of him.. I'm like it doesn't change anything
Da'Vonne – it still got used
Nicole – yeah
Da'Vonne – weather it was him or somebody else
Nicole – leave him alone at this point. People will fixate on it because theirs nothing else to do
Da'Vonne says Christmas told them the powers expires in three weeks. So next weeks powers are going to fly everywhere.
Nicole – I wish I had a power so bad during a double. I hate doubles moire than anything else.. If I could pay them to not have a double.. In the contract.. It's so stressful
Da'Vonne checks out the ants.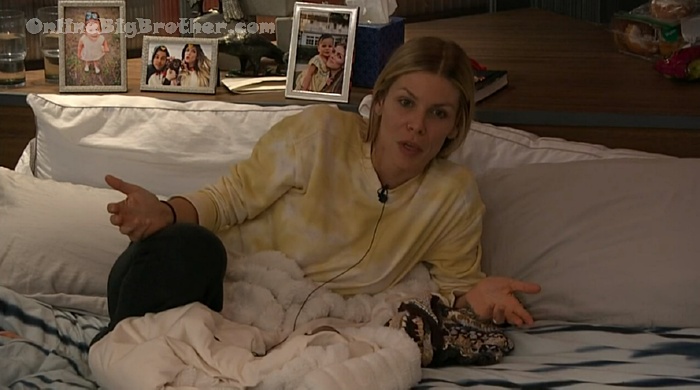 1:40 am 2/3rd of the love Triangle
Dani – why do I have the trashiest power in the whole world then there's these mighty powers.. I hate my power I want to return it I want a refund.. I have a recepit.
Dani – mine was refereed to as getting socks for Christmas (by DR)
They both complain that Dani's power is weak while other peoples have powers like David's. They speculate that the other power is a "Shield"
Dani says she's embarrassed because in the Diary room when she got her power she cried because it's trash.
Cody asks her if she's trying to get Tyler out
Dani – I don't know what I'm trying to do. Not make people mad
Dani doesn't want Veto played "if he wins you got Christmas"
Dani – if Kevin wins.. for reals.. what am I going to do
Cody – i dunno
Dani – if Kevin wins we have to send Tyler home
Cody – you know what's going to come up.. Ian. It's going to come off Christmas and Memphis
Dani says Enzo wants Da'Vonne put up. I'm sorry i'm not putting her up
Cody says Enzo is upset with how fast she dropped in the HOH
Dani – why is he so upset about it.
Cody – Enzo is on the season to win Competition..
Dani – that's all he talks about. He's a little extra talking about it. There's 0 percent chance.
Dani – the only person that genuinely wants to keep him is Christmas everyone else would go either way
Cody – Memphis wasn't talking like that outside
Dani – I talked to Memphis yesterday.. I told him about the whole situation with Tyler
Dani – he was pissed at Tyler.. he felt really betrayed.. I told him Tyler was lying trying to set me up.. Hew as like why is he trying to dabble with other things when he has our alliance.
Dani – I tell you at the end of the week the only person that will be gungho with Keeping Tyler is Christmas everyone else is open with whatever
Cody says Christmas will do what the group does.
Cody – David, Kevin everyone will stay and Tyler will go home.
Cody – you're HOH week we've eliminated no numbers
Dani – we have option.. Kevin keeps being super weird and pressing me about who used the power.
Dani – he's saying that crap Ian was saying about how it was not David.. A – that is weird because he's really trying to defend David WHy? B – he's using the story again like Dani.. I think somebody you were close to knew what was happening wanted to accelerate it to make sure it was happening. I was like so you are telling me whoever is my closest allies in this game did this. and he's like YES.
Dani – and I said …. interesting
Dani – I said who do you think it is and he said whoever you told what you were doing who did you tell.. I said Kevin I didn't tell a single person in this house anything.. and he goes OHH.. . maybe that defeats that..
Dani says tomorrow she'll tell Kevin the only person that knew was Da'Vonne because he's tight with her and lays off of it.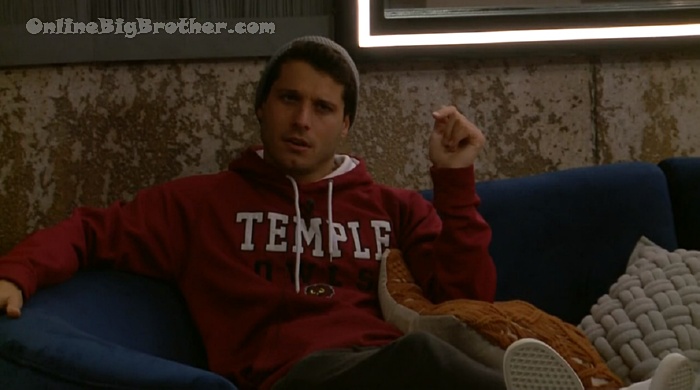 Dani – If I can validate the fact he's [Kevin] coming after you I don't want him here
Dani brings up how Kevin come sup with the most outlandish Scenarios constantly about everyone in the house, "what house are you in"
They wonder who Kevin means when he says her closest allies.
Dani – if Kevin comes off who do I put up? at that point we send Tyler home. I feel like we have to
Cody – who do you put up? if you put up another committee person that could really piss people off. If you were like Christmas be a pawn, Memphis be a pawn and then the thing is thin about.. if he goes up and think she's the target.
Dani – what about Enzo?
Cody – Ohh my god..
Dani – I don't think it will be easy i'm just thinking scenarios who else am I going to put up that guaranteed to stay?
Cody – I understand that it's a matter of.. in terms of if you put…
Dani – the only options I have honestly are Ian and Enzo who else? Memphis?
Cody – if Tyler feels like he is the target it's going to be a f***ing nightmare. It's gotta seem like Tyler you are the pawn.
Dani – Christmas still? who tell me who?
Dani says Nicole, Da'Vonne and David are all out.
DAni – Christmas, Memphis and you C'mon.. it's literally Ian, Enzo and Christmas those are the only options. If I put up Ian he'll break into pieces so it's really only Enzo and Christmas
Cody says the only person that would make Tyler feel lie he's not the target is Ian.
Cody says id she put up Memphis Tyler will think he's the target.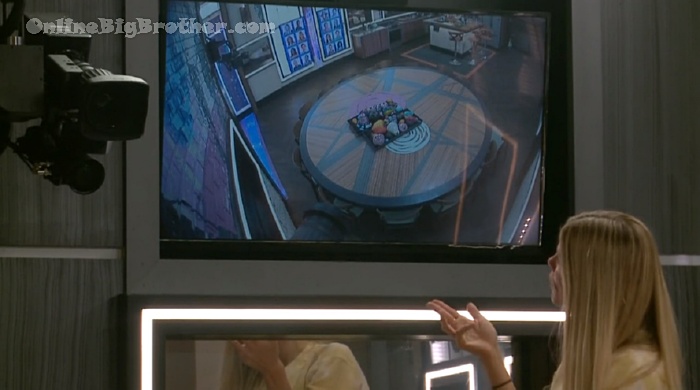 Dani looks at the memory wall says if she puts up Ian thy'll have Cody, Da'Vonne, Nicole and Enzo for votes.
Dani – I'll break the tie.
DAni – if we really wanted Tyler gone at that point we could convince Memphis.. it would be a tough sell because he wants Ian gone at that point.
They talk about who Tyler will blow the committee up to. Cody doesn't think Tyler can do alot of damage.
Dani against asks who she should put up Cody wants to talk about it another time says "it's hurting my brain thinking about it"
Dani – what if there's another power and I have to put 5 people up
Cody – quit walk out the door.. put me up I want out
Dani – can you imagine two people can keep them off the block and I get to replay in a trashy HOH competition.. how did I get the worst power..
Dani says right now da'Vonne thinks Tyler is the target. Cody says Tyler thought he was going to be the backdoor option this week
Dani asks him who she should have put up if not Tyler.
Dani – you literally said 10 minutes ago he's not coming after you and isn't going to be upset
Cody – I don't know what you want me to say
Dani – if ou were me who would you have put up? you're acting like it was a bad move
Cody – to be honest.. Da'Vonne or Ian. you are in a different spot than me
Dani – Ian was the other option but I'm not going t put up Ian
They conduct their flirty banter about Dani putting Cody up
Dani – I cant stand you.. stop being awful
Cody – you're threatening to put me on the block and I'm being awful
Dani – yeah
Cody – you're on such a power trip
Dani wanted him to have won the HOH and had his HOH ruined by a twist, "you couldn't hold on for two minutes you need to work out more"
Dani – this week will put me in the worst spot ever.. I literally have targeted four people..
Cody says he's worried she'll find out Kevin is coming after him but she won't tell him because she wants Tyler put
Dani says the only reason she put Kevin up in the first place is because of Cody.
Cody points out that Nicole is saying that Da'Vonne was cheering when David used his power.
They go back to talking about the nominations. Dani says if they stay the same Tyler will be one his best behavior all week.
Cody – he might now
Dani – he will
Cody suggests she picks Enzo if she gets houseguests choice "he's going to battle for the veto he won't be like I don't need to win"
Cody says if he gets pick he'll battle to win
Cody says if he wins the veto he won't use it it's an easy conversation to have with Tyler just say that he's not going to make Dani nominate a 5th person when they have the votes to keep Tyler.
Cody – Enzo loves the core four..
Dani tells him she's not sold on Tyler leaving this week she's just weighing all the options
Cody says Tyler going home isn't good for his game right now but he will send him home "1 million percent" if that is what Dani wants.
Cody – I'm not f**ing around to mess with you
Dani – so what do we do get David out in the double
Cody – really on a double.. that's what frustrates me the most.
Cody says he' won't go after Ian on the double.
Cody says if during the double he put David and Kevin up and one of them went down he would put up Da'Vonne and send her home
Dani wants clarity on why not Ian on the double
Cody – i'm literally clipping somebody .. Ian is not coming for us.
Dani – please hear me, DA'Vonne is not coming for you I truly don't think so. She' been very open with me since Bayleigh left.
Cody – I feel way more confident and comfortable with Ian than Christmas
Dani – Christmas will come after you before Da'Vonne
Cody says that Da'Vonne will never win a competition
Dani – then why go after her first
Dani warns him that Christmas was trying to form a girls alliance earlier in the game.
They go back to talk about how Cody is safe with Tyler. Dani says she felt the exact same way about Tyler then he did what he did. Warns him what's to stop Tyler from doing that to Cody.
Dani – I'm just playing devils advocate.
Cody – at what point does he say f** it to me..
Dani – there was no reason to do it to me.. NONE.. I've never said his name once.. never
Cody – yeah
Dani says Tyler looked really stupid on the show after last week. "that's what I gather.. it was stupid it was a stupid move.. how would he not look stupid"
Cody – why the f** would you do something like that.. now he's on the block..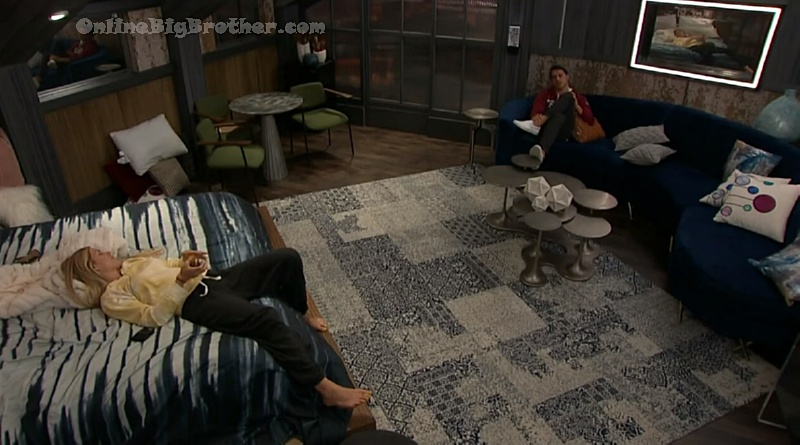 Dani – tell me more about David crying the fake crying is that real
Cody says he's taken acting classes and it's not the hardest thing in the world to make yourself cry
Dani – but he weeps
Cody – if that is something he learnt to do it's not hard.
Cody talks about how David crying after the power was over the top.
Cody – he said I f***ing hate this game.
Dani – we all knew somebody was coming off the block
Cody – I was like he's being ridiculous
they go on to describe what happened after the power was used last night.
Dani points out that David and Kevin have been close all day.
Dani says Production should be embarrassed that they gave her a trash power and David a super power. "It's embarrassing for the show"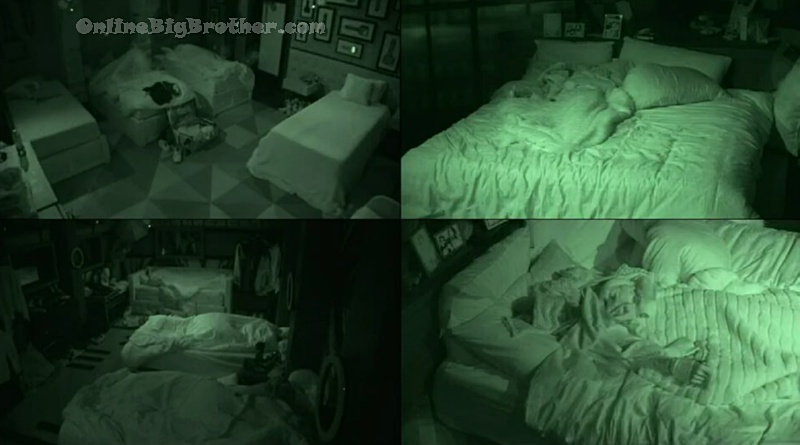 3:30 am Sleeping yo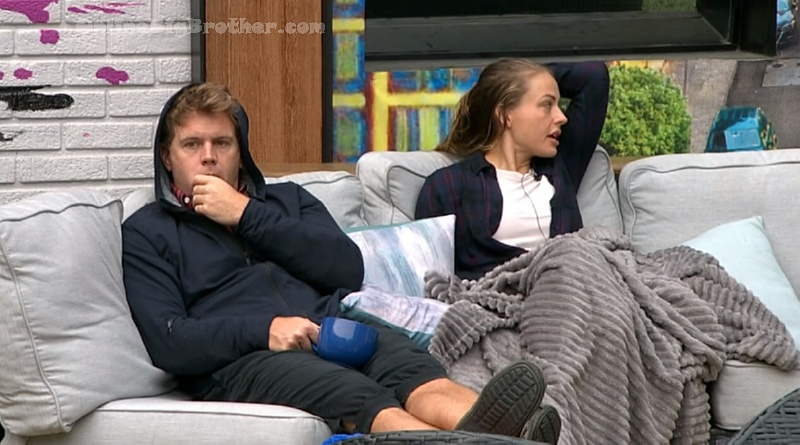 8:10 am Christmas is talking about her nutrition seminar and tour..
Show your support by making a donation.
If you're enjoying our live feed updates this season, please consider donating.
Any amount is greatly appreciated! Your donations go directly to paying the fees required to run this site.