| | | | |
| --- | --- | --- | --- |
| POV: | Kaycee | Next POV: | Aug 25th |
| POV Used | NO | POV Ceremony | Aug 27th |
| HOH: | ANGELA | Next HOH: | Aug 30th |
| Noms: | Fes & Haleigh | Have Not | Fes, Haleigh, Kaycee |
Big Brother Spoilers Last night the audio link between the HOH and the kitchen was stuck on so Sam was able to hear what was being said in the HOH. Sounds like nothing major was said or if Sam did hear something she's either not understanding it or is internalizing it. Looks like a slow day and Sam isn't even crazy today.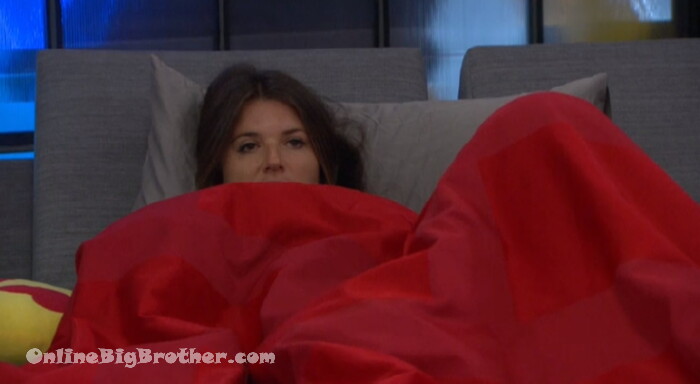 11:29am Angela and Kaycee
Kaycee says before she came into the house they ask them a bunch of questions about what irritates them. Kaycee says FES is all of it.
Angela – to a T
K – Selfish, Inconsiderate, only thinks about himself.. just exactly.. him .. I've always thought of that since the very beginning I see the good in him. .little glimpses
A – little glimpses
K – ok he's not that bad.. GOSh.. I don't know what he irritates me ..
K – On top of that he's so full of himself.. I don't know why it bothers me so much
A – he thinks he's the sh1t
KAycee bring sup JC mentioning that all of Fes' stories have him bullying other kids, "He's a bully"
K – like that one they throw the ball and hit them.. oh there was the one FEs told a story about they were in a taxi and they were throwing snowballs and the taxi driver gets out and one of his friends knock the taxi driver out
K – so JC is like all his stories is just like Bullying.. he does stupid sh1t .. you can tell he grew up very spoiled
A – yes and he got away with it and his mom let him do whatever it is he wanted to the point where he had to do nothing so he's used to not having to do anything
K – now he's about to be 27 and he can't ..
A – he's still a child
K – still a child.. he just doesn't think. I don't know how he can be in a relationship he cooks for himself he doesn't give a sh1t about nobody else but his damn self
K – of course there's going to be people out there like that but it's just.. to actually know someone
A – to experience it.. I knew it exist but this is crazy.. to think that people can think only of themselves
K – how is ever going to be in a relationship and take care of someone.. take care of a significant other if he just doesn't give a f*
K – he's going to need someone that's OK with taking care of him
they laugh "f* that"
A – Like a Sammie a mother
Kaycee – it's a good thing Sammie is still talking to us
Angela – she thought we were doing it on purpose .. she wasn't listening
K – REALLLLLLY .. OHHH
A – She thought we were pressing it down and talking on purpose to just mess with her
K – did you say
A – I was thinking about going with that.. I was like NAW we would never do that
A – what happened was Brett was upset he came stomping up here Me and Tyler were just laughing at him .. I was like come on it's laundry
K – she thought it was being held but it wasn't (the button to allow for the one way communication between the HOH and the kitchen)
A – she was trying not to listen so she just heard little parts of it so I think we're like totally good .. I hope
Kaycee – that was a close one.. Good thing I ran up here.. I could have gone to the Diary room you guys would have still been talking up here
A – who knows what we would have said .. we're all getting out Sam next week
Kaycee laughs
K – if Haliegh would win you don't think she would but us up again
A – no.. I had a conversation yesterday where she was like you know I took a shot at you and you kinda put me up sorta and EYE for and EYE kinda thing. She was like I hope we don't keep going at it like keep putting each other up
A – I was like NO I hope this is over now.. I needed a reason to justify my pawn to everyone. She was like OK good I want to be done with this I'm sorry I ever put you up to begin with
Kaycee – as you should be Dammit (sorry for putting them up)
A – mmmmmhhhhmmm
A – she might not put me up again
K – I dont think she will
A – she will put up one of the guys (and Sam)
K – I know she feels bad.. feels F*ING stupid .. and Bad..
A – she might put up JC
K – you think so
A – maybe
K – I'm sure her and fes are talking if one of us stay who they should latch on to
A – everyone see you, me, Tyler as solid
K – you think sso
A – think so
A – haleigh might see it as me you and Tyler and that leaves Sam, JC and BRett
A – she'll want to latch ontop who she thinks is the stronger ,… when it comes to competitions our little group, Me you Tyler have proven to be stronger in taht sense..
They comment that the entire Jury house is full of the SwaggyC alliance.
Tyler with his straight Hair.. (because he looks so good ;) )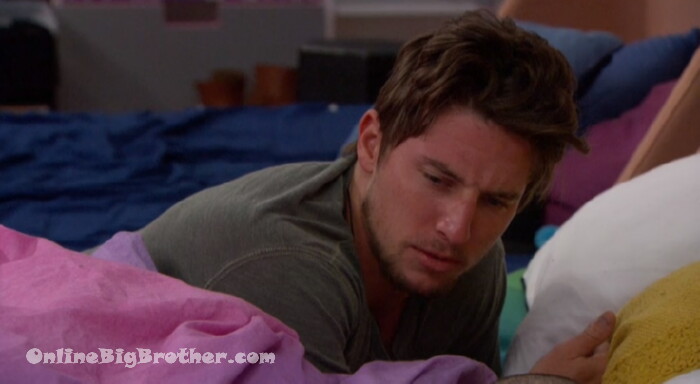 11:31am Brett, JC and HAleigh cuddled in a bed.. @ 11:47am Brett tells them
B – It really wasn't that bad but I was pissed because of what she did
H – what did she do (sam) \
B – I was laying down in here.. she comes ripping back here.. you're too f*ing cool to do your laundry with me..
B – I was like What the f* are you talking about. She was like you took your stuff out of my laundry it's sitting in there dirty next to my laundry
B – I was like OK I just put it inside because I thought I might not be able to get it done before the lockdown. Like there was a line
B – she was like maybe you could put it in with Haleigh's Laundry
B – I just didn't say anything she said something else I can't remember
BRett- I literally didn't say anything at all..
H – why the f* would she even say that
BRett – she's been snapping at everyone all day and then she snapped with me.. I was like there's no reason for you to snap at me like that
H – I don't understand why I had to be involved in that situation
H – I can't live with her (Sam)
haleigh mentions about the dryer where Sam told her she's good just cranky
B – I haven't seen her since
H – I don't know what her problem is
B – I look like a choch with my hair like this
H – I like your hair like that
12:18pm Haleigh, JC, Sam and Brett
Sam – time to get up for the day (from outside the room)
Sam – good morning, I got a bone to pick with you (brett)
B – okay
S- you gonna go up stairs and cluck and sh1t and have your little hand party get all aggravated and like you got some kinda problem
B – I don't have a problem I was a little frustrated in the way you came at me but I didn't want to make it a big deal and I was just talking to JC about it
B – I didn't want to make it a big deal and I was just ad cranky as you were
B – I can be cranky too sam.. come on .. don't make it a big deal sam
Sam – I'm not but if you feel like that again you should come talk to me about it and say it to my face
B – I'm sorry
Sam – I don't want it to stir and fester make you feel bad for any longer than it has to
B – it's not festering.. I know you are quiting cigarettes and you were cranky and I am cranky nothing is going to be resolved by b1tching and moaning I had my little vent sesh with JC and that was it..
Sam – ok, you promise ..
B – OI promise
S – and today is a brand new day
B – Ok .. I feel bad that you feel bad that I feel bad..
Sam – I feel bad that you fee bad
they agree not to feel bad..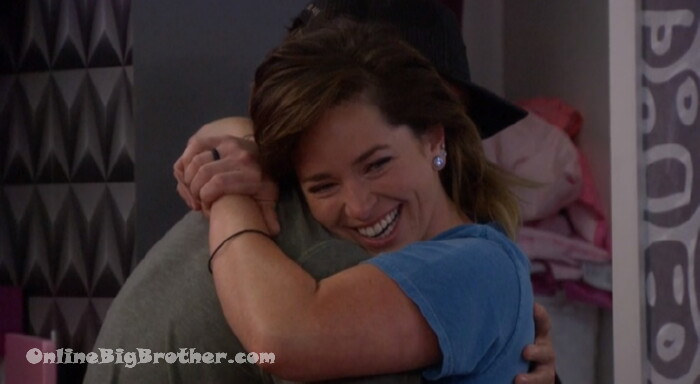 they hug it out..
12:20pm Tyler, Kaycee and Angela
T – I was just talking to Sam for like an hour
T – talking about relationship and stuff… nothing game she's in a good mood today
Angela says they hashed it out last night
T – did she bring it up
A – yeah she called me in there to talk about it
A – I told her I was just being a little girl and venting..
A – she asks what was the whole thing last night. I was like I don't know something with the cameras. Apparently everything we were talking about upstairs was broadcasted in the house.
A – she was like I thought you guys were doing it on purpose and like trying to get me to listen so I was trying not to listen
A – I was like ohh well it was stupid BRett was venting to us about some laundry thing I don't know
A – she was like yeah I didn't understand what had happened because we had out laundry together and then he took it away after I had it combined. I was confused..
A – I was like Yeah.. we're all just up here laughing at Brett it was just laundry the stupidest thing ever and apparently it really bothered him
A – I told her I think what really bothered him was the whole Haleigh
A – she was like Well Haleigh hadn't done her laundry so I thought they could do it together
A – yeah eyah yeah .. totally don't even worry about it Brett's just a little girl he needs someone to vent to
T – it's all good then. Could have been worse
K – could have been way worse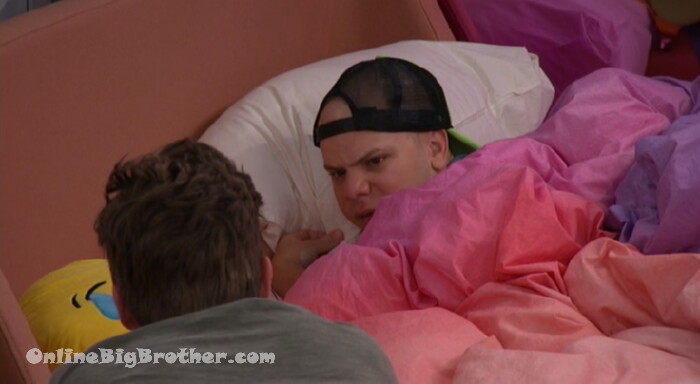 1:44pm JC and Brett
JC tells him he's fine if it's a double
Brett mentions that it worked out ok in the end between him and Sam.
JC – my concern about Angela with KAycee and Tyler they are going to be powerful thats one of the reason why I keep telling you (to get closer with Tyler)
Brett – they're too already
JC – I don't think so
JC – we can fu*ing take them out
JC – I feel like Sam has my back and your back and Haleigh would rather work with you than work with them but I don't think they have Tyler ..
B – Tyler likes Angela
JC – he finds her attractive.. she likes attention
B – I know
B – Kaycee loves Angela and Angela loves Kaycee, Tyler likes Anegla
B – neither of them will deviate from her
JC says once Angela is on the block they have the votes.. "if we get her on the block with Kaycee we can tell Sam to vote our way, Haleigh and you.. One of us wins HOH. We have a lot of chances to take her out..
JC – I Actually like her a lot but it's a game move
Brett – you're right..
JC – just don't open your mouth if kaycee wins HOH or Tyler wins HOH (makes a zipper motion with his hands over his lips)
BRett – all of a sudden it's like they weren't very tight then they did that veto stuff and that brought them closer.. this last week they been all over..
JC – best case scenario for us will be use winning HOH, If Haleigh wins HOH she'll put up Sam
Brett – why would she put Sam up that's new blood.. She's already put the three of them up that would be stupid on her part. (she is a HIVE member after all)
JC – that's where you come in if she wins HOH
BRett says haleigh is getting tight with Angela/KAycee now
Brett – Sam will put Angela and Haleigh up
JC says if they get rid of Sam and Haleigh it'll be 3 vs them and they're f*ed
Brett – I don't thinking they have Tyler but I think Angela has Tyler in her pocket..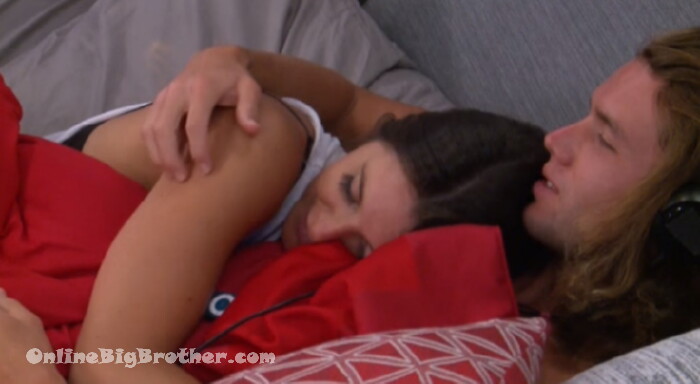 1:47pm Angela and Tyler
A – I missed you
T – I missed you to, hows life
A – boring .. damn cameras.. (camera zoomed in)
T – have any dreams..
blah blah blah
1:58pm
Angela – watch for Peanuts (While they cuddle)
Angela doesn't know if Haleigh will put her up after the conversation they had "she said she's over it"
A – at the same time I put her and Fes up and she put you up ..
T – she put Sam up .. that would be doing what all of us want and what she wants .. she knows Sam is coming after her but she also knows we've been coming after her
T – She'll put up either Sam, ME, you or Kaycee
T – some combination of that
A – As long as Sam is one of them
A – Sam will put up Haleigh and BRett
T – we just got to keep winning HOH's
A – if we don't what's the damn problem ..
T – you and me back to back to back the entire game..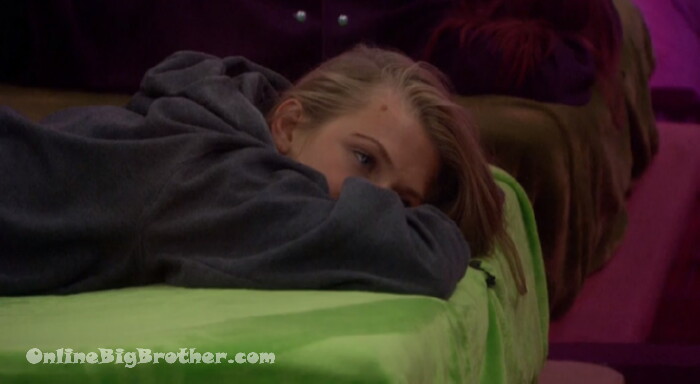 3:22pm Haleigh and Brett
Haleigh – I feel like I can't talk to you because I'll get some back handed comment
Brett says he's in a weird mood today he wants to crawl in his room and watch Netflix
Brett says thing are starting to get interesting in the house He points out how much the house dynamic changes from week to week
Brett tells her he still feels bad for the comment he made about the bacon to Scottie. (something like it's his last day to eat bacon in the house or something like that)
Haleigh says don't be he'll probably be coming back
Brett – do you think BAyleigh would just say f* you
Haleigh – no she'll get over it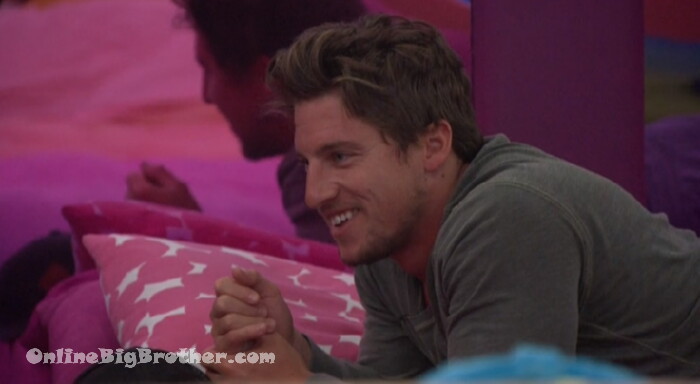 3:43pm THey are talking about Sam I think it's about if she can hear them talking or not.
Haleigh – "SO strange"
Brett says he talked to her this morning and it was all good
H – I don't think she's over it at all.. She does not like us talking..
They gets called out from obstructing their microphones (By production)
3:28pm Angela and Tyler
They are trying to hide their cuddling from everyone including Kaycee.. KAycee runs in to use the washroom and they quickly scramble
4:07pm it's the nutcracker (Someone on twitter actually corrected me saying it's not.. hmm.. )
4:50pm she's still going strong
Sam is performing the nutcracker #BB20 @DawgsBigBrother pic.twitter.com/OFwdoPTqyx

— OnlineBigBrother.com (@bigbspoilers) August 28, 2018
5:32pm
JC – I keep smelling fish at first I thought it was Brett
Brett thanks..
Bro lifts
Bret t- I feel good
Haleigh – you look good..
Brett – you tell all the boys that
haleigh – don't tell all the boys that
BRett – just me
Brett points out that haleigh is messing up all the beds that Sam made, "Someone isn't going to be very happy"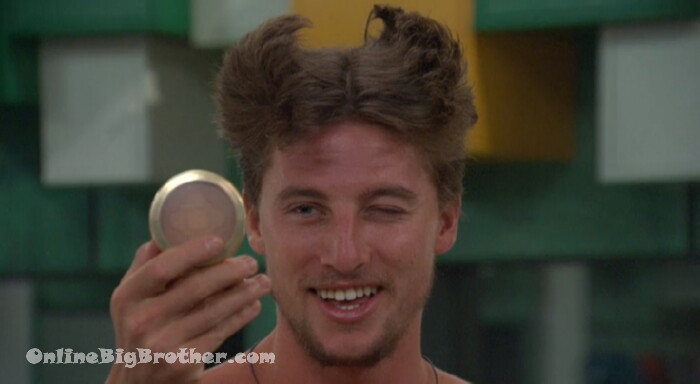 6:30pm Sam is doing Brett's hair to look like Ace VEntura Pet Detective. Everyone but Fes is there watching. She tells Angela that while she was in there HOH Sam was outside doing a pretend ballet class near in case she was wondering what she was doing.
After BRett's Hair Sam says she's going to do KAycee. She's super excited to do it.
Brett's hair looks awesome.
7:00pm HOH Haleigh, Tyler and Angela
Angela favorite animal is the panda her favorite colour is Black, "Like my heart"
Tylers favorite colour is green.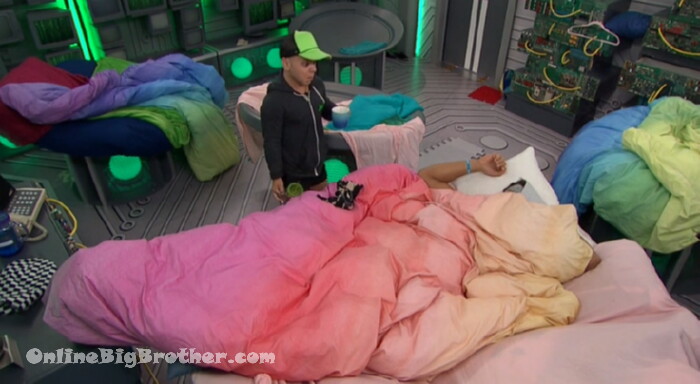 7:04pm JC and FEs
JC says he's going to campaign for Fes.
JC tells him once fes leaves the only people he can trust is Sam and Haleigh. JC says he suspect BRett is working with the other side.
JC – you have to make sure that Sam doesn't go for HAleiogh
JC – the most important thing is Sam doesn't go for Haleigh..
JC says he doesn't talk game with Tyler .. "what are we doing Thursday is what I want to ask him"
JC – what I need from you is that Sam doesn't target Haleigh
JC – I don't know why Sam doesn't like haleigh.. I wish I could give you a reason
JC – Maybe if you tell her that Haleigh is 100% not coming for her.. Sam hates the girls she gets along better with the guys
JC – you are not going to turn her against Brett… she loves BRett
JC – Tyler what is he thinking.. I don't think he's too smart in this game.. Tyler does
FEs – In my speech I'm going to try and turn Tyler and Brett against Angela and Sam..
JC tells him wait until really late try and talk to Sam .. do something.. throw her a lie.. whatever comes to your mind.. whats the worst that can happen they going to put you on the block ,.
Fes – you can tell Tyler the numbers are getting small
JC – yeah and yo are not coming after him.. try and talk to Haleigh . talk to Sam.. give her a compliment she likes that get on her good side.
FEs – it f*ing sucks if I am going to go just send me out of there..
FEs – I'll talk to Sam don't worry.. I'll talk to Sam on Thursday
JC – you can't corner her..
FEs – Sam you know the numbers are getting small if I go home and you and Haleigh are beefing if one of you guys leave the next one is the next one out the door. So I don't know what you have against Haleigh she likes you. I don't know why you don't liek her but if you guys want to stay in this game until the end you you and Haleigh need to work together
JC – Angela and KAycee they have already made up their mind and they are going until the end.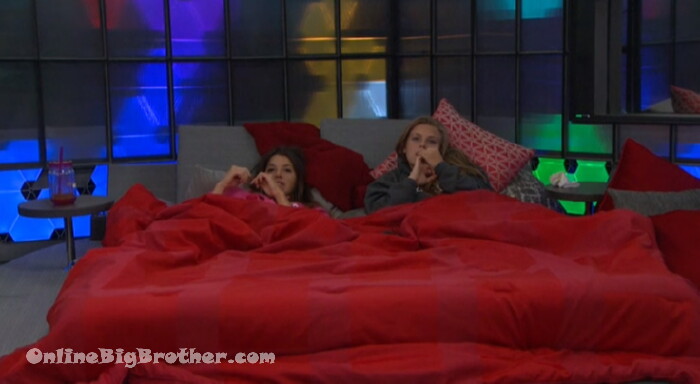 7:35pm Haleigh and Angela
Haleigh is going on about how big of a competitor fes is compared to her. Haleigh points out that Angela has nothing to worry about on Thursday unless Sam wins HOH then it's Haleigh who the target is. Halegih says Sam's probably not going to win she thinks that Sam's HOH win was just a fluke because she had the right body type, "She's not stronger than Fes, she's not stronger than Brett"
Angela – she has that welder grip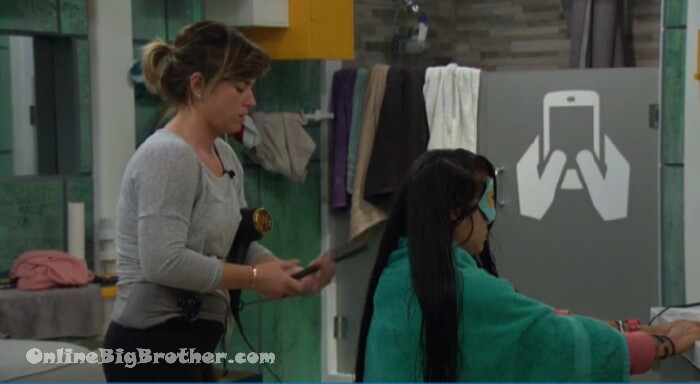 7:56pm Sam is now doing kaycee's hair