| | | | |
| --- | --- | --- | --- |
| POV: | Kaycee | Next POV: | Aug 25th |
| POV Used | NO | POV Ceremony | Aug 27th |
| HOH: | ANGELA | Next HOH: | Aug 30th |
| Noms: | Fes & Haleigh | Have Not | Fes, Haleigh, Kaycee |
A real easy way to support the site if you are an amazon shopper is to make your purchases through our link. You pay the exact same thing but we get a small % commission. It doesn't cost you anything and helps us out.
Amazon Canada
Amazon USA

8pm Bathroom. Sam is still doing Kaycee's hair. Sam – you are straight up Pocahontas. Your hair is perfect. It looks like a cartoon. Its unreal. I don't even understand how people have hair like this. If they weren't jealous of Tyler's hair they're definitely going to be jealous of yours girl.
8:30pm Kitchen. Tyler to JC – Thursday is going to be crazy! I am going to win. JC – I am not even mad about not winning any of this crap. Tyler – yeah, you're fine.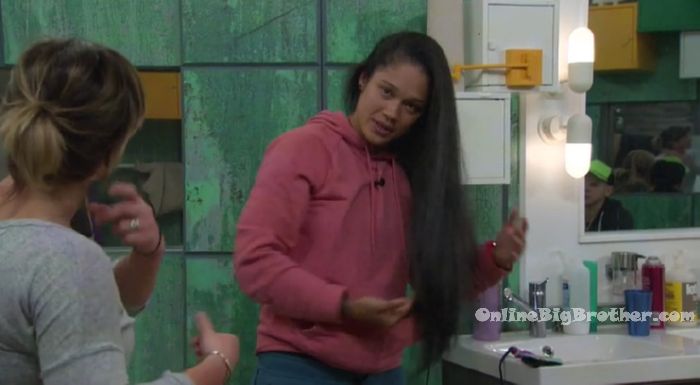 8:43pm Sam finished and Kaycee gets her first look at her new hairdo. All the house guests love it. Tyler – it looks so good! Do you like it? Kaycee – yeah I like it. Haleigh – I LOOOOVVVEEE IT KAYCEE!! Sam – you're just a gorgeous human! Kaycee – its so weird. Haleigh – this is what I buy! Kaycee – wow, who am I!?
8:54pm Kitchen. Angela – take the sunglasses off and put a shirt on. I can't even look at you. Tyler – its the apron.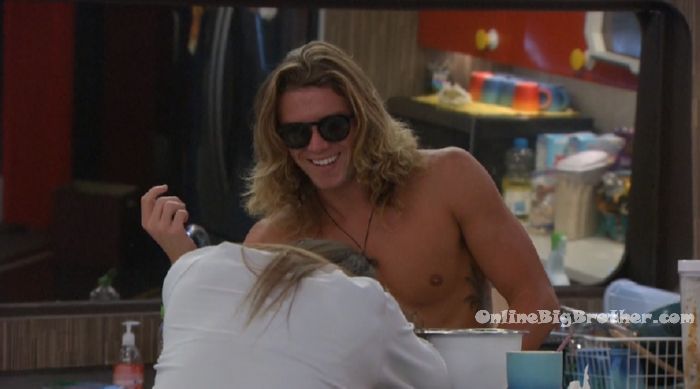 9pm
Brett cuts the ribs out of the plastic bag. Angela – I don't understand how you can cook meat in a plastic bag and it comes out normal. That's not how we do it in the south.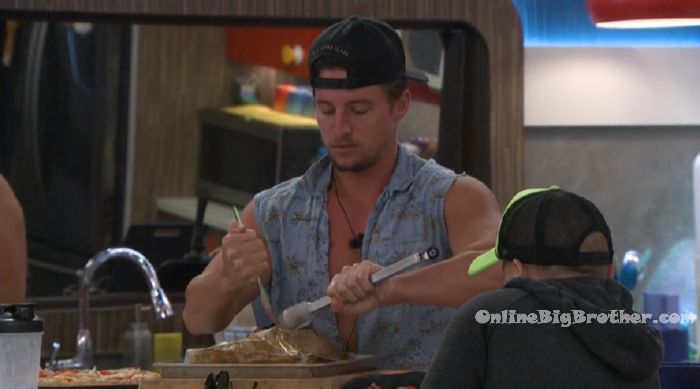 9:30pm The haves sit down to their feast…
9:50pm – 10:40pm HOH room. Angela and Kaycee. Angela – I just feel bad. He (Fes) won't even look at me. Kaycee – he hasn't said a single word to you? Not a single word? Angela – not a word, not even a glance in my direction. Like we haven't made eye contact. Kaycee – WHAT?! Angela – every time he is in the room its awkward. JC said he pulled him in the room and he was like all I need is one more vote. Can you give me one more vote? He thinks he has JC's vote. Kaycee – And who did he as for the third? Angela – he just said go get another vote. I was like basically he is ordering you around? That's really nice of him. Sounds like a bully. He thinks he has JC's and Sam's vote. Kaycee – don't feel bad, he is the a$$ that's always been an a$$. Angela – that's how I justify it by his behavior.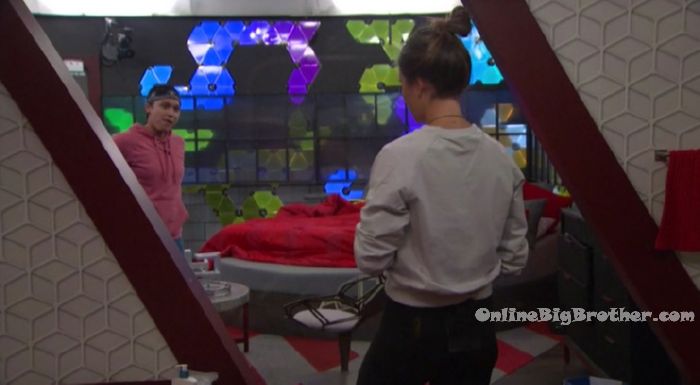 10:56pm Havenot room. Fes – you're my person. Haliegh – you're my person.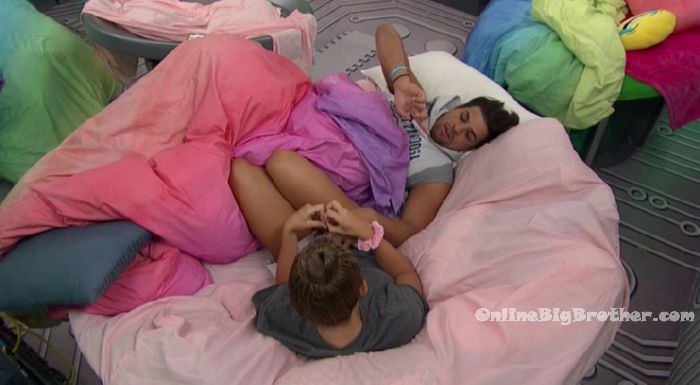 11:54pm Bathroom. JC and Tyler. JC – we really, really, really need to talk before Thursday. Tyler – okay. JC – I think the HOH competition is going to be something stupid and quick.. so any of us could win it. So it would be better if we know exactly what we're going to do. Tyler – that's what I said to you and you wouldn't tell me. JC – what? .. because I haven't decided what I'm going to do? That's why I want to talk to you. You already told me what's on your mind. I've been thinking about it and I have something on my mind too. Brett has been telling me stuff too. So that we're on the same page. Tyler – we still have time. JC – do we?? Tomorrow is Wednesday.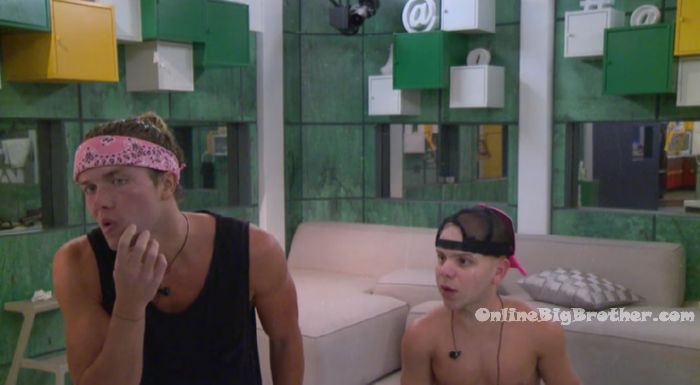 12:30am HOH room. Kaycee, Haleigh and Angela. Chatting and painting nails.
12:13am – 12:50am Bedroom. JC and Tyler whispering. JC – I don't like when things get out of control. Tyler – its not though. Tyler – listen to Sam… she never stops saying that she is the only one in here that is real. That she is always straight up and never lies and sh*t. Its bullsh*t. JC – she needs to get the f**k out. Its going to be insane on Thursday Oh my god! If Sam gets HOH on Thursday… I mean I know she isn't going to go for me or you at least. Tyler – yeah, I hope so. Tyler – I feel sorry for Brett because Sam is genuinely mean to him. JC – do you think Sam really believes they're voting Haleigh out? Tyler – it good for Sam to believe that so that Haleigh will come for her instead of us. JC – I don't want anyone coming after you. If they do, I can't try too hard to save you or it will look suspicious. Tyler – don't worry about me, I'm good. JC – he (Brett) told me that Angela & Kaycee have a final 2. He thinks they're trying to bring Tyler into a final 3. Tyler – no. JC – I told him you would never do that. JC – he is suspicious and is always asking me why you are always up in HOH with Angela & Kaycee. JC – he is scared because he knows he's (Brett) at the bottom of their five. Tyler – he seems fine with me. If Brett is just worried about the girls then I can smooth things over with him. JC – Brett is not coming for you right now.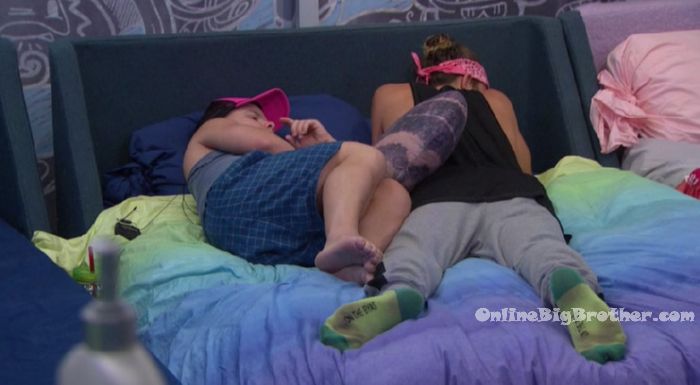 JC – We need, need, need to separate Kaycee & Angela ASAP. Tyler – No not ASAP. JC – as soon as we have the opportunity, if Haleigh wins HOH we can separate them. Tyler – that's not beneficial to me or you. Angela and Kaycee would not put either of us up. JC – we need to separate all the pairs. We will be fine when everyone's separated but we won't be against a strong duo. JC – If Angela or Kaycee win the next two HOHs, then I am f**ked. Tyler – no you're not. JC – if we get to final four with Angela and one of them wins the HOH, I am f**ked. Tyler – I know for a fact we will be fine. We will make it to final three. JC – we will talk about this later. Tyler agrees. There are still eight people in the house. JC starts counting the weeks left versus how many people are left and whether or not there will be a double eviction or a battle back. JC – there is no way there will be a battle back. Tyler – you need to get closer to Kaycee. JC – why? Tyler says final 3 by holding up three fingers. JC – it should be Sam with us in the final 3. Tyler – that can't happen, if the jury is bitter Sam will win against anyone in final 2. JC agrees. We have to bring Kaycee to final 3. I am just worried about Kaycee's loyalty to Angela. Tyler – if I win the next HOH, Haleigh is going. JC doesn't agree. JC – if Brett won HOH he would put up Sam and Haleigh or Angela and Kaycee. If Haleigh wins and nominates Angela and Sam, we would vote Angela out for sure. Tyler – no, Sam has to go. Kaycee would never work with us if we did that to Angela. If Haleigh wins HOH, Sam has to be the one to go. JC – I might not be good at competitions but I am good at controlling people. Tyler agrees but says people are going to start to notice. They break up their conversation and leave the bedroom.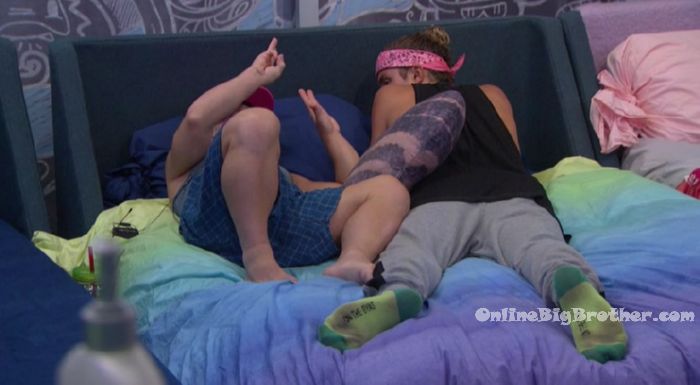 3:45am All the house guests are sleeping..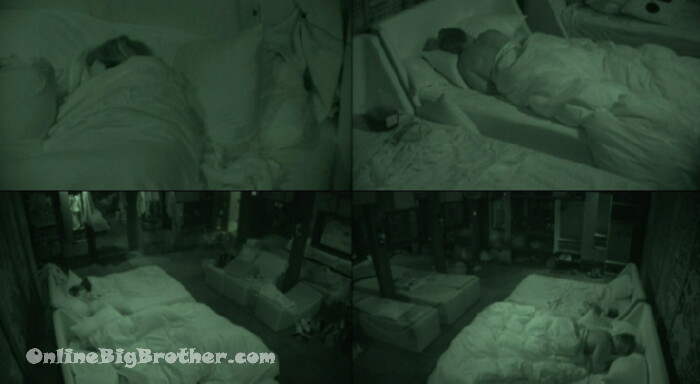 7:53am Sleeping yo
9:38am Sleeping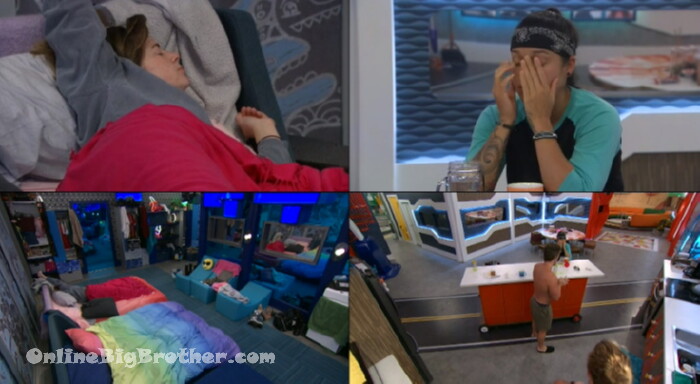 10:36am Wakeup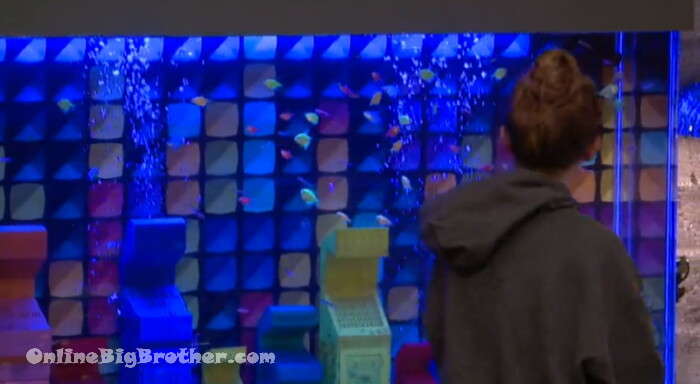 11:47am Haleigh finds the dead fish…
Apparently it's the first one they've found.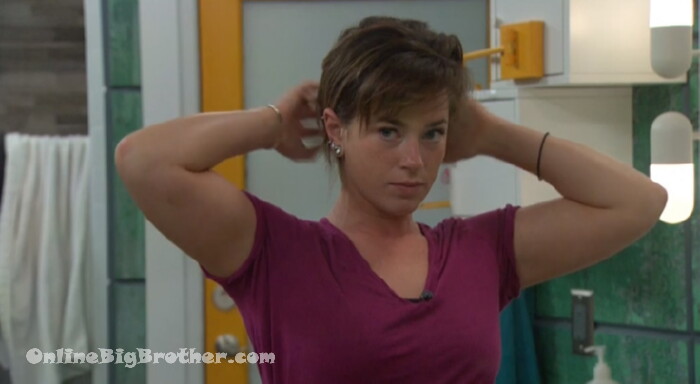 12:33pm (All feeds)
Sam – what else can I do to be productive..
Without your support this website wouldn't be possible. Please consider making a donation. Any amount is greatly appreciated. All donations go directly to paying the considerable costs associated with running this site.
Rank the houseguests!
Easiest way to Rank the house guests use link below