| | | | |
| --- | --- | --- | --- |
| POV: | Kaycee | Next POV: | Aug 25th |
| POV Used | NO | POV Ceremony | Aug 27th |
| HOH: | ANGELA | Next HOH: | Aug 30th |
| Noms: | Fes & Haleigh | Have Not | Fes, Haleigh, Kaycee |
A real easy way to support the site if you are an amazon shopper is to make your purchases through our link. You pay the exact same thing but we get a small % commission. It doesn't cost you anything and helps us out.
Amazon Canada
Amazon USA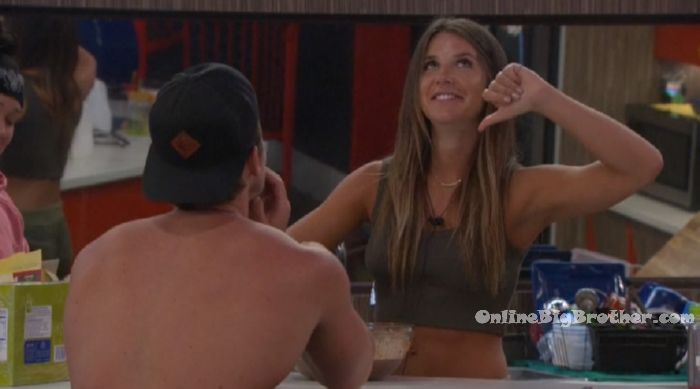 8:07pm Kitchen. Brett and Angela. Brett – his (Sam is straightening Tyler's hair) hair looks crazy right now. Angela – is it bad? Why is she letting him do that? Angela looks at Haleigh, points to her hair and gives her the thumbs down. Brett – he reminds me of kid rock. Angela – why is she letting him do that. Brett – it is long.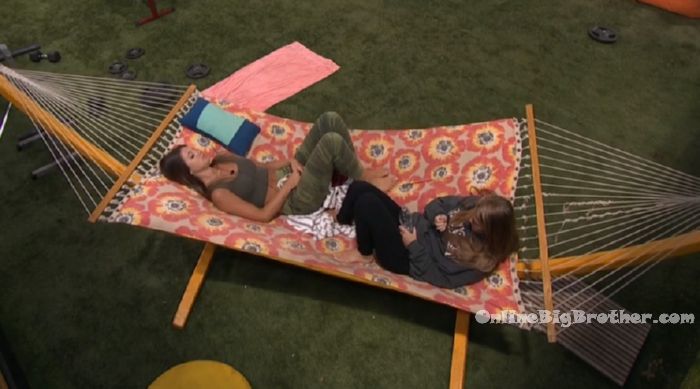 8:24pm Angela – do you think he (Fes) went inside because I came out here? Haleigh – no. I think he is more mad at me than he is at you right now. Angela – Really?! Probably the two of us bothers him. Haleigh – yeah. Angela – sorry Fes. Haleigh talks about the hacker twist and how she didn't know what to do? Do I piss Sam off more and risk her not going home. I already pissed you off. I already pissed Rockstar off. I did not know what the f**k to do. Angela – yeah that hacker sh*t f**Ked everyone up. Haleigh – yeah there's going to be another twist too. Ang looking back now the way Sam acted and the deals that she made.. Angela – it was just so erratic. Haleigh – how she wanted to self evict and didn't want to be here. If I get the shot again, she will definitely go. Angela – she was making deals with Scottie I hear. Angela talks about how Sam was telling her what to do. She said I was pretensions, entitled, spoiled little b***h. She bats her eyelashes and gets whatever she want's. Haleigh – are you f**king kidding me?!
In the bathroom. Sam is straightening Tyler's hair. Brett, Kaycee and JC all wait around for the reveal. When she gets him to look at himself in the mirror .. Tyler freaks out. Tyler – WHAT THE F**k! WHAT THE F**k! OH MY GOD!! OH MY GOD! NO! Brett – it looks sick dude. Sam – it looks so good! JC – you look like a female. Tyler – I look like a girl?! I look like a female! Sam – no you don't! It looks good! What the hell! I am wearing a wig right now! Sam – you look like Hanson, you look like mmmBop! You look like Orlando Bloom. Brett – You look like lord of the rings. Tyler – I am not going to the DR like this. Haleigh – it looks good. Sam – You should do it more often. I'll do it any time. Don't be scared of it.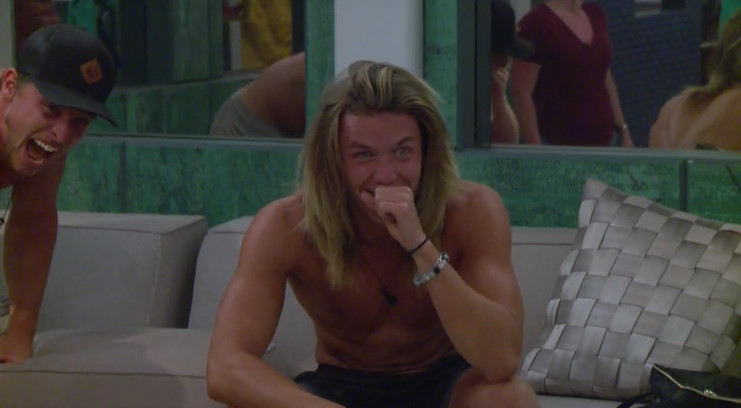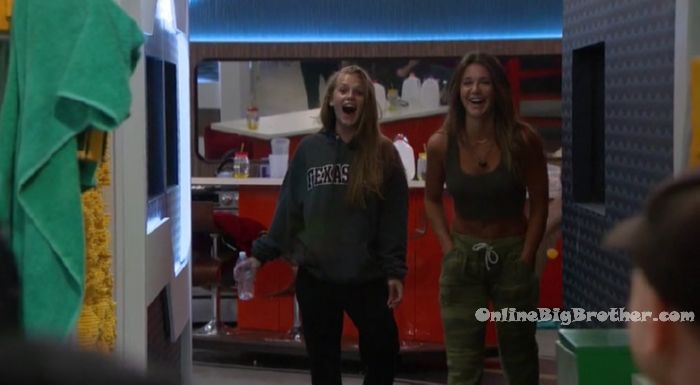 FLASHBACK and watch everything you missed: Live Feed 7 day FREE Trial!

9:10pm – 9:20pm Big Brother calls Tyler to the diary room. Tyler – f**K! What the hell man! National tv they said! AGGGHHHh… Tyler heads into the havenot room. Everyone talks about how good his hair looks. Brett – he literally wigged out. He was upset. He was crying. Now he's not. When that first happened he couldn't look at himself. I felt uncomfortable. I genuinely like it. I think it looks sick. JC – I don't think it looks bad. I think he looks better the other way. Sam – I feel kind of bad. Kaycee – he's not mad at you. He's just shocked. It looks really good. Tyler returns. Sam – if you didn't have 10 million fans, now you do you f**ker! I love it!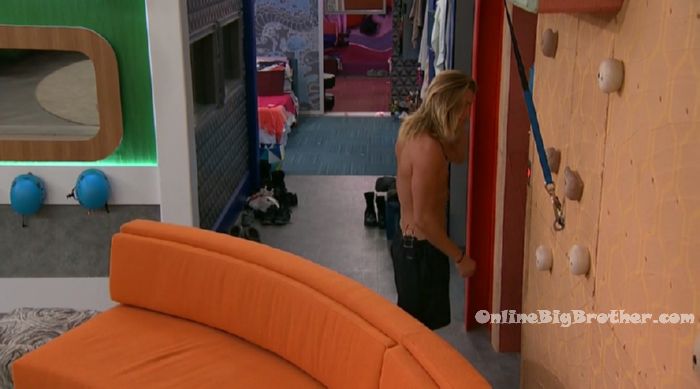 9:47pm – 10pm Haleigh braids Tylers hair. Once she finished he looks in the mirror again and freaks out yelling – TAKE IT OUT! TAKE IT OUT!!!!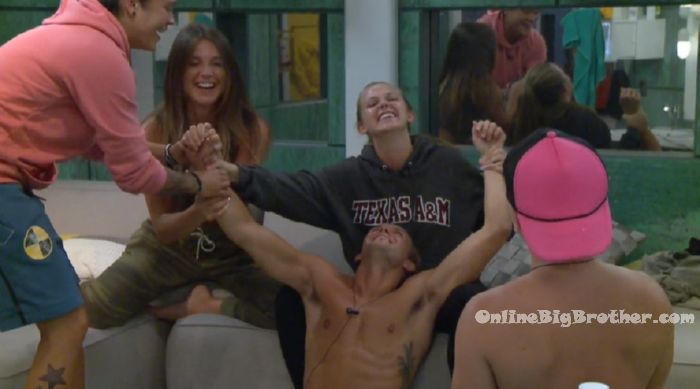 JC – it makes you look skinnier and girlier. Tyler – you don't like when I look girlier?! JC – no, do you?! You just need to change it back. I'm not going to even look at you until you change it back.

10:13pm Backyard. Tyler, Kaycee and Brett. Brett – I have to tell you something… I was talking with Fes. I don't know if he does this with you but .. He always talks about how many viewers we have and how many episodes we've been on. Like how famous he thinks he is. And I was trying to make him feel better. I said you're going to make like 29… You made 29 episodes. Kaycee – I did it too. I was like how are you going to wear your hair for .. and he was like what if my hairy goes like … And I said when you're talking to … I caught myself. I was going to join to say you're not going to move your hairy like this wend you're talking to Julie.
Hammock. Angela, Kaycee and Brett. Angela comments on how she hasn't had a boyfriend in 3 years.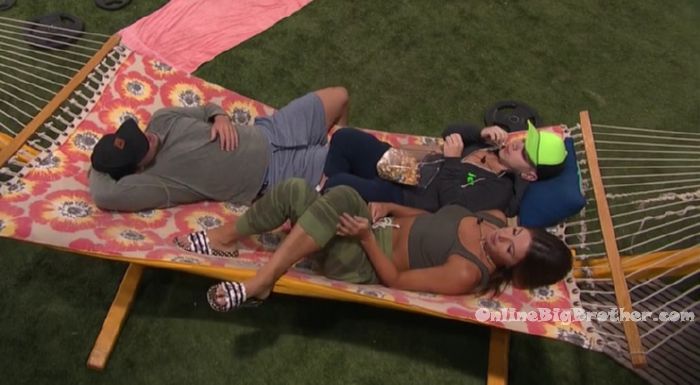 10:45 Hammock. JC and Brett. JC – I asked her are you in a showmance with Fessie? And then she went straight up and asked him. And then he cornered me and asked did you ask Haleigh this. You can't even tell her anything. Not private or anything. She runs and tells him. Brett – I like Haleigh a lot. She's a nice girl.
JC – I just don't want to be alone in this. They have their top two. Why can I not talk to you and tell you how I feel. Brett – I agree. you're absolutely right. JC – they already have their order in their heads. Brett – that's why you're going to win HOH. JC – I think if I win HOH, I don't think I am going to put Sam up. But if I did that I would need your support. Brett – its smart. You're not wrong. You're absolutely right. You know for a fact that Sam's not going after you. I have no idea about Haleigh. You're going to have to get close to her. JC – or to get less blood on my hands I put Haleigh and one of them. Which ever one you tell me too… and then we just get the votes. Brett – but what I am saying is you know for a fact if you put one of them up, they have the others vote.. and then they have Tylers vote. It would have to be all or nothing …or you would be next. Brett – if you go up, you've got my vote and if I go up I've got your vote. Just lay low for now. I really think there will be a battle back. There will be someone else in this house. If anyone comes back in this house I am f**ked. If Rockstar comes back she is gunning for me.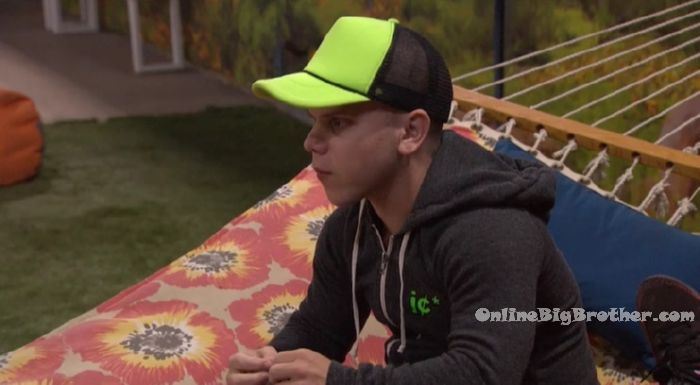 11:36pm – 11:45pm HOH room. Tyler and Angela holding hands. Tyler – I think people are finally starting to get over you and I. Angela – really? Tyler – no ones asked me about us in the last couple days. You make this game so much more difficult and so much better at the same time. Angela – likewise.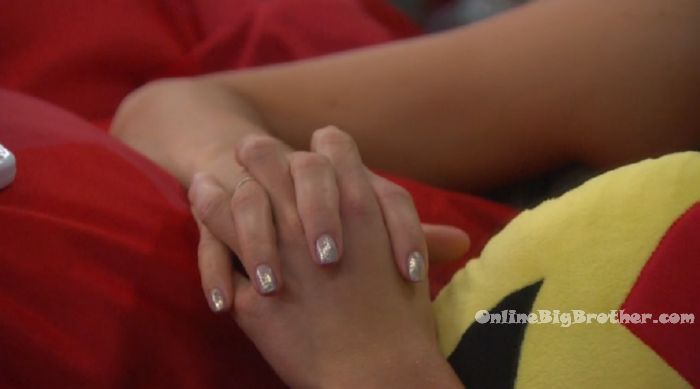 11:46pm Brett massaging Haleigh's head…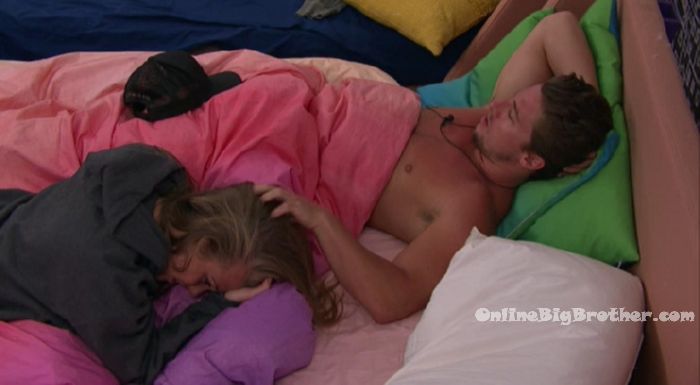 12:02am HOH room. Angela and Tyler quickly separate when the see Brett comes into the HOH room. Brett shakes his head. I am about to freak out on Sam. Angela – why? She was up here showering and blow drying her hair for 2 hours .. I was sitting here like if you don't get out of my room I am going to lose my sh*t. Brett talks about how Sam gave him attitude about not doing his laundry with her. Tyler – she is losing it dude. Brett – I was about to blow the f**k up. Tyler – she is so annoying. Brett – its constant jabs. Kaycee joins them.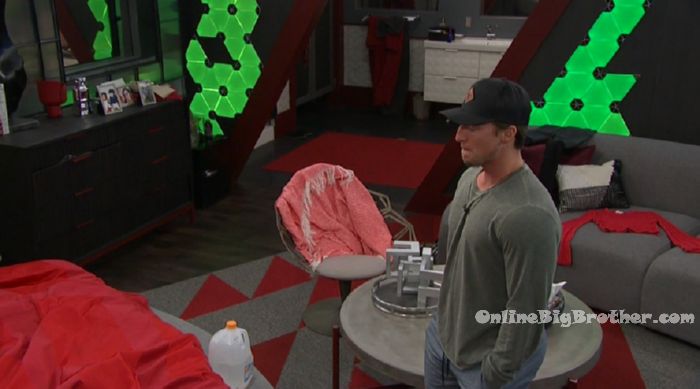 12:17am – 2:25ampm Hammock. Haleigh – I am glad I met you. Fes – same. Haleigh – I don't like you acting different to me. Fes – sorry. Haleigh – do you want to talk about it? Is this how we're going to be all week. Fes – I don't know. Just play your game. Haleigh – what is that supposed to mean? Fes – just play your game and don't worry about me. Haleigh – I am going to worry about you. Fes – its just a game. Haleigh – this is not a game. Is that what you think? Fes – I don't know what I think. Both of us together is over. Haleigh – you said we woudl ride until the wheels fell off…. the wheels are falling off. Fes – not much we can do now. Haleigh – The reality is one of us is going and the other will probably follow next wek. Fes – I am just coming to the realization that this game is over. I just have a lot of thoughts in my mind. Haleigh starts crying. Haleigh – I am just sad. Fes – its a game Haleigh. Haleigh – I know. I'm not allowed to be upset about a game?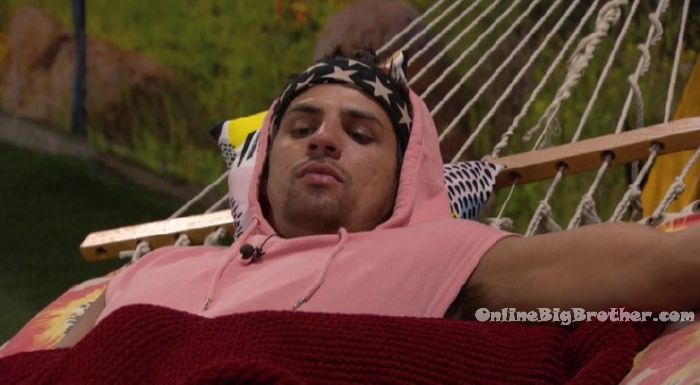 3:40am All the house guests are sleeping..
Without your support this website wouldn't be possible. Please consider making a donation. Any amount is greatly appreciated. All donations go directly to paying the considerable costs associated with running this site.
Rank the houseguests!
Easiest way to Rank the house guests use link below