HOH: Tiffany
HAVENOTS: None
Nominations: Sb and Ky via HOH, Xavier Via punishment
Power of Veto Players:
Power of Veto:
Power of Veto Ceremony:
Big Brother 23 Houseguest Rankings – – RANK THE HOUSEGUESTS –
View the previous day ranks on the – Ranking Grid
Big Brother Spoilers -Ky and Sb are nominated. X is nominated Via last weeks Veto Punishment. High roller is today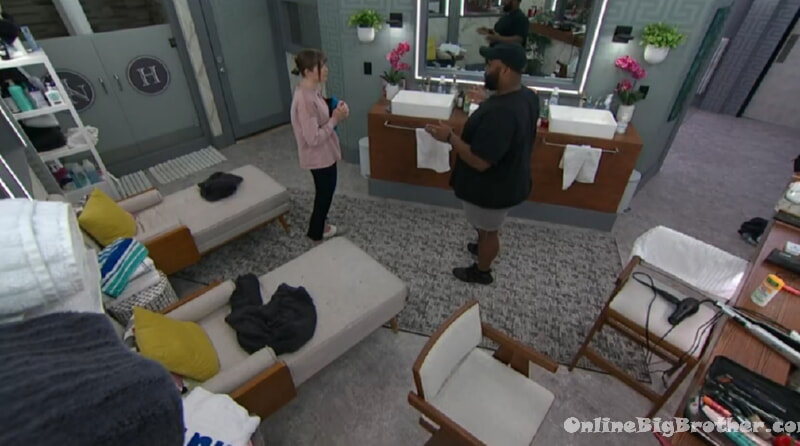 11:03 am Derek is asking Sb who he should put up if he gets the power "I want to do what's best for us"
SB – take us down
Derek – who do I put up Claire?
Sb – whoever you want
Derek – ok ok ok ok ok ok
Derek says he's working with them and wants to keep them safe "That side will come after me next and if one of them wins I'm going up . no ones safe right now until we're done this no one's safe.. F*** ok .. Let me Ok"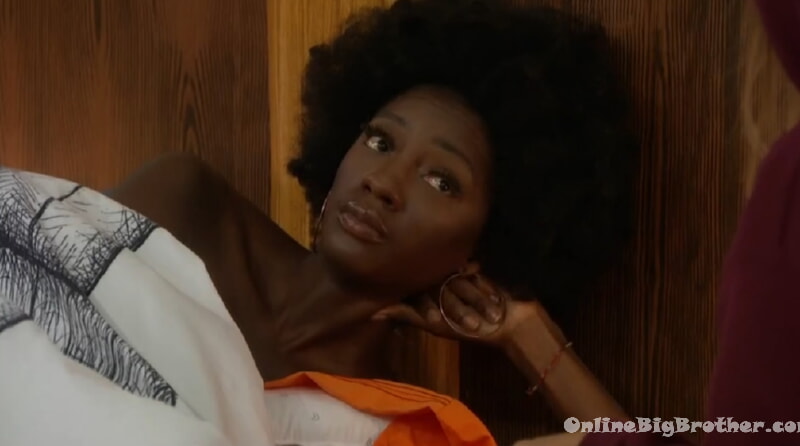 11:08 am Alyssa and Azah
Alyssa – Don't tell SB sh1t I don't trust sb
Alyssa – the only reason why I've been trying to trust SB is because X has been telling me to try and trust SB
Azah – X told you to trust her
Alyssa – ever since week 5 I've been trying to
Alyssa says she's been trying with SB but all she hears is SB is throw her name out there.
Azah – that's the type of game she plays only loyal to herself that's how it is
Alyssa – she wants me out so she has X
Alyssa – [you said?] Tiff said she heard I was coming after her
Azah – please don't say that to anybody's else
Azah – this veto coming up if X wins he takes himself off you have nothing to worry about. Play and keep Noms the same.
Alyssa – I would take X off.
Derek comes in
Alyssa – she dragged me
Derek – She dragged me (SB)
Alyssa – no she dragged me hard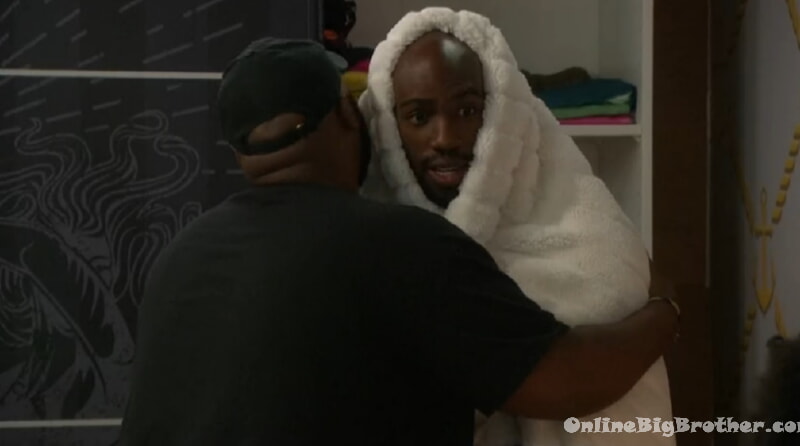 Xavier comes in plays up that he's sad for being on the block.
X – You don't care I got nominate and you all sprint back here you don't give a f**
Azah – Hey Audrey
Alyssa – is that a dryer sheet
X – I'm distraught
X – I would like to know if I have you guys vote
Derek – we have to do what the HOH wants
X – YOU DON'T KNOW. But she put you on the block.. Sorry you guys have to see me like that it's been a lot of emotions and I didn't see it coming
They joke around Feeds cut when we're back it's ALyssa and Azah left in the room.
Alyssa – I feel stupid. I came in I said I wanted to play a very loyal game. I already questioned her and then you know I trust what X thinks. This is between you and I she was trying HARD like HARD HARD..
Azah – SB
Alyssa – yeah like all night twice.. (lol)
Azah – twice
Alyssa – twice.. that I was coming after Tiffany
Alyssa – everyone knows who my target was last week.. BABYD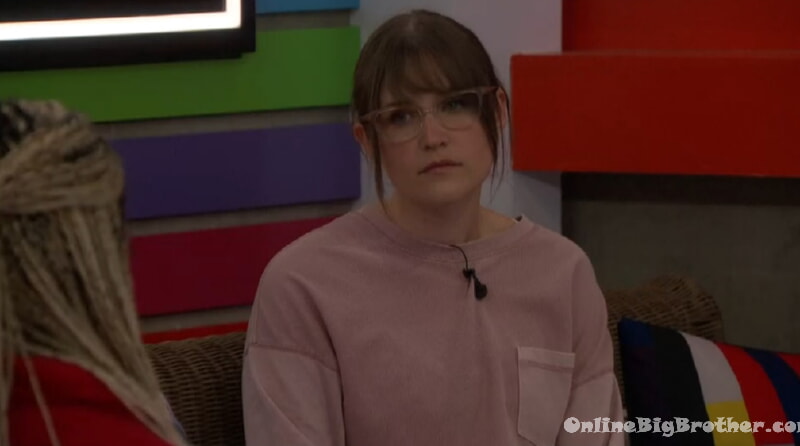 11:10 am Sb and Tiff
Tiff tells her Ky is her target, "you just happen to be very close to him I know you would save him I know you will fight for him. you will pull him down if you could. I know you will vote for him" it is a game move for me to disable that ability I'm sorry you have to be part of my moves"
Tiff – you're the closest thing to him the best opportunity for me to have a shot is taking that help from him. I'm sorry
Sb – that makes sense If kyland is your target it only makes sense for me to go up beside him
Sb – I was hoping he wouldn't be your target it's your game I respect your decision
Sb – For me, I have to look at my own longevity in the game and if Kyland isn't here then I still have to have people I can work with. For me I can't just stand here and be Butt hurt if he goes home
Sb – if he leaves even if you're the one that sent him home that will be you and Claire. I know I can't trust Alyssa"
Tiff – we move forward to get out other threats in this house.. okay. I'm sorry thank you for coming to talk to me.
SB – will it be known that Kyland is the target?
Tiff – I didn't come right out and let him know. I did let him know that he made some moves in this game that have caused me to not..
Feeds cut.
When we're back Tiffany is saying ever since week 2 Kyland has been positioned very well in this house.
The entire house feels Kyland is a HUGE threat.
Sb mentions how this will be a long day because they have the high rollers then potentially the nominations get changed. "they'll want to do the veto tomorrow"
Tiffany "I'm ballsy to go into a veto comp with Ky, X, and you "
Sb – Kyland ha a good shot at winning the veto which doesn't look good to me
Tiff says Xavier is also on the block and he has a great chance to beat Kyland in the veto.
Tiff – they're two strong competitors .. for now, it's better for me if X stays. X winning the veto NOW for me is not the worst-case scenario
Sb – wouldn't be my worst case
feeds cut..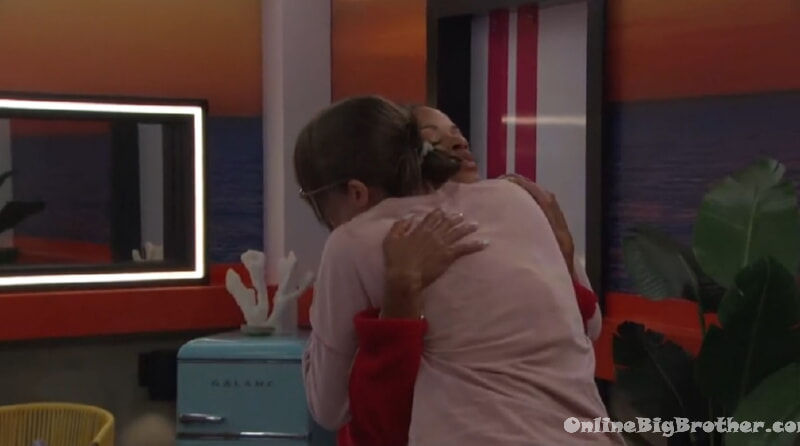 They hug.. After Sb leaves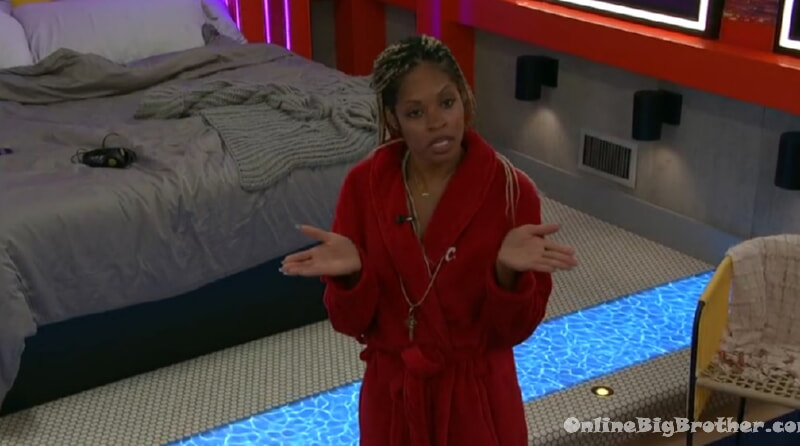 Tiffany – I just lied to that girl's face that is the boldest lie I have told in this house.. I don't know if I have lied any bigger to somebody's face.. it's a game. there are no rules on how to play big brother just rules on how to live in this house.
Tiffany – in the big brother house you can lie, you can manipulate, you can break deals.. HEy I came to win like she (SB) said she will do anything for her personal game. I see you, queen. There can only be one queen and I'm hoping it's me with a little devil in her..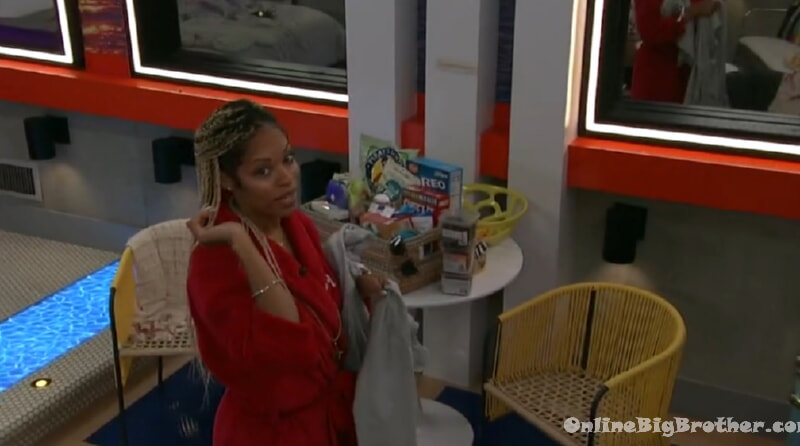 Tiffany – "Derekx's magic is in this bracelet he put it on me. You guys saw it and I went out there and I won that comp that's typically what happens in Big Brother. You take out somebody's person They pull this energy out of the universe uses it as motivation to get them a win and the person that sent their person home follows them right out the door.. ain't nobody is coming after me for Sarah Beth .. I hope not. "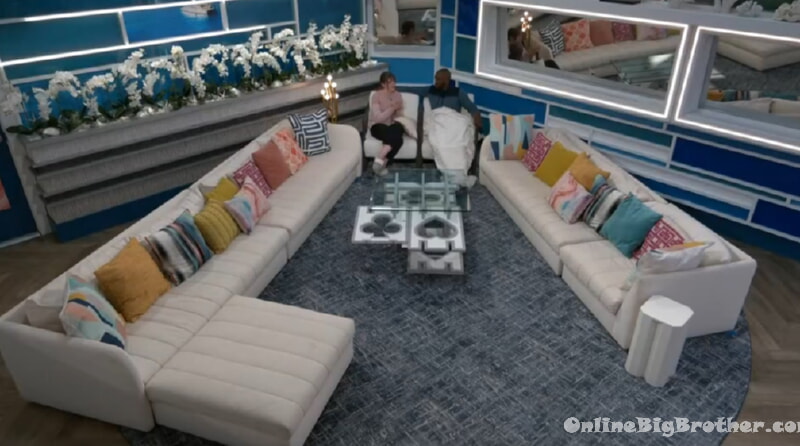 11:25 am Sb and Xavier
Sb says production told them if you are the third Nomination and you win the secret HOH you come off the block then everyone knows.
11:30 am Feeds to pound puppies for High Roller
12:24 pm Feeds return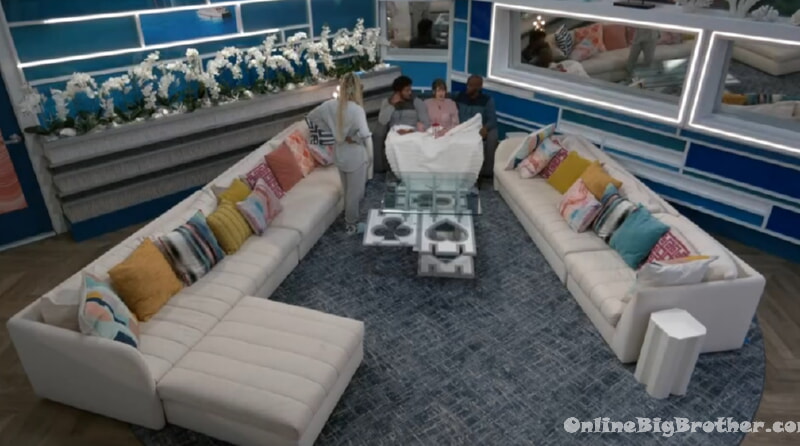 Nominee loveseat for three
12:33 pm Tiff fills Xavier in on her conversations with Sb.
She says SB really wanted Alyssa up and SB thinks that Ky is the target this week. Tiff told Ky to not win the veto "She should have no votes"
Tiffany asked him what they do if SB wins the veto. X doesn't know says that is when the game gets interesting. He's not going to let that happen.
Houseguests milling around the kitchen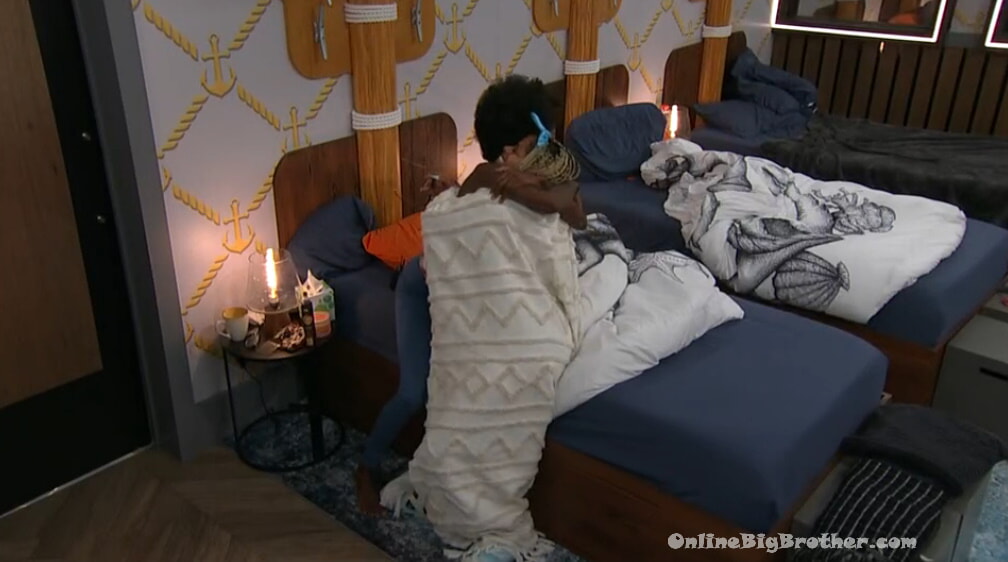 12:57 pm Azah and Tiffany
Azah – This house is helleva black
Azah – Next week what do you think should happen Out ourselves or no?
Tiffany says no they keep the cookout hidden.
Azah – still keep up the ruse?
Tiffany – one of them will stay anyways we need to make sure whoever that 7 that last one is doesn't look at us three. looks at .. if anybody's gotta leave before we get to six it needs to be a ky it doesn't need to be a me you or Hannah.
Azah – that seed has been planted in Alyssa
Tiff – when Sb gets into a situation SB will expose everything she has to me that is the most dangerous
Tiff – Sb I'm telling you I actually respect the game she is playing that is exactly why she is playing a NICOLE F game. She told to my face this morning I will do what I have to do to move my personal game forward..
Tiff – I can't wait for Derek to see her walk through those doors.
Tiff – Girl she threw Alyssa so under the bus Alyssa is hanging on for dear life under that bus. Alyssa is probably not even breathing under that bus that Sarah Beth through her under. you know the cartoons looking like a pancake.
Tiff – Sarah beth came up to my room last night was like Hold one I got one more bus for ALyssa. She sat on the couch like 'I was just thinking I have more things to tell you"
Feeds cut..
1:22 pm Feeds back to pound kittens
4:20pmno feeds 4 you
5:40pm Still nothing..
6:40pm Still kittens..
Consider a donation to keep the madness going. BIG thanks to the people that have already chipped in.