HOH: Tiffany
HAVENOTS: None
Nominations: Sb and Ky via HOH, Xavier Via punishment
Coin of Destiny Coup D'etat: Claire won and kept noms the same
Power of Veto Players:
Power of Veto:
Power of Veto Ceremony:
Big Brother 23 Houseguest Rankings – – RANK THE HOUSEGUESTS –
View the previous day ranks on the – Ranking Grid
Big Brother Spoilers -Ky and Sb are nominated. X is nominated Via last weeks Veto Punishment. High roller is today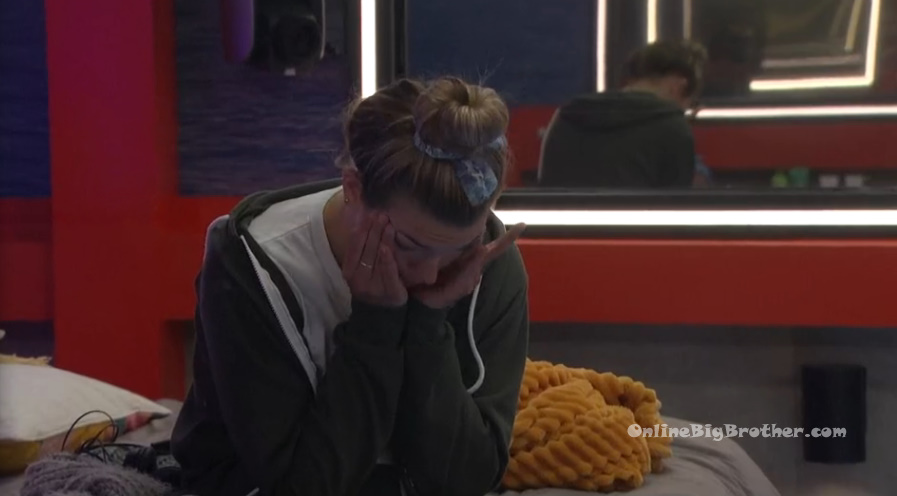 1:22pm – 7:14pm The live feeds were blocked for the high roller BB Bucks coin of destiny coup d'etat.
Claire won the coin of destiny coup d'etat
– She kept the noms the same (Sb and Ky)
– Tiffany was dethroned as HOH and no longer has the room.
– Tiff can play for HOH again next week.
HOH room. Tiffany, Hannah and Claire.
Tiffany – I am willing to take it for you. Claire – I am trying to think if that makes sense for me. Hannah – insinuate that you were the one that played and dethroned yourself so that way Claire can stay under the radar and then you guys will just collaborate. Claire – I think that will just be it. Okay. Tiff – and just don't.. Claire – I won't say anything. People know that I played. Tiff – I am going to tell you what I am going to do I will tell DF (Big D), don't say nothing Derek it was me. I know it will get out. Claire – for sure! Hannah laughs. Hannah – I wonder if you're the one like in veto selection if you will get to name to house guest choices ahead of time or if it will just be Tiff. Claire – I think maybe there won't be house guest choice. Hannah – HHmmmm Okay, I could see them doing that. Claire – do you think Big D played? Tiff – yes. Claire – Damn he couldn't do anything better than three… I got three and I was like that was pathetic.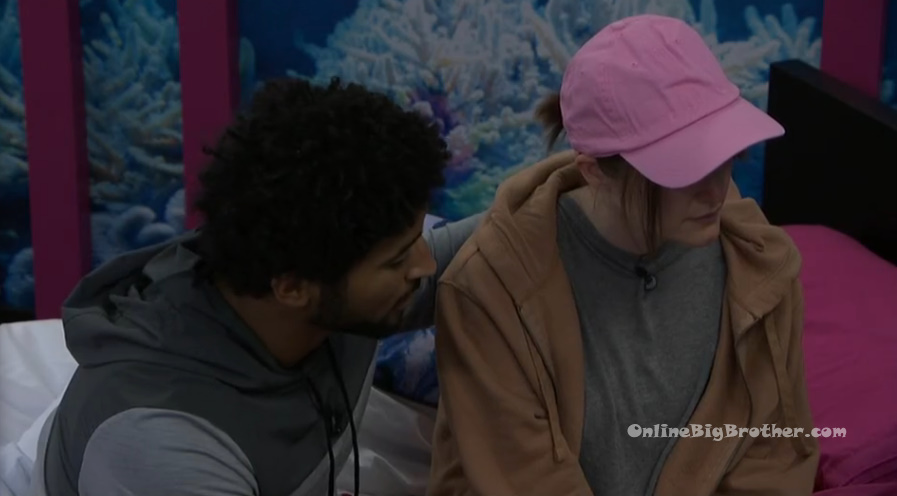 Bedroom. Kyland and Sarah.
Kyland – you think people didn't like Christian? You think people didn't like Travis? We know people loved Travis besides Big D. Everyone loved Travis besides Big D. You think people didn't like Baby D? Sarah – no I think they did, that is why I am sitting here right now. Ky – what is the matter? This world is made up of this house. Sarah – I know unless I am just completely missing something of like the dynamic of what this house is. Big Brother blocks the feeds. Someone literally had a secret opportunity to nominate people and chose to nominate us. If one of us is on the block they're going home. Ky – probably. Sarah – secret or not it doesn't matter. Sarah – I would feel better about it if I thought people were looking at this game objectively and making long term choices like I was. I should have known that's not what people were doing. They just want to do what feels good right now. Ky – that definitely feels like that. Sarah – and I feel like I don't have any fight against that. I am not saying I won't try.. I just feel defeated. Ky – I have fight against that. I fight against that at a professional level. Like I said when I put up Britini.. its just about understanding what is happening. Because if I am being targeted and I know I'm being targeted then I know how to fight it. So regardless of if you know how to, I do and I will. First win the veto and then we'll fight. Pick yourself up and dust yourself off and win the veto. You're strong and if you don't feel it right now then its because you're looking short term. Sarah – what do you think the odds are that Big D just kept us up? Ky – low. Sarah – why. Ky – for a variety of reasons that I will go over with you. I'll go over them with you and thoughts on the house.. I just want to get them sorted out and more clear. Sarah – I think Xavier is going to win this game. Ky – really. The thing about X is he is .. his best quality that people love is unearned and that is a weakness.. I am not as in life .. everything from my happiness to my thick skin, to my sensitivity to my ability express myself has been earned just to be a quarter a likeable as Xavier .. and that is not fair but life is not fair. You have been worried about being liked and I think that you are more liked than you think .. but you also never hesitated to do what you needed to move on. And that is strength.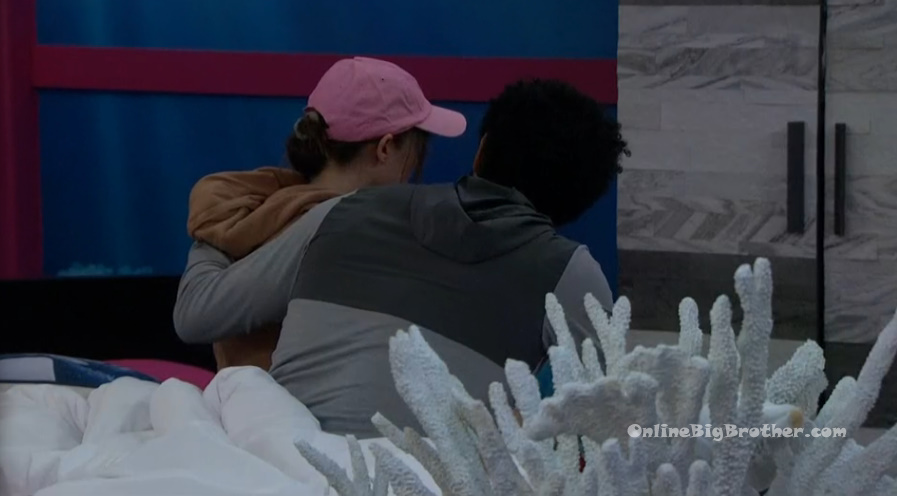 7:50pm – 8:05pm Bedroom – Tiff, Xavier and Big D.
Big D – How you doing? Tiff – I'm okay. Big D – Sorry about your room. Did you already take your stuff out? Tiff – its out already. I already turned in the key and everything. Xavier – they kicked her out. Big D – did they kick you out.. Tiff – if I could just have Beyoncé I wouldn't even care. Big D – I can't believe they wouldn't even let you keep your music. Tiff – I told Ky that to everyone .. I won the coin toss and dethroned myself. Xavier – wait what?! You played? Tiff – MMmhhmm.. Xavier – and so you have to throw the HOH competition next week. Tiff – MMmhmmm. Xavier – got it. Tiff – but I didn't. Xavier – Claire won? Tiff – yes. Tiff looks at Big D and says I WON. Big D – congratulations I am so proud of you. Tiff – so I am okay with that, I didn't want anyone else to dethrone me. I don't want SB to… Xavier – yup, okay good. Tiff – AND I CAN PLAY NEXT WEEK! That is all I care about.. and I got my letter.. I got my pictures. I am straight. But the thing is I don't know about me winning next week.. Big D and Xavier agree. Big D – this week sets us up for next week. Tiff – but if its me and them two I am going to have to win but if its y'all or their out .. I am dropping out. And I think next week is a double so be ready. Xavier leaves.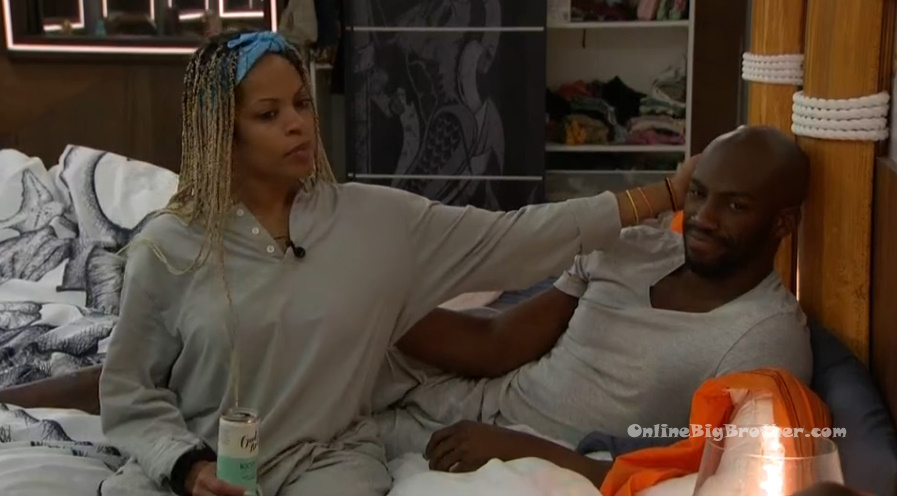 8:15pm – 8:40pm Bedroom – Ky and Tiffany.
Ky – she (SB) asked do you think it was Big D? I said I honestly don't know they didn't change the noms so its not so much for us to figure out. Tiff – you should tell her that you think its me. Ky – I will wait till after the veto so just in case… if she wins. And that coin thing.. I could have won that if I could have played. She said I don't know what I am not seeing, maybe I just have a bad idea of what the house is really like. She said it just doesn't make sense which makes me think its just personal which makes me sad. Tiff – does she think you are the target or her? Ky – she thinks either one of us. The fact that we're both up here they want us both to go.
Ky – when is the next time Xavier would be on the block if no one is targeting him.
Tiffany – He ain't my problem. Right now I am emotional about last week y'all put up Claire. You were supposed to be a queen. You're acting like you're not. You're over there with SB. SB protected and if you're gone, I don't care .. she is a casualty of war because I don't want her to fight for you. I don't want her to campaign but I also feel like she cut my legs out from underneath me when she kicked DX out of this house. Its not my fault that she didn't realize that me and DX were working together. She shouldn't have been sleeping on the couch for 72 hours of the day with her head close to your shoulders and not paying attention to what is going on in this house .. so if she don't see this house .. that is her own damn fault. She walking around with those heart a$$ glasses. She didn't build no relationships with nobody so she can't expect to know what is going on. Ky continues to spill his thoughts.. Tiffany gets up and says Ky .. I got to go.. we will have to reconnect. My attention is drifting.
9:41pm Tiffany is reading the bible. SB is trying to sleep. In the other bedroom – Alyssa and Azah are staring at the wall together. Big D joins them.
Bedroom – Azah and Sarah.
Sarah – how are you feeling about this week? Azah – Umm I'm feeling okay. Because me and Tiff are cool you know. Its more like for people that I care about so ..and I've come to see when it gets down to this number .. its much harder it is to put people up. Its putting people up that are actually your friends. People that you have worked with your do work with that's what has me progressively worried. Azah – how are you doing? Sarah – ah it sucks just being nominated by Tiff. I understand where she was coming from. She was very up front with me about it. But then to be anonymously nominated. Azah – oh my gosh I am still sitting here thinking that its Tiff's HOH and not that its an anonymous HOH. Sarah – it did just surprise me that someone would nominate me and Ky when it was anonymous. It does hurt to think that it was personal. I know that it is very possible that other things are going on in the house that I just don't know about it. Even if I survive this week, I don't know what future weeks look like for me.

11:27pm Kyland comforting Sarah.
Sarah – I don't think its Azah (anonymous HOH) Ky – okay, I agree with you. I think you're probably right, it is probably Claire. It wouldn't surprise me if she kept her (Tiff) noms the same. I told everybody to vote for you. I can't help but think if I hadn't played in that first one I would have had enough. Ky – and then who knows what would have happened. Sarah – yeah. You never know. Ky – exactly. Sorry. Sarah – its not your fault. Ky – all we can do is play week for week. Sarah – Maybe Alyssa wasn't even coming after me. Ky – have you talked to her since noms. Sarah – not about game. Ky – I haven't either. Sarah – well I sort of have .. just about how it was going to be me or you no matter if one of us comes down. Sarah starts crying. Ky – theres a phrase that says a coward dies a thousand times but a brave person only once. So if its hard for you to imagine the loss.. then just .. then don't! Lets experience when it happens because we still have a shot. Sarah – I feel better that both of us are playing. I am more confident that you can beat X than me.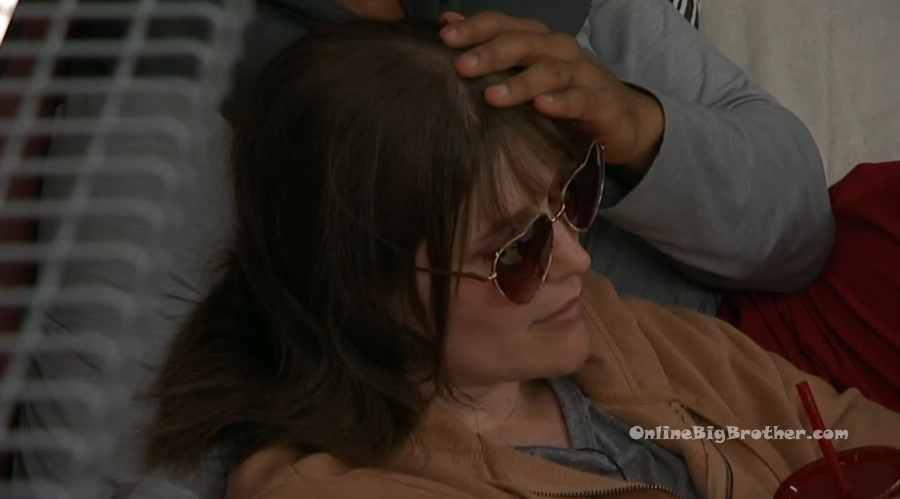 11:45pm – 12am Bathroom. Big D, Ky, Xavier, Hannah, Azah and Tiffany.
They all quickly get together. Tiff – we've never done this .. all six of us!! Just the six of us we can make it official. COOKOUT on 1, 2, 3… COOKOUT!! After everyone filters out of the bathroom to not get caught together. Tiff, Claire and Hannah talk about past events of the season and past seasons. They talk about how Sarah chose to play "Nicole F" .. how she acts and dresses. Claire she (SB) made too big of a move (DX) Hannah – too big for her britches.
Tiffany "Just the six of us.. we can make it official! COOKOUT on 1, 2, 3… COOKOUT!" @bigbspoilers #BB23 pic.twitter.com/KsJ48QfkjU

— Dawg (@DawgsBigBrother) August 28, 2021
12 am – 1 am Houseguests going to sleep. Feed audio messed up
2:00 am Zzzzzzzzzzzzzzz
7:00 am Zzzzzzz
8:00 am Houseguest waking up
Consider a donation to keep the madness going. BIG thanks to the people that have already chipped in.