HOH: Tiffany
HAVENOTS: None
Nominations: Sb and Ky via HOH, Xavier Via punishment
Power of Veto Players:
Power of Veto:
Power of Veto Ceremony:
Big Brother 23 Houseguest Rankings – – RANK THE HOUSEGUESTS –
View the previous day ranks on the – Ranking Grid
Big Brother Spoilers -Ky and Sb are being nominated. X is nominated Via last weeks Veto Punishment. High roller is today
7:57 am Houseguest getting up for the day.
8:08 am Sb and Ky
Sb says she likes the open room vs the coral room. "Why do you like the coral room better?"
Ky – mmm.. the beds.. mmmm.. use to it. mmm. I see you.
Ky – when I slept over there I could see you
SB – you can see me now
Ky – Not when I'm lying down (Yikes)
Sb giggles
Sb – if one of us goes home it shows people in this house isn't going after the threats they are playing emotionally they are just going to pick us off.
Kyland says if the HOH is telling them both she's more threatened by him that usually means this season that he's the target. "Why would uhh.. why would you think it would be different this week"
Sb – because.. I don't think that people are that loyal to the HOH's I think it's just for the most part what the HOH wanted would make sense for people's game.
Ky – the HOH's stated target has gone home each week
Sb – it's not a done deal you are going home if we go up.
Sb thinks there are people in this house that will vote her out over Ky. "you only need 3 votes"
SB – Alyssa has consistently thrown me under the bus since week 3. It could be personal I don't know what it is.. I think it would be smarter for her to work with me but she still doesn't see it that way.
ky – it could just be that she saw.. I don't think she's any quicker to throw out you than you were to throw out her this week.
Sb – it's Alyssa, don't you think she threw both our names out there the moment she set foot in that room?
Ky says maybe Alyssa thought it was better working with Ky and SB like Sb thought they were working together. "What if you threw her.. why would she do any different"
SB – I'm not disagreeing I'm just not seeing how that means she wouldn't vote me out that's how this all started.
SB – I think she will vote me out because I'll vote her out. I think she threw me under the bus like I did her.
Ky – right now I agree with what you're saying.. maybe we should ask different questions we might get a different answer.. I'm not looking to stress you out.
Sb – I don't see the point of continuing this conversation
Ky – sorry I'm just working through scenarios and thoughts
SB – what's the point we have no control we don't even know we're going up right now.
KY – you tell me what you want and I'll just talk about that then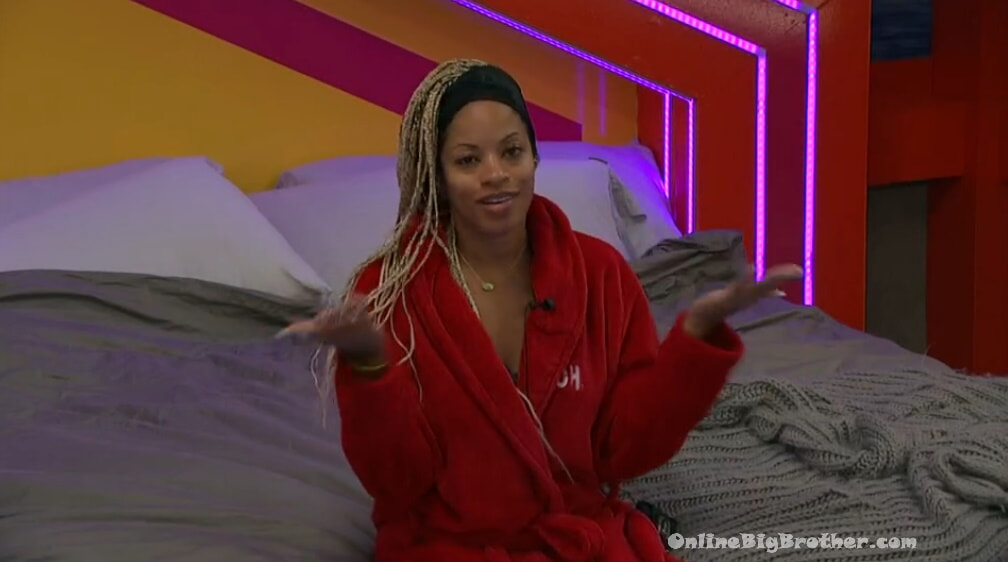 8:34 am Tiffany to the camera
"It feels amazing to wake up and be HOH.. I have made my decision on what I will do today. I am hoping all the power remains in my hands this week."
"I really hope to win the veto"
"America you already know what my goal is it's not a personal thing it's a lot of factors"
"I am going to nominate Kyland I am going to nominate Sarah Beth It is what's best for the cookout I hope it's best for my personal game"
Tiff mentions how upset she was to see BabyD go
"It fueled my desire even more to nominate Sarah Beth.. It could be emotional it could be personal I'm going to call it a game. I'm glad it is a win I earned. I'm glad I was able to focus under the pressure"
Tiff goes on about her family "I love you momma pat"
Claire brings her up a coffee grabs last night's tea mugs and leaves.
Tiff – that is my girl Clarie you know I love Claire and one of the hardest things in this game is you fall in love with the people you are aligned with. I really do have a big heart I love Claire that is my girl. I don't like having her in the position she is in I've said in the beginning if things were different it would be different for me and Claire as well. I made a decision on day one to stay loyal to the cookout because of this season and I don't wish to.. Drag anyone along we all have the same opportunities in this house and whatever is supposed to happen will happen I am trying my best to stay true to the cookout. We'll get the end"
Formulating that plan was a gift from the universe I have no idea how I came up with that. We've used it as a blueprint to get further ion this game. it is a game and as the saying goes don't hate the player hate the game. I love her I hope at the end she realizes I never meant to hurt her..
Claire joins her with more coffee.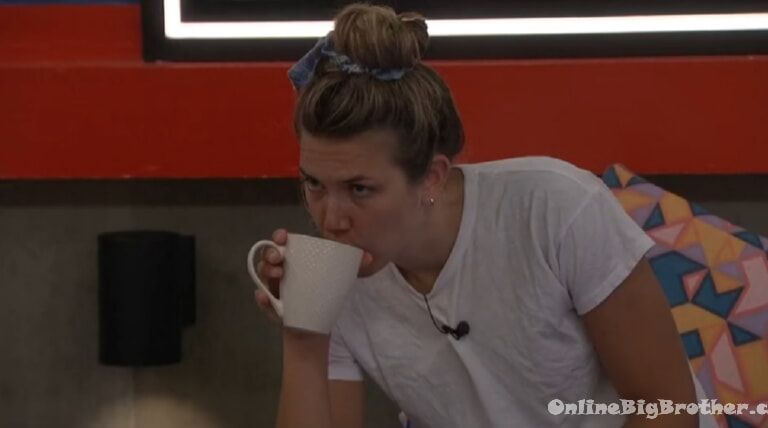 8:48 am Claire and Tiff
Tiff says Sb brought up a lot about Alyssa. tiff wants to bring Alyssa up one more time before nominations.
Tiff – "SB has a gift of putting her points together.. honey she had a whole Christmas bag.. she just had more and more information when we first sat down"
Tiff says once she pointed out to SB her side of the house has winning all the competitions "She dug in her bag and pulled more things out she told me BIGD was going to do this or that Alyssa said this.. Xavier said this.. she's like ummm ALyssa will lie with a straight face. I thought she had given me a lot of information. She let me know she had no loyalty with anyone in this game.. That's a big statement to make.
Tiff – she told me DX, Ky and her had a final 3 she couldn't decide to go with them or with us
Tiff – when you won SB you never got me and Claire together for jackpot
Claire – never
Tiff about Sb – YOu've been cuddling with Ky every 5 minutes and having your eyes closed with those heart sunglasses you might be able to see what is happening in this house..
Claire – you have no idea what is going on in this house
Tiff says Sb has had no loyalty to anyone in this game except for KY and now she says she doesn't have loyalty with him "You will cut me and Claire at any time that is a person that is dangerous in this game"
Tiff says the minute Sb is in danger she will give you any information you need.
Tiff – Alyssa look me right in the eyes and said I'm not a target for her.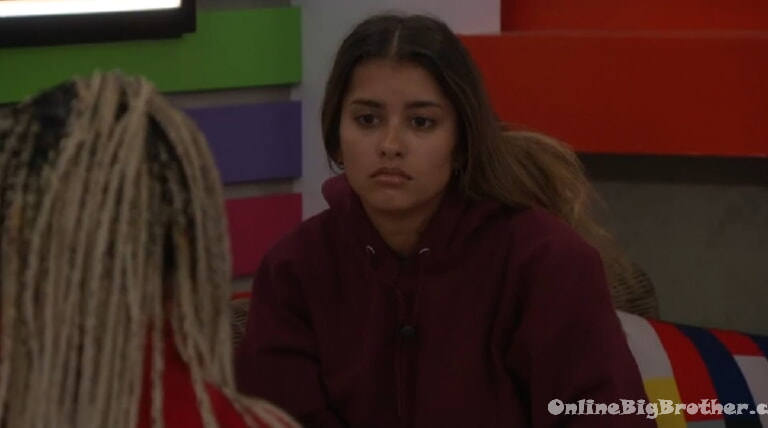 9:02 pm Alyssa and Tiff
Tiff – last night I had another conversation as best as you can I want to keep this here.. I do want to make sure where you and I stand..
Tiff says she promised SB she'll keep the conversation they had a secret but she still wants to talk to Alyssa. "She is really either very good or .. I don't know but.. She's painting a picture to me that I am your target I should not trust you. She has confirmed she doesn't trust you. What I feel is that she would like me to go after you because she either doesn't have the heart to do it, Doesn't want to look bad or doesn't want X to come after her"
Tiff is looking for a one week deal with Alyssa "You are not my target I don't want you on the block I'm not asking to use you as a pawn.. If you are picked to play in the veto and you want to take X off the block I'm fine with that. I would like to keep noms the same. I would like Sb to leave this week that is best for both our games if that happens"
"If next week i am nominated that I have your vote to stay. I would love to not be your target next week"
Feeds cut..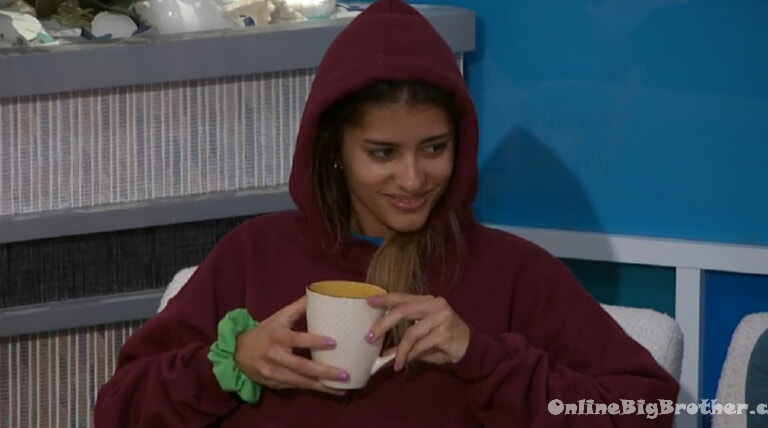 9:21 am Alyssa and X
Alyssa says Sb brought her up to the HOH late last night and this morning
X – time to get her out
X says when DX hugged him on eviction "it almost felt like he was scared to hug me"
All four feeds on Tiff Putting on makeup alone.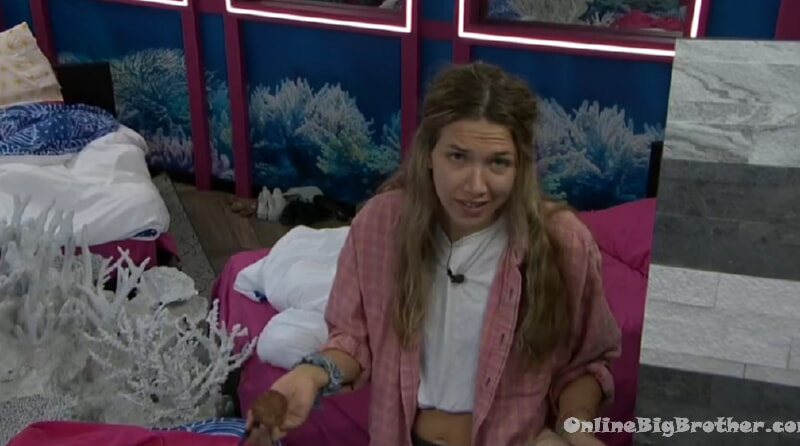 9:28 am Claire to the cameras
She says getting SB out isn't best for her personal game but she'll do what "her girl" tiff wants. Claire is happy seeing Sb and Ky Squirm.
Claire – do I feel good about my position in this house? Yes.. people will go for tiff more than me.. honestly, I want to get to the end with Tiff.. Can I beat Tiff?NO. Am I playing a Steve type game? yes..
Clair e- I'm so happy for Tiffany.
Claire- I'm one of tiff's minions.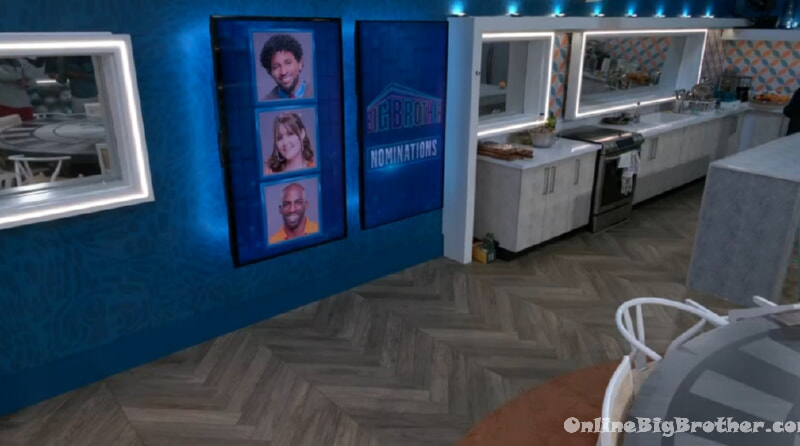 11:04 am Feeds return
Consider a donation to keep the madness going. BIG thanks to the people that have already chipped in.