Big Brother Canada Spoilers – the Power of Veto was not used by Cory nominations stay at Kyr and Chelsea. Chelsea is the target.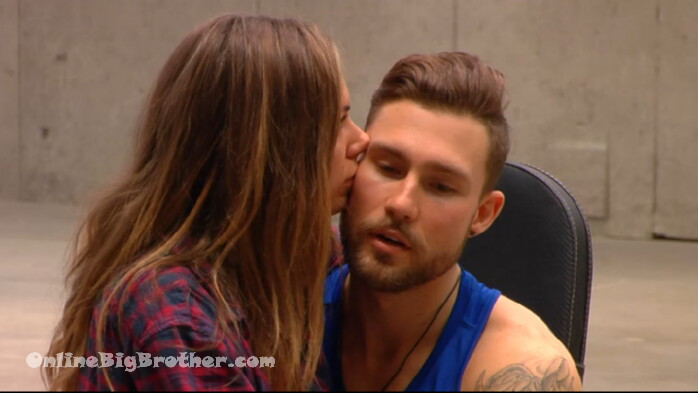 11:40am Sam and Adam
This conversation is assuming CHelsea is gone and how to navigate next week.
Sam is scheming how they can show to Dane they are not working together.
Adam says he's already good with Dane and so is same
Sam – mark got in my head last night and made me feel like I wasn't good with Dane.. if me and you have those little arguments those are good
Adam – I dunno
Sam mentions calling a house meeting everyone is targeting them because they are easy targets.
Sam is going to tell Eddie "you're good with me.. Dane can't play.. I'll talk to esti a little bit more"
Adam – I'll speak to esti too
Dam – Esti and Dane we need to still be solid
Adam – I want her to hear it from me as well I don't know what the f* Mark will do
Sam – Mark keeps asking about me and you
Adam – do I need to worry about Kyr a
Sam – no
Adam – are you sure
Sam – yes
Sam is worried that Damien can be convinced to put them up.. "I don't think Cory will"
Adam – literally everyone is throwing out Eddie's name..
They agree to "still be together" but they will now start talking to people separate.
Sam – do what you need to do but let me know so I can do what I need to do
Sam – just let me know
Adam brings up how they have to make it known that once they are gone who are the dominant players (Dane) will go after.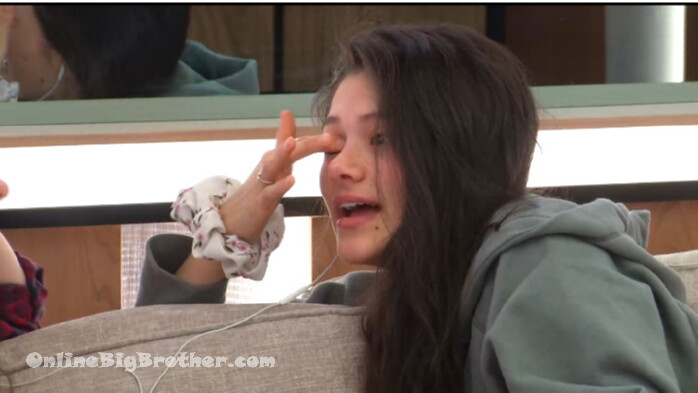 Noon Esti and Sam in the HOH
Esti listening to music crying…
Sam tells her that she's talked to Mark yesterday and he told her that he can't associate with her because her name is getting thrown out there a lot as a target.
Esti – it's not cool though… at the end of the day you can still talk
Sam – what will happen when I win HOH next week then who is going to be around me
Sam thinks Mark is just trying to throw her off.
Esti – he talks and he only asks questions and he sees where the conversation goes.. It's very obvious
They agree Mark never offers anything "that's so weird"
Sam brings up Mark saying things then adding "if you bring this up I will just deny deny deny"
Esti – he overestimate his intelligence. (Mark)
Sam – I'm being careful with Eddie..
They agree Eddie's target would be Kyra.
Esti says Kyra isn't the nicest to him and it's obvious
Esti – I feel like he wants to work with people but at the end of the day he'll say what he needs to
Sam leaves asks Esti if she's "working butt later" because Sam will join her.
After SAm's gone
Esti – "YIKES"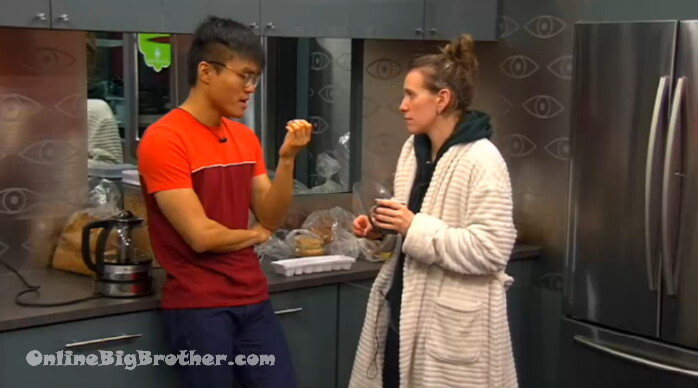 12:11pm Eddie and Cory
Cory says she feels strong with Eddie.
Eddie – even the people that wanted COry out week 1 they haven't mentioned her name again you integrated in this house really well..
Eddie says he wanted to work with older people coming into the game because they are wiser. HE wants a mother figure and that was MommaK now that she's gone Cory is.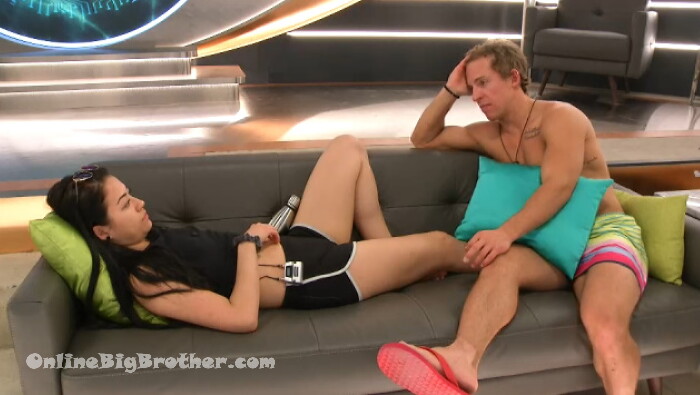 3:50om KIKI and Dane
KIKI – I think mingling personal relationships into the agem is so risky
Dane – yup..
KIKI – how do I tell that to Mark.. we can keep it flirty but nothing else ..
Kiki – cause guess what's going to happen.
Dane – that's why i'm trying to not do it with Esti..
KIKI – it's who you are it's who I am we're f***ing BC born and bread.. We're west coast chill relax..
Dane – westcoast charm
Dane – as soon as Adam and Same go out I feel like me and esti will be the target
KIKI – there's a lot of people that are forming
Dane says Cory is a alpha female says her and Anthony are getting very close. "She'll be very hard to beat in some games.. She'll be very smart with her words.. I really like cory"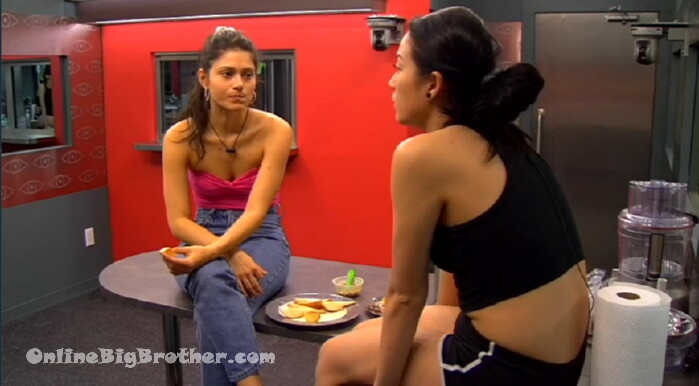 5:18pm Stef and KIKI
They're talking about how Mark is putting work building good relationships.
Stef goes on about the true definition of a floater. They think Mark is the floater and Eddie is a coaster.
They talk about playing too hard too fast and how they are trying to prevent that. KIKI mentions Laura, "Why did you say that"
KIKI says Anthony and Laura were getting close they slept in the same bed together
Stef – if Laura was here she would have come after us.. I couldn't connect
Stef doesn't want Cory or Sam to win the veto.
Kiki doesn't think Cory will come after them Says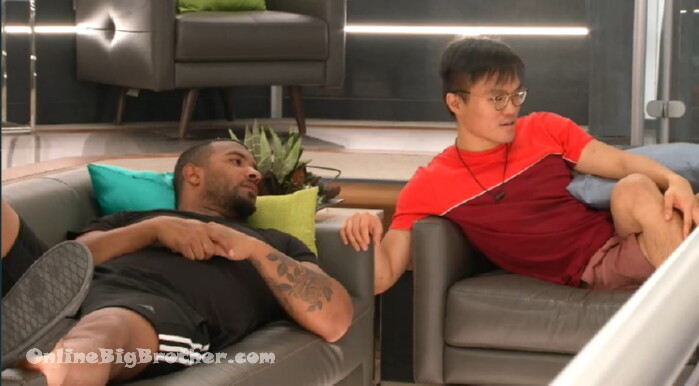 6:30pm Eddie and Anthony
Eddie says he's worried about going up as the pawn.
Anthony – you would be an easy pawn because nobody wants you to go.. you could be a pawn or a setup for a backdoor..
Anthony says Eddie is well liked Eddie says Anthony is also well liked. They agree they'll make jury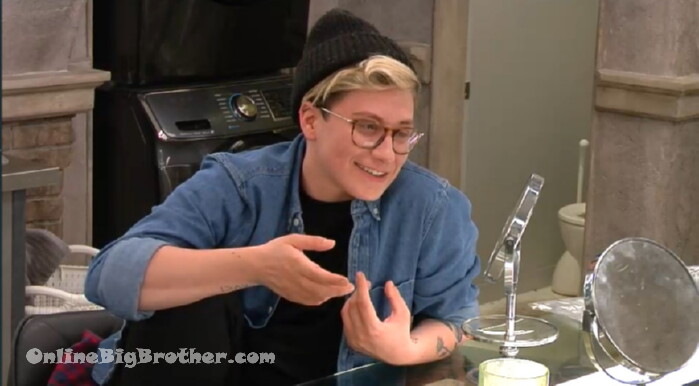 7:10pm Sam and Kyra
Kyra says Chelsea told them she wants to kiss before she goes. Kyra adds that Chelsea is worried she'll get in trouble
Sam – you should go into that bathroom or shower
Kyra – you can't go into the bathroom with someone.. under the covers
Sam – yeah..
Kyra – I've tickled her back and her butt (ZOMG)
Kyra – don't talk to her about this.. she will be so mad at me
Kyra – it's weird I don't want to put her in a position that makes her feel guilty so I dunno..
Kyra says it's up to Chelsea if they kiss but she's also not the type of person that would be like "can I kiss you "
Kyra – usually you can feel it right..
Sam suggests that Kyra should take control maybe that's what Chelsea likes.
Kyra – I don't want to cross the line for me consent is important I don't want to cross the line
Kyra – we were cuddling and tickling are faces were facing and I went in .. We talked about how I wanted to kiss her and she said she does to..
Kyra – I went to kiss her she turned her head. she's like I don't know if I can.
Kyra – I already tried
Kyra adds taht after Chelsea turned away she turned back and their faces touched.
Sam – maybe that's when she wanted you to do it again… you know what girls are like sometimes they are no but yes no but yes..
Kyra – I'm flattered because she's amazing… she's phenomenal.. she's gorgeous
Sam – she's an amazing person
Kyra – I honestly hope I find a lesbian like that some day.. that's what I need someone to put me in my place and like be goofy and smart..
Kyra – I need someone that gives me boundaries
Kyra – she was like… You remind me of the one that got away .. you remind me of the one I've been looking for
Sam – oh my god.. does she mean in a lesbian way or a person way
Kyra – a person way
Kyra – she's straight.. she's just curious.. It would never turn into anything. I don't know that for sure..
Kyra – she's attracted to men… she teases me that my arms are little because she's used to big hulking men
Kyra – my arms are not little
Kyra says Chelsea has a boyfriend.. "I feel like if she didn't have a boyfriend I would have made out with her"
Sam – yeah it's cute because she's a very different person with me when we're alone at night .. she's cute and vulnerable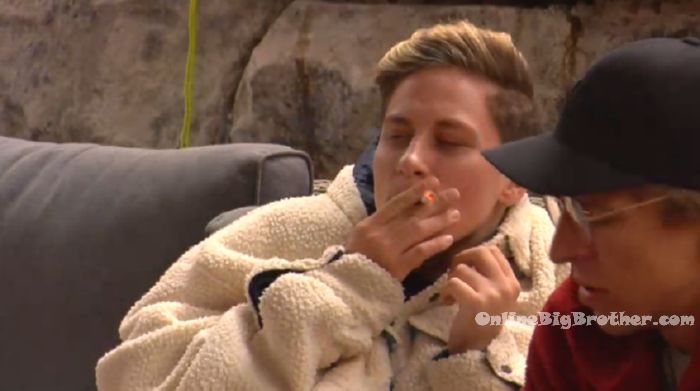 8:44pm Hot Tub room. Kyra and Dane.
Kyra – I'm not going to go around campaigning. On Thursday I am going to come to you and say is it still all good? And if its not, then I am going to go around campaigning for me, not against her. Dane – yeah, right now its Kiki, Est, Mark, Damien., for sure! And Eddie .. and I have Cory too. If anything it will probably be a 9 – 0 vote. I had a conversation with her too last night. I said I don't expect you to roll over and die. Its not the woman I know. Kyra – I am just glad we can go back to being friends.. we talked about life and it was really nice. Dane – yeah I didn't want to put a wedge in between your friendship. Kyra – no its not your fault. Dane talks about Est – its not a showmance. It will never be a showmance. Its a friendmance. Sam joins them.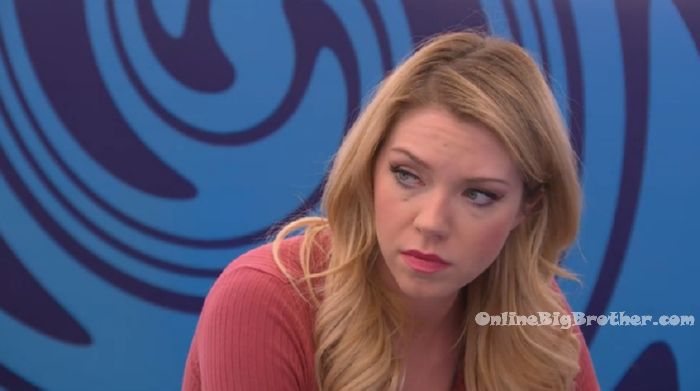 10:50pm Bedroom. Chelsea and Sam. Sam – did you talk to anybody? Chelsea – I talked to Eddie. I am pretty sure we'll have him. He will vote to keep me. Sam – yup. Chelsea – He wants to work with anybody because no one will work with him. No one wants to work with Adam and You. Sam – yup. Chelsea – I told him.. honestly Eddie, people are throwing your name out because people don't think you're playing the game. He said I want you to exchange trust with me. And I said I'm not going to do that. I am fighting for my life right now. If I stay in the house we can work together but so whatever.. I know I'll have that vote. Big Brother blocks the feeds. Chelsea – I know the idea of being kept as a shield sounds weak or whatever.. Big Brother blocks the feeds. Chelsea – All that's going to happen is that side is going to continue to build and then you're going to be the target .. but if we can get some numbers. I know the idea of being kept as a shield sounds neat.. I'll stay forever! I know that you like him and that you trust him but he is getting quite the armor around himself. There is going to be a division of sides.. and then you guys are going to get picked off. I feel like it would be smart to .. you guys (Adam and Sam) have been a target since the beginning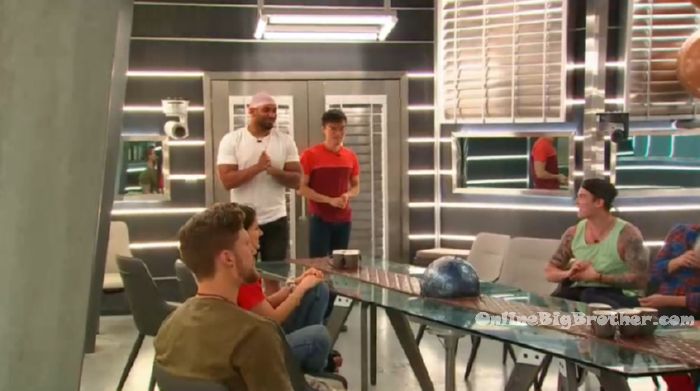 12:05am The house guests are playing cups on the dinning room table.