Today is basically Chelsea campaigning to everyone. She's trying every angle.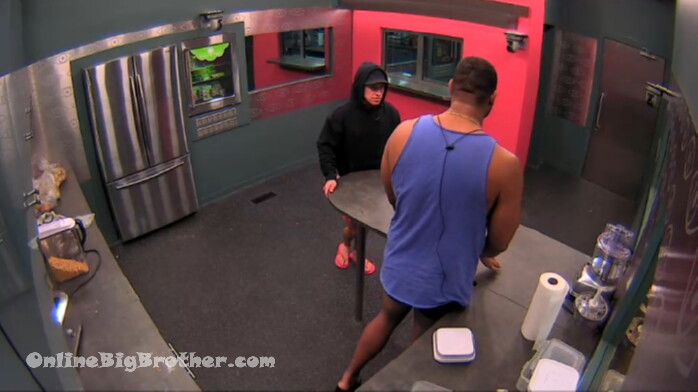 10:03am Dane and Anthony saying that Chelsea blew up week 3 she was on a good path until then.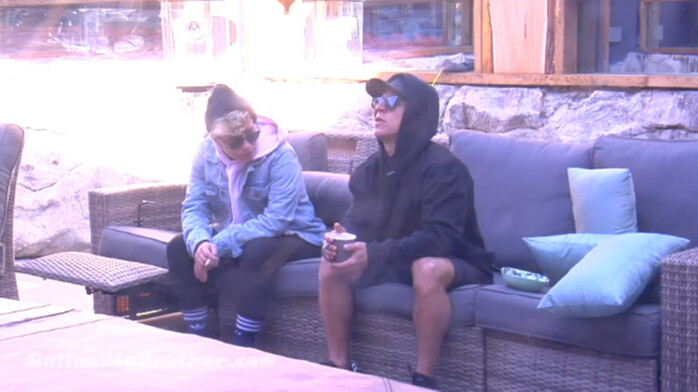 10:13am Dan and Kyra
Kyra saying that CHelsea doesn't know what else to do other than say she's after Dane.
Dane – I heard whispers ohh Dane's creating an army
Kyra – I want to Sam but I don't trust Adam.. she's trying to turn them against me even if she gets them she's not getting everyone else..
Dane says he's got 7 people locked to vote CHelsea out
Kyra is worried about chelsea turning Adam against her because Adam might win HOH next week. Dane tells them to work on that.
Kyra – do you think Sam will ever turn on Adam .. if I stay close with Sam than Adam won't come after me
Dane – stay close to them..
Kyra says she blames Adam for Chelsea being on the block
Dane says after week 3 he was thinking he could work with CHelsea, "I don't know if it was a power trip.. I think she was listening to people"
Kyra is blamining Adam for Chelsea's week 3
Kyra – she's a type A .. she likes to be in control. She listened to a person that's really influential at times.. He wants to act before he thinks so yeah I blame him a little bit
Dane – better her than you
Kyra – 100% I'm here to play Big Brother Canada
Kyra says she's convinced Sam to not go after DAne, "She was also not planning on it.. She was pondering a lot of people.. She even sees you kept your word"
Kyra wants to separate Sam and Adam (with Chelsea gone Kyra will need Sam to follow around)
Dane says to keep planting seeds in Sam's head "then somehow double eviction happens"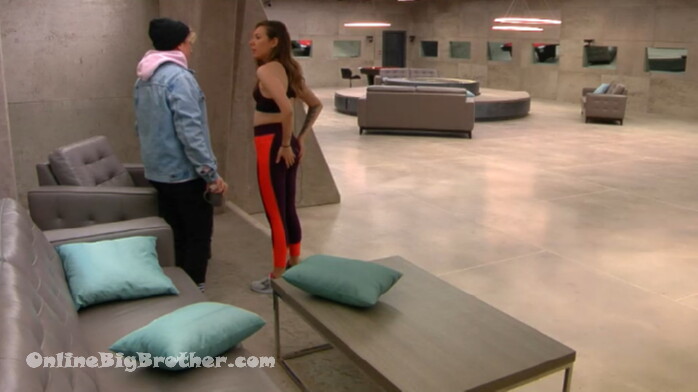 10:26am Kyra and sam
Kyra telling sam she's got her back she was just talking to Dane. She was selling to Dane that Sam is a good shield and Dane isn't on her radar.
Kyra – I said do you think we could create a rift to make her realize he's explosive and not good for her game. He's like yeah…
Kyra adds that Dane told her if they get Sam to turn on Adam then maybe she won't be as resentful when they get him out.
Kyra – so I'm starting to plant the seeds..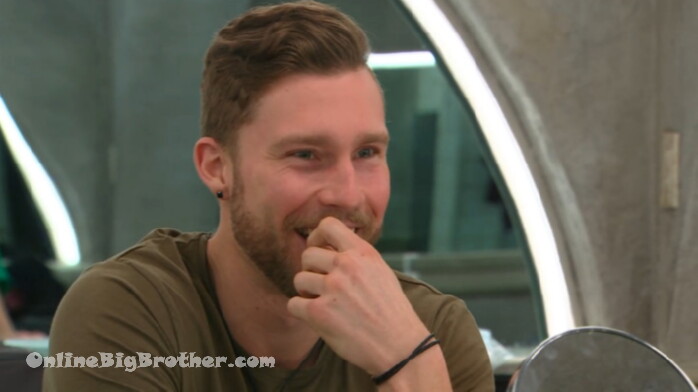 10:31am Adam and Chelsea
Adam more or less tells her to start campaigning against Kyra.
Chelsea – there's things I wanted to stand for in this game and prove that I was loyal .. are you telling me you don't care why am I rolling over for you for
Adam – I care.. I do want you to stay in the game. I don't care if you throw me under the bus to better your game. I don't know how you are going to do that everyone knows we're pretty close.
Adam – have you talked to Dane
Chelsea – no
Adam = have a conversation with him.. I dunno.. Have you talked to cory
Chelsea says she was going to say she was targeting Dane but what's the point in that "it's just sending me home"
Adam – I trust you more than anybody
Chelsea – than trust what I have to do to stay
Adam – yes
Chelsea says she's going to call a house meeting where she's going to say the people she was working with don't have her back.
Chelsea – I was foolish to try and be loyal with somebody..
Adam laughs – maybe talk to sam about this see what she thinks
Chelsea – house meeting is the only way to do it
Adam laughs – Sure…
Chelsea – one on one conversations nobody is going to believe that
Adam – talk to Cory first see where her head's at. Do that before going nuts on the house.
Chelsea – Yeah I know..
Chelsea – I don't want Kyra to stay over me
Adam – I know I want you here ..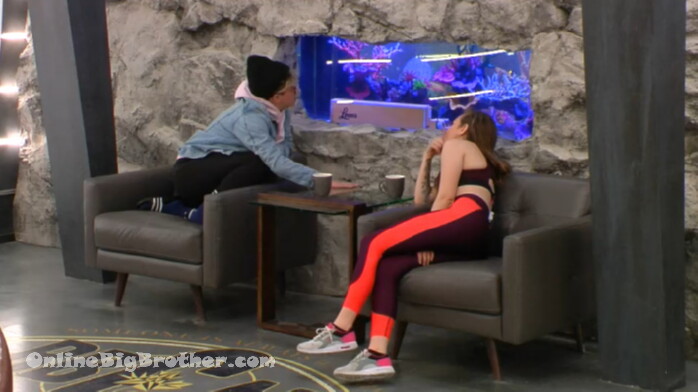 10:50am Sam and Kyra
Talking about putting Adam on the block then taking him off to backdoor KIKI.
Kyra – we need to start creating cracks on the other side.. Right now they will all choose Dane over Adam because Adam is too explosive.. He's too predictable with his paranoia.. He needs to chill..
Kyra stressing they have to make slow plays planting these seeds, "we can do this we just have to be really smart"
Sam – imagine me and you final 2
Kyra – how do I avoid chelsea feeling like sh1t .. it's so sad at night
Sam tells Kyra she is one of the most amazing people she's ever met.
Kyra – now .. everything matter because every little reason has a benefit.. Now is the time we are getting close to jury we have to think about every conversation we have and how each person reacts to different things..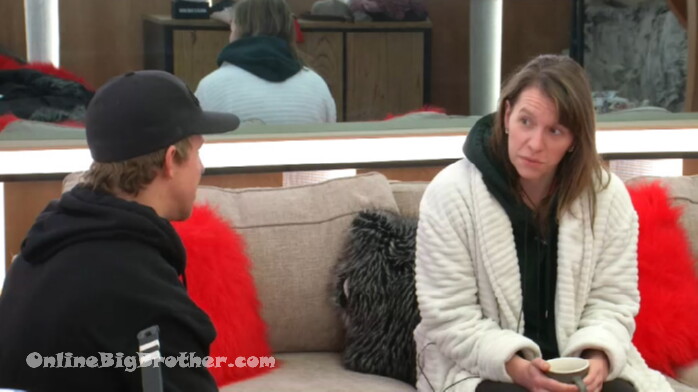 11:00am Cory and Dane HOH
Cory – Eddie he tries to find people
Dane – ti's getting old
Cory wishes Eddie would grow a backbone
Dane – it's hard to watch .. it's out of my hands now. I'm curious who wins HOH next week and I'm curious what he does
Cory says she gets along with Eddie she knows if he won HOH he wouldn't put her up
Dane feels the same but warns if someone gets in Eddie's ear who knows what he'll do
Dane says he really trust Anthony and Cory
Cory – I agree
Cory says Chelsea threw her name out there too easily she's not extending trust to her.
Cory can't understand why the other side (chelsea et'al) were making alliances with everybody with no clear way to keep them.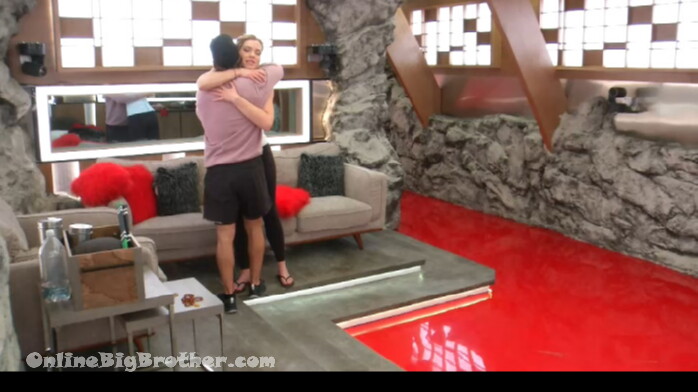 12:10pm Chelsea and Dane
Chelsea says there's no support from her side. They tell her to campaign but don't hurt their games. She feels like she said things that hurt her game to stay loyal to that group.
Dane goes on about how she hopes she stays and wins the next HOH.
Chelsea – these last few days has shown me who has my back if that means people perceive that as disloyal they've shown me that their loyalty
Dane says before Her HOH he felt like he could work with CHelsea
Chelsea – I thought the same thing
Dane – then that whole week happened cards fell where they fell
Chelsea says this is legitimate she's re-evaluating the people she's working with I need to adapt
Dane – I've been waiting for this..
Chelsea – I felt that being loyal was more important.
Dane – you are the only one being loyal out of your 4 person team.. Which is bullshit..
Dane recommends she goes to talk to people but don't get to emotional.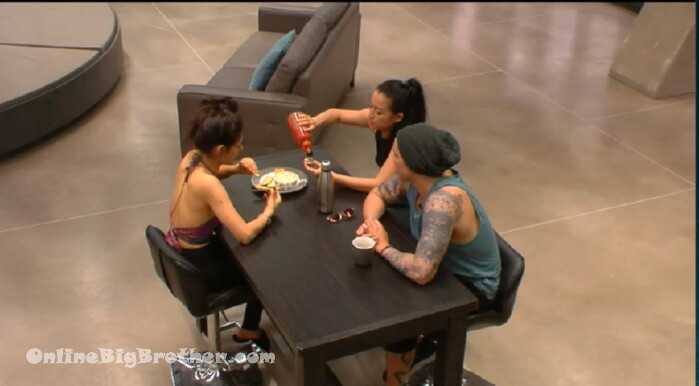 2:20pm Esti, KIKI and Damien
They're not trusting what Chelsea is saying she's still with Kyra, Adam and Sam. The agree if Chelsea stays she'll go right back with them. Esti says it's painting a bigger target on Kyra, Sam, Adam which is good for them.
They tell Damien that Sam was trying to flip the vote on him.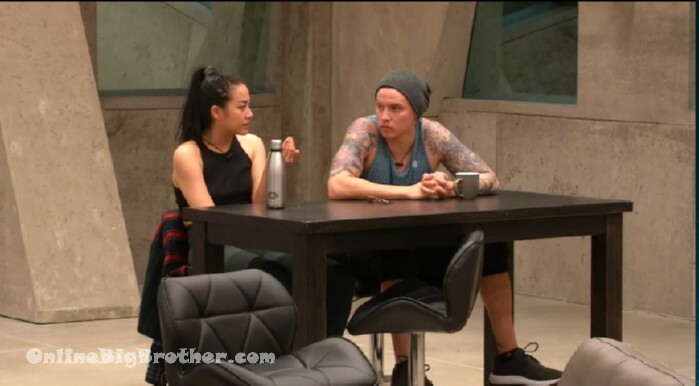 2:38pm Damien and KIKI
KIKI – Eddie is the biggest flip flopper of all time he's blowing up his own game
Damien – that's good for us..
KIKI mentions that Eddie wants to keep Chelsea because Chelsea made a final 2 with him
KIKI is saying that Chelsea staying is not good for her game. Kyra isn't a good liar you can tell when she talks. Chelsea is much sneakier. Damien agrees.
KIKI – she had a little taste of power and that'as when she started talking to everyone
Damien says Chelsea's eye's get all shaky when she's lying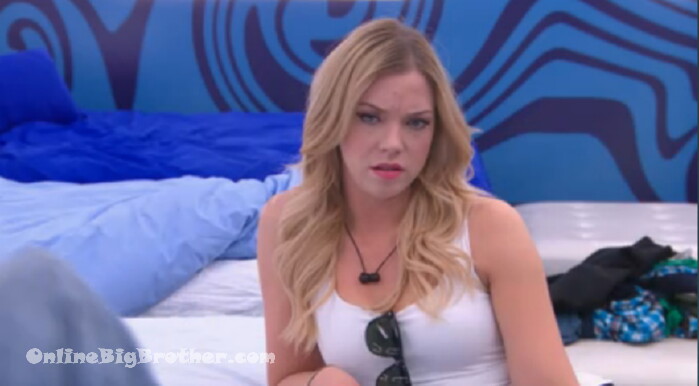 3:02pm Kyra and Chelsea 
Kyra mentions when she was outside and Adam, Dane and Mark were talking about past alliances's and the secret hand signs they would do. Kyra was with them putting on sunscreen and looking in the mirror. Dane was behind them. They could see Dan do the hand signal to the other guys in silence. They believe this is the guys alliance sign.
Chelsea – there's nothing I can do at this point..
Kyra is going to go to Esti and KIKI and bring up the evidence about the guys working together. The hand sign, the guys are hanging out a lot there was proof about catching all the guys meeting in the pantry, archive room, outside etc.. , "I want to see if it goes back to the guys"
Chelsea – Hypothetically I'm going out the door no matter what.. what will you do with this information.. If I want to stay what? housemeeting?
Chelsea is going to call a house meeting and say Mark, Anthony, Adam and Dane are all working together
Chelsea – unless you are lying to me… you want me to blow up my game?
Kyra – they could have told me that as a test…
Chelsea says they've suspect this for awhile..
Chelsea – they don't want to see me fight they want to see me blow up my game.
Chelsea – that's what I am going to do I am going to have a housemeeting..
Chelsea is going to tell everyone she doesn't trust Adam.
Chelsea – I don't know if it's going to work..
Kyra – it's your only option
Chelsea says it depends on how the house meeting goes if it's not going in her favour she'll out the male alliance.
Kyra – don't do this.. I was there when they thought of it they knew I saw it in the mirror and went to talk to you
Kyra – it won't make a difference..
Chelsea – so maybe I do throw you under the bus
Kyra – hey..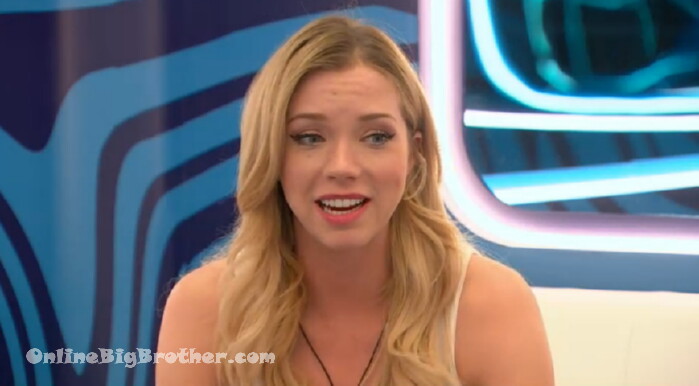 6:15pm Chelsea, KIKI and Esti
Chelsea says she's on her own in this game and she's open.
Chelsea – let me win with you.. I didn't come here to have somebody attached to me all the time and people that weren't going to fight for me bring down my game..
Chelsea – I'm pleading for a chance to keep playing in this game
The "girls" bring up how strong Kyra, Sam and Adam were. people are afraid of that group so solid. Esti recognizes that people are leaving Chelsea on her own.
Chelsea tells them it was Adam that brought up the idea of a group of 7.
Chelsea says she needs to play this game without a shadow.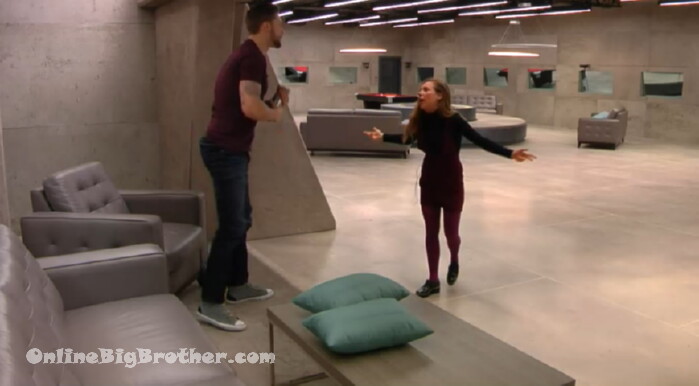 8:15pm Adam and Sam
They are fighting..
Adam calls her snappy
Sam apologizes for it.
Adam – Ok
Sam leaves…
Adam – Jesus christ..
Sam – this is how you deal with things.. Jesus christ..