| | | | |
| --- | --- | --- | --- |
| POV: | Kaycee | Next POV: | Aug 25th |
| POV Used | NO | POV Ceremony | Aug 27th |
| HOH: | ANGELA | Next HOH: | Aug 30th |
| Noms: | Fes & Haleigh | Have Not | Fes, Haleigh, Kaycee |
A real easy way to support the site if you are an amazon shopper is to make your purchases through our link. You pay the exact same thing but we get a small % commission. It doesn't cost you anything and helps us out.
Amazon Canada
Amazon USA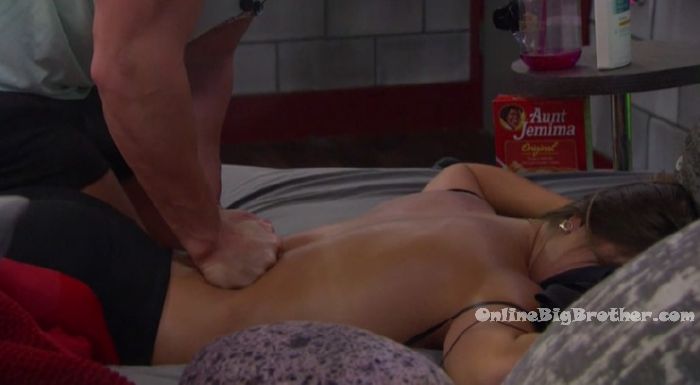 8pm HOH room. Brett is giving Angela a private back massage. Angela – JC just comes barging into my room all the time. Brett – its his technique. Brett finishes up. Angela – that was amazing. I need you to help me with this (her bra). Brett – that's not really my forte putting it back on. Brett – I think we're in a safe spot. Angela – I can't do anything tomorrow which sucks. I have to sit and watch everything go down. Brett – that's a weird feeling. Angela – its terrifying. But right now the odds are .. Big Brother blocks the feeds. Brett – what if its a battle back? Angela – that would suck. Brett – that would f**king blow. There is not a single person that walks back in here that I would .. that it would even be remotely good for me. Angela – and considering I sent two out of the four home. Brett – yeah I get that. Were you really crying earlier? Angela – yeah it was about my diary room. I was talking about my sport and how it broke up my family. Brett – I'm sorry.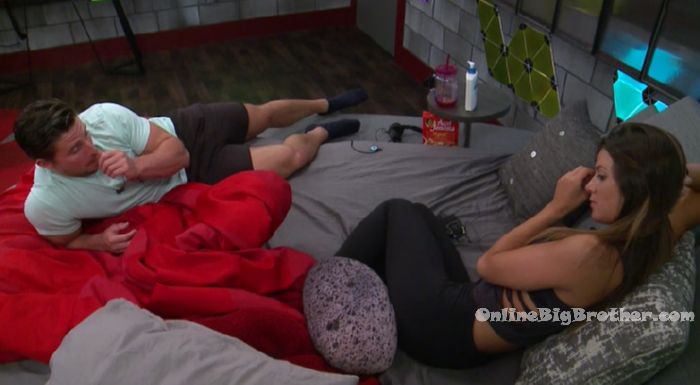 8:20pm Bedroom. Brett, Haleigh and JC. JC – I'm so bored. Halieigh – Would you rather? Brett to JC – would you rather have s#x with a girl? Haleigh – or never have s#x again? JC – Ughhh.. I don't know. Brett – you're so boring! Haleigh – would you rather get hit by a truck and survive or jump out of a seven story building? Brett – and what die? Haleigh – no you survive both. Everything is fine you break stuff. My answer is get hit by a truck. Brett – would you rather drink the sweat out of Fes b*tt crack… JC – oh my god.. the other one. Brett – or let Haleigh spit in your mouth. JC – let Haleigh spit in my mouth a thousand times. JC – would you rather make out with a boy hardcore or have s#x girl that shoves a cucumber up your a##. Brett – how big is the cucumber? I am not answering but I think you know what my answer would be. JC – would you rather lick Fes toes or have s#x with an out of shape 40 year old woman? Haleigh – what?! I'm not going to say it. JC – you would lick Fes's toes. JC – I don't like this game. Haleigh – okay we don't have to play. I am sad. JC – we all are. Don't let it consume you. Haleigh – I don't want to leave tomorrow but I don't want him to either. Do you know what you're doing? JC – no, not yet.
9pm – 9:20pm HOH room. Kaycee and Angela. Angela – I don't know why I am so sensitive right now. Kaycee – its okay, its hard in here. She talks about how her diary room got her upset talking about the repressed memories of her past and then JC made a comment that pushed her over the edge. (JC busted into the HOH while Angela was getting a massage from Brett and said this is going to make good TV.) Kaycee – I think it is so good that you let it out. It made you who you are today. Angela – I went for so long hiding. It feels so good to let it out. Kaycee – I am sure there are other girls out there going through the same thing you went through. Its a powerful story. We're human its okay to have emotion.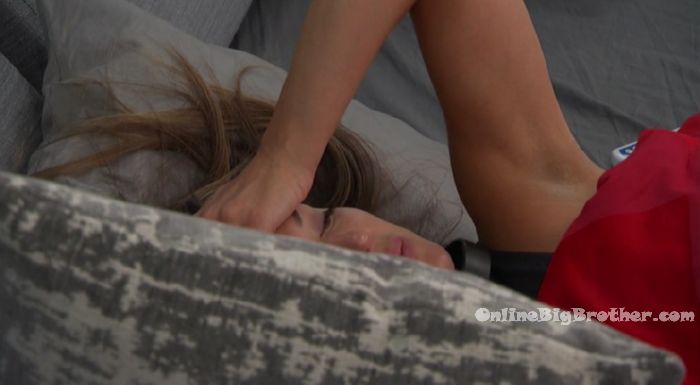 9:40pm – 10:30pm HOH room. Tyler and Angela. Tyler – what's wrong. Angela – I just can't handle today. I just get irritated and tried everyone. Angela – everything is intentional. JC came in here while I was getting a massage made a big scene and said this is going to make god TV. It just made me so mad. Tyler – don't let it get to you any more .. only today. Call him out on it. Big Brother switches the feeds. Angela – that was just a really f**ked up comment. Tyler – no one believed him. Haleigh joins them. Angela – I'm about to go do your GBM (goodbye message). Haleigh – just please be nice. I just hope Sam was nice. Just tell me you're grateful that you met me. YOu know we're going to be really good friends. You think I have amazing hair. Angela – I can't wait to come to your.. Haleigh – ring dunk. Angela leaves to go to the diary room. Tyler – I promise you of all I know …you're staying. I know you're trying to mend bridges but I think its better if people don't see us hashing it out. Haleigh agrees. Tyler – I think you're going to go far because you really know this game and you're a competitor. The competitions are going to be your style. Haleigh – I really, really enjoy your company and Angela's and Kaycee's. Its good to get a unified plan. Worst case scenario that random a## person (Sam) will put me and Angela up. She might put me next to JC. Tyler – she would put Brett or I up. She has been acting.. Haleigh – she's been making comments about you and Angela. She needs to go Tyler. Tyler agrees. Worst case scenario she wins but we're good competitors and she would need to get one of us to stay there. Haleigh – as long as she doesn't win. Even if one of you win I'll be fine with it. Tyler – it doesn't benefit me for you to go.
11pm HOH room. Kaycee and Angela. Kaycee – There has to be a double. I think its going to be tomorrow. I just have a weird feeling. Angela – I have a feeling we're good. I think Sam will definitely put Haleigh up as one person. Just as long as Sam puts up Haleigh and Haleigh puts up Sam. Kaycee – what about JC? Angela – JC would put up Sam and Haleigh.
11:17pm – 11:45pm Fes and Haleigh. Fes – You look beautiful. I won't be able to kiss you for a long time. What are you going to do? Are you going to remember how to kiss? I know you kind of forgot after you had been in this house for a long time without kissing no one. Haleigh – shut the F**k up Fessie. You piss me off so bad. Haleigh – it pisses me off so bad that is something you would worry about. That you would think. Fes – I wasn't worried about it. I am equipped. I don't need you questioning me. Fes – well you know better than to question me. You're looking at the REAL DEAL! Fes – my goodbye message will make you smile. Haleigh – good because I bet Sam's is f**king brutal! JC's is going to hurt my feelings. Fes – you're not going home. Haleigh – I can think what I want. You don't know what's going to happen tomorrow. I will see you in the next 4 hours. Maybe if we get evicted together in a double eviction. I cannot live in this f**King house for a month without you. I will literally lose my mind. JC is the only person that I have that I enjoy but he is f**King erratic. Fes – what about Brett. Haleigh – Brett has his own intentions though. Fes – Brett is playing a really good game. He is good everywhere. And I would vote for him to win over any of them. Haleigh – I would vote for Brett to win over anyone but you, JC. Fes – I just like Brett because he's been on the the block three times. Haleigh – I am fine with leaving tomorrow. I don't want to leave here without you.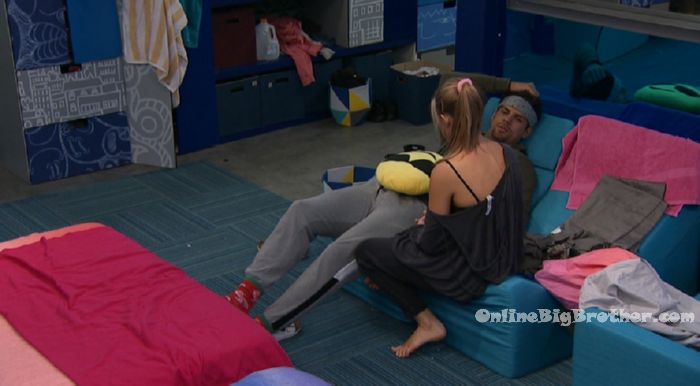 12:05am HOH room. Brett, Angela Kaycee and Tyler. Brett Kaycee – I have something that makes me speculate something too about tomorrow. Tyler – wait what?! Why? Kaycee – and I know its happening. Angela – why? Kaycee – they asked me if I won HOH who would I put up. They never ask me that. Angela – they ask me that. Kaycee – on a Wednesday night? We haven't gotten past the first one and you're already asking me about the next. Big Brother tells them not to talk about their diary room session. Brett – I cannot believe that Fes hasn't even come up to me .. even with the most generic response. Kaycee – I think tomorrow is going to be a double. JC joins them.
1:50am All the house guests are sleeping..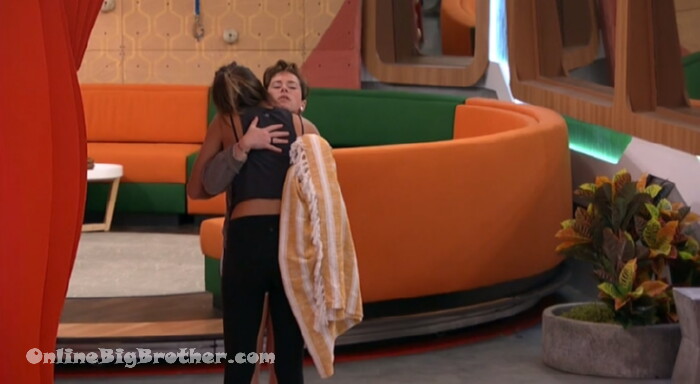 Houseguests wake up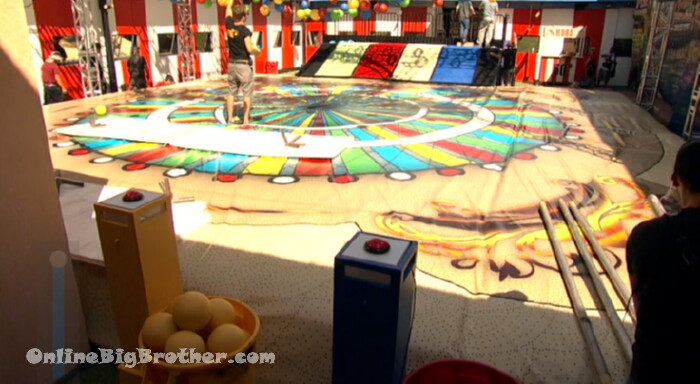 Feed Leak @1040 . the HOH competition for tonight. Feeds go down shortly after for HOH lockdown.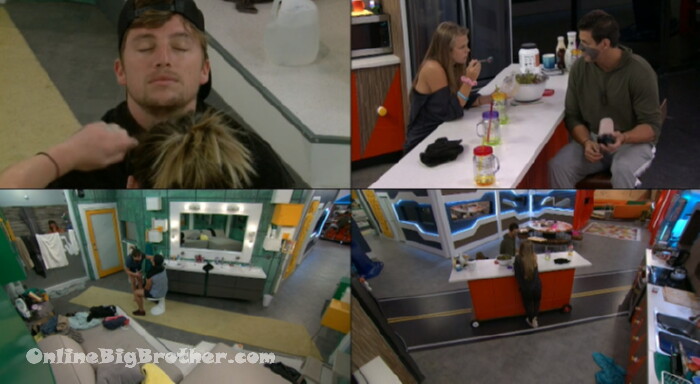 1:44pm Feeds are back..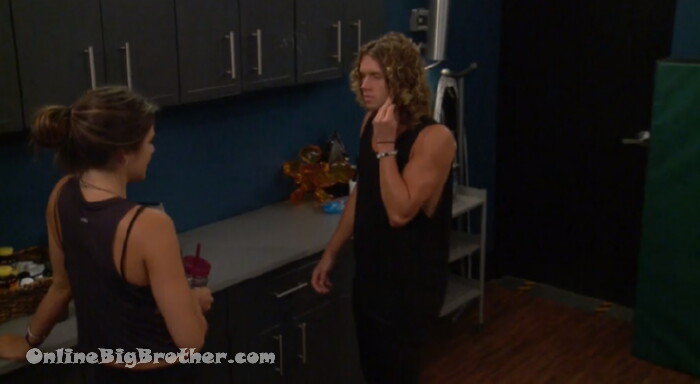 2:03pm Tyler and Angela
Agnela saying that Sam came to her and asked who she should vote out. Angela told her to vote whoever helps her personal game.
A – she said I have no personal game.. i was like REALLY.. I don't think it matter at this point
A – and she's like you said Haleigh's your target but you've been hanging around her this whole week
A – I was like, Honestly I don't think I can beat fes in a competition so…
A – she was like, OK got it
Angela says she told her she can't beat Fes in a competition.
Bret comes in Angela tells him the same thing.
Angela – last time I asked you to vote you didn't why come to me now
Angela brings up how Sam voted to keep Bayleigh where she told Sam "Please vote out Bayleigh" and Sam's reply "I'll consider it"
Brett – doesn't matter not a big deal either way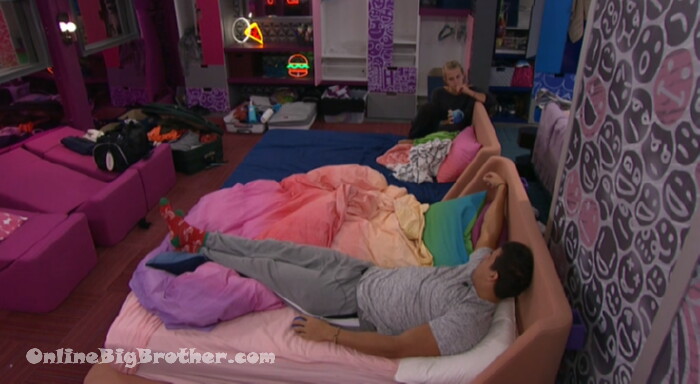 2:09pm fes and Haleigh
Fes – stupid a$$ f*ing game…
Fes – I've never slept in a blue bed.
Fes tells her to stop eating her hands.. "there's no nail left stop biting.. "
Haleigh – Please stop (no you please stop you have no hand left)
H – there up his today because he held the door open
Haleigh about JC and last nights door thing… "there in his a$$ today.. it's like a big deal when he tied the door open.. Alison came and talked to me.. I don't want him to get in trouble .. I understand… "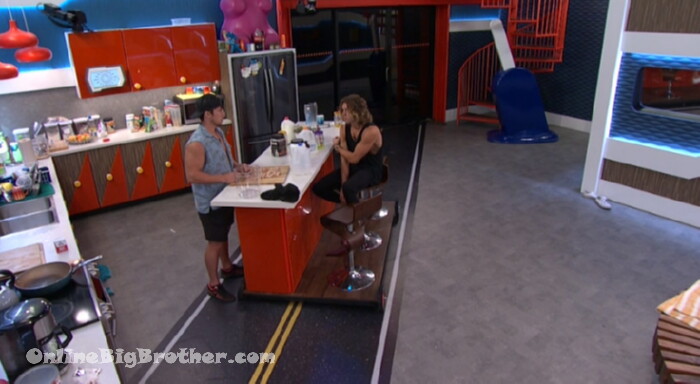 2:14pm Tyler and Brett
Brett – I'm trying to get a read on JC to see where he's at. He's really worried
T – I know
B – He's bugging out
T – he might be leaning the other way .. he might be leaning towards keeping fes.. he just doesn't want to say it
B – no no no I mean after
B – he knows Fes isn't staying he's not stupid
B – every time i talk to him that all he says is how much he's done (in the game)
Tyler mentions how JC calls it "our" alliance
Brett – yeah we vote together
B – he's worried they are getting you (K and A)
Brett – I mean they just spend a lot of time together
Brett – he thinks Kaycee and Angela are working together .. he doesn't think you are there yet
T – he has no clue about you and me though .. that's why it's so hard to figure out what to say
B – if JC wins HOH I think he might take a shot
T – I know.. but he won't take a shot at us
B – Exactly.. we still have the numbers where we could win the veto and take one of them off
THey agree it's too early for JC to take a shot (Helen said that also.. she kept saying up until production tripped her on that seasons battle back)
B – I'm like DUde we don't need to do this.. that's when he's like ok lets stick to the plan.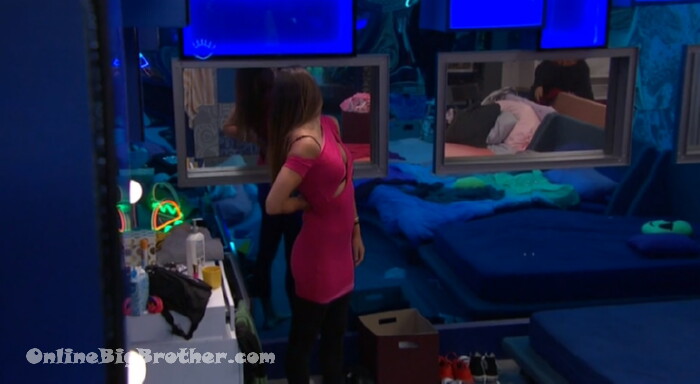 For the bros on OBB ….
3:20pm Haleigh and Angela
Haleigh is telling her how everyone has reassured her she's not going.
Angela – you aren't going anywhere. don't worry about it.. tonight you get to stand up give a shout out.. sit back down and play HOH
Haleigh says that even if it's a double Angela is safe..
Angela – everyone is onboard with getting out Sam (Me and Scottie aren't)
Haleigh – did you hear about the incident with JC and her last night.. it was… (F*ing GROD cuts the feeds)
Feeds go to reruns.. ceya all during the live Episode .
CBS sent up this..
Tune in the Live Feeds after tonight's Big Brother 20 episode to see how the House guests react to the juror who battles their way back into the game. Plus, keep your eyes peeled because later tonight, the Head of household competition will also happen on the Live Feeds!
Without your support this website wouldn't be possible. Please consider making a donation. Any amount is greatly appreciated. All donations go directly to paying the considerable costs associated with running this site.
Rank the houseguests!
Easiest way to Rank the house guests use link below