HOH: Xavier
SAFE: Christian, Alyssa and Sarah Beth
HAVENOTS: Claire, Kyland, Tiffany
WILDCARD Competition Winner: Tiffany
Nominations: Brent & Britini
Power of Veto Players: Xavier, Brit, Brent, DF, Whitney, Christian
Power of Veto: Christian
Power of Veto Ceremony: Veto Not used The original nominations are locked.
Big Brother 23 Houseguest Rankings – – RANK THE HOUSEGUESTS –
View the previous day ranks on the – Ranking Grid
10:12pm Backyard. Big D and Brent.
Big D – how are you feeling? Brent – Just chilling. Nothing I can really do. Big D – Yeah. Brent – it is what it is. Hope for the best, prepare for the worst. Big D – I just look at it like this .. you can't control what people do. Brent – you can give all the logic to someone and they still don't understand. What is beneficial for their game, and they still vote with their heart. Big D – your heart is not going to get you to the end. Brent – in love, yeah maybe follow your heart. In this game, you've got to follow your head. Big D – Correct. Brent – People will learn that the hard way. Big D – yeah. Brent – it is what it is. You have to realize who can get you further in the game. Big D – I am used to being around a certain type of people and this game is based on manipulation, lying… like straight to your face. Everyone could be up here lying about who they are, their age and stuff like that. I can't sit here and lie but I know I have to get far. I really want my character to come off like that. Brent – I think some people realize this is a game. I am honestly surprised like I have barely lied at all. It wasn't even really lying it was bending the truth to my team about slaughterhouse. Big D – of course. Brent – I can't really tell them about that. Big D – to me I honestly believe that the girls are working together. That's how I feel and that is what my gut is telling me.

Brent – just think of it this way … Britini won by a landside last time. If the girls really are together .. you'll find out but as long as we keep getting rid of dudes.. you guys have no shot. They'll have the numbers every time. Big D – correct. Brent – it is what it is. Brent – obviously you're voting for Britini right? Don't worry I won't be mad. I completely understand. Big D – she is my teammate and she looks at me like her big brother. Brent – but can she get you far? Can she get you past next week? She is just going to get put up again. Big D – right. Brent – that's the problem, you can save her week by week but you're constantly going to be targeted. You can waste your votes on someone that is eventually just going to go home or you can try to keep someone that could get you further. And whatever way you vote .. I would not be upset. Its a game. Big D – No, I know. You're a straight shooter. Right now I am leaning towards Britini to stay.. but if there is a magical way that you have enough to stay then of course like.. If you're like… I locked in this and only need two more.. then we can talk. Brent – well I can't give you any type of number because everyone lies. All I know is that I have my teams votes. Big D – which is three. What do you need to stay? Brent – I would need 6. Big D – oh sh*t. Brent – I would need you and Azah and then one other vote. Big D – Ah, I don't think you can get Azah.. like that is her girl. Brent – I know, and unfortunately Azah and Britini are going to sink you because they don't have any other connections. People aren't thinking about progressing in the game. They're just thinking about people's feelings but at the end of the day you aren't doing your game any good if you're not build other relationships. Big D – either way you have left your mark. Brent – but that's what I don't understand, why am I such a huge target to everyone. I haven't done anything. Big D – maybe its your physique. Brent – so because I have abs I should go? Big D – in my gut.. I believe there is going to be a battle back for whoever leaves. Brent – just know I wouldn't put you up. Big D – I know that. When Travis went home, that had nothing to do with me. When Frenchie when home, that had nothing to do with me. You going home .. Ah or Britini going home.. Brent – Jesus, you're already counting me out.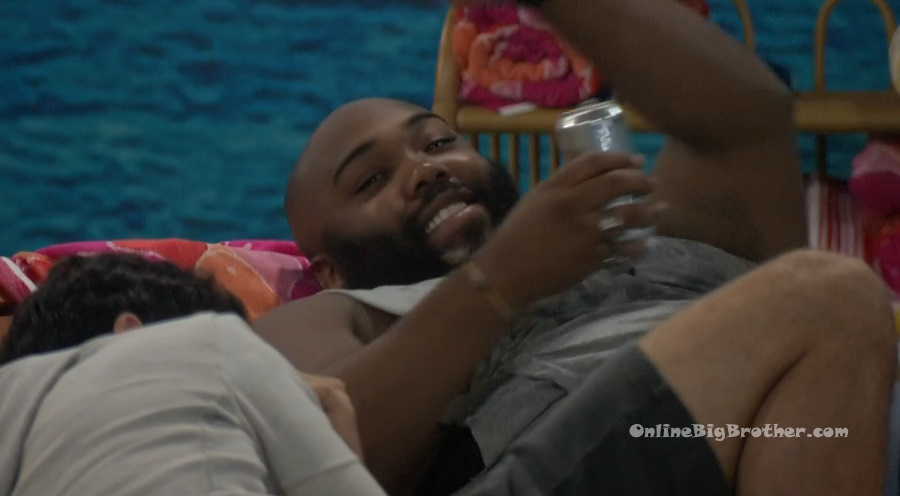 10:30pm – 11:15pm Outside the diary room, Tiffany and Derek X have been waiting forever to scare Kyland.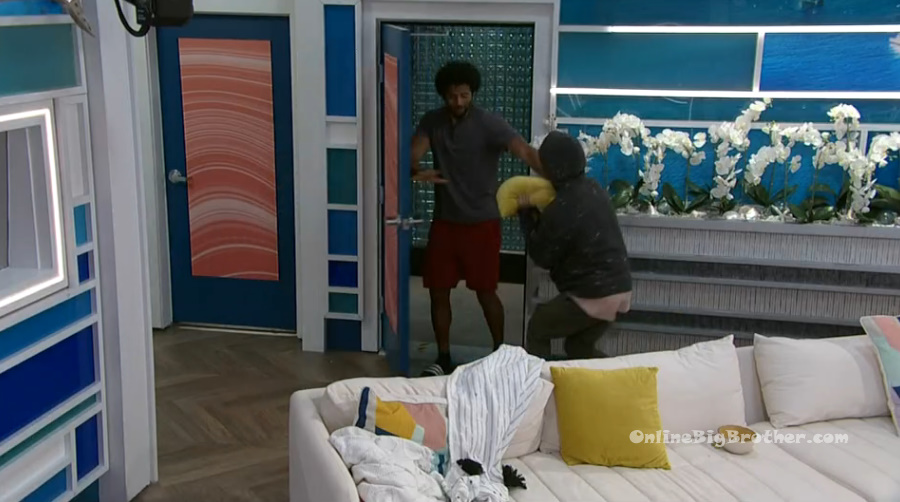 They call Kyland towards the bedrooms so that Tiffany can scare him but Britini ruins it by opening the closet door. Tiffany is annoyed that she waited there for an hour only for the surprise to be ruined.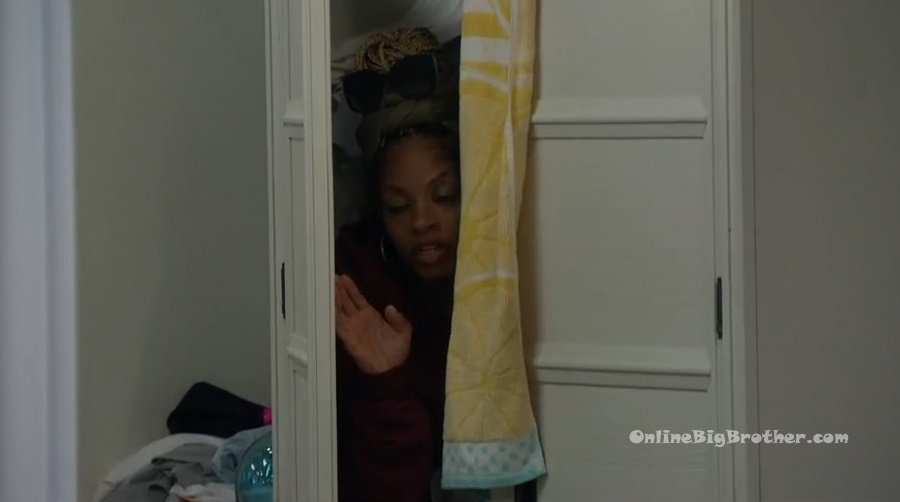 11:25pm Bathroom. Sarah, Tiffany and Alyssa.
Sarah – ah what is this next comp going to be? Alyssa and Tiffany – it better be endurance. Sarah – I really hope so. Tiffany – and something where we can see people compete for real. Like where we know what people are capable of. Sarah – yup, I agree. Alyssa – our odds are in our favor I will say that. Sarah – yup. Alyssa – and I am pretty sure Hannah doesn't want it.. so Hannah doesn't want it. Sarah – sweet! Alyssa – so the only people we need to worry about are Whit, Big D, Azah and Britini. I think Whitney does want it.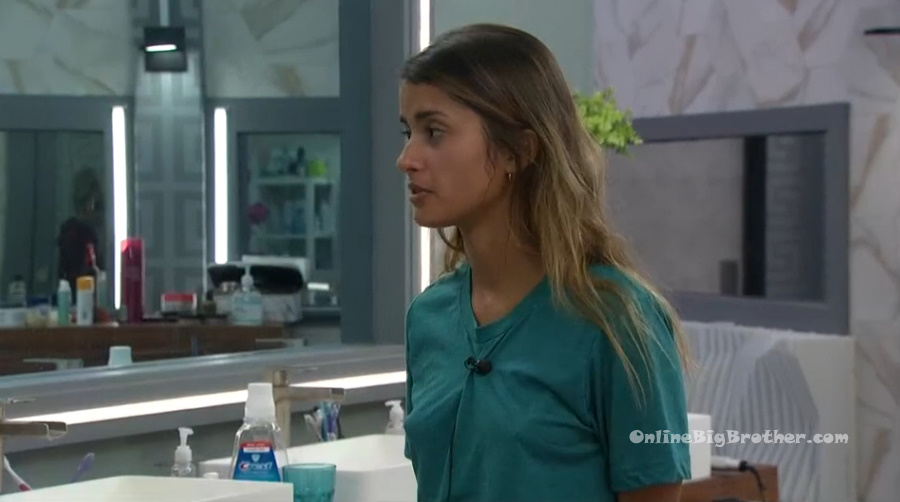 HOH room. Xavier, Tiffany and Alyssa.
Tiffany – it has to be a unanimous vote. Alyssa – I know Derek X was asking if he should be three votes.. with Azah and Big D. Tiffany – No it has to be a unanimous vote for my own selfish reasons. I don't want him to have to think one of y'all at least thought enough to vote for me. I want him to know that NO one voted to keep him.. Tiffany laughs. Xavier – you are evil! Xavier – Derek X asked about whether or not he should vote for him and I said no it will give people a reason to target you. Tiffany – it has to by unanimous. And it was y'all's idea for him to go home, how are you going to vote for him to stay?
12am Bedroom. Britini and Azah
Azah – never, ever, ever, ever repeat to anybody any names at all. One thing that I can promise you is that I will never repeat any names as to who you are after or anything. Brit – no I got you.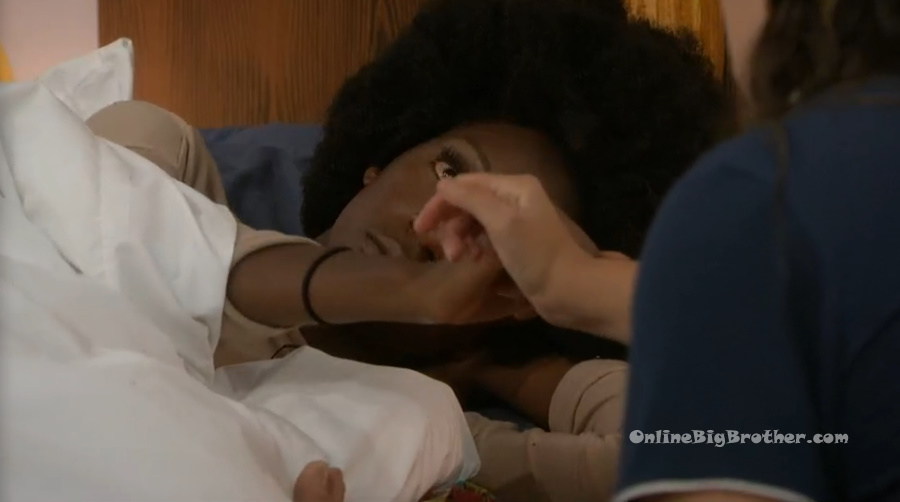 1:45am – 2am Havenot room.
Tiffany – I don't want the kings to look at us like why are we not going for it. We are not trying to be carried by the kings. Claire – Christian said – Clarie you should really win something. When he said why don't you want to win this. You should really win something. I said okay. Derek – I like the way that you worded it.. yeah we will win something but we will have to put one of you up as a pawn. Tiffany – who would he put up? Claire – he said that he would put up Whitney and Big D. Tiffany – I almost don't want the kings to win it. Because if the kings win it then they feel like they are carrying all of us. Claire – that's fine if they feel like that. Tiffany – but then that leaves the door open for them to try and take one of us out because what are we doing for them if we're not willing to take the shot. They might feel like they can snatch up the jokers. Claire – what if we put up Whitney and Big D? Derek – but that is showing our cards. Tiffany – whoever takes out Big D loses Azah and Britini. Azah has cried for 7 days and over Britini being on the block. If we can't take Whitney, And we can't take Britini, And we can't take Big D, and we can't take Hannah, And we can't take out our alliance. I CANNOT TAKE AZAH OUT. I personally cannot be the one to take Azah out. Claire – we're back to we just can't win. Tiffany looks at Derek. Derek – would I take the shot!? Tiffany – I was just looking at you. Derek – I saw the way you set that up. Tiffany – the scary thing is when the shots get fired between the kings, queens and one ace? Claire – it is better to shoot em earlier than later. Tiffany – that is why I really want to bring Hannah in. Claire – I don't know. She already thinks that she is in.
5:00 am Houseguests sleeping
Updates will resume Tuesday afternoon.
If you like these spoilers and read this blog regularly please consider a donation to keep the madness going. We accept donations via paypal How to support OBB