POV Holder:
Jmac
POV Competition
Sept 12th
POV Used
?
POV Ceremony
Sept 14th
HOH
Vanessa
Next HOH
?
Original Nominations:
Steve and Johnnymac
After POV Nominations:
? and ?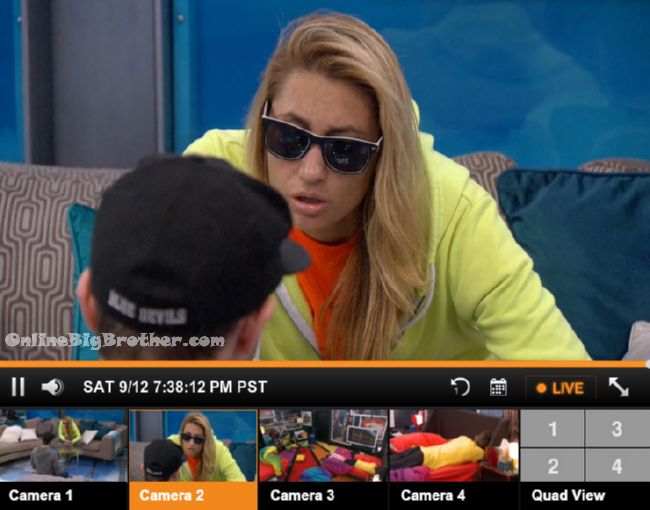 7:14pm HOH Vanessa and Steve
Vanessa – I know you're freaking out
Steve- OK, I am not ..
Vanessa – the votes you are counting on are about to be split
Vanessa says people are going to pull her in every direction..
Vanesa – do you realize the one person that can't win does.. every time.. I've been HOH 4 times 3 out of 4 times the one person that can't win Veto did.
Vanessa – are you sure it happens on Tuesday the eviction and the replacement nom on Monday
Steve – that is my best geuss..
Vanessa – do you know anything about .. if I get wind of this not staying between uis
Vanessa- do you know anything about any deal Johnnymac made before this veto with Johnny and Liz
Steve – No I know of no deal
Steve – I do not know of any deal between Austin and JOhnny.. i know of when one could had been made it make sense but I don't know of it
Vanessa says Liz and Austin were approached by Johnnymac saying he would throw the competition if they can guarantee him their vote.
Vanessa adds that JOhnny decided not to throw it because Steve was doing well in the competition.
Vanessa – apparently he was going to throw it
Steve- you heard it from Austin liz not from Johnny
Vanessa says yes but she doesn't understand why he would go with Liztin
Steve – Johnny was covering his ass incase he didn't win today
Steve says things are different between him and Johnnymac since they had to campaign against each other during the double.
She asks Steve who will win in the end Liz or Austin.
She tells Steve not to touch her skittles.
Steve asks her if she can explain this
Vanessa says he can not those skittle scenarios are private.
Steve goes through the jury votes, Says he will vote for Liz in the finals.
Vanessa – really
Steve – I'm leaning that way.. they had a huge obstacle to overcome that Austin didn't
Vanessa – and how did she overcome it, did Austin play a had in it.
Steve asks her if she would vote for Austin of Liz.
Vanessa scold him tells him he is not in a position to be asking her questions.
Vanessa- I'm telling you i'm in no mood right now
Steve – I'm still leaning towards Liz.. I would vote for Liz, She played a better social game
Austin – I find that strange.. clearly the better strategist is Austin .. I am shocked.. how are you are going to justify voting for LIz
Steve – can I think on it.
Vanessa goes on about how ridiculous he's being.
Steve backtracks "Now i'm leaning towards Austin"
Vanessa asks who he thinks will win over Johnnymac and Austin
Steve thinks Austin.
Vanessa – next week if I kept Liz or Austin.. that's the choice..
Steve – in final 4
Vanessa asks him if he will take her or Johnnymac to the end
Steve says he will take Vanessa thinks winning against Johnny mac in the end will be hard.
Steve – Johnny's been winning it's just not been HOH's, he's the veto record for the season.
Vanessa – are you willing to swear on something important to you that you will take me over Johnny in the final 3
Steve says if he wins the veto and the two nominations are Vanessa and Johnny he will take her to final 3
vanessa – what can you swear to me on … what are you comfortable doing
Steve – do you want it on my mom.. I swear to you on my mom, I will bring you to final 3.
Vanessa – I will take you to final 2
Steve – what is your incentive to take me
Vanessa says her only chance to win is with Steve.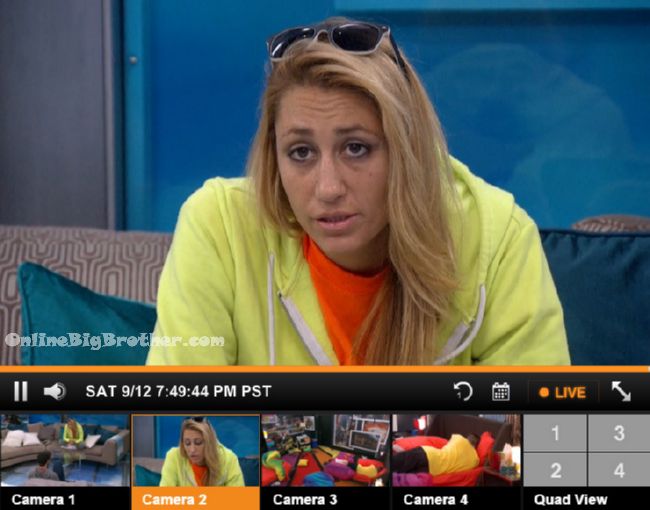 )
Vanessa says who is he taking to final 3, her, Johnny and Austin
Steve – Me you johnny.. there's a problem he could under cut me.. he might think he can he has a better chance to beat you over me.
Steve says if it was Liz, Jmac, Her and him he would cut Liz becuase she will be the hardest to beat.
Vanessa agrees.
Steve thinks Jmac will get rid of Liz or Austin in the final 4
Vanessa – why
Steve – He has a loyalty to me and he thinks he can beat you
Vanessa – I need you in the finals in every sense of the word
Vanessa – Steve, you are not going home this week I am not a scumbag
Steve – thank you Vanessa
Vanessa – I wold be freaking ot if I was you.. but you have the most trustworthy person on your side
Vanessa – who has more votes locked up in jury
Steve – I'm trying to figure out what their relationship with the goblins was like.. Austin had a connection .. Liz didn't.. Did liz ever hang out with Jackie.. I don't think she ever did"
Steve says Austin got to final 6 and wasn't nominated goes on about how big of a deal that can be to the Jury, "He's doing right that I am not"
Steve – how are you
Vanessa – fine
Steve – do you need anything else from me
Vanessa – no, so if you think it's the shovels one (Competition involving balance) Austin is more likely to win HOH.
Steve – I think the water will get to Liz before it gets to Austin
Steve – I would rather have Austin in the final 3 with us because I think we can beat him.
Steve starts looking at the skittles… "Stop it, you are annoying me looking at it" (pictures of her skittles crazy is here https://www.onlinebigbrother.com/power-of-veto-competition-results-i-had-no-idea-johnnymac-was-close-to-winning-it/
Steve gets up and bumps the skittles disturbing their positions. Vanessa tosses her HOH letter over them hiding the Skittles.
Vanessa goes on about how he's safe this week.
Steve – thank you by the way
Vanessa – you are welcome
Vanessa- the worst thing is I gave them hope to final 4… Johnny could have gone out..
Steve – I am the last hope
Vanessa – now that Johnny is safe I have to task that hope away..
Vanessa says Johnnymac winning the POV was a blessing in disguise.
Steve offers suggestions to who she should nominate, "Who would you rather be in final 3 with liz or Austin"
Vanessa doesn't think there is much a difference
They agree they can beat Liz in the first two parts of the final HOH.
Vanessa says Austin is going to work out a lot with people. This is part of his game it wears out the other players and they are too sore in the competitions. (He did this to Jmac one week)
Vanessa warns Steve, he better pace himself.
[envira-gallery id="133246″]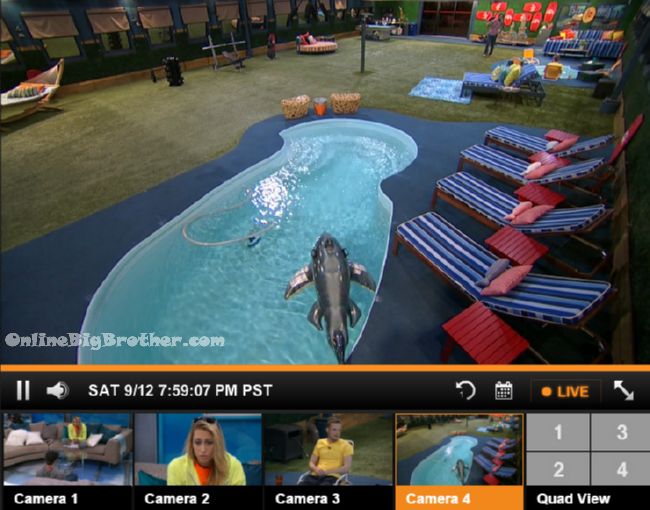 8:00pm Backyard Jmac and Austin
Jmac – Shout out @NikolaPoe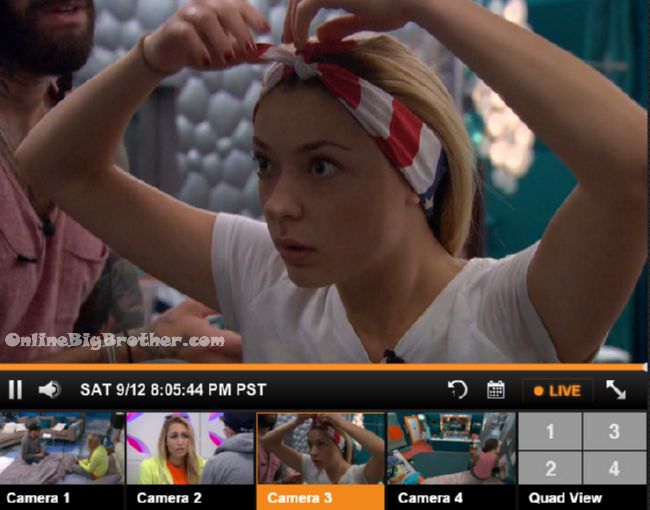 8:05pm Bathroom Austin and Liz
Austin saying he hopes Vanessa is still onboard with them but if she switches her targets and comes after us we'll team up with Johnnymac 'Lets do this"
Liz – we have to be careful with him that's all I know
They agree Steve is so Sneaky, "he's the Worst"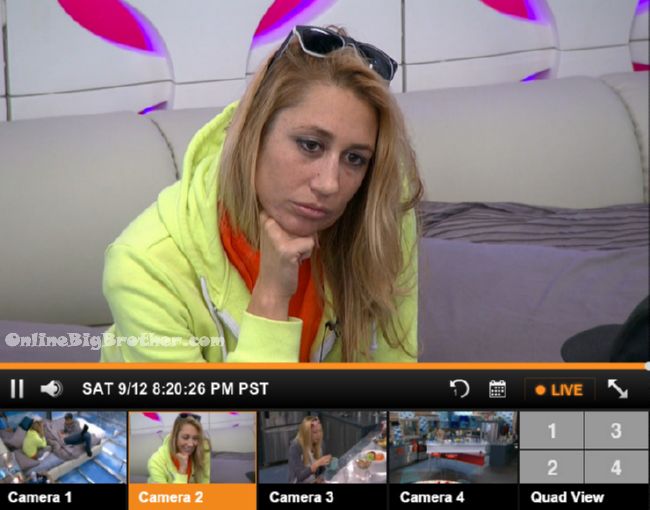 8:21pm HOH Vanessa and Steve
Vanessa orders him to act stressed and not hang out with Austin and Liz. Steve asks if it's OK he hangs out with Johnnymac.
Vanessa seems fine with it, He's allowed to hang talk wit Johnny.
Steve – it's day 87
Vanessa – we're almost there
If you've enjoyed the spoilers please consider a donation using the drop down box below. Simon and I work 24/7 all season long to keep you updated on everything that happens inside the Big Brother house.
[polldaddy poll=9063299]