POV Holder:
Jmac
POV Competition
Sept 12th
POV Used
?
POV Ceremony
Sept 14th
HOH
Vanessa
Next HOH
?
Original Nominations:
Steve and Johnnymac
After POV Nominations:
? and ?
8:31pm Steve counting everything..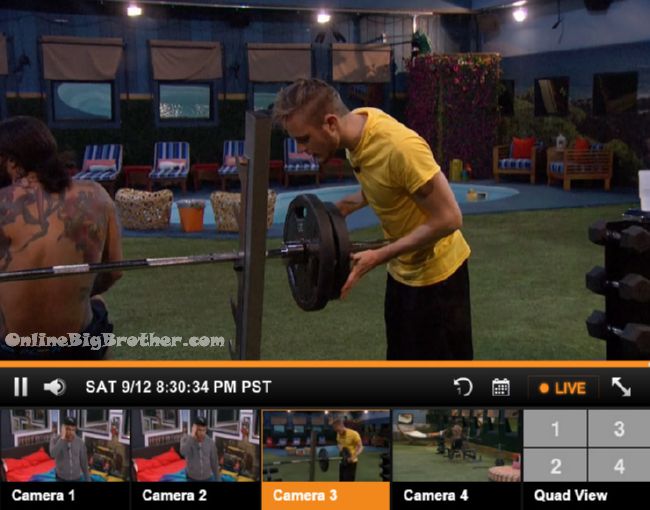 8:38pm Jmac and Austin working out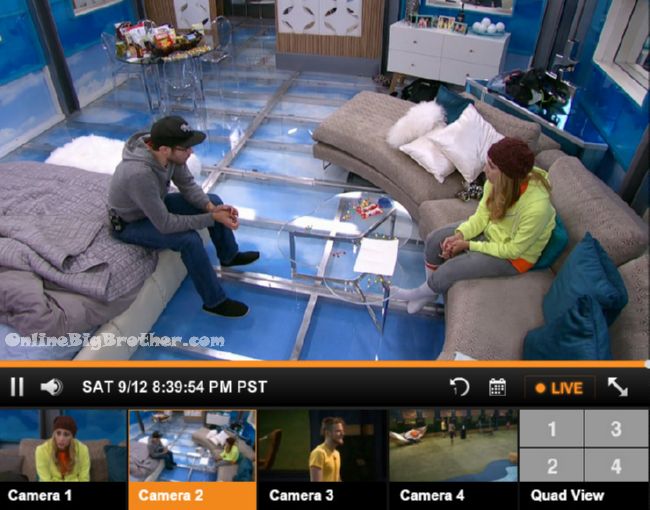 8:39pm HOH Vanessa and Steve
Vanessa tells him Johnnymac must never know Steve is safe.
Vanessa – He cannot think I'm a tie breaker
Steve – I'm confident he'll vote for me.. Do you want me to confirm it with him
Steve – you are asking me to lie to Johny
Vanessa- ya it's for your own protection
Steve – ya.. because if he knows about us it's over..
Steve tells her she looks fried
Vanessa – I need to talk to Austin and liz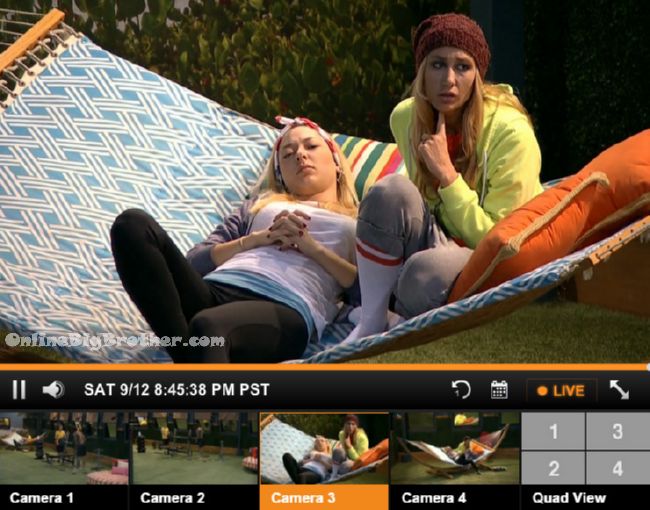 8:47pm
liz – Steve has a sketchy ass look on his face
Vanessa – he's freaking out
Liz – he only thinks about himself.. that is one thing i've learned about him in this game.
Vanessa – Really?
Liz – Ya
Vanessa – I see what you mean.. there's a lot of people like that
Liz – ya
Vanessa – do you have a preference what you want me to do
LIz – no, I've been sleeping
Vanessa thinks the ceremony is tomorrow.
Austin joins them 'How was Steve's scamper session"
Vanessa – He's stressed it's a tough position to be in
Austin – right..
Vanessa says she wants to be fair with her nomination. Vanessa points out that Liz was on the block last week and he wasn't it wouldn't be fair for her to be nominated again.
Vanessa brings up Liz volunteering to go up asks her is she's still willing
Liz says no she's worried about Steve.
Vanessa – I understand..
Vanessa orders them all (Steve,Austin and Liz) to come up to HOH and talk to her within the next 2 hours.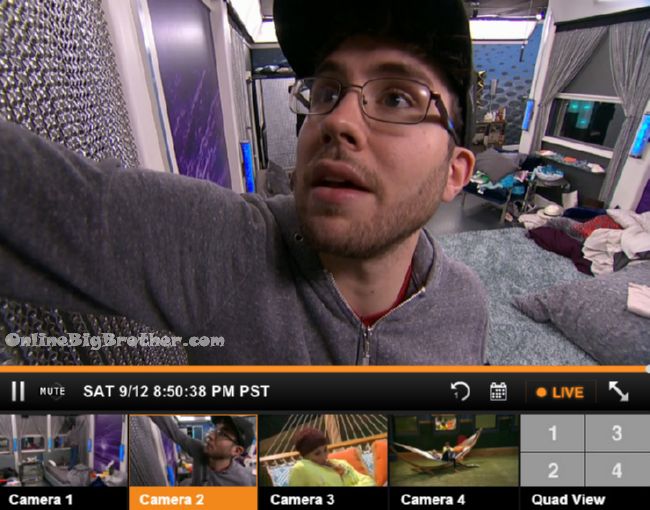 8:51pm Steve counting everything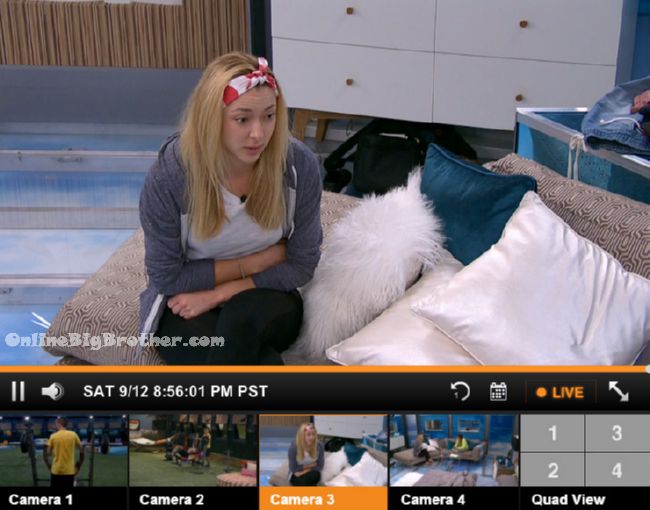 8:56pm HOH Liz and Vanessa
Vanessa – can you guarantee 100% that Austin was trying his hardest
Liz think Austin is genuinely not good at puzzles.
Liz says Steve is dangerous he's her target points out that Steve was pacing around all day, he's not genuine , "I'm really just annoyed by him I geuss"
Liz – the last two girls have to stick together
Vanessa – I agree
Liz – You and him are the only two I have.. He's really close to Johnny Mac and it's really disconcerting
Vanessa – it's not as good spot for you.. it's bad for you
Liz – he loves Austin
Vanessa – did you guys end up making that Deal with Johnnymac
Liz – no he never came back after, maybe ask Austin about that though
Vanessa – he came to both of you last night
Liz – yes, it was so bizarre.. we're like we'll think about it
Liz again mentions that Austin and Johnnymac might have something.
Vanessa asks her if she trusts him
Liz – I want to
Vanessa says she feel the same way
Vanessa – at the end of the day my gut is telling me to keep you off the block, I trust Austin and I've had doubts about him.. I've never doubted you.
Vanessa – I would never want to risk being the only girl in the final four..
Liz – he's close to JOhnny mac and I will never be close to johnny mac ever.
Vanessa – what would happen if it was you and Austin in the finals.
Liz – I don't know.. they vote for the guy.. it's so rotten this is a guy's game.. I don't want to go to the finals against a guy.. girls get jealous and catty..
Vanessa- vote for the guy
Liz – Ya bro… i'm sick a guys winning it's not fair fuc* you guys..
Liz says Jackie will be like "I don't want her to win " and vote for the guy.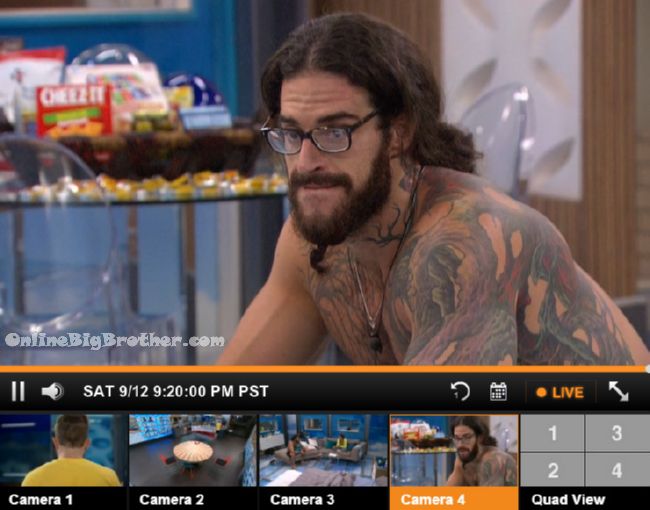 9:19pm Vanessa and Austin
Vanessa telling him he's going to be nominated, "I think you are going to get Johnny Mac's vote"
Vanessa – it's so rotten dude I don't want to put either of you up
Vanessa says Liz got robbed in the POV today
Austin – If Steve goes one of us is winning the game.. one of us three are going to win the game straight up.. Johnnymac is not going to win the game.
vanessa- that is cool
Austin says Johnnymac is ready to make a move against Steve.
Austin – He made it sound like to me he didn't want Rockstars anymore..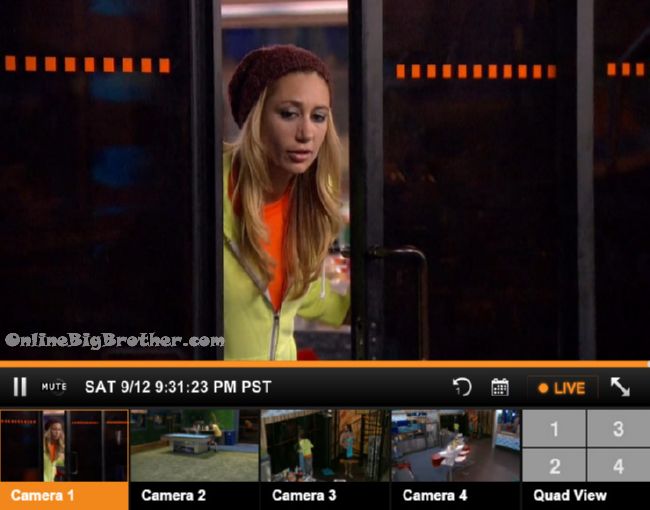 They Agree to just tell Johnnymac their alliance name.
Vanessa – Johnny.. JOhnny .. Johnnymac the scamper squad wants to talk to you
Vanessa heads to the backyard where Steve and Jmac ar. She outs the Scamper Squad alliance.
Jmac laughs "Scamper squad all right.. RRWWWWW RWWWWW RRWWWW"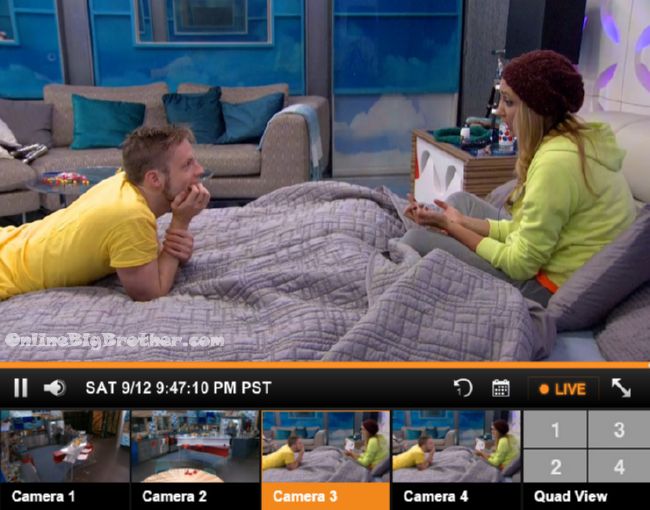 9:33pm – 10:17pm HOH Vanessa and Jmac
Vanessa – bro what am I going to do
Vanessa – now that you've won this veto it's actually better for me, you've won 4 vetoes, very impressive it s a great record.
Vanessa- who has a better chance of winning Liz or Austin
jmac – Austin had more on his plate.. than those two have
Vanessa- even if Liz won more competitions
Jmac says he feels he can beat her more than Austin.
Vanessa – I think you would beat Steve in finale.. You would have Shelli, jackie, Becky, James, and Meg for sure.. James and Meg can't stand Steve.. I'm not sure but I don't think.
Vanessa Austin would vote for you over Steve
Jmac- REALLY
Vanessa – Austin is really annoyed at Steve targeting the Twins
Vanessa – you have the twins
Vanessa – you might have a clean sweep against Steve
Jmac – really.. wow
Vanessa – between you and I.. I'm ready to make this decision with you let's do it together now we are in final 4.
Vanessa wants to work with him sne she gives him her loyalty.
Vanessa- I don't know what the best move is here.. whatever we decide we can make it work..
Vanessa says jmac is like a brother to her.
Jmac – if we get rid of Steve it's only me playing in the HOH that sucks one of us will be on the block
Vanessa- who could you beat more easily Liz or Steve
Jmac – In the end.. Liz, everyone likes Steve
Jmac – "the goblins aren't my friends, I just didn't take them out"
Vanessa says she's not trying to scumbag Austin , brings up that Austin and Liz already told her they are open to Austin going up.
Vanessa – he said he thinks you'll vote for him
Vanessa bring up they always have the option to flip the vote and take out Austin.
Vanessa Now saying that Liz and Austin really wanted to keep Johnnymac over Steve so he was safe either way. She points out that Steve put up the twins.
Vanessa now saying Jmac is playing a brilliant game.
Jmac – I don't know I walk around.. i talk to people when I have to and i don't throw them under the bus until there is a time and place for them to get evicted.
Vanessa says she will vote for Jmac in a Jmac/Steve final 2.
Vanessa goes on and on about how Johnnymac is the greatest player ever and she is in awe of him.
Vanessa says if they keep Liz in the game she'll take out Steve, "She'll probably take you over me… because i .. I .. I would be harder to beat that is what she would think
Vanessa – i'm open minded to getting rid of Steve and going with the couple.. it's going to be scary they are always taking each other to final 3.. now we have to win Veto..
Vanessa – Liz is always going to vote to Keep Austin..
Vanessa asks him how he feels about voting Steve out
jmac – if I got to do it i'll do it..
Jmac – Is Steve needed for the next round.. EHHH,, I don't know.
Vaenssa – we're a lock to final three if we keep Steve, If we keep Liz… f*** she has three HOH's.. a very tough comp record she'll have her Sister and Boyfriend in Jury.. She was friendly with everyone, they played pot ball with the whole house.
Vanessa shakes with him final 3.
9:35pm Storage room Liz and Austin
Liz saying how annoyed she is at scamper Steve
Austin wonders why Vanessa was asking if he threw the POV, "I tried"
Austin thinks he might get blindsided.
Liz – we need to keep talking to Johnnymac.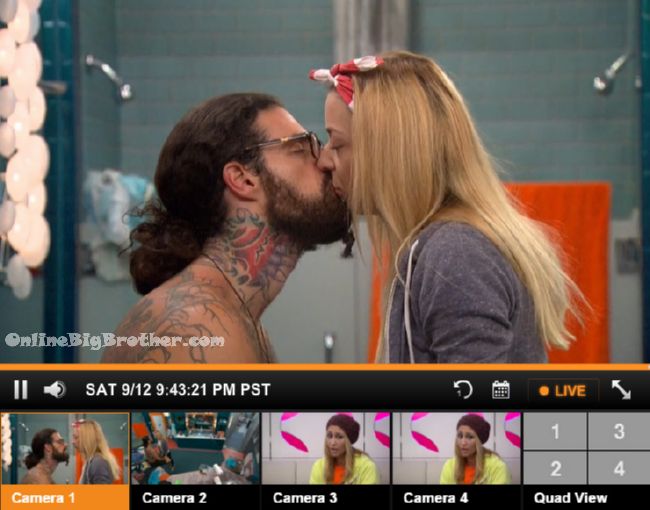 9:45pm Bathroom Austin and Liz
Austin wondering if they are flipping to get him out this week and Liz next week.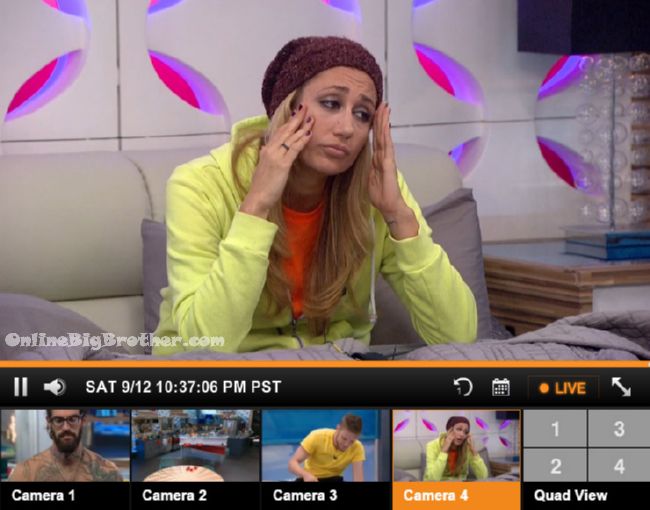 10:29pm HOH Vanessa and Johnnymac
Vanessa wonders if they will be seen as stupid players if they don't break up Liz-Tin now, "You know no couple has ever made it to final 4" (BBCan 1 had a couple and I think Boogie and Erika on allstars made it to final 4)
Jmac – when I won the veto i assumed Steve was goign , i was goign to vote him out.. (Big sigh) there so much to think about
Vanessa – I'm open minded
Vanessa says Liz and Austin are probably going to get married. They are more loyal to each other.
Vanessa says she's goign to nominate Austin "You and I decide what to do.. we should let Austin think he's staying"
Jmac – you all evicted me I can do whatever the hell I want.
Vanessa asks him what he's wanting to do
Jmac – I'm thinking Eviction Steve right now
Vanessa – umm OK alright.. we can always change.. you should talk to Steve, Feel him out.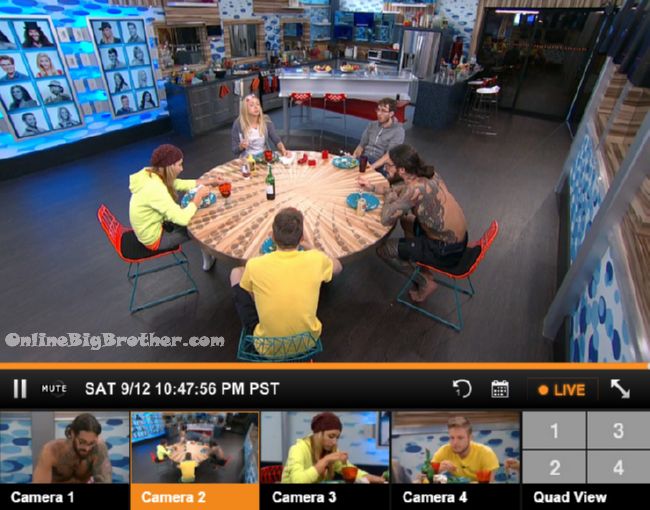 10:47pm Kitchen, talking about getting to watch a new CBS Sit com on Monday.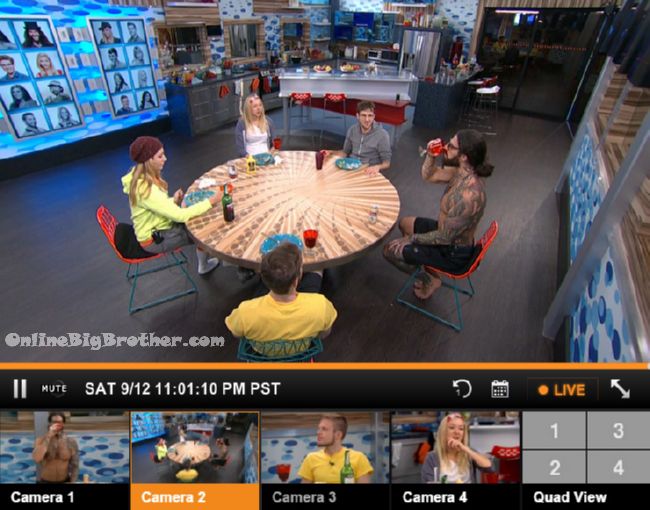 11:02pm Austin slams down a glass of Port.. washes it down with a beer.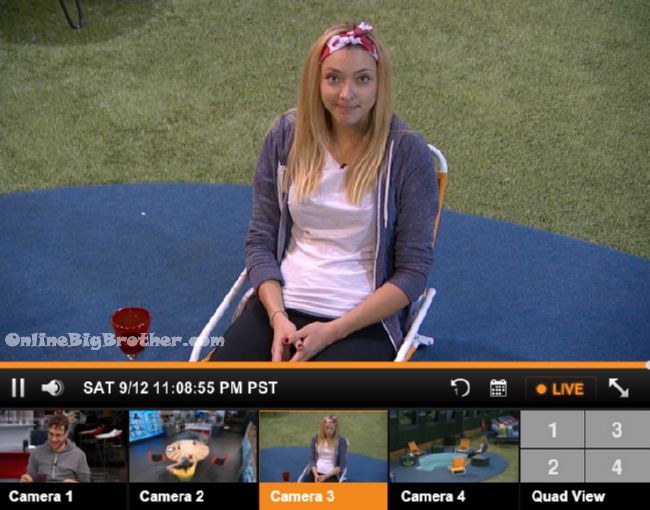 11:09pm Liz hot tub talking to the Camera.
Liz says she's going to do what's best for her and Julia. She entered the game alone and will play the game alone.
Liz says it was so much fun last night meeting frankie, His mom and Arianna
Liz – it's not all about the money for me, this experience has already been enough and more.. I will probably talk about this for the rest of my life i want to get a tattoo about Big BRother..
Liz says they are getting twins tattoos with small keys on their rib cage.
Liz recommends to live feeders to go to open casting calls.
Liz – It was absolutely life changing.. Oh my god there's a beetle right here..
Austin joins her.
Liz – I can tell you're sad
Austin – I'm scared I will get Blindsided, it will flip.. who knows what Steve will go up there an scamper and save his life for a week.
Austin – I don't think she's goign to go against me not after all this.. it will just make her a target of yours.
liz – Umm hmmm
Austin – johnnymac wants Vanessa out next week.. and he's going to want to maximize his odds by keeping us here.
11:44pm Asuitn and lIZ playing pool. Steve and JOhnnymac scampering.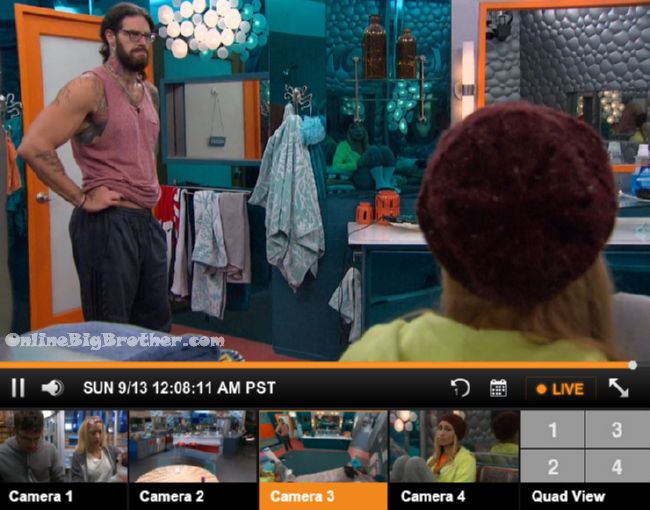 12:04am Austin and Vanessa
Vanessa- you'll be fine
Austin – thank you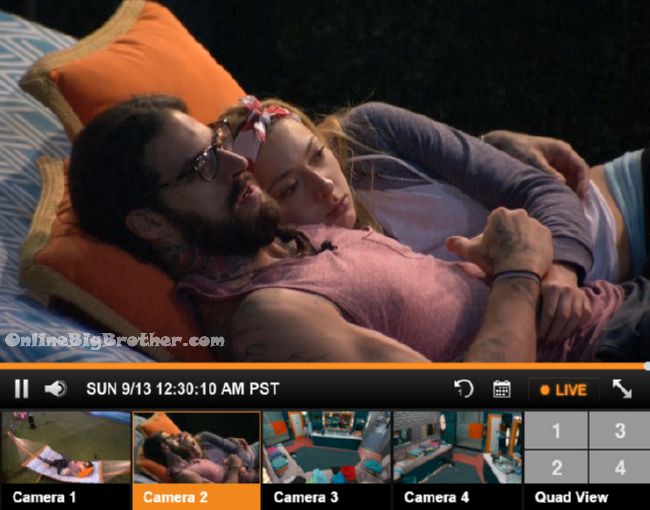 12:30am Hammock
liz – I just want you to be safe.
Austin says he wants to get on with the show, "I want to get back to my life.. and Spend time with you for real"
Jmac joins them says his conversation wit Vanessa went well. Adds that Vanessa goes over 500 scenarios and he just can't keep up.
Jmac says the final 2 with Steve started after the scamper squad was started Day 29 to 36
Jmac – that's when he came to me about the final 2.. I was disloyal from the beginning.. I told Shelli and Clay.
[polldaddy poll=9063299]