HOH: Kyland
HAVENOTS:
Nominations: Claire Britini and DerekF
Power of Veto Players: Kyland, Claire, DF, Alyssa, Azah, Brit
Power of Veto: Alyssa (OTEV winner), Kyland (High Roller winner)
Power of Veto Ceremony: Kyland used the veto on Claire. Britini nominated in her place.
Big Brother 23 Houseguest Rankings – – RANK THE HOUSEGUESTS –
View the previous day ranks on the – Ranking Grid
SPOILERS Britini is being evicted as of right now. I don't see this changing.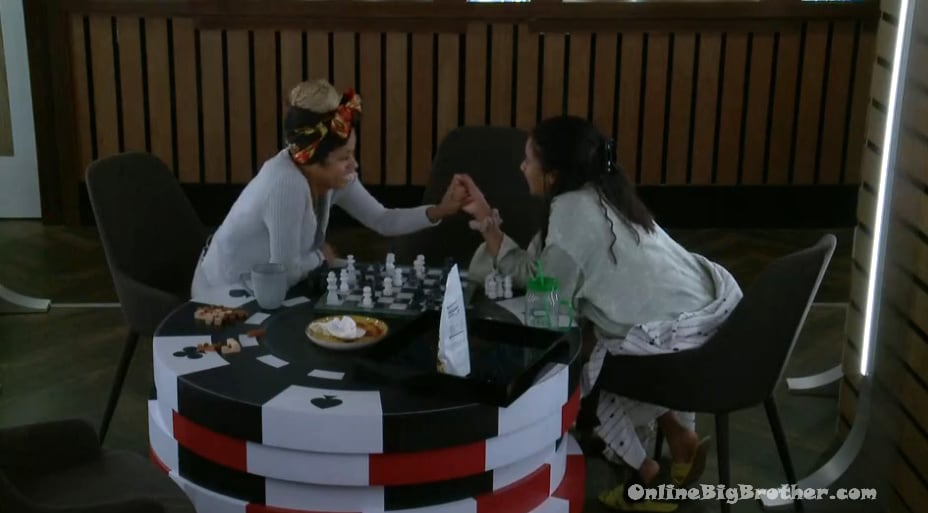 4:01 pm Hannah and Tiff (Whispering)
Hannah – Alyssa is so upset about Christian that she wants to evict Britini
Tiff says that Azah doesn't understand why they are mad at Brit she thinks it was Christian and Alyssa that were following Brit around
Tiff – they were following her around because she told them she would keep him. They thought they had her vote and BIGD's vote
Feeds block a few times..
Tiff – they (jokers) don't understand this game like we understand this game
Hannah brings up the jokers telling her the HOH wins need to be in a rotation but Tiff and Hannah were only assigned 1 target to get out to get HOH.
Tiff – those two can never win HOH
Hannah – the jokers..
they laugh
Hannah laughing says BIGD told her he's putting Alyssa on the block and he'll tell her it's because she didn't use the veto on him.
Tiff – he really expected her to use the veto on her.. then why didn't they vote to keep Christian.
Hannah says the jokers think Alyssa isn't upset about Christian.
Hannah says if Alyssa wins she'll put Tiff and Claire on the block with a backdoor of DX.
They start working through scenarios with the chess pieces. Final 5 final 4 final 6 HOH's
Tiff says DX and Claire are the only two of the pawn that will keep them safe.
Hannah – if DX wins he'll put up X and?
Tiff – BIGD
Hannah – if Veto is used he'll throw up Ky or ?
Hannah – he likes Azah
Hannah – the target is still BIGD which means we are safe.
Tiff says they need to win the fourth HOH "that guarantees us a spot in final 3.. you and me need to be available"
Tiff – we need to send Ky home first (final 6)
Tiff – I may have messed up I told X something today. I told him that Claire needs to go this week because her and DX"
They talked final 5 HOH if Azah wins she's targeting Tiff, If Ky wins he'll send out Tiff.
Tiff – Ky would backdoor me and make it look like a mistake, Ky would not put me on the block
Hannah – if we're down to 5 people? at that point it won't matter everyone plays in Veto
Tiff – I'm the last one in the six anybody wants to keep
Tiff – X plays a loyal game with us but I don't know.. for me, it's y'all three. I know Azah will kick me out I know BIGD will kick me out
Hannah – Ky will kick you out Ky wants to take X to final 2.. if BIgd is gone then X.. if X is gone than Azah
Tiff says she likes to play and wants to play players she wants someone up against her that deserves to win. She does not want to be in the final 2 with BIGD or Azah.
Tiff she wants to be up against Hannah and X. "two of the smartest players"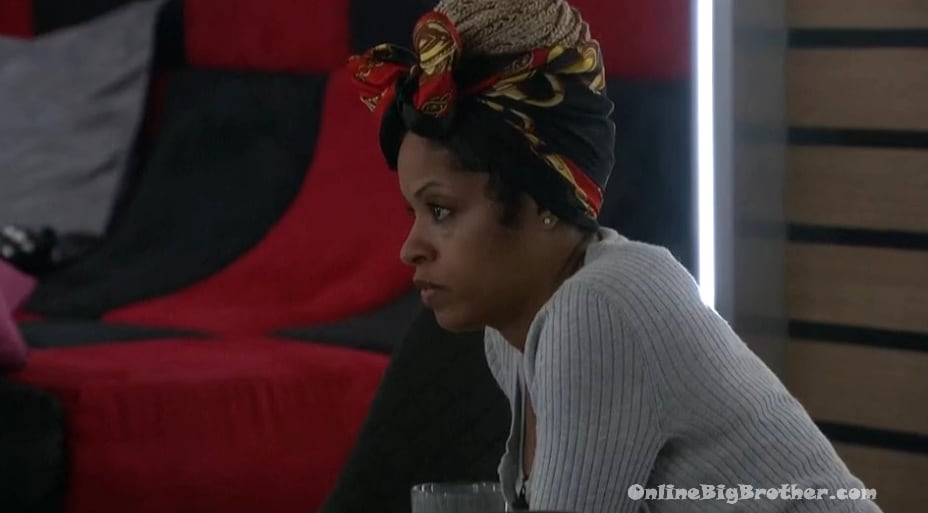 Tiff – what is best for the six is not getting rid of DX. DX is not going after KY. X can keep himself safe from DX we can. They can't protect us from those girls
Hannah – X is itching to go after DX next week and Ky is onboard with that
Tiff – I've been telling them to go after Claire if we get to keep DX.
Hannah – I am pushing for keeping DX safe for the next 2 or 3 weeks.
Tiff – the next four evictions we can keep him safe for 2. DX is bound to win one of those HOH's
Hannah – let's talk about Claire.
Tiff – If I end up going out early you can keep BIGD and Azah till the last two I don't want to me in jury house with neither one of them (LOL)
Hannah – Claire would put up BIGD and Ky if Ky pulls himself down she'll put up X
Tiff – any time we have the opportunity to send BIGD home over Ky we need to send BIGD home otherwise BIGD sits in those final 2 chairs you know that.
Tiff – BIGD started the cookout he named the cookout he ain't winning any competitions and he's still here. He can say I'm strategic, I'm manipulative I got here..
Hannah – if the Jury is bitter about the cookout then BIGD will probably win
Tiff – he's the lesser of two evils they probably think we manipulated him
Hannah – depends on how bitter the jury is
Tiff says everyone thinks she has the biggest influence they will think she's the bigger of the two evils and I betrayed everybody.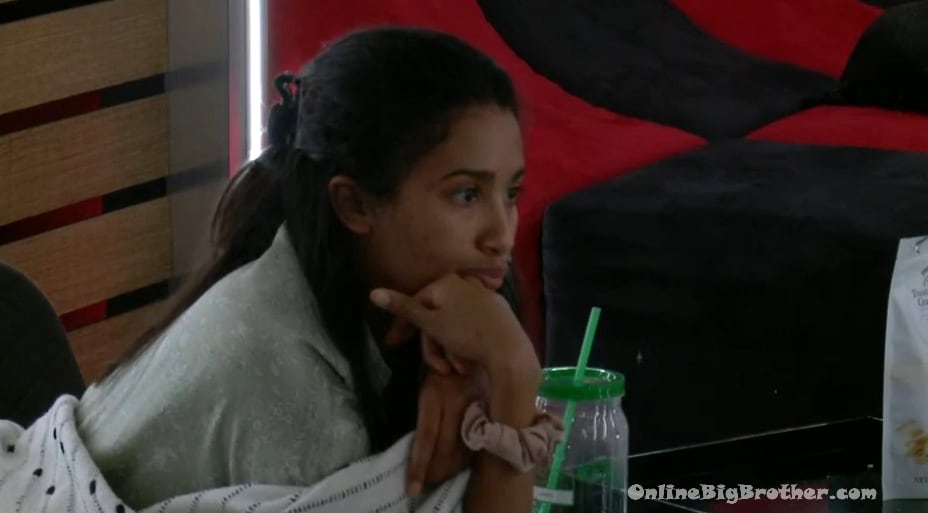 Tiff – I really want to get SB out the further along she goes it makes me uneasy
Tiff thinks Alyssa will put up X and BIGD
Hannah – X pulls himself off I would go up right?
Hannah – X, Ky would keep me and Azah would keep you
Hannah – Alyssa being the last pawn isn't bad
Hannah – either Claire or Alyssa needs to be the last pawn. I know what you say about keeping Claire and DX in the game longer..
Hannah – has to be Claire, SB, and DX
Tiff – it'll be hard as hell keeping DX in that long
Hannah says the reason X is after DX next week is he'll have enough money to play in the coin toss.
Hannah – DX, X, BIGD will probably be the only ones with enough money to play if BabyD wins he puts up Ky and X on the block, and a member of the cookout goes. That is why X wants to target BIGD next week
Tiff – I might have fixed
Tiff explains she X BIGD will spin the roulette wheel. X's plan is to put Tiff and Claire on the block to backdoor DX.

4:41 pm Hannah and DX
Hannah says she wants to take a shot at the girls she doesn't see X or KY coming after her.
Hannah – Ky wants to keep you, X, and SB in this game as long as possible.. Ky doesn't want a woman in final 2. Ky's a shield for you but he thinks you're a shield for him. I see him taking a shot at Claire and Tiff before he comes for you and me.
Hannah goes on about Alyssa's just going to try and avenge Christian
DX – I fully expect her to target me
Hannah says people will put up Tiff and Claire when to try and backdoor him.
They agree Alyssa won't target Ky and SB. Hannah says it'll be Claire and Tiff to backdoor DX and if noms stay the same Alyssa will send Claire home
DX – if you put up KY and SB do you think anyone will play roulette? Ky and SB can't afford it
Hannah – I know
Dx – if there's a chance anyone might, maybe I would play
DX – this is kinda crazy just throwing it out there you can put up someone from our side
Dx says if Claire and Sb are up he'll play roulette "So me, you, and Claire are safe. if we spin the wheel we're only risking TIFF going up which is a 1 in 7"
Hannah – yeah
DX – if someone else spins the wheel it's 2 and 7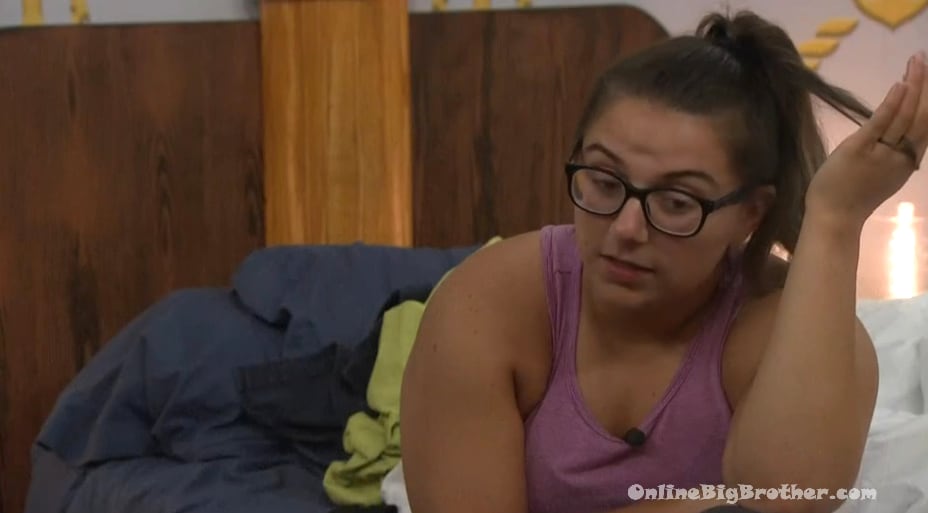 5:10 pm Brit, Tiff and Azah
Brit has been going over her 2 hours conversation with Ky in the HOH.
Brit says Ky told her there's an unpredictable factor with both her and BIGD
Brit – The unpredictable thinks about BIGD is if I go home this week then he is the perfect pawn. If anyone sits next to bigD will go home next to bigD, If BIGD goes we eliminate an unpredictable factor of BIGD being the ultimate pawn. If I go in his eyes we are eliminating another unpredictable factor but the fact of the matter is the people that I trust in this house I'm not unpredictable.
Brit – his decision on BIGD is more of a house unpredictability whereas his decision with me is a personal unpredictability and there's a BIG difference between those two. He told me it's not a personal move
Brit – we remember the deal two many different ways. America knows what I said in the deal but I'm not going to fight that I don't want to piss anybody off
Brit – my comment is it was a misunderstanding we now have clarity everything is fine for the purposes I want to stay this week. I know what happened I'm not going to keep rehashing it. The tapes people know what happened I did perceive something that didn't happen
Brit – I'm a number y'all will see the block 50% less if I'm still in this house cause I'll be taking one of those seats..
Feeds block

She says Ky was trying to tell her SB wasn't targeting Brit
brit – BULLSHIT
Tiff – it's amazing to me how he knows what's in everybody's head without them telling him I would like to know what I'm f***ing thinking
Brit – he thinks he has this house on a wrap he thinks he has EVERYONE figure out except for me which is why he put me up. He thinks he is cool with everyone going into next week
Brit – Even with the misunderstanding stuff he was like if you think it was a misunderstanding then why would you have a problem saying it?
Azah – wait so he's the one that told you to tell everybody the misunderstanding?
Brit – yeah he asked me to
Azah – Ohh britini girl
Tiff – WHAT.. he asked you to tell everybody it was a misunderstanding?
Azah – you do what you want to do. I did not know he said that.
Brit – he's thinking about himself
Brit – can I be real with you what I don't want to happen is he tells everyone I'm the target and Britni gets voted out
Azah – Britini I will be very honest with you do you think he will tell you if she was the target
Tiff – Kyland doesn't tell anyone the only person that knows is Kyland. Whoever he claims to trust in this house they don't know. the only person he trusts in this house is SB.
Tiff – she will do whatever he tells her even though he is manipulating her.
Tiff – even her she does not get his thoughts she gets what he wants her to have so he can use her to do whatever he cannot do and she fell for it.
Tiff – I did notice he has separated himself from her this week. She is not comfortable with it I can tell that cause each time that he is gone for too long you will see her find him
Tiff – I think he believes shes good and bad for his game cause he can't keep his emotions in check
Tiff goes on about her analysis of the SB/Ky relationships. Says he's pulled away either because he's in power and doesn't need her or he's feeling that it's making them larger targets.
Tiff – Kyland is a different Kyland in power.. I think X was the same in power and not in power. Kyland is a different person
Brit – he also made sure my campaign is not against him
Tiff – he can't make sure sh1t


Azah – do whatever you want to do.. she's right he wants to manipulate you the way you play this game he thinks he has predictive patterns that can pull results that is why he had you up there for two hours to drill whatever he needed into your head
Tiff – he's like Frenchie week one
Azah – this is like a Frenchie-ish HOH (It's not even close. If it was a Frenchie HOH we would have had 4 different people on the block would have cycled through 12 targets)
Brit – I got to fight for my life right now do I think I can get the votes? YES
Brit says it'll be 7-1 or 5-3
Britini gets up to leave – I really think I got a good chance to stay though the only thing I believe that Ky said is correct was what he said about BIGD vs me. BIGD is a house of unpredictability and I am a personal unpredictability that I agree with that's about the only thing I agree with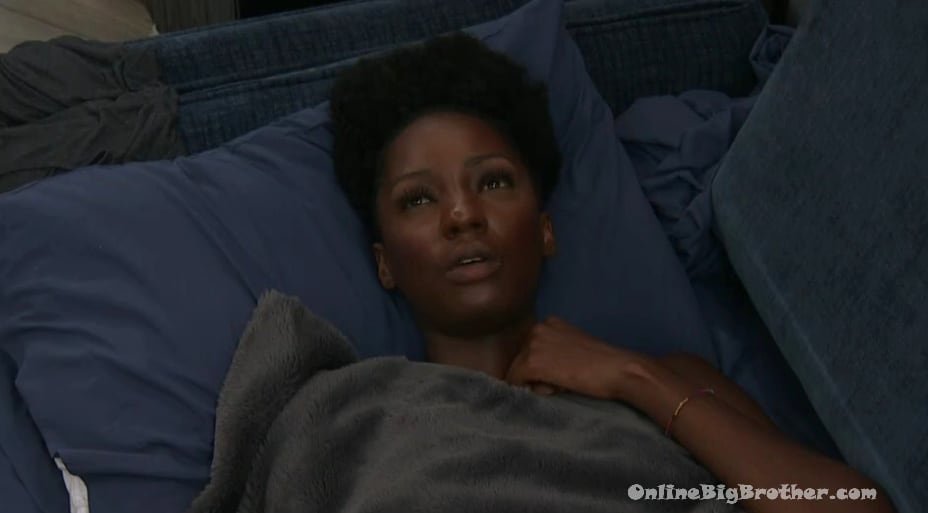 5:55 pm Azah to cameras
Azah – my trust has been compromised with Kyland because I feel like his actions are affecting us at the six.
Azah – I don't want Kyland to win HOH ever again
Azah – I don't think he changes with power this has been the real Kyalnd the whole time I think when he gets frazzled that's when he changes. He got frazzled in the HOH competition when britini picked him. I have some guilt about that because I've tried to not influence Britini with the things she wants to do
Azah – I try to tell her don't do something because of me. To be honest she has had thoughts about Kyland umm… but I've kept those thoughts at bay.
Azah says Britini picking Kyland in the HOH affecting him so greatly "when Britini picked him it didn't reflect any of the four scenarios and he went haywire. from that moment on he didn't feel comfortable with anyone winning HOH"
Azah – he does not like to admit fault and he doesn't acknowledge them which are lies..
Azah says she thinks everyone in the six is good with moving forward but she still has "HUGE doubts on Ky. I regret drinking his Koolaid for as long as I did"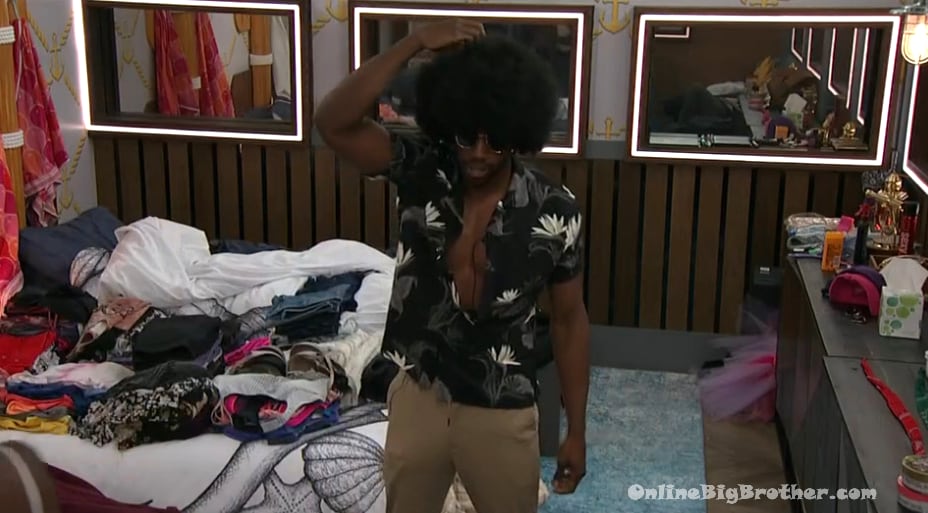 6:30 pm BIG CHILL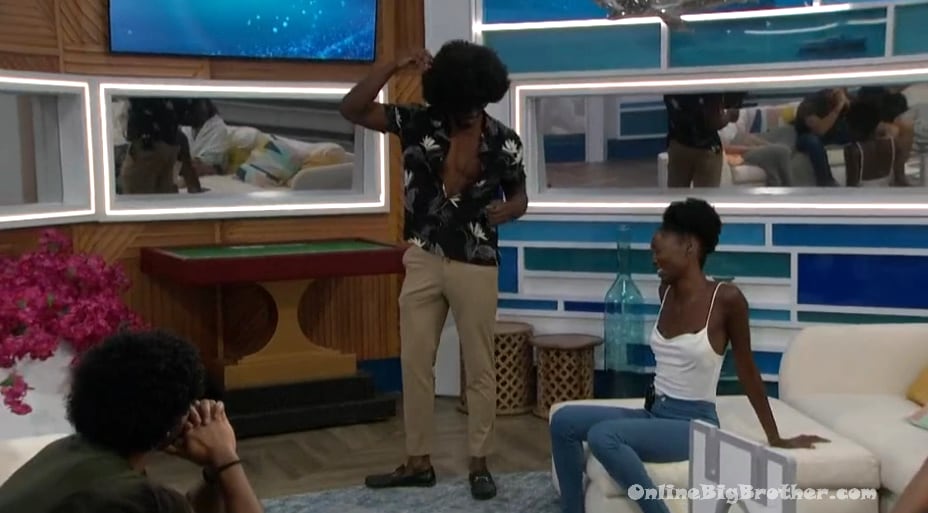 Lucius
X says the house like Lucius more than Xavier.
6:31 pm Lucius strut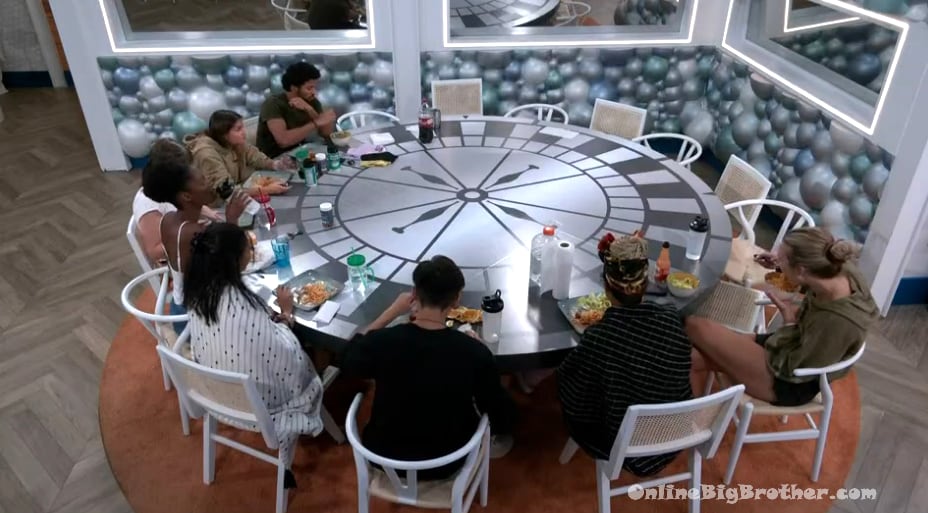 6:45 pm family dinner
Please consider a donation to keep the madness going. BIG thanks to the people that have already chipped in.