HOH: Kyland
HAVENOTS:
Nominations: Claire Britini and DerekF
Power of Veto Players: Kyland, Claire, DF, Alyssa, Azah, Brit
Power of Veto: Alyssa (OTEV winner), Kyland (High Roller winner)
Power of Veto Ceremony: Kyland used the veto on Claire. Britini nominated in her place.
Big Brother 23 Houseguest Rankings – – RANK THE HOUSEGUESTS –
View the previous day ranks on the – Ranking Grid
SPOILERS Britini is being evicted as of right now. I don't see this changing.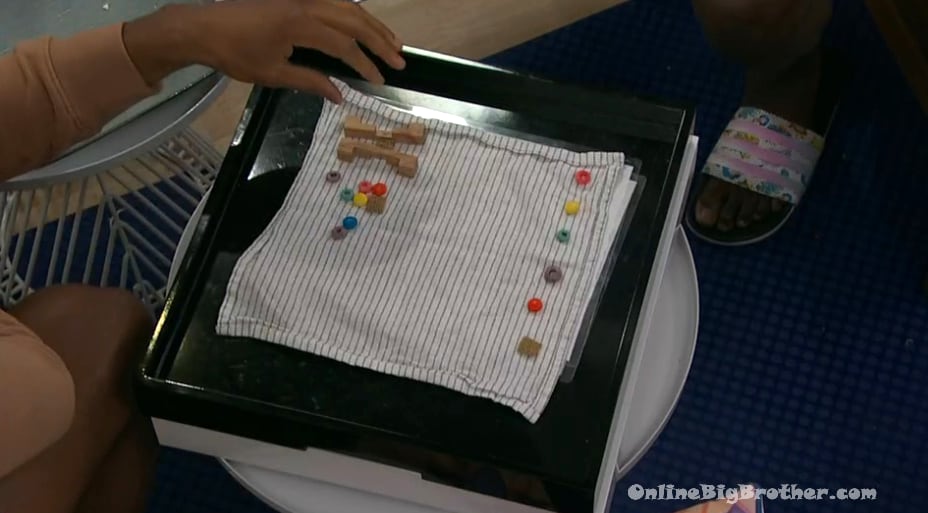 10:45 am Xavier and Kyland
X wants BabyD, Alyssa, DB, Claire. Kyland wants BabyD, Sb, Alyssa then Claire out. In that order.
X is saying they should put up Tiffany and Claire backdoor BabyD. Ideally, they want to let Tiffany off the block and have DX sitting next to Claire. "Tiffany has enemies"
Ky says Claire can't afford to play roulette and Tiffany won't use it because it'll be a risk two cookouts go up.
X says everyone but Hannah and DX can win the veto anyone else that wins it can take down Tiffany.
X – I'm not threatened by Claire.. She will gun for the HOH hard next week
Ky – she gunned hard for the veto this week
Ky laughs
X – true
X – in the event Claire won the veto next week and BabyD would go next to Tiffany and it is what it is. I still don't think we would have to show our cards.
Ky – Also if BabyD is out it doesn't matter (If they show their cards)
X – why are we keeping babyD around he's a competitor if we take him out the only people eligible of winning that power are all cookout members.
They gush over all the power they will have with the cookout and a coup d'etat
X – why not we make it so that power is only available to all of us
X says everyone in the house wants to get BABYD out and he's in the position to have the power. That is was his main reason for wanting Brit out this week.
X – if it's the 6 of us vs, Alyssa, SB, and Claire.. (it'll be easy)
Xavier points out that the backyard is now closed which makes him think it'll be "Slip n SLide" on Thursday or the "ropes"
They go over who they want to win HOH next week X says Alyssa or himself but ideally, it would be him. They need to convince BabyD not to go for the HOH.
Xavier says if they can navigate through these powers and come out the other end whole their alliance's legendary status went through the roof.
Ky says he doesn't think a 6 person alliance has ever made it to the final 6.
They again agree to take out Claire last.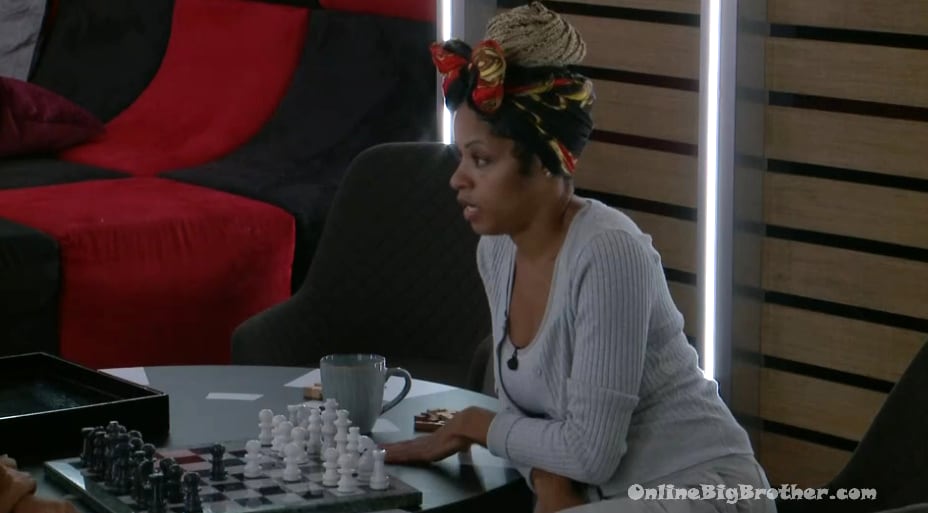 1:40 pm Hannah and Tiffany
Tiff says last night DX, Claire, and her were talking about what to do this week. They want to send BIGD out. I told them if we flip we lose Kyland. They were like well if we are going to get him out in a couple of weeks anyways what difference does it make .
Tiff – If we flip.. this is what they think we have Claire, DX, Brit, Azah, Me, and You, which puts X, Alyssa, Ky, and SB on the other side
Tiff – we have to convince them this is a bad idea otherwise we show our cards this week.
Hannah – I told her I think it's premature for us to go against the house. Ky and X are two of the strongest competitors and Alyssa is the strongest female competitor
Hannah told DX his best shot of going final 2 is with her or Kyland. "if you intend on getting rid of Kyland in the future X won't take you"
Hanna – is DX targeting X next week or is he targeting Alyssa?
Hannah – who is our next target SB?
Tiff – I don't think Sb will be our next target with that conversation I had with DX and Claire last night.. if we are.. I think if they will get suspicious ig we keep BIGD.
Tiff – they are strongly leaning towards we can flip this week if you and I don't then next week they know something .. we leave both of them in this house they will work together they will get with Alyssa and SB and realize something (lol still 6v4)
Tiff – this week Claire has to go.. I don't want that I didn't want that
Tiff – DX is not seeing what Claire is seeing
Tiffany says it would have been better to send out Claire this week but they didn't have the votes without showing their hands.
Tiff – It would have been all 6 of them against the 6 of us
Tiff – you know what she told me.. After this week it'll be all duos left in the house
Hannah – DX can't go next week
Tiff – better to keep him than her. She's quick and she's bringing him up to speed..
Hanna – if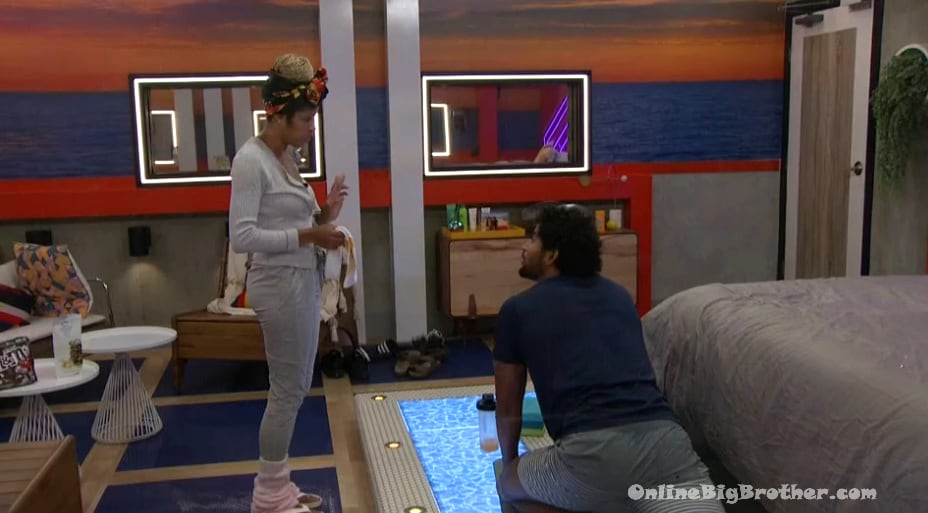 2:38 pm Tiffany and Kyland
Tiff – Don't get emotional about it I want you to take some time to meditate on this information
Tiff – you will always act like you never heard this information before we need to send Claire home next week.
Ky – got it
Tiff – she's getting very wise. I know you and X want to send DX home we're probably going to have to wait. If we send him home and we still have three girls in this house that are not in the six those three girls will not target each other they're all going to target US. He's a shield for us and you and X will have to keep winning.
Tiff – DX is going to talk to you about Keeping Britini and the reason I said Claire has to go next week is him and Claire have been doing a lot more talking and they both want to keep Britini this week. Claire has convinced him and that makes Claire more dangerous
Tiff – the only reason I think that I was sitting in on a conversation he is more.. umm.. aloof she is more aware and she is bringing to his attention.
Tiff says she's telling them if they keep Brit they will lose Ky. If they don't trust Ky they might now care.
Tiff – they are already thinking of losing you. you using the fact that they wouldn't have you isn't a factor.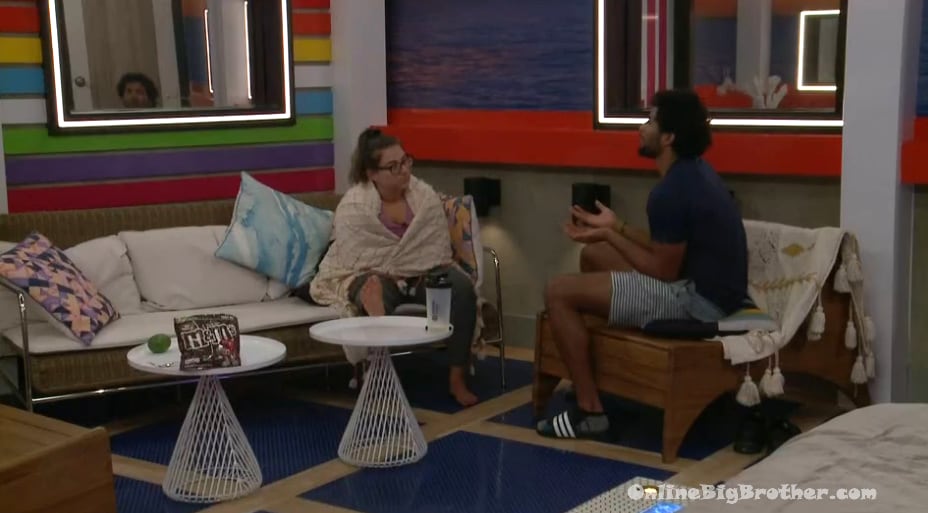 3:10 pm Kyland and Brit
Kyland says words Brit tells him she's been on the block 28 days (I left out about an hour of this conversation.. )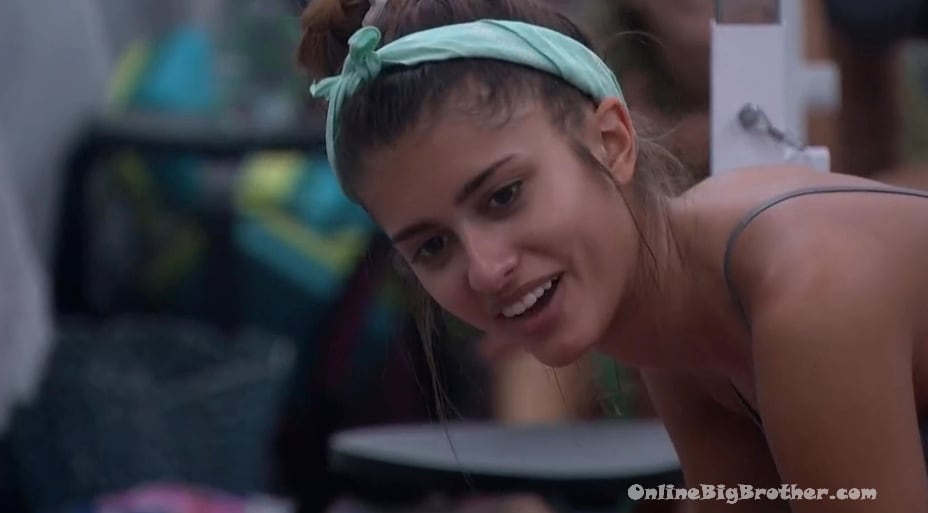 3:30 pm Alyssa and Claire
Talking about the next pwoer and Claire brings up the vote this week. She mentions that Brit has a better chance of winning HOH and taking a shot at Ky than BIGD does.
Alyssa – Britini wouldn't put me up BIGD will put me up because of this week that is true
Alyssa says she was originally thinking Brit goes home now she's seeing the benefits of both sides.
Alyssa – what are you and TIFF thinking you contemplating BIGD or Brinti
Claire – yeah
Alyssa – how many votes
claire – four you need
Feeds cut..
Alyssa – I'll talk to X about it
Claire – it's something that should be contemplated at least
Claire says put up Ky and SB neither of them has the BBBucks. "They have Zero they both played Derby"
Alyssa – ohh that's genius
Alyssa says she'll talk to X about this.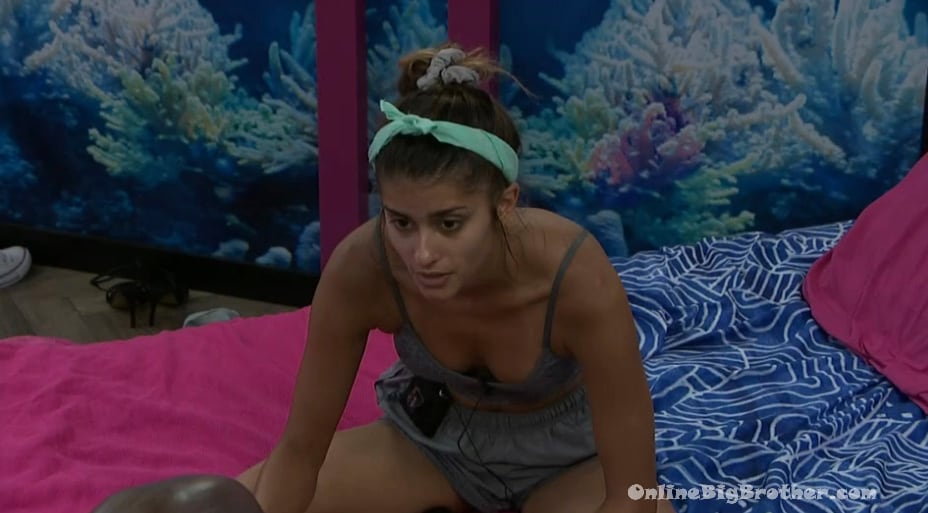 3:45 pm Alyssa and X
Alyssa – Claire just talked to me and her and Tiff are contemplating keeping brit.. Here me out
Alyssa says they have no idea what BIGD will do he'll either do Alyssa, Ky, SB, Xavier. If brit wins HOH they know exactly who she's NOT going after and they know exactly who she is going after.
Sb joins them.
Alyss a- iever everyone on the same page.
SB – Britini.. yeah everyone is onboard
X says out of the jokers Brit is the bigger competitor
SB says she is worried about BIGD saying around for too long if he makes it to final 5 he'll end up being taken to final 2 because everyone will want him
Sb says they will need to get 5 votes to get out BIGD, four only gets you a tie and there is no way they'll get 5 votes.
Feeds cut. When we're back Sb and X are in the room
SB – Do you feel good with KY? he's feeling good about you guys
X – yeah I feel good about ky
Please consider a donation to keep the madness going. BIG thanks to the people that have already chipped in.