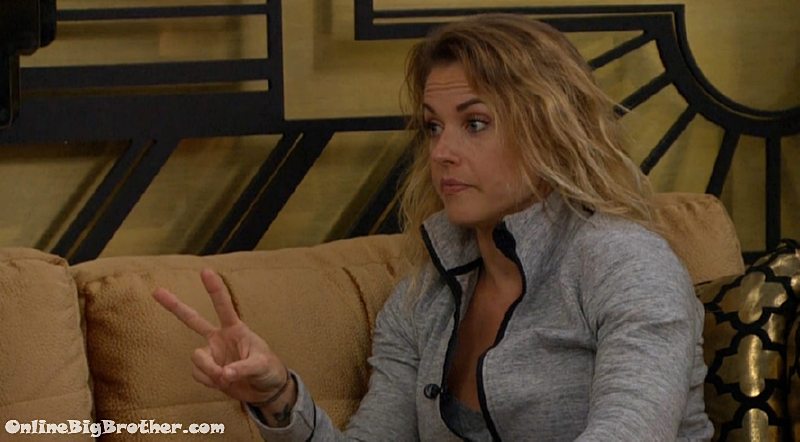 5:30pm HOH Josh and Christmas
JOsh says they keep working the house like they they are in a very good position.
Xmas doesn't want to get too confident.
Josh – this is our strategy, Paul's a f*ing genius
Josh – if we continue to f*ing push kevin Kevin Kevin To the whole house like we've pushed Cody, Jess, Elena, Mark guess what?
Josh – That's a clear target for the whole house Matt and Raven are too scared to do sh1t
Josh about Kevin "I'll annoy him until he f*ing implodes.. I'll get under his skin real f*ing quick and he'll f*ing self destruct. That sounds Evil but I will do it"
Josh – we've had targets for the past 4 weeks and they've all gone, we keep the target a house target on Kevin.. Guess what.. Paul will never turn on us, Matt and Raven are too scared what they will do is take a shot at kevin.
Josh – Matt and Raven are focussed on Alex and Jason because they are strong competitors.. matt and raven are too scared to turn on us if they turn on us we can flip this house
Xmas – they don't have the numbers
Xmas – People are not as smart as us, Sometimes they do knee jerk decisions and don't think through their decisions.. I'm just saying..
Xmas – I need you to listen I need you to hear me
Xmas – if people turn to yo me and Paul start calling us out then I need to take that f*ing bullet
Xmas – because you and Paul can go to the final 2..
Xmas – I know I'm a bad b1tch.. I know I'm Bad b1tch.. there's not f*ing question about that .. there's no question about that
Xmas – what I'm saying I will not throw you and Paul in front of the bus over me..
Josh – if these f*ers try to turn on us it'll be world war 3 in this f*ing house
Xmas – I know
Josh – I will f*ing crank it the f* up, nobody sleeping for 24 hours
Xmas – let's agree on something you won't crank it up until we collectively decide that it's the best option
Josh – what
Xmas – if you crank it up
Josh going on about how good their position is.
Xmas tells them not to get too confident.
Josh says they will have to not be together too much..
Xmas – people already know we are together
Josh says they need to start working Kevin "It's us four it's us four" so if he wins the HOH he'll take that shot on Raven and Matt
Josh – we'll clip him before Raven.. we can't attack and push kevin right now..
Xmas – you'll have to exclude me from that four.. I don't want to entertain it right now..
Xmas says if something goes wrong and Paul "can't work his genius" and Josh 'Can't work his magic" Xmas will have to "Blow someones f*ing spot up"
xmas – it makes sense for you two to advance to the final rounds because then one of you two will win.. if one of you sacrifice for me than I probably won't make it to that
Josh says Cody tried to flip the house on them
Xmas – Cody was a f*ing idiot
Josh – that was there only chance and they blew it
Xmas – he's a idiot.. Jason jumped on board with that bullshit
Josh – but he didn't have the balls to do it, matt doesn't have the balls to entertain it
JOsh – Kevin is too f*ing paranoid..
Xmas – Josh you have to stop thinking with certiantinity in this game.. Matt will get some balls he will jump on board with anybody else. I'm telling you 100%
Josh – I'mm break matt I'm telling you
Josh – pots and pans ain't sh1t My top three are going top three.. (Would be the great feeds to see Alex and Jason go to war with Josh and Xmas.. ) )
Josh – they try some sh1t they aren't going to sleep until Jury
JOsh – Mark doesn't have the balls.. it's all about being a man.. (Josh meant Matt)
Josh – Matt hasn't done shit
Xmas says if Matt turns on them and tries to come after them they'll take out Raven first
josh – we'll jess and Cody them
Xmas – we did that too Jess.. you want to f* this up, WE'll put Cody in jury
Josh now says he can flip this whole house any of "them" that threaten their three. "I know how to do it and i'll do it'
Xmas – i'll back you up.. or i'll start it, let's not go there..
Josh – I've seen this show and I think us three are the best position ever
Xmas – top
(lol)
Josh – cause we're in the middle we have both sides against each other
Xmas – that just makes me f*ing nervous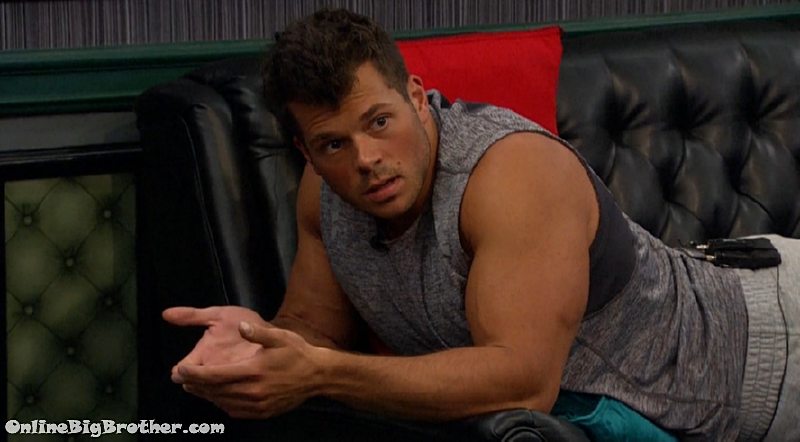 6:19pm Mark, Paul, Kevin and Paul
(Mark and Paul have had a lengthy conversation about Cody not going to relive all that.. Flashback the feeds if you want. Mark sticks up for Cody but Paul does a really good job of presenting his point. paul also does a pretty good job explaining why they still talk about people in the house. It's because of boredom and they've been locked in the house for ~60 days there minds are starved. Paul jokes that he could talk about his dogs more. Jason and Alex were complaining about this earlier)
Mark tells Alex that Raven and Jess would talk about how much they hated her.
Mark – she was with her up Cody's a$$ until after the veto ceremony
Mark – Raven was in on everything
Alex says Mark should have brought this up
Mark – they wanted to pour your coke out before the veto competitions.. that's how psychotic they were against you.. it wasn't only Jess
Mark says Raven and Matt jumped ship but until that point they were 100% with them shitting on Alex.
Mark – they poured her coke out before the veto (so it was Jess and Raven)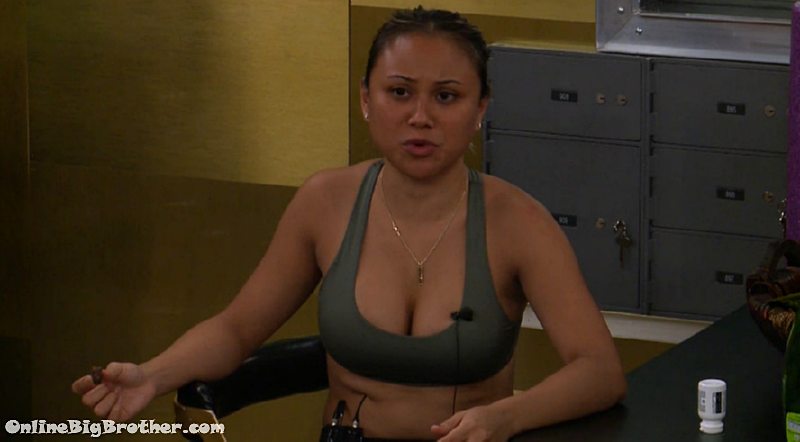 6:29pm HOH Paul, Jason, JOsh, Xmas
Paul retelling the conversation with Mark about COdy.. (ugh there's no escape)
Xmas is going off about Cody being a$$hole and sh1t comes out of a$$hole
Jason says Mark is checked out.
Alex comes up says Mark is gay and he likes Cody..
Paul – he was literally sticking up for Cody
JOsh says deep down inside Mark and Cody are the same.
Josh – the bully tactic Cody uses he does too, deep down inside those are Mark's ways
JOsh adds that in the beginning Mark was a cocky douchebag like Cody
Alex brings up Zingbots bizexual zing to mark (Mark, I think you might be bye-sexual. Every time you tried to get sexual with Elena.. she said bye Zing)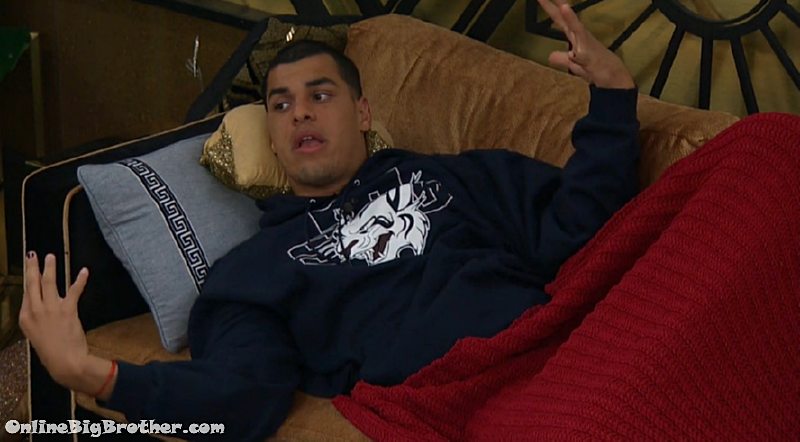 Josh says everyone is going to look so stupid when they get out and see they stuck up for Cody
Paul going on about Mark being a pu$$y
They bring up Cody not having kids.. Xmas doesn't think he has one. Alex says mark told them he does.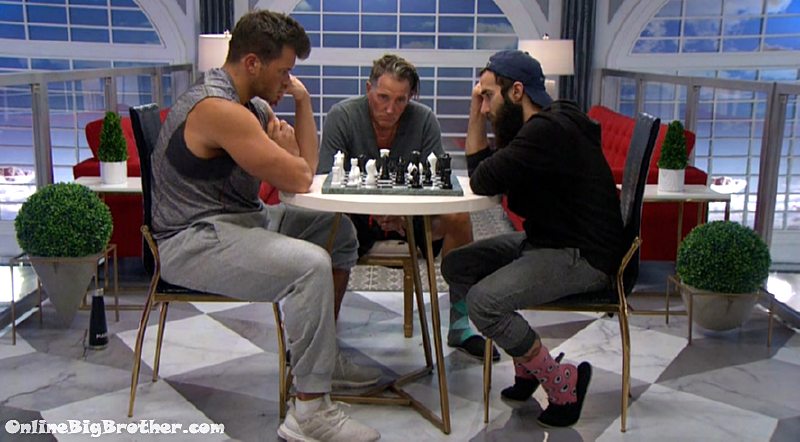 7:00pm chess..
(To be honest beats the retells)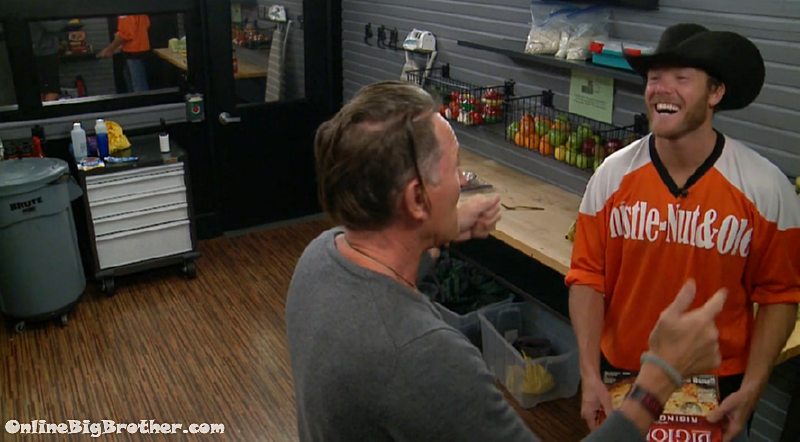 7:07pm Kevin and Jason
Kevin – what did xmas have to say.. did she say anything bad about me
Jason – no, nobody's going to say anything bad now
Kevin – they got nothing to say.. they'll have to make something up
Kevin – if you're going to make it up at least come tell me so I can defend myself..
Kevin what the f8, you going to make something up, that's real JIVE .. what's the point in that
Jason warns Kevin there's no voices right now the house is super quiet they have to watch what they say
Jason – we have to stay calm, Stay f*ing calm..
Kevin – you'll have to tell Alex where I stand
Jason – I have,, she knows that
Jason – we can't start acting worried
Kevin – I wasn't worried until I walked into the room.. Mark had your vote (someone said that to Kevin)
Kevin – he had shit from me..
Kevin – I voted against Cody, I voted against Jessica, I voted against Dom, I voted against everybody, now I'm going to vote against Mark.. c'mon.. (Kevin is mocking them for thinking he's Mark's vote etc)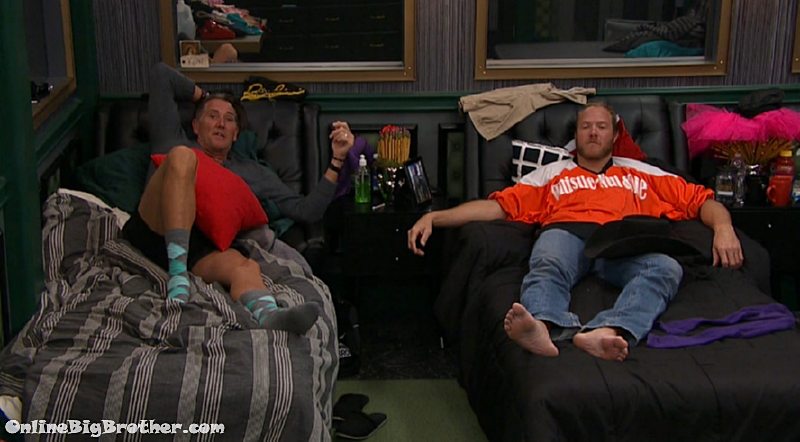 7:34pm Kevin and Jason
Kevin says he'll be pissed if he goes before Josh
kevin says he's never told a lie and he's played a good game.
Kevin now says every vote he's done has been what the house did. Blames the strange vote on Ramses.
Jason brings up that Ramses won the 25thousand (He knows it was Kevin)
Kevin asks him if Jason and Alex are still the same with him.
Jason says he doesn't ask.
Jason – we think we're in control we're not in control.
jason says if Raven wins HOH she's taking a shot at them.
Kevin – I'll never vote against you
7:49pm Kevin and jason
Kevin saying if jason takes a shot at Christmas "I'm there"
Jason brings up telling Mark that he would rather Mark in the house than Matt but mark is a much bigger threat.
Kevin – I can't believe they're in this house another week (M/R)
Kevin says if he was 28 in this game he would have been unstoppable. Says he was a heavy drinker for a good chunk of his life and he's not as strong as he use to be.
Jason brings up Cody picking "Doug Stone"
Jason – he sings gospel country.. it's like rhythm and blues country.. I was like what the f*
Jason – I don't know he really sh1t the bed
Kevin – not me I haven't thought of him once.. I'm concerned how people still talk about him.. it's so stupid
Kevin says if he goes to Jury he's going to challenge Cody for the master bedroom.
Kevin wonders if Matt and raven are on the block and Matt wins the Veto if he'll use it on Raven, "Prove he's a real man"
Just when you thought it couldn't get better #BB19 @DawgsBigBrother pic.twitter.com/qgfVlJ8s2j

— OnlineBigBrother.com (@bigbspoilers) August 24, 2017
8:18pm
Raven and Matt finally leave the HOH…
Raven and Matt finally leave the HOH… #Bb19 @DawgsBigBrother pic.twitter.com/OePHXkUzmI

— OnlineBigBrother.com (@bigbspoilers) August 24, 2017
8:39pm (Jason and Josh do the cinnamon challenge)
Jason – that Cinnamon challenge was a son of a b1tch
Paul to Alex – we could have totally snuck some edibles in her..
Alex says they couldn't have "they were looking for it"
Paul – in the shampoo bottle
Alex – they almost didn't let us bring those in
Jason suggest Paul hides it in his beard.
ZingBot Zings
Kevin, I hear you like to use saran wrap to preserve your youth. News flash, too freaking late! Zing!
Matt, congrats on making it so far in the game.. especially since the only thing you have done is… Raven! Zing!
Paul, LAst season you taught me so much.. like how to have friendship, how to be pissed, and how to lose half a million dollars! Zing!
Josh, my heart goes out to you. You shed so many tears this summer. Too bad you cant shed any, weight! Zing!
Poor Raven, You got the clownitard. that is the worst punishment ever. Oh wait, that's just your face! Zing!
Mark, I think you might be bye-sexual.. everytime you tried to get sexual with Elena, she said bye! Zing!
Alex, what do you call someone with bleached blonde hair.. likes to wear cat ears and handles lots of wieners? A ——— (sound effects) (they're implying a ?)
Alex, I see you have been forced to carry a ton of dead weight, or as I like to call it, Jason! Zing!
Xmas , You have such a good heart. you will find no coal in your stocking this holiday season. However, you will find 10 shattered bones, 9 weeks in a cast, 8 surgeries, 7 more xrays, 6 years of rehab, 5 titanium screws, 4 hospitals, 3 pain pills (more like 3 million),2 two crutches, and a guilty rodeo clown!
Donations help us keep the lights on. If you would like to support the site please consider donating.
Links to the ranking system
Rank your house guests here
For those of you that like Statistics here are some expanded reports.