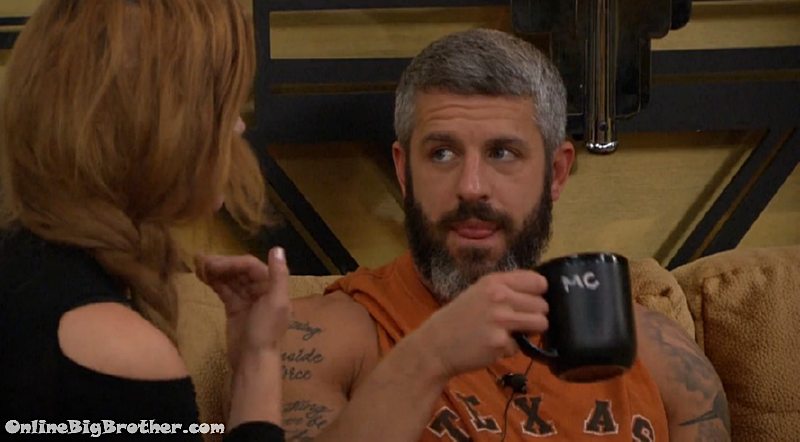 2:37pm Matt and Raven
Matt says he looks terrible without a beard.
Matt – I have a strong chin.. it just doesn't look right..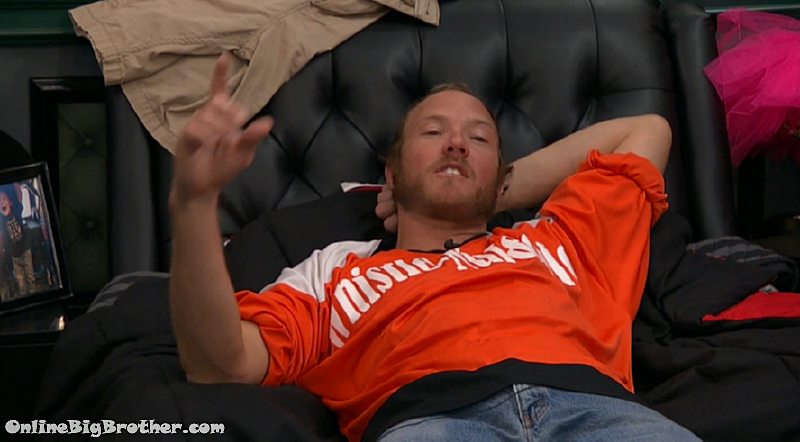 2:55pm Paul, Jason and Alex
Alex tells them that Raven and Matt are upstairs watching the HOh Spy screen.
Alex says Kevin asked her "Are we keeping Matt or not"
Paul – what the f*
Alex – I know.. he said I'll do whatever you say Al.. whatever you say
Kevin joins them with M&M's
Alex says Matt and raven have beds but they are always in the HOH naping.
Paul – they're always up there.. even my HOH.. yours..
Jason – you know why? that's what saved their f*ing bacon.
Jason – they realized it that as long as they're up there.. those couples were all in the same playing field.. they were just the ones that stayed in the HOH room..
Jason – so you're like we can't get them out.. that's when all the talking went down so they kinda went in..
Alex complains that they would bust in the door when she was HOH praying. They would sit on the couch and tickle around while she was trying to pray.
Jason – it worked though.. you bought into it
Alex – no I didn't ..
They agree Cody and Jessica had to go first..
Paul says it's impressive they got all those showmances out
Alex – Showmance killers
Jason – that was the plan from the f*ing beginning
Paul about Matt – he has a mom he says he sees her all the time, he says he talks to her every weekend
Alex – his parents got a divorce recently, that's why he's weird about love
Paul – is that it
Alex – he was close with his mom
Jason – that's pathetic .. blame that on your parents.. f*ing goon you're 33
Alex – he acts like he's 28
Jason with a whimpering voice.. "I don't want to fall in love my parents got divorced"
Jason – what a douche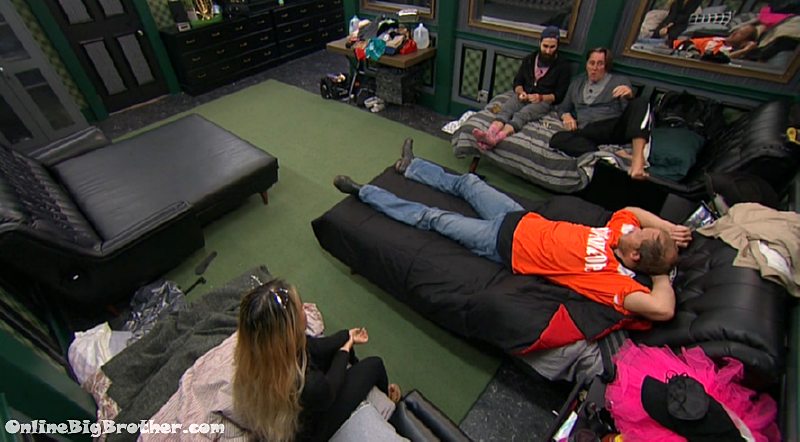 Alex – he was close to his mom and her mom
Alex he (matt) likes all his exes and he's friends with them all too
Jason – there's only three of them f*
Alex says Raven is looking for a relationship it's obvious
Kevin talking about Matt "no one is asking you to act like that grab a$$ every 5 minutes"
Kevin – I think they are just doing it to aggravate people
Jason agrees.. "everyone's afraid to make fun of Raven at all because nobody wants to be the insensitive son of a b1tch that calls her out on every f*ing bullsh1t thing she says"
Jason about matt and RAven – "I don't think they give a f*.. Matt doesn't give a F* he just wanted to make it to jury that's it
Jason – he would rather sit there and giggle
Alex says raven wants to win
Jason – she doesn't play
Alex – she thinks she'll get close to the end and turn it up
Jason – if this is all a bullsh1t facade, I don't know what the f* is in her belly it's probably the right thing I dunno
Jason – If it's bullshit I'm going to f*ing punch her, first time in history I'm going to punch a girl
Kevin – she was saying the other day about her medical problem she said she had "ARTHUR-itis"
Kevin – there's no ARTHUR, that's a human being so anyone who has it who know about it would know it's Arthritis
Kevin – you wouldn't make a mistake like that.. ARTHUR is a human being's name
Paul – I just don't think it's right to be saying that in a game sense
Kevin – me neither
Jason – it's working.. it's f*ing working.. it's ballsy, it' ain't morale
Alex- she made it through because she's not a threat and she can't compete
Jason – I've never been around anyone in my entire life that is terminally ill, is that athletic, that flexible, eat whatever the f* they want, that coherent, that fleshy
Alex doesn't think Raven is as Athletic as Jason is trying to say.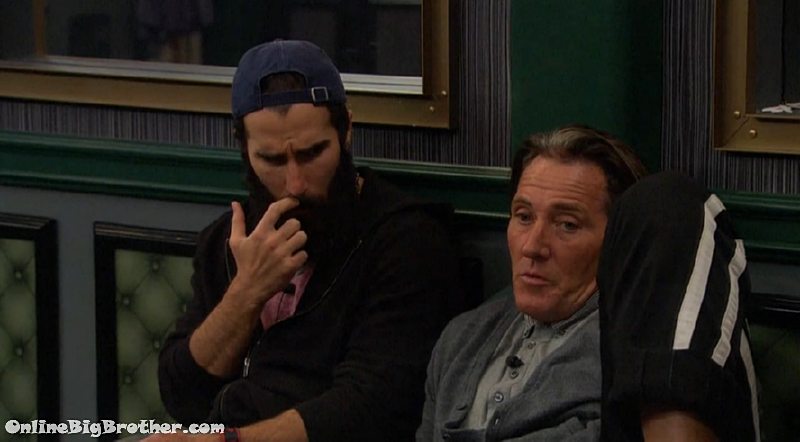 Kevin – she used that word with you, Terminally Ill
Jason – yeah like a hundred times
Alex – yeah, she says she's terminally ill
Kevin – you know what that means.. you have a expectancy
Alex – it's only a couple years
Jason – that's what she said
Kevin – she told me she's going to make it to my age
Kevin – I never heard terminally ill, Matt said it once..
Alex – she doesn't think she'll live past 30
Kevin – again in a game I don't know if that's proper, people do a lot of strange things man
Alex – matt though is not trying at all
Jason – he's acting like a f* a$$ and just skating along
Alex – he literally says if you put me on the block and it's your plan to send me home just send me home, he doesn't care
Paul – maybe he's just saying that so we act like he doesn't care so he's not a threat
Jason says week 1 Elena and Christmas asked him if he wants to get to be the first one in Jury or out before Jury. They'll help him.
Jason – they were like do you really miss your family or do you want to get paid in jury
Paul is shocked "there was a lot of stupid sh1t said this season"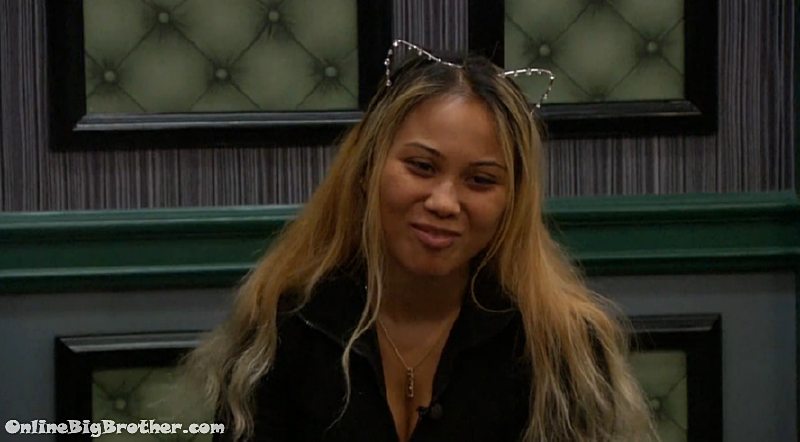 3:11pm Alex, Jason, Kevin and Paul
Alex brings up Elena telling her she has a case open with 2 lawyers fighting for her to get surgery done on her hips after an accident.
Alex – 170 thousand dollar surgery.. that you probably wouldn't get and just take the money for
Paul – that's gnarly
The list all the physical things Elena does, Back flips, splits, etc etc..
Paul – if I was the other attorney I would be like example A .. BSCDEFG (footage from the show)
Alex – she's (elena) spending all her money on plastic surgery, botox every week, microdermabrasion, facials, eyebrows, waxings, shavings
Paul – I don't even know what 1/2 that sh1t means
Alex says Elena got her lip and nose done
Paul thought they were fake and asked her she said they were real
Jason – Jessica's had to be fake
Alex wants to see Elena's "ugly duckling" face before all the surgery
Alex – mommys credit card went a long way
Kevin brings asking Elena why she had all these little scars over her body. She told him she had her moles removed.
Alex says Elena also had the same surgery as Jillian, (gastric bypass?) Jillian told Alex that Elena had the exact same scar on her belly button, Same location and shape.
Alex – she never ate .. other than ice cream
paul – I don't give a f*
Jason – I don't give a fat f*
Paul – people are so f*ing bizarre
They bring sup Raven saying she was 16 dating a 30 year old man.
Paul – that's illegal
Alex – yes..
Paul – what does that tell you about the 30 year old man
Kevin – she was 16 the family should have stopped that right
Kevin – a 30 year old comes to my house with my 16 year old daughter.. boom.. he wouldn't leave.. I would hide him in the cellar for a month in a chair.
Paul brings up when they were all calling Cody out and Raven started with the d1ck sizes about Cody.. (I don't remember Raven bringing up military record and service like Paul, Alex, and Xmas did. She went straight to d1ck size and it turned out to be a compliment… LOL)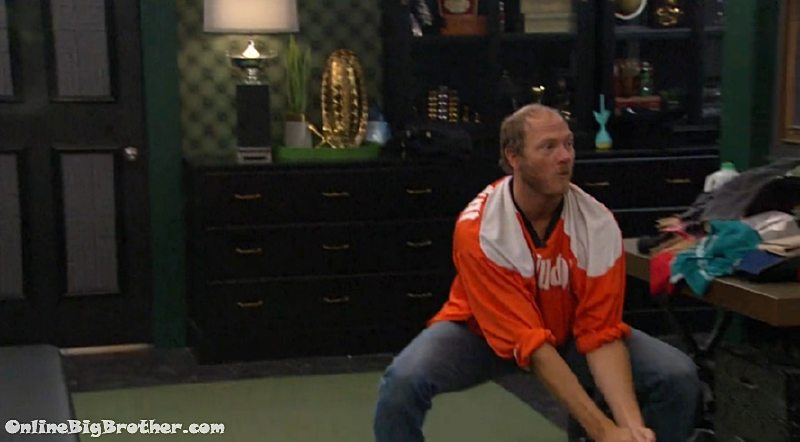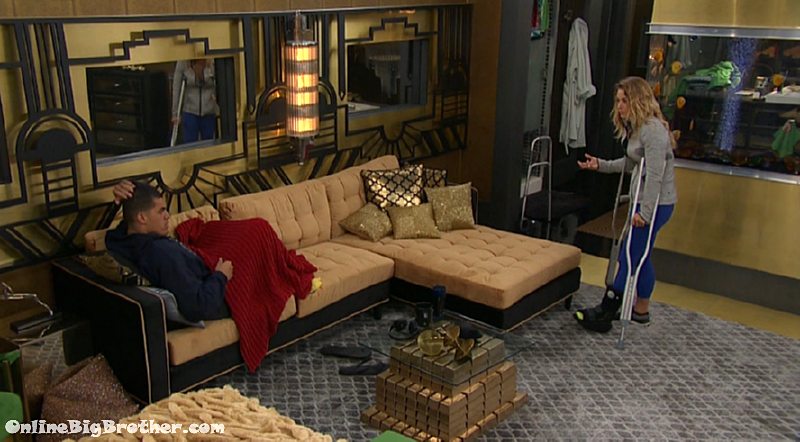 4:30pm HOH Christmas and Josh
Josh – Mark is pissing me the f* off
Xmas – he's trying to get us to blow up.. he's going, just chill..
Josh says he's going to gun for the HOH to take the shot at Alex
Xmas says the boot order is Jason, MAtt, Alex. She's worried that Kevin, MAtt and Raven will band together.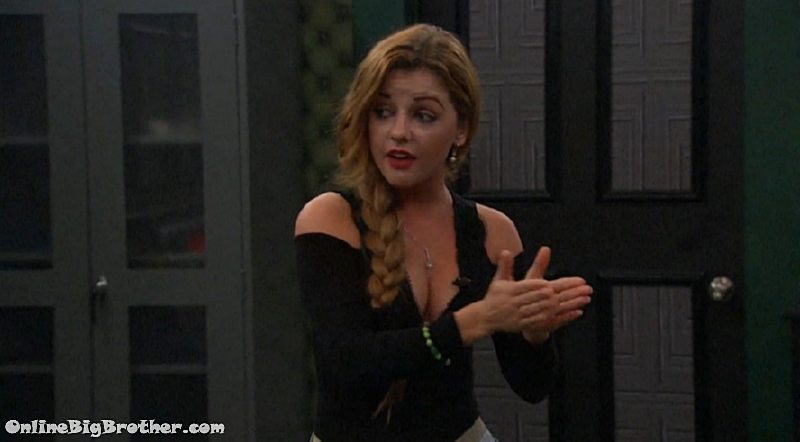 5:08pm Paul, Matt, Alex, Mark, Raven, Kevin and jason
Complaining about Cody
Raven says she's blocking Cody on all her social media.. (I can't wait to see what the fans do to Raven when she gets out.. I don't thin she'll use Social media anymore)
Donations help us keep the lights on. If you would like to support the site please consider donating.
Links to the ranking system
Rank your house guests here
For those of you that like Statistics here are some expanded reports.