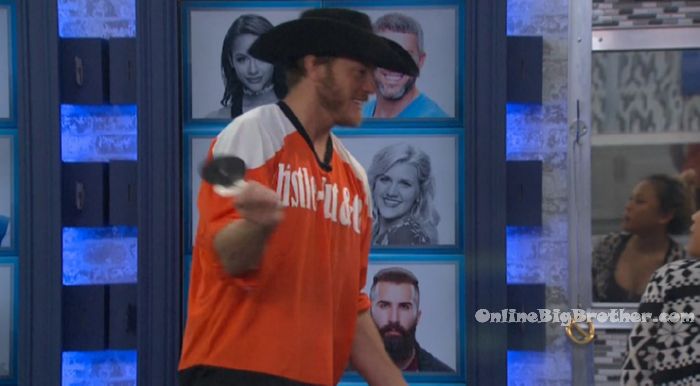 If you plan on buying anything from Amazon. Use this link Amazon home
Doesn't cost you anything and we get a small cut.
8:58pm Kitchen. Matt, Paul, Raven, Alex, Jason, Mark, Christmas and Kevin.
Jason is horsing around with the pizza cutter. He walks past Alex and turns to swing it at her as she walks past him. He nicks her hand. Alex – stop horsing around! Christmas – we're definitely not getting that back. Alex – the hunger games are starting. Jason – I was going for your neck, your jugular.
Jason swings the pizza cutter at Alex "I was going for your jugular" #BB19 @bigbspoilers pic.twitter.com/1VhGIKWj8f

— Dawg (@DawgsBigBrother) August 24, 2017
Christmas – you send DP's (d**k pics). Paul – no I don't. I'm going to decorate mine and send you picks. Jason – put a little beard on it. Paul – can we give Christmas a punishment?

9:20pm Bedroom. Alex and Christmas.
Alex – Josh ran in there (the other bedroom) and looked in the drawer and there was all these used condoms but I think it was from when they (Matt & Raven) shared a room with Jessica. And then I was like wait none of them are used. They're all opened. Christmas – yeah that was from when Jessica was here.. I can't even speculate whether its wrapped or raw. Alex – oh god! Christmas – when we get out of here we should just ask was it wrapped or raw. Alex – even if they (Matt & Raven) haven't, I think they just started (having s*x.) He's been more touchier with her. They might not have. Christmas – If the world is speculating, we might as well. They're much more affectionate. Alex – before we vote him (Matt) out we should confront him about who he voted for.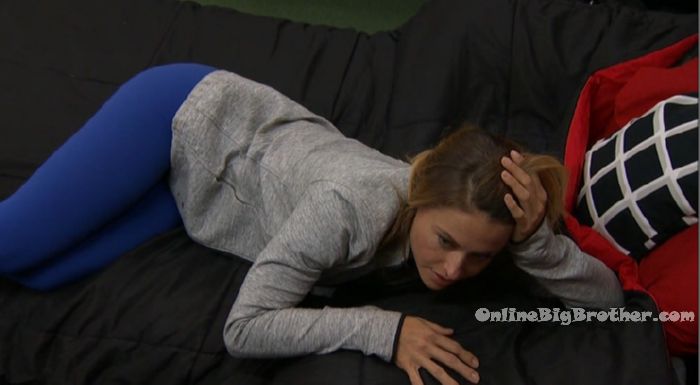 10pm Kitchen – Paul, Matt, Raven, Josh, Mark are talking about the real world.
10:15pm – 11pm Meanwhile in the bedroom. Alex, Kevin, Christmas. Christmas – I really think that she is catching someone feelings. And when they're along and she looks over its not just like .. It looks real, at least for her. Alex – its a Cody / Jessica thing. I think when they get out there, they're going to be just friends. Christmas – he says he's always been consistent with that. Alex – he always says dude when we get out of here we've got to ..Like you and me have to go out and act like we're fingering. Christmas – I think he is just trying to play. Kevin – he said how lucky can I be I come on this show and get the prettiest girl. I was going to say what? are you crazy. Christmas – I honestly think he (Matt) is just keeping it up. Whatever it takes.
11:36pm – 12:05am HOH room. Christmas is crying while listening to her HOH music. She starts studying the days / events out loud.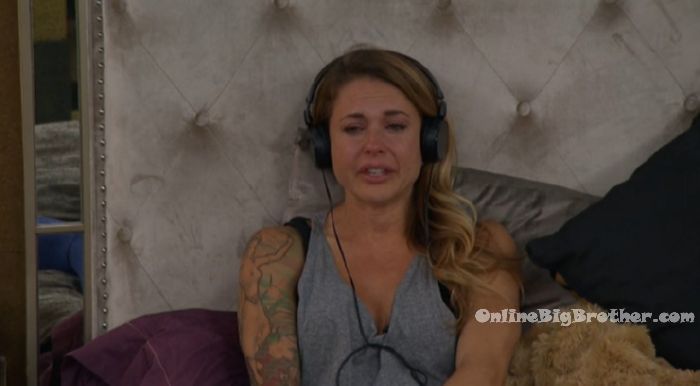 12:39am – 1:40am HOH room. Josh and Christmas.
Josh – F**king kevin is f**king creeping me out with the stares… when we're in a group he literally looks at me like… weird as F**K! Christmas – weird! Do you look at him back? Josh – I look at him.. I'm like dude what the f**k is your problem?! I said to him tonight that he is quiet and he said sometimes I have to let them talk. Christmas – anything else we need to talk about. Josh – Jason has been acting weird. Christmas – do you think he and Mark aligned? Josh – no. But I think that there is information that they're keeping from us. Christmas – well that's the thing Mark had told Alex that I'm not trustworthy. But you know what I'm going to let Alex in on a little information tomorrow. When I walked in on Mark and Elena talking .. Elena was telling Mark how Alex can't be trusted in any situation. Josh – she really can't! Christmas – I know! None of them f**king can. Josh we are so lucky to have this. Christmas – Jason is a f**king wildcard, Kevin is a wildcard. Josh – we just have to control it. I want Jason out. I want Jason out bad! You don't have anything to tell me? Christmas – no, no I just wanted to catch up with you. We need you, me or Paul plugged into that group at all times. Do you want to give Kevin, Jason or Alex 500K? Josh – f**k no! Christmas – then stop f**king reacting!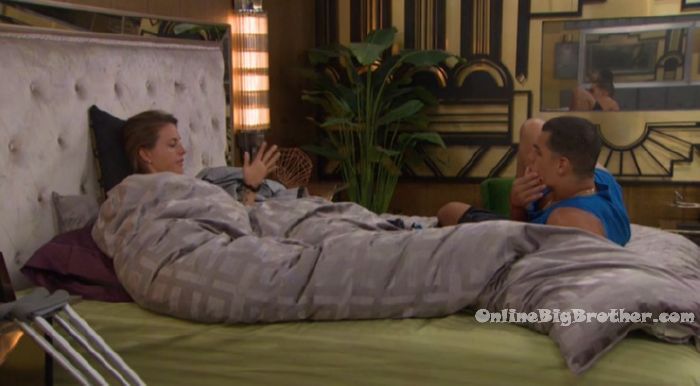 Josh – its funny Matt is gunning for Kevin or Jason. Kevin is like f**king ratatouille. Going to everyone taking information. You saw how Jason went, its about to be a rattled cage. When Kevin was getting uncomfortable with our questions. He is acting like a child. Christmas – Alex withholds a lot of information. They're good at pivoting. I want to hang out with her more. Josh – I am gunning for that HOH tomorrow. Over the next couple weeks we distance ourselves even more. I can start to become a floater. Christmas – Jason has been trying to get me out since day f**king 1! Josh – in business you get one chance. I apply that same logic in here. If you show me that you can't be trusted, then you can't be trusted. He (Mark) has shown me multiple times that he can't be trusted. Christmas – you can't let your guard down until we're top three. Josh heads to bed. Christmas – suck it up Christmas .. jury, top eight, top 3… game face motherf**kers, GAME ON!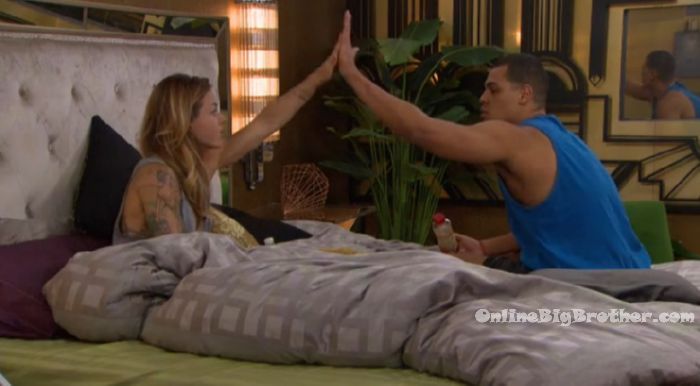 2:30am – 2:45am Lounge room. Josh is talking to the cameras. I feel bad about some of the things that have happened but I never claimed to be perfect. I am 23 and I am learning. I am loving life and I am the happiest man in here. I hope I win HOH and I get another letter. Josh heads back to bed…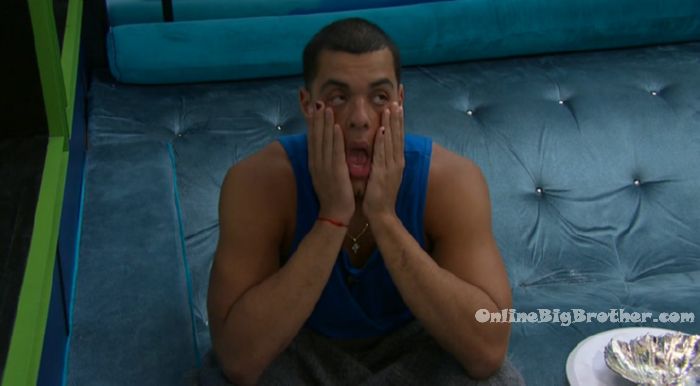 2:45am All the house guests are sleeping..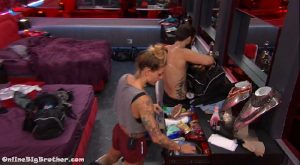 1:06pm Thursday
Paul is pissed because "Hommie" is using his stuff. (Matt is hommie)
Xmas – I don't understand why these people think it's OK to take something..
Paul – she puts so much highlighter on her face
Xmas – and that's mine.. she goes through mine and takes mine..
Xmas – I swear to god if she eats one of my truffles I will face r@pe.. (huh?)
Paul – at this point it's getting a little crazy.
(people are sick of Matt and raven taking their sh1t)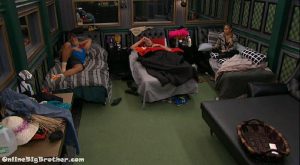 1:20pm
Alex – a whole thing of soda the whole thing
Josh – who drank it
Alex – I think Raven
Jason – shows how shady she really is.. sucking off your t1*s while she really hates your guts
Josh – wait, you didn't hide one
Alex – I did, but we were drinking it.. I drank two cups of it then the whole thing was drank
Josh – she doesn't even drink soda like that
Alex – she drinks sprite
Josh – yeah Cola.. You should just hide it under your f*ing bed
Alex – then I won't be cold
Alex says Raven's food is too salty
Jason – she's a terrible cook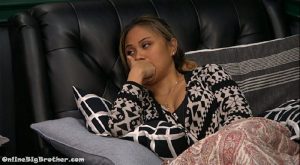 1:38pm Alex and Jason
Jason whispers that everyone is "marrying up" now because they know him and Alex will never split. Points out Josh and Christmas as a pair.
Jason – as soon as we squash matt, Kevin is going to go nuts because she'll (raven) will be stuck to Paul's a$$
Alex – she might stick to kevin's a$$
Jason – that would be f*ing hilarious
Alex – he might like that because he'll finally have someone
They want to wait until after Matt and Raven leave the kitchen before they go get food.. they go back to studying.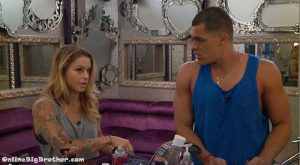 2:40pm Xmas and Josh
Josh is fired up to win the HOH. He wants to take out Jason. Josh doesn't trust Matt enough to do it, Xmas doesn't either. Xmas warns him that Matt and raven always bring up Josh as a pawn.
Xmas – you can't go up.. but we have the numbers to keep you safe
Josh – i'm not leaving my life in nobody's hands..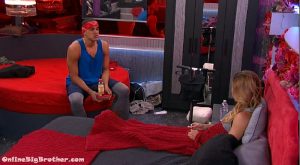 3:16pm JOsh and Xmas
Pissed that Jason made a joke that he would put Xmas up.
Josh – that's a mean a$$ joke.. he played himself..
Xmas goes on about how they are safe they have the votes etc etc..
Xmas – you cannot give up you are capable.. whatever it is I want you to hold on..
Xmas – Even if your fingernails are ripped off I still want you holding on
Xmas – warrior mindset..
Xmas – competition day you know what I eat for Breakfast… souls.
(How dare Jason that's not what Paul wants)

See what they can't show you on TV Try the live feeds for FREE!
ZingBot Zings
Kevin, I hear you like to use saran wrap to preserve your youth. News flash, too freaking late! Zing!
Matt, congrats on making it so far in the game.. especially since the only thing you have done is… Raven! Zing!
Paul, LAst season you taught me so much.. like how to have friendship, how to be pissed, and how to lose half a million dollars! Zing!
Josh, my heart goes out to you. You shed so many tears this summer. Too bad you cant shed any, weight! Zing!
Poor Raven, You got the clownitard. that is the worst punishment ever. Oh wait, that's just your face! Zing!
Mark, I think you might be bye-sexual.. everytime you tried to get sexual with Elena, she said bye! Zing!
Alex, what do you call someone with bleached blonde hair.. likes to wear cat ears and handles lots of wieners? A ——— (sound effects) (they're implying a ?)
Alex, I see you have been forced to carry a ton of dead weight, or as I like to call it, Jason! Zing!
Xmas , You have such a good heart. you will find no coal in your stocking this holiday season. However, you will find 10 shattered bones, 9 weeks in a cast, 8 surgeries, 7 more xrays, 6 years of rehab, 5 titanium screws, 4 hospitals, 3 pain pills (more like 3 million),2 two crutches, and a guilty rodeo clown!
Donations help us keep the lights on. If you would like to support the site please consider donating.
Links to the ranking system
Rank your house guests here
For those of you that like Statistics here are some expanded reports.