HOH: Christian
SAFE: Xavier, Alyssa and Sarah Beth
HAVENOTS: Azah, Big D, Britini
WILDCARD players left:
WILDCARD Competition Winner:
Nominations:
Power of Veto Players:
Power of Veto:
Power of Veto Ceremony:
Big Brother 23 Houseguest Rankings – – RANK THE HOUSEGUESTS –
View the previous day ranks on the – Ranking Grid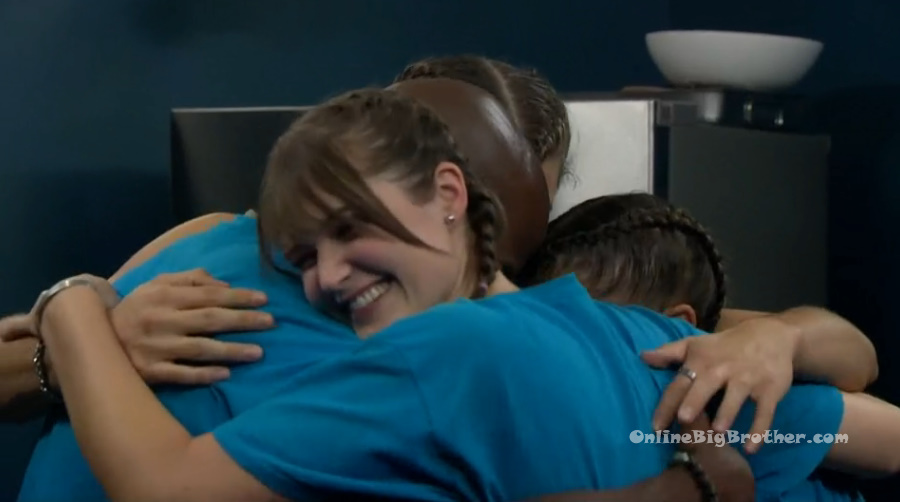 7pm Storage room – Christian, Xavier, Alyssa and Sarah Beth.
They celebrate being the only team of four. Alyssa – and we thought we sucked in the beginning. Xavier – they're going to feel hustled. Christian – I've got a veto comp to play and then y'all have got to kick some a$$ in the HOH next week! Sarah – I'll kick a$sS. Xavier – well we can still compete in the wildcard because this is the second week in a row that we haven't had to. Alyssa – do you think teams are going to end next week? Xavier – maybe but that doesn't mean that the wildcard will. Xavier – we still get the HOH room. Christian – every single situation that we planned if she wins…what if she wins.. what the f**k am I supposed to do. Alyssa and Xavier – its going to have to be the same thing. Sarah – do what you feel like and I will support you 100%. Xavier – we'll talk. Christian – this is a big responsibility. Xavier – that's why you have your whole team. Alyssa – no one is going to believe that you're making decisions without us. Xavier – its a group effort. Alyssa – but you don't want it to be all on you. Christian – right. Alyssa – I don't know about you guys but I am fine with saying I agreed with this too. Xavier – first nominee is Julie Chen. She's got to go up. Christian – yeah she has been talking too much trash. They wonder how likely it will be for a battle back. Sarah – you officially have the most comp wins. Xavier – You have a comp win in every single category. Wildcard, Veto and HOH. You're basically the male Janelle. Christian – I don't think this is likely to happen but if this sh*t goes to my head .. smack the sh*t out of me. They all agree that it won't. Christian – I don't think it will because I don't even want this responsibility. I just want to go and drink all my alcohol tonight.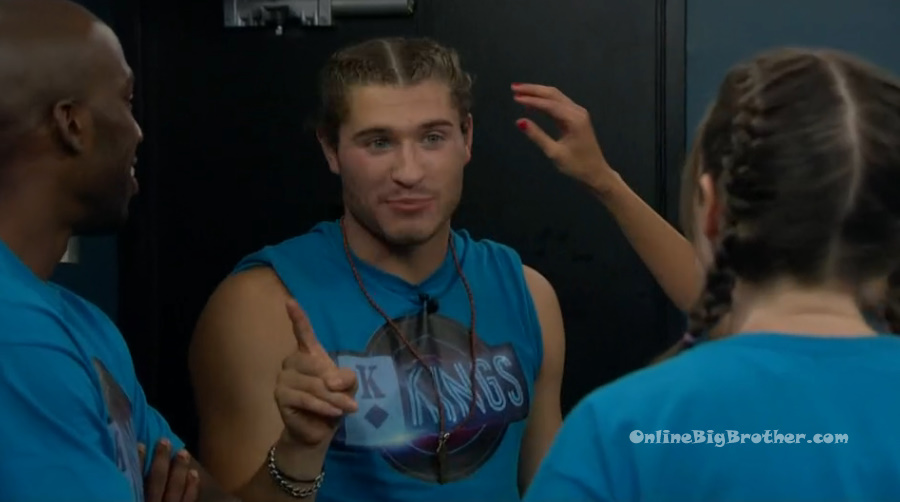 7:05pm Bedroom – Big D and Xavier.
Xavier – Dawg you've got to bring it here. Big D – that b***h is crazy! Xavier – no one is looking at you. If you start acting out of sorts or pissy you will give them a reason. Big D – I am just worried about that damn Christian and his girl. Xavier – they're on my team. They're on my team. Our whole team is like this. Big D – those motherf**kers were ready to cut each other. He was ready to put her up and she was ready to put him up when I said if I win who would you put up. Guess what they both said .. each other! Xavier – in order to make sure you aren't on their radar you have to stay calm. They have intended targets for the week and your teams names have not been brought up once. The girls name that you think is still going to be the target. Big D – I need an individual challenge next week.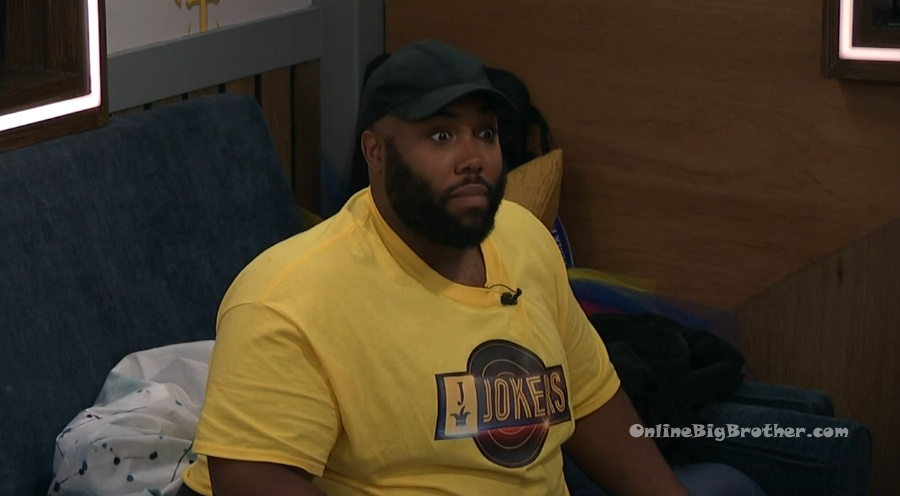 7:10pm Bedroom – Azah and Tiffany.
They talk about the wildcard competition. Tiffany – its got to be someone that can beat Whitney. She can't win safety because if Whitney wins safety Hannah is the target.. Azah – yeah. Tiffany – if they can't come after y'all. And I don't know if they're coming after us. They might go after Claire and that's why Claire has got to go for it. Claire's name has come up a lot of times. Claire joins them. Tiffany – We need to have a king slayers meeting. We need to get back together. Azah – I don't know why we didn't have a meeting last week? Tiffany – I didn't say ask a lot of questions. Azah – you're doing the wildcard. Tiffany – she has to. Claire – Whitney is also doing it. Claire leaves. Tiffany to Azah – you need to lay low and Big D needs to chill the f**k out too. Azah – yeah I told him. Tiffany – he definitely wants to send Whitney and it doesn't f**king matter if he puts Hannah up. We just have to accept it. Her cards might get shown a little sooner.
Azah – we need five .. or six but we need outside of that so that we don't show our cards. So its Derek and Claire we have to talk to and SB (Sarah).
7:30pm – 7:45pm Living room. Whitney and Big D.
Whitney – I don't know who the target will be. Big D – If I am put up I WILL F**KING FLIP! I WILL F**KING FLIP! Because there is no reason.. Whitney – I think it could be any of us …like it could be me. Big D – I mean I don't think it could be you. Whitney – I think it could be. I don't think there is a clear target so it literally could be anyone. Big D – and because there isn't a clear target it is going to be the he said / she said bullsh*t. And we're not dealing with one HOH .. we're dealing with two HOHs. Whitney – like the same team .. two in a row? Big D – no. Whitney – oh yeah I know what you're saying. (Christian and Alyssa)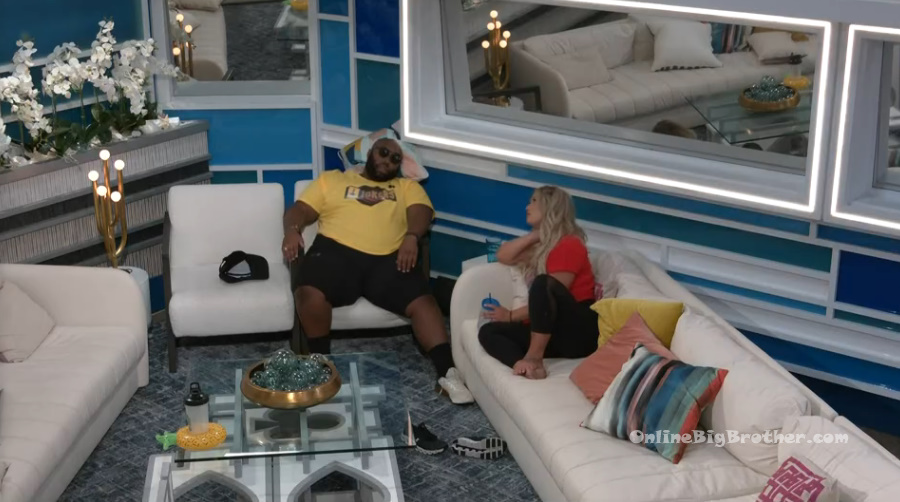 Azah "I'm trying to see what you're moving.." #bb23 @bigbspoilers pic.twitter.com/sY77hYwYVM

— Dawg (@DawgsBigBrother) July 30, 2021
8:10pm Havenots are: The Jokers – Azah, Big D and Britini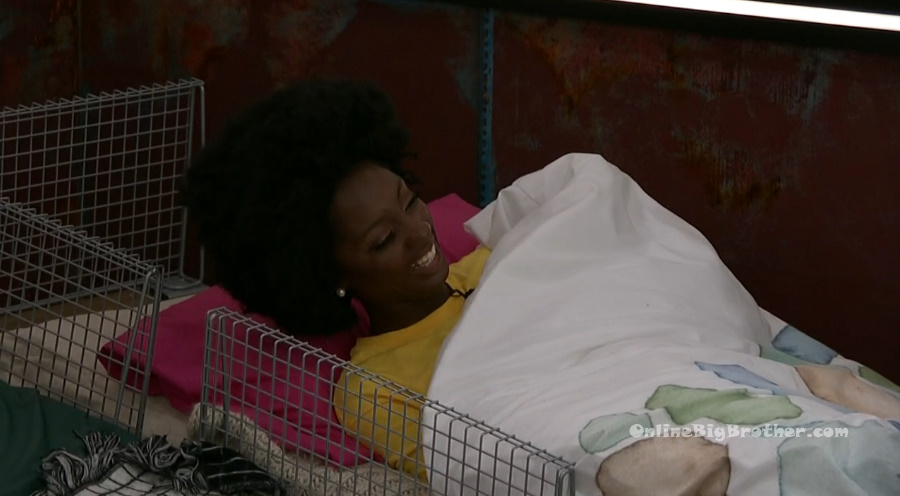 Christian and Alyssa talk about the wildcard comp players for tomorrow. Alyssa – its definitely Whitney and Big D.. and then its either Claire or Azah. Christian jokes while Big D is near asking Alyssa if they should just put Big D up or back door him.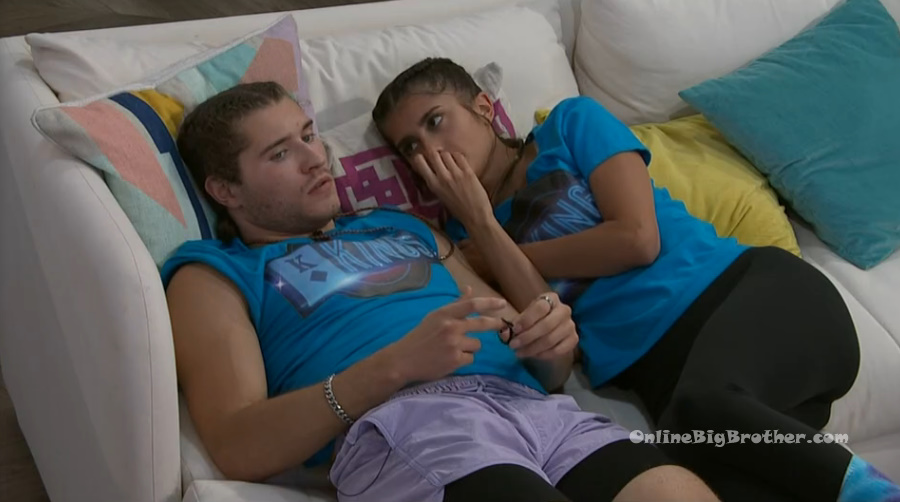 8:45pm Kyland and Sarah working out. The other house guests are sitting around chatting..
8:53pm Gym – Sarah and Kyland.
Sarah – Christian has talked about putting Whitney and Hannah up or Whitney and Azah up. I am hoping he goes Whitney and Hannah personally. Kyland – I am down with that. Sarah – but at the end of the day, it is what it is. Sarah – I can't wait till we're sitting in the final two seats .. and then we can say that we started this day two. Especially if no one even has a clue .. it will be so good!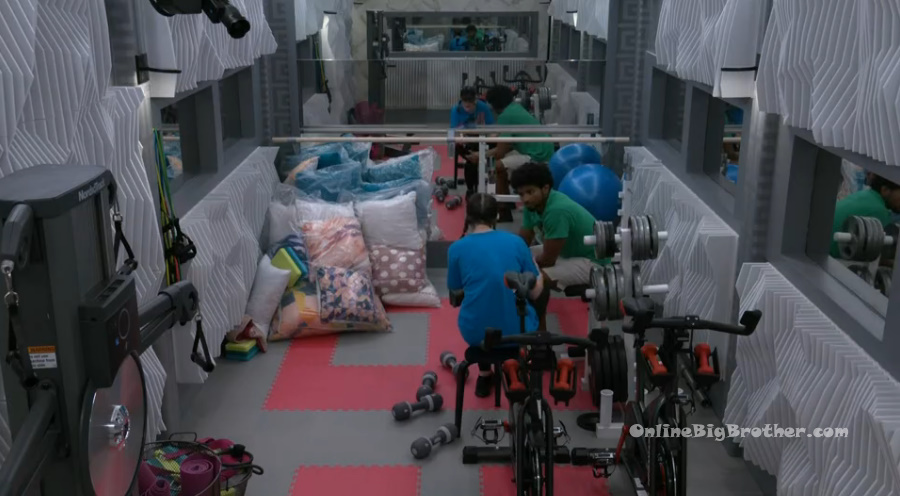 9:35pm – 10pm Derek made soft tacos for everyone. The house guests sit down to eat. Christian – Honestly, I think I am going to run my HOH like Frenchie's. Tiffany – explain what that means? Christian – I want a little bit of craziness. Clarie – how many people in the house do you think you're going to target? Half the house or more? Alyssa – promise everyone that you're not going to put them on the block, and then put them on the block. Christian – let me just start by saying all you girls are completely safe. Derek X – minorities, you're good! Kyland, I have nominated you. Alyssa – mine was double, Hispanic and a woman. I need two pawns!? Derek X – can someone nominate as a pawn?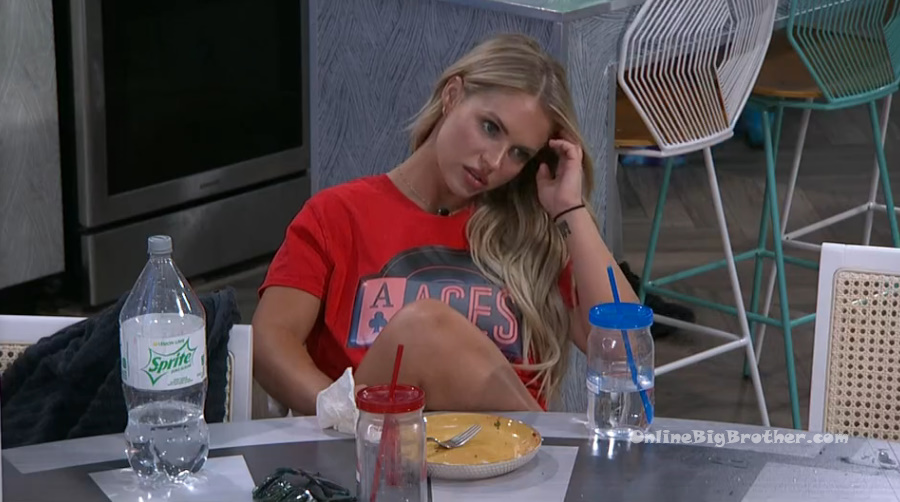 11:06pm Christian gets called to the diary room. Once he comes out he'll be able to get into his HOH room.
11:20pm Christian comes out of the diary room. All the house guests head up to the HOH room. They all check out his HOH photos, HOH letter and basket. Tiffany reads his HOH letter from his mom and dad.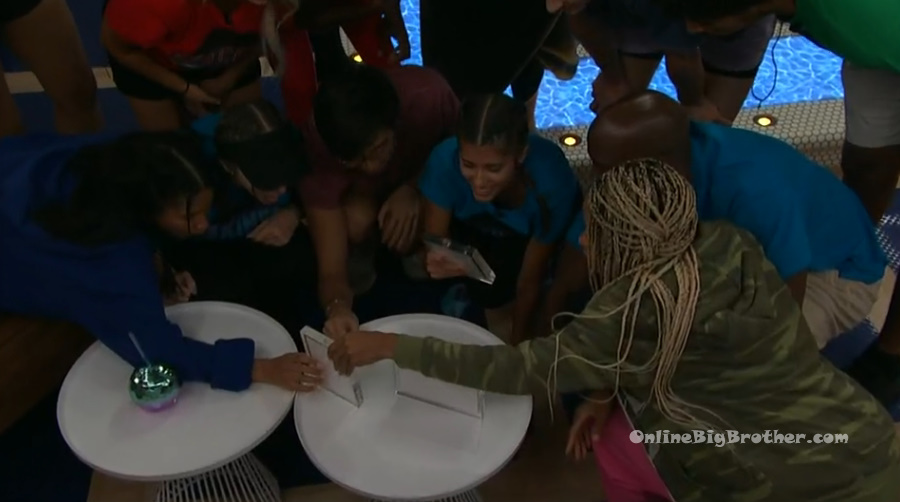 11:30pm Living room. Azah to Big D – what do you want to do tomorrow (for the wildcard comp)? Big D – No you go for it. Azah – Claire is doing it too. Do you thing I can beat both of them (Claire and Whitney)? Big D – I am cool, you go for it. And if he wants to put me on the block, I'm cool with it. Do you want to know why? Because I am going to flip this house so hard if he puts me on the block. Azah – do you really think he's going to put you on the block? Big D – you heard what his letter said.. Azah – what? Big D – Remember, its a game.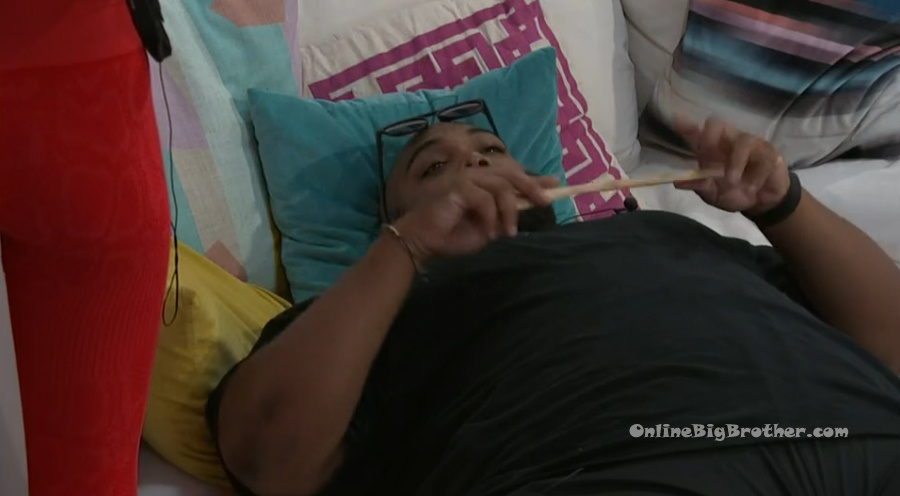 11:40pm – 1am HOH room. Christian, Alyssa, Sarah and Xavier.
Christian – I don't know what I am going to do. Every single plan we had was when you win this is what happens, when you win this is what happens. Alyssa – but I thought if you won, it is still the same plan. Christian – I think its still the same. Alyssa – I think it is the same plan but more so who the target is and who you feel comfortable with. If the queens had won it would have been the same plan. Christian – I think we have to put both of them up (Hannah and Whitney). Xavier – and then determine through out the week who the target is. Christian – yeah. Xavier – so would we tell then both that they're the pawn or would we have a clear cut target? Sarah – I think you should just put both up and say I don't have a target. Alyssa – I think we need to think what is best for us because we just won this and we're going to have to keep winning because we're going to be the target all the time. Xavier – The only way I see Whitney feeling comfortable going up is if she is the pawn. Hannah will probably feel comfortable as a pawn next to Whitney. Alyssa – I think they would exchange notes. Xavier, and Sarah leave the HOH room.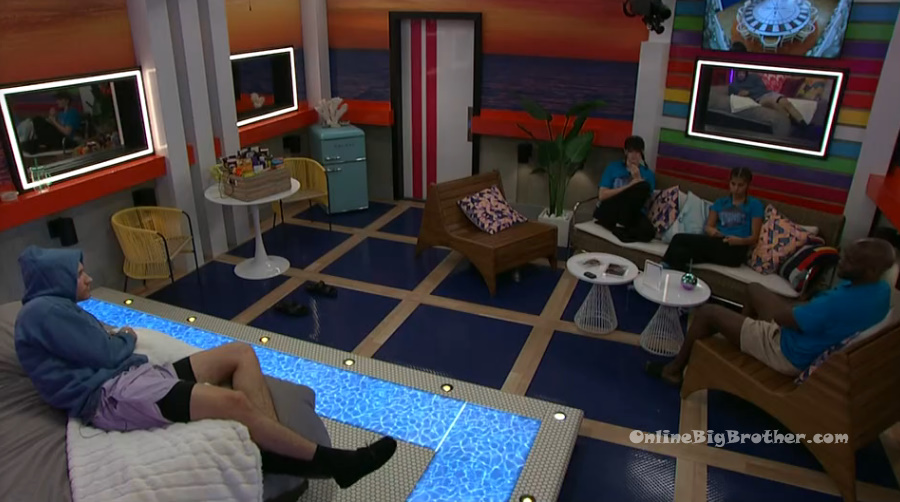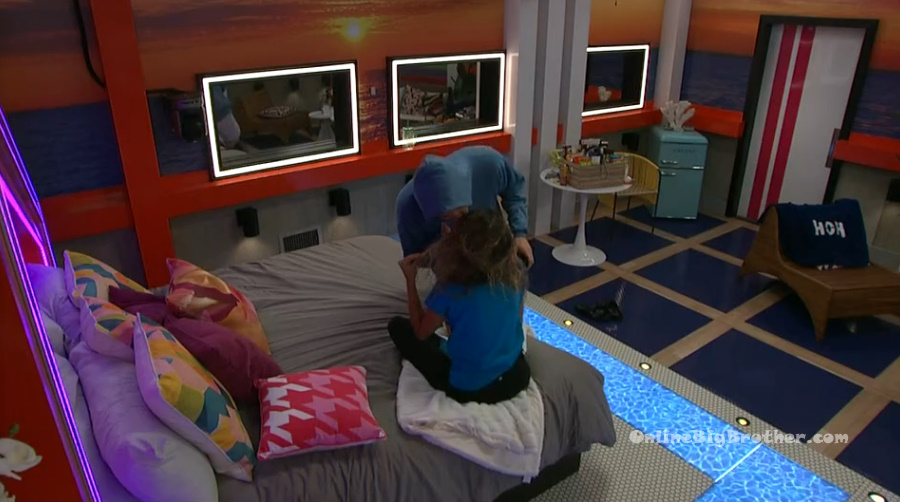 If you like these spoilers and read this blog regularly please consider a donation to keep the madness going. We accept donations via paypal How to support OBB