HOH: Sarah Beth
HAVENOTS: DX, Ky, Tiff
Nominations: BIGD Xavier and Claire
Power of Veto Players: Azah, ALyssa, DF, Xavier, Sb and Claire
Power of Veto: Xavier
Power of Veto Ceremony:
Big Brother 23 Houseguest Rankings – – RANK THE HOUSEGUESTS –
View the previous day ranks on the – Ranking Grid
Big Brother Spoilers – DX wasn't picked for Veto chances are very high Veto will be used and DX will be the replacement. Fun times.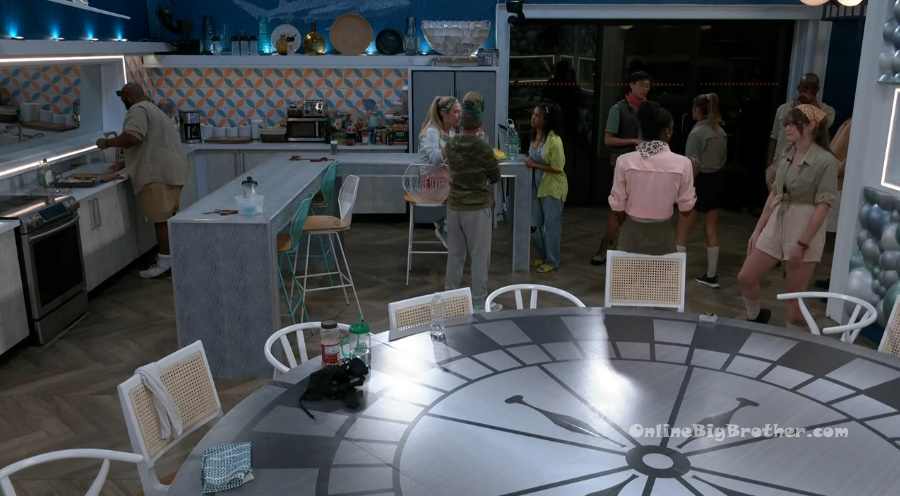 3:18pm – 8:56 pmBig Brother blocks the live feeds for the power of veto competition.
Xavier WON the VETO!
It was a prize / punishment veto.
Xavier – won the veto but to win it he had to take 3 punishments: 3rd nom next week, 24 hour solitary confinement leading up to live eviction, BB Bucks bankrupt
Big D – $7500
All the house guests are in the kitchen talking about the veto competition. Xavier – if I wasn't on the block I would have gone straight for that money! Alyssa – I did the 2 weeks havenot and 24 hour lock down and BB Bankrupt. Derek – did they say that 3 nom would not be taken down. Xavier – yeah they said the coin of destiny would not be taken down but then you get to play in the golden power of veto or if I won HOH then I can't go up. Derek – its crazy that you had to take disadvantages if you went for the veto. Sarah – it was a really cool comp. I like it. If you went for all the money there was 10k.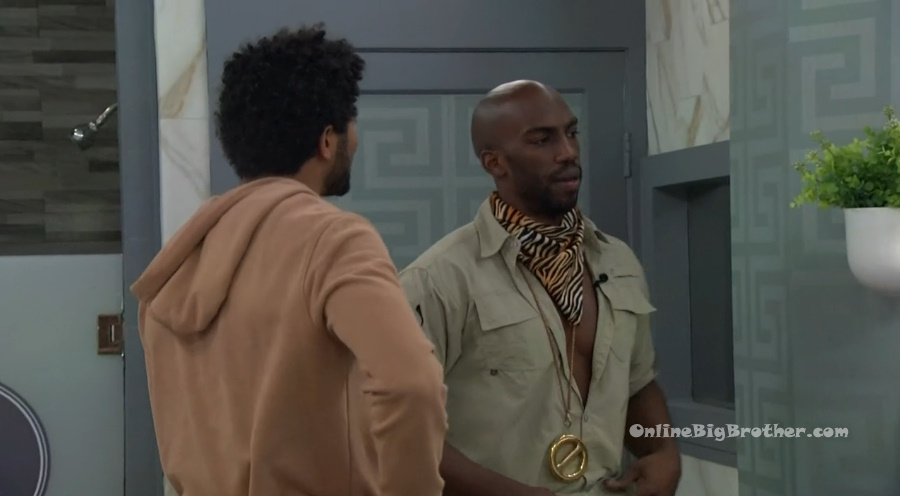 Bathroom – Xavier and Kyland.
Xavier – Not that Tiffany was upset be she was nervous that if Claire came down she would have to show her cards between me and DX. Kyland – but that's the point, it wouldn't matter. Alyssa joins them. Xavier – its great to be safe but also to be nominated by a f**king power. Alyssa – Alyssa's f**K up didn't f**k up the week! We're safe! We're safe! I feel like you're excited but you're not. Xavier – ah .. it is what it is. Alyssa – I'm sorry. I went for the 24 hour, the slop and then the BB bankrupt. I did 7 minutes. Xavier – So Claire went for the two that I went for BB bankrupt, and the solitary confinement. Alyssa – and then she went for the veto. Xavier – and then she went for the veto disadvantage.. and I was like that is going to take too much time. Alyssa – yeah, way too much! It looked to much like .. complicated. Xavier – if you were going for the veto disadvantage you might as well have gone for the solo havenot.. because that would have taken a loop. Alyssa – that's what I did. Xavier – third nominee so they did say we get to play in the veto so f**k it. I will just go for that comp. I mean I was on the block and went for this veto so.. just means I got to win. Alyssa – I think the only person that has money is Baby D and Tiffany. Xavier – maybe Tiffany. Alyssa – and maybe now Big D. Big D obviously went for that 16 minutes?! No wonder I was stuck up there for so long! 16 minutes?!!?! I was having a panic attack in the upstairs DR so I went to the other DR. 16 minutes?!?! Xavier – Mmmmhhmmm. Alyssa – I was so proud of my time. Kyland joins them. Xavier – I am not really tripping because I have already been nominated by a power before. If I get taken out of the game because of a power .. I can live with that. I got beat by Big Brother. Ky – that is a fair line of thinking. Xavier – I can live with that. I had to assume everyone did it. Ky – or that at least Claire did it. Xavier – I had to assume Claire took the same path that I did. Alyssa – she did either huh? Xavier – she started to. Ky – so it works like next week you go up and if the coin power is used .. you still stay up. Xavier – the only way I can come off is if I win the veto.. Ky and Alyssa – or someone uses it on you. Alyssa – and then if he is HOH .. then the next week after he would be the third nom. Ky – it would be good to run the numbers on that to figure out what is best. Xavier – oh I will. Alyssa – if anyone is trying to target you.. you can play.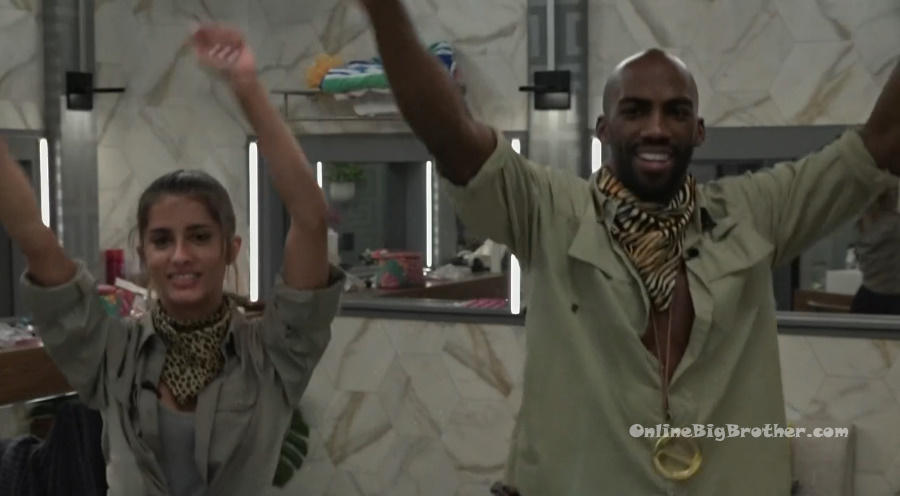 Alyssa & Xavier celebrate @bigbspoilers #bb23 pic.twitter.com/bKmUmkke5G

— Dawg (@DawgsBigBrother) August 22, 2021
Claire and Azah.
Azah hugs Claire. Azah – I am sorry. I am sorry I couldn't help. Claire – its okay. It sucks but he went for it. I should have known. Thank you Azah I appreciate it. Azah says that she didn't even think about going for the prizes. Azah – you never know I might be up there with you.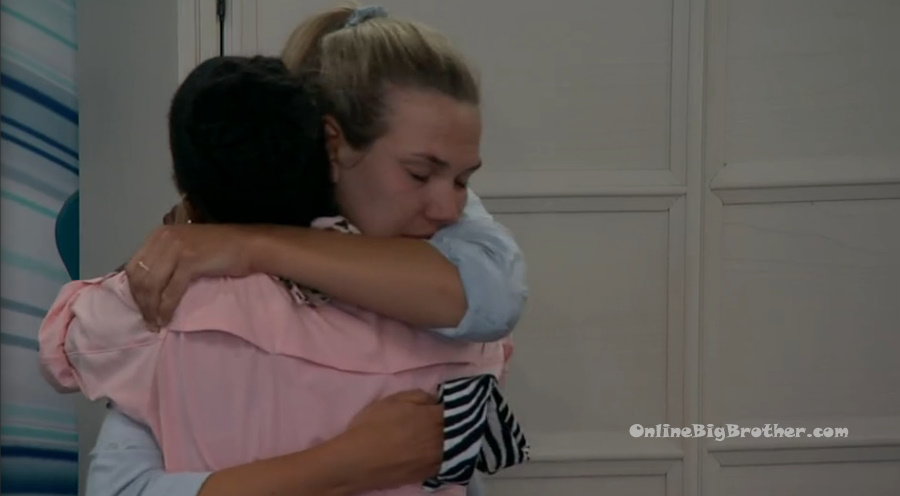 Azah heads into the back bedroom with Big D.
Azah – you don't think they would put me up now? Big D – they wouldn't put you up, they're going to go for Derek X. They wouldn't put you up.. I mean what do you want me to do!? I am safe for the week, why would I not go for it. That is stupid. Azah – I know. Big D – if you don't go for the money.. I mean Sarah Beth went for the money. It night not be a guarantee I win this game. Azah – I know there is not guarantee you win the game but its your perception in the house. Alyssa – took you off and replaced you with Xavier. Big D – MMmmhmmm.. yes, Xavier was going to win. When I saw the comp I knew Alyssa or him would win. Big D – how can you not! If you know Xavier is fast.. and you look at the comp.. and Xavier is smart. Azah – I see it from your point of view. I am trying to set myself up weeks ahead. Did you tell them that you would take Xavier off if you won? Big D – yeah but look at the comp.. there was no way I could have won it… 3 minutes?! If I didn't go for it I would have felt stupid. 7.5K would have taken care of my taxes. Big D says that he wishes he would have "went for the whole fucking 10k"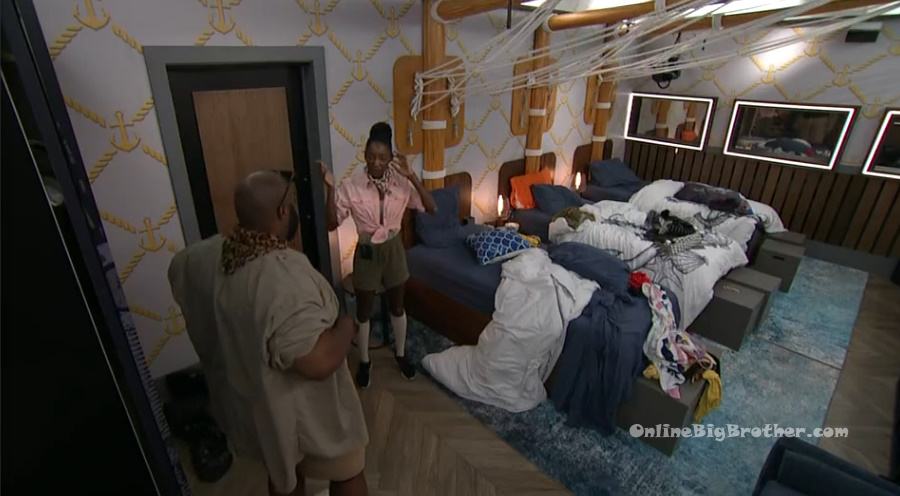 Bathroom – Sarah, Xavier and Alyssa.
Sarah – I was surprised Azah didn't go for it. Alyssa – she really wanted to pull him (Xavier) off. Sarah – I could see that. Xavier – I knew there were several people who wanted to pull me off but I knew they would have hell-a-punishments if they did. I would rather me get it and take myself off and them not get the punishments. Alyssa – I was fine with the three that I was going for. I don't mind being a havenot… I've already done it two weeks. The 24 hour thing was kind of freaking me out.. pooping in a bucket but.. Xavier – we've got to poop in a bucket!? Sarah – yeah you wouldn't even be able to leave the room and to make it you would literally leave the room and you go vote. Xavier – I'm okay, I'm cool with that. Alyssa – its till live eviction. Sarah – it literally until live eviction .. you would end your thing and immediately go vote. Is what they wanted it to do. Its the 24 hours leading up to live eviction. Xavier – I didn't give a f**k about that one. Havenot room is already home. Sarah – honestly I was thinking about the backdoor (Derek X) having 24 hour confinement wouldn't be that bad to say away from everyone. Alyssa – I was prepared for it. They talk about how Big D would be the only one with money next week and wants to take out Tiff or Claire. If Baby D leaves this week and we put up Tiff and Claire .. Big D would just leave the same noms. Sarah – heck yeah, that's not bad. Alyssa – he knows that Claire was trying to swing the vote against him.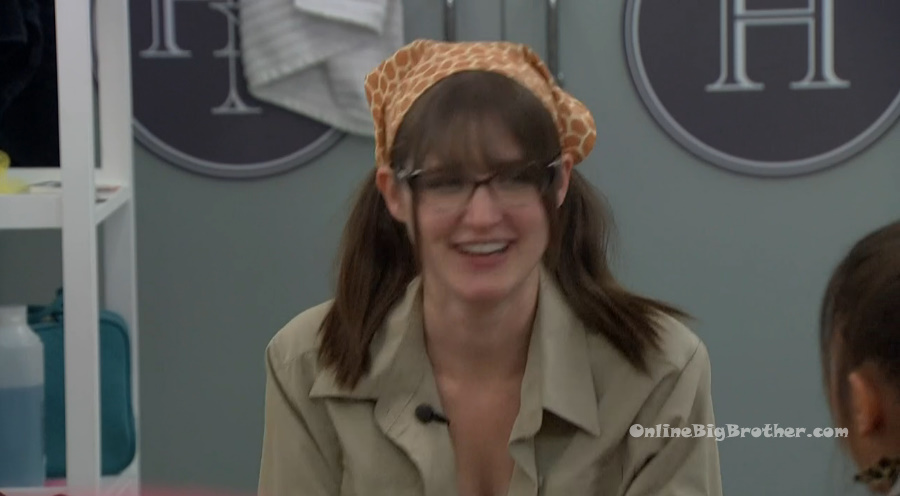 9:17pm Bedroom. Azah, Alyssa and Big D.
Big D to Alyssa – are you upset at me because I went for the money? Alyssa – no. X is off the block, I don't give a f**k! Alyssa – now you have ___ bucks right? Big D – yeah. Alyssa – if you get it .. how much is it $75 next week. Big D – yeah. Alyssa – okay that's good. Big D – I know! Alyssa – because if I am HOH or she (Azah) is HOH you basically just do the same thing. Big D – I understand it might paint a target on my back but number one I am safe. Alyssa – you're fine, you're fine! Big D – Xavier, you and SB were playing for Xavier and when I saw the comp I went … why am I going to try and go for the veto!? Alyssa – you're fine! If one of them put you up .. now you have enough money (for a power) so if one of them put me, or you or Azah up .. you have enough money to play.. so its fine! Big D – right, I was looking at the bigger picture!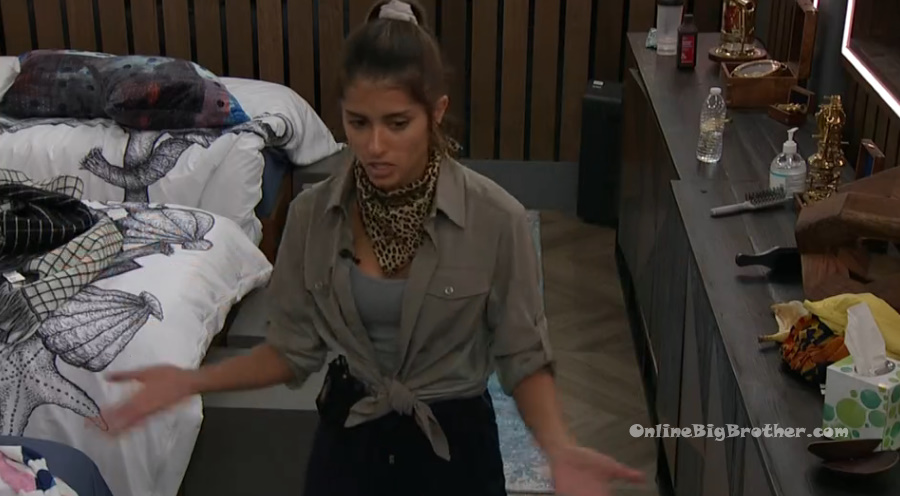 Bathroom. Claire and Derek X
Claire is crying in the shower. Derek – I think you're good. I think there is a very high chance that I am going up. Claire starts crying more – I know!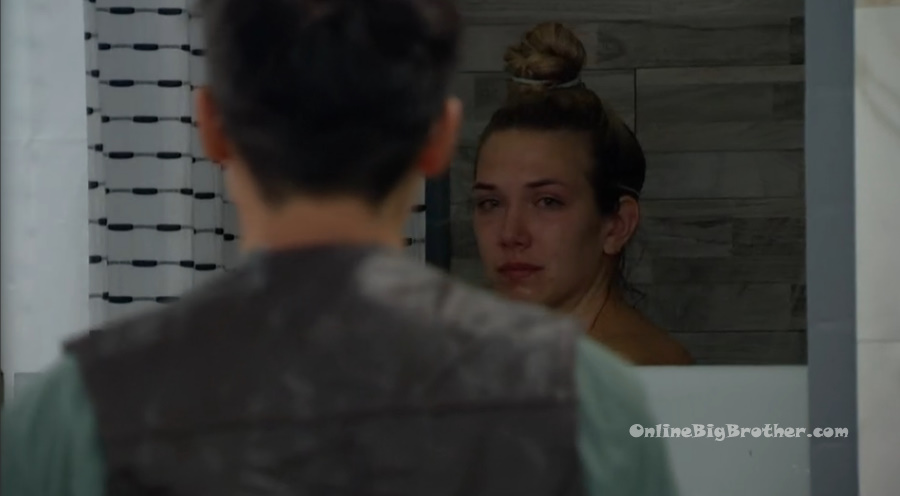 9:45pm Living room. Sarah and Xavier
Sarah – that comp was crazy!! Xavier – in no way was I prepared to see that sh*t. Like when I walked out $2500, $5000… He talks about how he was going to try and go for the 5k and then go for the veto but Big Brother said nope .. if you want the golden power of veto you must take 3 punishments. SUCK MY X! Sarah – now Big D can stop raggin on me for getting 5k. Derek – he still does?! Sarah – like yesterday! He brings it up all the time. Derek – I'm sorry. Sarah – its okay, I think its funny.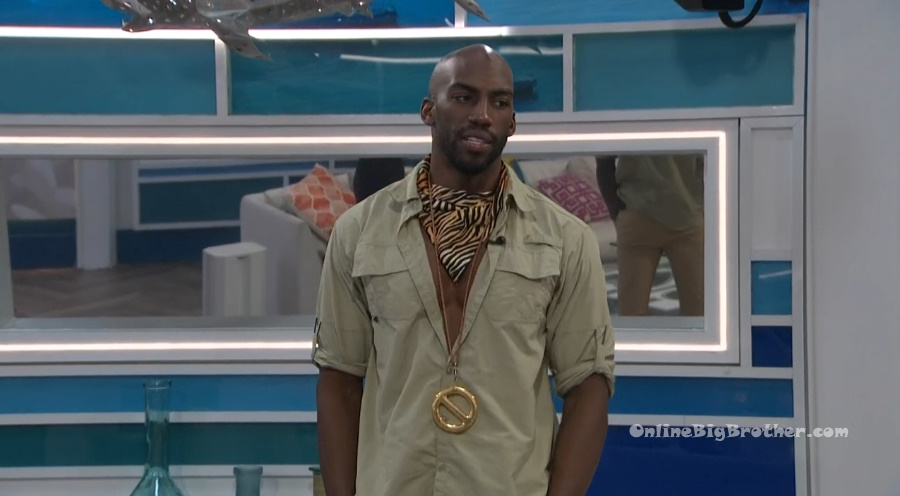 10:05pm Havenot room. Ky and Xavier.
Ky – the reality is that Claire as HOH has a higher probability of leaving two members of the six up there which is a reality but here is the thing DX isn't coming after me. Xavier – if Claire wins, we'll deal with that and also DX has the most money .. if we take him out Big D is sitting pretty. Big D went for the money, if he didn't go for the BB bucks I was going to be pissed because that is the only reason why I was like f**k it I am going to go for this (Veto). KY – oh you wanted him to go for the money instead of the BB bucks? Xavier – no I was like you can get two monies. Ky – I am going to be the vote sending him (DX) home. And there is a good chance that we win this next HOH to stop Claire from winning it… and I am like at this rate I am going to be the one to send SB home. Xavier – yup. Ky – because people are like no.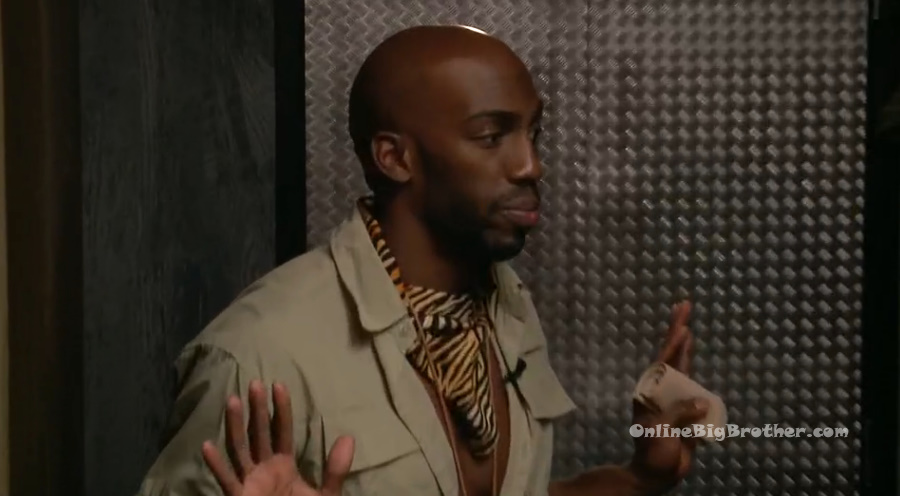 10:10pm Storage room. Claire and Xavier.
Claire – you did so well! I should have gone for the stuff. Honestly you just send it … and I didn't send it! Xavier – at least with the third nominee you have a chance to play in the veto and even if you don't win it.. it depends on who the other two people sitting up there are. Claire – yeah. Xavier – there might be bigger targets than you or there might not and you might go home on a power.. Claire – it is what it is. I didn't think you were going to go for the BB bankruptcy. Xavier – I didn't want to. I was like I feel like I am in a good position right now and I didn't want to. I was trying to get in your head and think what will Claire do?! And I was like if I go home being the third nominee ..then oh well. Claire – and it is better to be here as a third nominee next week than not be here this week. Xavier – true. Are you okay? Claire – I'm okay, I had a good cry.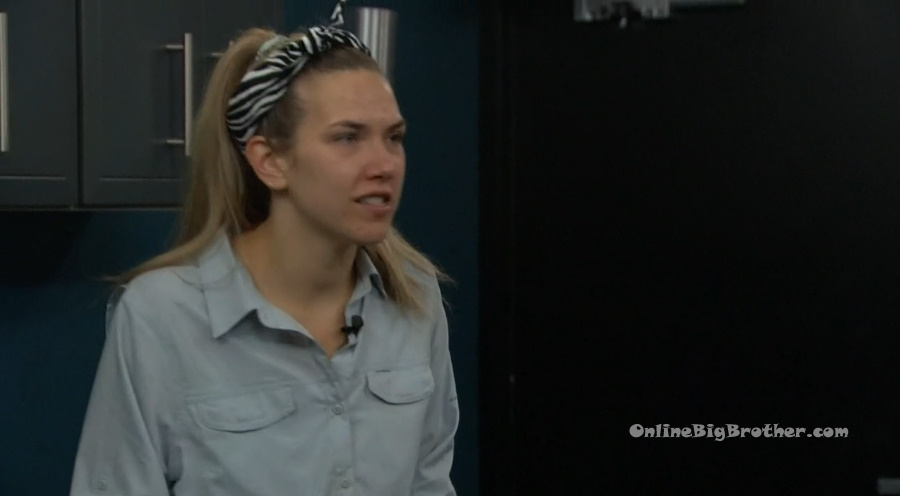 10:37pm – 11:20pm HOH room. Ky and Sarah
Ky – did you just really want to win the veto or you could have gone for the prizes too? Sarah – I thought it would be a bad decision because I am trying to earn as much trust as I can with the kings right now. Big D – good call. Sarah – I thought it would be a good gesture. Also I wanted to go for it and when I saw it I thought that I could. I would have been second place. The way I see it, I've got Alyssa, X, big D, Azah already confirmed.. and Tiffany. Azah literally played to take X down. What I do have to think about is what DX will probably do in retaliation once he's on the block. Ky suggests the four of them sit down to talk about it. Sarah – I've shown them (kings) trust by play for the veto today. Ky – and I did last week. Sarah – I don't know how much we can trust them to work with us as a final four. I want to work with them but for how long. Ky – final 6. but to final 4 I don't know. Sarah comments on how having to put up Derek X on Monday is literally going to kill her. Ky – but he is my best friend until right after you.. I think this is the best decision. I am good with it. Sarah – I am so good that DX didn't go up in that roulette because I think he could have won that (veto). I honestly think it would be best to get rid of some of these stragglers. Hannah we don't want to keep her around too long. Tiff and Claire they can probably go. Ky – I would do Claire first only because she is after me. Sarah – she will be after me after this too. She will likely put us up together and make us play the veto against each other.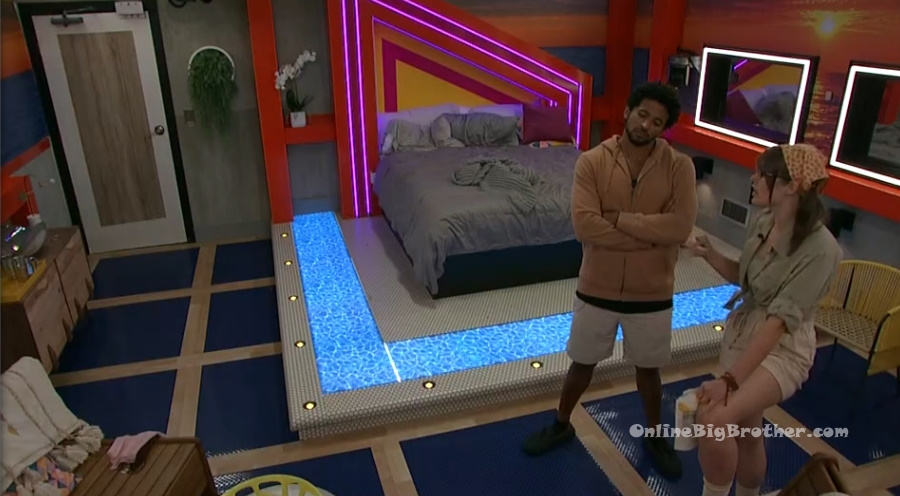 11:26pm Kitchen Table – Azah and Big D.
Big D – I think she is going to put Derek X up. Azah – I feel bad but he's got to go. Big D – he's a threat, he's got to go. If not he will play next week and we're all f**ked. This is the perfect plan. They talk about next weeks HOH. Azah – if I won HOH and you got the coup d'etat .. that would be so cool! Azah – if Baby D goes out this week .. we've got a good chance at being safe next week and a clear path. Big D agrees.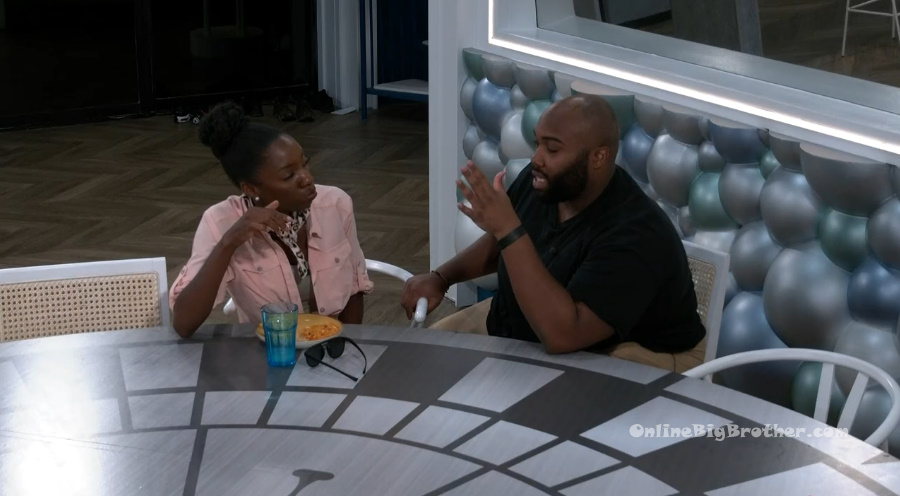 11:34pm – 12am HOH room. Derek X, Sarah and Ky.
Derek – SO .. am I getting backdoored?! Sarah – oh my gosh! I don't have a lot of options for people to nominate. Derek – that is fair. Sarah – its like 5 people. Ky – 4 people. Sarah – minus you would be 4. Ky – oh yeah minus me would be 4. Fair point! And I have to consider all of them. I really didn't intend for Claire to go home this week. And so I am going to be completely honest, I am considering all my options. Derek – no, that is totally fair. Sarah – but I am not set on anything yet. Derek – okay, I just wanted to ask. Ky – I won't speak for her .. I'll just speak for myself.. I didn't see you as an option at the start of this week. I don't want to speak for.. Sarah – absolutely no. Derek – I appreciate it. Derek – is there anything .. what are your .. what are the pros and cons that you're weighing.. Is it worth giving a pitch? Sarah – the pros are I think that you have shown me loyalty and I don't see you coming after me any time soon and I do see you winning comps so.. that is a plus for me. On the other hand.. will I ever have another chance? Its the same thing you said with Chrsistian.. and I don't know. I think you're smarter than me, more athletic than me, Ky likes you better than me, our house guests like you better than me… like those odds aren't stacked really well in my favour. Derek – fair enough. What do you think the house looks like with me not in it.. in terms of relationships.. Sarah – Umm.. its going to be duos plus Chaddha. I guess. Derek – Umm.. I agree with that and do you think we have a better chance at going further if we were a trio .. is my question? Sarah – it is possible and I am totally willing to talk it through with you. Derek – okay, cool. I just want to say off the bat its .. in this game I try to play a game of loyalty and I have been trying to build back my loyalty with you after I nominated you. And again this week by not playing the roulette wheel so I hope through those actions you see that you're someone I want to play with in this game. So when I say something like working as a trio, I mean that. And I think we have the possibility of going further in the game rather than taking a gamble as duos. Damn.. should have played the roulette wheel. Ky laughs. Sarah – If I put up Claire and Azah, who do you think would stay? Derek – If I don't hit the block, I will be forever loyal to you. We know Big D will go for the coup d'etat. I would probably be able to afford it. I don't know where Big D would go for noms. But you know I would not put either of you up or anyone that you don't want up will not go up. And I looked at the comp and its something I think I could do. Ky – yes. Derek – so if you can keep my I think I have a 50% chance of being HOH. Sarah – That's a really good point. Or you could just win the HOH comp too. Derek – but that.. much lower chances. We have double the opportunity.. Both Ky and I could win HOH .. on top of that if there is someone we don't want to win (HOH) I have a 50% chance of dethroning them. Sarah – that is true. So basically you're saying you would vote how I wanted you to vote? Derek – yes. Sarah – so my options would be Azah or Claire, Chaddha or Claire, Tiff or Claire.. Ky – who would be most valuable or least risky to keep around. Sarah – I would prefer to not take a shot at Azah. That is where it get tricky because none of them are huge threats to me. I do feel like I can beat them in comps.. but they have to be gone at some point.
Show your support 🙂 Without your support this site and these spoilers wouldn't be possible.
Please consider a donation to keep the madness going.