HOH: Sarah Beth
HAVENOTS: DX, Ky, Tiff
Nominations: BIGD Xavier and Claire
Power of Veto Players: Azah, ALyssa, DF, Xavier, Sb and Claire
Power of Veto:
Power of Veto Ceremony:
Big Brother 23 Houseguest Rankings – – RANK THE HOUSEGUESTS –
View the previous day ranks on the – Ranking Grid
Big Brother Spoilers – DX wasn't picked for Veto chances are very high Veto will be used and DX will be the replacement. Fun times.
8:10 am X and Claire
X says how the house got lucky they got two of the least freak-out people on the block.
Claire – this game there's a random chance so much of BB is just luck..
They go on about being on the block is just part of the game.
Chit chat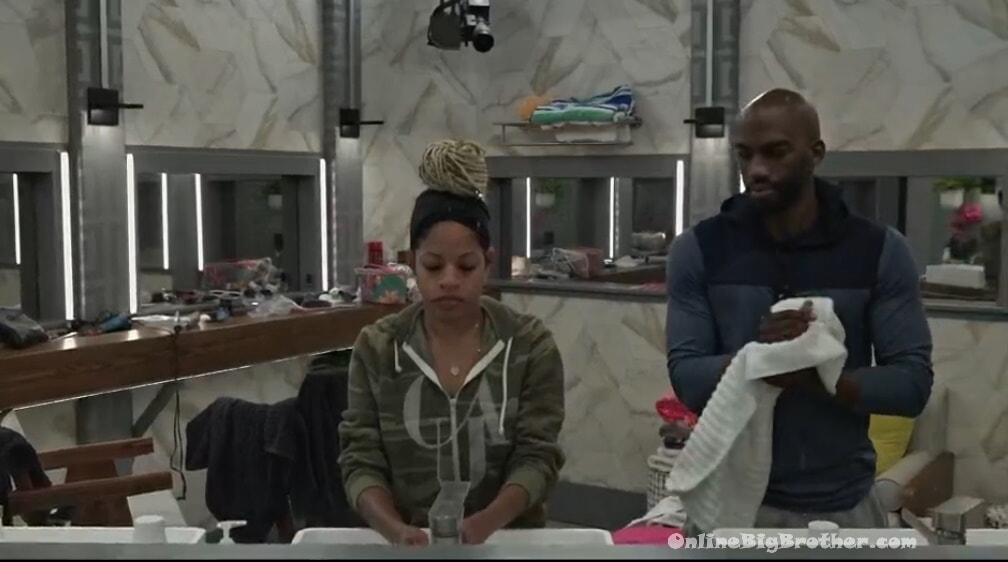 8:45 am Tiff and X
X – I'll give it what I got.. if it works out it works out if it doesn't it doesn't
Tiff – you'll be fine you don't have anything to worry about
X – How do you feel? I know this puts you in a weird position
Tiff – I don't think so. I've accepted things the way they are so ..
I'm mentally prepared for anything
X – I get you
8:50 am
X and Alyssa
They suspect it's hide the veto.. Alyssa points out some spots that are good in the coral room.
8:58 am
Studying faces now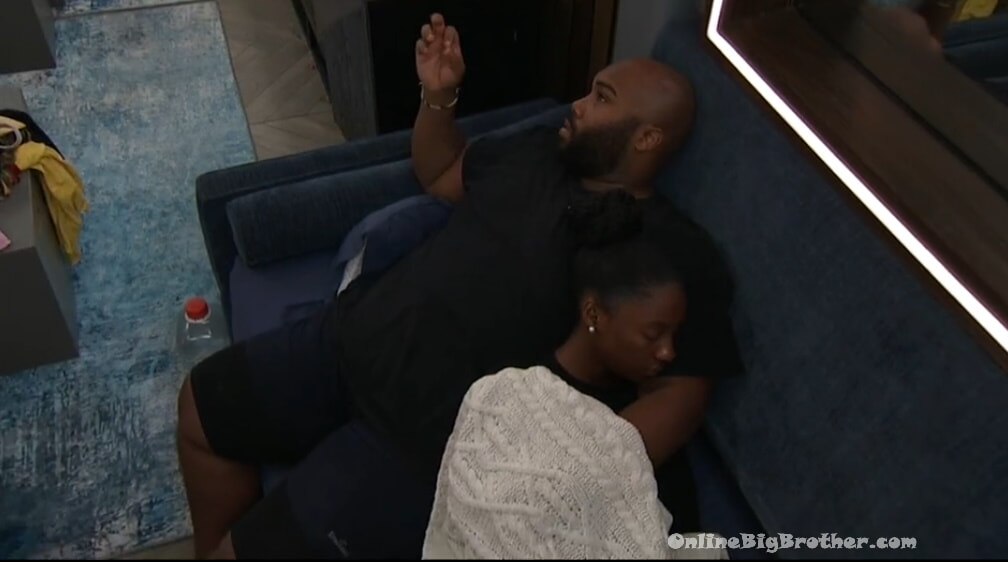 8:53 am Camped out for the season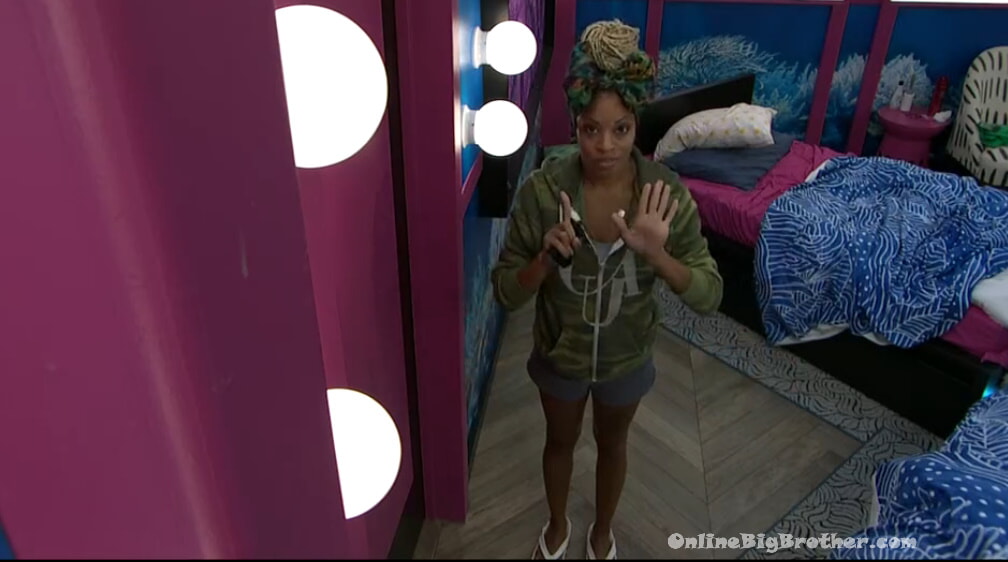 8:57 am Tiff talking to the camera
Tiff – hopefully, I get picked for veto cause I want to win SOMETHING.. My boy X is on the block too I don't want either of them to go. I don't know what will happen something will happen. (Yeah DX goes up you know this)
Tiff – We got to keep the 6 together and that might mean I have to lose Claire There might be a battle back she can always come back we'll see.. Bye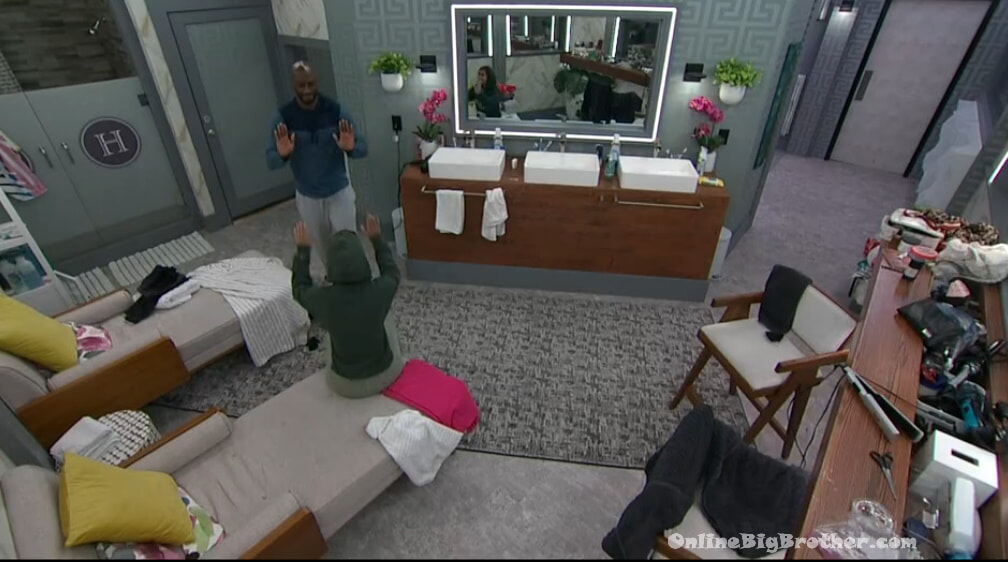 9:17 Am Xavier and Alyssa
DerekF, Azah, and Alyssa picked for Veto. Alyssa says Everyone will use the veto.
9:18 am Claire and Azah
Claire – just rough picks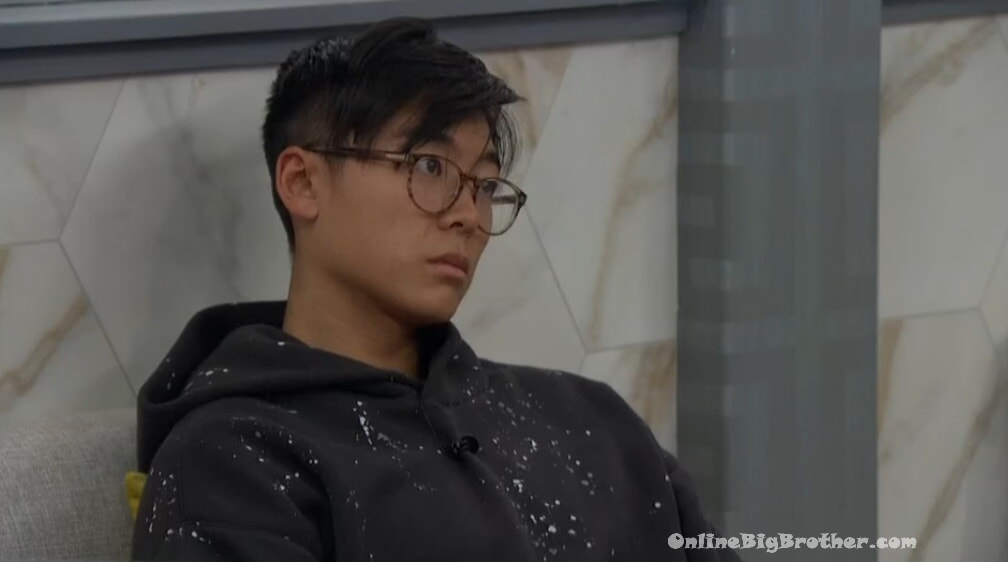 9:25 am Claire and DX
Claire – I can't imagine her target isn't one of us
DX – How did my name not get picked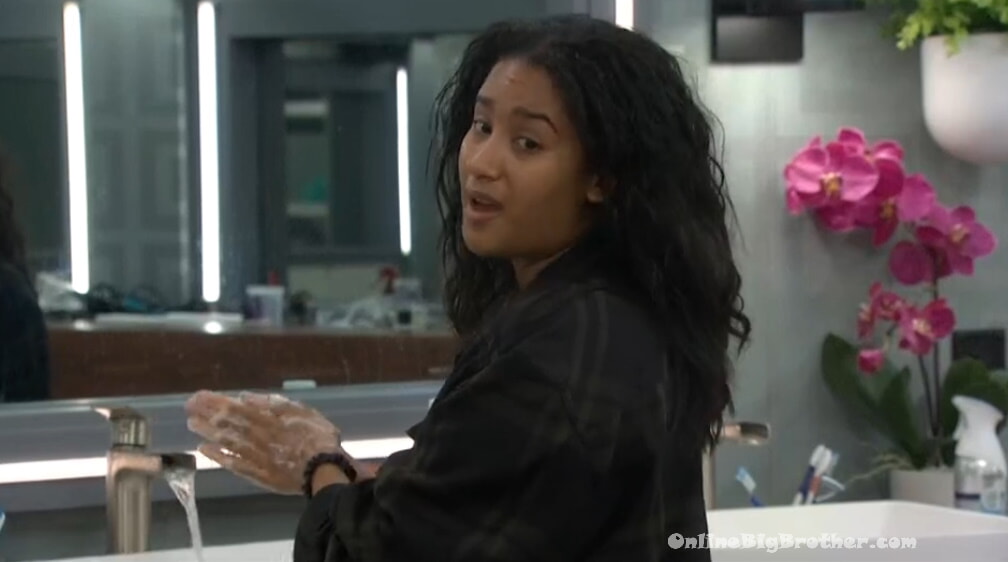 9:38 am Hannah and DX
Hannah – do you think SB will keep Noms the same.. Azah might.. I don't think BIGD is going to win
DX thinks BIGD is going to take X off the block
DX – SB might
Hannah – I'm sorry.. you never know what is going to happen
DX – I don't really mind too much..
Dx – if there ever was a time for Claire to clutch
Hannah – If Claire wins she's taking herself down
Dx – Yeah but thats..
Hannah – better than X taking himself down or Alyssa pulling him off
DX – I don't care if I go up against X
Hannah – Okay
Hannah – ideally noms stay the same.
Dx says SB might leave the noms but he would rather Claire win it over SB.
Hannah – Azah is our best chance at keeping Noms the same..
DX – for me it's Claire, Azah, SB
Hannah – then BIGD
Hannah – I really like her in as a person she's great but in this game she's bothersome like a pest.. she's gets drawn for everything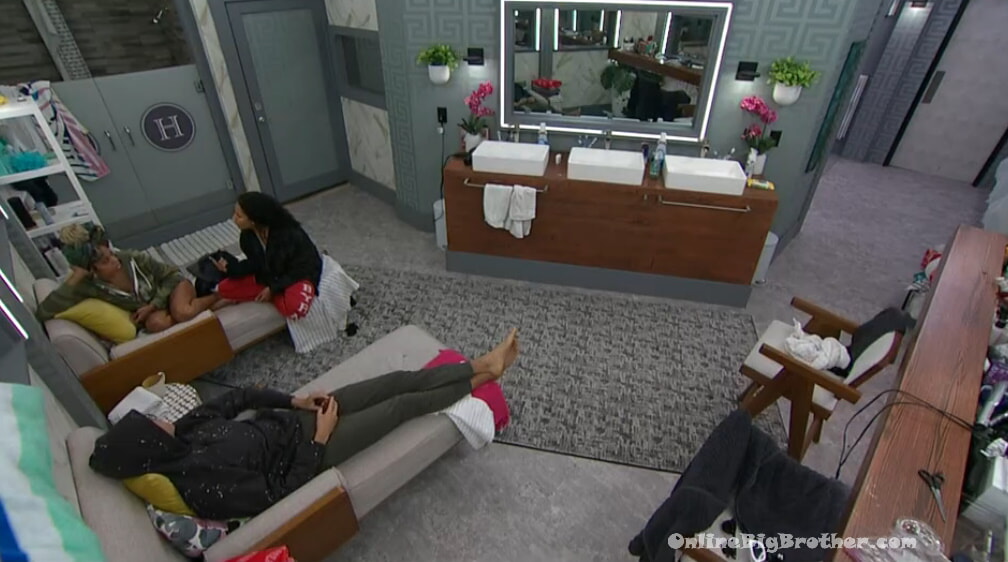 9:51 am Hannah, Tiff and DX
DX – Clearly we've angered the BB gods and they're never picking us for the veto.
Hannah – the four people that needed to get picked didn't get picked.
Hannah – I thought at least two of us get picked
Tiff – Best case scenario?
Hannah – Claire wins
Tiff – no best case is it stays the same
Hannah – he's thinking possibly Azah
Tiff – will SB keep it the same?
DX – best-case Claire wins I go up against X I don't care (like a boss)
tiff – I just don't want you on the block
Hannah – best case is Azah but even with that they'll probably not stay the same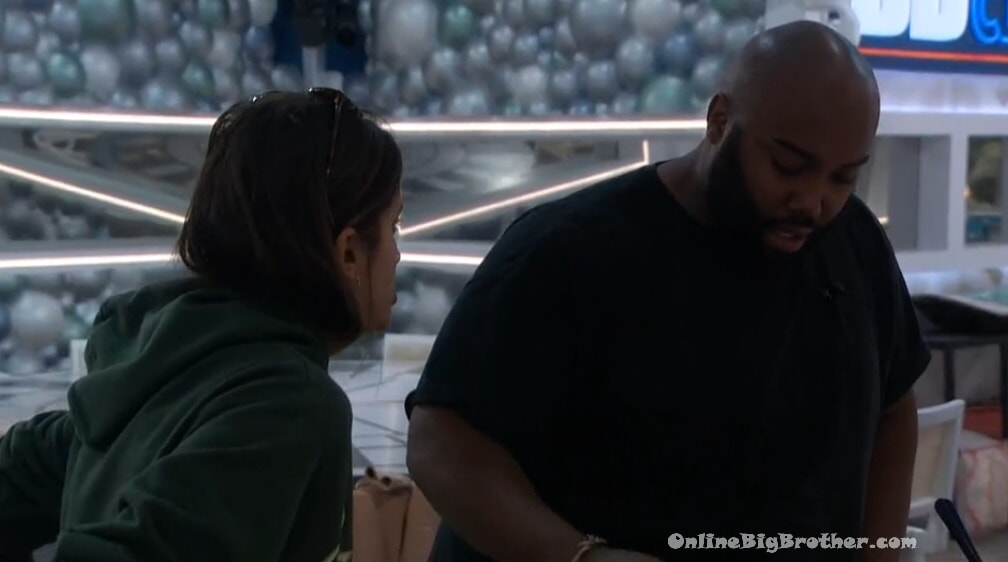 9:45 am DF and Alyssa
Alyssa – they thought you were the target when you weren't
DF – these mother f**ers really want me gone
Alyssa – no matter what if it's not Azah next to him he has the votes
DF – YES
Alyssa – right?
DF – yes yes I promise
DF – these mother f***ers want me out of here
Alyssa says it's obvious "they" are working with Kyland "Azah knows that right"
DF – she does I think she does.. last night proved it we were hanging out. look where everybody was.
Alyssa – what has Claire done for me… What the F***
DF – NOTHING not a damn peep
Alyssa – like why are you questioning what I do
Alyssa – I just hope Azah knows she's at the bottom of their totem pole. I hope she appreciates me saving you
DF – She says all the time she always has your back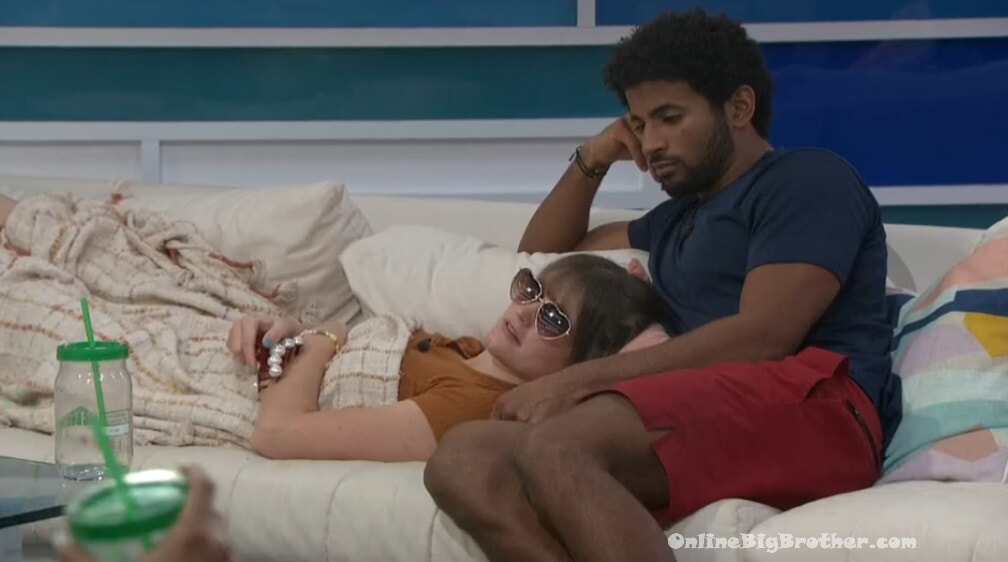 10:06 am Fun times

10:56 am
Chating about places to hid the veto.
DF says the places he had thought of production told him no.
X – there's not a lot of places to hide it
DF – there's not
X – especially the size of the veto ..
DF goes on about wanting a competition that requires brute strength to in.
Alyssa – if is me and yo to the end can I throw it to you?
X – yeah
Alyssa – I want to win it but I feel I owe you.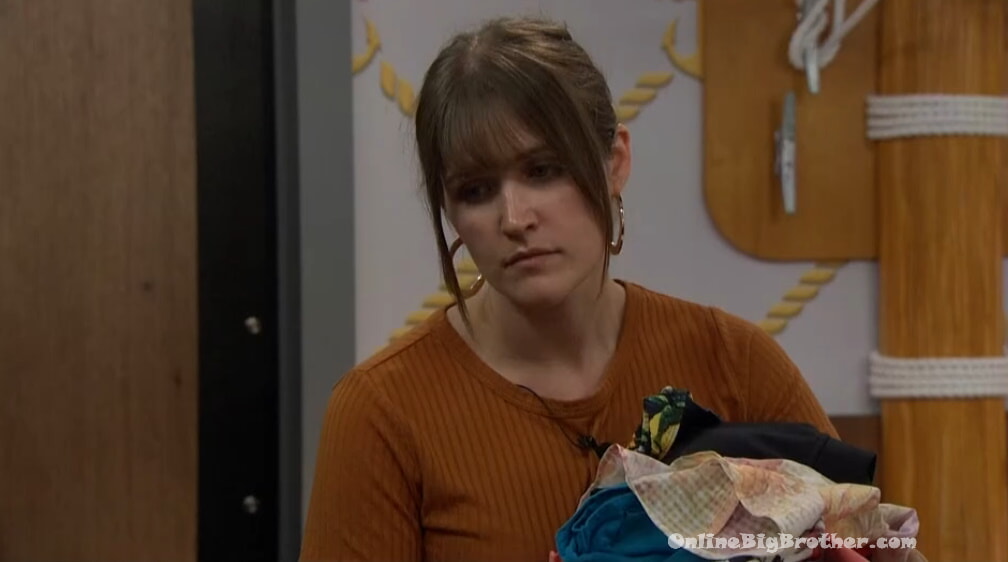 11:05 am Sb tells DF if he wins she wants the veto played on Xavier.
Sb promises him Azah won't go up.
DF pushes for DX to be the one that goes up says he's the only one that has money for the final twist and he was the person that really pushed for the flip (Sigh)
Sb – if noms stay the same Claire is going to go.
Sb mentions she only got $50 "I have eyes I have ears I know I'm not America's favorite in this house"
Sb points out she was on the block last week and lost a teammate.
DF thinks Frenchie will be America's favorite
Sb – I miss Frenchie man ..
Sb – I think America probably feels really grateful to.. because listen.. I'm not going to lie if I had won that first HOH This is what I would have done I would have made a BIG alliance and then road my way through.. halfway through jury. Like what happens in most modern seasons
DF – that usually happens
sB – "yeah but Frenchie.. I don't know if he intended to do that or failed at that. He ended up creating such chaos that I really think it prevented any big alliances from forming. People are so grateful for that I remember reading online that everybody HATES that. they HATE the big alliances they think it's so boring they don't want that to happen again blah blah blah.. and so I think there's probably so many people grateful" (yikes)
DF – Frenchie's coming back he's being invited for Allstars for sureSB – I would like to see Frenchie play another season
DF – there's no reason for them not to

11:30 am
Chit chat around the house while we wait for the veto.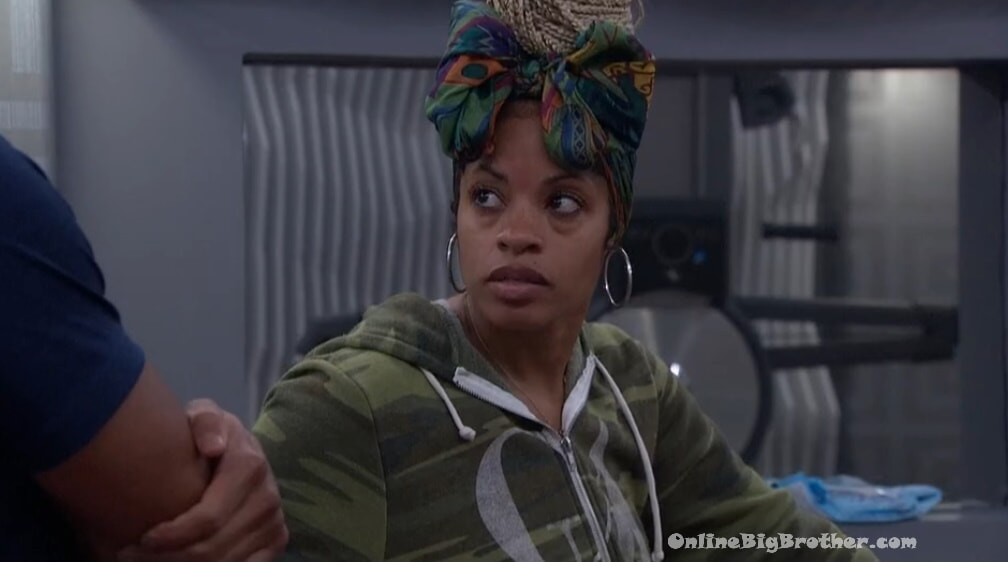 11:31 am Tiff and Kyland
We come into this conversation after it's already started. They're talkign about the vote.
Tiff – you tell me which way to vote
Tiff – X personally hasn't talked game to me for four days so I don't know where his head is with me
Kyland – I haven't talked to him for three days too
Tiff – I haven't talked to him since before HOH
Ky – I've probably said 20 words to him since the HOH
Tiff – I don't know I kinda don't feel too good with him
Ky – I mean I wouldn't go that far we still gotta..
Tiff – I feel comfortable with the 6 but.. I don't think I am in his.. I think he includes me in the 6 and that's it.
Ky – I feel that way about everyone at some point .. not you since we talked
Tiff – I got you
Tiff brings up her one on one with X where he more or less told her he's not making deals he's happy with the final 6 he has.
Ky – after week three I am pretty confident he has me over DX..
Feeds flip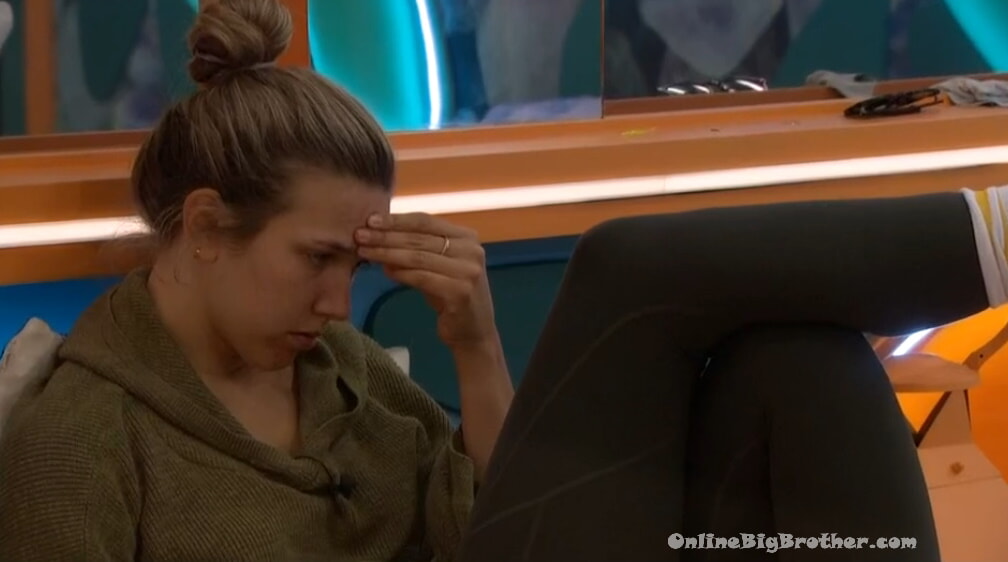 11:55 am Claire whispering about winning the veto it's her veto..
12:46pm All the house guests are sitting around waiting for the veto to start. Derek X came out of the diary room and they thought since he's the Veto host that it would be starting but he said its not time and they didn't giving him an estimate of when it would start. Kitchen – Hannah, Derek X, Kyland and Sarah are chatting about the live feeds and which of their family members would be watching.
1:14pm – 1:35pm Bedroom – Xavier and Tiffany.
Xavier – I would prefer no member of the cookout be the replacement.. so I would prefer if it were DX because he is the only one that is left. Tiff – if she does not want to target him and she wants to target Claire. Xavier – then I don't know who she would put up. She would probably put you up next to Claire. IF she wanted to target Claire she would probably put you up next to her. I think she would probably take out DX over Claire. Truthfully. So I think if I came down, then you would go up. Tiff – are you sure he would go up or do you think she would put someone else up? Xavier – if he was available to go up, I think she would put him up. Tiff – what if Claire wins? Xavier – I think he (DX) would definitely go up. Basically in any scenario he goes up. But I don't want you seeing the block and I don't want anyone else seeing the block. Tiff – I know you're safe no matter what. Did you know out of everyone in the cookout .. you were one of her targets? Xavier – yeah I am sure I thought I was. I am not really tripping about that. Everyone's time will come. From a competition and social standpoint. It doesn't surprise me. If someone was to go up I would rather if if had been me. If Ky had gone up, people would have taken a shot at him. Tiff – if Claire goes .. I have the perfect pitch for going after SB. SB told me that you and Claire were safe but now she's on the block.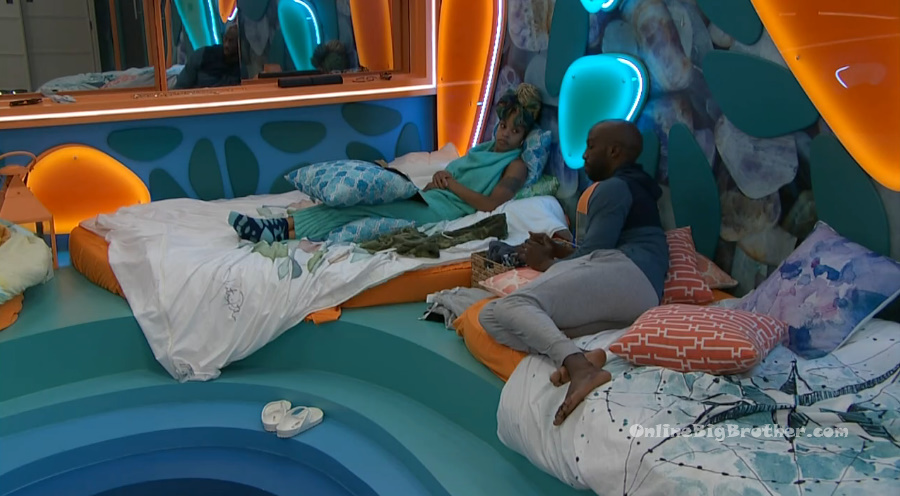 1:50pm Bathroom – Kyland and Xavier.
Xavier – from now on a member of the cookout pretty much has to win. Everyone has to gun for it every single time. There are so many times each season when people don't take a shot at the threat … when you have a chance to take that shot, you F**King take it! (talking about taking the shot at DX) Kyland agrees.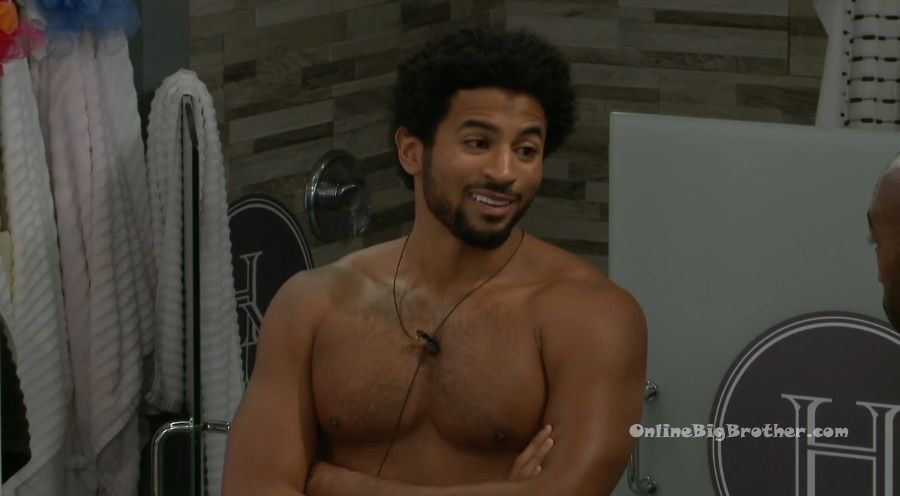 2:07pm – 2:40pm Chess room. Derek X and Claire.
They're chatting and watching their pet spider on a course they made.

Claire – Ky probably thinks its best if we get rid of Chaddha (Hannah) because then its just the Detectives. SB might feel like she's got you because you filled her in on the plan. Derek – I loose my showmance .. F**K! Claire – or its you. Derek – or its me. Claire – or f**k it, its me. Who knows. Derek – that doesn't not make sense what you're saying. Hannah was sort of trying to target her in the past. That is interesting. They can't put up Big D again right?! Claire – no, and Alyssa can't go up. Derek – she has no reason to put up Azah though. Claire – I don't think Ky wants to lose you yet and he doesn't want to lose me yet. I don't think SB wants me out. Derek tells Claire strategies for different types of comps like a maze, puzzle, etc.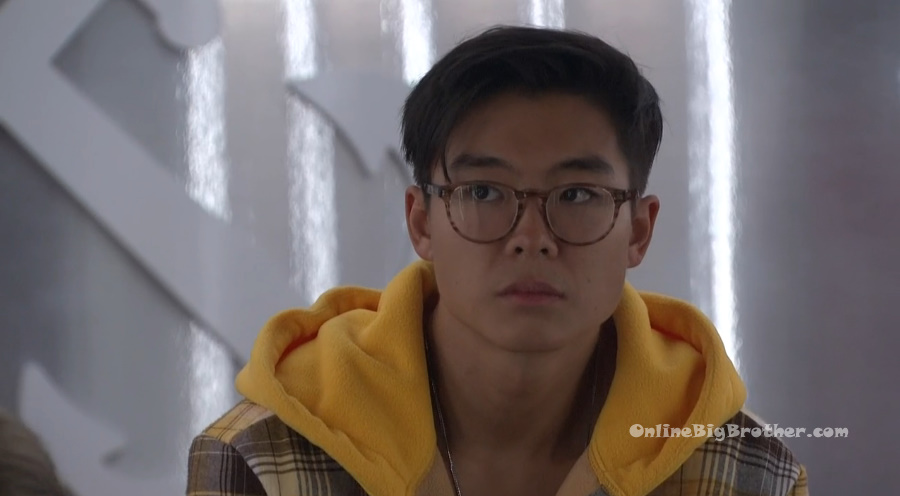 3:18pm The live feeds switch to the kitty pound.. The veto is starting now..
4:25pm Still blocked..
5:20pm Still nothing..
7pm Still puppies and kittens..
8:14pm Puppies all day all night..
8:51pm No feeds for you..
Please consider a donation to keep the madness going. BIG thanks to the people that have already chipped in.