HOH: Xavier
Nominations: Azah and Kyland
Power of Veto: Xavier
Power of Veto Ceremony: ?
Big Brother 23 Houseguest Rankings – – RANK THE HOUSEGUESTS –
View the previous day ranks on the – Ranking Grid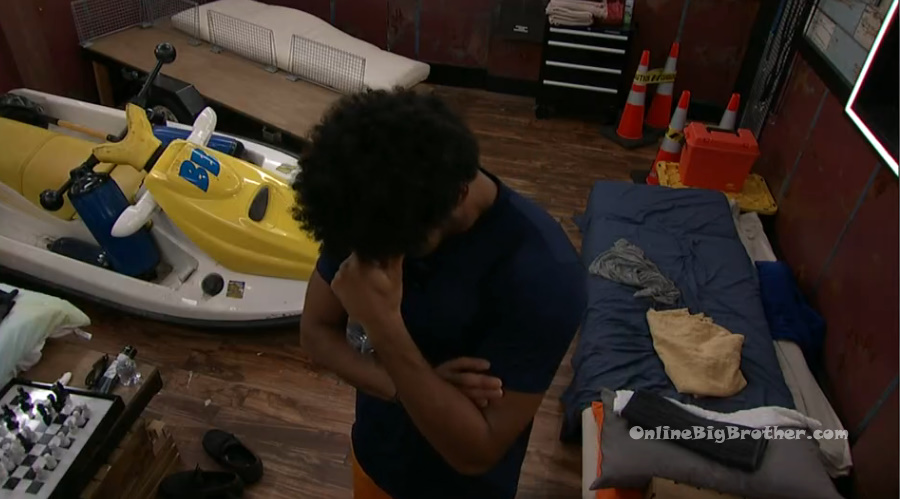 3:10pm Havenot room. Xavier is holding his head and rocking back and forth. Kyland – This is the moment everyone warned me about. That is funny because no one warned anyone about me. You have to be able to save yourself in this game. Two weeks back to back I saved Xavier. I showed him he is not expendable to me, I just hope he can do the same for me. The good thing is if Xavier doesn't use the veto I may still make it to final two and he didn't save me a single time in this game… Not directly.. but I have to get there. This is the comp you were ready for… you didn't have to be the best you just had to win it. Why were you in such a rush. You already won two vetos .. you didn't have to win this third. Just stay calm! Oh man!! Ky slams his hand down on the bed angrily.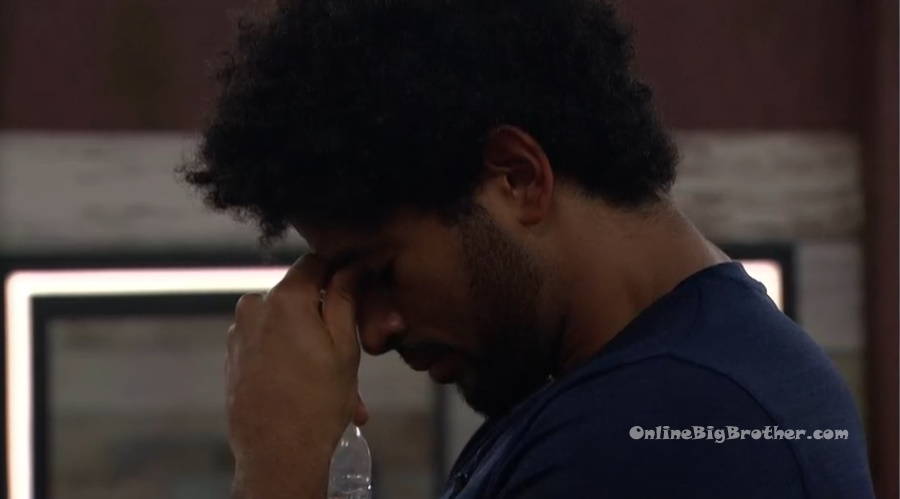 The moment you realize you just lost 750K #bb23 @bigbspoilers pic.twitter.com/SsUjgSIflT

— Dawg (@DawgsBigBrother) September 18, 2021

Bedrooom – Azah and Big D.
Big D – Azah you did really good. You beat out Ky. Azah – you beat out Ky. Big D – thank you. I f**ked up at the end. Azah – yeah I f**ked up at the end. My nerves got to me.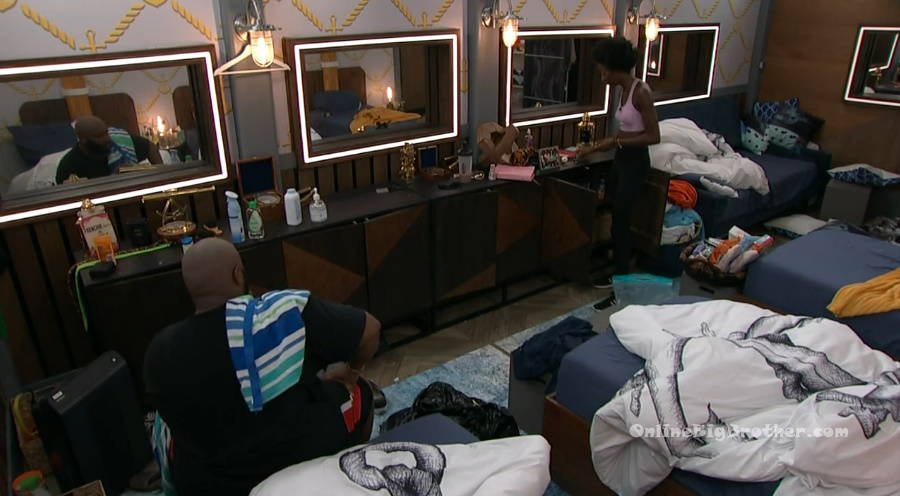 3:30pm – 3:40pm Havenot room. Xavier comes to talk to Ky.
Xavier – are you okay? Ky – I hope so.. Xavier – well I am letting you know .. I am letting everyone know that I am not doing any veto talk today. I just want to hang out today. I wanted to let you know the same. Are you sure you're good? Ky – no, I am obviously happy you won. This is just the thing everyone kept warning me about. Pushed off as unnecessary or disregarded. On one hand it is tough to not be able to save yourself and on the other hand it is ahhh… Its just tough to be in this spot. Xavier – yeah. I will just let you get back to your thoughts. Xavier hugs him. Ky – I guess I don't fully know why between you and I .. it would have to be a conversation for tomorrow? Xavier – what do you mean? Ky – you said you wanted to wait to hold veto talks tomorrow. Xavier – ah.. I am just saying that to everybody dawg! We just aren't talking right now .. we will probably talk later tonight. Ky – yeah, ahh.. I get it. Its just aHhh…. It is just a vulnerable moment… so I think the reassurances help and I feel like I did give you those and that is why to like not get them. …has like all the worry amplifying. Xavier – AHh.. Breath! You will be fine! Ky – yeah its just… Ummmm… yeah for sure I can chat with you later. Its just like .. When you say fine? You meant to three? I appreciate it. Xavier – yeah. That is why I am literally telling everyone we will worry about all this stuff tomorrow. I am not saying that to be insensitive. Ky – I appreciate it. Its just the … Xavier – just breath. Ky – not being able to save yourself is frustrating. I think it is not just the worry of getting to three as much as it is the… just seeing the …like seeing the value in like… its like I feel… And I .. if you want to talk later we can talk later.. I don't want to disrespect what you want to do. Xavier – you can talk if you want to talk. Ky – thank you, I think for me …like the cookout I am very big .. like we all worked together to get to six. And at six we all knew it was game on… and I think its like .. its like .. for noms on day 66.. to the veto on 69 .. and then the veto decision on 71.. its one thing to show you that I am not going after you and that I am not willing to risk you even at the expense of my relationship with Tiff, Azah, Big D, Chaddha.. like you are not expendable to me. I think that it showed that I trust and value you more than Derek. Xavier – I still haven't talked to Big D .. and do what needs to be done ..then you can't be up there. Ky – its not so much if he is willing to do it or not .. its are you willing to risk me at all? Xavier – I get that. The only thing I am going to be able to do is to show you. I can say you're good, you're fine. Its not going to show anything until I use the veto and then you will be like OKAY! Ky – okay thank you man. I appreciate you. Congrats! Xavier leaves. Ky – I hate myself right now!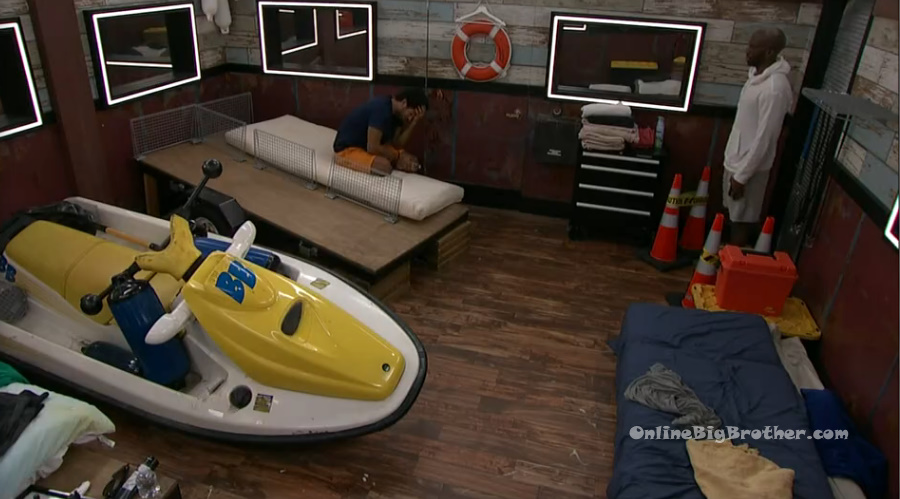 3:55pm Living room. Big D, Azah and Xavier are chatting about the veto on the couch. Big D – we all did our best. Azah – I think that because there was so much at stake .. you put a lot of pressure on .. oh its because I'm on the block too. Big D – we're basically all on the block.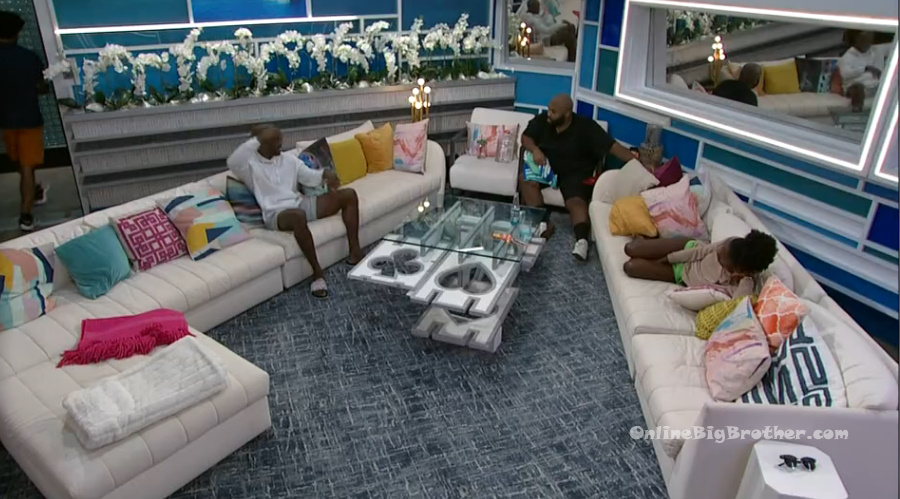 4:30pm Living room. Azah and Big D.
Big D – We've come a long way my friend…. and I think its my time. Azah – what do you mean? Big D – I don't think X is going to use that veto on me. Azah – it doesn't work like that. He can either use it or not use it. So if he makes the decision to not use it, you decide. But if he decides to use it he can only use it on me or Ky. Big D – oh so he can't use it on me? Azah – you're not on the block! Why would he use it on you? Big D – I thought he would use it on me and I would still give the vote. Azah – no. He can keep his nominations the same. You're not on the block. He doesn't need to use it on you. Big D – well I don't know. I don't know where his head is at. He said he doesn't want to talk game but… Azah – well I mean I don't blame him. Big D – he says he doesn't want to talk game but he was up there with Ky for a long time. Like he came and told me like he came and told you .. quick and simple like this. Azah – well .. we in danger if you think that. I'm personally not going to talk game with him today and I didn't want to because there are just so many days for stuff to happen. Big D – I know! I wish I had a f**king letter or pictures of my roommates! Azah – I am not going to call myself a bitter juror for anything you do.. but I will be bitter over.. you bet it! Big D – If you're sitting at the end you would have me and Brit at least. And I am counting on you and Brit's vote if I am at the end.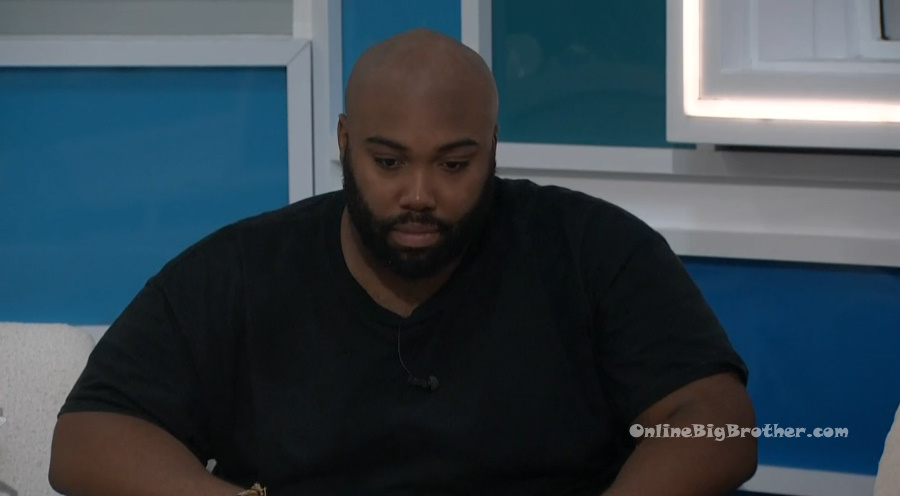 4:52pm Living room. Xavier, Big D and Azah laying on the couches chatting.. The head to the back bedroom.
4:57pm Living room – Kyland.
Ky – I feel so disappointed in myself…
5:10pm All the house guests are napping..
5:40pm Kitchen. Kyland and Azah talking about the veto comp and movies / trailers. Meanwhile up in the HOH room Xavier is chillin..
6:50pm Big D is making dinner. Xavier, Ky and Azah are chatting about random things on the couch.
7:40pm – 8:55pm Kitchen table. Big D and Xavier playing fish. Ky joins them. Big D – what are we going to do for four days? Xavier – we're doing it.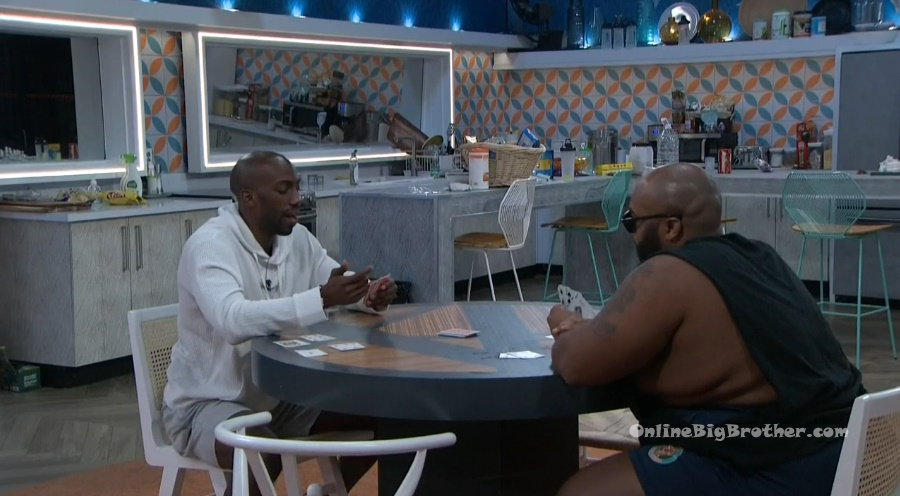 9:22pm Final four playing cards..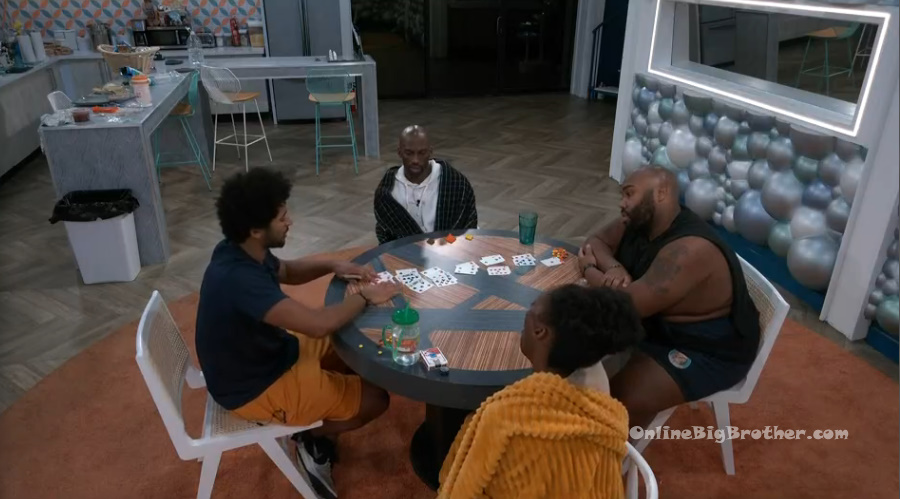 10:08pm Living room – Azah, Big D and Xavier are talking about past events of the season and looking forward to meeting up with everyone outside of the game.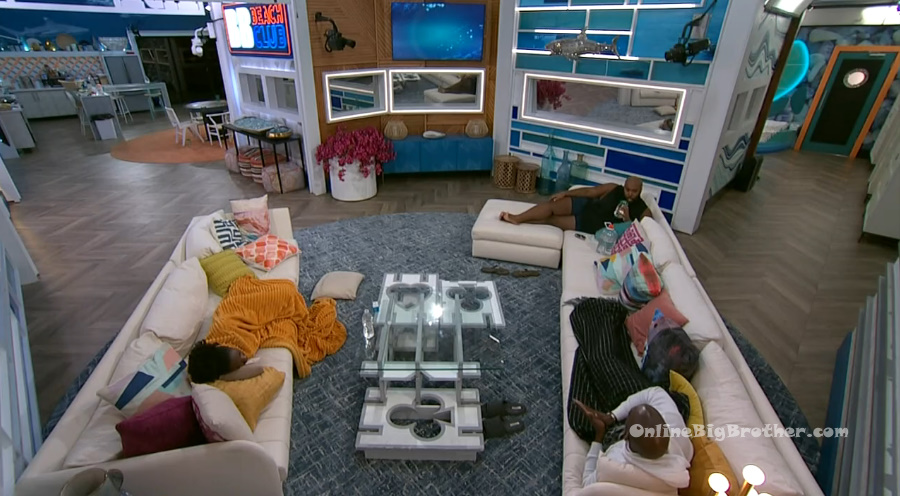 10:50pm Living Room – Azah, Xavier and Big D.
Big D – If Xavier does do that (leave noms the same), I don't know what I am going to do. If he leaves noms the same and I am the vote, I don't know what I am going to do. I have to really sit down and find it deep, deep, deep, deep, deep, deep down inside. Like I know what I should do. We are talking about my best friend in this game who I love so much and then we're talking about the person that I have literally been dealing with and… Xavier – that does sound different. Azah – that does.. Xavier can you use the veto on me? I can make the choice for him. I vote to evict KYLAND! Big D – it is a little different because I have been emotionally been invested with Kyland and I have literally .. which is going to look so bad .. I have literally had this man do every move that I cannot do because I did not win. He didn't have to get rid of Tiffany. Well I mean Tiff kind of did it to herself. Xavier – he was going to get rid of Tiff whether you said it or not! Big D – oh my god! Azah – I think the people he targeted, he wanted to target. If you don't want to go back on a deal, X can make that decision real easy and I can make that decision for you. Xavier – I was going to say do you want to be in her position? Azah – I don't mind! That way you don't have to break on your deal. You know I will do the job! Big D – Everyone in the jury think I would not get rid of Ky. Xavier – what she is saying is she is not hesitant. Azah – I ain't got no deal with that mothertrucker. I ain't got nothing! Xavier – if it is really going to eat you (Big D) up .. (Xavier points to Azah).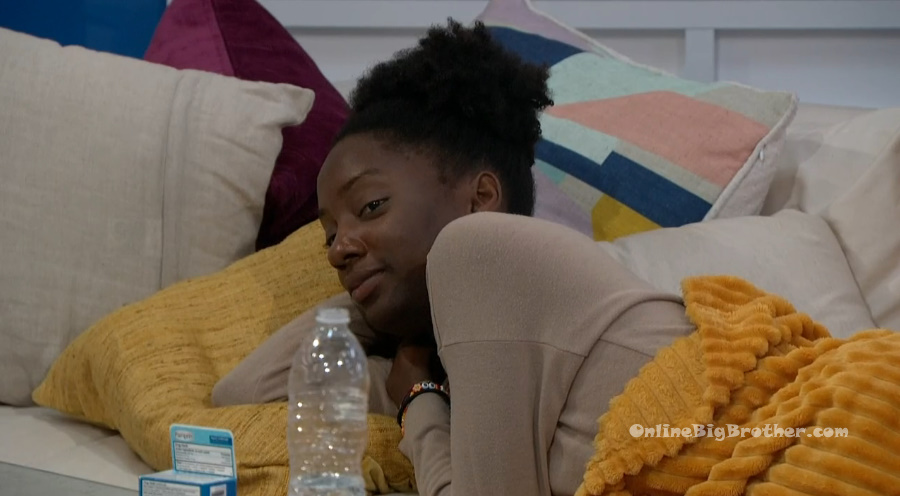 11:30pm – 12am Backyard. Azah and Xavier in the hot tub. They talk about past events of the sesaon.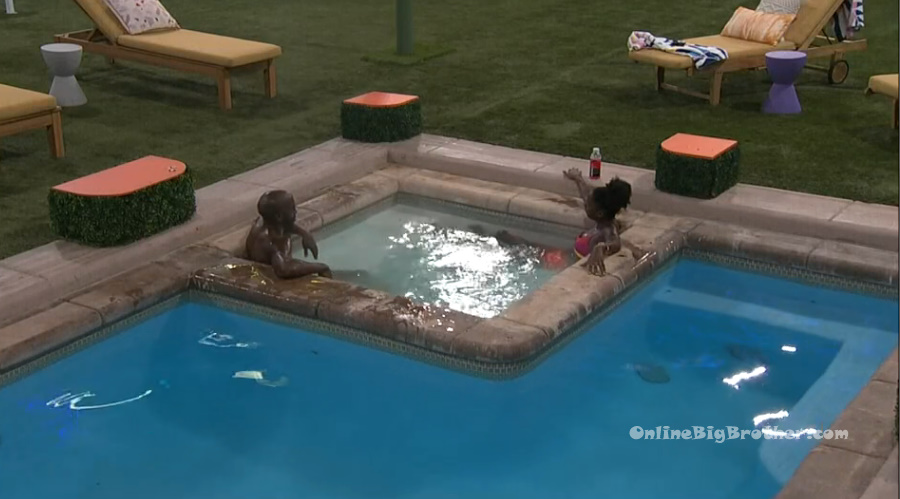 If you've enjoyed our updates this season and want to leave a tip you can do so through PayPal. ;) Thank you to all of our amazing OBB supporters who have already contributed!