HOH: Xavier
Nominations: Azah and Kyland
Power of Veto: Xavier
Power of Veto Ceremony: ?
Big Brother 23 Houseguest Rankings – – RANK THE HOUSEGUESTS –
View the previous day ranks on the – Ranking Grid
Big Brother Spoilers – Will X use the veto on Kyland?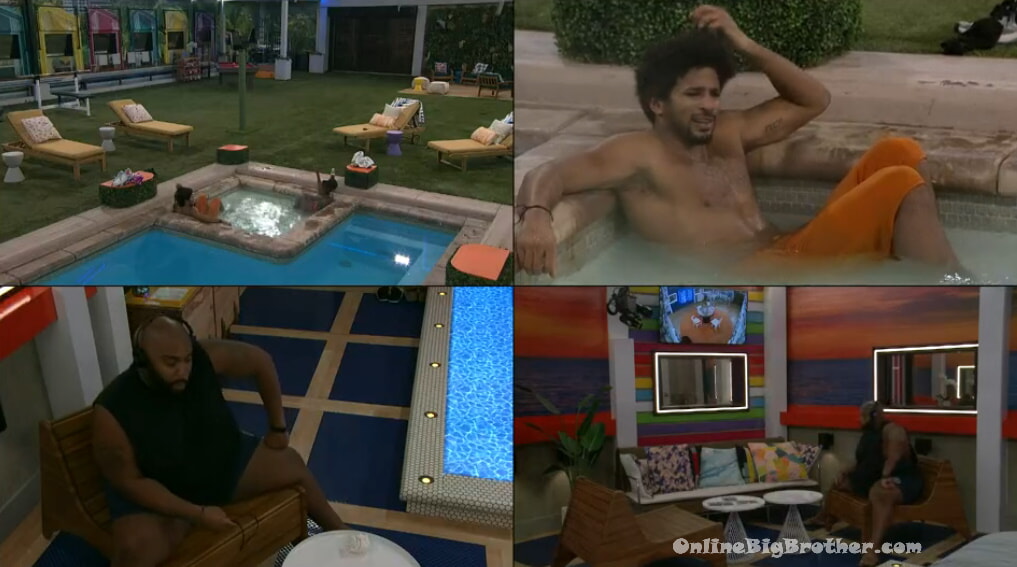 12:49 am Chit chat and music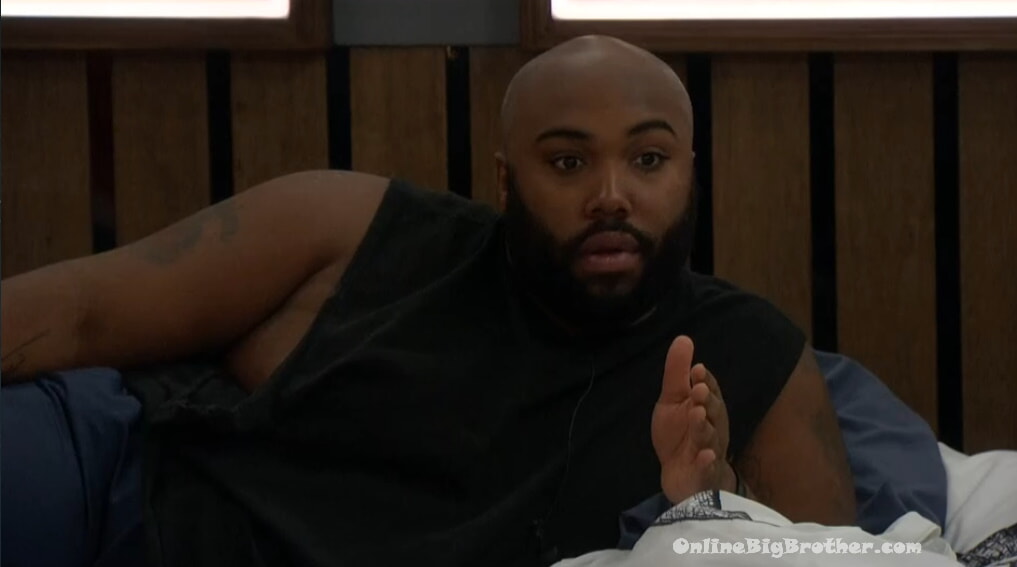 1:30 am BIGD and Azah
DF – Ky is going to be the death of me. He made it clear that He earned to be in top three and if I don't pick him basically I am not a man of my word.
DF – that shows that I'm selfish and that I'm not a good person. that's what I got from the conversations.
Azah – he ain't earned shit. If he would have won that veto he earned top 3. If you won that veto then you earned top three. The person that earned top three is X.
DF – he feels like he protected people. He feels like that he could have gotten X out at top 5. He feels like X should be bringing him to top three and I should be bringing him to top three.
Azah – how would he have gotten X out at top 5?
DF – pulling Hannah down. Me going up. and Hannah would send X home.
Azah – he didn't
DF – maybe him and X have a deal I didn't know about
DF – I'm just venting to you he's making me feel like the worst person ever.
DF – Am I a bad person sending him home?
Azah – no, I don't think so.
Azah – I could be here telling you you are a bad person sending me home.
DF – I know that. I'm not going to send you home.. NO. No matter what I do someone is getting hurt.
DF – obviously I'm sending him home I already made my mind up. The things he's saying to me it's like. I wanted to work with people that are honest I deserve to be here. If you are a man of your word I trust you. You aren't going to do anything.
DF – I feel like at this point I'm telling you the same thing this is how I put it. I'm telling you the same thing I told Azah. You never know what Xavier might do. He could use the veto and bring down Azah and me and you are on the block. Like. We don't know. He might keep noms the same we don't know.
Azah – I thought Xavier told you to just keep telling him not to worry about stuff and not give up hope. There's going to be a lot these next 4 days.
DF – some crazy things that made me feel like.. mother f***er this is a game. Are we really taking this sh1t that personal? It's a game.
DF – He's like I put in a lot of work..
Azah – So did Tiffany. she put in a lot of work.. WORK and strategy. Hannah put in work too.
DF – if he ends up going he's going to look at me like a bad person..
Azah – he's the judge of good people and bad people?
DF – no only god is. This is all before he went out to the hot tub with you.
DF – Obviously I'm not getting rid of you. I'm just venting cause I have nobody else to talk to.
DF – his argument to me is because he won Veto twice that is why no one was able to get him out. He won HOH at 6 and veto at the 6 and veto at the 5th. He's saying there's no way anyone can ever.. Could vote him out. He like really didn't need no body in order for him to get to the point where he is at now.
Azah – what are you going to do with that
DF – He's looking at me kinda like he's done a lot for me so I should do a lot for him. I'm like at the six it don't matter who put me up I wouldn't have gone home. At the 5th you could have put me up and I still wouldn't have gone home. Nobody was getting rid of me it would be dumb for their game. If one of the girls would have won it would have been a whole different scenario. You 9ky) and X would have been on the block you won veto X would have gone home.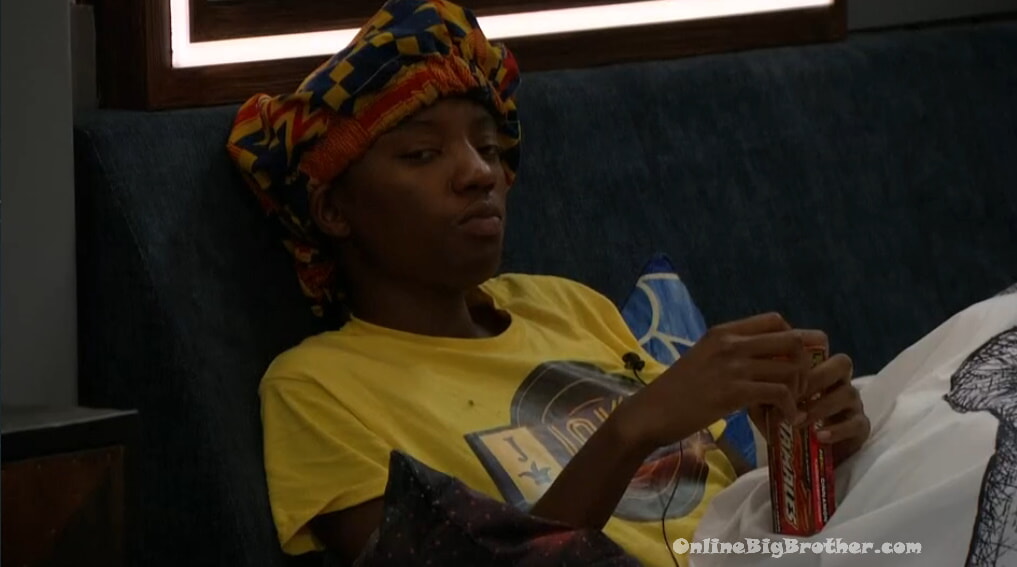 DF – he's saying he could have played this game a whole different way he could have been selfish the entire time. Played a dirty game and made it to the end to get the money. He's like I brought people along that I felt were honest and not money greedy and things like that.
Azah – he couldn't have gotten me out at six if he tried and I won at 5.
DF – He's saying in general he's talking about X and Me.. HE's trying to say he was bringing people along that were going to be like Honest.. and straightforward and THINGS LIKE THAT.
DF – he was like I went forward with you because I trust you. I went further with her because I trust her. I went forward with X because I trust him
Azah – you went forward cause you had no other options.
DF – I said that.. Tell you the truth KYLAND everyone was coming for you.
Azah – does he even know that
DF – I told him that. Tiffany pulled a selfish move but he did too.
Azah – how many deals have you gone back on in this game
DF – it would have been his.
DF wonders if Kyland will look at taking him out as a game move or if they will see it as "you lied to my face we had a promise he sent me home"
Azah – did you have a final three or two with Kyland
DF – no just that we wouldn't vote each other out.
DF – no matter what he's going home we know that.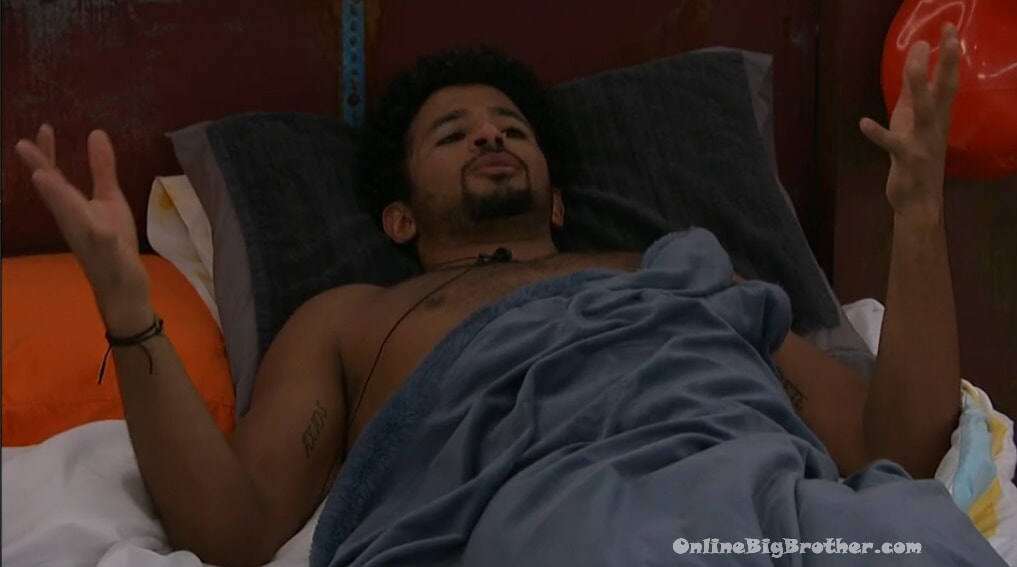 2:00 am Ky alone in the have nots
2 am Saturday night.. Final 4 just played the final veto.. I lost BAD First one out before Azah before Derek.. BIGD.. it was a balance agility thing. I've never been more disappointed with myself my entire life.. Wait that's not true. This game is like a bubble so it feels like your whole world so I say things like that. I have done things in my life outside of this house where I'm more. disappointed than that BUT like I said when you are in here the game becomes your whole world.
I let down myself, My family, my friends, and anyone in America that might possibly be cheering for me. I'm sorry
I don't feel sorry for myself just sorry for letting all you down
This is my opportunity to find out if I was right to trust Xavier. Honestly, I think I was. As dumb as it sounds. I would be surprised if he decides to A) not use the veto on me and B) use it on BIGD and BIGD not save me and C) use it on Azah.. all these are possible.
The point of trouble I have with X is I don't think he realizes how much more forthcoming..
Feeds cut. When we're back..
I straight up told BIGD YO! if X doesn't use the veto on me and I'm at his mercy he would be the sole vote to evict. He would have an easier time ensuring his path to final 2 if he cuts me. I told him that. That was stupid of me.
I wanted him to know that I don't like taking advantage of people when they don't know things.
I remember I got asked if I'm too nice to play this game. Maybe I am but I don't think I am. I had a lot of people, Tiffany, Hannah, DX, Claire, SB, at least half the jury tell me that I couldn't trust Xavier that he wants to win TOO much to even risk bringing a competitor further in the game if he ever had a chance to cut them he would cut me. I told every single one of them they are wrong not to their face I decided they are wrong not to trust Xavier.
Now that I'm finally in that moment it's scary. I don't know if people will look at it and say I'm dumb or I am smart, or honourable, respectable, or what. Maybe naive or foolish, I dunno.
I don't regret any of my decisions I feel I was making the right ones given what I knew. The only bad decision was not stopping to take more deep breaths during the veto competition. To get my mind right. YO Kyland what is your strategy right now SPEED was not working I needed to slow down. I needed to use my head and try to get more control and not worry if I was first every round. I feel this is the type of competition where someone with a temperament like my dads.. which I think Xavier kinda has. That calmer temperament. I've been under pressure in this game I've done well but two times I didn't. On the flip side competitor wise. UGH.. I'm devastated to have lost so badly. LAst place in the final 4 veto against two players that have historically not done great in a lot of competitions.
I love BIGD for fighting his heart out to win that one for me. I need to thank him again for that tomorrow. I know that was on his mind trying to win so that he can show me. So he can pay me back. He doesn't need to I love him. I appreciate his heart and his loyalty.
I need to figure out why he's (x) is bringing me. He kinda told me once but I feel like we talked more about why we each want to win not why it would be cool for the other one to be wining. The answer is kinda similar I would love to check and confirm for sure. If any family or friends are watching and you are crying that Xavier is in the other room saying he's excited to cut me and walk to final 2 or final HOH.. I'm sorry I was too trusting everyone else was right. I don't think they are he seems too good of a guy. He does know how important it is how the winner of this season is looked at. Ohh god I hope he does.
I was going for three in a row. Sucks to not be able to save yourself. It's not a feeling I've been used to this summer. Especially since I've been worried about keeping 6 other people safe. Keeping Xavier safe.. he probably didn't need rescuing I needed to keep him safe for me.
Xavier's family I hope you raised him in a way so he knows how important it is that this seasons winner be representative of a lot of different characteristics besides simply a will to win by any means necessary. It's just a game. Maybe some people admire that play even by someone that doesn't have to play that way. I could be wrong.
I'm scared all the people that told me not to believe Xavier were right but I don't think they are
I kept Xavier safe for two weeks in a row just need him to keep me safe for one. Just one.. this next one I will win this final HOH and Bring Xavier with me. Honestly, if his social agreements give him the wins mad respect. He brought me past four he's an honourable guy. I have nothing but love for him. Love and respect for having such an exemplary winner.
The fact that he also like me wants to compete against Tyler and Cody, Or play with them. Oh my god what a dream. I was so devasted that Cody and Tyler couldn't link up and face off. that would have been DOPE.

Good night..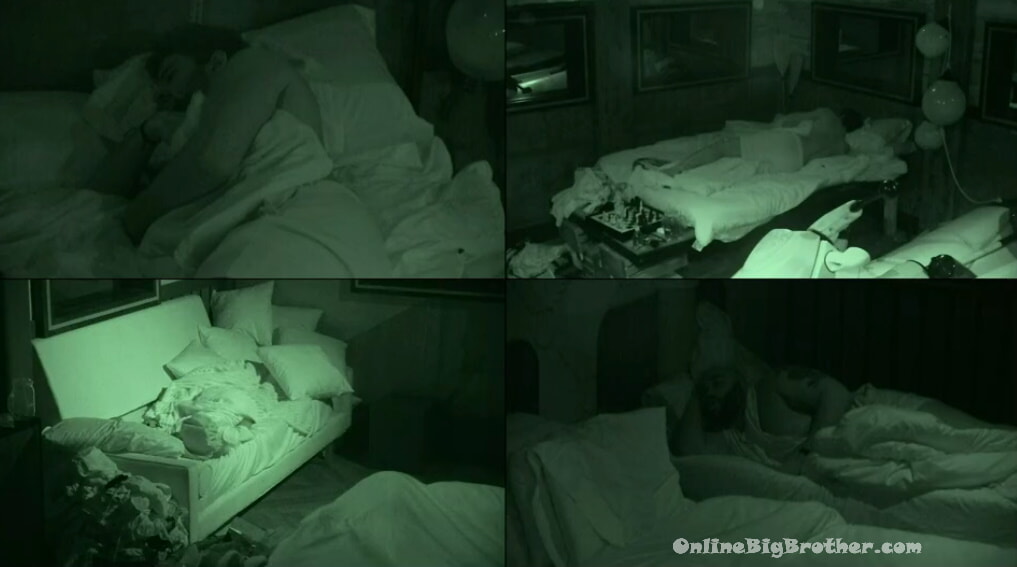 2:30 am Zzzzzzzzz
10:00 am Wake up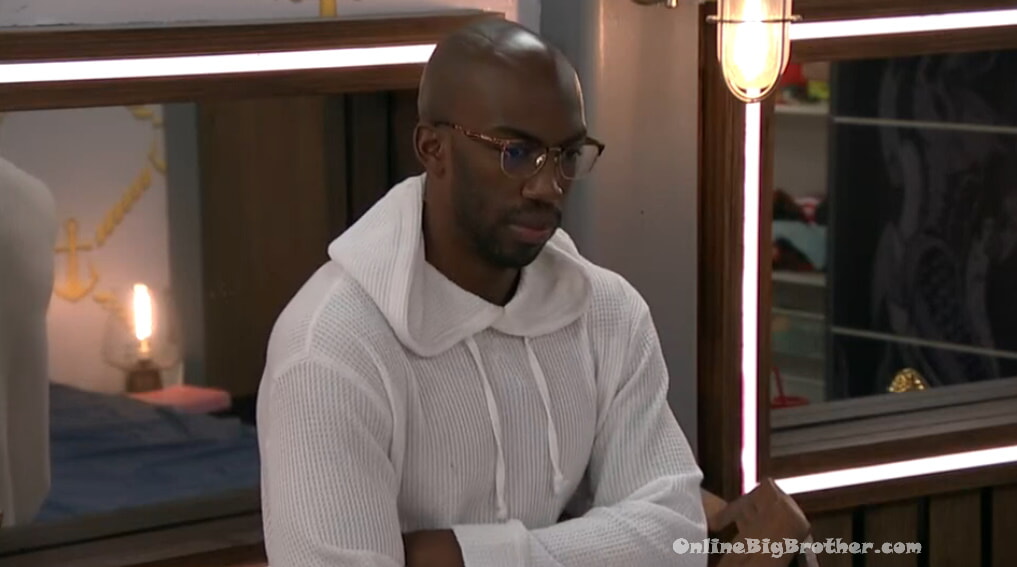 10:20 am BIGD and Xavier
BIGD goes over his conversation with Ky last night. How Kyland chose them to go with because he thought they were men of their word.
Xavier – No matter what we didn't go back on our word. I promised you and you promised me.
Xavier – at this point, either one of them is a viable option I just need you to get comfortable with the idea of it being either one of them. Before you were no Azah no matter what. NO we need to consider both of them. We'll take the next couple days to figure out what would be best for US
X – for me I just need to know can you beat Azah? I'm pretty positive if Azah beats both of us she's taking you not me. IF we bring Kyland its more of a toss-up who he brings you or I
BigD – It's funny how he went from Weeks again.. Ohh we're never going to vote out each other we have each other back.
Azah joins them.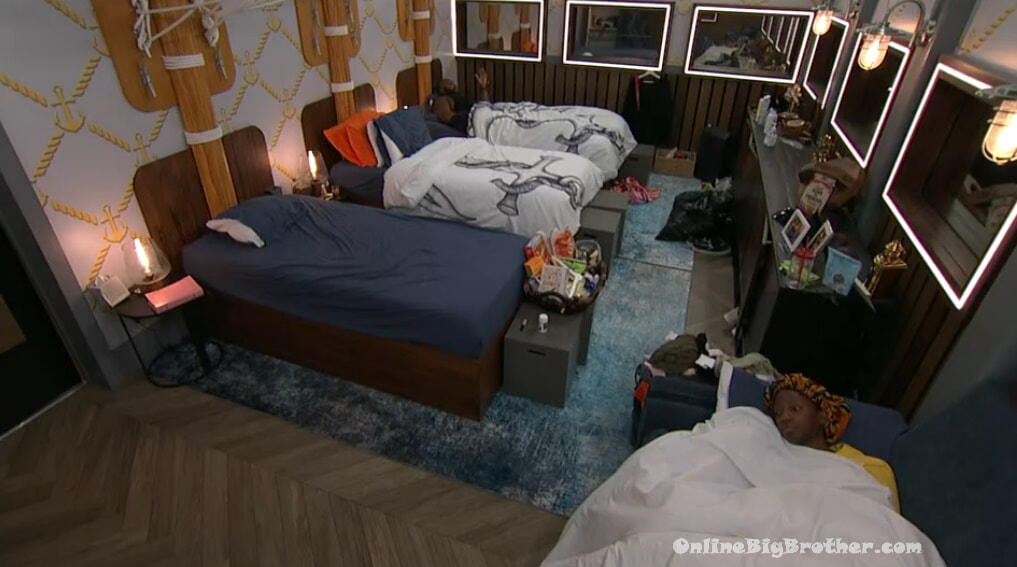 10:39 am BIGD and Azah talking about Frenchie the clown and how he wanted to get to the end with all women and minorities. BIGD brings up that Frenchie the clown nominated two minorities and a woman was because of Brent. BIGD now blames the first-week noms on X. Saying he stayed up all night with Frenchie the clown the first night but the second night it was X's job "but he went to bed instead.. he went to bed with his team so guess who was still up? BRent."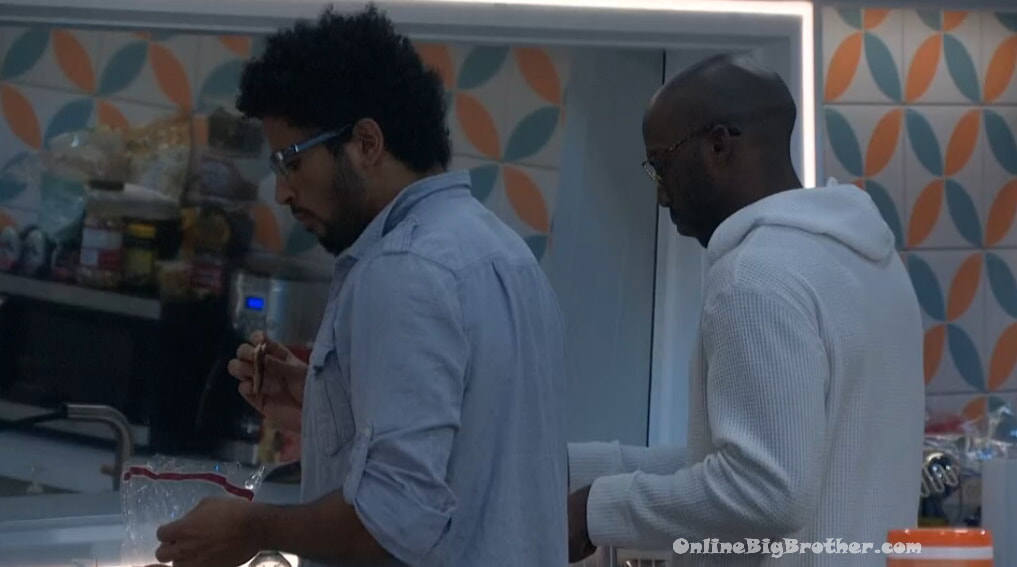 10:56 am Xavier and Kyland
X says he's going to have his meetings today. he'll leave Kyland to the end. Xavier says for this Azah talk he'll bring up that Kyland did use the veto on him last week so he has to consider all options.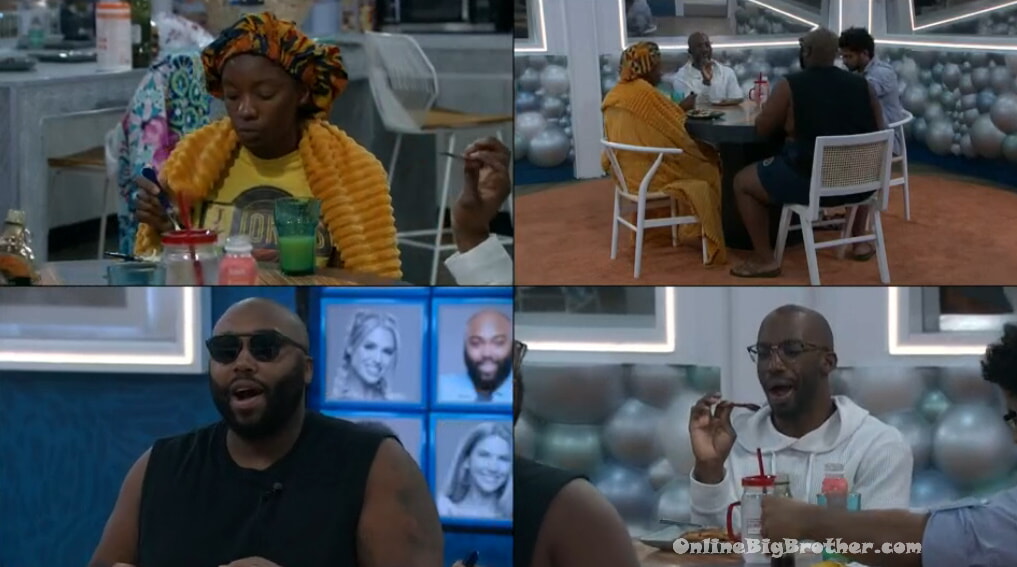 11:32 am Everyone together eating breakfast.
Azah talks about never forgetting the look on people's faces when they get evicted.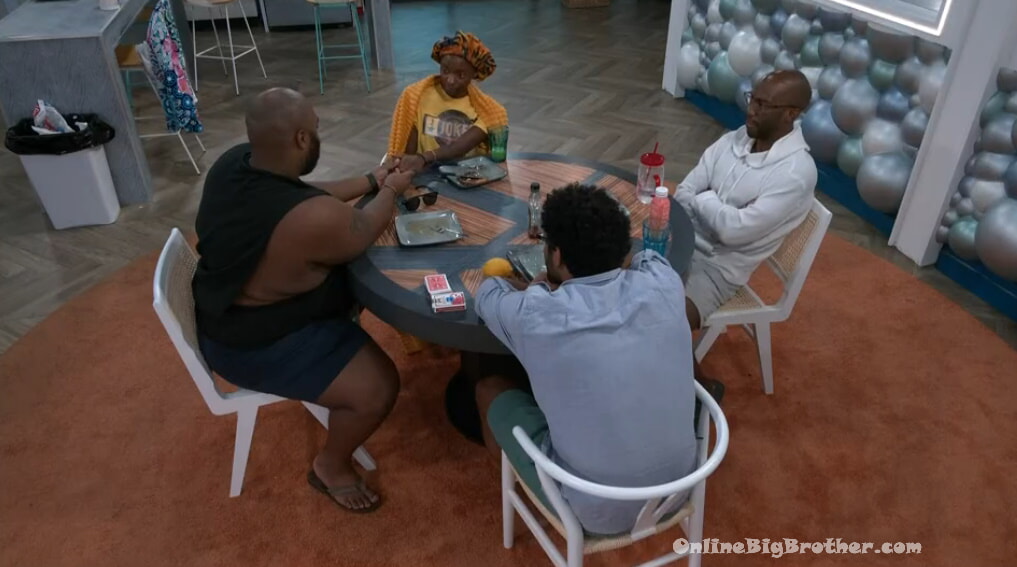 Please consider a donation to keep this site running. Thank you to all those that have contributed ;)