HOH: Tiffany
HAVENOTS: BIGD, Alyssa and Claire
Nominations: Alyssa and Xavier
Power of Veto Players: Xavier, Alyssa, Tiffany, Hannah, Azah, BIGD | Host : Claire
Power of Veto:
Power of Veto Ceremony:
Big Brother 23 Houseguest Rankings – – RANK THE HOUSEGUESTS –
View the previous day ranks on the – Ranking Grid
Big Brother Spoilers – They are going to try to get Alyssa to not use the veto on herself and instead use it on X. I doubt this will happen..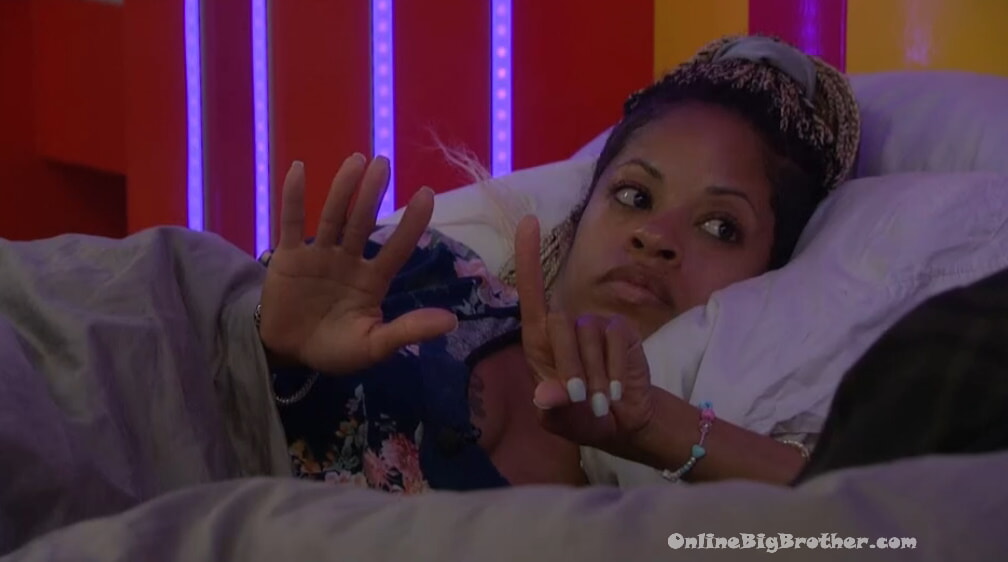 1:25 am Tiff and Hannah
Tiff – X is ready to turn the switch he hasn't been playing at full capacity. X wants to take Ky out at Six I don't want that
Hannah – Me neither
Tiff – X needs to go at Six
Hannah – I'm onboard with that I just don't want to take him out before we take out Alyssa and Claire. I Wouldn't feel comfortable.
Tiff – We have to stick with the plan. If we didn't have to stick with the plan I wouldn't put Claire up tomorrow. Me, You, Claire, Ky cold ride this sh1t out. We could take X out. Take Alyssa next. take out BIGD then Take out Azah.
Hannah – that's not going to happen We've worked too hard. America is probably rooting for the Cookout
Hannah says what if they all drop in the HOH and force X to win it. He might say "Fu** all of you I'm keeping Alyssa"
Tiff – then I will tell her. I'll sabotage everything HE gets to do that? I could have kept Claire. He can play that game if he wants to. I'll go home next but I ain't leaving without this B1tch burning.
Tiff – if he pulls that move send me home X and watch how I go out.
They talk over scenarios Tiff says Azah is coming for Kyland. BigD is coming for her.
Tiff – I'll need to tell Ky X wants him out at six
Hannah – I can't believe Ky doesn't know that. Ky is so overconfident in this game. It's annoying.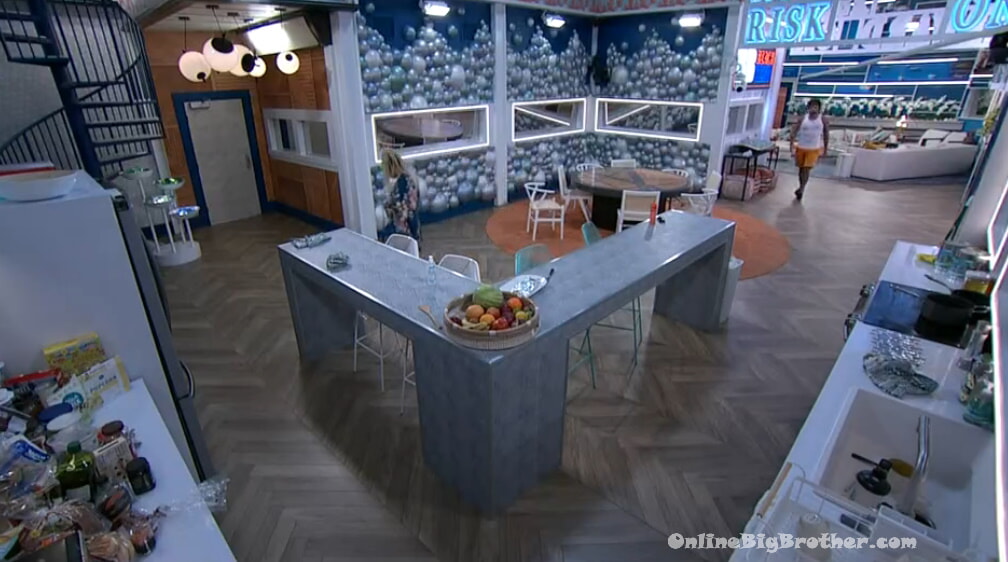 Tiff goes to wake up Ky so they can talk until 4 am in circles..
Tiff comes back before Ky "Him and X were in there talking.. in coral"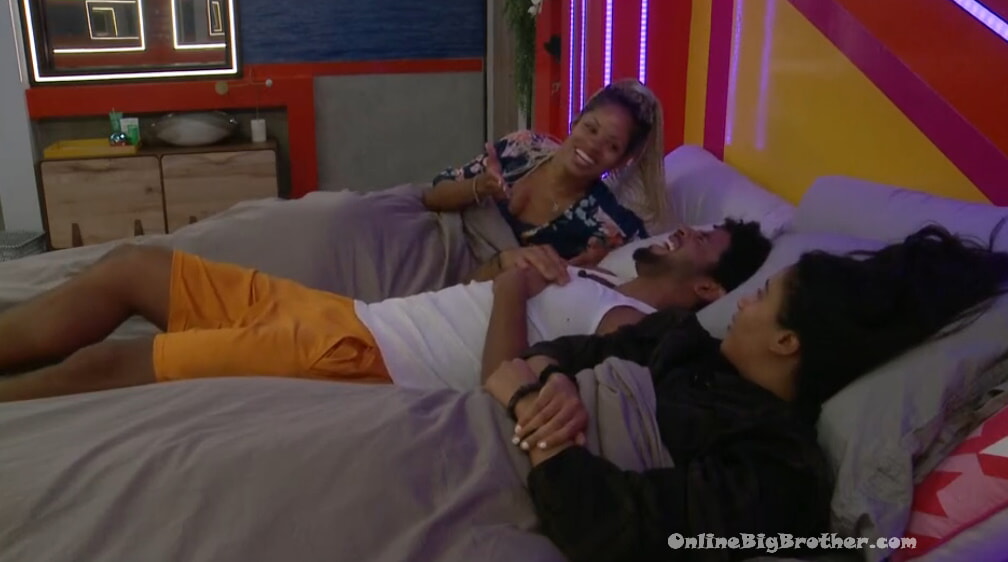 Tiff – we are all we got..
Tiff – I had to win I had to be the one that sent Claire out she told me today she's glad it's me.
Tiff – you cannot win this week and I think they are going to try and make you win. So you can't play at six.
Ky – yes
Tiff – you win at six who are you putting up? who is your target?
Tiff – who is my target
Ky – we've talked about BIGD and Azah
Tiff – I changed my mind
Ky says he would put BIGD and Azah up with wanting Azah out.
Tiff – if Azah wins HOH who does she put up next to you?
Ky – you
Tiff – hannah will vote for
Ky – you
Tiff – DF will vote for?
Ky – me
Tiff – X will vote for
Ky – you
Tiff – for me?
Ky – I won't assume anyone vote I'll just try to stay off the block.
Tiff says she won't go up next to Ky it'll be Hannah she'll go up if the veto is played.
Tiff – why isn't X your target at six?
Ky – I don't believe he has an incentive to send me home before four
Ky – I'm not looking at anybody to keep me safe.
Hannah – who is x targeting
Ky – Azah or you (hannah)
Tiff – for me and Hannah's game we only have a chance if we have you. If you trust X to kee you after six you are jeopardizing me and Hannah's game.
Tiff says she feels that X and him are working together because he's not seeing that X is the biggest threat to winning this game.
Ky says the only two people out of the six he sees winning the game automatically is X and tiff.
Tiff goes on why X has a better chance to beat her.
Tiff – nobody wants to put X on the block. You're his target.
Tiff – nobody plan to get rid of X until four.. not you, Azah or BIGD.
They go through 30 minutes of X leaving at 6 not 4.
They laugh at BIGD playing stupid that he wouldn't put Tiff up if he won at 6.
Ky – so you are saying that if you are HOH this next one. It's Alyssa and X up. Alyssa comes down.
Hannah – I would put up BIGD
Ky – to send home X
Tiff says if Alyssa and X survive past six they are sticking together "She doesn't have anybody and at that point, he doesn't need us. If we're dumb enough to keep him he is really going to do away with us"
Tiff – he'll be like I have these people wrapped around my finger. I've been on the block 4 times and I'm still here
Hannah – This season's victoria. (HUH X isn't really a victoria maybe she meant BIGD?)
Hananh – I don't understand why we would bring him to four.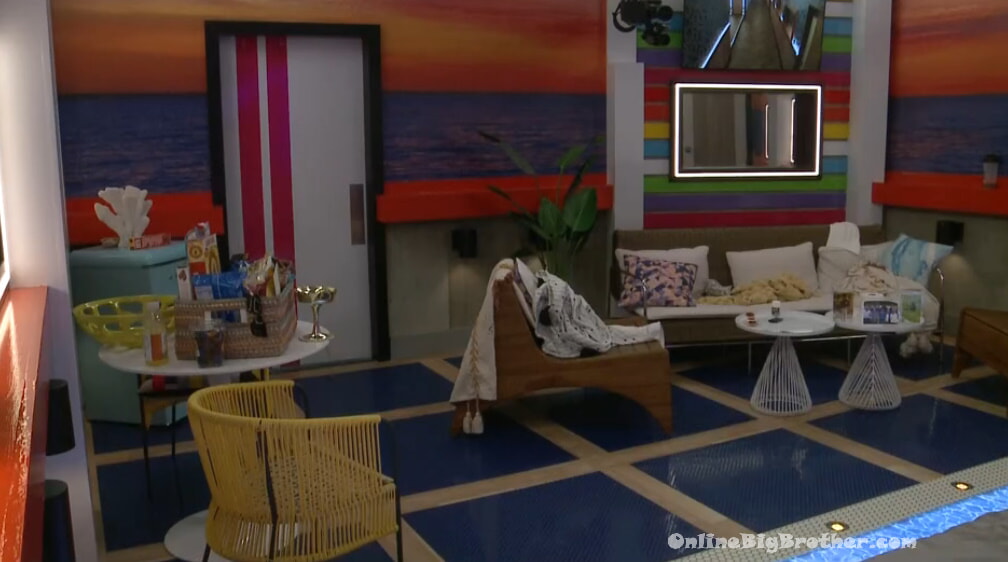 Ky goes to the bathroom.
Tiff whispers that Ky has something going on with the guys.
Hannah – the guys have a final 3
tiff – he needs to reconsider it. He'll have to break it. He does not stand a chance in this game. X wants him out at 6
They laugh about Hannah being 47.
Tiff – I'm glad you are so young I want to see you play this game again and again
Hannah – no I'm not feeling with this again and again..
Tiff – they will never allow BIGD in here again
They laugh.
Hanna – the fight BIGD had last night with Ky and X. I was like why wouldn't people want to take BIGD to the end. He was arguing why he should be invited on their guys trip. Their argument was like BIGD you wouldn't want to do anything with us. He was like umm.. what do you mean I will be so much fun I'll leave you guys I'll be out with the girls.
Tiff – you (BIGD) don't even like us quit lying
Hananh laughs says BIGD is never winning if he makes final two his ability to state his case was pretty weak.
Tiff just hopes that Ky and X don't have this discussion. "What does X have against me so bad why do you want me gone?"
Hanan – you are the only person that could give him a run for his money at the end.
Tiff – Ky couldn't?
Hannah – no
Tiff – why not?
Hannah – Ky does not have Azah's vote, Britini's not, Very well not have SB's vote.
They tell each other they're ok with losing to the other one.
Hananh goes on about only being 21 years old coming here to play a game she's fine with Tiffany wins in the end.
Hannah doesn't think they have a chance to win against X but they have a chance against Ky.
Tiff – very true.
Tiff says DF and Azah never fully trust her game. They never liked her "He wanted me out day one. him and Azah are just way too tight for her to not feel the same way.. It's a cancer"
Tiff – Xavier has never tried to be close to me to make any deals so .. We started getting closer through you it was one week though.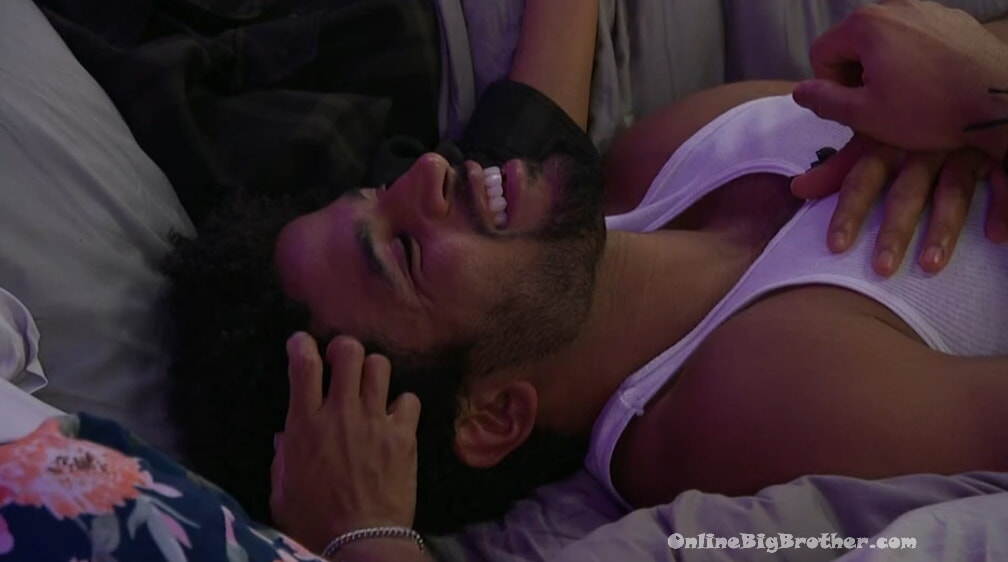 2:42 am Ky returns. Tiff starts to pet him.
They laugh about Ky being "Confusing", Tiff being "Conspiring" and Hannah being "Convincing"
Tiff – and we are the Con artists.
They start going over what Tiff will say to Claire tomorrow.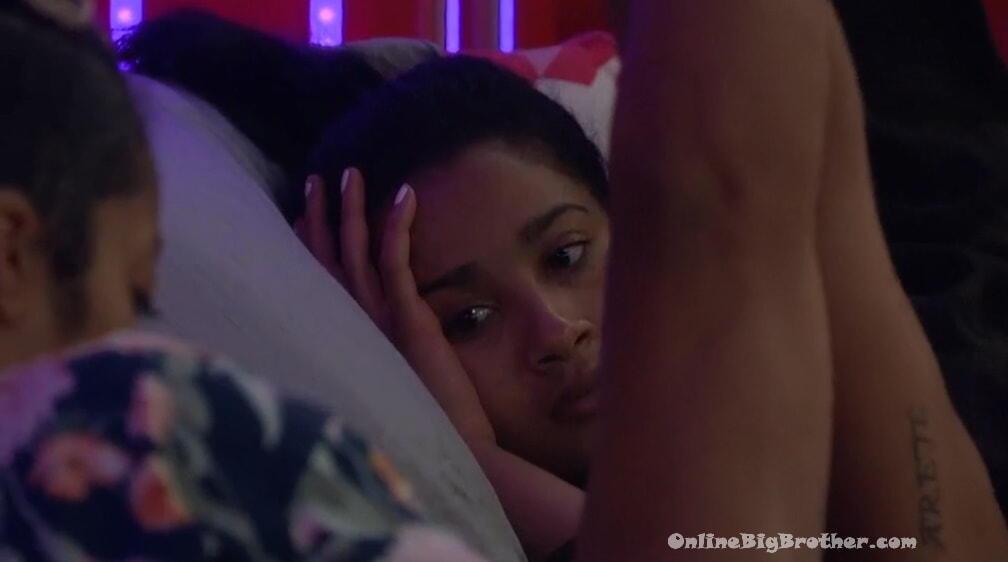 3:10 am
Tiff – We can also get Alyssa to use the Veto on X
Ky – if you do this
Tiff – no I am definitely going home at six..
Hannah – if you get Alyssa to use the veto on X they'll be like she's too good.
Tiff asks who should she say she's putting up to replace X
Hannah – wait you're actually going to pitch this?
Tiff – yes
Ky – Yeah It wouldn't hurt
Tiff – I can tell her I will put Claire up but I know Claire has the votes to stay in this house. They may be telling you they will send Claire home but the only reason I am telling you I'm putting Claire on the block. My number one ally is because I know she's the only person that can sit next to X and stay in this house.
Tiff – if you don't use the veto on him you lose him if you sit next to Claire you stay because X will vote for you, Azah will vote for you, BIGD will vote for you and Hannah will vote for you. If I put Claire next to X he goes home
Hannah – how
Tiff – I don't F**ing know
Hannah – it sounded really good up until that point. You need three votes to send X home.
They work through the details of how they will talk Alysa to use the veto.
Tiff will say that she wants to ensure her safety next week and in order to do that she needs to build trust with Alyssa. To build that trust she needs Alyssa to use the veto on X
Tiff – I am telling you (Alyssa) right now how I can build trust with you.
Hannah – you can say I don't want you to be responsible for sending X home.
Hananh – she isn't going to do it
Ky – I just want to see it I want to see the conversation on Playback..
Hannah – it'll be a Marcellus part 2. That would set you up as Legendary but you'll probably go home at 6
Hanna – you should try I'm curious
tiff – I almost can not
They agree the "timing has to be perfect" so that Alyssa doesn't have time to think about it.
Ky – you have to take X outside then
Tiff says X is going to be following Alyssa around tomorrow.
Tiff – Alyssa I have a 100% guaranteed way for X to stay this week.
Hannah says to tell Alyssa she would have X, BIGD, and Azah's vote to stay.
Tiff – this is an olive branch for me to build and establish a relationship with both of you moving forward.
Hannah – you can shake her hand.. pull a dan goosling and bring your bible down.
Tif – I'll just put BIGD up..
Tiff – X will be so mad.. he will be pissed..
Ky – it'll be amazing though.. X is a fan yo might lock in his vote with that
Tiff goes over her speech to Alyssa "I have a 100% guaranteed way to keep X this week. If you take him off the block then I have to put somebody next to X that will guarantee he goes home if you want him t stay you pull him off I put up a target that I know will go home. This is my olive branch to you and X. I would rather work with you cause one of you will still be in this house. If I offer you the opportunity to both be in this house maybe we can build some trust between you and I. I know you think certain people have guaranteed votes to you those people are not loyal to you"
Tiff – I know Azah told you she made a deal. She will not honour that deal the reason I know that is she told me..
Tiff will say to Alyssa "You mean you never considered using the veto on him? He's way more of a risk to leave on the block than you. You are leaving your best ally"
Tiff – F** it I should do it..
Tiff practices more things to say to Alyssa – He has a greater risk going home than you (Alyssa) I will help save you. If you keep me safe because I helped you save him I have to save you..
Feeds cut..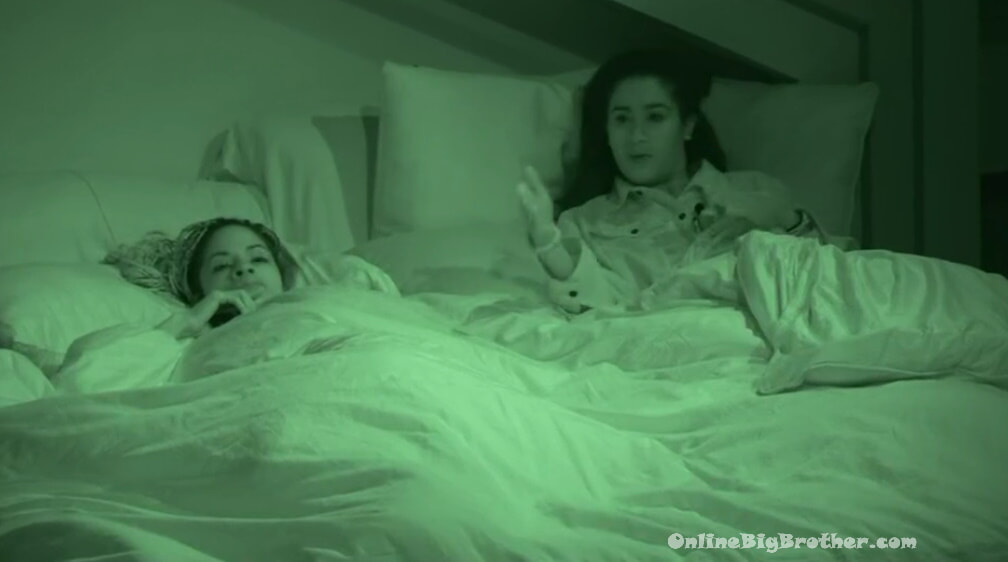 4:06 am Hannah and Tiff..
Hannah – this is where the game of Big Brother starts. The 6 of us have been deprived of this because of the cookout
Tiff says she knows Ky is committed to the guys based on the way he talked around going after X on six over Azah.
Hannah – X told me they have a final 3. He said they had an understanding they will take each other to the end.
They talk about Kyland struggling with the thought of going to the end with a woman with the jury being filled with women.
Hannah says the 3 guys thinking that the women in jury will just vote for a woman in final 2 is unfair.
Hannah – you are discrediting the women of this season (it's happened before)
Tiff – saying we're all emotional voters and we're sexist
Hannah – Not really sexist.. you are just implying we will vote for someone based on them being a woman.
Tiff – doing something to someone based on gender is sexist
Hananh – no sexism more applies to men against women
Hannah – you are saying we don't have any ability to evaluate the game from an unemotional perspective. That is unfair..
6:36 am Zzzzzzz
9:35 am Zzzzzzzzzz
10:06 am Wake up
Please consider a donation to keep the madness going.