HOH: Xavier
Nominations: Azah and Kyland
Power of Veto: Xavier
Power of Veto Ceremony: ?
Big Brother 23 Houseguest Rankings – – RANK THE HOUSEGUESTS –
View the previous day ranks on the – Ranking Grid
Big Brother Spoilers – Will X use the veto on Kyland?
12:50pm Backyard – Xavier and Big D. Xavier is working out.
Big D – Do we feel like… I am just throwing things out there. Do we feel like.. I get, I mean it is a game so I guess you really can't be fair. Xavier – who do we feel its fairness to? Big D – you now Azah's resume compared to Ky's resume is completely different. Xavier – Mmmmhmmm. Big D – So you know, just throwing out things that we would discuss over the next couple days. Xavier – oh let me guess he came out and apologized to you. Big D – No, f**k no! I ain't .. look please! I could give two sh*ts! Let me tell you something, this is my motto in life when it comes to men. If you ain't giving me no D, then nothing matters to me! Xavier – Ok! Fair enough. Big D – am I getting anything?! No! I am barely getting a cuddle. I am barely getting a compliment. If I was a dude and I knew this person got a crush on me man I would be playing it the f**k up! Making him think ohhhh.. I really do like you… but that's okay! Not your gameplay. I respect that but it can't be one minute of oh I care about you and then another minute you're dragging in front of everybody or making me feel like sh*t. Xavier – that's your man, not mine! Big D – so the way I look at it .. if you're not willing to .. I've been there for him since the beginning I've did everything. I've protected him. Lied, manipulate and did everything. Now we're down to the point of .. you feel like because you did more work than Azah that you should be here. Motherf**ker me and X both did a bunch of work! And if I don't feel like I don't want to be super ..which I am still going to be competitive but there is a chance that you would pick Azah if I put the veto on you. That scares me. Or there is a chance of when you get down to the final two you would try to do this D … Okay motherf**ker! Because my thing is, I made a deal with one person in the beginning. That one person is the only thing that matters because that's what I made in the beginning. Any deals after that don't mean sh*t! But if you made deals with other people .. you made those WAY after you did it with me or whatever. So my thing is if someone comes in and follows up with a question you should automatically say yeah. Xavier – that is what I am saying. I hear what you're saying about who has done more but who did more between Tiff and Azah? Who did more between Hannah and Azah? Big D – correct! Xavier – pretty much everyone in the cookout did more than Azah. Big D – correct. Xavier – so for me it literally comes down to the three part final HOH… like who do we think we could beat? Azah could pull one out of her a$$, that is very possible. But if she pulls one out of her a$$ that is probably more my problem than yours because I think between the two of us she is going to take you. She's already told me that. If the first two rounds the winners are you and me, then it doesn't matter because then its you and me sitting in that final round. Big D – if the first one is endurance I should probably not stay up long.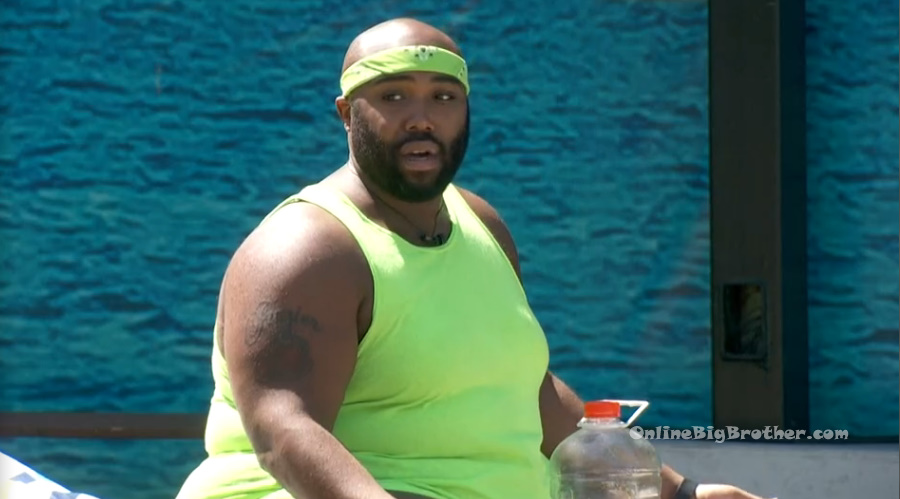 1:45pm Backyard. Big D and Xavier.
Xavier – if he has the mentality he wants to take me to the end ..we had our batman versus superman this week. Big D – so obviously if he wants to lose that everyone is going to vote for you anyway. Anyone sitting next to you is going to vote for you. Why would he want to sit next to you at the end? Xavier – that is the thing part of me thinks that its bullsh*t. Part of me thinks that he want to use that because he knows I'm a competitor too and he wants to use that to get to final three. And if he wants, he may just cut me. Which means him and Azah cut me. Big D – no of course with Azah you know what you're getting. Xavier – what type of game is he playing .. is he trying to use that just for me to keep him around? When I really should do what everyone back home is expecting me to do? As soon as he is ripe for the taking you cut him. The second strongest competitor is ripe for the taking you might as well get his a$$ now! Big D – that is what I am saying. Xavier – for me its the game. This is big brother.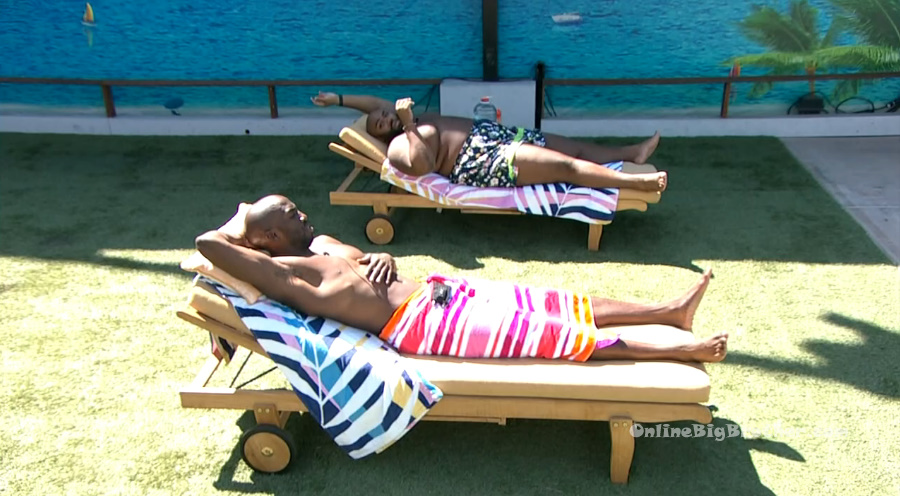 2pm Xavier, Big D and Kyland chatting about past events of the season.
2:40pm Big D, Xavier and Kyland.
They're talking about who they think with get America's Favorite. Kyland – I think Hannah will get it. Xavier – Claire might get it. It will be a woman, Claire or Tiffany. Ky – I think they appreciate the mom aspect.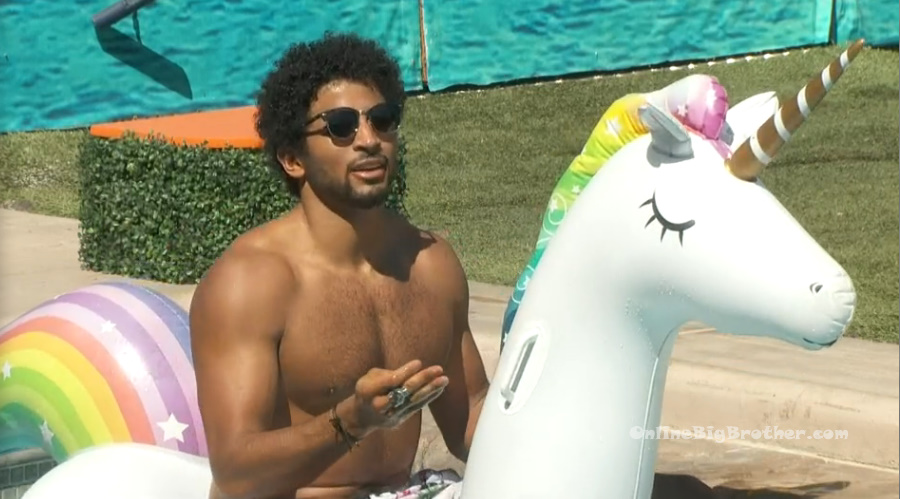 Big D "This is the most gayest thing I have ever seen!"
Kyland "What's gay about this?" #BB23 @bigbspoilers pic.twitter.com/RDoqbJsWNR

— Dawg (@DawgsBigBrother) September 19, 2021
3:35pm – 3:55pm Azah, Big D and Kyland are in the backyard talking about BB legends. Big D didn't think Janelle is a legend. Azah and Kyland tell him that Janelle is absolutely a legend. Big D – I want to be a legend, a statement, a star!
4:25pm Bathroom – Xavier and Big D.
Xavier – Something that I have also been considering …just a general though that at the end of the day I think I've been thinking about if I didn't win like if someone else won who is not Big D… would they take me? Would they not take me? But then at the end of the day what is most important is one of us winning. So for me I am starting to shift to think at this point we need to take whoever the f**k we both can beat. Or put us in a position to where we can win because that is best case scenario is that one of us wins that last HOH. Ky could easily win and not take me which I already know is the deal with Azah. So for me if they both would win and not take me .. and I know that Big D would.. then its like a Derek/Cody and Victoria. Lets just take someone that we feel we can beat and then we go from there. Big D – for me, the reason why I would not take him …because when I follow up and ask a question its .. nothing.. so why would I take someone that can't say something said a week ago .. or even a day ago.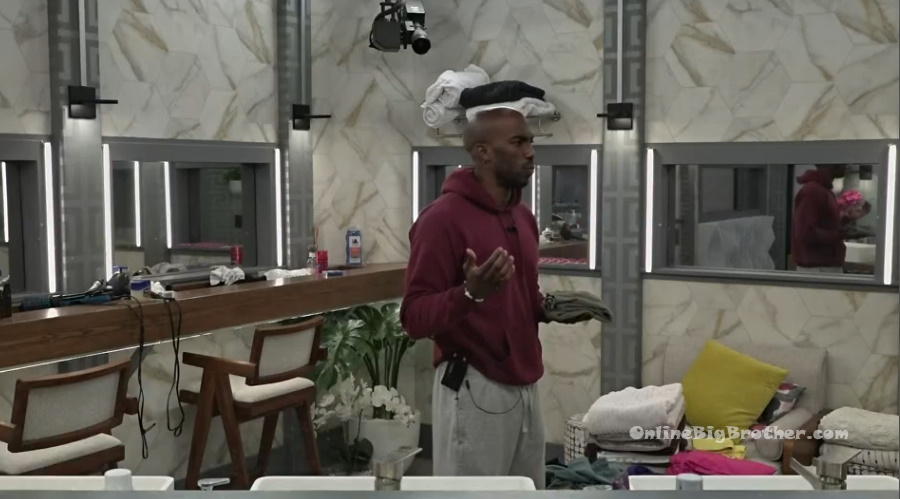 4:30pm – 4:55pm Xavier and Kyland playing pool. Xavier – I put a little too much mustard on that one ..now I've got to play ketchup! Azah – it looks like you know your way around holes!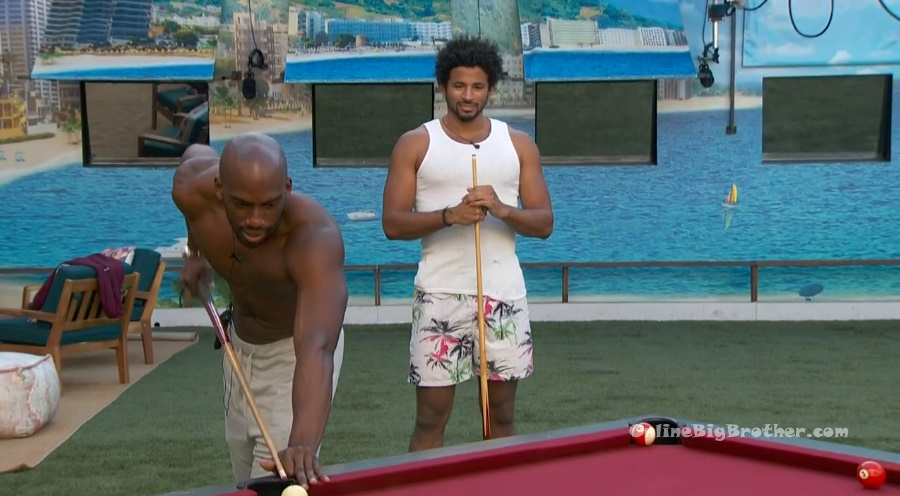 5:26pm – 6:25pm HOH room – Xavier and Big D.
Big D – I feel bad no matter what I do and its just hard. And I don't know if its going to look good or bad .. that's where I'm at right now. Xavier – why would it look bad? Big D – I am just thinking of what the jury would think. Xavier – it doesn't look bad because you weren't disloyal. How I look at it is like did.. Big D – didn't we make a final three? And then we're breaking it before the final three? Xavier – Azah would go back and say the same sh*t. Either way either one would go back to jury and say we had a final three and they cut me. The difference is who would the jury be more happy to see? Azah or Ky? Look at those faces on the wall .. Britini? Who would she be more happy to see? Big D – Ky. Xavier – DX? Big D – I don't know what do you think? Xavier – Ky, you forget DX had a good relationship with Azah. Xavier – Tiffany? Big D – I don't know. Xavier – Tiff would rather see Ky than Azah (go to jury). And then Hannah same thing. Every single person in jury would be happy to see Ky walk through those doors with the exception of SB. And every single person would respect the people that sent him there because out of who is left that would be arguably the biggest game move. Big D – lets just think about this because you and I have always been honest.. me and you sitting at the end who is Ky voting for? Big D points to Xavier – you because I sent him home. Xavier – no he is not that bitter. Ky will literally vote on who had the better game. he is not going to base it off you literally sending him home. I put his a$$ on the block and by me leaving him up made it so you could vote either way. Big D – he will probably still vote you because you had the better game. I think you the only motherf**ker that is really see what the f**k I've been doing this whole f**king time. They start going through the veto comps. Big D – Its awkward that I have to vote him out and then he is going to be like.. Xavier – if you can't do it, I will literally take her off. Do you want to be the person to send him home or.. Big D – I want my spot solidified. It is just going to be awkward that is all. And I am trying to have something on my resume that they will be like I didn't expect that. Xavier – I am trying to give you that. Xavier – you're not going in the diary room. Big D – oh my god I am saying it in front of him? Xavier acts it out. Big D – oh my god… I guess I got to start practicing my speech.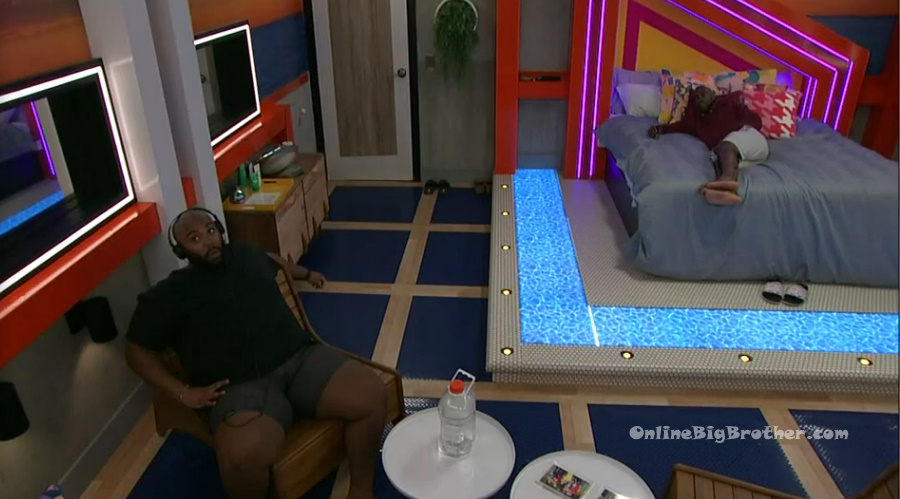 Xavier – I am going to ask you one question .. were you planning on going through this whole season without getting any blood on your hands? Big D – no I wanted to get blood on my hands. Xavier throws his hands up in the air. Big D – but at the beginning, or mid season .. or double. Do you know how badly I wanted to be the person to send Tiffany home? Xavier – for me I probably have more incentive to keep Ky because he would probably take me to final two but I want to be sitting next to you. If we want to sit in the final two we have to face off against someone both of us are capable of beating. Big D – no, I get what you're saying.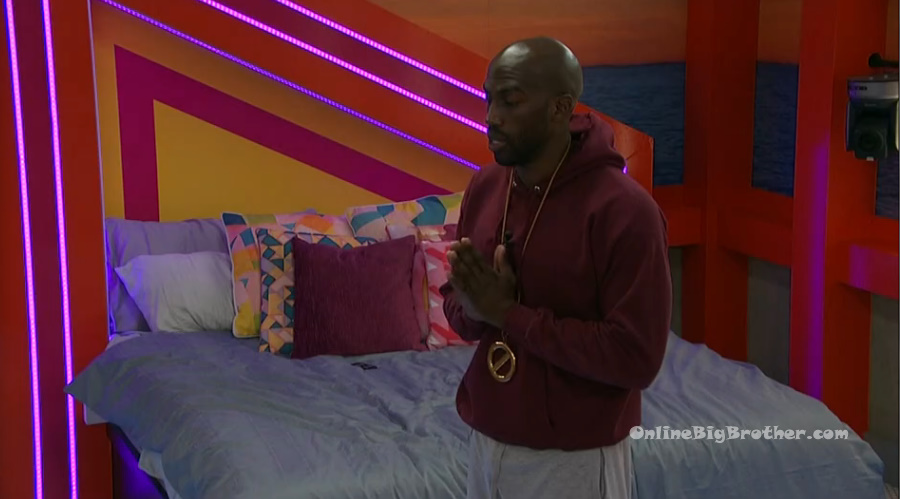 7:44pm The house guests are lazing around. Azah is cooking. Big D and Xavier are out by the Hammock. Big D is talking about the evicted house guests.
Big D "Maybe we shouldn't give you the GoPro" #BB23 @bigbspoilers pic.twitter.com/KqtGQngLhi

— Dawg (@DawgsBigBrother) September 20, 2021
8:30pm – 8:55pm Dinner time.. Azah – you guys make me so happy when you eat my food. Big D – such a good Queen! African Queen make a good wife one day!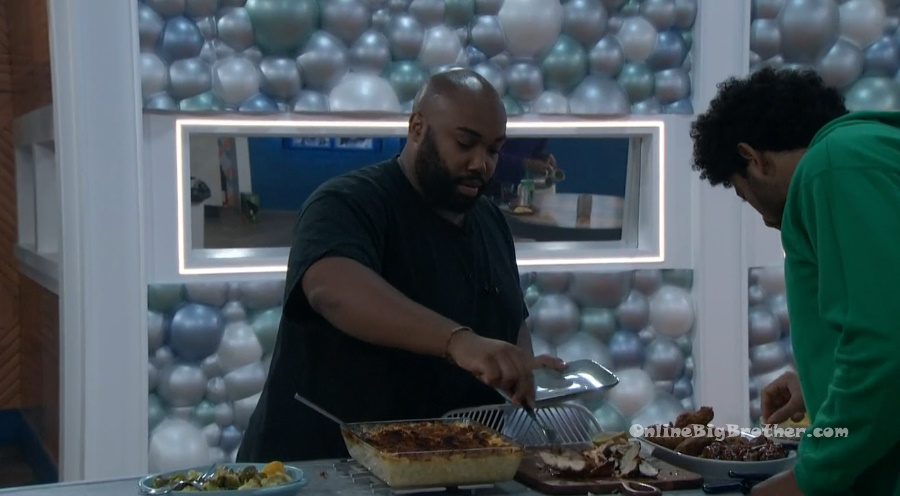 8:54pm Big Brother blocks the feeds.
9:22pm Still blocked..
9:25pm – 9:34pm Living room. Azah and Xavier.
Xavier – if we even have a tiff it lasts like 3 seconds. Azah – yeah. Yeah it doesn't last long at all. Xavier – and we talk about it afterwards if its anything. He (KY) always wants to fully dissect everything.. and I am like Brah! Why is he trying to dissect everything!? Chill out dawg! Azah – I am just so tickled on a game level you just don't f**k with him and it just cracks me up! Xavier – I am over it! I am over it! On a personal level he is my brother for life, on a game level ..get the f**K out! I am over it! Like this…(they hear Ky going on and on in the kitchen).. I couldn't be his girlfriend because if he started hitting me with this sh*t I would be pissed! Azah – I know how to deal with this. You literally just stop the conversation. Just disengage. Xavier – I don't know if he means it but its almost like condescending. Big Brother blocks the feeds.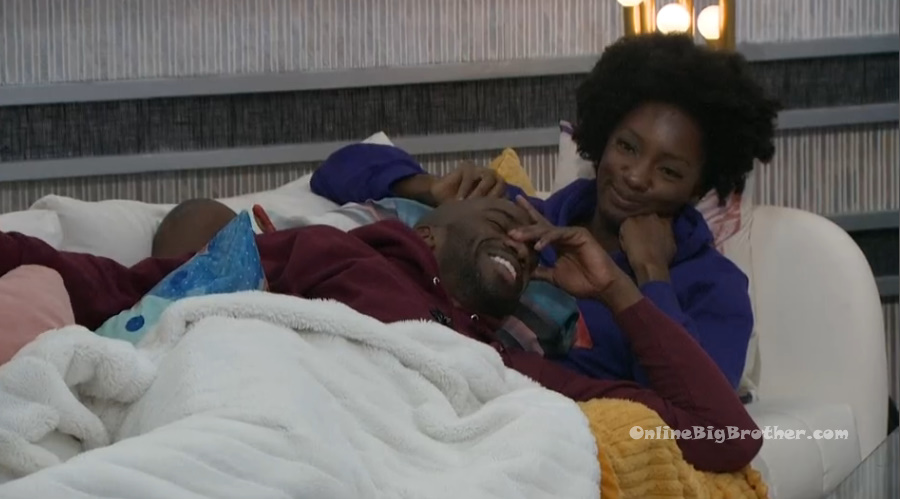 9:41pm Big Brother blocks the feeds.
10:05pm The feeds return to Azah and Xavier still laying on the couch together.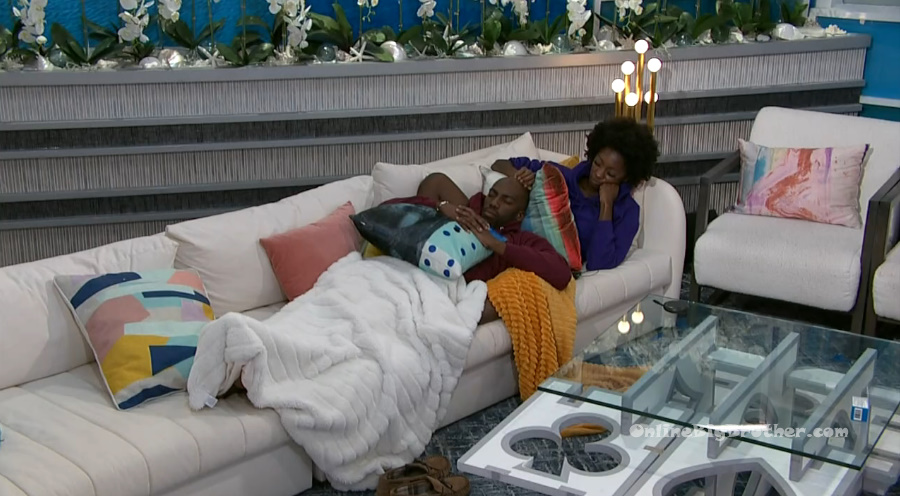 10:09pm Big Brother blocks the feeds again..
10:26pm Still blocked.
10:50pm Azah and Xavier are on the couch. Azah asks Big D/Kyland who are doing the dishes in the kitchen if they "feel like going for a walk to check out the storage room to see if there is anything in it" (alcohol). Xavier gets up and says that he will go check. Azah laughs.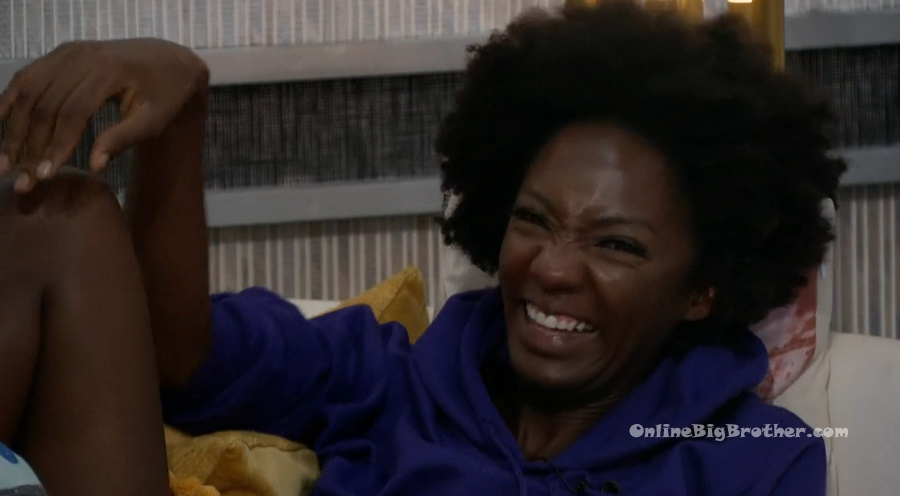 10:52pm Xavier looks at the spy screen – These grown a$$ men (Big D and Ky) have been arguing about the same thing for over an hour and a half and have gotten no where! Just shut up! Just shut up! Just SHUT UP! Oh my god! No, no this is why you want to win HOH to just get away from all that! Oh my god! Either way I just have to win the final HOH so it doesn't matter if he is here or not …the situation is the same I just have to win. And I thought about keeping this man (Ky). F**K THAT! Because I can't deal with that no more! Nope! Game.. because as long as he (Ky) is here he is going to be doing this sh*t and getting in his (Big D) head. NOPE! Got to go! GO .. got to go! Can't do it no more! Its ridiculous!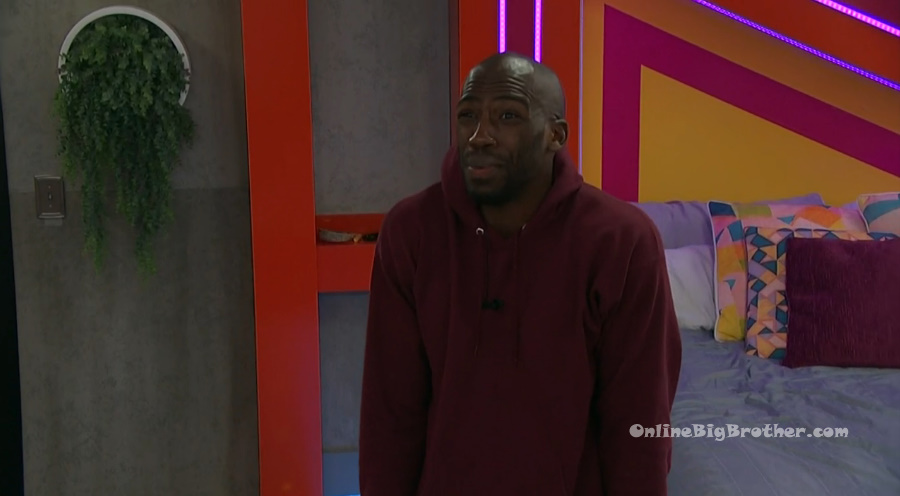 11pm Bedroom. Xavier complains to Azah about how Big D and Ky are still arguing. Xavier – make this makes sense… I have had to convince him (Big D) to vote out the man (Ky) that he keeps fighting with …what he says is his closest friend in the house. Like I know why I want you here. Why am I working harder to keep you when the person, when the person that I am trying to keep you over is someone that he constantly fights with?! Azah – I wish I could tell you. Xavier – am asking you to do one thing.. cut off the man that you keep fighting with!! Big D joins them. Xavier – is it over!? Big D – what do you want me to do?! Xavier – you know what I want you to do! Big D – I am so sorry guys for ruining the rest of your night! Xavier and Azah both say they had a goodnight.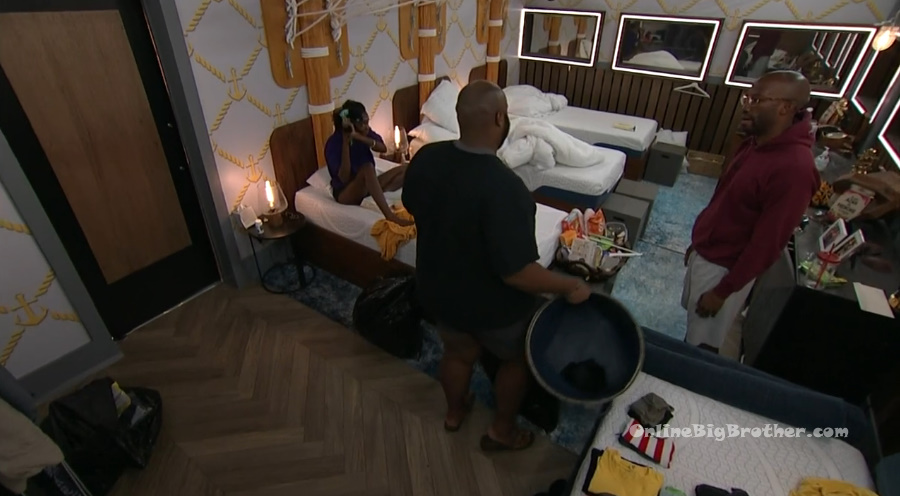 11:30pm Havenot room. Ky clipping his nails and talking about the past events / how he got to this point in the game.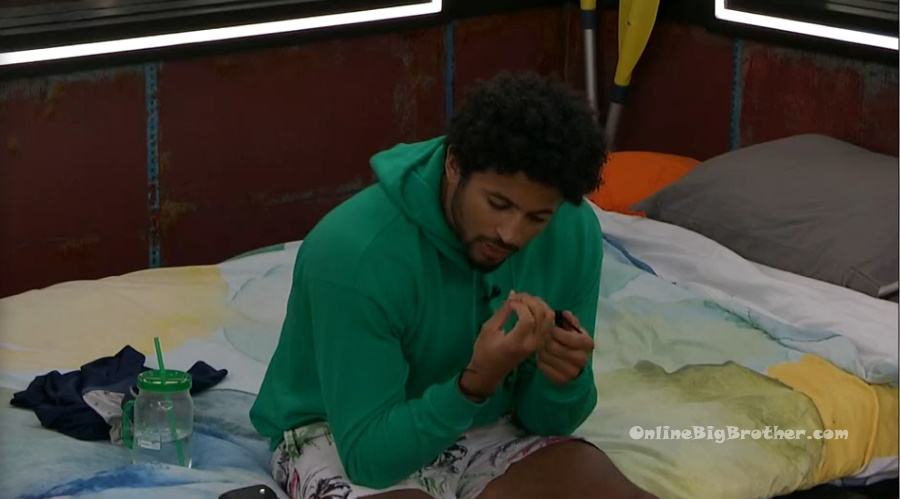 12:50am Xavier is sleeping. Big D, Azah and Kyland are getting ready for bed.
If you've enjoyed our updates this season and want to leave a tip you can do so through PayPal. ;) Thank you to all of our amazing OBB supporters who have already contributed!