HOH: Xavier
Nominations: Azah and Kyland
Power of Veto: Xavier
Power of Veto Ceremony: ?
Big Brother 23 Houseguest Rankings – – RANK THE HOUSEGUESTS –
View the previous day ranks on the – Ranking Grid
Big Brother Spoilers – The veto hasn't happened yet.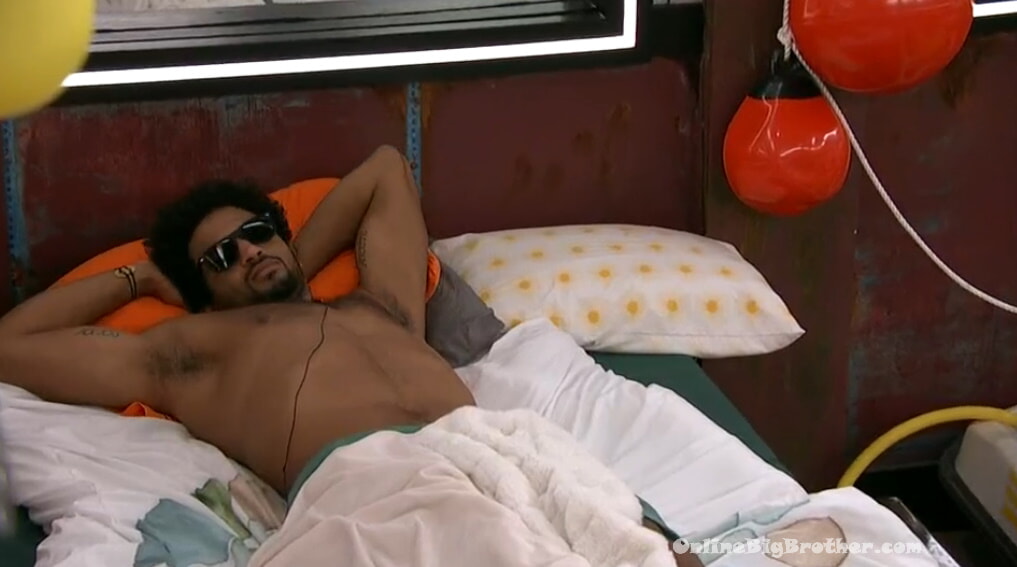 11:42 am Kyland getting up…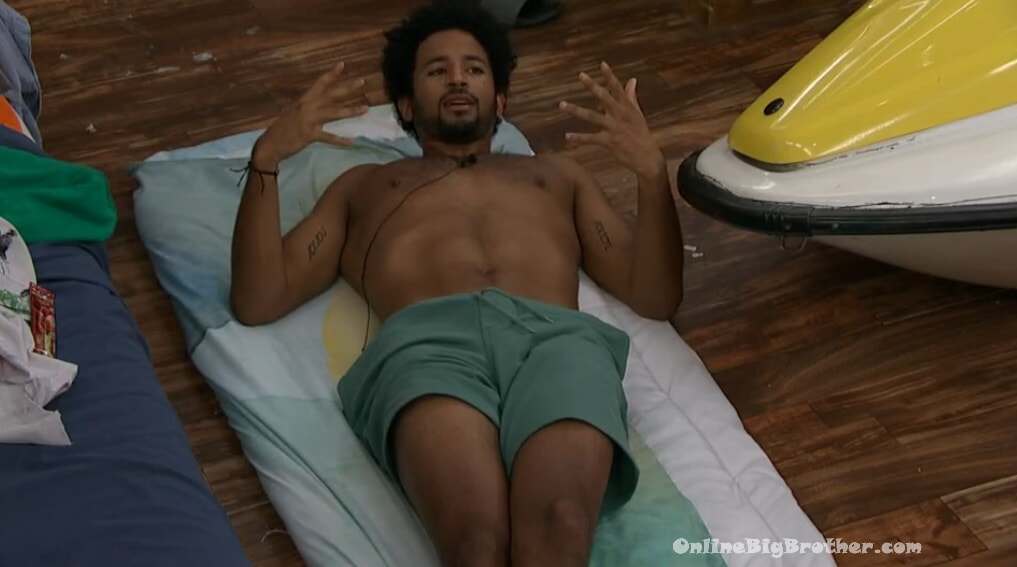 12:44 pm Kyland
Kyland has been doing his workout and giving out Shoutouts..
"Former President and First Lady Michelle and Barack Obama what's up? No saying I'm expecting us to hand out or anything when we get out of here. But love to be friends or meet you won time Or get a like on Instagram or Twitter.. "
He laughs
"The Cookout would love you know any sort of shoutout or acknowledgment of our existences.. I love you both"
" while we're going down that list Will and Jeda.. love you all appreciate you all.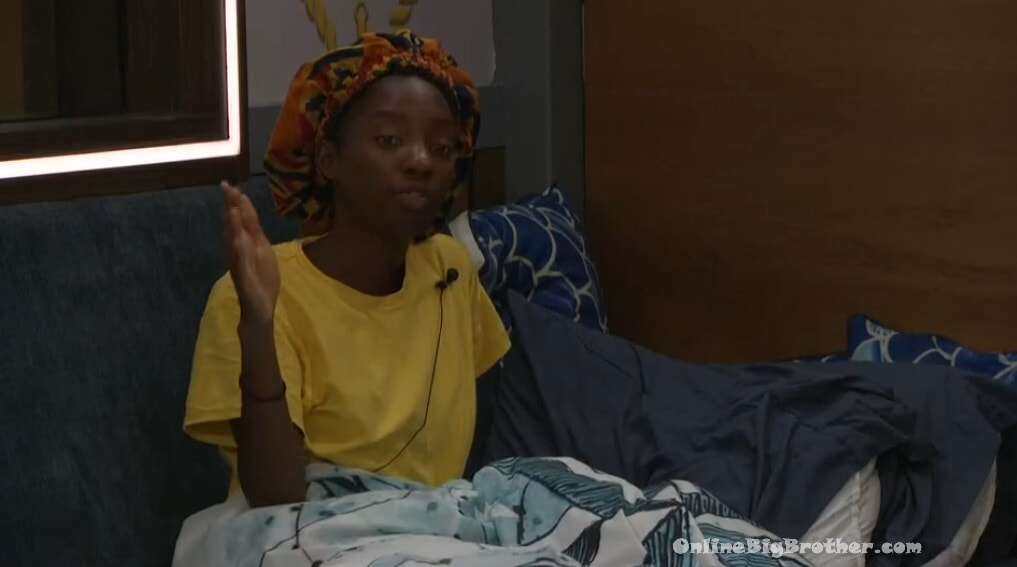 12:30 – 1:10 pm BIGD and Azah
BIGD is busy rewriting BB history this season. Azah is starting to get annoyed about it.
Bigd – I kept you in the dark about a lot of things so you wouldn't have to lie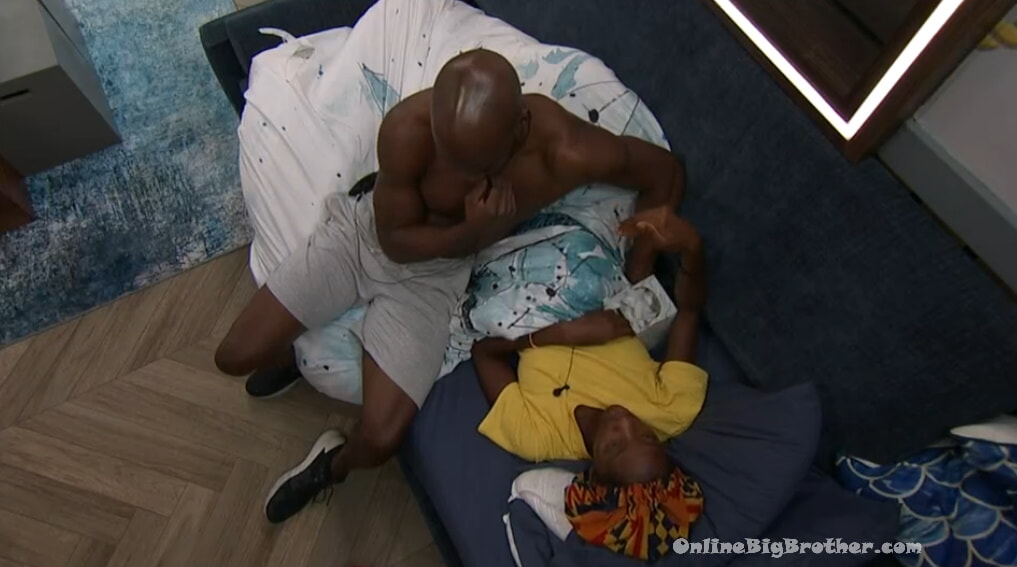 1:11 pm Azah and Xavier (BIGD has been busy rewriting BB history and it's upsetting Azah)
Azah – I'm going to sit there and defend myself. I regret him going.. There's resentment there a seed has been planted something he holds on to.
Azah – I had my insecurities in the past but I'm at complete peace with myself and the game I played to get here. It's a lot when someone keeps on.. I dunno..
X – you know what you've done to get here right? it doesn't matter those other things. The fact of the matter you are here. whatever you've done to get here has worked. Don't let anyone take that from you. We've all done and played the game the best way we saw fit. Whoever says otherwise is fooling themselves.
X – A lot of times he's under the impression he's done all these things made all these moves. I won't lie and say he hasn't but there was also things already in place that he kinda reinforced. He may have said something.
X – just because you did something doesn't mean it had an impact. He brought up an example Ohh I was planning on doing something but X already did it but I went and did it anyways. Times where he's done it so say he did it but never really had an Impact that influenced anybody.
X says he's just going to let BIGD go off and claim all these things he never did "F*** it"
Azah – I never made this a competition it doesn't need to be a competition (LOL)
X – I think some people said some things to him that messed with his confidence and the things he's done in the game. He's trying to convince people that are here.. it's his way of validating what he's done to himself. He doesn't realize that he's also putting you down when he does that.
They talk about BIGD saying him being on the block is points on his resume.
X – Two by Kyland once by SB..
X – we are guaranteeing him 50K just on the virtue that I had a deal with him
X – I believe him that he's firm with getting Ky out. What is all this emotion?
X – you've been working with this person all season long. Why the hesitancy? You have a choice between a person you have a crush on and has gone back and forth and has shown that you are expendable to them on numerous occasions. Against someone that has had your back this entire game. Never threw you up, never went against you in any fashion. Another person who has never put you up and when you were up I pulled your a$$ off knowing I would go up and I did. Next time I was in power you still didn't see the block. There were only 2 other people to put on the block and one of them he knew I had a strong relationship with.
X – This is getting ridiculous I've asking you (DF) to do what f**ing thing, it's between your crush and your best friend.
X – one avenue benefits me more and I'm telling you to do the other
Azah – honesty I don't got.. Maybe I'm emotional but I'm cool with whoever he decides right now. I've just.. if this is such a hard decision for him to make…
X says DF wants to make a big decision in the game and he's letting him do that with this vote "But if Azah goes home I'll be pissed so.. your emotions make me not even want to trust you with that decision I would rather just take her off cause I know she will be like YUP send you a$$ packing"
X – I have the veto at the end of the day If I am feeling like you are not willing to pull the trigger I'm not leaving it up to chance. I will pull Azah off and she will not hesitate to pull that trigger.
X says if he gets any inkling that DF won't vote out Kyland he'll use the veto on Azah. "I want to give him something like Ohh I voted this person out"
X – dog I haven't gone after you once and I ask for one thing and you are hesitant. I feel from a purely game standpoint it's a rather easy decision.
Azah – he always brings up I have to choose between my best friend and a deal. This is a deal too you made with me I just haven't put it in your head. He told me yesterday morning Kyland's telling me if I do this I am a bad person.
Azah – Literally I'm on the block as well.
X – as far as this week goes make him feel comfortable so he does what he needs to do after that maybe we all sit down say this is a game whoever wins should have free reign to do what they want to do. F** the deals F** any of that. May the best person win
Azah – he says Kyland is saying he deserves to be there.. the only person that deserves to be there Is X because he won HOH. If he had won the veto he[ky] would have deserved it.
X – truthfully he says he carried you? I could have put your a$$ up you know what I'm saying.
X about BIGD – your personal relationships get in the way of you making game decisions that's problematic. If I consider taking Azah I don't think that is wrong at this point.
X – I kept you off the block and you are hesitating.. do you want a check or not?
Azah – 50K is a lot of money
X – all you have to do is one f**ing thing
X – You stay here he goes home. If I feel like if BIGD isn't going to pull the trigger I will pull you down and then you'll do it. If I feel like BIGD will do it I feel comfortable with him doing it.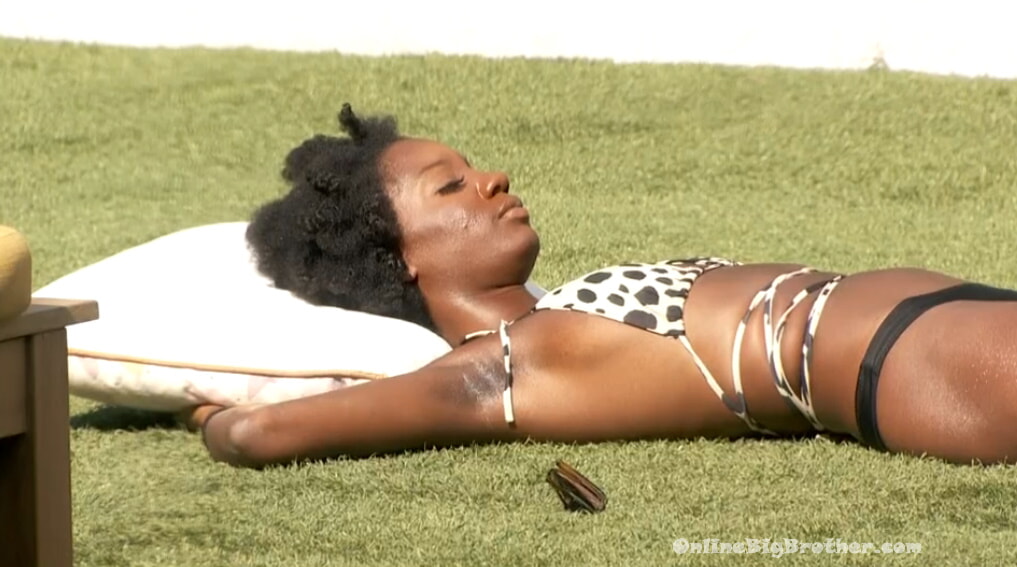 4:00 pm Lots of lounging around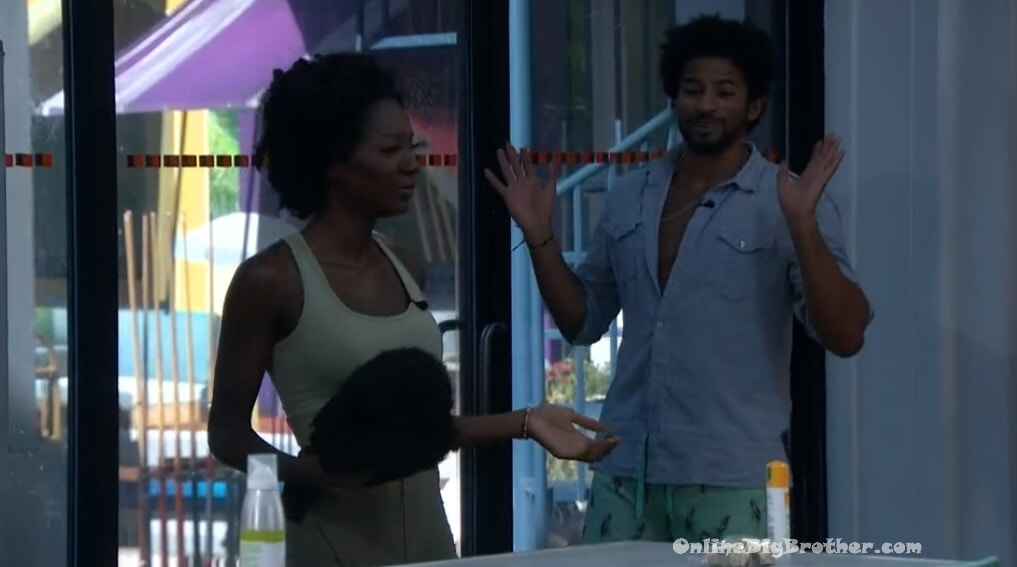 4:14 pm DF put Azah's wig into the washing machine by mistake.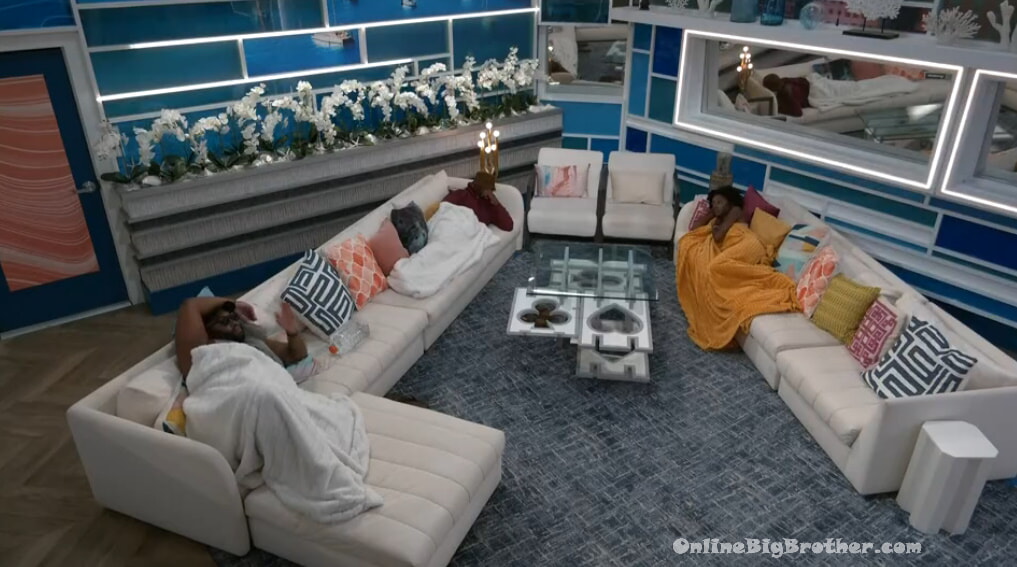 5:11 pm Chit chat about the show.
Azah says generally the fans are enjoying seeing fresh faces come and play she says if it's Allstars they understand.
DF – ohh I definitely want to be invited for an All-star season
DF brings up Paul coming back right after he made it to the final 2. Says he would rather see people that went out early come back
X disagrees.
Df – you don't want to see Frenchie (the clown) come back
X – NAH .. I love Frenchie (the clowN) but Nah the result would be the same with Frenchie (the clown)
X – Everyone watched week on Frenchie (the clown) if someone comes into this house and saw that season they will know what Frenchie (the clown) was about. I would not want to work with him 1) he blew up everything, 2) he tried to align everybody but clearly didn't hold a word with anybody. That's two big things In Big brother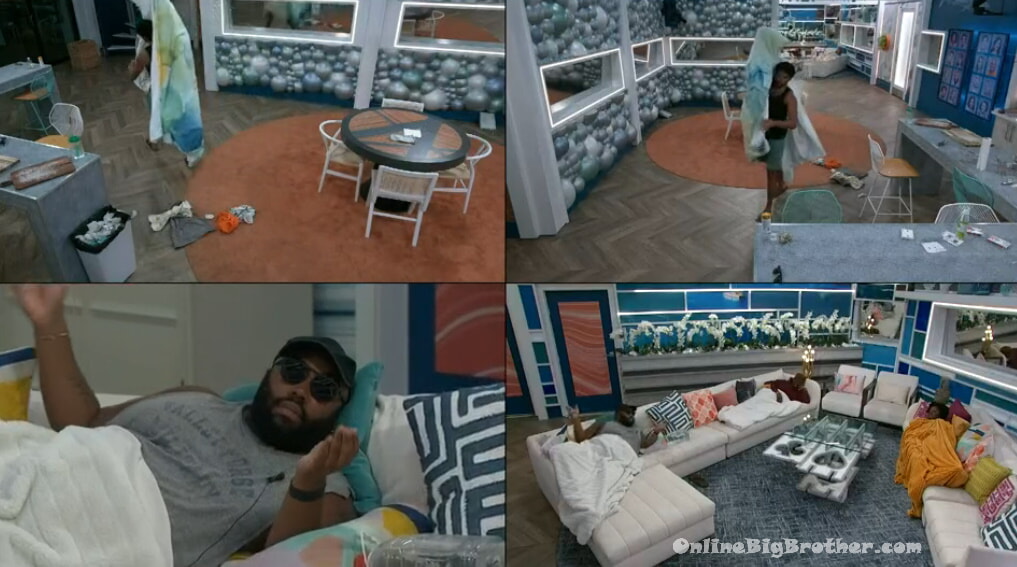 6:21 pm Cookout chit chat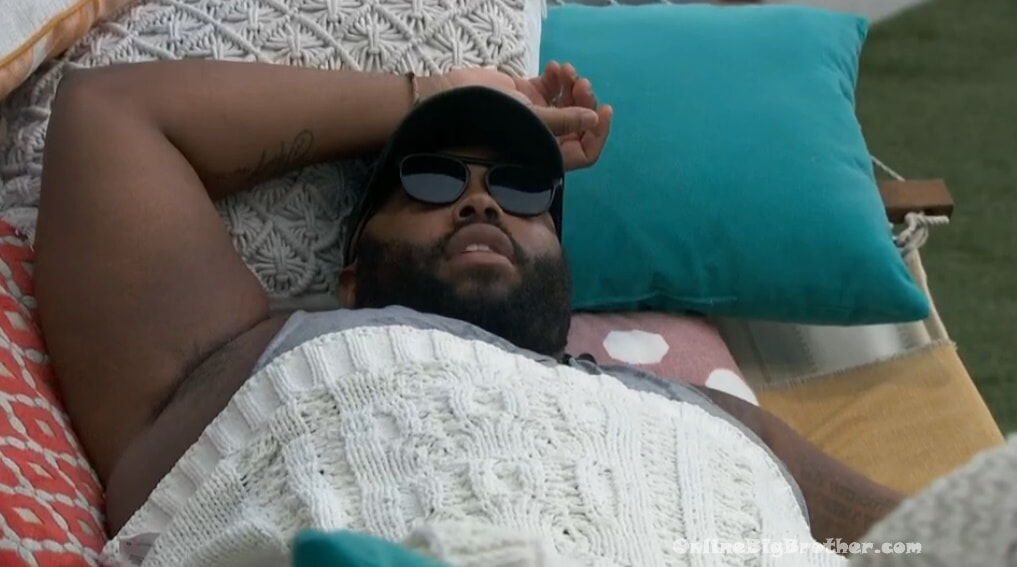 6:35 pm BIGD talking to the camera
I wonder how America receives me. Does America like me? Do the fans like me? I mean.. I hope I'm just being myself. If you don't like me I completely understand I'm not everyone's taste or flavour. I'm also a BIG GUY so I'm a lot to handle. If fans do like me or if people like me I appreciate that. If People don't like me I hope I change your mind one day. I understand not everyone will like the same thing in life but I am always open to having discussions and conversations with anyone that has any questions with what I said.. Keep in mind you might get a BIG F*** you I don't care. Thats my personality