HOH: Kyland
HAVENOTS:
Nominations: Claire and DerekF
Power of Veto Players:
Power of Veto:
Power of Veto Ceremony:
Big Brother 23 Houseguest Rankings – – RANK THE HOUSEGUESTS –
View the previous day ranks on the – Ranking Grid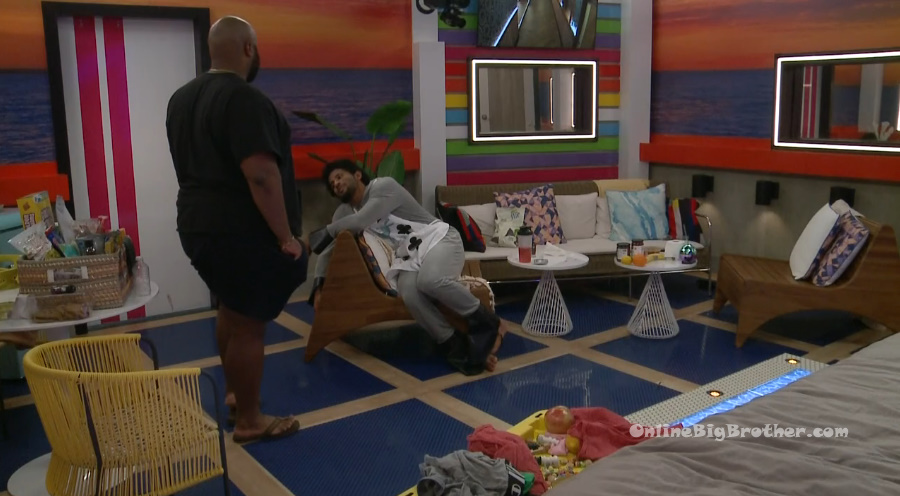 1pm – 7:19pm The feeds are blocked for the High Roller stuff..
HOH room. Big D and Kyland.
Big D – I don't know how long I can keep this up. Hating you is very difficult. Kyland – you don't have to hate me. Big D – I do, I have to make sure everyone know that I don't like you. Big D – did you really have to get 9? Kyland – I thought that was low when I did it. Big D – do you think its smart for us to tell each other. Kyland – I do. I just asking. Big D – look at our game. Its different if you and me are talking. X was saying that all 6 of us tell each other. And I don't know if that is smart for the long term. For example, lets say we're HOH and someone says Kyland don't play in next week, save your money for the following week. And you decide not to use it because you trust that person is going to have you and then .. you get F**Ked over or something crazy. I don't have a problem saying what we played in but the last thing we need is you go and tell one person oh I got a $100 or $75 and they go and tell their person.. then we're in a bit of a pickle. I think it is best if we are just honest if we are going to play. That is better.. saying how much we made and tell the other person .. they could tell the other person oh x, y and z. The problem is that no one is going to keep their mouth shut like me you and X are. The girls will end up f**king talking and we'll be dumb as a f**king rock when they find out. Ky – so what does someone do with the information to harm us? Because having money doesn't mean you have a power. Big D – No, but lets say next week someone how is not in the six wins and they know .. they have a certain amount of money to play.. Ky – yeah .. but all you have to do is not tell your person. Big D – but we are talking about 6 motherf**kers here .. I know you and me are good. But the girls .. you know what I am saying. Its cool if we say hey today I am going to play, hey today I am not going to pay. Ky – yeah. Big D – do you want to know? Ky – of course I want to know. Big D – Okay, I will tell you. I trust you with my whole entire game. I am on the block, I have painted you out to be the worst person and I have even lied to Azah.. making it seem like Ky likes you .. notice he didn't put you on the block.. he put me on the block. I am the target. Ky – why are you telling people you're the target?! Big D – yes. Ky – why!? Big D – because I am telling her what I believe so that she keeps the same attitude this week. At the end of the week I will tell her that I told you to make me the pawn so that she wouldn't be the pawn because I would do better at keeping my poker face than you (Azah). I've even told X that I'm the target. Ky – I want to control the veto if I can because we need to get rid of it (power) this week because if one of us dont win next week that would be something we wouldn't control. Big D – now I need to figure out who to pick (HG choice). Have you made you decision who you are trying to send home? Ky – I have not but currently, X, Chadda (Hannah), you are all in the same spot. Like lets figure out what we are doing. So I need to rest and figure out all the info I got from that competition. I haven't showered in two days. Big D – yeah you need to do that. Because the last thing we need is to not have a plan and for me to go home. Ky – I will have a plan for you before you wake up. Ky tells Big D that he got $50. Big D – I got $100. Ky jumps up and hugs him. Obviously we are doing something right. Ky – WOW! Big D – I am not telling Derek X. My team does not know.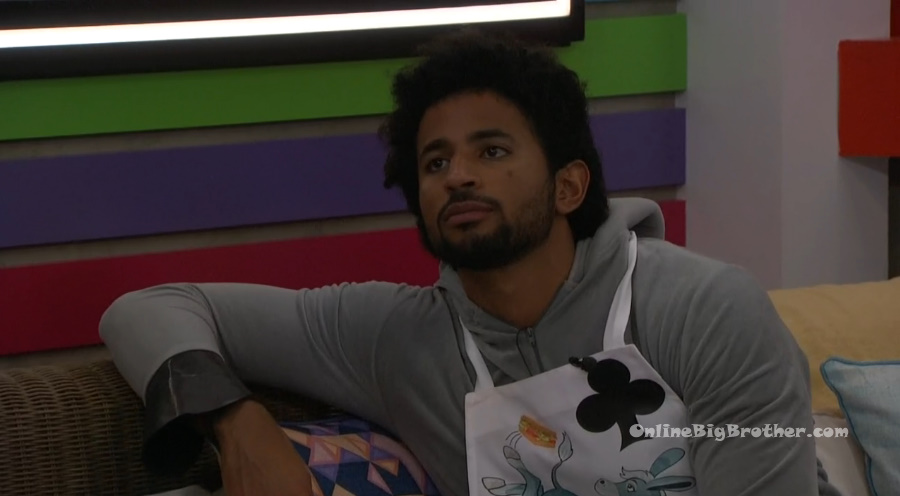 Havenot room. Xavier and Alyssa.
Alyssa – we were on the couch and Britini I said Brit is in such a good mood.. I will get there some day. And Tiff goes that is that $100 dollar mood. She goes what you think that is what I got? And she is like I am just saying things Brit. I am just saying things. Xavier – I think both Tiff and Brit got $100. Because neither of them played and they're the two people in the house with the exception of Azah who have the most incentive to play. I think Azah played because she got $50. It doesn't makes sense for her to play. But for Tiff, not to play with Claire on the block .. I mean I guess it makes sense if you only have $50 but for Tiff .. that is your ont.ly ally in the house. You kind of got to go get that. It makes sense for Tiffany and Brit. Alyssa, like if you were on the block I would have gone for $50. Xavier – exactly. For Brit to say she got $75.. it means she could have played and still have money left but if you didn't that doesn't add up. You could have played, helped out your teammate and still had $25 so the following week if you got a $100 you go have gone to the roulette. Not impossible, but you didn't. Brit has $100. Tiff I think has $100. Alyssa – I think the other one is Big D. Xavier – I think so too. Alyssa – and Brit was acting like she played too. Xavier – but she didn't. Alyssa – does it even matter who got it?! Xavier – I don't think so. Xavier – it does tell me that we can't trust nobody. Alyssa – you think SB would have done that for $50.. Xavier – maybe. I think Brit or Tiff got it for a fact! Alyssa – every time I am talking to Ky people are staring at me. They agree they don't need to tell anyone what they have.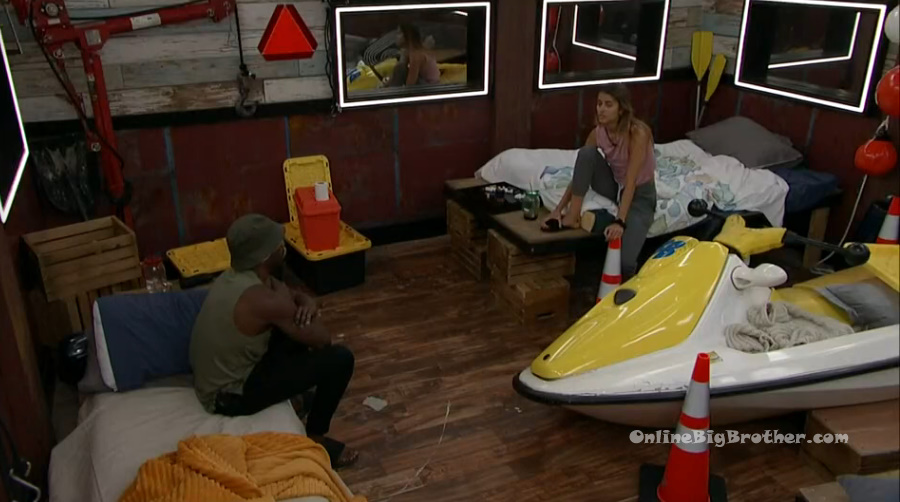 Bedroom – Xavier and Hannah.
Xavier – some people are lying. Tiff said that she got $75? Hannah – yes and I believe her. Xavier – I got $75. I believe you got $75. Hannah nods. Xavier – Tiff says she got $75. Big D got $75. Brit says she got $75. So two out of the three are lying. Hannah – four of us claim that we got $75. Xavier – so if your lying to my face and I watch this back. They pinky swear. Hannah – Brit is definitely lying. Brit got $100. Baby D (Derek X) got $100. My family is rooting for him for me. I don't think Tiff is lying. Big D and Brit were jumping and shouting in the bathroom. They were shouting and screaming and someone walked in. Xavier – so Baby D, Britini and Big D are America's favorite. Hannah – that is pretty crazy that 4 members of the cookout are in America's top 6. I don't think Baby D is going to play roulette next week, he is going to save up for the third week. Ky, Claire and SB are all at $0. Tiff is at $25. Big D is at $50. Alyssa and Azah are at $50. You and me at $75.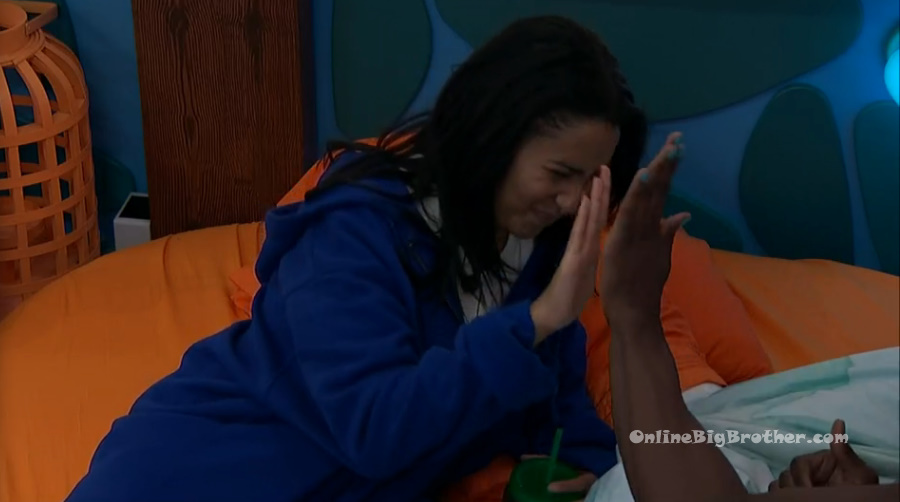 8:26pm Bedroom – Sarah and Claire.
Sarah – If people are trying to vote for underdogs .. you're not really going to know until you see who wins the HOHs. Claire – yup. Sarah – so for example Kyland, is safe because he is HOH. That means that people might not vote for him but going into next week he could be in a really vulnerable position next week and really need it. Claire – yeah. That is what is hard. People need to guess who is going to win next week and like who is the general underdog of the season. Like next week they have to be aware that that is the randomized one. I have no idea. I came in here saying I would never try to guess how America is doing it. And I will be fine if I come out of here hated. Sarah – I feel the same… I take that back I don't want to be hated. Claire – I take that back, I don't want to be either. Sarah – I didn't really think I would be the favorite. I have never been the favorite. That is just not my place in the world. I would prefer to not to be despised. Claire – I will start being funnier in my DRs.. but that will probably backfire on me.. Sarah – I am not even funny in my DRs.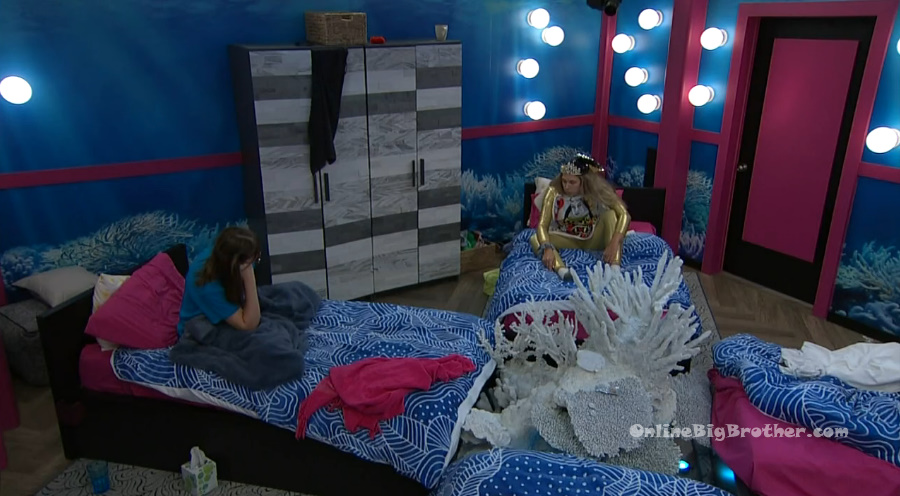 8:45pm Bedroom – Hannah and Azah
Azah – may I ask if Ky confirmed if Claire is the target. Hannah – he hasn't confirmed anything to me so I don't know if he is sending Claire home or if there is a backdoor option. I think he made these nominations before we even learned about the powers and before we learned about their implications in the game so I think he wanted to go with the two safest pawns. I don't think it would be smart to send Claire home this week.. So I am hoping there is a backdoor plan in the cards. Azah – I am a bit confused because before he did speak with me for quite some time about transparency, decision making regarding nominations … THIS isn't any of that at all. Hannah – yup. Azah – I've told myself I am going to sleep on all my feelings that I have and get up in the morning and just push forward .. but it is unsettling. Hannah – that's a good plan. He's a wildcard. Azah – as you were saying the other day .. we shouldn't be having any of that right now. Hannah – its too early. Save that for final six and then take your shots. Azah – exactly. I didn't understand his questionaires this morning. I didn't answer them. Hannah – Ky is an overthinker. He is over confident and I think he is using all the information that he collected this morning as leverage to reposition himself in the house. Azah – absolutely. Hannah – he realized last night (in the HOH knockout comp) that a lot of people were targeting him. But he knew that.. I don't know. I just want to get some one on one time with him that way I can ask him questions and get an insight into what he is thinking .. but I haven't had time to do that today. Azah – I hope you're successful in that. Hannah – I really hope there is a backdoor plan ..because taking out Claire and leaving SB and Alyssa in the game… with these two powers coming up. I would rather them not win HOH and not be safe. I think Ky might be scared of X and that is why maybe he didn't want to put Alyssa on the block.
8:47pm Bedroom. Claire and Xavier.
Claire – I don't know what he (Ky) is thinking this week at all. And honestly I don't know if he knows. Xavier – I've tried to go off his speech. But I hate speeches that don't really give me a clear answer. Claire – yup. Xavier – From his speech, the only thing I focused on was the chess metaphor. And that made me believe he had someone bigger in mind as a potential replacement nom. Who exactly that is .. I think Kyland only knows that so I guess we will see how this week plays out. Also now he has the first pick in the veto.. the bid. Claire – he has the first pick for he wants and he has first bid. Xavier – yeah up until now he pretty much has all the power. I think it will be interesting to see who gets selected for the veto. Claire – right now Ky is trying to sell to me that Big D is the target but I don't know if that is true. What I got from the chess metaphor is the non-obvious move. Claire – how come you and Alyssa didn't play? Xavier – in the veto derby.. I didn't play because of the amount that I got. And me being last I realized that a lot of people were lying.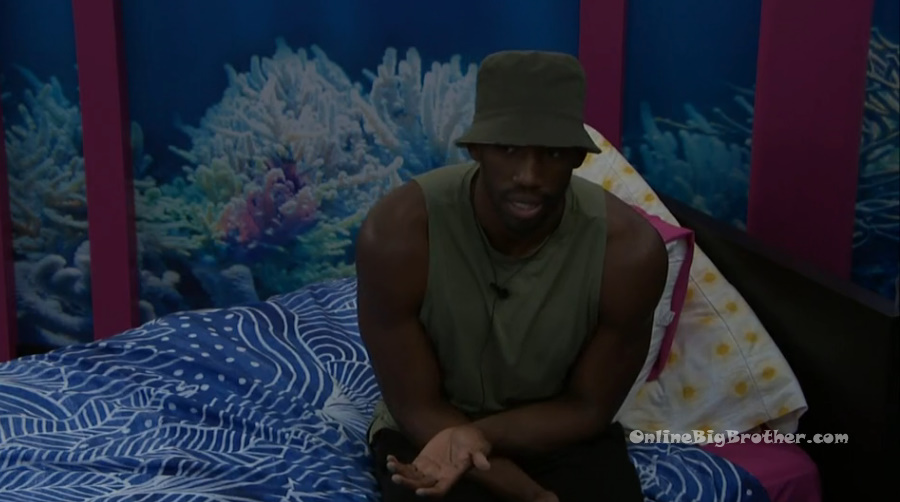 9:13pm Bedroom – Tiffany and Xavier.
Xavier – what we think is that me you and Hannah got $75. Baby D, Brit, and Big D got the $100. And everyone else got $50. That means both Brit and Baby D have $100 and didn't do sh*t with it. And me and Hannah both have $75. Big D would have $50. And everyone else that didn't compete would have $50. Claire has $0. Tiffany – what do you think about keeping Claire this week. Xavier – I would rather Brit go home than Claire this week. Tiffany – me too. Xavier – because if Brit got that $100 and continues to get that $100 she can do some sh*t with it. If we take her out this week, then she can't do sh*t with it. Tiff – so why don't you win it (veto), take her (Claire) off the block and convince him (Ky) to put her (Brit) up. Xavier – I don't know if he would want me to use it on her (Claire). I would rather take Big D off and then put Brit up. Tiff – go talk to your boy and see how the veto goes.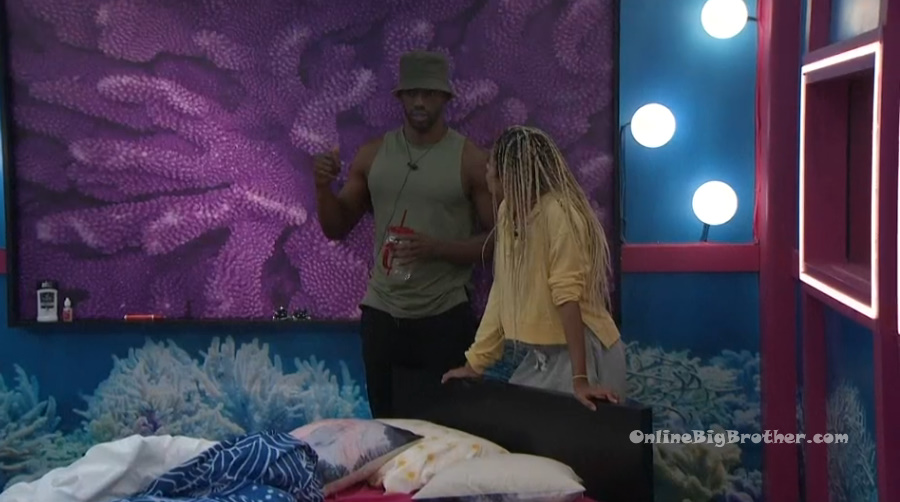 9:22pm Storage room. Xavier and Big D.
Xavier – I know that you got $100. Big D – YES, Xavier .. I got $100. Xavier hugs him. Big D – I knew you would figure it out. My worst fear is that if people find out I got $100 it puts a target on my back. Big D – how much longer do we want to keep Britini and how much longer do we want to keep Alyssa? Xavier – if Brit won the $100, I want her a$$ gone immediately. Big D – and what about Alyssa. Xavier – if people want her to go like next week or the week after.. Big D – I think people worry because.. Xavier – okay, then we can take that shot after Britini. We do Brit this week, then Alyssa and then Claire. Big D – I think Brit got it. Xavier – because she got it, that is why she has to go. Big D – don't you think Alyssa will get it next week? Xavier – the more money Brit get then more dangerous she is to everyone.. Big D – okay. They head to the kitchen. Big D – but Brit would take out other people.. she wouldn't take out you, me or Ky. She would take out SB. Xavier – anyone could take out SB. Brit has the biggest chance at a power that needs to be neutralized.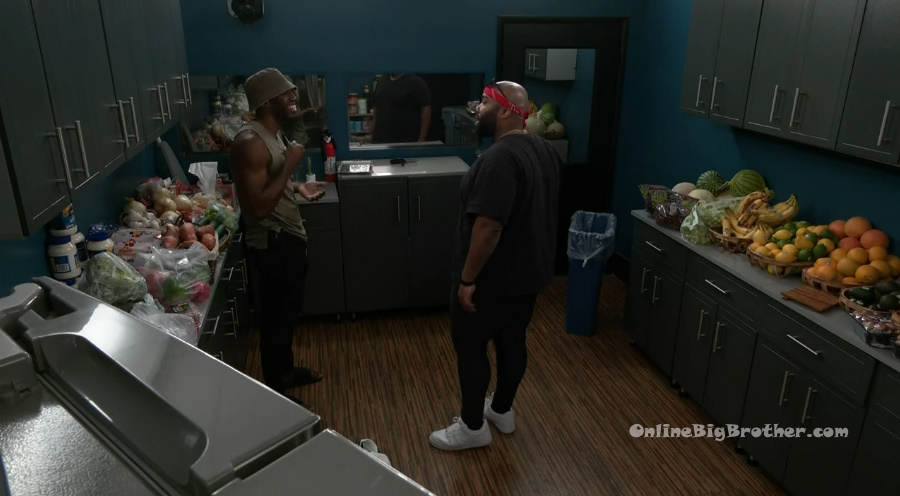 9:40pm Bedroom. Azah and Britini
Brit – to the live feeders .. I LOVE YOU ALL!!! Thank you man!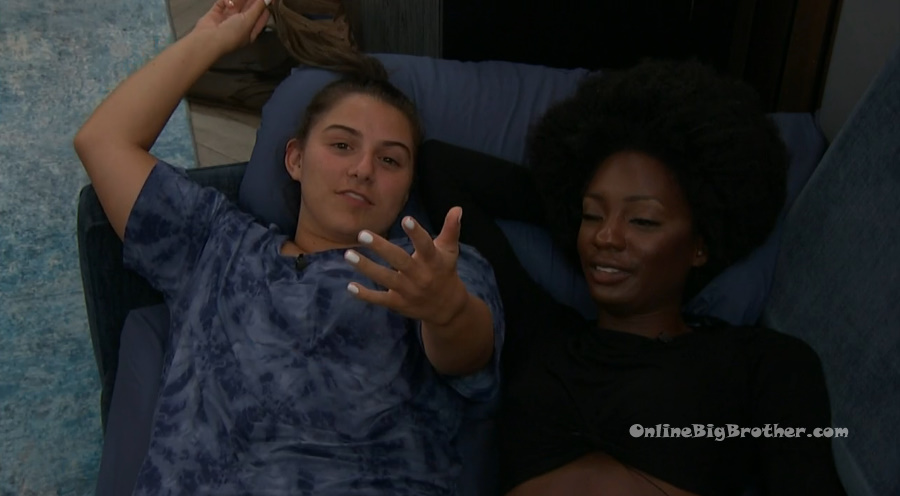 10:05pm Living room. Xavier talking in the living room to Alyssa about his last relationship and how something in him was telling him she wasn't the one.
10:27pm HOH room – Kyland and Hannah.
Ky – I feel good. Its nice to get first pick in that thing (Veto player picks). I want to go through a few scenarios with you, I just don't want to do it tonight. Hannah – so ideally would you want noms to stay the same or for Claire to come down? Ky – I think that is the conversation that I am looking to have in more .. ah what's it called.. in more scenarios and everything because I do umm.. I do agree um.. X in a sense that like Alyssa this week.. despite like not being uhhhh.. the most trustworthy is kind of a .. does kind of eliminate the chances of him coming up being put up next to me. Hannah – yeah. Ky – and him and me just because of the nature of the game.. we have opportunities to ..win competitions and create targets of ourselves.
Ky – DX and these games is something that I am afraid of. DX in the high roller room is something that I am afraid of. Hannah – yeah. Ky – and obviously I don't want to move him up the list but I don't know how far we need to .. this high roller room is crazy. Hannah – Britini also won $100. Ky – see that is definitely ammo because she told me $75 and she had made a deal with me that if I didn't put her up she would tell me so that is more ammo. Hannah – I am pretty sure it was $100… and not $75. Ky – I think that Derek X thinks that Brit is a bit of a waste. I need to think about. Hannah – yeah. If Brit wins noms would stay the same. Ky – Brit is not going to beat me twice. Hannah – you never know. Ky – yeah I now I am just talking sh*t.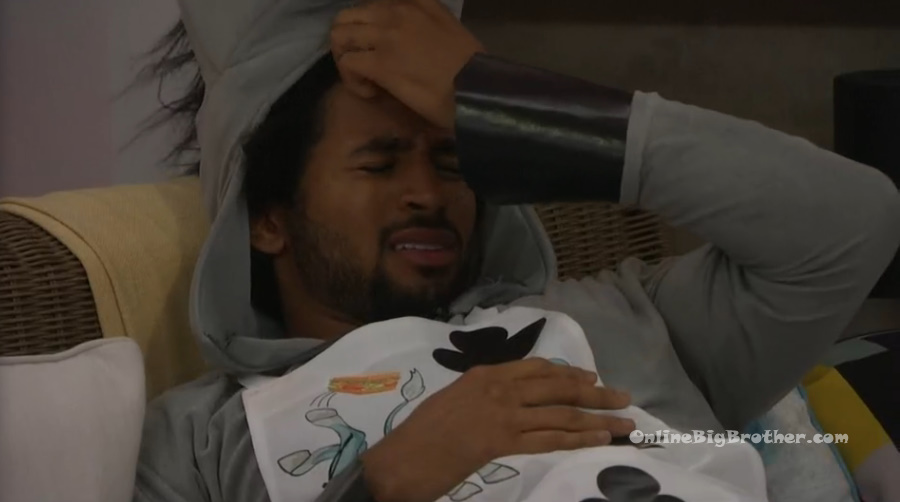 10:55pm HOH room – Claire and Ky.
Claire – I want to talk to you about veto tomorrow and the plan basically. Ky – I am wondering who .. Like DF (Derek F) gets the second pull. Claire – House guest choice who are you picking? Ky – if Derek X is cool with I will pick him. Claire – okay. So if Derek is not chosen, can I pick Derek. Ky – yeah. As long as he doesn't mind. Derek joins them from having a shower in the HOH bathroom. Claire – if Ky doesn't pick you can I pick you? Derek – I am down. Ky – if he is picked are you picking Tiff? Claire – Yeah I would pick Tiff then. They talk out scenarios for the veto picks and betting.
11:08pm Chess room – Sarah, Tiffany and Hannah.
Tiffany – what are we talking about. Hannah – we were expressing how the second Power of Veto has to get played this week. Tiff – and used and won. Sarah – as long as someone wins it, they don't have to use it. We have a two thirds chance right now. Tiff – Its Ky, Derek F, you and Claire.. right? Sarah – yes. So we will have two people if they win it nobody will have bet on them so then next week it will still be in play. So those two people cannot win. Hannah – so you then you would .. oh no it will probably happen at the same time .. picking veto players and betting on them. It would almost better to confirm the two people that aren't betted on .. to throw the veto. ..just so that the power can be won this week. That is also risky because how are you going to do that in the middle of picking veto players.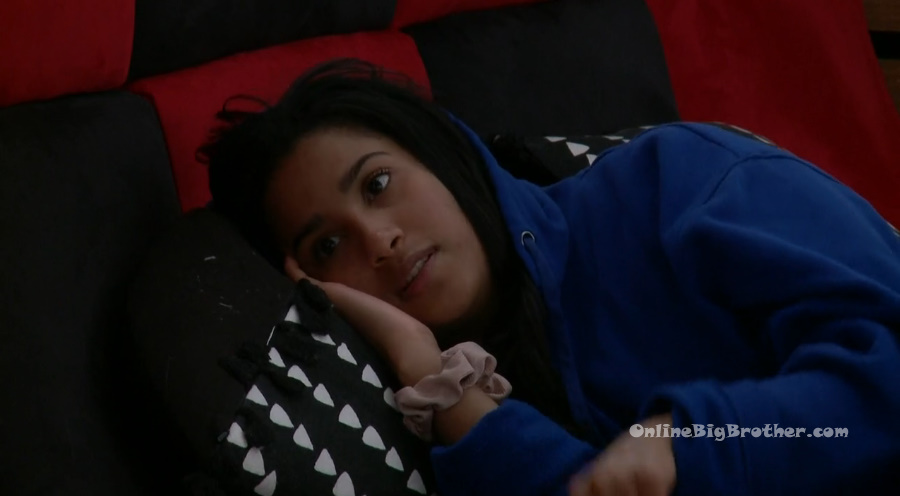 11:50pm Kitchen – Britini and Hannah.
Hannah – these powers are insane. I feel like this is the wildest twist that they've introduced thus far. I can't think of a single twist that was more chaotic than this one. Brit – for real. Its just been so exhausting. When I got back in the house .. everyone was asking what I got.. and at the end of the day it doesn't really matter what everyone got. When I came back people were like how was it? I was like it was okay. Hannah – people were expecting you to win the $100. Brit – didn't get it. I mean I didn't get $50 .. I got $75. Hannah – MmmmHhHHmmm. Brit – pinky swears on it and Hannah not telling anyone. Hannah – I wouldn't tell anyone, that is your business.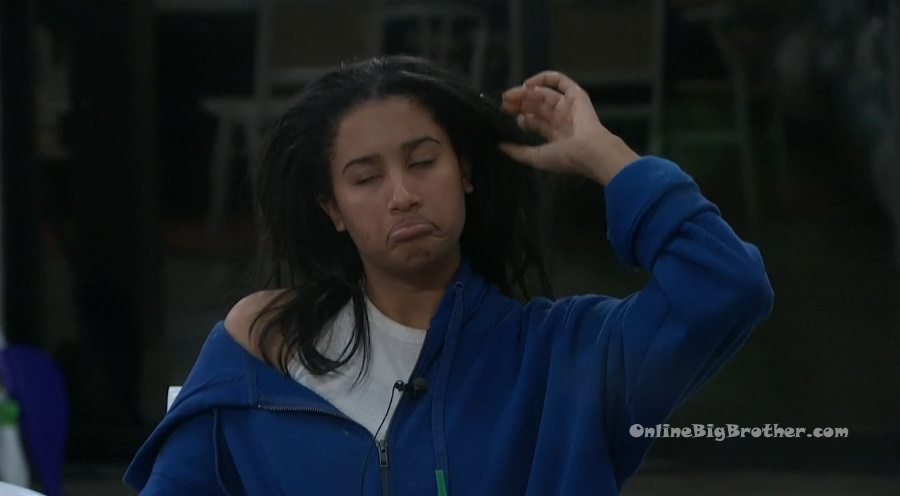 Please consider a donation to keep the madness going. BIG thanks to the people that have already chipped in.