HOH: Kyland
HAVENOTS:
Nominations: Claire and DerekF
Power of Veto Players:
Power of Veto:
Power of Veto Ceremony:
Big Brother 23 Houseguest Rankings – – RANK THE HOUSEGUESTS –
View the previous day ranks on the – Ranking Grid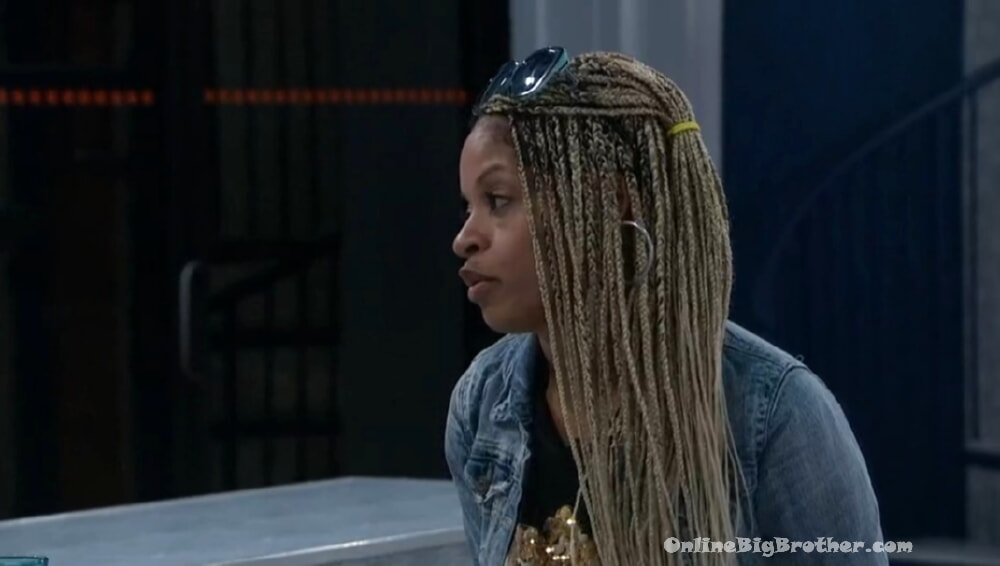 11:35 am Tiffany tells Claire she can count on her vote "I don't give a sh1t"
Claire – yes I know I have you and I know I have Derek and Hannah .. (Yikes)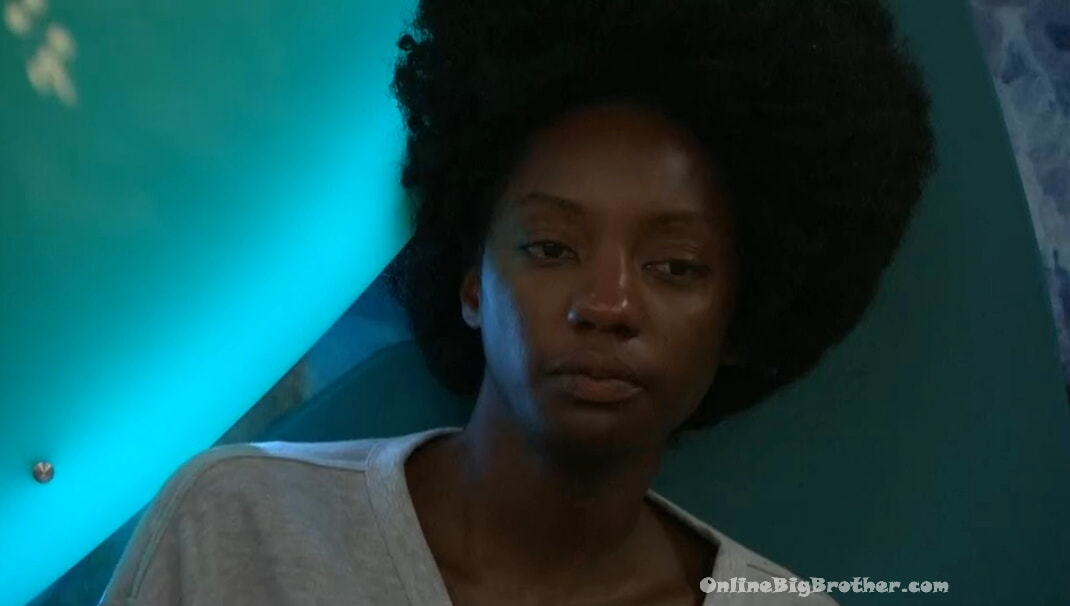 11:36 am Brit and Azah
Brit – Let me play in this veto.. I don't understand he's not coming after you so why are you going after him?
Azah – unless he has a bigger plan
Birt – he's [DF] never said Ky's name
Azah – he said yesterday's actions we're in danger of going up
Brit – I know
Azah – he doesn't want to make an obvious move that is why
Alyssa comes by to chat about the noms Brit says she doesn't think the target is one of the noms. Alyssa agrees then leaves.
Azah whispers to brit "be careful what you say she might tell somebody else"
Azah says few people she trusts in this house.
Azah – my theory is if he puts BIGD up he thinks BIGD will get a power because of how much BIGD is in the DR. He wants to Flush BIGD's power out.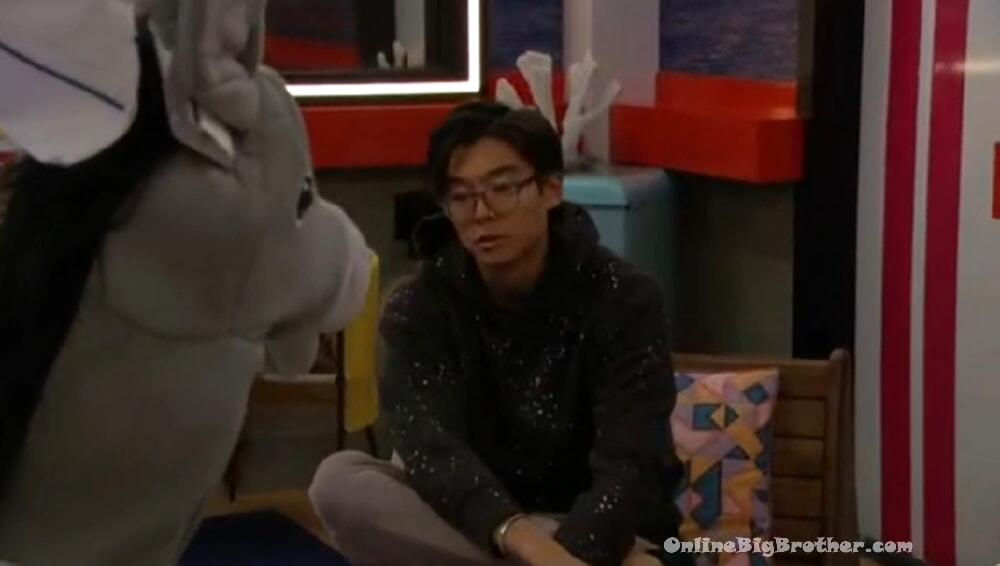 11:38 am Ky and DX
DX asks him if he's got a deal with the Kings
Ky says everyone wants him up next to a King
Ky – Alyssa has no real allies besides Sarah Beth.
DX – Th thing about taking out BIGD I Get that there's still a long list of people they can put up next to you.
DX says he told him he thought Xavier was the most influential but Alyssa is the most persuasive.
Ky says he's never felt persuaded by Alyssa.
DX says Alyssa persuaded the house that she's not in a showmance and she was snuggle with Christian all day on the couch
KY – who thought they weren't in a showmance?
DX says she's a good liar.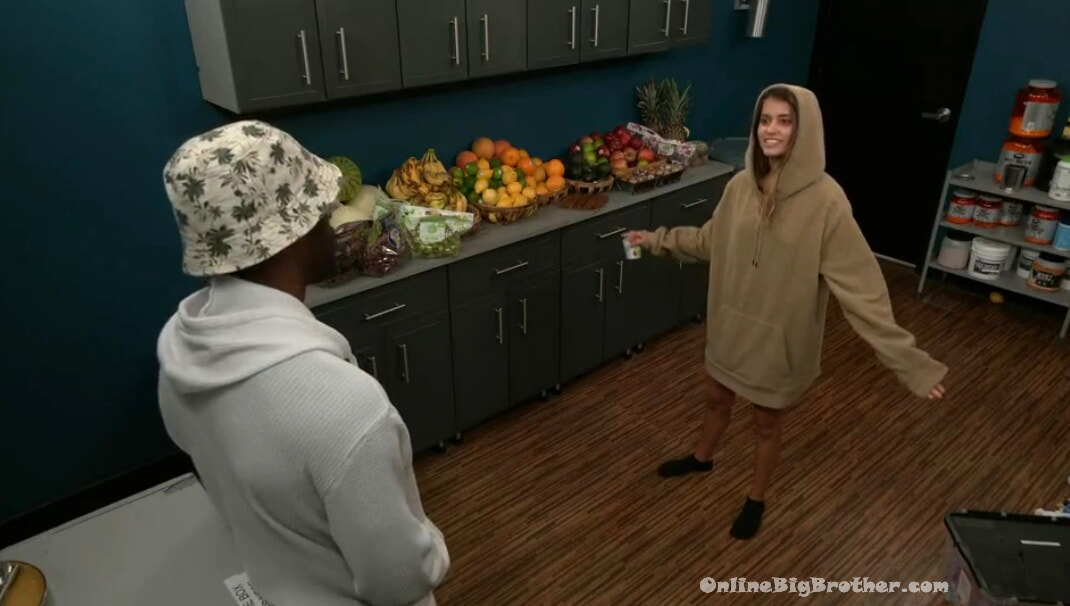 11:47 am Alyssa and Xavier
Alyssa – Brit, and Azah are so upset. They got slapped in the face.
Alyssa – they are all pissed I love it
X says if nominations stay the same and there are no powers he'll laugh more
Alyssa says Brit thinks it's a backdoor.
X – who
Alyssa – probably Britini because he thinks she'll get a power
Alyssa – we should save ours right
X – yeah
X says again he's not laughing until after the veto ceremony.
Alyssa – everyone was sacred to put him [DF] up because of the way he'll act..
Alyssa – I just want to keep laughing this is too funny..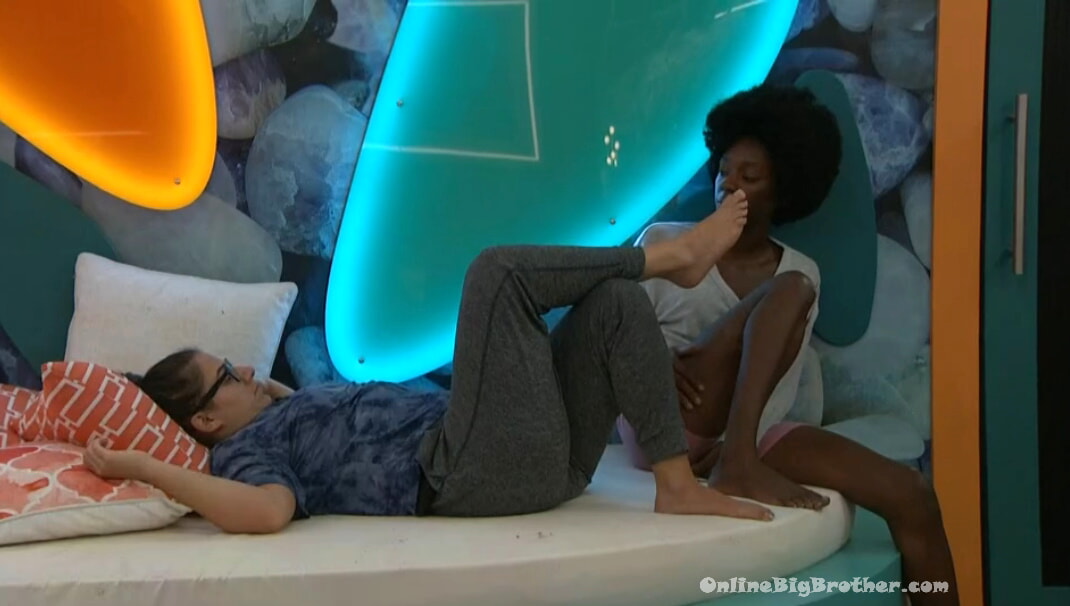 All four Feeds flip to Azah and Brit
Azah – if you win a power don't tell anybody not me not BIGD. NOBODY. use it for yourself when you need it.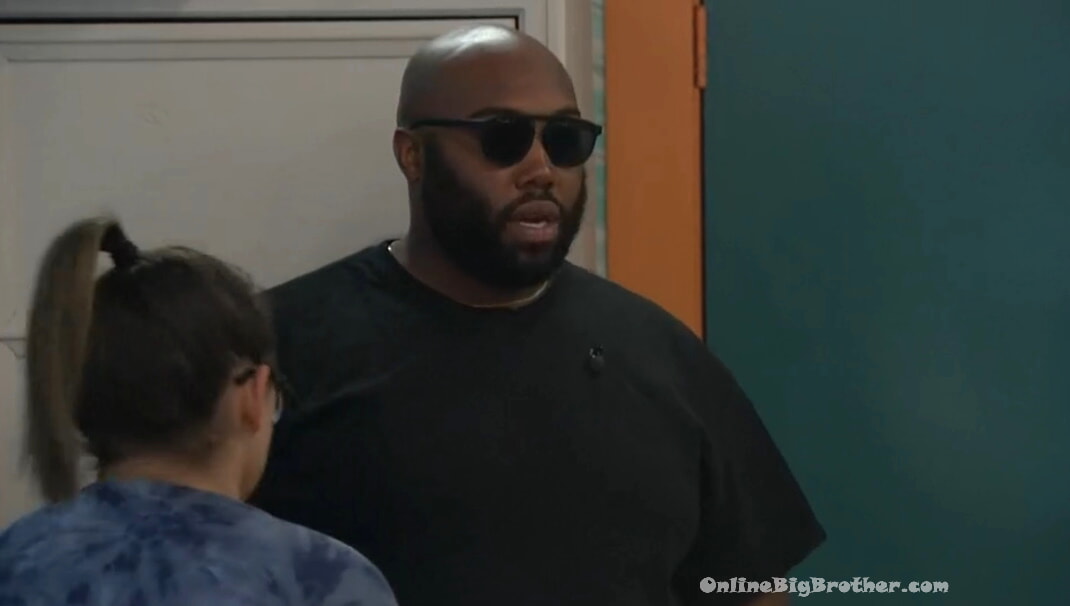 DF joins them "I can feel my inner self about to flip out I need to keep calm"
DF – I knew it I told you that last night. I knew it. I knew I was setting myself up when I cursed him out I can't blame anybody but myself. I came here to play this game.
DF – I shot myself in the foot I cursed him out. I expected to see my name up there..
Feeds cut.. When we're back.
DF – it's ok it's alright you curse out people you should expect it..
A bunch of houseguests giving him hugs.
DF – it's alight I'll go for the veto there's nothing I can do.. I told you last night it'll be me cause I cursed him out after the HOH.
DF walks into the kitchen.
DF – I was going to call him a b1tch during his speech.. I'm gonna brush my teeth and get myself together.. I didn't want to interrupt him during my speech and call him a b1tch.
Df says he hopes America gives him 100 bucks so he can win the power.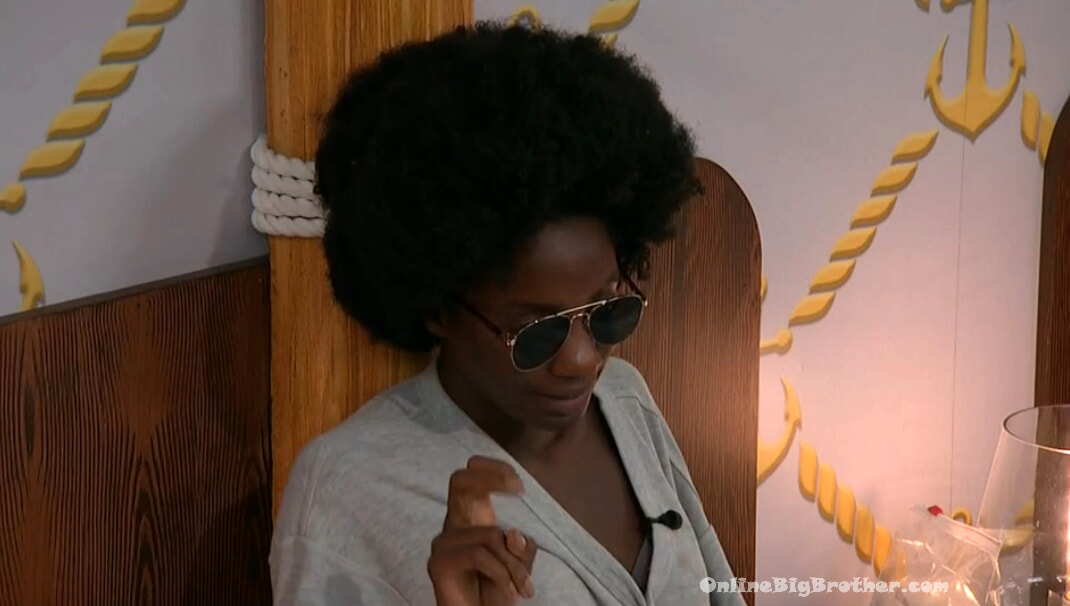 11:55 am Xavier and Azah
Azah says this is a backdoor plan for Britini because Kyland was pissed because during the HOH she picked Kyland and Sarah Beth
Azah – he thinks BIGD has a better chance to win the power and flush it out.
Z – what if Brit win is
They agree Brit has the biggest chance to win it.
Azah says BIGD has a big personality adds that Britini's been on the block so much and had to fight every week
Azah – he said Claire and Sarah Beth were options
X – we'll see what these powers do and go from there.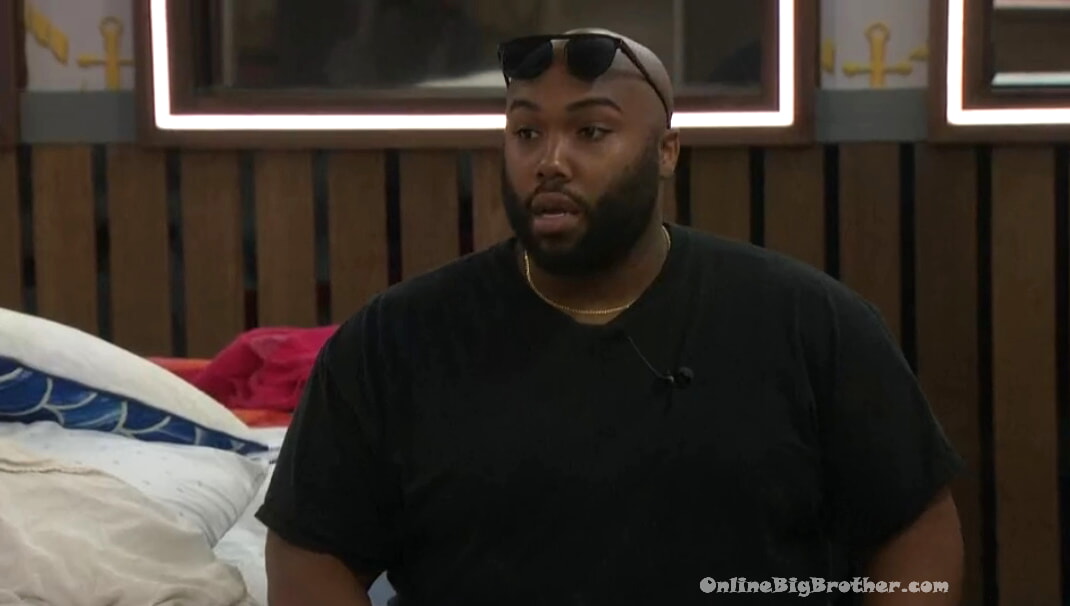 12:01 pm BIGD and Azah
Azah telling BIGD if he wins a power don't tell anyone and don't use it "He put you on the block to flush it out.. " (ZOMG don't use the power if you are on the block yikes)
DF – I called him a mother f***er, I told him he was wrong for picking me, I told him he was wrong to do what he did to you
Azah – when did you tell him
DF – 6 o'clock this morning.
Azah – he's playing the game for himself and SB
DF – he might have checkmate me but he's the one that taught me chess.. when I'm backed into the corner that is when the real me comes out. at the end of the say it happened. I did not like how he chose me. I thought it was not smart. I voiced my opinions at the end of the day I am never going to go plea and beg to the HOH. I'm not going to do that. Some people might do that I'm not going to do that.
DF – today my main focus is to relax and don't let anything get to me.
DF – I'm ready to go..
Feeds flip to Tiffany and Xavier.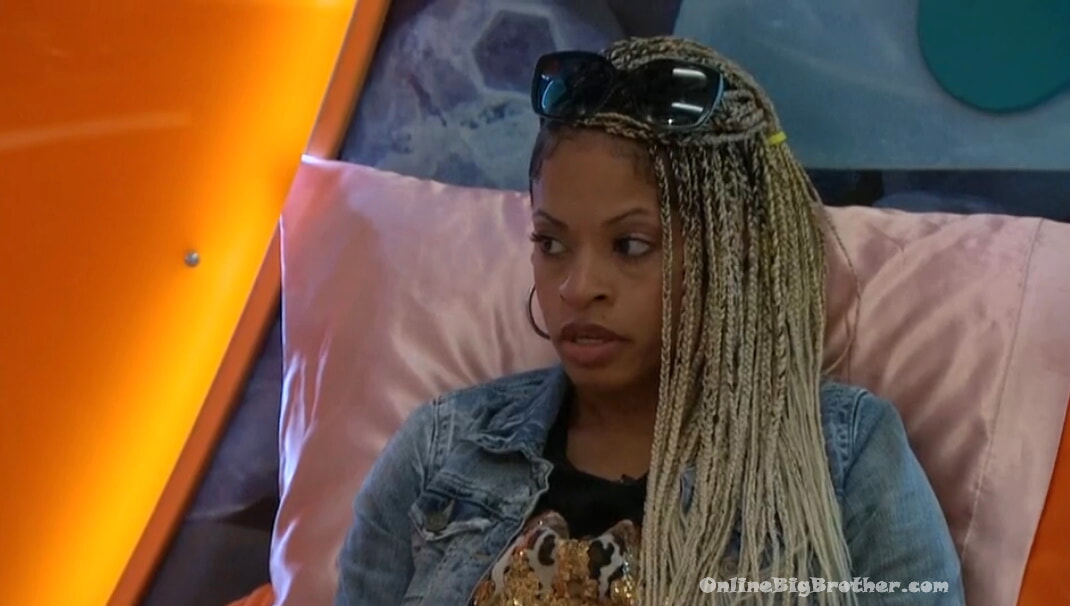 12:08 pm Tiffany and Xavier
Tiffany says she's not going to take anyone's emotions she's not going to be sad when other people are sad she cam in strong and she's going to remain strong.
Tiffany – now we have to do Jury Management. We can't be emotional
Tiffany says the people going to jury have to retain their trust and respect their thinking because they may have to influence them inside the jury or they might have to vote for them outside.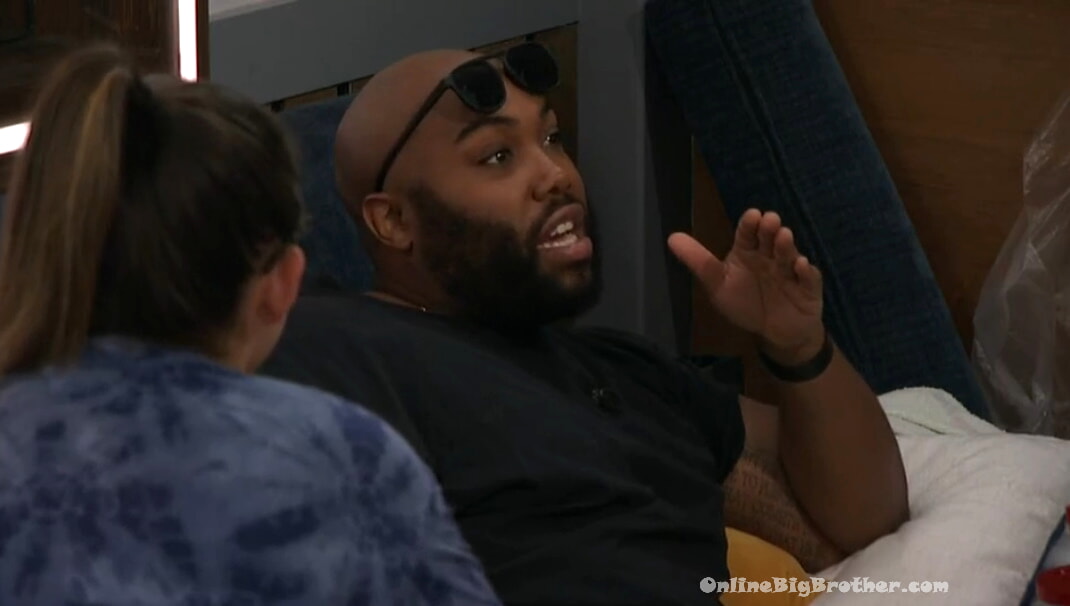 12:11 pm Jokers
DF – Claire is not the target
Azah says it's a backdoor for her or Britini
DF – Claire is not the target she's on his team. I'm not on his team.
DF – Ky is a queen I got into it with Tiff what do you expect
DF – he better pray I don't get a power and he better pray I don't win HOH next week. If I win HOH next week he's on the block for sure along with SB.
DF – I will send SB home. I want to hit him where it hurts
Brit says Kyland is the one person that won two HOH's he's the bigger threat than SB.
DF – mark my words he won't win another HOH.
Azah – I might send him f***in home I don't give a flying f** right now he's a selfish mother f**er
DF – I want to hit him where it hurts.. let's say I go home it'll hurt you all too. if any of you go home it'll hurt me.
DF – if magically I stay I'm going to hit him where it hurts.
Azah still going on about her or Brit being a target.
DF thinks him calling SB a "Conniving b1tch" and cussing Ky out is why he's on the block.
DF – he's going to have to watch her packing.. I'll sit there and go How does that feel.
DF – at the end of the day I need you all to stay level for the sake of me. If you all start acting out it'll cause me to act out. I need you to stay level headed continue to socialize
Britini – I think we both have a very good shot at the 1 hundred
DF – I need a power in order the f** sh1t up I need a power.
Brit leaves..
Azah – you don't need to campaign you have 5 votes.. you have 4 and britini.
Azah says the two options she was told were Sarah Beth and Claire.
DF says they also talked about each member of the cookout wouldn't have to take out their pawn. That is why if they don't win soon they lose brit that leaves them with SB, Claire, and Alyssa.
DF – if you win HOH put up Claire/Alyssa or SB
Azah says Kyland is going to rationalize taking them out before the 6.
Azah – I don't trust him he went back on his word
DF – listen I got put on teh f**Ing block how do you think I feel. At the end of the day I promised America I would not betray the 6.
Df says if he gets shot in the foot and get taken out early he knows he can hold his head up high when he goes back to his community "I did it for us"
DF – he'll have to go back to his community.. he was selfish. you can be selfish when we get to the six.
df – we need to win next week send SB home and after that Britini will go next. then we'll be down to DX.. DX needs to go before Britini
Azah – Alyssa needs to go. If you win Veto he'll put Britini up
DF – then I won't use it
Azah – he's obsessed by her
DF – if I win veto I will use it on Claire..
Azah – NO it'll show your cards use it on yourself (OMFG)
DF – I don't want Azah or Britni to go on your block. I won't allow Britini to go up there again
Azah – If I win I'm using it on you. If Britni wins use it on you let the mother f***er put me up let everyone seen who he really is (Jokers gotta joker)
Azah – I like that he's afraid of her. She's the only thing he's afraid of in this house
Azah is back to saying Brit is the target. "that's why I want her to win the veto if I go up the cookout can vote me to stay"
Azah – if Claire wins and takes herself off he'll put up Britini. I'm telling you he wants Britini to go home.
DF isn't sure
Azah – it's personal this week is personal (Azah is a big nuts.. I like it)
Df – if none of us come off the block Claire is going home.
Azah – X can take out DerekX,
DF says he doesn't think Britini will be the first one to go. His worst fear is when the time comes when Britni has to go on teh block against one of the cookouts.
DF mentions the scenario where they are 7 and the HO His thrown to one of them and they have to put Britni up. the emotional stress will be too much. "she'll have a mental br4eakdown it'll break her spirit"
Df adds her going this week would avoid that. "If we keep her around for too long we'll end up breaking our promise to these people I can not do that. I would feel like I use them and I lied"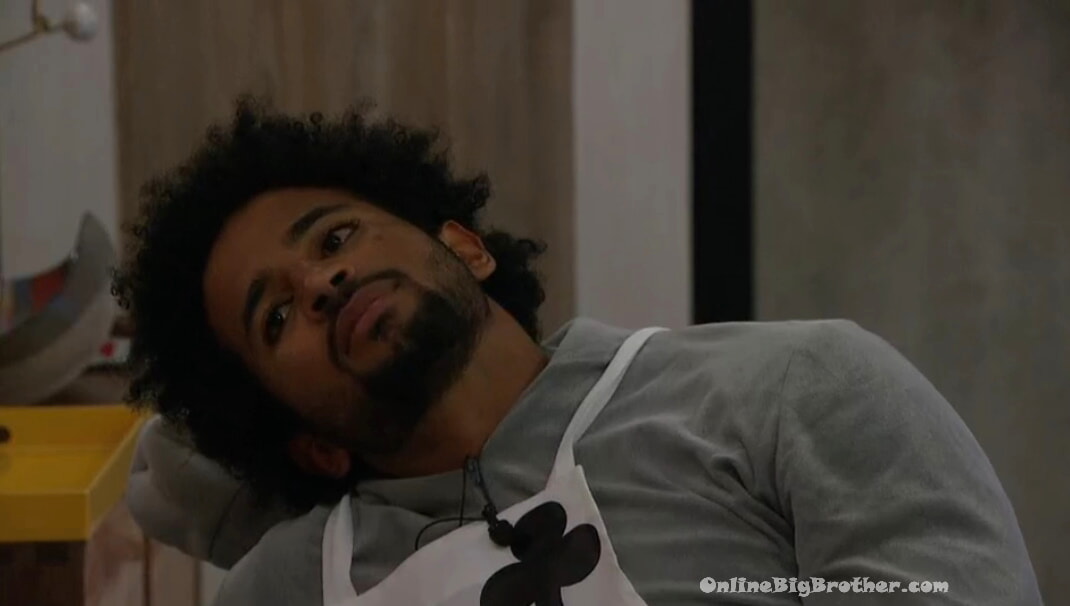 12:15 pm Claire and Ky
Claire – I don't think BigD likes Alyssa at all.
Ky – the thing DX said about Xavier whenever I tell him ideas I feel understood but I don't feel embraced.
Alyssa and X will pull SB in.
Ky – not this week
Claire – they'll try to
Ky – they already have but it's not… ah…
Claire -I can see the kings going after SB or DX
Ky – I see them going after me, DX, Hannah not me DX, Hanah, you, and Tiffany
Claire- I don't see them going after Hannah
Ky – out of the 4 people I could be up against.. most risky I thought it was Derek but is it Xavier I never saw it all this time.
Claire – I was thinking yesterday how do I get X out and I had a really hard time getting the numbers
Ky – ohh
Claire – it would have to be X vs a pawn. X Vs a joker..
Ky – I just think Britini and BIGD would keep me over X.. (LOL no way)
Audio cuts out… around 12:23 pm comes back.
Ky – they are less likely to come after me should they win over us. If Alyssa is gone already.. it just felt like I had the most hedges here..
Claire – what will you tell BIGD
Ky – for him I would push up more you are going to be safe regardless of who you sit next to. I feel like he talks the most so if I can give him some sense of that.. there is a higher likelihood and if I can hang out with SB a little more there is more of a dissociation between me, you, and Tiff..
Claire – people would put you and SB up more than you and Me, Tiff
Ky – from yesterday they would put me and yesterday up (HOH knockout comp?)
Claire – I know that was weird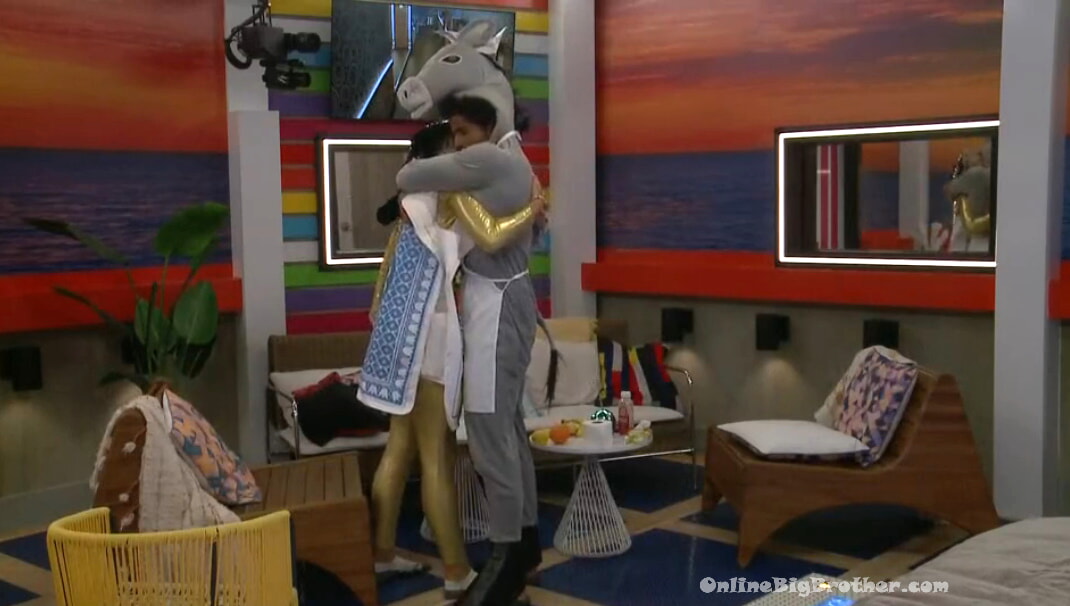 They hug it out.
Claire tells him even if she gets 50 BBbucks she will be playing for it not matter what.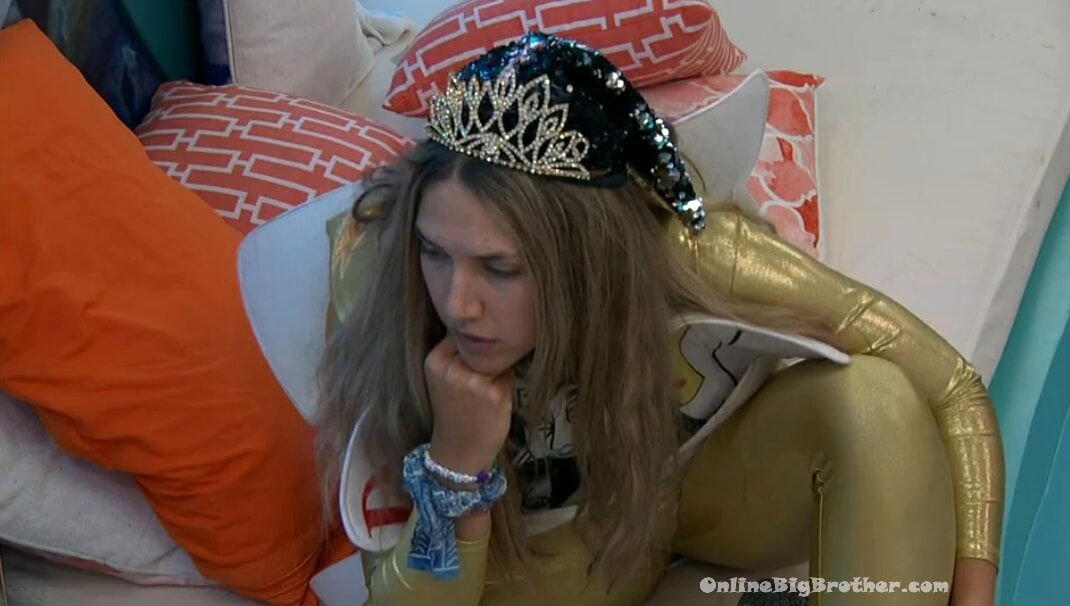 12:50 pm Claire and Tiff
Tiff – Claire you need to get some rest..
Claire – I don't think I can sleep yet..
Tiff – you drank 6 cups of coffee
Claire – I did
Claire – I feel only me and Derek will play.
Claire – He's trying to tell me BIGD is the target
Tiff – what do you think
Claire – I think he's fine either of us going
Claire says Ky wants distance between Ky, you, and Tiff.
Tif – it does
Claire – he said I made the most sense.. because you have recently made enemies
Tiff – with everybody in the house except you
Claire – I think the reason he put me and BIGD up is because he believes if you were on the block next to us Ky would go home. He thinks he has a better shot against anyone else
Claire – next week if Ky and Myself were on the block I think ky thinks I would stay over him and he feels lesser with you and he feels DX would go over him
Tiff – X would go over him
Claire – it really depends if SB is still here
Tiff – I'm only telling you what I get
Claire – I'm going telling you
Tiff says she was thinking DX but he's so close to Ky she doesn't want Ky to know.
Claire – I'm only telling you I'm not telling DX cause I don't want Hannah to know
Tiff – I might have to distance myself from DX cause DX and Hannah are close
Claire doesn't think the jokers will target them. It would be a combination of DX, Hannah, Ky
Tiff – BIGD I don't know the way BIGD came at me in that room.
Claire – you made enemeies.. it's good to have enemies in this game especially one that won't win anything
Claire – not having an enemy is what got me on this block.
Tiff – what happens when you come off the block
Claire – that's what I was trying to figure out. I don't think he knows
Claire – next week ky thinks he's getting put on the block
Tiff – Claire think about how we view Ky week one vs how we view Ky week six
CLaire – Ky is the best strategist in this house by thousands of miles
Tiff – you know who he reminds me of.. he reminds me of if Kaysar had made it further
Tiff – good talker very logical thinker very rational in his arguments
Tiff – I did not expect him to be him when we saw him on the block week one he's way smarter and way stronger than I thought
1:00 pm Feeds cut to pound puppies (and kitties)
4:25 pm No feeds for you
4:45 pm Feeds down for High Rollas

6:07pm Still kitty cam..
6:40pmFeeds all day, all night..
Please consider a donation to keep the madness going. BIG thanks to the people that have already chipped in.