HOH Part 1: Xavier Vs Azah Vs Big D
Part 1 Winner = Xavier
HOH Part 2: Azah Vs Big D
Part 2 Winner = Azah
HOH Part 3: Xavier Vs Azah
Part 3 Winner = ?
Big Brother 23 Houseguest Rankings – – RANK THE HOUSEGUESTS –
View the previous day ranks on the – Ranking Grid
Big Brother Spoilers – Hard to tell if Azah would take BIGD I'm thinking she won't. Sounds like Xavier still takes BIGD.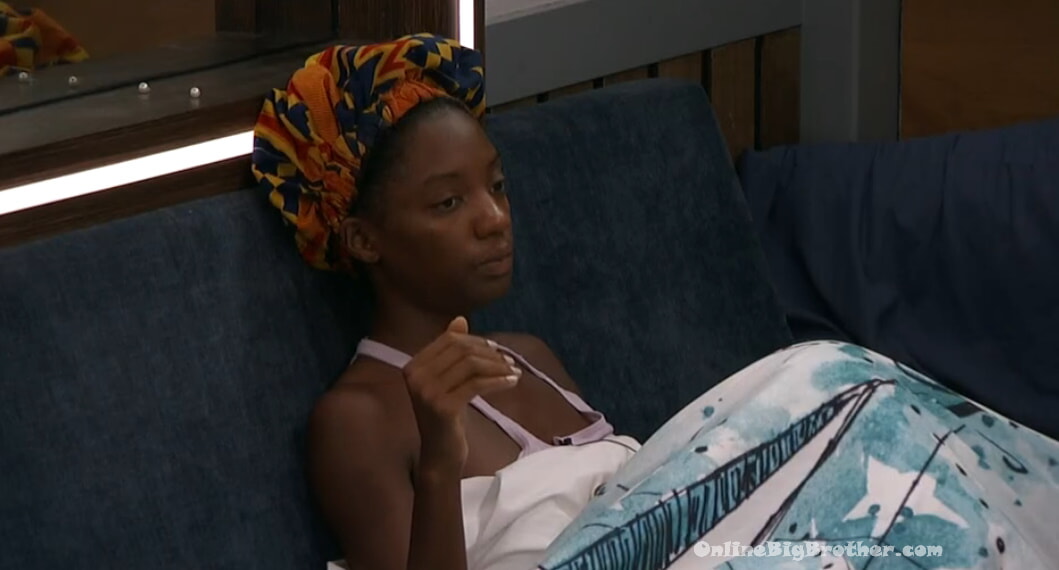 11:04 am BIGD and Azah
Azah – it's not anything on my opinion on you and to an extent, it's more my opinion of myself and my opinion of him. He played the game well and I don't think he deserves third. I think if there's anyone that deserves third it should be me (yikes)
Azah – which is why I've made clear to him he should follow his deal with you and take you. I'm comfortable with that decision. I thought about if this weren't X if this was DX and DX was a member of my alliance. Putting people up not for my personal game but because the alliance wanted you to. it resonated with me. Throwing competitions when necessary not to further your own resume but for the good of the alliance resonated with me. A lot of decisions he made in this game were very good moves for a big brother player and I don't think that deserves third. So for me I don't know if I feel comfortable getting this money going home 10, 15 years later knowing that I did that. I don't feel comfortable with that. Where I can gracefully bow out is the agreement I said when I came in which is you guys have this final two and with that final 2 being said I don't want to impose on it. I don't want to do anything that.. I'm not trying to get into that at all I've said from the beginning I would love to see both of you up there. I would happily cheer you on with no feelings towards Jury I will say nothing to nobody about whatever. They might sit there and say see I told you that the guys were going to kick you out. I don't care. I am fine with that.
Azah – for me if I do win final three and I do have that chance the easy way is for me is to go with the person who I feel I would have more of an influence in Jury. that is a easy decision for me to go home and make 750K the hard decision is for me to ask myself does that person deserve third?
Azah – I can't say that. I think about it. I hate to think about other things such as for me I can go back go home and start working. I told you from the beginning I'm okay going back to my life.
Azah – I feel no matter what placement you are you are walking out with 50K I don't know if I can say the same for him. If I felt that way for him.. if I felt he would win AFP or whatever different story. I don't know. I'm okay with not getting neither. I can go home with what they pay me here. My best friend is up there and someone I don't think should be third is up there.
Azah – I can be at complete peace. I promise you it's not me picking a man over you
Azah – I thought you wouldn't want to be my friend anymore after this. It has nothing to do.. it's not a man decision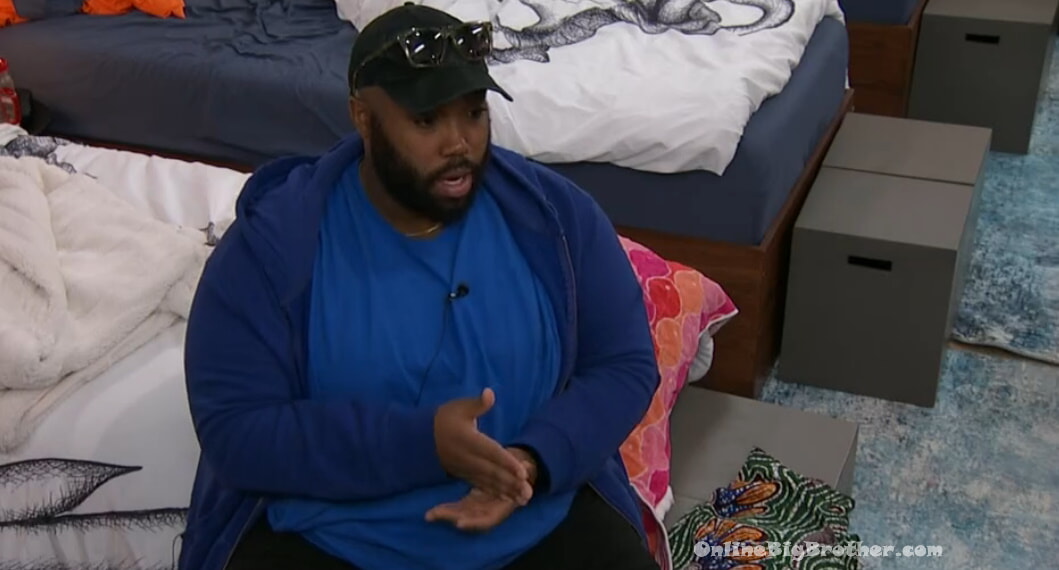 DF – I think it's hard for me because.. I came into this game coming from the HOOD trying to change my moms life. I didn't share a lot of information with you I shared it with him that is what allowed me to make that final 2 deal.
DF – I think the thing that kinda hurt me a little when you were saying he deserves it
DF – everything the cookout has done.. even though I didn't throw comps I did as much work as he did. (WOW)
DF – I put in even more overtime and on top that time that I've been there for you way longer than when he popped up. This whole time I protected you in ways I can't even go back and give you time and day.
DF – the thought of me considering someone over you kills me. I've made it clear if I did not have the deal with Xavier you and me can ride into the sunset until the wheels come off baby.
DF – I felt like because you were a woman about honouring your deals do not go back on your deals.. I have to and I make sure to say that WEEKS and WEEKS prior.. I could have just lied and we would have had all these conversations. It just killed me, someone who sat beside me day by day pushing each other, keeping them in check and now we're at the end. As an overall gameplay you win me walking out the door the Jury is like what the f***
DF – just as a gameplayer they are going to look and be like who sent you home? I'll say Azah and they'll go what the f** none of it makes sense.
DF – you are coming from personal and who you felt deserves it.
DF says it's not a guarantee he'll win America's favorite houseguest.
DF – I can't imagine Britini's face if you send me home
DF – I don't expect you to change your mind it's your own personal beliefs. I would never sit here and do anything to manipulate of tarnish I love X equally the same. For me it was just a shocker after all that we've been through and all that we have talked about when I'm now in a situation Hey I have no more game left to play that I would automatically Hey Azah I know she's got me.. I have this deal and she's a girl who's always about honouring those deals. I would have to honour it if I were to win..
DF again says to her "this is personal decision you are going off of"
DF – I can see Tiffany right now saying ohh you are just going to hand someone the money? that is what it looks like to me. it doesn't even look like you are fighting you are near the end.
Azah – BIGD I'm thinking in the past you haven't been there for me. You've been putting me down it's really hurt me a lot. It has hurt me.
DF – my actions have shown.. Actions are bigger than words
Azah – Words still hurt BIGD.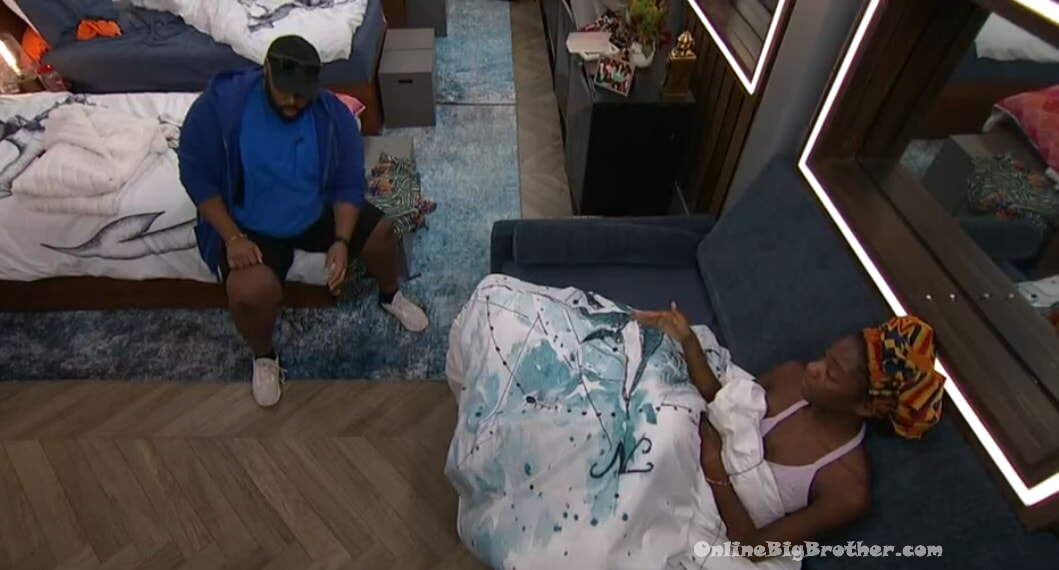 DF – you've always told me tell me the truth I can take it.
DF – it feels like I just got played.. I feel like I got betrayed (Big brother does that)
DF – how? how did this happen? I brought my friend. I didn't even bring Ky how are we in this position.
DF – when I'm honest I get the repercussions
Azah – I didn't ask you just told me..
DF says he had to honour his final 2 with X because "it's the honour in me I went to military school when you make a deal especially"
DF – this is a game you always told me like I told you to always fight..
Azah – I am appreciative of this conversation
DF – my goal is not here to … umm.. to put him down. I hope nothing I said came off that way. You have three people at the end that all deserve to win Big brother
DF – I think this is where you have to look at sitting next to me is a winning deal for both of you guys. that's a game point because of the jury.
DF leaves..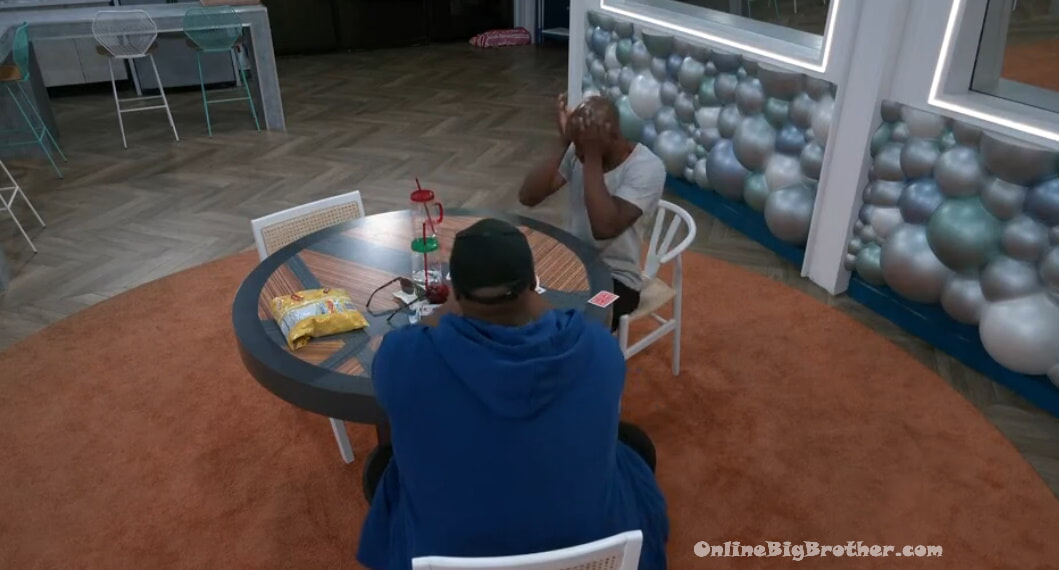 12:30 pm Cards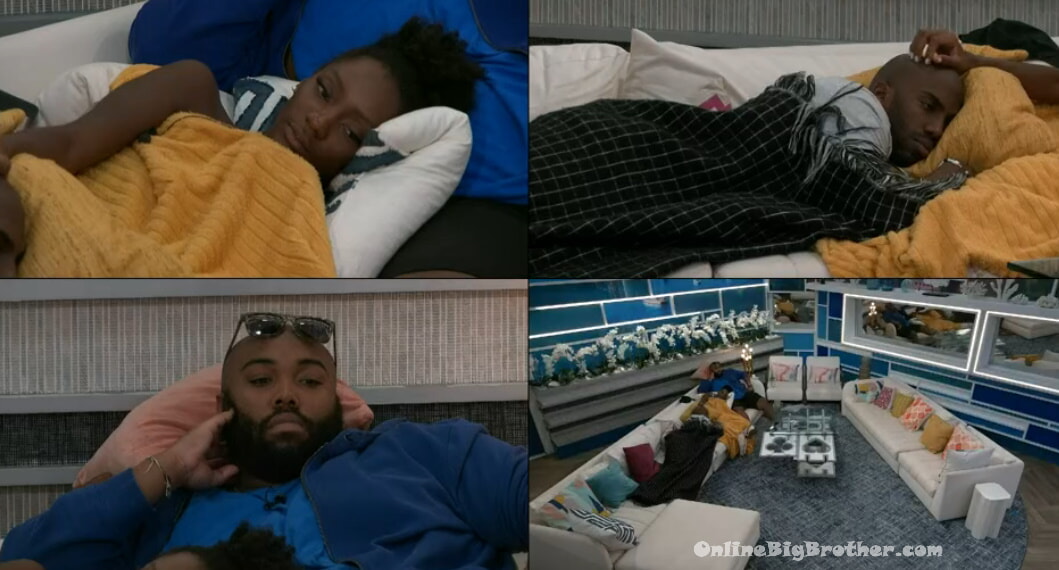 4:00 pm BIGD Azah and Xavier reminiscing about the season.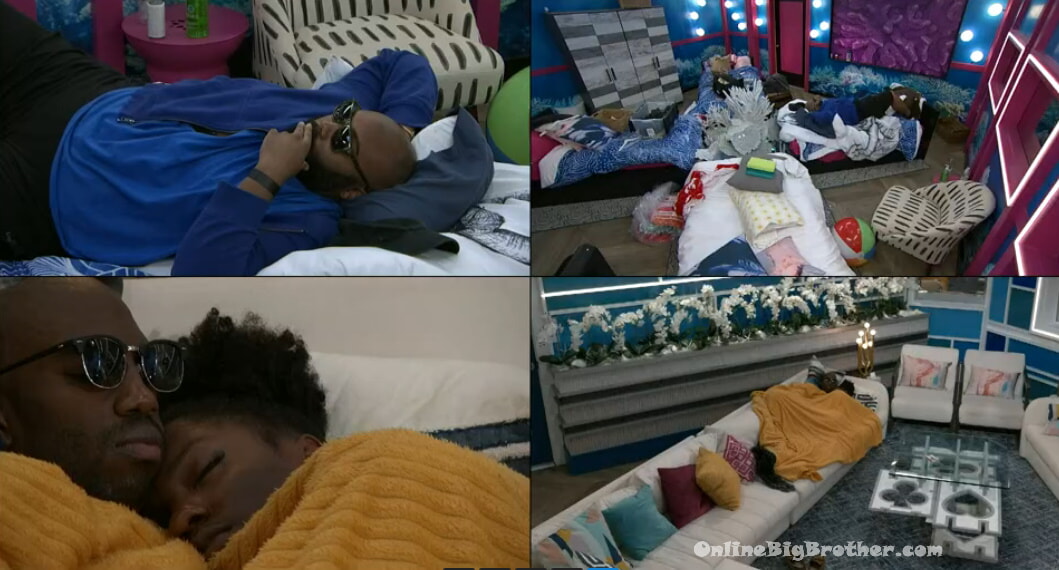 4:45 pm Zzzzz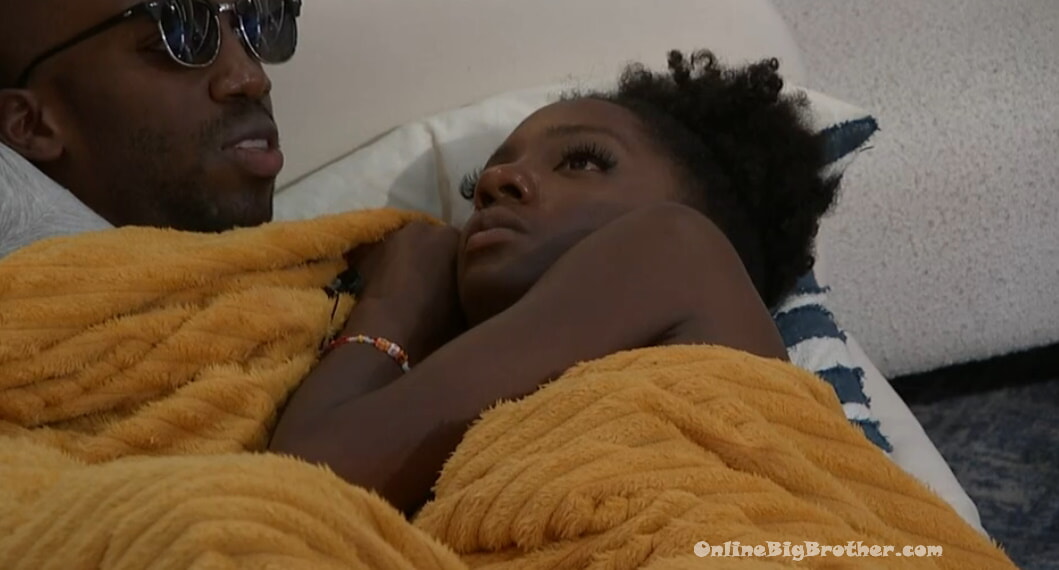 5:50 pm – 6:50 pm Xavier and Azah
Azah – this is hard.. I feel like I'm certain then back and forth. I wanted to know your thoughts about something. When I signed up to this final 3 I knew what I was getting. I have a shot to win or I'm third and I was okay with that. You know.. yes.. things that happened this past week had be doing things I didn't think before which is reconsidering. It's hard for me to not reconsider.
Azah – I was able to squash a lot of things with BIGD this morning. I don't know if he'll like this. This is what I am considering it you are down proses to him
Azah – I think third is something that I am .. I can be at peace with because I like you guys. You know what I'm saying. Umm.. but winning part two puts you in a different mindset somewhat.
Azah – I would like to propose to BIGD you know you feel like your fate is in two people's hands and for us to.. we feel our fate is very undecided as well to
Azah – before walking into part three we had the deal of getting first or third.
Azah – if we asked him taking, Deals, taking relationships, taking best friends off the table who would he liked to sit next to no pressure no whatever. It won't be looked at negatively by either of us.
Azah – if that person wins take him whoever is third is at peace with that. If the other person wins they take the other person.
X – I see what you are saying
Azah – at least I feel… we all are shooting for something or Third except him. We can't help but I didn't think of it before winning part two. Dang does X deserve third? I don't know those are thoughts that never crossed my mind before. Started to have me considering those things.
Azah – between us and going for the comp. I don't plan on throwing it I know you wouldn't plan on throwing it. It's not like we are planning on scheming we are going to go for it and put our all into it and do our best either way. I know if I don't get it and he picks you I'm okay. How do you feel about that?
X – This morning you said you wanted me to honour my deal. so if he says.. all deals aside he's going to base it on who he can win sitting next two so I don't think his answer will change. He'll want to sit next to me.
X – as much as he's mopping around he's not throwing his game away he's still playing he's still fighting
X – he's going to say what he needs to say to get himself guaranteed second place.
X – he feels like he can beat me and he losses to you.
X – you won part two .. okay you said you were okay with third now you shouldn't be competing.. no she won third she should do whatever she wants.
X – I always felt like if I won part one I have to win part three.
Azah – I knew I had to win part three. I was guaranteed third unless I won part three.
X – his perspective is If I win I take him if you win you take me he gets third.
X – i'm just saying you won.. if BIGD had won what would be the situation?
Azah – I would be sad and I would be in my room but I would be at peace because I know what I signed up for
X – you wouldn't be guilt-tripping me to take you you wouldn't be guilt-tripping him to take you. You wouldn't be playing on people's emotions you wouldn't be doing that.
X says if they would have brought Ky to the final three DF was guaranteed third place and he was okay with that. "Now that it's the same situation he's not okay with that"
X – I'm like would you rather have KY win or your best friend win? I would rather you win. For him, he's like I'm not so sure.. I'm like WHY based on what?
X – if you follow this women empowerment women do what they want to do things like that why is it okay for a man to betray you and not..nor even betray. why is it okay for a man to discard you and not okay for her too.
X – he's playing to your emotions. He told me last night he's not giving up on his game.
X – If either of us won and you (DF) were in third you don't have to worry about your momma. I've heard that I'm leaving you out there to dry. If I won first and he won third I can guarantee some of that money is going to his momma. I can't tell him that because it incentivizes votes.
X – dawg.. we care about you.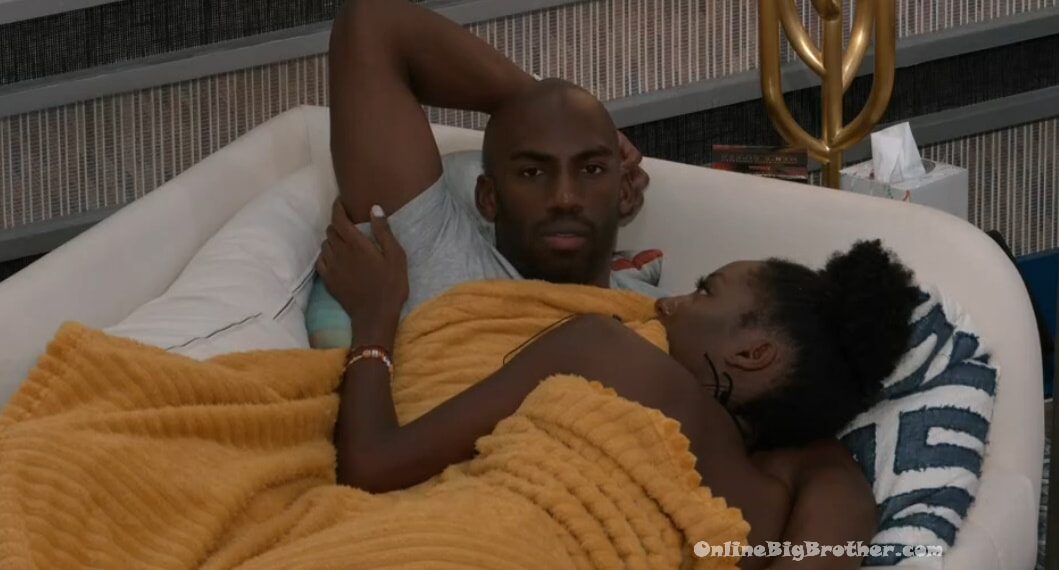 X – for me it has always been about I have to win part three.
X tells her to no feel bad about her decision. She cares about him like DF cared about KY he stuck to his decision and if you stick to your decision he should respect that decision.
If you've enjoyed our updates this season and want to leave a tip you can do so through PayPal. 😉 Thank you to all of our amazing OBB supporters who have already contributed!