HOH Part 1: Xavier Vs Azah Vs Big D
Part 1 Winner = Xavier
HOH Part 2: Azah Vs Big D
Part 2 Winner = Azah
HOH Part 3: Xavier Vs Azah
Part 3 Winner = ?
Big Brother 23 Houseguest Rankings – – RANK THE HOUSEGUESTS –
View the previous day ranks on the – Ranking Grid
Big Brother Spoilers – BIGD should have just kept to sleeping he's pissed Azah off enough now that he better hope for X to win that final HOH. Basically what happened is DF told Azah he would have taken X to the final 2 if he had somehow won the final HOH. Azah and BIGD are now fighting. It's 90% BIGD spiraling 10% Azah spiraling.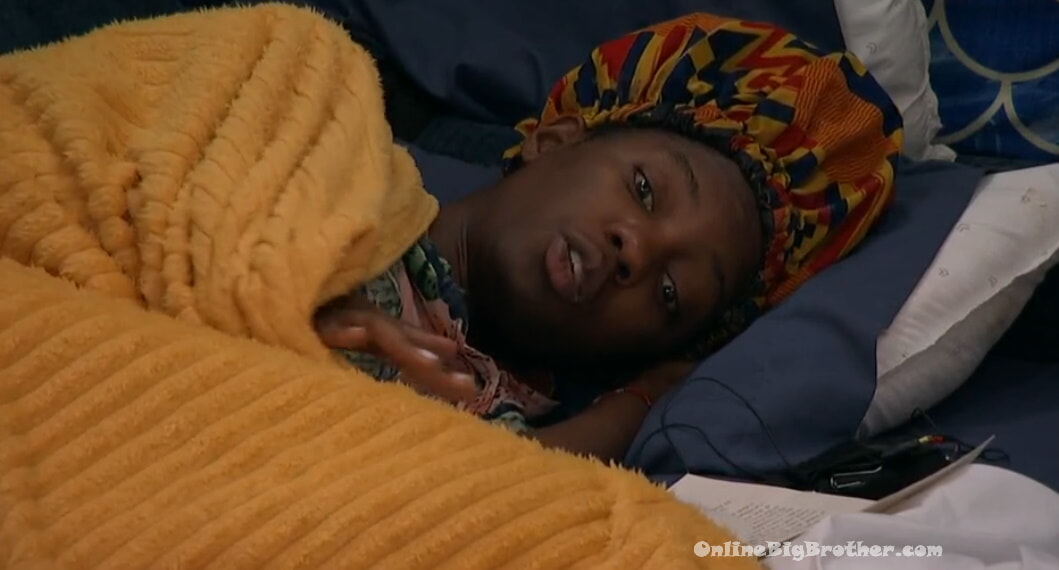 10:22 am BIGD and Azah
DF – you know how you were feeling last week?
Azah – I think we should not talk game that's my opinion. I've really enjoyed my summer here with you and that stuff. I don't want like.. we shouldn't talk game.
DF – I need to clear my head in case I'm going out the door at three just like how you felt last week and when Kyland was in that situation and stuff like that .. that's how I'm feeling. How you were feeling is how I'm feeling. Don't feel like our whole summer because you and me are clashing. If you feel some type of way speak it I'm able to take it.
Azah – yesterday you didn't want to talk .. we don't need to have conversations.
DF – there was no need to have conversations until you asked me what I would have done if the power was in my hands. You put me in a vulnerable state.. I'm thinking am I going to have to sit here and lie to this girl or do I give her the truth. When I give you the truth you already knew what it was walking in here.. OKAY I'm cool with the third I understand you and X have a deal .. all of a sudden couple weeks ago and now that we're here .. we talked about this weeks ago.
Azah – I asked you how you feel at the bottom of your heart.
Azah – I told you then and I'll tell you now I respect where you are coming from and your opinion is not bad and it's not wrong so I don't understand why we are going back to it again.
Azah – I told you I was cool with it yesterday three times and you brought it up this morning again. I'm confused..
Feeds cut.


When the feeds return.
DF – when I said I wanted to make Jury and I wanted to make 5th yes and I did do that. when I was walking into this I had two deals but I got rid of one of my deals.
Azah – I'm not talking about that. I'm talking about what you said in terms of your placement.
DF – Ok.. my placement.. and I got here. For me right now I'm feeling a little bit.. I told you everything I was planning to do.
DF – I'm feeling like I told you all my gameplays and all my moves and now I'm kinda like.. damn was it smart to tell Azah about my final 2?
DF – on top of that I get how you were feeling last week when I was with Kyland and you were kinda like what are you doing blah blah.. Then when I came to you and said I don't know what I'm going to do this is such a hard decision blah blah blah
Azah – Guess what I haven't done. I haven't said that to you. I haven't given you any indication that I changed my f**ing mind. I HAVEN'T done that
(they've raised their voices)
DF – I'm just
Azah – no you are going off your own insecurities
DF – I'm going off how it looks..
Azah – and I went off your action of what you ACTUALLY DID I have not done that.
DF – but you questions my actions last week when I said I would never do that to you .. I'm just saying .. I'm just giving an example MISS Azah. I mean I'm giving you exactly what you gave to me.
DF – OKAY MISS AZAH ..
Azah says he's been feeling some way since Saturday.
DF – I was not feeling some sort of way so don't put words in my mouth. I've already made it clear if I felt some type of way I would have said something.. I was not feeling some type of way. I'm just STATING FACTS…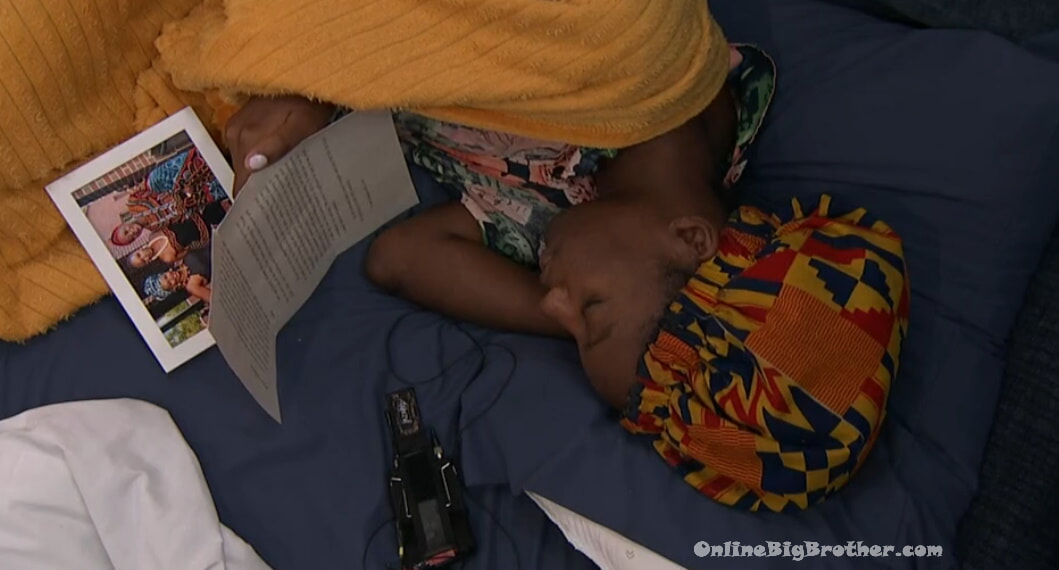 DF continues to put on his outfit for the day and leaves..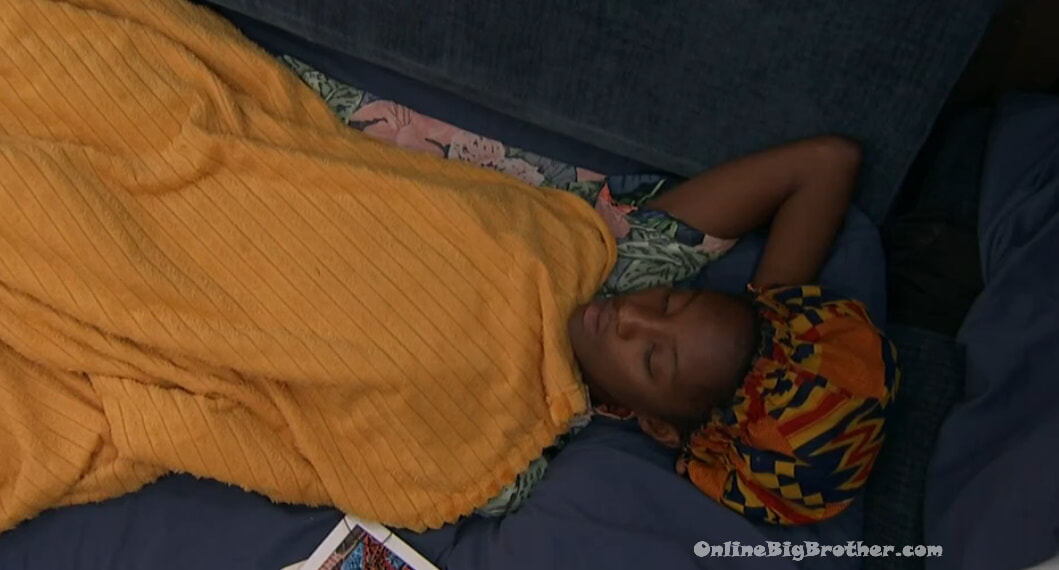 10:55 am Xavier and Azah
Azah – he's pretty much saying he doesn't like the question I asked him .. You know I came in with Third and that's the way he thought things were going to be.. Okay
Azah says she told DF yesterday he didn't hurt her feelings "He started bringing it up again and I said we should not talk about game stuff.. he was like I need to get things off my chest and he brought it up again"
Azah – at this point you (DF) brought this up four times I made it clear to you yesterday that your opinion was not wrong It wasn't bad jit wasn't anything. I was completely fine with the say you felt. I said that yesterday and I said that this morning
Azah – I don't know why this is being brought up again when I've made it clear since yesterday that how you felt is completely fine.. he keeps bringing up YOU SAID YOU WERE FINE WITH THIRD
Azah – on that note BIGD when you came into this house you said you were fine with Jury.. then with jury you told everybody you can let me go at five but no one has ever sat there and put those words over your head as to say ohh didn't you say this?
Azah – he's talking about the deals he made.. I'm like I'm not talking about deals..
Azah – he's like the way you felt last week is the same I feel now..
Azah – I woke up not wanting to choose violence this morning.. and by violence, I don't mean fighting..
X – I can see it in your eyes you were ready to go fist-a-cuffs
Azah – no when I say choose violence I don't mean actual violence I mean like.. I didn't wake up in the morning wanting to talk to you (DF)
Azah – we've had a good summer lets not argue. Like I'm cool without arguing. I start to get frustrated when I feel I made attempts.
Azah – he said I'm wondering if I shot myself in the foot telling you about my deals and all that stuff.. I mean.. I just figured it out. People are going to think about this game differently.
Azah says she had no intentions of getting between Xavier and Df.
Azah – I have to pray about things.. about Wednesday and all that.
Azah – there's some hurt with me knowing that he feels like I don't deserve to be here.. (Rich coming from BIGD)
Azah – I've never cared about what other people think.
X – it's different when it's people you are close to and respect.
Azah – I care so much about what my parents feel…
Azah – Maybe it could be me and BIGD blah blah but because of those things.. If you have someone who thinks you don't deserve it or are worth it or whatever.. yeah I'm sorry it does make me feel a certain way about who I want to be beside me.
X – mmhmmm. To say one person brought all of us or to say one person did more than another I think is disrepectful. We did what we needed to do and we all did it well that is why we are all here.. He's done what he needs to do, You've done what you need to do.
X – To demean someone's style of gameplay isn't fair there are many ways to play this game. Many different styles of gameplay that can be effective. Just cause your style of gameplay is different than mine doesn't mean it's not effective. We're both sitting here..
X – we all deserve to be here because we are all sitting here.
Azah – he said Kyland said he deserved to be in the final 3 and that.. like.. I think .. what's the word.. the audacity of someone to say that..
X – it's very subjective. Everyone will be biased on how they play the game.
Azah – the only people that can say they deserve to be there are the ones that won that HOH and that Veto.. it's not a d1ck measuring contest. It's not like I did this or this.
X – in a d1ck measuring contest can I not go against someone named BIGD I feel like I lose 9 times outta 10
Azah – yeah you do..
they snicker
X says DF feels like Kyland did his game is in other people's hands. "When there game is in the hands of other people they react poorly they don't like not being in control"
X – BIGD is a wonderful person but you can see his back is against the wall. He's helpless and I know he doesn't like that feeling and he's lashing out. He's showing his true game thoughts.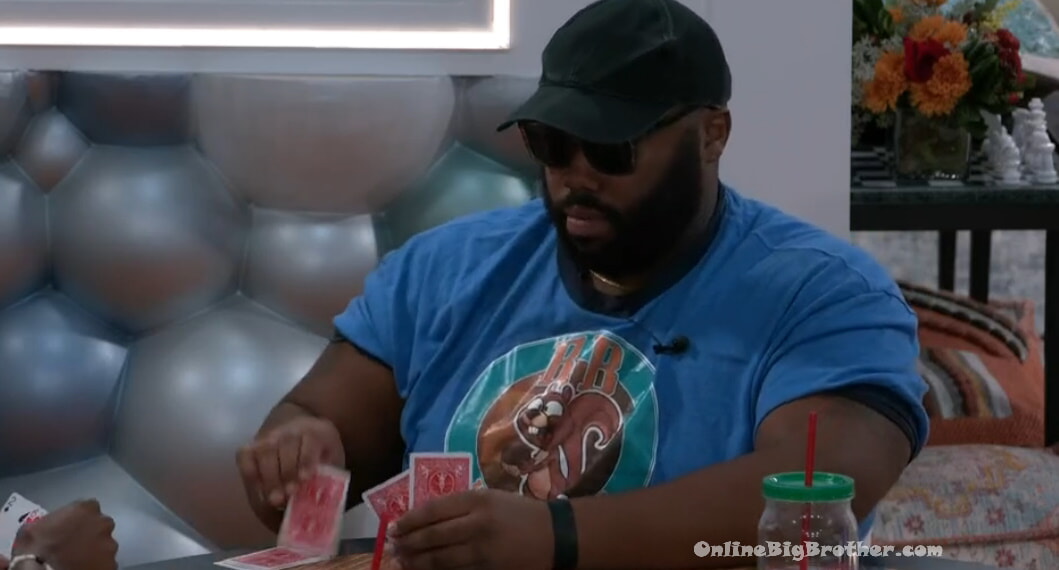 11:20 am X and BIGD
DF talking about Azah getting mad at him when he said last week he really likes Kyland and Kyland is so vulnerable. "She's looking at me like are you f**ing kidding me"
X – people have thrown the nomance thing to her face to me that's just rude. She's not a woman that is undateable. It's just that is not what I came here for.
DF – if she didn't question me about Kyland I wouldn't be pushing her about you
DF – she looks at me asking why aren't you questioning X.. I'm like I don't need to question X. I've been with that man since day one we've never gone back on our word. All I can do is trust he's a loyal honest man the whole time.
X- the difference between myself and Kyland from a game standpoint I never went against her. He did go against you. From a personal relationship, it's the same smoke.
DF says he's not using what Tiffany and Claire were saying that Azah is not in a showmance with X.
DF – I would rather have walked out knowing.. hey I kept Kyland. Kyland will take X if he wins and that's fine. I don't want to be sitting here wondering what it is. I would rather going out third being like alright Kyland is going to go with his deal with X Okay cool if he takes X I already know what it is.
DF – that makes me upset.. I wouldn't have done that to either of you to (make them wonder)
DF – it's like you coming to me like HEY what will you do? I would be like X you crazy yo? Obviously, I'm taking you why are you questioning me?
X suggests they stick with not talking game with Azah.
DF – I feel like I did so much trying to be honest and trying to cradle her emotionally and help her through the game and it's like I'm just at the point where she questions me for a whole week.. she was worried the whole entire time.. I feel as though I never asked her questions like what would you do in my position if Xavier was on the block. I never put her in that situation.
DF – X if you feel differently then let me know.. If you win and you don't want to take me no more.. just give me a heads up?
X – I've told her the same thing whoever wins has options at the end of the day. Whatever way someone's leaning it is what it is.
DF – right I respect that. I'm just I think that when she was on the block she was dealing with a lot of emotions. Now I have to sit here and wait.. wait.. wait.. I have a lot of emotions.
DF – I've always seen you and me in those final 2 chairs.
X – from a game standpoint neither of us had a deal with her.
X – part of me wish before the competitions started we sat down and made it black and white. We all deserve to be here whoever wins 1 and 2 those people go to the final 2 and that is what way it is.
DF – absolutely.. the thing is I got hounded all last week so I don't know how I am supposed to sit here and say anything I don't want her getting distracted by a man who she can't come to a decision.. that's what I'm getting at. I got hounded all last week so when I'm sitting in my room she's like 'are you going to send me home or a MAN over Kyland'
DF – I'm just doing the same thing you did to me.
DF – I want my second place
X – I'm going to do what I can to make that happen for you
X – Right now I have a job. My job is to win this competition and take the person I have said we are going to start this game together and end this game together have that come to fruition. The only thing standing in the way of that is me winning a competition. If I can pull that off we both get a cheque and we can go home happy.
DF – I'm happy
X says the way Kyland acted the thought of him getting to the final 2 and getting a cheque "makes me sick"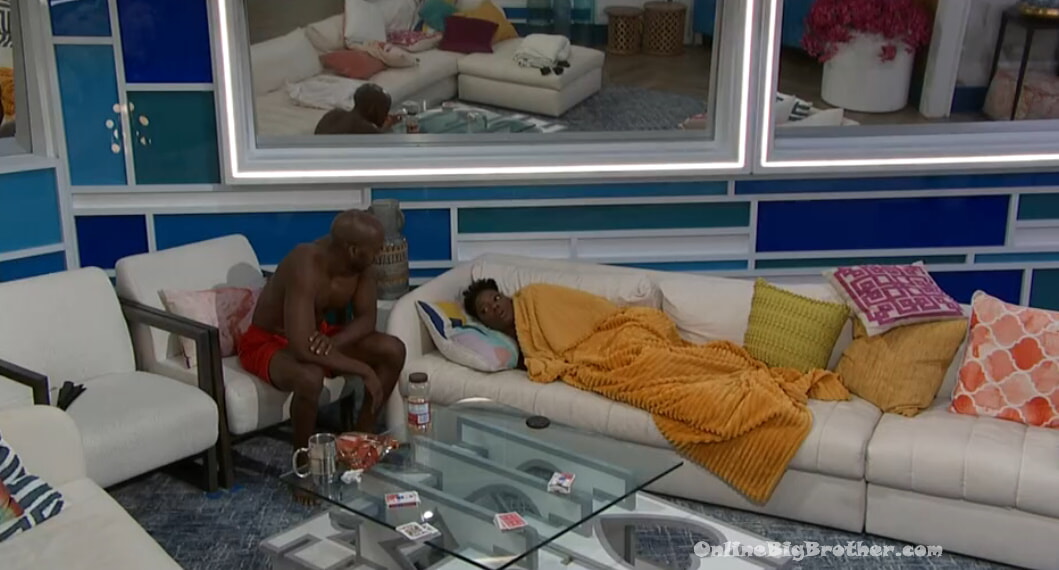 4:51 pm Azah and X
Azah – can I tell you something? I've been thinking and I'm going to pray about it some more tonight but.. If I win I think I'm going to take you
X – you think?
Azah – mmhmmm
X – I appreciate that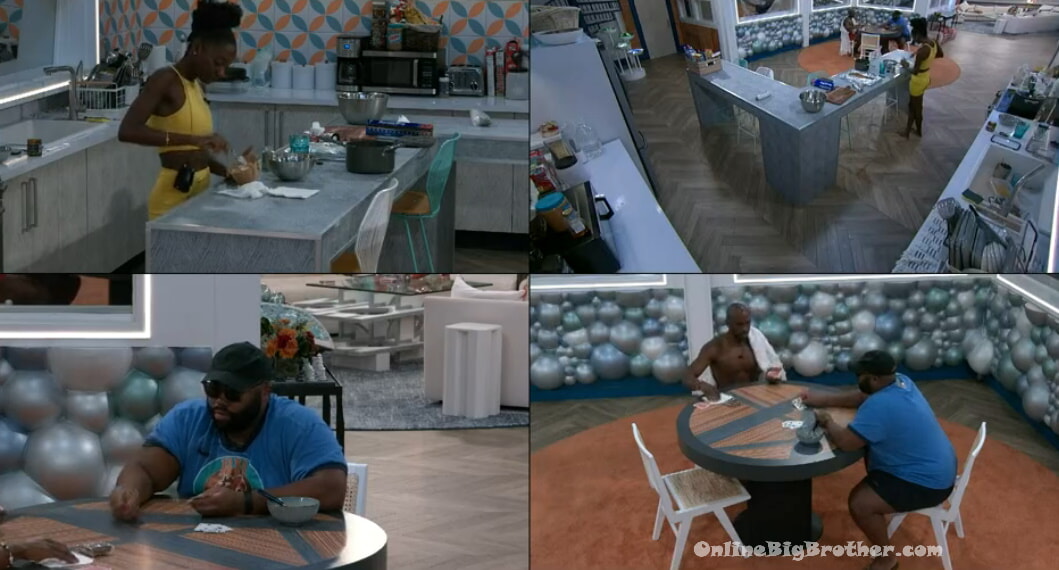 5:43 pm Back to cards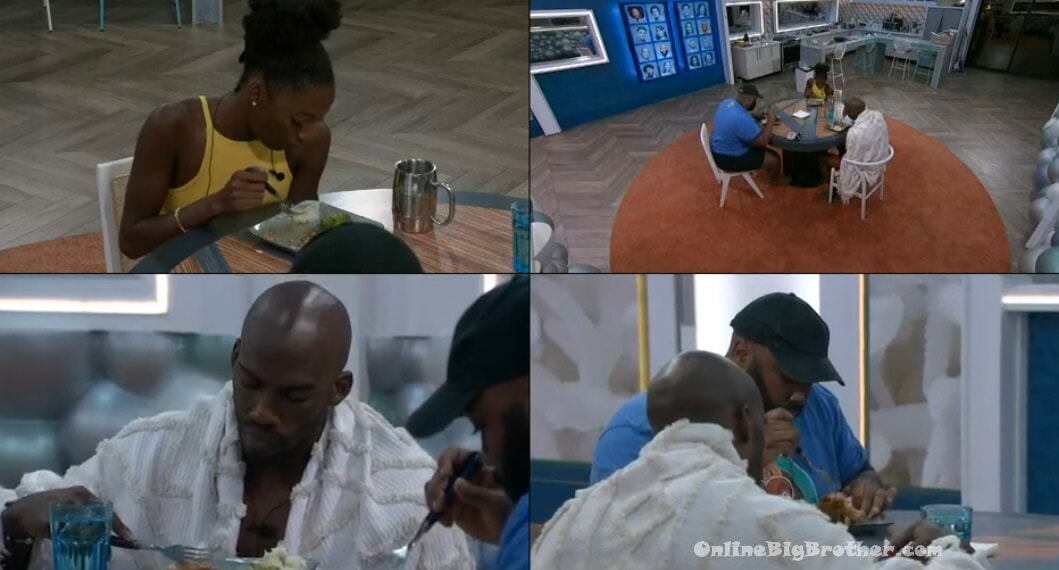 6:36 pm Dinner made by Azah
7:10pm – 8pm Kitchen – Big D, Xavier and Azah are talking about past events of the season. They speculate on how things would have changed due to different circumstances. They start playing cards.
8:25pm Kitchen. Big D and Xavier.
Big D – my game is literally in one persons hands and its ah…. scary! Xavier – MMmmhmmm. They start playing cards again.. Big D – yeah my mind be okay. Xavier – there ain't no holding back at this point and my goal was to always win part 3… so nothings really changed for me. Big D – I just hate that we're in this situation. Like I don't know what the F**k she is thinking. I don't see my name on the first place prize. I see my name on the second place prize. Xavier gets called to the diary room.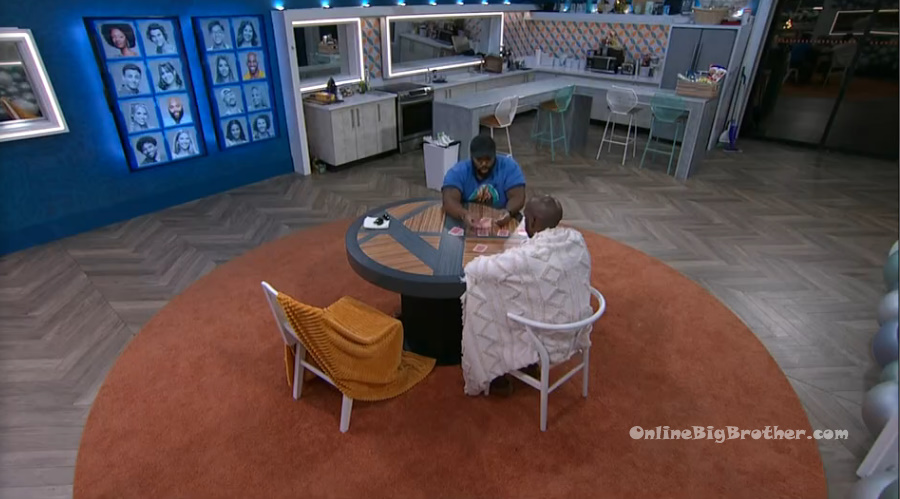 8:30pm Bathroom. Azah is showering.
Big D – do you kind of get where I was upset earlier? Like I am moving forward but do you? Azah – yeah, Mmmmmhmmm. Big D – its just because like I am in the middle. Like I don't have no more game left to play. So that is why I am just stressed and like and feeling like I don't know what to do. But like my attitude should have never come at you that hard. I apologize for that. Azah – okay. Big D – its just tough because I just see my whole game go out the door. They talk about talking about it more to get it out of the way.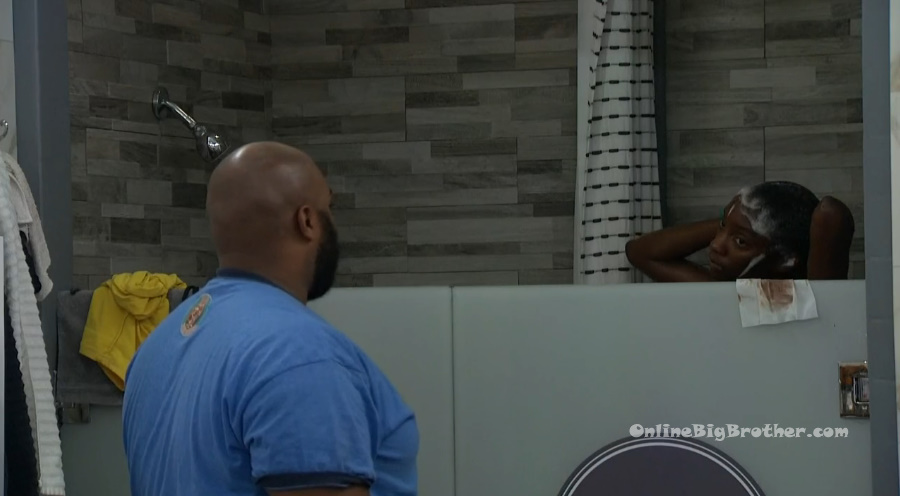 9:24pm Bedroom – Big D and Azah talk out their issues again.. Big D – I appreciate your honesty and I appreciate you letting you know and that is it. You feel like you think I don't think you deserve to be here. If I felt like I thought you didn't deserve to be here, I had power in my hand and could have just off .. you didn't deserve to be here. But no you earned your spot here. Me and you talked it and were able to clear the air. And what do I look like cutting a friend over a man that I like (Ky).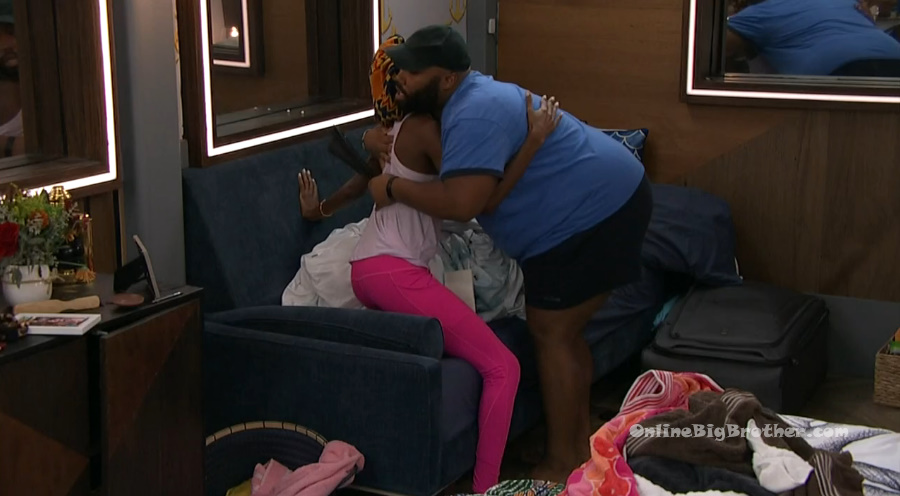 10pm – 10:30pm Big D continues to talk about the same things over and over again to Xavier… he's talking in circles.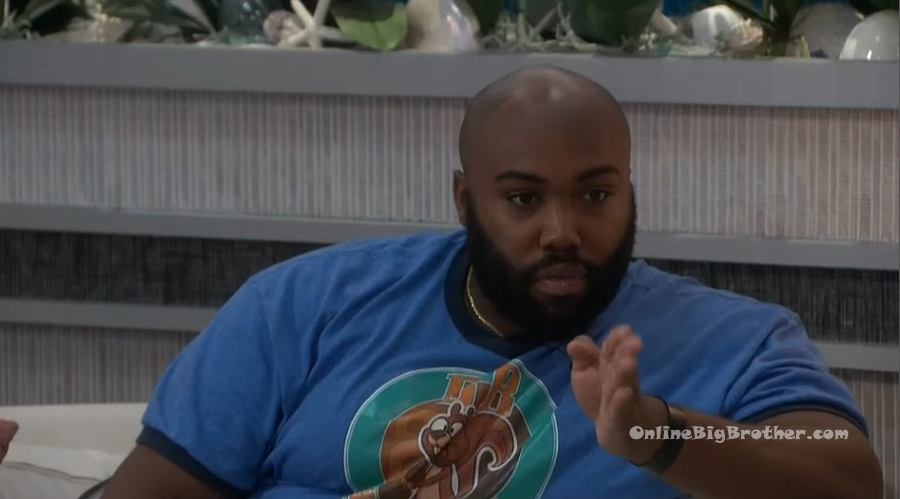 10:32pm Bedroom – Big D talking to the cameras – She's whack and she knows it. That's why she got $50 BB bucks! Not me! Big D grabs his blanket and takes it to the coral room.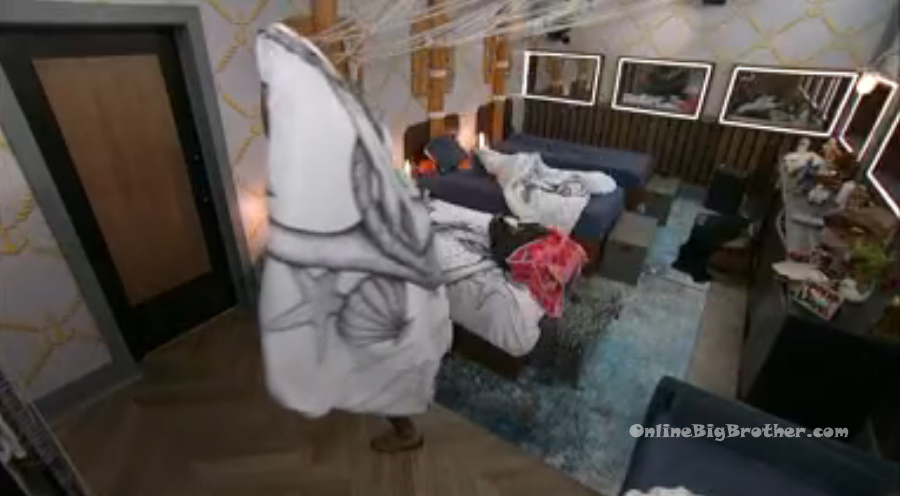 11:30pm Big D goes to sleep.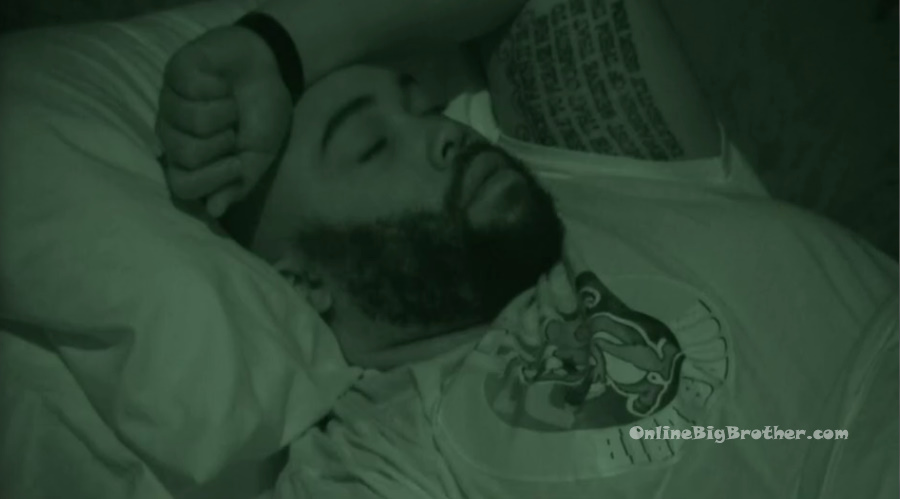 11pm – 12am Bedroom – Azah and Xavier.
Azah tells Xavier about the conversation she had with Big D and then they go to sleep.