POV Holder:
James
POV Competition
Aug 29th
POV Used
Yes
POV Ceremony
Aug 31st
HOH
Vanessa
Next HOH
Sept 3rd
Original Nominations:
Meg and James
After POV Nominations:
Meg and Julia
Have Nots
Johnny Mac, Julia, James, Meg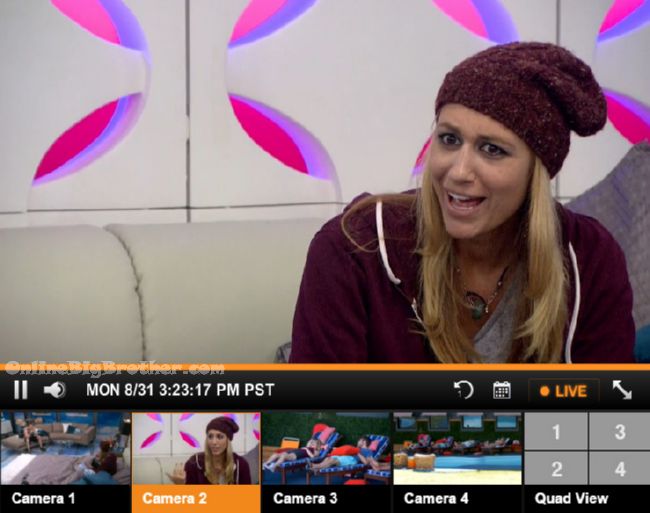 3:05pm Vanessa and Johnnymac HOH
Vanessa is questioning if Steve has it in him to make a tough decision in this game.
Jmac says by default james is going to be his new friend but right now they don't talk much.
Vanessa – you stick with James, Steve will stick close to Julia, and I'll stick close to Austin.
Vanessa – Worst case scenario, if Julia goes we can still do that plan, I can stay closer to Liz, Steve closer to Austin .
Vanessa – Austin, if I have to put him on the block he'll always understand.. I'm not nervous about his wrath.. he's gotta realize with his position in the house..
They talk about Jmac working out too hard with Austin and it hurting his competition performance. Jmac mentions he was doing squats before the HOH competition that Austin won and his legs were too sore.
Vanessa tells him to not work out too hard.
They start talking about Bateria. Jmac explains how there's this sugar that the bacteria consume get the energy spit out the remains which form up a matrix. It's within this matrix that the bacteria forms it's colonies.
Vanessa- what is plaque
Jamc – Bacteria shit
Jmaec starts talking about meeting a girl on Match.com she was 12 hours away from him.
Jmac – she came from a family that it's important that the guy makes a lot of money.. She wanted kids.. when we were drunk one time she said I can't see myself with someone making less than 100K a year.. is that wrong
This had jmac really questioning things with her. because both his parents make only 100K together. Jmac says he was a bit insulted from it.
Jamc – she told me I wasn't supposed to talk to her again, 'RWWWJJJHAA"
Vanessa – really!
Vanessa share her dating history.. says the one thing Guys have harder than girls is the whole asking girls out on dates. Vanessa says Mel was the one that asked her out 'This girl (MEL) gets what she wants"
Steve – is she American
Vanessa – No she's Canadian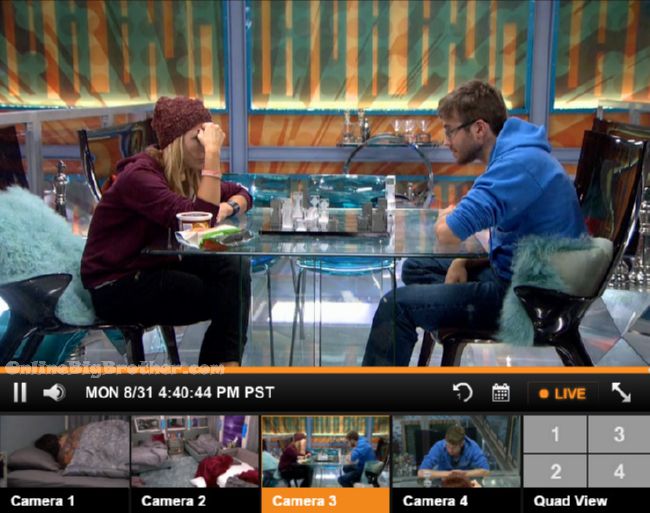 4:09pm – 4:50pm Vanessa and Steve playing chess
Steve says he plays chess much differently when it's against Vanessa. mentions executing moves to make Austin happy.
JUJU Joins them.
Chit chat about Chess etc..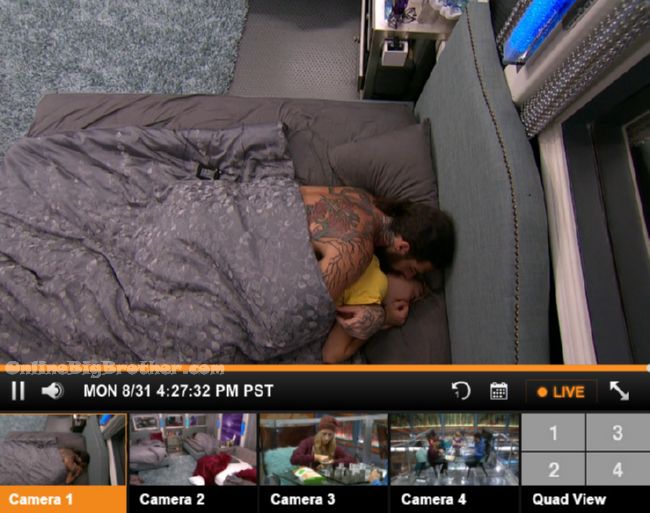 4:25pm -4:50pm Liz and Austin
liz says he got her pants wet
Liz explains to the camera how Austin shorts are wet and he was laying up against her. It's not the other kind of wet.
They pull the covers over and you can see Austin hand moving around. (Given the history of the hands under the covers one can only guess what is going one)
liz – You're too much
They begin to kiss.. still hands moving round the crotch area.
[envira-gallery id="131535″]
5:00pm This…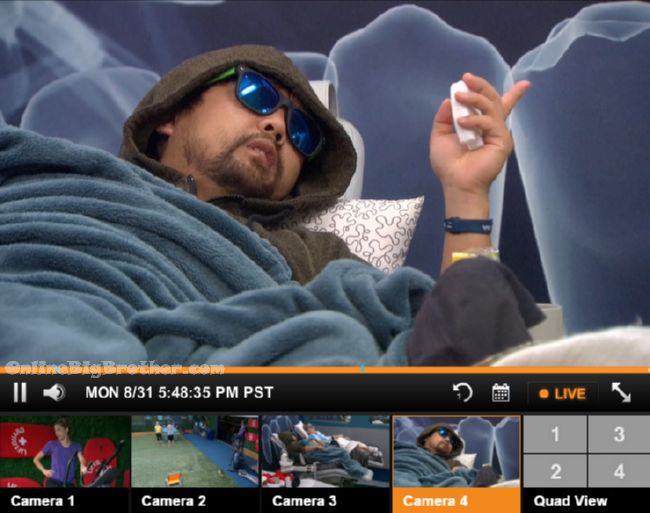 5:30pm Goblins
James – Are you OK
Meg – Yeah, You?
Meg – You seemed sleepy today
They agree time is going to drag on in the Jury House.
James points out the food will be good.
James – it's miserable here
James saying if the competition is physical he's going to go beserk.
Meg – I know you are trying to keep me calm about her but oooF
James wants them to handle Vanessa at a strategic level.
Meg tells him to stay close to Austin, "I think Austin and Johnny mac.. Steve I don't trust him.. he's too tied to Vanessa"
James – so is Austin
They are agreeing Austin knows the game too well and the showmance cannot make it much further
James says Austin will eventually want to take out Liz, "He's got to realize he can't win against her"
James thinks Vanessa is going to use Steve to take him out.
Meg – James, You gotta be careful of her
Meg – she's got to go
James – yeah
Meg can tell Vanessa thinks she can manipulate James.
Meg thinks Vanessa is trying to pull him in the take out the twins and Austin.
James now hoping that he wins HOH and Vanessa will tell him to take a shot at Austin /Twins. He'll then tell Austin this and watch the house explode.
Meg – Put up Steve and Vanessa?
James – ya
Meg is pissed at Vanessa says she's not going to vote for her and will be pissed even if she gets 2nd place.
James- what if I win and she comes in second
Meg will be pissed at james if that happens.
Meg – I can't stand how she plays this game.
James thinking him and Austin making a run to final 2.
James – I'm not going to trust him if he's with Liz, I aint dumb
James about Vanessa "She's the villain, she an emotional villain"
Meg – I'm happy I got to Jury
Meg – I just hope I made a contribution somehow in the game
Meg – don't you wish we could drink wine tonight
James wonders who the first guy will be in Jury. Points out how earlier there was way more girls than guys now the Jury is full of Girls
Meg – Girls don't like girls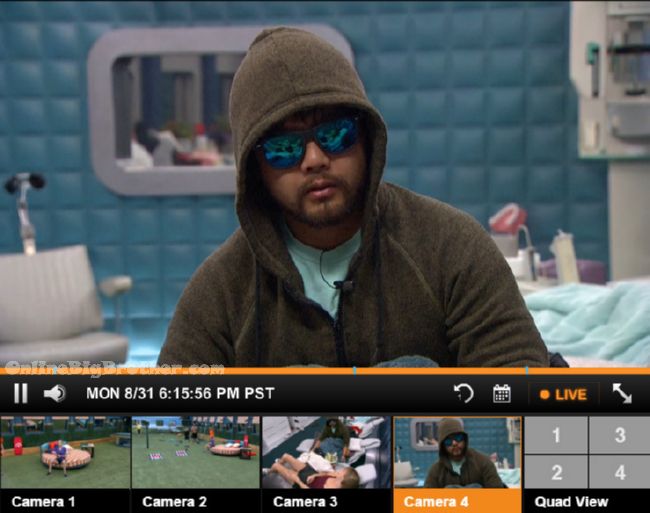 6:15pm
Meg – what is your favorite colour
James – I don't have one , I like Camo
Meg – So many fun people are gone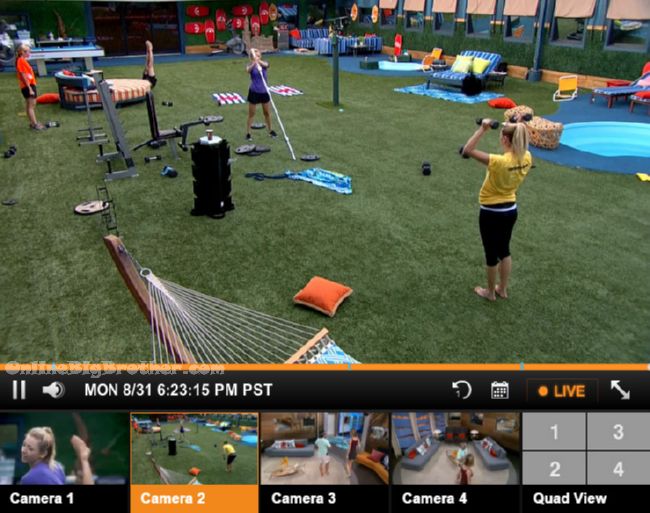 6:08pm Austin's workout plan.. He will make you sweat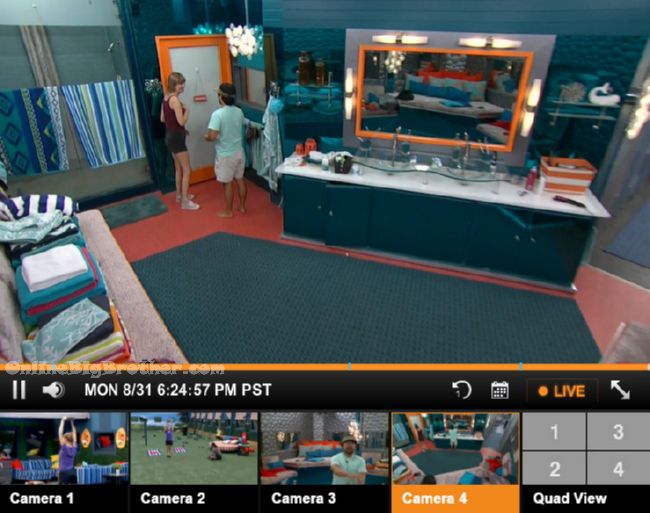 6:25pm James is going to prank the house. He tells Meg about the plan. He found a some Of "Big BRother Cards" he's going to grab one and wait until after he comes out of the Diary room. He'll then read it out to make them all thinks it's real.
James- Vanessa will be like why didn't they call me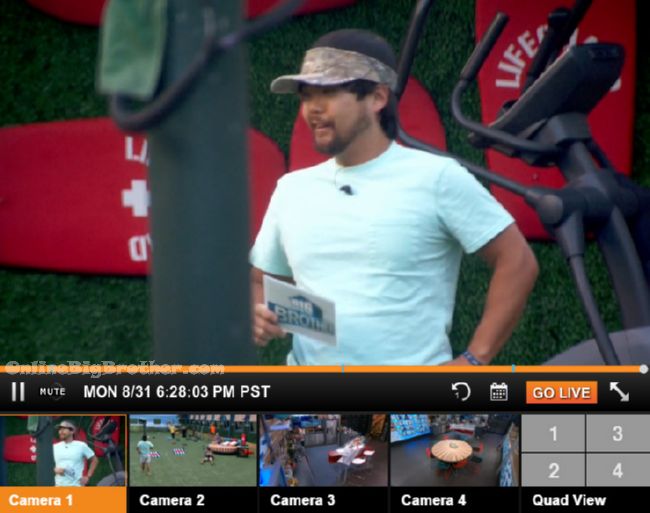 6:27pm James walks out into the backyard to read the card.. CBS decides to block the feeds
If you enjoyed the spoilers please consider a donation using the button below
ALLIANCES:
"Goblins/Gremlins" = James and Meg
"The Generals" = anyone allied with Becky
"SOS" (Students of Sound) = Steve and Vanessa
Rockstars = Steve and Jmac
AUS-Twins = Austin, Julia and Liz
"Austin's Angels" = Austin, Liz, Julia, Vanessa
"Brass Tacks" = Gobins and Austwins
The new "Brass Tacks" = Aus-Twins, Meg, James + Vanessa
"Freaks and Geeks" "The Scamper Squad" = Aus-Twins, Vanessa, Steve
"The new Freaks and Geeks minus Vanessa" = Austin, Liz, Julia, Steve, Johnny Mac
"The Authority" = Austin, Liz, Julia, Steve
[polldaddy poll=9046808]
Share it YO!!
Tweet