POV Holder:
James
POV Competition
Aug 29th
POV Used
Yes
POV Ceremony
Aug 31st
HOH
Vanessa
Next HOH
Sept 3rd
Original Nominations:
Meg and James
After POV Nominations:
Meg and Julia
Have Nots
Johnny Mac, Julia, James, Meg
6:48pm Goblins Looking at the memory wall
Meg – Jason got screwed
James – Jackie
Meg – Jackie got screwed big time
James says he had packed before double eviction
Meg – remember Jason in here he's always fun
James says he was the one person always up late outside smoking
Meg – he was such a good guy
James – live feeds are saved
Meg – Ya
James – Ohh god.. I don't think you can get the video back.. live feeds that's live
James doesn't think they record the feeds.
Meg says she really doesn't know.
James – I kinda want to get them next year and watch them go crazy in the house
James – I swear I did watch live feeds one year they were all around the kitchen it was boring..
James- I think the live feeds are just for family
7:30pm Steve working out sh1t just got real
7:36pm HAve nots Goblins
James flossing
James – I would have to say I'm one pretty good looking asian guy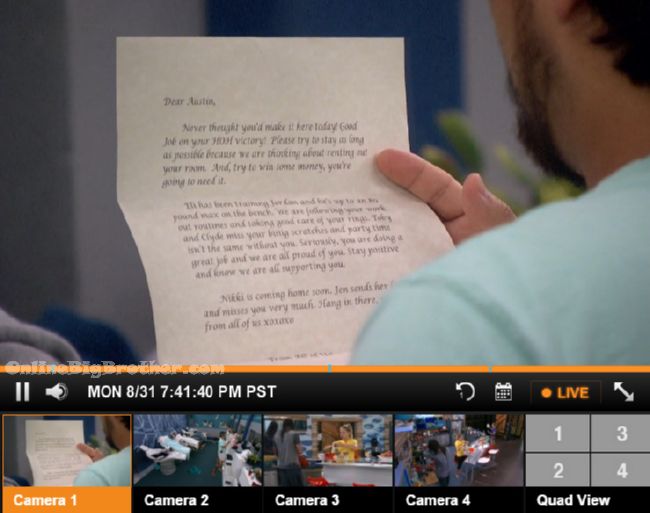 James reads Austin's first HOH letter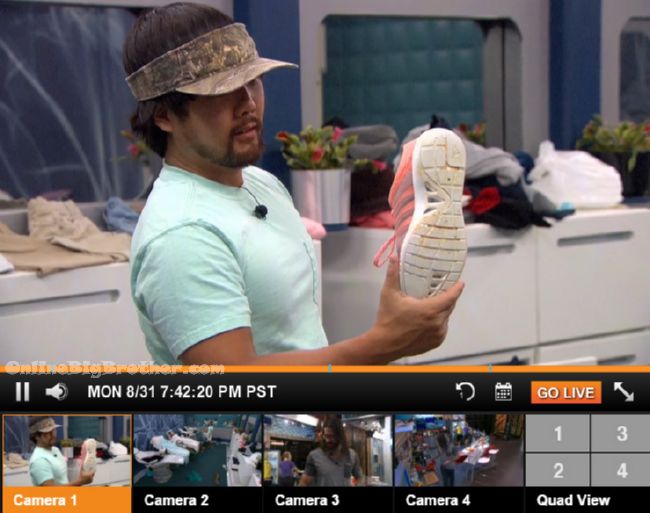 James points out she stepped in dog shit
8:08pm Steve and Vanessa HOH
Steve – we are going to have problems, you just told me to run for 20 minutes I ran for 20 minutes it was a terrible idea.
Vanessa – how the f*** are you going to win final 3 second round
Vanessa – I've been doing some thinking, Have you, started doing some thinking.
They chat about working out every day to get them ready for the final 3 competition.
Vanessa – I've been doing some thinking, we need to do some thinking. you need to know what you are doing. it might be double eviction.. expect the unexpected it' either this week or next
Steve says they've done it before where they went from 6 to 4
Steve – Last year it was 7 to 5 this week it would be 8 to 6
Vanessa – they've done 6 to 4
Steve- they have season 8, Did you see Season 8
Vanessa – no
Steve – WHAT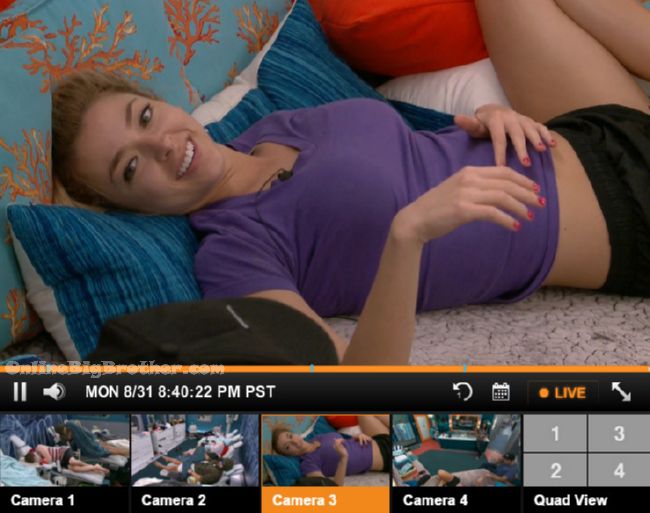 8:39pm Bathroom Steve and Julia
Julia – are you going to vote for me
Steve – Yes
Julia _ If you vote for me I'll give you a back massage
Steve – make it two
Julia – we've just made a deal
Austin joins them. Steve tells them he really enjoyed Meg's speech today.
Julia – Kick rocks.. that's what was said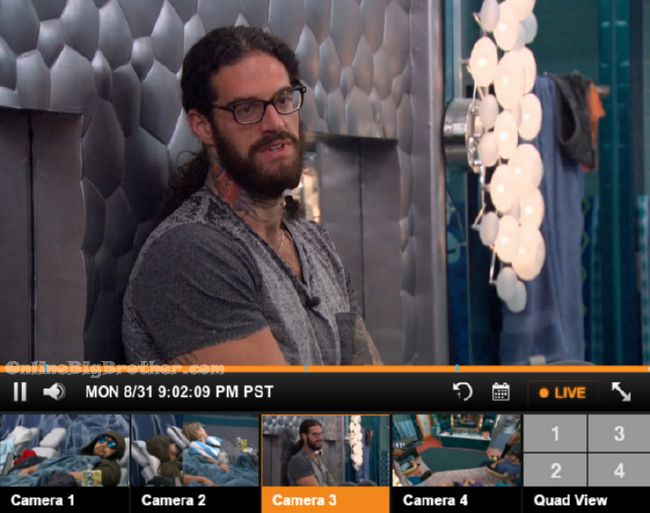 8:59pm Bathroom Twins, Austin and Steve
Making plans to party after the show. Steve will be the driver.
Steve brings up their season hasn't had a big twist that they know of.
Austin points out the twins.
Steve says "Rosemary" (Someone in castin) always says she wants to cast people that will never live together under normal circumstances/.
Feeds cut ..
When they come back Steve is asking to play a game of Chess against Austin without an audience.
Austin laughs says the twins won't allow it.
The twins grumble.
Austin says he met a lot of the cast last years during the casting process. (They're not allowed to talk during the casting it's a lengthy process where they stay in a hotel for a while and undergo interviews etc. During this they are grouped together and share common eating space. )
Austin lists them off.
Steve – you met all the detonators.. hey that's maybe how they all met
Austin – ya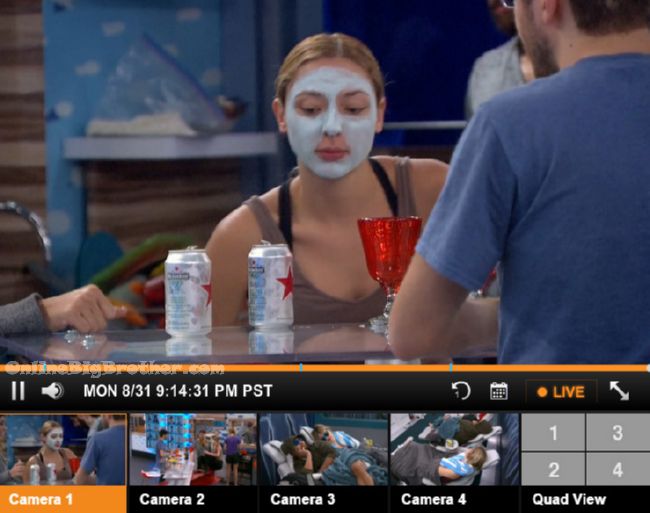 9:14pm 2 Beers and a bottle of wine (LOL don't go overboard)
A twin points out the Chardonnay is "hot"
Julia – Steve you going to share a shot of fireball with me
Steve – I don't know what is going on after FInale
Julia – lets get drunk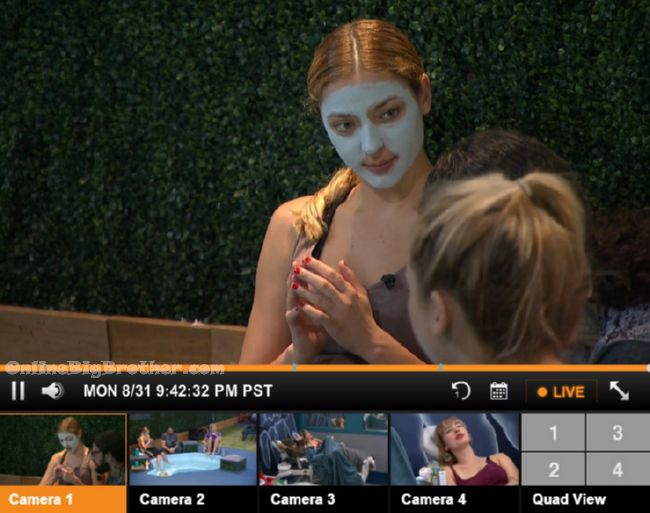 9:39pm Austin and Liz
Going through james HOH scenarios. Austin thinks Vanessa and Julia will go up.
Austin – Julia's the sure fire way for Vanessa to go home you are not
Austin thinks Jmac will put up Julia and James, "Julia is the pawn until she wins HOH"
Austin says Steve will put up Johnny Mac or James, "Or he'll ask one of us to be a pawn.. he'll ask Julia"
Austin says it's coming down to winning comps they need to win.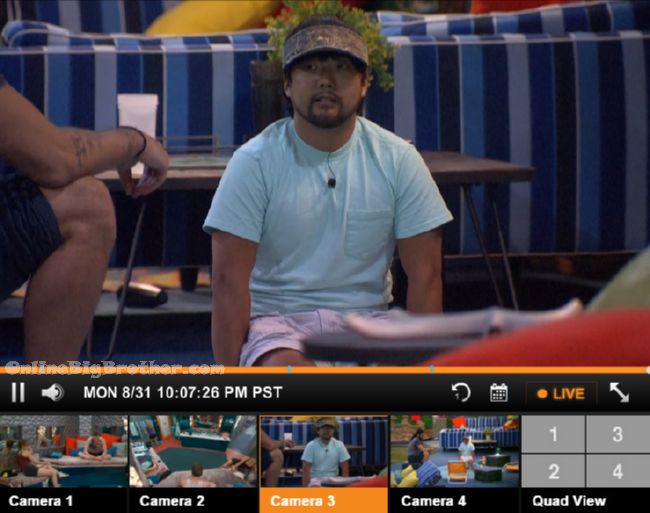 10:06pm Austin and James
James starts hinting at the two of them making a run to the end. Austin thinks they would both have a good chance to win as long as Austin can win a couple more competitions.
Austin – After this week it's all veto
10:42pm Backyard Steve and Jmac talking about old console games
10:54pm Kitchen Steve tells them a story about the first naked women he ever saw He was looking for cheat codes for his game cube and typed cheat.com
Austin has a story about a friend looking for Zelda walkthroughs and instead went to a porrn site.
They brings up stories of living without internet.
11:26pm Chess and Chit chat. The goblins are alone playing pool.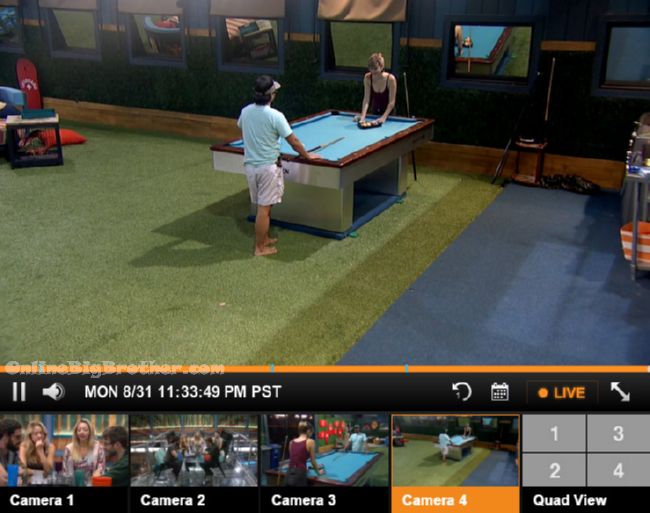 11:36pm Pool…. and some chit chat..
James – the only people that fought for the Veto was Vanessa
Meg – I don't think they cared who won
James knows for sure Austin didn't try to win it he was just trying to hide it.
They bring up Austin scolding Liz for not looking like she's trying hard enough in the POV. "You do not do that when Vanessa is HOH"
Meg – "why are they so scared of her"
James about Vanessa – she likes to be the one doing the mind f***G she doesn't like being mind F****D
11:50pm Goblins
Meg says Ausitn puts up with a lot with Liz.
This is why James is questioning if the relationship will last.
If you enjoyed the spoilers please consider a donation using the button below
ALLIANCES:
"Goblins/Gremlins" = James and Meg
"The Generals" = anyone allied with Becky
"SOS" (Students of Sound) = Steve and Vanessa
Rockstars = Steve and Jmac
AUS-Twins = Austin, Julia and Liz
"Austin's Angels" = Austin, Liz, Julia, Vanessa
"Brass Tacks" = Gobins and Austwins
The new "Brass Tacks" = Aus-Twins, Meg, James + Vanessa
"Freaks and Geeks" "The Scamper Squad" = Aus-Twins, Vanessa, Steve
"The new Freaks and Geeks minus Vanessa" = Austin, Liz, Julia, Steve, Johnny Mac
"The Authority" = Austin, Liz, Julia, Steve
[polldaddy poll=9046808]