POV Holder:
Kevin
Next POV
April 3rd
POV Used
?
POV Ceremony
?
HOH Winner
Bobby
Next HOH
April 1st
Nominations:
Kevin and Brittnee
Have Nots
Jordan, Brittnee, Naeha, Godfrey
POV Players
Godfrey, Willow, Johnny, Britt, Kevin, Bobby.
Jordan is the VETO HOST!
If you are outside Canada and want to watch the FREE Big Brother Canada Live feeds sign up for a VPN service here https://www.hidemyass.com/vpn/r16399/. It's safe to use, easy to set up, and cheap. Need to know more check out this post explaining how to set it up.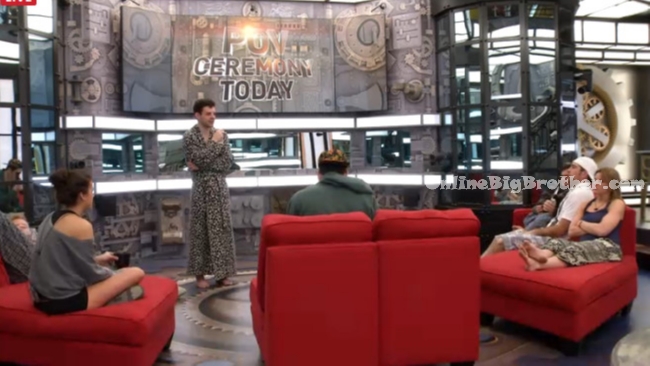 8am Big Brother blocks the live feeds. When the feeds return, Graig, Pilar, Zach, Bruno and Willow are in the living room. Willow jokes and says he (Zach) is a little upset that I didn't kiss him. We don't need the press right now. I'm going to move to Regina. Willow says she didn't kiss on the lips but comments on how she kissed Johnny and Pilar on the lips. Willow says that men love ultimatums. Relationships with Willow 101. She says guys love ultimatums, like we are going to get married by this time. She says he can have his fun till he's 23, then we're getting married. Johnny joins Willow on the couch. Willow says so Kevin didn't stay with you last night? Johnny says story of my life starts with me, ends up in someone else's bed. Bobby joins them. They talk about the POV ceremony happening today. Willow jokes and says I heard Kevin's not going to even use the veto. Jordan says he's going to pull a Marcellas.
In the bathroom – Brittnee and Cindy fill Jordan in on what happened last night during the kissing party. Kevin asks if Johnny and Kevin kissed. Cindy and Britt both say YES! Jordan says that he's sorry he missed it. Jordan says next time they drink he'll stay up. They comment if it even happens again. Kevin comes into the bathroom. Jordan says so I heard I missed out last night. Kevin says some scandalous things happened last night.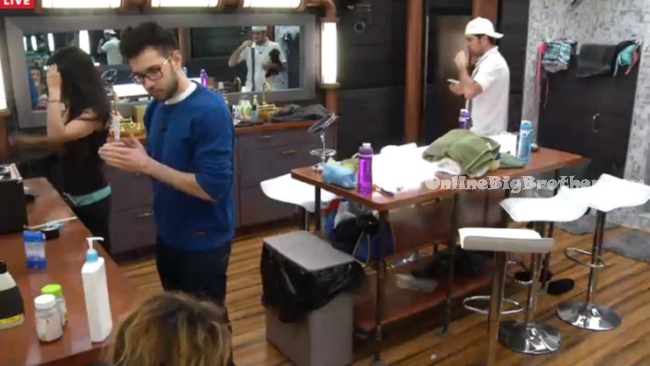 9am – 9:15am In the bathroom – Bruno, Pilar Britt, Godfrey, Cindy, Ash and Willow. Ash comments to Willow and Cindy that she's not into Bobby. "Not into that!" They talk about how the POV ceremony is today. Willow says they're doing diary room sessions right now. Willow says I can't believe they made Bobby go to the diary room at 4am. They talk about how last night was fun. Cindy says that was my first time playing spin the bottle.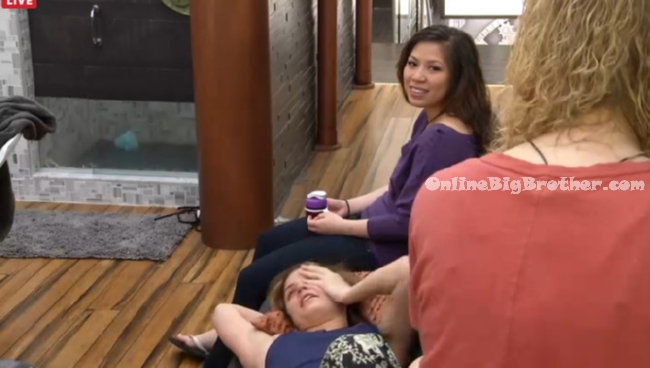 9:20am – 9:40am In the bedroom – Johnny and Willow are talking. Johnny says that she honestly thought that Ash was vibing it. Willow says that Pilar said Kevin is like her brother. Johnny asks Brother you make out with!? Willow says because I have a brother and WE DON'T DO THAT! And I'm pretty close to my brother, Richard I love you. Johnny says and they were pretty close together and he was in his underwear. Willow says stuffs happening! They talk about how nothing happened until they got into bed. Willow says I hate to say this but I think Pili is too sweet of a girl to push him away. Johnny says but she was super innocent in the hot tub and then.. turns on the make out session in the bed! Willow heads to the bathroom and talks with Zach.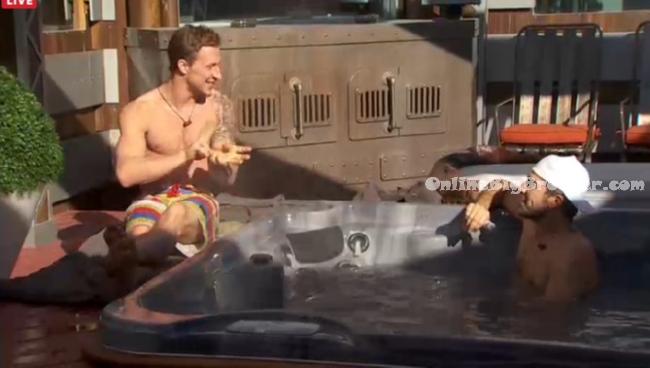 9:45am – 10am Out in the hot tub – Bruno and Bobby are talking. Bruno tells Bobby about how he's not a virgin. He says during the balloon challenge he just said it and went along with it. He laughs about how everyone believes it. Bobby says that it'll be funny for the cast to learn after. Bobby tells Burno that he trusts him more than Ashleigh. Bruno tells Bobby that he's colour blind and gets different colours mixed up. Bobby says that he had said he's good a solving a rubik's cube. Kevin joins them. When he leaves Bobby asks Bruno if he thinks Kevin has any idea he was the target this week. I've tried to get a read on him and I just can't.

In the bedroom – Zach tells Jordan about how he really slept in the bed with Ashleigh. (He's been telling other people he slept alone last night.) Zach says I can't commit to one girl just yet. I don't want to close the door on Willow, Britt, etc. Zach comments that he came to win and not to play with my d**k. I can't close the door on them. Zach says I've got Ashleigh.
In the bedroom – Willow talks to Pilar about last night. Willow says its awkward and you don't have to do anything you don't want to. Pilar says about kissing Kevin it was nice. That's all that happened.
10:25am – 11am The Chop Shop Alliance meets in the pantry and all do a chop session: