POV Holder:
Bruno
Next POV
April 10
POV Used
NO
POV Ceremony
April 12
HOH Winner
Bruno
Next HOH
April 15th
Nominations:
Johnny and Sarah
Have Nots
Brittnee, Pilar, Willow (Pickled Eggs & Chicken Feet)
POV Players
Bruno, Sarah, Johnny, Bobby, Brittnee and Kevin
Zach is the POV host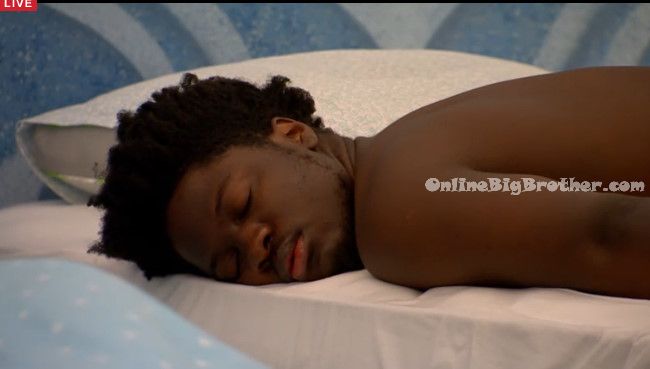 9:30am Big Brother wakes up the house guests. Sarah gets up and goes over to Godfrey's bed asks him if he's awake. Godfrey nods yes. Sarah heads to the storage room to change her batteries. When she goes through the kitchen she comments to Bobby that "Today might be a rough one!" Bobby agrees. Bobby heads out to the hot tub and notices its a nice day. He heads back to the bedroom. Brittnee says this is a wine headache. Everyone knows you slam wine link we do. Yesterday was so much fun and you spoiled us! I love you, I love you, I love you. Pilar asks Godfrey how he's feeling and he says a 4. Brttnee says its better than a 2. Godfrey asks if Brittnee is still drunk. She laughs and says no.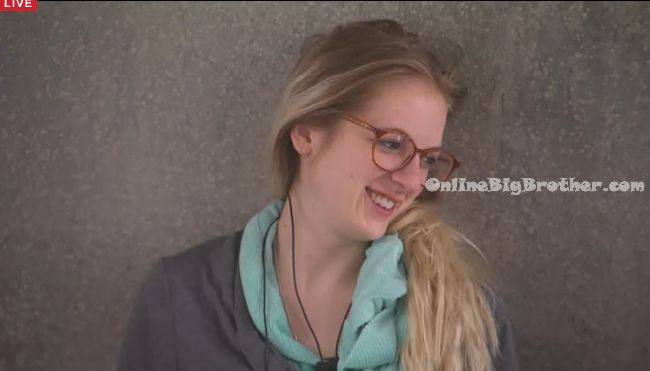 Sarah brings Bruno his batteries. Sarah says it was a rough night. It was obnoxious to a certain point. Sarah says I just felt a little bad for you. Bruno says don't I was 22 once. You guys stayed up late did you? Sarah says they were up late at night in the bedroom giggling and stuff. Sarah checks on Willow next. Willow asks what happened last night. Sarah says I think we were good, incredibly tame. Willow says thank you so much for last night big brother, you didnt have to do that. Willow says I better take a birth control because last night was wild! Sarah brings up how last night her and Willow had a serious talk last night about being left out, feeling old and the situation back home. Sarah says Godfrey can't find his mic. Willow says oh no. Sarah says Bobby said its in Godfrey's bed somewhere. I am not dealing with that puke. Willow says I'll do it. Sarah says no he can do it.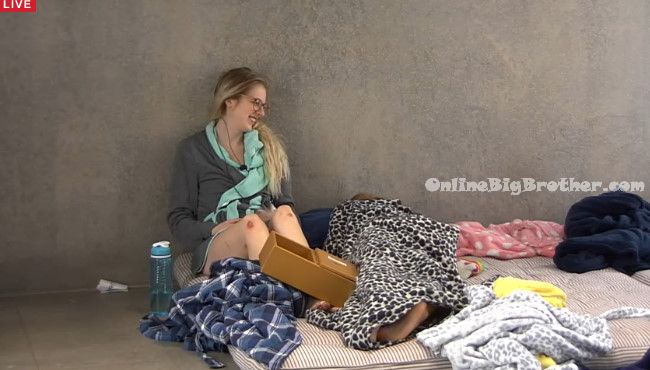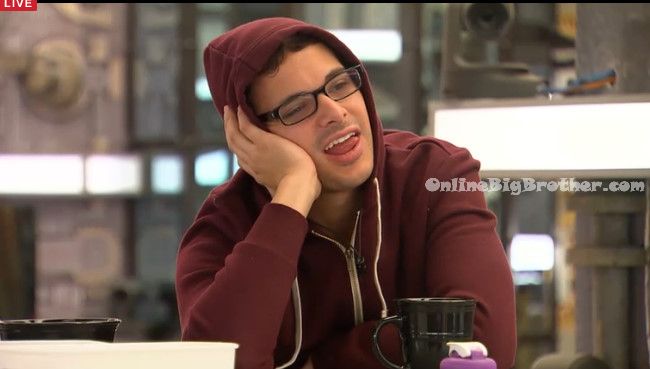 10am In the kitchen – Johnny, Sarah and Bobby are talking. They talk about how some people can't hold their liquor. Bobby tells Bruno that Godfrey was puking his brains out last night. Bruno says I called that one happening. They talk about how Big Brother gave them a football. Bobby talks about running around naked like Arlie. Thank god I wasn't hard so I could cover it all. Thank god, I didn't have a chub going on.
They talk about how Godfrey was throwing up in the bedroom into a slop bucket last night. Jordan says he was GONE! Zach says everyone handles liquor different. Some people can handle it. Johnny says and Godfrey can't. Bobby, Britnee and Bruno head out to the hot tub room to suntan. Bruno says I hope God is okay. Brittnee says he got so sick last night. I did not think he was the one to get sick. Like even JP and Ashleigh I thought they would be the ones to get sick. Brittnee says that JP was trying to get with her so hard last night. You're a good looking young man but you're 21. Bruno says he will do well when he gets out of the house. Brittnee says Johnny and I had a little make out session last night. Canada is going to be so confused. Just for the record Johnny still likes dudes and I still like straight guys.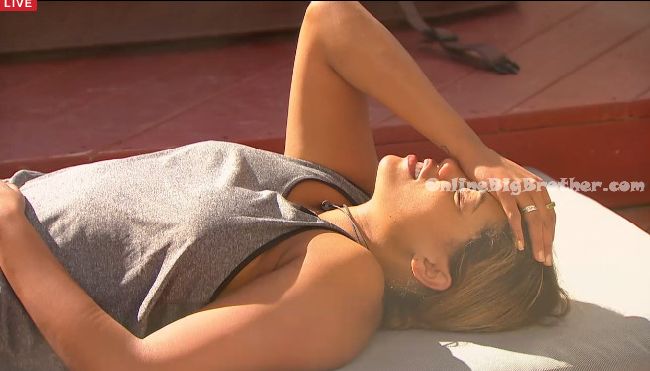 In the kitchen. Jordan asks Johnny who he kissed last night. Johnny says Brittnee, Godfrey, Kevin, Ash… who didn't I kiss. Johnny says yeah, Bruno, you, Bobby. Jordan comments on how Zach kissed Johnny and Kevin last night. Zach says that is a new thing to add to my resume, kissing guys when I get drunk.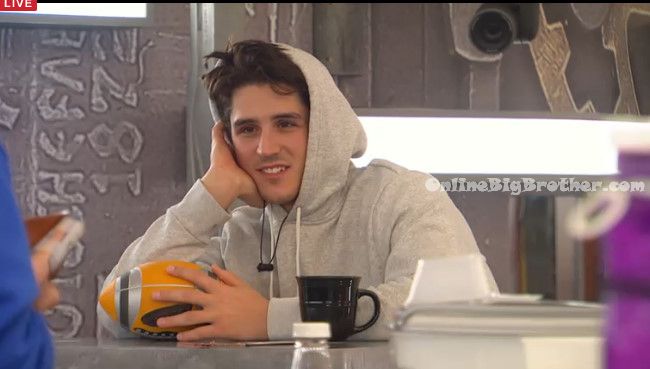 10:35am Up in the HOH room – Zach tells Ashleigh how Brittnee was literally pushing him on to the bed and up against the door. Zach says I was like I like you B but … Ashleigh is surprised and says what!? Johnny joins them. Johnny says Brittnee was sloppy last night. Jordan joins them. They talk about how last night Godfrey was begging for liquor. Jordan says he came up to me "Please, give me some more." I told him I would give him my beer if he would shut up and he said okay. They comment on how Jordan and Brttnee were rolling around in bed last night. Zach asks were you kissing. Jordan says no, I wish. Johnny stole her away from me. Jordan comments that Godfrey loves Ash. Ash says he usually thinks I'm trailer trash with pimples .. but when the juice starts flowing. Ash gets called to the diary room. Johnny brings up how Brittnee said there was a love triangle between you (Zach), her (Britt) and Ash. Johnny says Brittnee commented that the moves Ash was making in bed .. she's not a virgin. Zach says she's still a virgin! Ashleigh returns.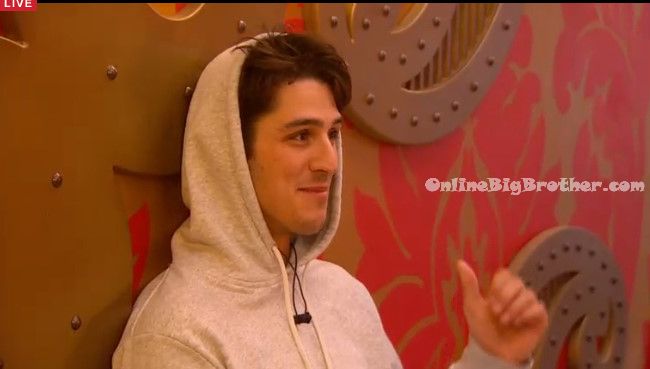 In the bedroom – Willow talks to Sarah about how Johnny was trying to get her vote. Willow says Johnny said that the people that vote for me to stay I will remember that if I get the chance to come back into the house.
Out in the hot tub room – Bruno and Brittnee talk about how Godfrey told Brittnee she's afraid of the dark chocolate. Britt says I'm not afraid, I just know what I like. Bruno says he's a great guy but I understand why he has trouble getting girls at the club. Brittnee says he kept trying to take peoples drinks.
In the kitchen – Jordan says that Godfrey came up to him and said we should have a final 2 because I suck at competitions. Jordan says now when I nominate him I can just say I'm trying to cover up our final 2 deal. Zach tells Jordan about how Brittnee cornered him in the HOH room trying to kiss him. Zach says that he had to nicely tell her no because we still need her on our side. Jordan says that's why showmances aren't a good idea. People get jealous.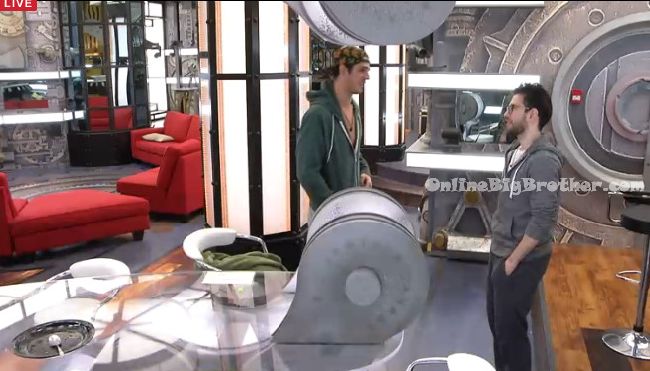 11 – 11:10am Up in the HOH room – Johnny is campaigning to Kevin about wanting to stay in the house. Johnny says if I stay and win HOH I would put up Bruno and Bobby. I feel like the lines will be drawn this week. Like it forces you to work with the couples. Johnny says Sarah will not continue working with you. She will flip. She did it gummy bear style. I would not have this much detail if she didn't.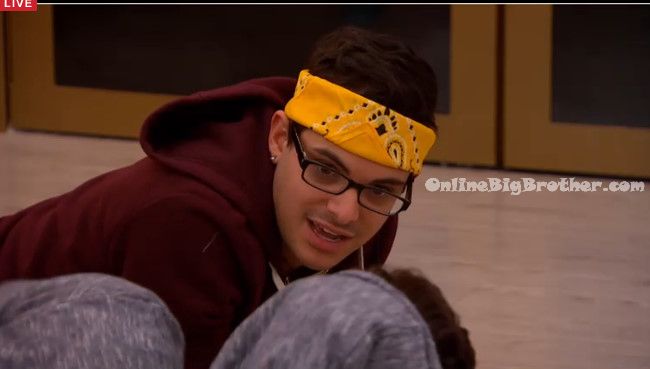 ALLIANCES IN THE HOUSE
Week One there's a lot of Alliance but we've tried to make sense of it all.. Read our alliance help guide
[polldaddy poll=8797487]
[polldaddy poll=8794961]