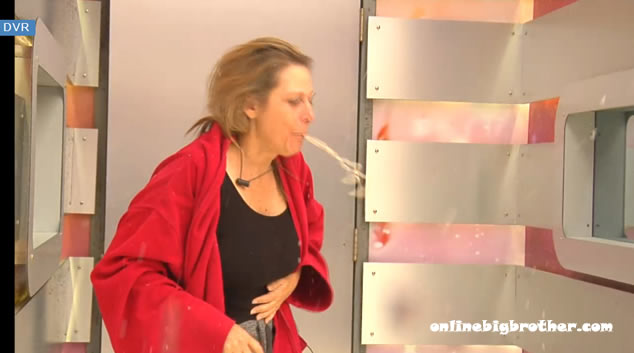 Sounds like Kevin and Karen had a drinking contest. Karen is in rough shape this morning. Hang in there Karen!
10:13am HOH William and Dre
William – we talked a lot about game.. but I was drunk shit I forgot
Dre says last night there was a "reunion" between Jackie, Emily, Dillon and Bruno trying to figure out how to not be on the block"
Dre – I know that Dillon, EMiy and Bruno were working together
William says it's better to put up Bruno over Kevin
Dre says right now Kevin like William he can work to build something with him.
Dre – "Guard your heart because it's not real"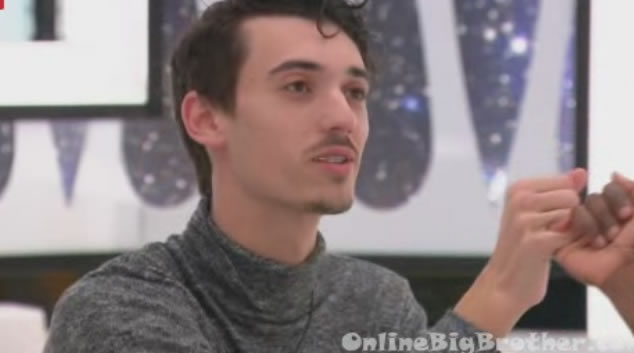 Dre makes William pinky promise he won't get feelings for Kevin
Dre says Kevin wanted to protect Jackie that is why Kevin is telling him that Sindy voted William.
Dre – why would Sindy vote against you..
Dre says Sindy is with Neda, Neda wanted Gary out, 'Neda was the chief'. That vote was entirely a group thing for that side of the house why would Snidy go against the group.
Dre says William should tell Sindy that Kevin said that
Wiliam – no
William adds even if it's true he's not putting up Sindy. William thinks that Kevin see Sindy is getting closer to Ika than Neda.
William mentioned putting up Jackie as a pawn. Dre thinks he needs to put up 2 strong players.
Dre warns him that Jackie and Kevin both lie.
Dre mentions Emily and Dillon are scared about going on the block it's a sign they don't have as many numbers backing them up.
Dre says Jackie is fake and doesn't think she is..
Dre – Crazy people.. when they know they're crazy it's the first part of solving the problem
Dre says Jackie went around and told everyone that Dre was campaigning to keep Cassandra.
William says Jackie is as fake as his stuffed dog.
Dre says she liked Gary but he kept throwing her name out there "He treated me like a salami"
Dre – I don't miss him
William – I don't either
Demetres and Ika Poolside
Talking about the potential of a instant eviction happening and what to happen if Dillon and Emily go up. They agree Dillon will be the one they vote out. Ika points out that EMily is a stronger player than Dillon.
Demetres says it really doesn't matter as long as Jackie, Emily or Dillon go home.
Ika warns that Emily and Jackie are getting super close.
11:40pm Ika and Bruno Poolside
Bruno thinks it's a instant eviction. Mentions that William told them he doesn't know if he'll get his room after the lockdown.
Ika says it's for sure two of Jackie, Emily, Dillon going up.
Bruno – sick
Demetres, Ika and Bruno
Ika says Dre/William distrust comes from Kevin.
11:00am Ika and Bruno poolside Demetres in and out as he works out.
Ika says that neda told her Sindy is annoying because of her stories. Ika doesn't mind Sindy's stories. Ika mentions that Neda doesn't mind Dillon and Emily's stories but mind Sindys.
Ika – I don't even think of the 100 thousand dollars sometimes I think about how much I hate these mother f*** people
Ika says bruno, Sindy, Demetres or herself are teh ones she wants to win the game.
They mention how Neda's power is unfair.
Ika brings up Neda saying if Cassandra comes back Neda is going to sit in the corner and not play this game, "people see you being a brat"
Bruno says if Ika and Demetres are on the block he's keeping Ika.
3:33pm Feeds have been down for most of the day.. no idea why it's BBCAN..
6:23pm No feeds never
[polldaddy poll=9718569]