POV Holder:
Next POV
Aug 1st
POV Used
?
POV Ceremony
Aug 2nd
HOH
James
Next HOH
Aug 6th
Original Nominations:
Shelli and Clay
Current Nominations:
?
Have Nots
?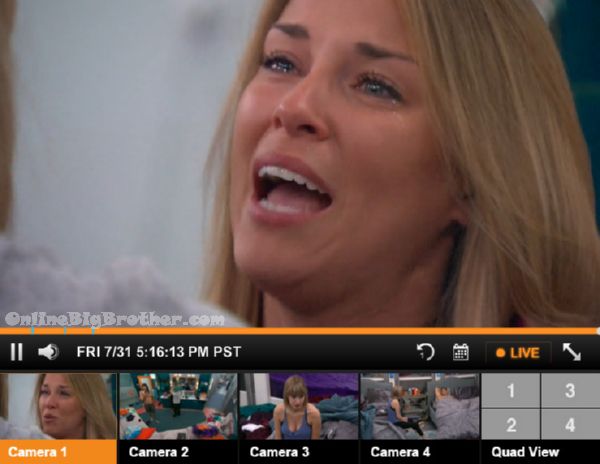 5:12pm Bedroom Vanessa, Austin and Shelli
Austin is telling her if one of them wins PIOV they have his vote.
Austin – You do have my vote.. but what am I going to do if it's liz
Shelli – AUSTIN you staying is what put us in this position
Austin wonders if there is something they can do to flip this
Shelli – that's up to you because apparently you're working with him
Austin – NO, I'm still sacred for me, I was thinking it will be me or LIz
Shelli tells him to promise James 3 votes in Jury if they don't put them up as the re-nominations.
Austin – I know what you did for me last week
Shelli – Seriously Austin that is why we are here, you gotta help us back you gotta return the favour
Austin will do whatever he can to save them.
Shelli tells him he's got to fix this it's because of him they are nominated
Shelli starts to bawl "Why this week.. he went back on his word in front of the entire house.. why this week.. this week is the worse one.. why this one.. I Don't want clay to go home"
Austin will do whatever he can to save them.
Shelli tells him he's got to fix this it's because of him they are nominated
Shelli starts to bawl "Why this week.. he went back on his word.. why this week.. I Don't want to go home"
Vanessa – his back was against the wall., He said CLay was his target
Shelli – clay is the target
Vanessa – he said just said it in front over everyone you heard..
Shelli say the odds are not in their favour James is trying to convince the house to not use the POV
Austin – he's trying to
Shelli says Clay is probably going home this week.
Shelli says they should have sent Becky home , "Who cares about Becky no one sides with Becky"
5:34pm Shelli and Vanessa
Shelli is pissed Becky is still in the game, She regrets throwing the HOH says she could have stayed up they're longer.
Vanessa tells her she needs to focus on winning the POV all this backwards thinking will not make it easier, "This game is not meant to be easy it's brutally difficult"
Vanessa – you can't control everything,.. new hand is dealt.. adapt .. every week a new hand is dealt… in the big picture you have had some pretty good hanes.. look at the other side of the house they've had shitty hands. .
Vanessa is worried Shelli will blow up her game. Shelli says she won't she won't out "Sixth sense"
Vanessa instructs her to play the game like there's a out because there might be "Play in the POV play your heart out.. people come back from way worst in this game.. Dan almost went home
Shelli – he was on his own he didn't have another person
Vanessa says they can make it if Clay leaves. Vanessa says she hangs out with Mel (Her girlfriend ) 24/7 and being away from her in the Big Brother House Is hard but she can cope. She'll help Shelli cope.
Vanessa – don't give up until it's over
[envira-gallery id="125277″]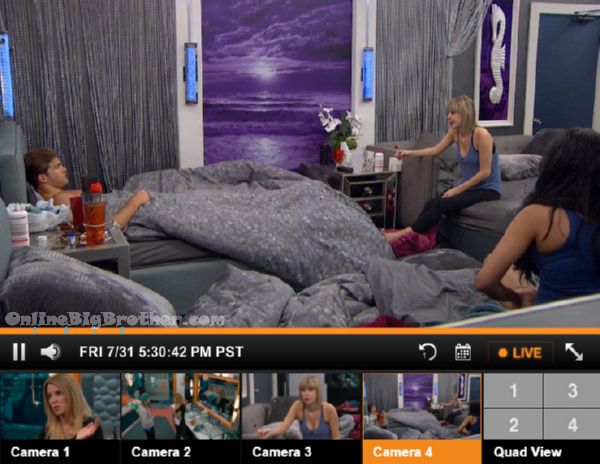 5:33pm Meg, Clay and Jackie
Meg saying she would have been ride or die with them if things went down differently last week.
Meg leaves – there's still game to play POV is tomorrow"
Jackie to Clay "I'm still loyal to you guys
5:44pm jackie and Shelli
Shelli – why target us this week.. there's still 12 players
Shelli is actually threatening them if one of them go home this week they will not vote for James in the final 2.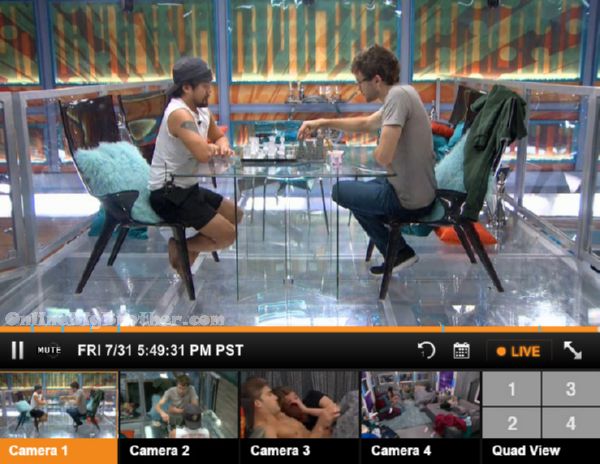 5:49pm james and Steve Chess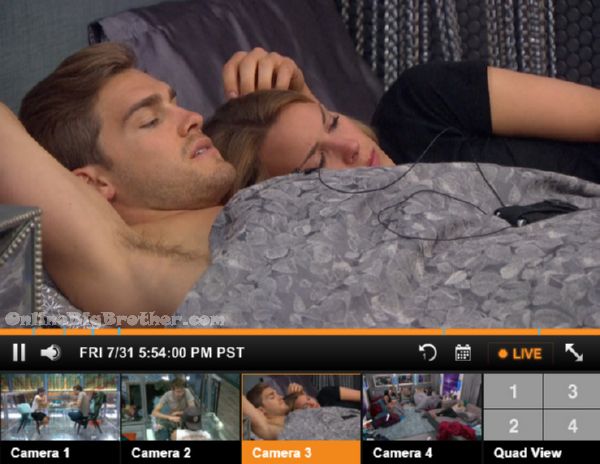 5:56pm Shelli, Vanessa and Clay Sad
Clay apologizes to Vanessa what was said earlier today
Vanessa starts to cry says she's shocked and sad she really is .
Clay tells her if she wins POV to use it on Shelli.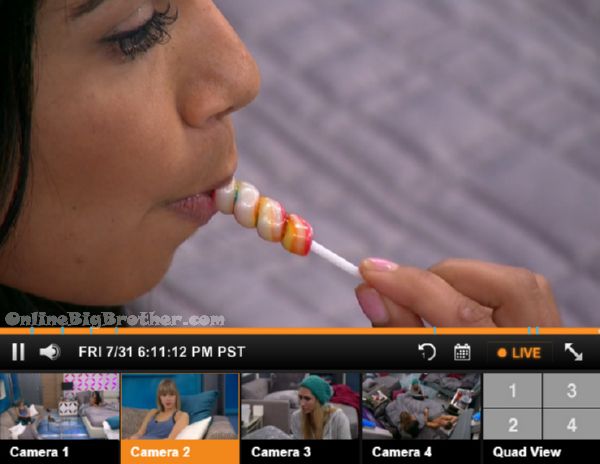 6:00pm HOH Jackie and Meg
Meg saying everything would have been perfect if last week never happened.
Jackie says Clay and Shelli feel like they were "D1cked over"
meg – How were they d1cked over
Meg – You voted out my Shelli you voted out my Clay
jackie – You voted out my clay.. I asked her how would you feel if Clay left.. she said I would be devastated..
Jackie – Like I know
Jackie says they wiped Jeff out no questions asked.
Jackie – he can't win (POV)
Meg – he can't win
Jackie – they'll f** us hard they are ruthless they've already been ruthless.
Jackie – last week they f**ed us so hard.. and I'm on my period you don't want to mess with me when i'm on my period
Meg says she's obsessed with Julia
Jackie likes Julia better than Liz, "She's fun"
They don't like Liz as much because of her link with Austin.
They agree if SHelli had won the HOH they would be on the block this week.
Jackie – we have to fire now before they fire at us it has to be done.. if I want to stay in this game Shelli must go
Meg – exactly
Jackie- if they both stay at the end of this…
Meg – there's no way how will that happen
Jackie – that's what I said last week
Meg- Ya Vanessa was up here
Jackie – F****G b1tch, She' dangling right now
Jackie can't believe Vanessa took out JAson, Says she should have put up Steve. This would have kept her thing with Austin and kept the thing with dark moon.
The HOH screen starts working shows the Kitchen
Meg – Do they eat 24/7 they are always in the kitchen
jackie – they are eating slop
James comes in (WOOT WOOT)
they tell him Clay is saying he would use the veto on Shelli
James- they know one of the are going home they just have to come to terms which one.
They agree Shelli has to go.
Jackie says Shelli has to go calls her "rabid"
James – She don't stop
James doesn't believe that Clay will use the Veto one hand if he does, "That just shows she's a gold digger.. i'll tell her.. she's already pissed at me"
Meg – What Clay doesn't realize once she's gone he's got a good chance in this game
James – OK clay let her go.. what are you trying to to marry her and have kids.. you came in here by yourself.. Dude she's like 15 years older than him that's gross..
James says when he was coming out of the vagina she was going to college
Jackie corrects him they are only 10 years apart.
Jackie and Meg say if Shelli wins the POV she deserve to stay but if she doesn't she has to go.
James doesn't see her winning the POV. He thinks she'll crack under the pressure.
[envira-gallery id="125292″]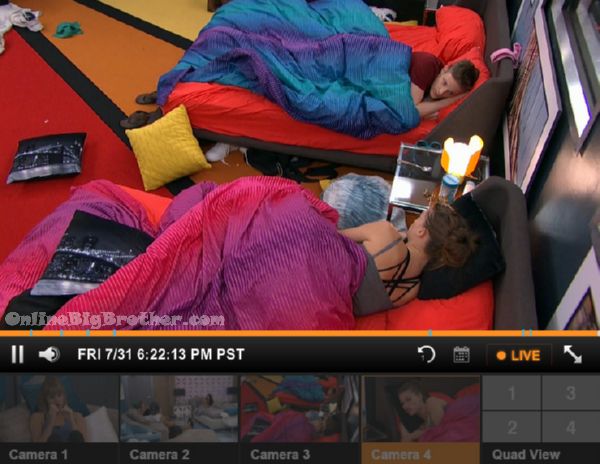 6:22pm JMAC and Becky
Becky – I don't trust jackie
John – she' everywhere
Becky – that girl when she decides she has a target she's a rottweiler she's a pit bull
John asks if Shlli clay are the target
Becky – f*** ya
They agree Clay and Shelli did not handle the Jason blindside well, Vanessa was clear cut they were wishy washy
Becky – Vanessa is the smartest player in the game by a long shot.. there's still 12 people in the house i'm going to stay on her good side
Jmac – me two.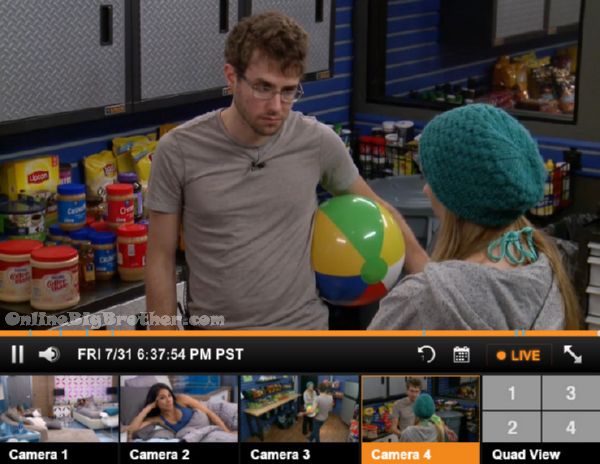 6:33pm Steve and Vanessa
Vanessa says she feel super betrayed, "they've apologized for throwing me under the bus" (Shelli and Clay)
They wonder if they can get Becky up as a replacement nominations. Steve wants to keep Shelli and Clay in the house as a target. Vanessa thinks they can Get Becky out.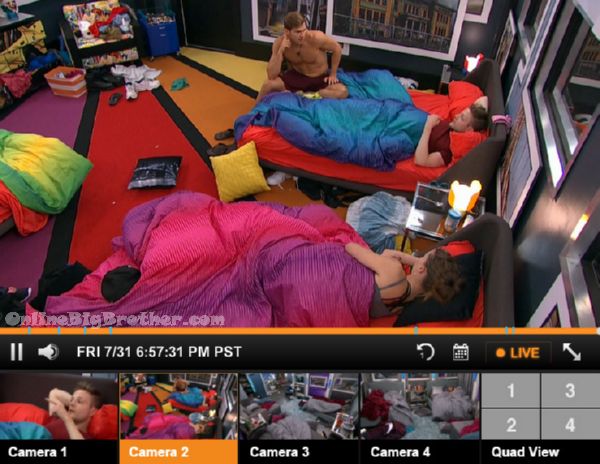 6:56pm CLay, Becky and Jmac
Becky saying how Vanessa has no idea how close they are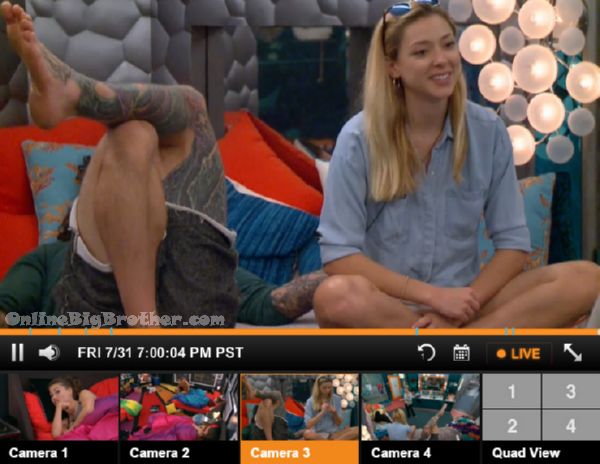 6:57pm Vanessa, Twins and Austin
Vanessa tells them she has a plan she thinks it's going to work and keep them all safe this week.
Vanessa – Unfortunately I'm the centre of the showmance shit storm.. I'm the centre of the showmance Twins Shit storm.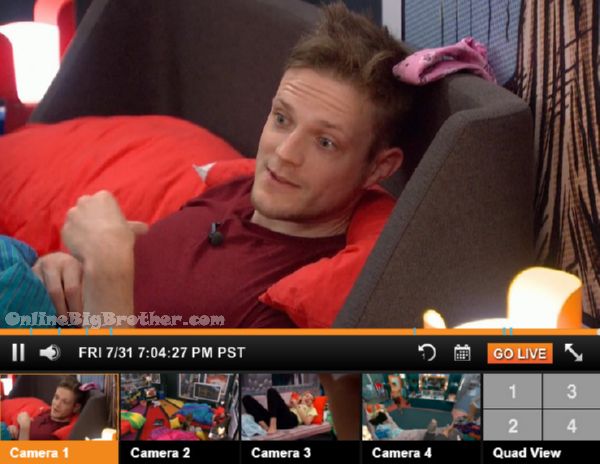 7:04pm Becky, Shelli and Jmac
Jmac had a vibe this was going to happen and Vanessa was telling him she had the vibe too and not to tell Shelli and Clay
Shelli asks them if Vanessa can be trusted.
Jmac and Becky says Vanessa is with everyone.
Becky – "We don't know where Vanessa is "
Jmac – she's trying to put the blame on you
Clay comes in
Shelli tells them that Austin is very loyal to Vanessa.
Clay and Shelli leave. Becky tells jmac they kept her safe last week she's going to try and help them.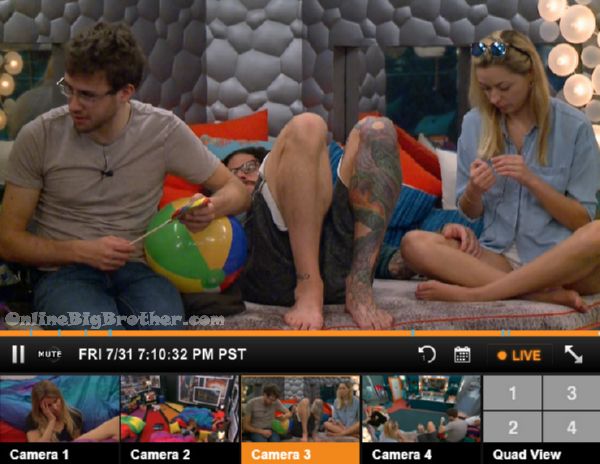 [polldaddy poll=9004995]