POV Holder:
James
Next POV
Aug 1st
POV Used
No
POV Ceremony
Aug 3rd
HOH
James
Next HOH
Aug 6th
Original Nominations:
Shelli and Clay
After POV Nominations:
Shelli and Clay
Have Nots
Austin, Liz, Julia
TRY the Big Brother 17 Live Feeds FREE for 1 WEEK:
Click here to ensure your live feed subscription supports OnlineBigBrother.com at no extra cost to you.
5:05pm Chit chat.. Jedi drilling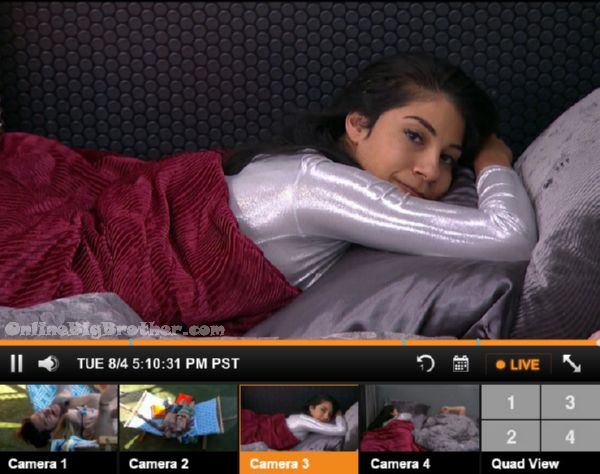 5:08pm Jackie and Meg
Jackie – If we can get rid of Clay than Vanessa.. we'll be home free
Jackie seems to think someone is coming back from Jury
Meg isn't sure
Jackie – I feel safer with Clay than Vanessa
Meg – If I win HOH I won't be able to put Clay up.. we gotta play it like we're going to .. Austin and the twins are starting to second guess keeping him
Jackie – they have to vote the way we want them to that was the whole plan.
Meg – do you think Austin and the twins will keep with what they are saying.
Meg is worried if they win HOH they will put her or Jackie up.
James rolls in they start talking about the vote (lots of whispering) . Sounds like james is going over a conversation Steve had with Clay at 5 in the morning.
James says dinner is going to be 7 or 8ish
James says Vanessa of course wants to get a temporary group together so they can all survive double eviction. james says he walked in on Julia and Austin talking game, "I thought we were all on the same team"
James claims if Austin walked in on them talking game they would just keep on talking. James warns them to keep their eyes open..
Julia walks in they stop talking about game and start talking about the food they are getting.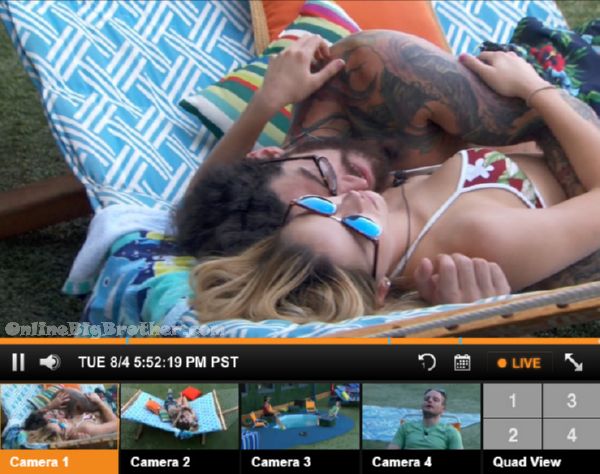 5:24pm Backyard Liz, Austin and James
James says he thinks Jmac is going ot win. Austin isn't sure says you have to do more than win a couple competitions to win the game. Winning should be the person that was involved in plays and almost went home but fought to stay.
Joking around about the "Beef Cakes" and the "Cup Cakes"
Beef cakes are male staff that help with the sets
Cup Cakes are the female staff that help with the sets.
James says some of the cupcakes are cute. they agree the staff work very hard.
They start talking about the HOH Austin says Meg needs to win it. James is going to run up and give her a kiss.
Austin jokes that Steve's body will explode if he wins the HOH.
James – I think Vanessa wants to have a meeting.. keep people safe for double eviction
Austin – I think that's a great idea sh1t keeps us all safe.
James is still going to pack for Double eviction "You just don't know.. I have my stuff all over the house"
James leaves.. Liz and Austin start to snuggle.. he gives her a bunch of kisses on the cheek. She rubs his body.. Tells him they can make out if he wins the HOH.
Austin makes a comment that she's so resistant makes life "Difficult". They both rub and hold each other it's definitely a more mutual encounter than we've seen in the past.
They agree they don't trust jmac any more
[envira-gallery id="126153″]
6:10pm Austin and James working out
"Brass tax" is what is said when you lift a heavy rep and your form is clean.
6:14pm James, Jackie and Meg
JAmes says Clay and Shelli are having a hammock date so his workout has ended.
James – Why things gotta be so awkward I want to go out they're be like Listen just give him a hug
6:15pm Bathroom Vanessa and Liz
Liz is saying she was talking to JAmes and Meg and they want to keep Clay. They say it protect Austin
Vanessa- they don't give a f** about Austin
Liz – they don't mention you at all
They bring up talking to JAmes so they have an agreement going into the Double eviction. Vanessa proposes they target whoever is left from Shelli/Clay. It doesn't matter Freaks and Geeks will protect the person as long as they don't get put up.
Vanessa says Shelli was pissed at Austin because she felt he should have done more to protect her and steve because they did a lot for him last week. Vanessa adds Austin has a lot on his plate right now he was trying to protect himself and the twins.
Becky rolls in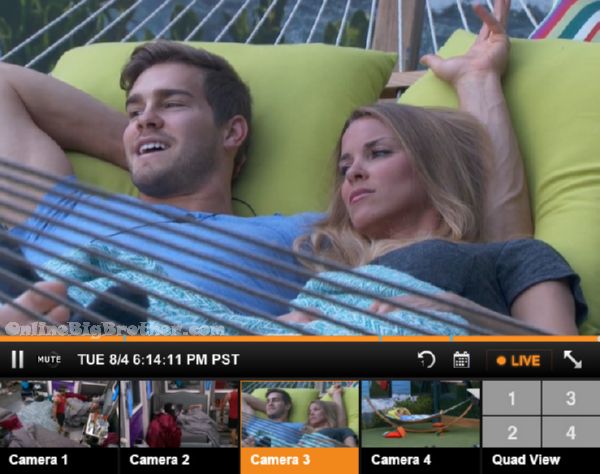 6:18pm Hammock date.
6:33pm Hammock Shelli, Clay and Meg
Clay – it's such a fun group of people
Meg – I'm going to miss you two together
Clay says the only person he doesn't think he'll be close with is Audrey.
They wonder what twists are coming out this was supposed to be the season of twists and lies. They believe Audrey was lying about her job they think she was a psychologist or therapist.
Shelli wants a twist she says she loves running to the living room when they hear the takeover jingle.
They wonder what happened to the takeover.
Meg – we're either not knowing about it or they they.. it's not worth it
Clay – there's got to be another big one…
Shelli and Clay say the season is boring without a twist. (only when you are both on the block would you say this)
Meg leaves.. They wonder why they were targets believe it's because they were a couple. Meg is a great social player and still able to fly under the radar and not winning anything. They thinks it's kinda like Victoria last year.
Clay says if he stays he'll put up Meg and James. There's nothing James/Meg can do to keep Clay from coming after him. Clay is thinking Austin and The twins will put them up whoever survives.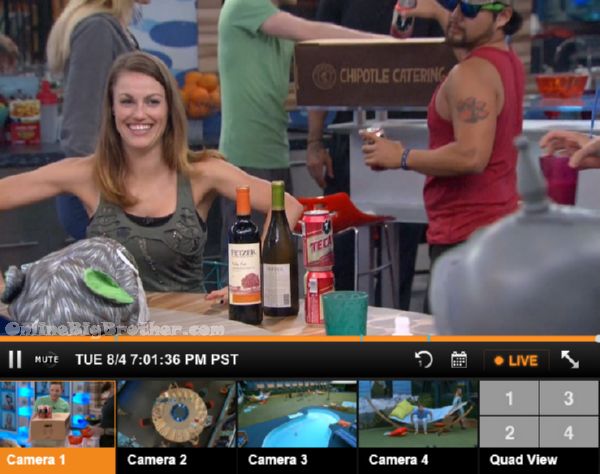 7:02pm They got 8 beers and 2 bottles of wine. Plus food from a place called chipotle
Have nots can eat the food but not drink the Alcohol.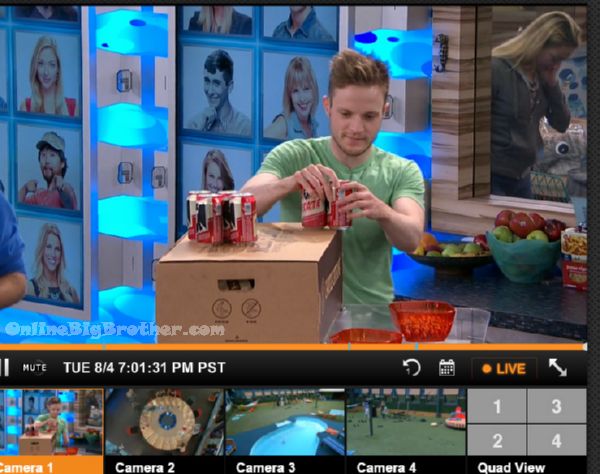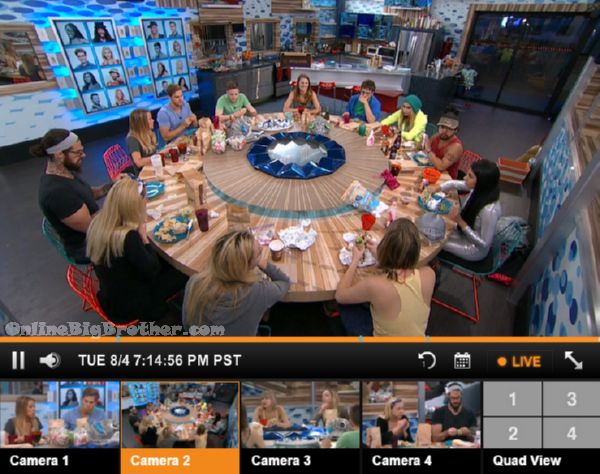 7:30pm Family dinner
[envira-gallery id="126174″]
[polldaddy poll=9004995]