POV Holder:
Clay
Next POV
July 25th
POV Used
?
POV Ceremony
July 27th
HOH Winner Team 1:
Jackie
HOH Winner Team 2:
Vanessa
Nominations 1 :
James & LIz
Nominations 2:
Clay & Becky
Battle of the Block Winner
James and Liz
Next HOH/ Next BOB
July 30th / July 24th
Original Nominations:
Clay and Becky
Current Nominations:
?
Have Nots
Shelli, Clay and Steve
TRY the Big Brother 17 Live Feeds FREE for 1 WEEK:
Click here to ensure your live feed subscription supports OnlineBigBrother.com at no extra cost to you.
7:37pm hammock room Shelli, Austin and Clay
Austin – I'm going to be 100% honest with you I'm Fu****ng falling in love with liz
Austin says he's coming 100% coming clean with them he never thought these things were big he was trying to protect them all. He explains everything with the conversation with James.
Austin tells them he's a number for them he's never talking about turning on them. He's a number he's been working with them since the beginning.
Clay tells him what is concerning him the most is he's playing too emotional
Austin admits he an emotional person.
Shelli – you have to connect with Julia..
Shelli says Liz was pointing out all her boyfriends in the past would put Julia up on a pedestal.
Austin – so I act like I'm dead in the water
He's about to blow up on Jason.
Clay tells him not to
Austin – Vanessa told me to
Shelli – people are going to stay up late the house is going to start to blow up
Shelli asks about the 6 person alliance after her and Clay
Austin says he thought there was something going on maybe it's the house after him but he felt seeing how people are acting after the competitions that something it up.
Austin – see how these people change with the winds.. they'll say anything, i'm loyal to you guys
Shelli – Becky got really upset with Vanessa for choosing me as houseguests choice over Jackie..
Liz comes in
Austin – this is all a whole misunderstanding you knew what I was doing
Liz – I know that's what I've been telling them.
Shelli says Johnny Mac and Jackie are close to Becky
Shelli says James is wearing "Audrey's face" Since she trapped him into her lair last week, "How do I know that .. I had Audrey' face fro 2 weeks"
Austin – I had a emotional conversations to Jason and he betrayed me I'm going to blow up on him right now"
Shelli tells him not to blow up on Jason, says they need the number
Austin – Who goes up?
Shelli – Somebody small so Becky goes home
Shelli – Becky is now the target we need you we need the numbers.
Austin asks what should he do
Clay say act calm don't seclude yourself
Shelli – we need Jason and Meg onboard
Shelli says everyone knows Vanessa has talked to Liz and Vanessa has talked to AUstin
Shelli – NO FIGHTS
AUstin – Ok no fights
Austin asks them if they want to save him or just saying this to him.
Clay and Shelli say yes.
AUstin asks what he should do. Shelli instructs him to be candid with jason and see try to make Jason think for his game keeping AUstin around might not be the worst thing for jason's game." AUstin will start campaigning to get Steve up so they can get Becky out.
8:08pm Hammock room jason and Austin
Austin says he sincerely came to jason as a friend because he gets upset when Liz leaves.
Austin says he's falling in love with Liz
Jason says he's already promised Becky his vote.
Jason says if Austin doesn't go up they are fine moving forward.
AUstin says he talked to Vanessa and she said he's not the target. "I was never coming after Vanessa.. this is bizarre."
Jason – I've been trying to get Steve up since I was HOH.. i've been wanting him up for a long time he's playing such a good weak game nobody wants to waste the HOH at this time..
Jason – As of now I will have to vote for Becky to stay and that's nothing against you
Austin – If I go up I know I'm going home..
8:10pm HOH Vanessa, Shelli and Clay
Vanessa says Becky is being rude to her she's crying and won't look at her.
Shelli fills them in on the Austins conversation
Shelli comments on during their conversation with Austin Becky was pacing outside.
Vanessa says at the end of the Day Austin has their back
Vanessa – I told AUstin literally whatever Shelli and Clay tell me I will do.. I truly think he's an idiot in love.
Shelli – she doesn't love him back
Vanessa – that's the tragic part
Shelli stresses they need Austin in the game they need the numbers.
Liz joins them.
Clay and Shelli saying they are 100% for keeping AUstin but keeping Austin is picking a side the house will have a clear split in the house.
Vanesa – if we do this we need to pull Steve in on our side
Clay – it's going to be this side vs that side.. which is fine
Shelli – that happens in this game
Liz – ya
Clay thinks they can pull Johnnymac in
Liz – him and Julia are besties.
Shelli – that's amazing
Liz – jason ran his mouth and told everyone jason has a HUGE mouth
They identify Jason and Meg as an alliance. If they can take out Becky they get JOhnnymac and Steve. This leaves Jason and meg blowing in the wind.
Shelli starts blowing a fuse about James bringing up 'Sleeper Cell"
Shelli – Audrey told him the name of the alliance.. James should go up against Becky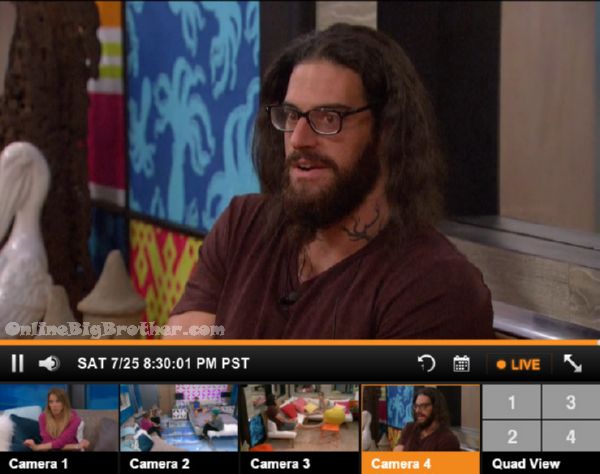 8:28pm Meg and Austin
Meg – I'll tell you what I know..
Austin – Break up me and the twins
Meg – ya it's a strategic move because you are a stronger competitor
Asuti -= Potentially
Meg – ya.. it's smarter to take you out first
AUstin hopes there's a chance he doesn't go up and if he does go up it;'s over.
Meg – Right because you are up against Becky
Austin – i'm falling for a girl in here.. I could have been on here last year and because of my girlfriend I walked away..
Austin says he has a Big brother tattoo this has been his dream since season 1
Austin – If I don't go up where would we stand,, at this point I have nothing but liz and even now I don't have her..
Meg – LIke it's a big game move this week like your situation has nothing to do with you. so like in a way it's hard.. you're stuck between a rock and a hard place
Austin – why can't we get Steve out.
Meg – Steve is on my radar and everyone's radar..
8:35pm Liz and Vanessa HOH
LIz tells them for their long run safety keeping Austin in the game is best "He fucked up he's a good person.., he did it for foolish reason lieksa boy does.. you have to give him a second chance Vanessa"
Vanessa says it's very damaging for her game if she doesn't take Austin's out.
Liz understands
Vanessa – What if Clay doesn't use the POV do we have the votes to send home Becky.
Liz – we have the votes, Shelli will freak. Clay won't do that.
LIz proposes they put AUstin up and save him. They count the votes. There's not enough AUstin goes home.
LIz is pissed at the house for telling her steve is the target.
Vanessa says Shelli and Clay don't know about Freaks and Geeks She was never putting Steve up never ever.. "He was the smoke screen"
Liz says the house will hate Vanessa if she puts up jackie because she was HOH.
Liz – the only person that comes to mind if we want to get Becky out is Meg.
Vanessa – Why don't we send home Jackie instead of Becky
Liz – then we can get JohnnyMac on our side.. Jason Meg you two all on your own.
Vanessa – Jackie can win as much as becky
Liz – they are both equal
Vanessa – They're both tough
Liz – Becky is smarter
8:43pm Austin comes up to the HOH says it's going well
Tells goes over this conversation with Meg and Jason. Highlight they both told him they have been trying to get Steve out for weeks.
Liz – Decoy
Austin – Shelli says she doesn't think I should go .. She seems like she's fighting for me..
Vanessa – AUstin if I put you up do you have the votes
Liz – no
Austin – dead in the water
liz – dead in the water
Vanessa – lets put Jackie up
Austin – why not f*** this..
Liz – put up Jackie
8:38pm Hammock room Clay and Austin
Austin doesn't want to be blindsided it this isn't happening he wants clay to tell him
8:48pm HOh Steve and Vanessa
Steve – there's rumors going around Austin's going up
Vanessa – austin was the target from the beginning and here's why …
She was pulled aside by Jason, Meg, Shelli wednesday night. Jason told them the twins are real. Austin had told him Jason claimed he made a deal with Austin to get Julia out next week.
Steve – did Liz give him permission
Vanessa – Apparently Liz did.. here's the problem I had to win HOH because f****g Jackie won..
Vanessa goes over Austin's lies last week and the entire house pushing her to get AUstin out.
Steve says he was just downstairs with Johnnymac and Jason and JAson told him about Julia.
Vanessa tells him he was a target along with Liz but she Jackie goes dethroned.
Steve asks what happened for Austin to get such a big target on him. Vanessa says he told Jason about the twins and JAson told the entire house they said he was the head of a three headed monster.
Vanessa – he went to everyone in the house said he was the biggest risk ever Austin's gotta go
Steve says James, Jason, JAckie, Becky were in an alliance.. Steve thought that was public knowledge
Vanessa – how is that public knowledge i didn't know that was public knowledge
Steve says Jason and Becky are working together.
Steve says last night he was restless and he say Jason and Becky in the bathroom. He heard Jason say "The cameras give us more privacy than he does"
Vanessa – interesting
Vanessa asks him what they should do with Austin.
Steve – I'm not saying we can trust Austin.. If Austin wins HO next week whoi does he put up who's side she put up
Vanessa – anyone on the other side
Steve – Becky wins HOH who does she put up
Vanessa- probably you.. not shelli/clay.. not Jackie.. James.. hason and Meg doesn't look like it
Steve – Geuss who's she's putting up
Vanessa – Liz or Julia ..
Steve – there you go
Steve – we would be shooting ourselves in the foot sending Austin home
Steve thinks if they get Austin out the other side of the house will laugh at them they got a free week by having vanessa put up on of her own, "You need to earn yourself safety this week"
Vanessa – it's putting a huge target on my back by not doing what I said I would do
Vanessa – I thought AUstin was a douche
Steve – we was a douche doing what he did… what AUstin did was starting period.. I would like to make the move that will get you furthest in the game.
Vanessa – Help me I just gave you everything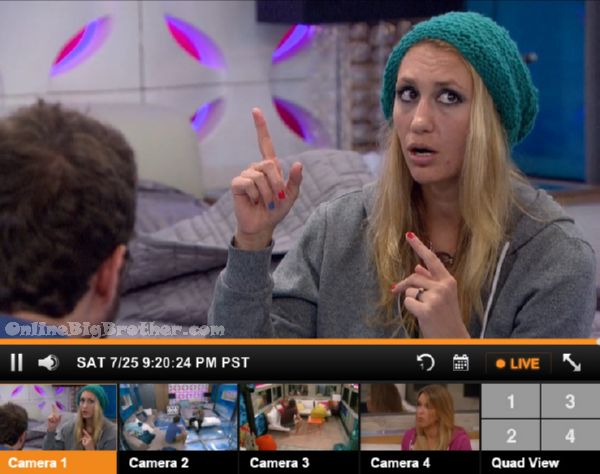 [envira-gallery id="124078″]
9:06pm Hammock room Austin and Liz
Austin says tell Julia they agreed on him going to jason and talking to him.
LIz – he's a liar
Liz is pissed at jason
Liz – Oh my god I hate that little fuck*r
Liz – aren't you pissed
AUstin – ya it's all a misunderstanding.. why is she talking to steve
Lzi – we want to make sure the vote on our side..
Austin – it can't be me and Becky up there i'm out
Liz – she's not putting you up
Austin – she's still wavering
liz – Clay and Shelli are telling her they can't put you up.. Clay and Shelli are defending you.
[polldaddy poll=8994045]
Share it YO!!
Tweet