POV Holder:
Clay
Next POV
July 25th
POV Used
?
POV Ceremony
July 27th
HOH Winner Team 1:
Jackie
HOH Winner Team 2:
Vanessa
Nominations 1 :
James & LIz
Nominations 2:
Clay & Becky
Battle of the Block Winner
James and Liz
Next HOH/ Next BOB
July 30th / July 24th
Original Nominations:
Clay and Becky
Current Nominations:
?
Have Nots
Shelli, Clay and Steve
TRY the Big Brother 17 Live Feeds FREE for 1 WEEK:
Click here to ensure your live feed subscription supports OnlineBigBrother.com at no extra cost to you.
5:38pm LIz and Austin
Austin wants her to try and cover for him about lying for voting to keep Audrey
5:45pm HOH Vanessa, Shelli and LIz
Vanesa telling them about Austin's conversation with Jason when he outed the twins and said he doesn't care if Julia leaves next week.
Liz tells them she knew he was doing that he thought it might provide them some safety.
Liz likes Austin but she doesn't feel the same way as he feels toward her. She knows Julia doesn't trust Austin she told him when they switched.
They tell her the house wants Austin out and Austin wants to split up the twins. Vanessa says Austin told her Liz will never be fully loyal to them unless Julia was out of the house.
Liz – that's disgusting
Shelli chimes in says Austin made a deal with jason
Liz says Austin wants her to try to cover up that he voted out Audrey he's trying to blame it on steve.
They tell Liz the entire house knows the target is Austin. (See liz' face)
Liz says he's not trying to defend Austin but she knows Austin has her back.
Liz – you guys just don't know how much I'm not attracted to him at all
Shelli says Austin told them they kissed
Liz denies it
They start hammering her with Austin hate.
Liz – if he goes out we're down an alliance member. She says the jason thing was him trying to protect her. She 100% didn't know he had plans to break up her and her sister.
Vanessa says Austin's wrestling name is Judas and Judas is the person that betrayed Jesus "Is that the person you want to work with" (Solid reason right there)
Liz says she loves AUstin's personality "At first I thought he was my friend" She's not interested in him physically.
Vanessa says Austin is a vote on their side
Liz – he'll never move to the other side he's vote on our side..
Shelli – We have to keep Austin another week and send Becky home
Vanessa tells them not to tell Austin anything. .
Shelli – Liz did you and him vote to keep Jeff here
Liz – Absolutely not I was not the vote..
Shelli – could it be Judas
Liz – hmmmm… coulda been Judas.. he really f***d up with this last one
Shelli says the Diary was asking her if she's worried about Clay "ASking me if the house is going to protect him and stuff" Feeds cut..
Liz says the whole house is saying "Get out Steve" she feels it's a ploy
Vanessa – AUstin is the target it's a ploy
Liz says if they keep him they have to keep the information down .
Vanessa asks if she can survive being in the house with AUstin.
Liz says she can just doesn't want to sleep in their
LIz says she's not attractive to his beard, tattoos but she likes her muscles. She says her mom was right Straight Guys and Girls cannot be friends.
LIz – I don't even want to be in the Jury house with him cause he'll creep up to my room and try to have sex with me.. I've been in a really tough position with him.
Liz says her sister doesn't like Austin. "I just want to sleep in the bed with you tonight"
Liz is going to tell AUstin she doesn't like him "I'm a woman and I don't need him mother f***er "
Vanessa tells her Shelli her and Clay have her back she doesn't need Austin.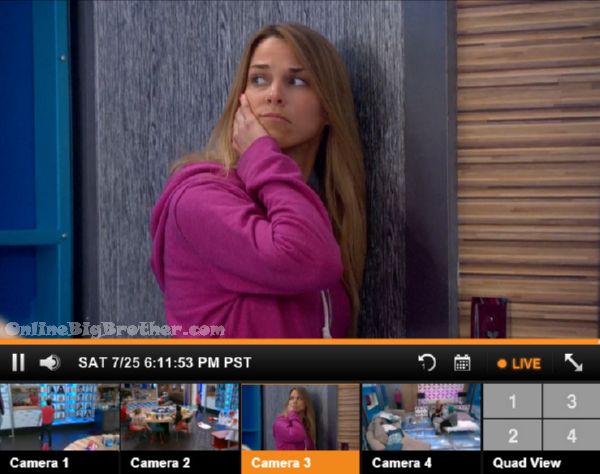 Shelli listening in on what is going on downstairs.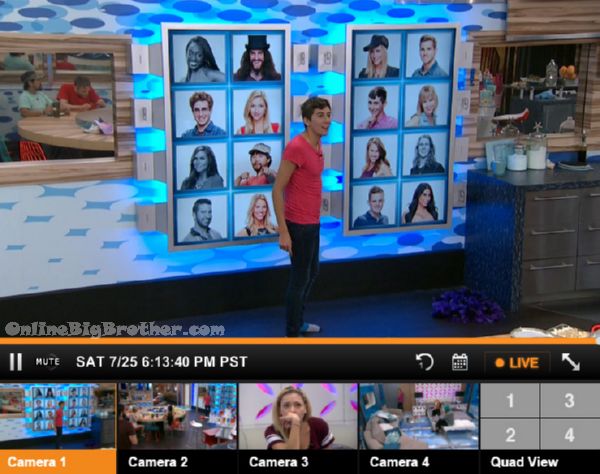 6:13pm – 6:30pm LIz is going to tell Austin that her and him need to separate because they are making each other targets.
Vanesa and Shelli say the whole house wants Austin out they call him the head of a 3 person monster.
Liz feels bad for AUstin because he was trying to keep her safe
Vanessa points out if he didn't win the HOH it would have been Vanesa dn Liz on the block right now.
Liz says james threw the BOB with her
Vanessa – not to target you
Shelli – Jackie is talking to me a lot less than she usually does.. and she talks to Becky a lot more
vanessa – she's a million percent they are working together
Vanessa explains jackie got drunk and isn't as loose lips as she should. Vanessa knows from this conversation Becky and Jackie have a final 2
Shelli – Becky has got to go
Vanessa is going to pull up Austin and give him one more chance and if he does lies again "I'm going to win HOH again and put you up front door style"
Vanessa – we need to get James, Jason and Meg on board
Liz – you do you have to put up Clay replacement
Vanessa – it's going to have to be Jackie .. To guarantee the votes?
Liz – JohnnyMac will vote for Becky
Vanessa thinks Jackie will already be pissed at her for getting Becky out.
Shelli – I don't think you should put Jackie up, You can put up John
Vanessa – I have a deal ai wouldn't put up John again
Liz – Meg
Vanessa – they will vote out meg
Shelli doesn't think so
Liz about Becky – She' clearly on the other side
Vanessa says she could put James up
They tell Liz to make everyone know she's pissed at Austin.
Shelli says tomorrow night they'll fill people in on the new game plan.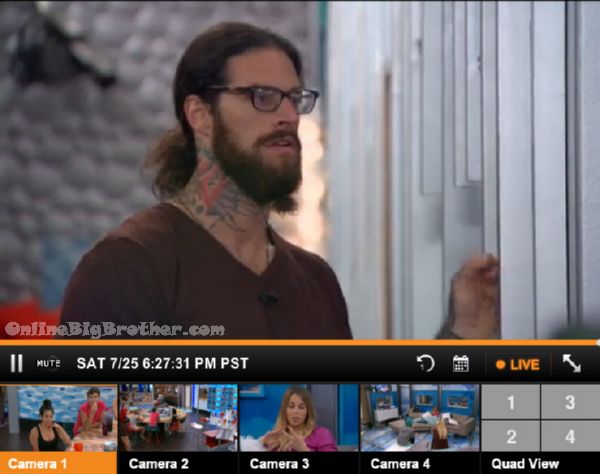 (Austin patiently waiting downstairs as the HOH discussion plan out his future in the game)
6:33pm HOH Austin and Vanessa
Austin says he didn't want to say anything in front of Sheli but he was the one that voted to keep Audrey.
Goes to explain why he voted to keep Audrey. "I was scared" he did it so they could pin the vote on Steve incase they lost power this week.
Vanessa says he did some really stupid shit. She starts to cry "you lied to me"
Austin – what did I do.. was it about my conversation with Jason .. you don't think I said everything.. He asked about the twin thing
Austin – I'm trying to protect them this week yes .. I'm trying to keep the twins.
Vanessa says he fu*ked up there was a real possibility he goes up
Austin – I fucked up
Vanessa says he told the biggest mouth in the house that he knows about the twin and he made a giant target out of himself because of it.
Vanessa – are you fucking stupid that was the worst move ever..
Austin – I believe him I trusted him
Vanessa asks him what his tattoo stands for, ask if it's Judas you're wrestling name (that is not what he told her)
Austin – Jeanette reid Pilla OK that is what it stands for.. it really does..
Feeds cut
VAnessa – why did you sell Liz out to jason you made a deal to get out Julia next week
AUstin – I did not make that deal
Austin – I got caught up and I got scared.. I tried to do things on my own and it blew up I Fucked up.. Austin says he knew something was up with her because the Dr was asking him questions
Feeds cut
Vanessa – I'm not stupid you think i wasn't going to figure this out
Austin – I thought it was all water under the bridge my priority was getting the twins through the week It worked they're staying
Vanessa – straight up you were the backdoor target
Austin – it was me
Vanessa – everyone is saying steve steve steve he was the decoy for you .. everyone wants the head of the three headed monster gone.. that's you
Vanessa says everyone was bullying her to do this.
Austin – are they still trying to bully you .. Please vanessa please
Van – I'm going to make an enemy out of everyone
Austin – I ams loyal to you over EVERYONE
Vanesa – you were a friend to me .. they all think i'm up here telling you you're going home
Austin – I am a friend to you I thought these things had nothing to do with our alliance I thought my conversation with Jason was a smart move for our alliance.. obviously I can't trust him. .
Vanessa – he told everyone
Austin – you are still my number one.. why can't our sixth sense work now the twins are coming in
Vanessa – I gave my word
Austin – to put me up
Vanesa – i gave my word
Austin – I would sacrifice myself to you
Vanessa – i can't believe you
Austin – please don't do this to me Vanessa..
Austin – I fell in love with a girl..
Vanessa says he's the biggest target in the house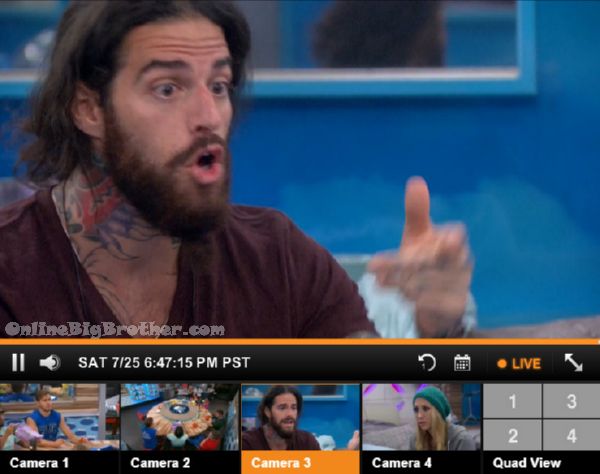 Austin – that's on me let them take me out.. Dr has been asking about that conversation I knew something was up
Vanessa says every one of them downstairs is stabbing him in the back. Austin says let him stay and take them out.
Vanessa – you're only shot.. I need a reason to get Becky out.
Austin – I made an emotional fucking decision
Vanessa – the worst part is I actually believe you.. I realize.. you have feelings for her and I get that you aren't a bad person..
AUstin says he's been with Vanessa since day one he meant it.
Vanessa says he lied to her and the twins..
AUstin says he trusted Jason and that side of the house thought he liked him as a person .
Vanessa says none of these people in here are his friends they are all clamoring for him to go home.
Vanessa asy everyone but LIz, John and Steve knew he was the target this week.
AUstin cannot believe the Diary Room was asking him about that JAson conversation so much,.
He tells her there's 5 of them against them and 7 of them. He doesn't know why they all just stick with their alliance. They can't trust the other side.
Vanessa say Clay and Shelli agreed for Clay to go up because they were in on the plan to get AUstin out. Austin says he feels stupid he was cheering them on during the POV, he was trying to rev everyone up to save Clay.
Austin tells her he was trying to show Jason he wasn't "So f****g close" to the twins., "I wasn't trying to sell anyone out"
Austin – you have to understand I have to make it to jury at this point,.. talk to me please.
Vanessa – you got to campaign to Shelli and clay and to liz get them onboard.
Vanessa says he's gotta get James and Jason.
Austin says he can't get them they've already stabbed him in the back they won't listen to him. It's a waste of time for him to try.
Austin – We still have the numbers I wasn't trying to betray us.. please Vanessa I need to stay in here I have a big brother tattoo. I wasn't supposed to be here and I'm here and I met this girl.. I don't care let me get to jury I will take the bullet for you I will take the heat for you.
Vanessa – ok go talk to Shelli and Clay you need to convince Shelli, Clay and liz.
Vanessa – I was being a friend to you
Austin – I was being a friend to you .. I was 100% I had no clue I was doing little things to help all of us.. I thought I'm distancing myself with Vanessa..
[envira-gallery id="124042″]
Vanessa – I don't trust the other side
Austin -You can't' trust the other side Oh My God
Austin – the decisions I made in here I can't go back.. I know you're here to win
Vanessa – If I don't win, my life will be OK it'll OK like yours
Austin – I want to help you, the twins and Clay/Shelli
Austin tells her this is him being honest and real he know she's not scumbaging him.
Vanessa – I thought we were friends you lied to my face
AUstin – I was scared.. All those fucking things.. I'm nervous in front of a crowd.. I still let fear run my life I let fear run my life.. this is me
Vanessa asks about judas
AUstin says week one wrestling camp they said he looked like Jesus, fuck no Judas.. feeds cut..
Austin – I'm a f**king number for you
Vanessa- I'm a target for them
AUstin – I'm a bigger target
Vanessa – i'm giving them a reason to put me up
AUstin – I'll give them a big reason to put me up i'll start fights up there.
Vanessa – what's the play here
Austin – Jason for lying promising he wasn't going to leak that information,.,. he's going to put up clay and shelli the moment he gets the chance to .. why give him the f*cking game .. he betrayed me we were having an emotional conversation.. I went to him I thought we were having a friend to friend conversation..
Vanessa – Jason is here for a paycheck.. I'm not here for a paycheck you are not here for a paycheck.. everyone else but John is here for a paycheck.
Vanessa – I need a target
Austin – Jason
Vanessa orders him to talk to Shelli and Clay they have 24 hours to figure it out.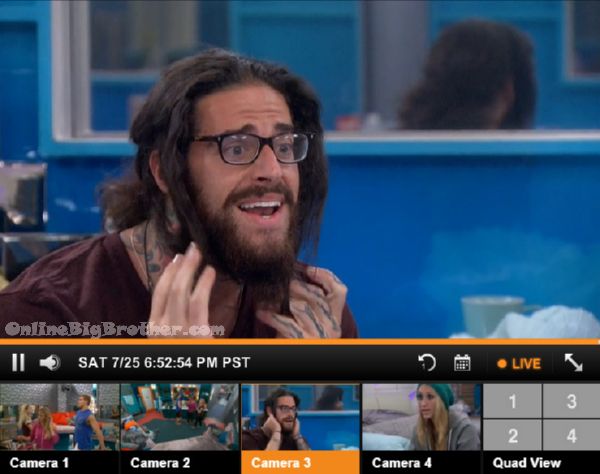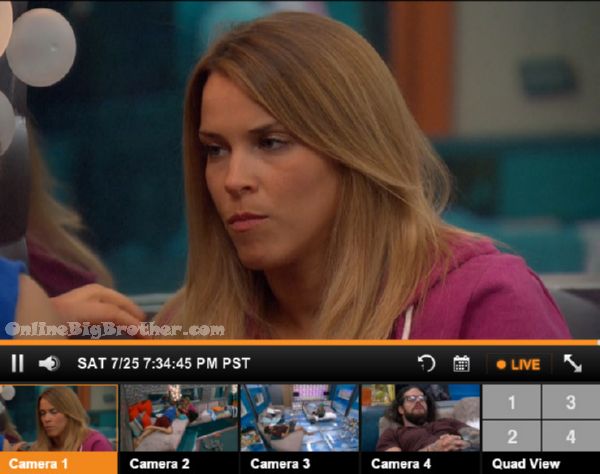 7:35pm Sheli and Clay
Shelli says she's worried how close Jackie and Becky are
[polldaddy poll=8994045]
Share it YO!!
Tweet