HOH: Frenchie
SAFE: Derek F, Britini, Azah
HAVENOTS: Xavier, Christian, Sarah and Alyssa
WILDCARD Competition Winner: Christian
– Christian also saved Xavier
Nominations: Kyland Travis and Alyssa
Power of Veto Players: Kyland, Frenchie, Alyssa, Travis, DerekX, Tiffany | HOST = DerekF
Power of Veto: Derek X
Power of Veto Ceremony: DerekX used the veto on Kyland. Frenchie nominated Travis
WILDCARD Winner: the winner will also be safe for the week (just the winner, not the winner's team). With this reward there is risk. If the winning HG chooses to accept safety for the week, it will result in a punishment that may affect them, their team, or the entire house.
Big Brother 23 Houseguest Rankings – RANK THE HOUSEGUESTS –
View the previous day ranks on the – Ranking Grid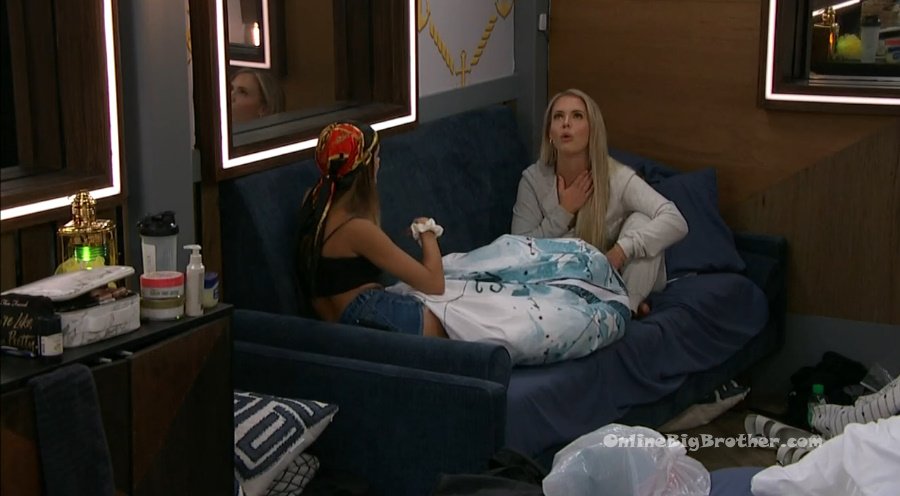 7pm Bedroom. Whitney and Alyssa.
Whitney – Honestly I can't wait for you to not be in the havenot room because being in there was such a disadvantage. Alyssa – I know because I don't know anything. Whitney – you're passed out and away from people. You don't have the luxury of walking into a room with other people. Alyssa – yeah I didn't even think of it like that. Whitney – yeah its a huge disadvantage. I thought of it like thank god I can sleep.. but game wise. Maybe I'll sleep down here at night. Whitney – because most of the conversations that I've heard happen at 2 – 3am because most everyone is asleep. Alyssa – I think it would be better too because I'm on the block. Whitney – yeah although obviously you're safe. Alyssa – I give them credit. Whitney – the girls. Alyssa – I give them credit .. I'm so sorry guys .. I did not think they had it to do it. Whitney – except Azah and Claire. That surprises me. Alyssa – I kind of believe it because she did tell me no matter who I am next to … no matter what guy I am next to I am good. Whitney – I love that they want to target the guys! Its so f**ked up!! The fact that we're in an alliance and they want to target the guys .. we're literally the longest people in the entire house. I love that the girls want the guys so much! And I am so down after this week throwing it to one of the girls.. accidently. Alyssa – should we wait two weeks? Whitney – or should we throw it to them next week. Alyssa – like tomorrow? Whitney – yeah. Alyssa – no I am going for it. Whitney – And if one of them were to win HOH we would see for ourselves if they are targeting the guys. Not just a rumor but we would know they're targeting the guys. Alyssa – who is the number one person you feel like you can't trust? For me its Derek X and Claire. I don't know her enough. Whitney – I think mine is Claire.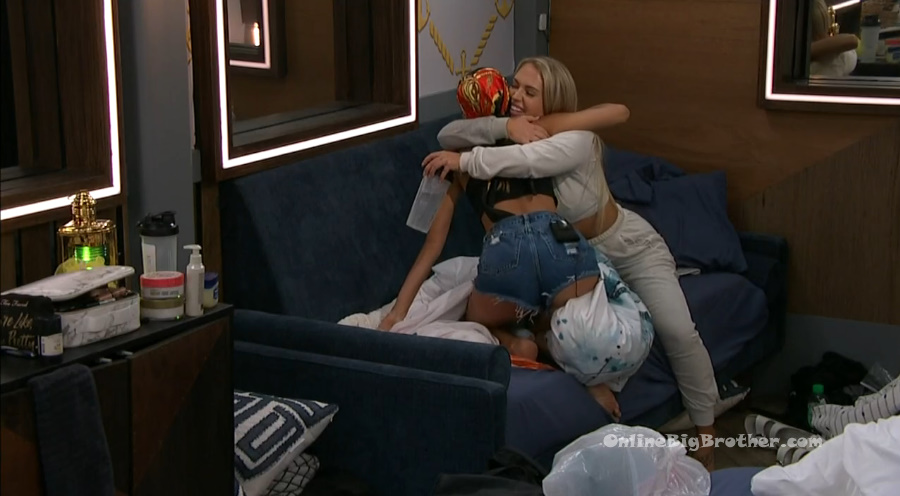 7:25pm Chess room. Kyland and Alyssa.
Alyssa – so I know you're wanting me to leave this week. Kyland – obviously. Alyssa – are you going to give him a sympathy vote? Would you tell me? Kyland – yeah. I am going with the house. You're handling it like a champ. Alyssa – thank you. Everyone is telling me that I should go ahead and plan for next week. Kyland – you should.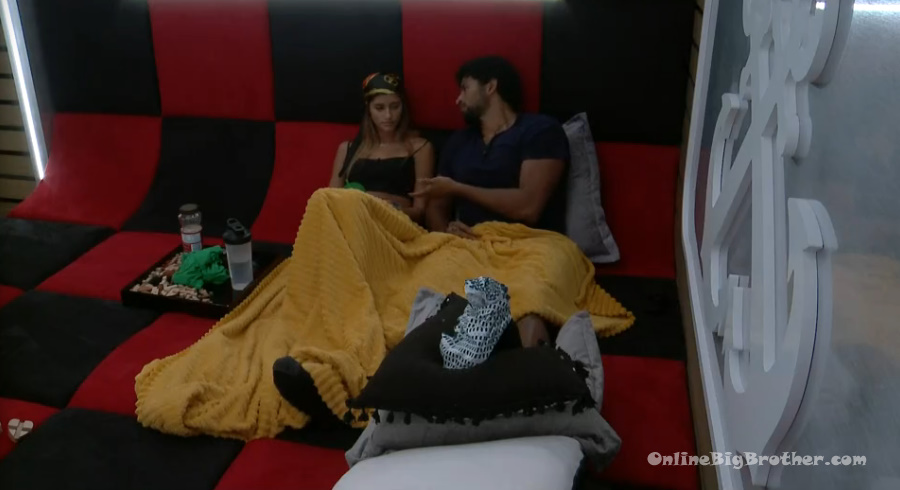 "You're not going home! You're not going home! You're not going home!" @bigbspoilers #BB23 pic.twitter.com/iqgHApTKUu

— Dawg (@DawgsBigBrother) July 15, 2021
8:08pm – 8:30pm Chess room. Sarah and Alyssa. A
Alyssa – so I have your vote, right!? Sarah – yes. Alyssa – what I say to people when I talk to them is that I don't know what I would do.. For you, I think you need to put up Derek X. I think he should be your target. He didn't say anything good about my team. He said he trusted my team the least. Sarah – wow. Alyssa – he said he trusts me but he trusts my team the least. I think some people might be better at this than I think. I think it would be best for you or I to win (HOH). Sarah – I do too.. I'm worried there might be a guys thing. Alyssa – I do too. Sarah – I really wouldn't be surprised if there was a guys thing going on. Alyssa – I did not think Claire was a threat. She knows her sh*t. I need to connect more with her. Sarah – I like Claire. I feel good about Claire. Alyssa – I feel good about her for this week. Sarah – I really don't think she would go after you. I don't know about the guys on in your group but I don't think she would go after you.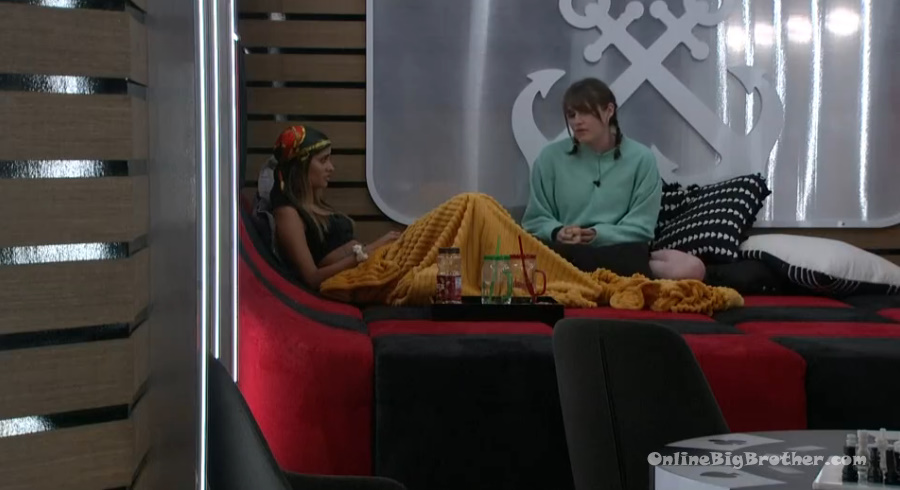 8:38pm – 9:30pm Sarah, Christian, Alyssa and Xavier
Alyssa – who do you feel confident about outside of our team? Xavier – winning HOH? Alyssa – yeah. Xavier – Honestly probably Brent. Sarah – you don't think he would put any of us up? Xavier – no. Christian – I don't think so either. Sarah – okay that makes me feel better. Christian – I feel good about Ky. Xavier – I do too. Alyssa – I think the people you (Sarah) need to talk more to are Brent and Derek X. I need to talk more to Whitney and Claire more. You (Christian) need to talk to Derek X more. Christian – yeah. Alyssa – next week I need to talk to the girls more. Xavier – I think that would be smart. Alyssa – do you think I am not as close to the girls as the girls are to each other? Xavier – yeah. Alyssa – For next week the only people I promised.. that I don't want to risk you as a pawn was Tiffany and Hannah. Xavier and Christian – okay. Christian – don't promise any more. Xavier and Sarah leave the room. Christian gets close to Alyssa.
Alyssa "Do you trust me 100%?"
Christian "yes!"
Alyssa "Shake on it."@bigbspoilers #BB23 https://t.co/sLQeY1sIb2 pic.twitter.com/lq8Un4TqMD

— Dawg (@DawgsBigBrother) July 15, 2021
Alyssa – do you trust me 100%? Christian – yes! Alyssa – shake on it. Alyssa – did Frenchie tell you what happened last night? Christian – no. Alyssa – there's an all girls alliance. Britini, Claire, Tiffany, Azah went up to Frenchie and tried to get him in it. And he agreed to it so that he can use that information to help our alliance. The thing is Frenchie didn't tell me yet. So you don't know yet. Brent came to me. Brent knows it. Brent, Whitney and Frenchie had the conversation. Brent is the one that told me we can trust Whitney. Britini, Claire, Tiffany, Azah went to Frenchie because they know he doesn't want a girl to lose. Christian – wait they didn't bring you into the all girls alliance? What the f**k is that? Alyssa – I think because the think I am close to the guys. Don't tell X either. I trust you Brent and Whitney. Christian – the only thing that throws me off is Whitney. Alyssa – I am sleeping downstairs because this all happened last night. Christian – they're going to find out they're caught. Alyssa – then they get caught and we take them out because we have the numbers. Brent joins them. Christian – what do you think you sleeping down stairs might be perceived as? Brent – just say that you're excited to hangout now that you're not a havenot anymore. Brent – the only thing that is going to f**k us if the HOH goes to one of those girls. We have to pick them all apart. Alyssa – but I can get in their head because I'm a girl. They want to get guys out. Christian – you would think they want to bring you in. Brent – but you're too close to us. Alyssa – I think me and Whitney can get in their heads.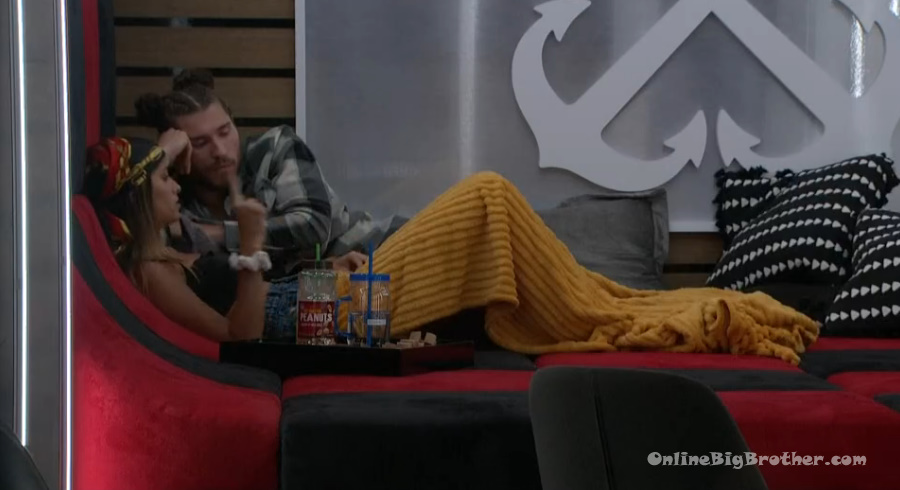 9:40pm Bathroom. Sarah and Derek X
Sarah – I wanted to talk to you because I feel like when people were targeting you I did just not bother. Derek X – I would have done the same thing. Sarah – I know, I just feel bad. I know I joke about being bullied as a way to cope with it. I do know what its like to be in a group of people and feel like no one is bother to interact with you. I know that would suck even if you know that its a game. Its still an uncomfortable environment you're living in 24/7. I also feel like if you had gone home this week I feel like I would have really missed out. Talking to you more, I feel like we could be really good friends. I do want to work with you. Derek – I don't think after this week you do want to. Sarah – I do. They hug.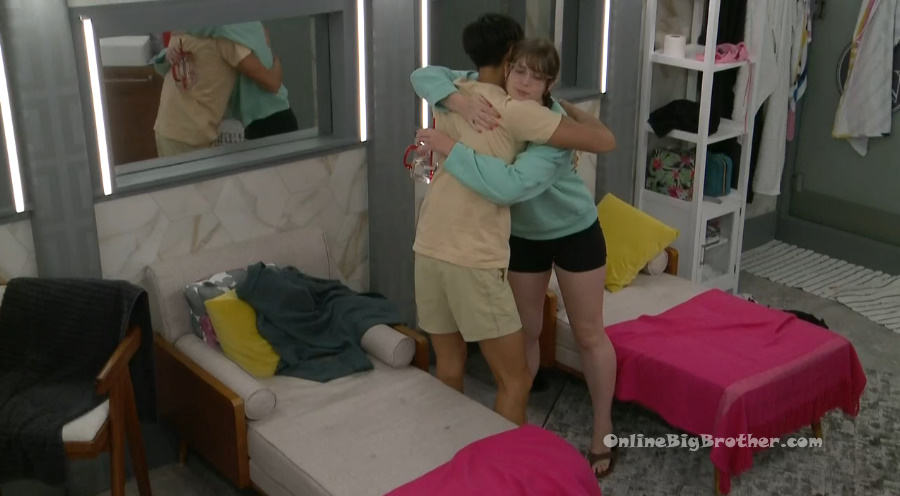 10pm Most of the house guests are sitting around the living room talking about best / worst first dates.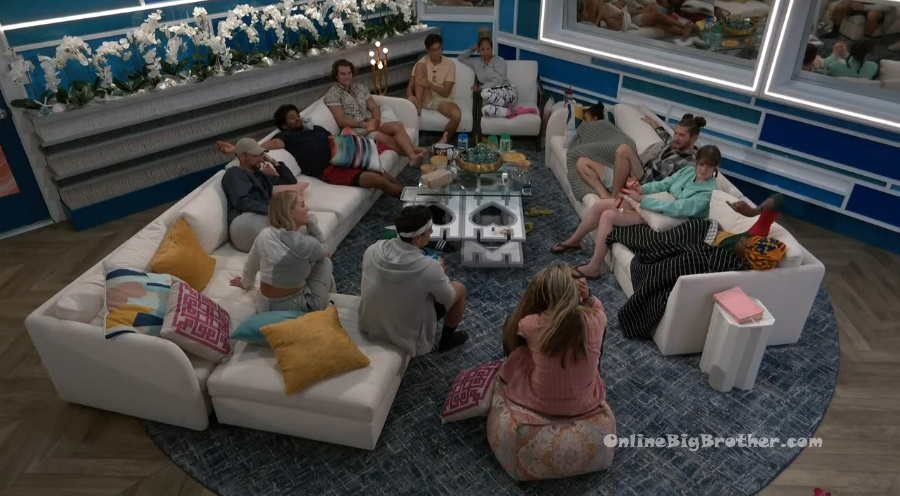 10:30pm – 11pm Bedroom – Big D and Britini.
Britini – They are playing a game in the living room called love it or hate it, which the topic that was presented was condoms. Which for me, my answer was not applicable because like I have never needed them. Big D – are you a virgin? Britini – Mmhhmmm. Big D – ohhhh mmmmyyy god you're so frickin cute! Britini – I made a promise to myself when I was 14 .. just a personal promise. People can do what they want. I respect that. I just made a personal promise to myself that I would save myself for the man I marry. Big D – I can't! Its so cute! A lot of people are not but that is beautiful. I love that. You make my heart melt. Britini – that's why if I answered it would be awkward .. not applicable. Hi America! There are different reactions ..either oh that's so sweet or oh you prude. Being that vulnerable is tough because I haven't done it. I don't want it to be seen as a negative and it shouldn't. Britini starts tearing up. Big D – you have this, I know its hard. We're all going to be on this emotional rollercoaster like up and down baby but we all have to be here for each other or we're not going to make it. Britini – it means a lot. Thank you. Big D – come hug me. They hug. Big D – this is probably going to get too deep… but there are diseases out there and people are sucking and F**king and falling all over each other. Its your choice, its your body. Your life is your life. You should never feel like its something you regret but if it feels right you do it and don't ever regret it.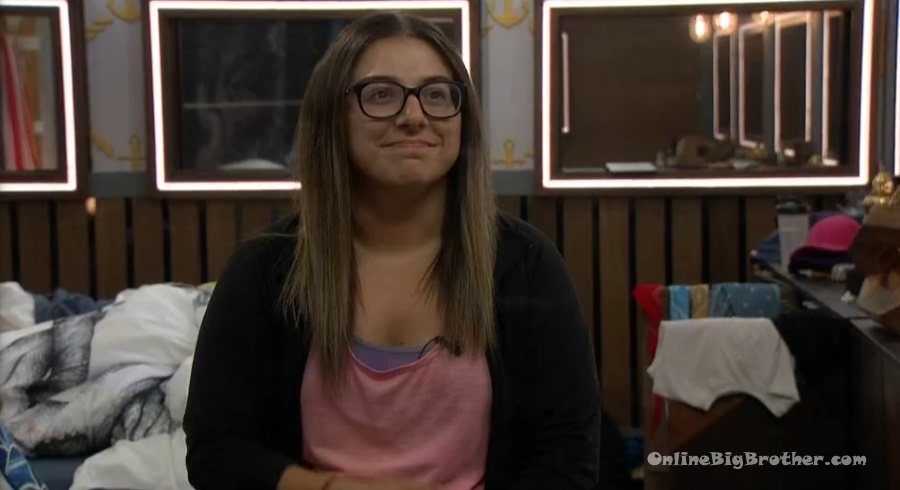 11:05pm Bathroom – Alyssa and Frenchie.
Frenchie – she is one person that would absolutely going around the house ripping people a new a$$ if I went on the block next week. Alyssa – Tiffany… You're not going to. Frenchie – yeah she would be pissed! Alyssa – it is either … if anything it would be you and Brent or me and Christian. Depending on who it is, you know what I mean? Frenchie – so do the two of us play safety comp next week? Alyssa – I am going to, yeah. Frenchie – I am going to also. Alyssa – I was like who would I save but I was like Christian because no one else is going after X or SB .. and people are like you'll show your cards. Everyone knows we're together anyways. What do I have to lose? I would save him over X and SB because I trust him over X and SB. I don't trust X at all. Frenchie – you don't? Alyssa – a little for the alliance. Frenchie – we're on the same page.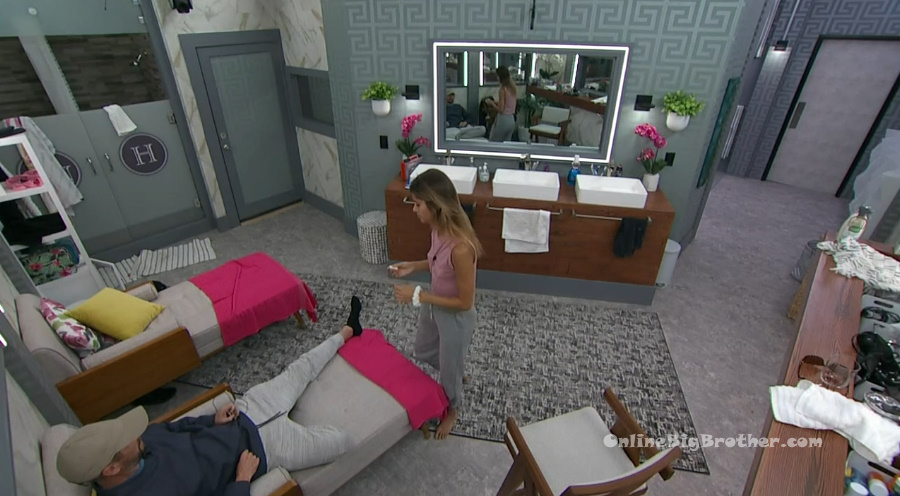 If you like these spoilers and read this blog regularly please consider a donation to keep the madness going. We accept donations via paypal How to support OBB