HOH: Frenchie
SAFE: Derek F, Britini, Azah
HAVENOTS: Xavier, Christian, Sarah and Alyssa
WILDCARD Competition Winner: Christian
– Christian also saved Xavier
Nominations: Kyland Travis and Alyssa
Power of Veto Players: Kyland, Frenchie, Alyssa, Travis, DerekX, Tiffany | HOST = DerekF
Power of Veto: Derek X
Power of Veto Ceremony: DerekX used the veto on Kyland. Frenchie nominated Travis
WILDCARD Winner: the winner will also be safe for the week (just the winner, not the winner's team). With this reward there is risk. If the winning HG chooses to accept safety for the week, it will result in a punishment that may affect them, their team, or the entire house.
Big Brother 23 Houseguest Rankings – RANK THE HOUSEGUESTS –
View the previous day ranks on the – Ranking Grid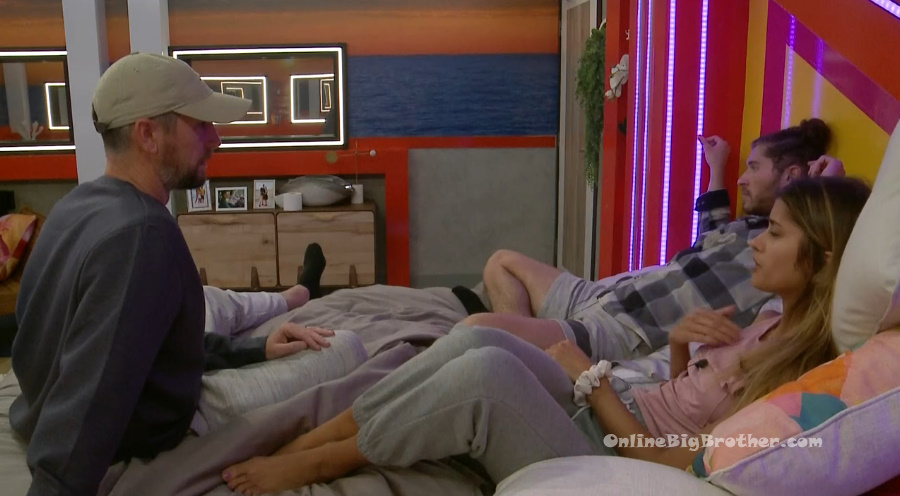 11:10pm – 11:45pm HOH Room. Christian, Alyssa and Frenchie.
Christian – we're forced to work together now.. everyone already thinks we are. Alyssa – I told him if I do the wildcard everyone was like you can't pick him (Christian) because that's going to show your cards. Christian and Alyssa – Everyone already thinks it. Alyssa – and I trust him over SB and X. So why wouldn't I?! Frenchie – I'm with the alliance but I have some reservations and my reservations are the same reservations that you just told me. And if this f**ks me then whatever! Alyssa – you're good. We're on the same page and he's my teammate. Frenchie – it isn't that I don't trust him (X).. I just can't figure it out. Alyssa – here is what bothered me .. when you were possibly thinking about Derek X using the veto on me… he is my teammate and he didn't even justify it. He was like no, that shouldn't happen because he was worried about Derek stressing out .. I'm like okay, I'm your teammate. You should have my back 100%! Frenchie – that is what I am saying and that whole distance bullsh*t.. like its going into week 2. We should be able to hangout with whoever we want. This distance sh*t is bullsh*t. Christian – I have to watch my distance with you (Alyssa). I have to watch my distance with you (Frenchie). I have to watch my distance with Brent. Frenchie – If I make it through next week.. Alyssa – you will. If our alliance doesn't win, its us (Christian and Alyssa) on the block, not you. The girls trust you. Christian plays dumb – what? The girls are working together? Frenchie – yeah I got approached with an alliance. Alyssa – and I'm not in it. Frenchie – you know who else is in it? Whitney. Alyssa – and Hannah? Frenchie – yeah she is. You're the only two people I'm telling this to. I said I am bring this to the Slaughter House for the simple fact of you tell me which way I should do this. Christian – so we need to win. Frenchie – so you tell me yes and I can sway any decision they make. Christian – you have the most power in this house. Frenchie – I went to Britini and was like lets do this. Alyssa – you're a f**king savage bro! Frenchie – the three of us are covered fully by the Slaughter House and Sarah Beth, Hannah, Azah, Britini, Claire, Me and Tiffany. They didn't come up to you (Alyssa) because of him (Christian) and they didn't come up to Whitney because of X. Frenchie – The 3 of us are f**king golden right now! We have both sides of the house. We're golden! Alyssa – you can get them to not put us up. Frenchie – absolutely. Christian – so do we try to win HOH or not. Alyssa and Frenchie – YES! We literally run this house! But the minute we tell anyone about them.. they start f**king with them.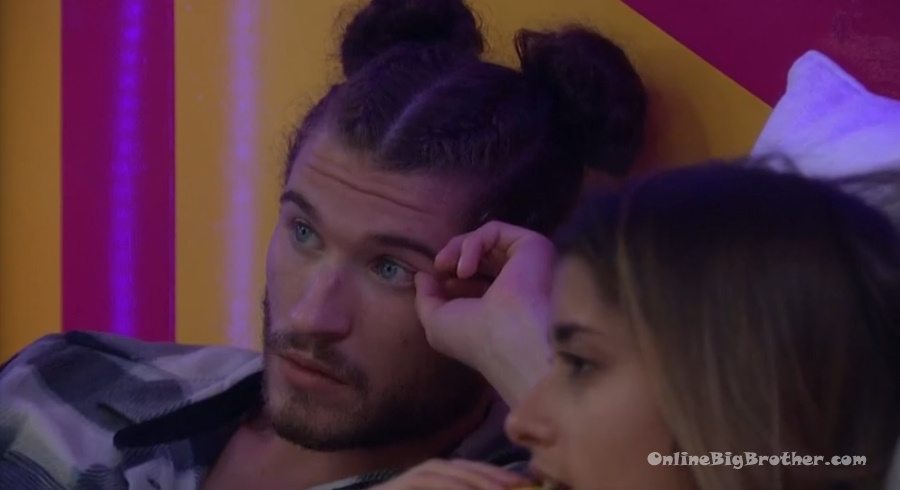 Christian – we're f**king golden! Frenchie – I am telling you ..if the three of us severely stick together like f**king glue! Christian – her and me ..HAVE TO! HAVE TO! Frenchie – like f**king GLUE! We can run this! Alyssa – Whether I have to or not ..I have to trust him (Christian) the most because his game is my game now. After him, I trust you (Frenchie). After our alliance its him and then you. Frenchie – I put it on everything.. THE THREE! I am good! Christian – trio! Frenchie – and I would never, never, never.. Alyssa – YO WE BE GOLDEN! Frenchie – you get what I am saying with out being on the microphone? (Frenchie swears on his kid without saying it just pointing at their photo.) Alyssa – wait what?! Christian – yeah. Alyssa – oh. Frenchie – I would never go back on that .. ever! Alyssa – I know you wouldn't. Frenchie – never joke about that. Alyssa and Christian head downstairs.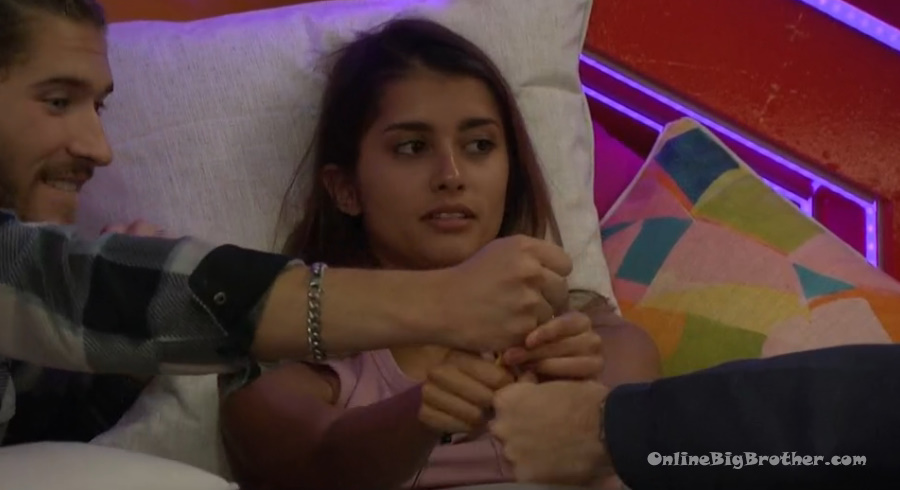 12:10am Chess room. Derek X and Christian.
Christian – the safety that I want to provide you, like I would love to feel the same way. Swear you will not. Derek x – I feel the same way. I got you. You can ask Frenchie too. Christian – we're good. You're good.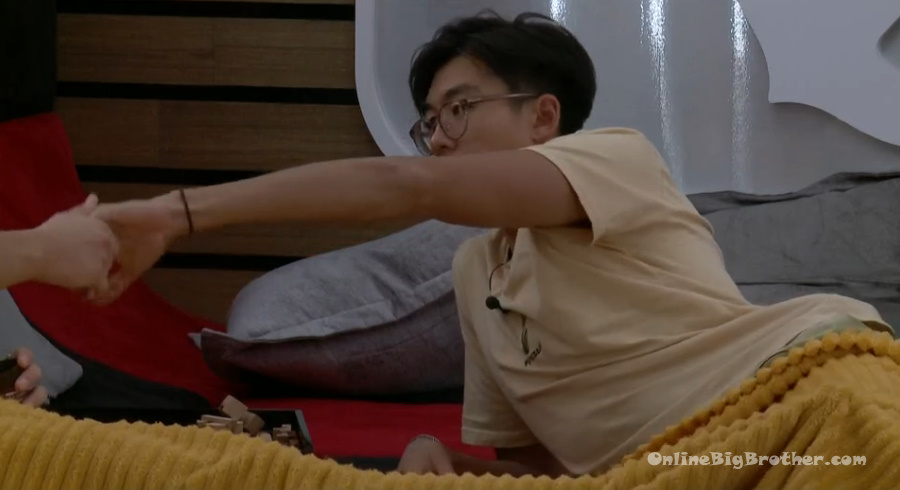 12:20am Gym – Brent and Travis.
Brent tells Travis that he doesn't have the votes to stay..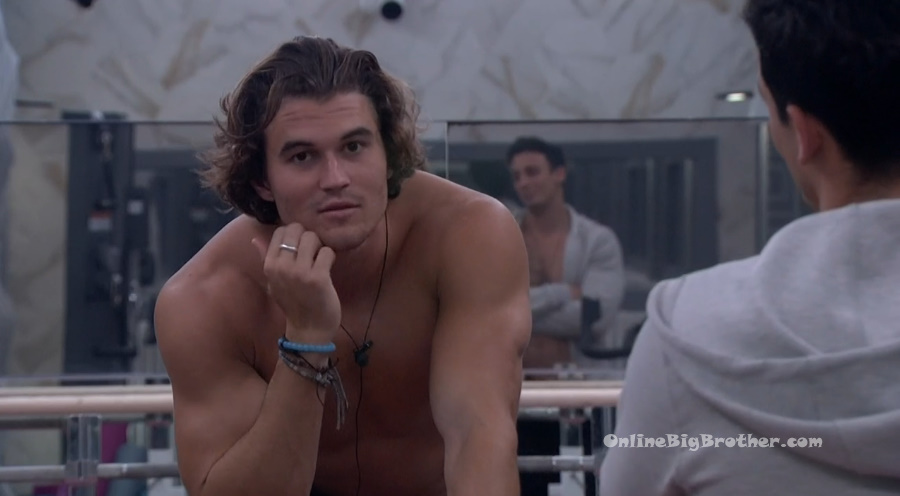 1:50am All the house guests are sleeping.
6:00 am Houseguests sleeping. We will be returning this afternoon for the live show followed by a weekend of nonstop feeds. 🙂
If you like these spoilers and read this blog regularly please consider a donation to keep the madness going. We accept donations via paypal How to support OBB