POV Holder:
Steve
Next POV
July 3rd
POV Used
?
POV Ceremony
?
HOH Winner Team 1:
James
HOH Winner Team 2:
Jason
Nominations 1 :
Steve, Jackie
Nominations 2:
Becky, Johnny mac
Battle of the Block Winner
Becky and Johnny Mac
Next HOH/ Next BOB
July 2nd / ?
Original Nominations:
Becky, Johnny, Steve, Jackie
Current Nominations:
Steve, Jackie
Have Nots
Austin, Da'Vonne, Liz, Vanessa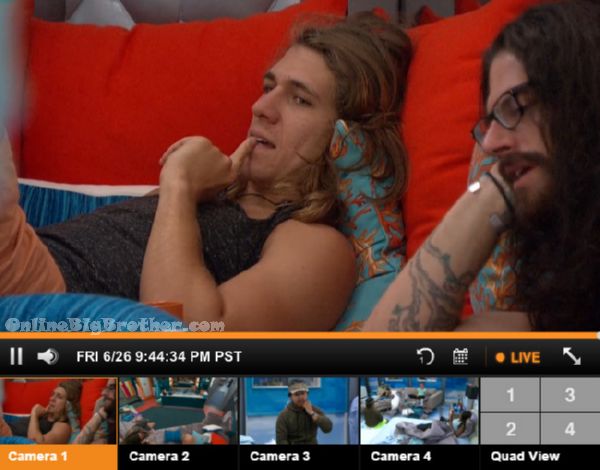 9:44pm Jace and Austin
Austin says the house is really breeding the paranoia "It's f*** crazy"
Clay joins them says 5 alice is all a go.
Clay leaves and Jeff joins them. Austin calls Steve a nerd "It;s the NERD HERD" they talk about Steve solving the word "trombonists"
Austin – I didn't know that was a f*** word.
They Agree it's really annoying they don't do the POV competition the same day as the POV competition.
The wait is really getting to Jace and Austin.
Jace – it's so embarrassing to be the first one out.
They wonder how much pull Audrey has with James. Austin points out that she's up in the HOH right now tells them she's very manipulative.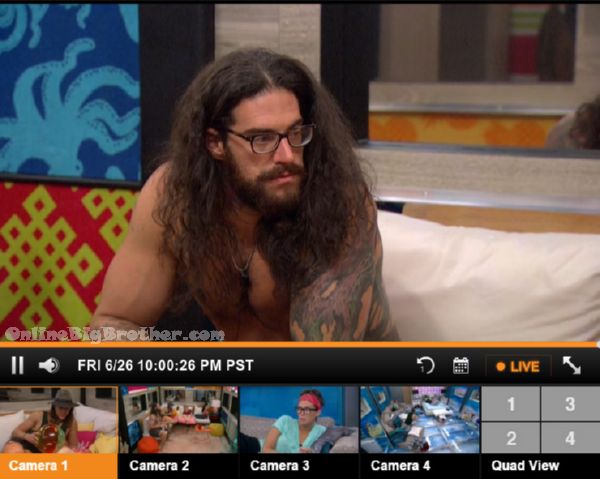 10:00pm Austin, Jace , Meg and Jackie
Jase saying his shoulder really hurt.
Jackie – I hurt my shoulder a while ago..
Lots of chit chat..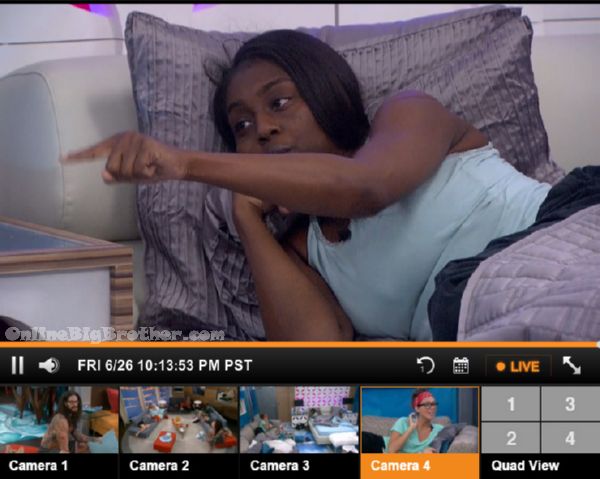 10:12pm HOH Audrey and DA
Da says she feels like Audrey has something with Shelli and Clay, "I feel when something goes on those are your go tos"
DA – My gut is telling me you told clay to use that on me to get in my good graces.. that whole speel was your idea.. everything he's telling me sounds like it came out of your mouth.
Audrey – I'm ride or die I'm with you.
Says she has never done anything to DA to prove dishonesty.
Audrey says she's social with lots of people and feels that jason and DA should be more social to other players in the house. Audrey doesn't want jason and DA to be targets because they are a paru.
DA thinks the Obvious showmance is a bigger target.
Audrey says Clay has a very good social game he's putting his work in with everyone in the house.
Audrey says Jeff is not dumb he knows him and Jackie are vulnerable. As much as he says they don't Jackie and Jeff are working together.
Audrey says Meg is playing the same game as she is.
Da – Meg isn't as smart as you
Audrey – She's smart she has a really good social game.
DA brings up not being able to trust Clay anymore.
Da points out there are times when Audrey is talking to people is quiet when DA walks by.
Audrey says she's a social player she talks to everyone tells her the house makes you paranoid.
Meg joins them.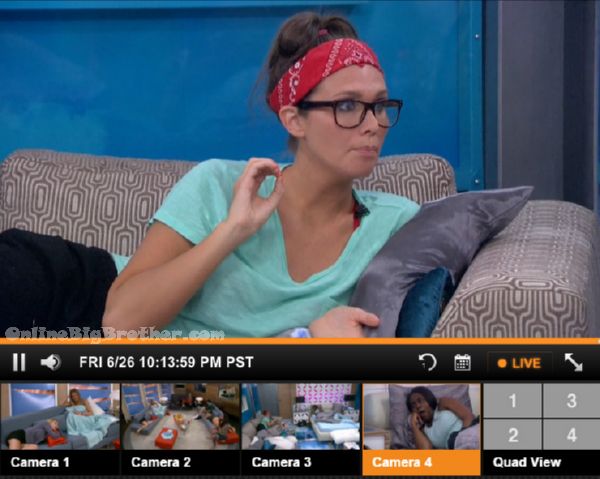 10:29pm HOH DA, Meg, Jackie and Audrey
Comparing notes talking about Austin, JAce and Liz "They gotta go"
Audrey saying that Liz is instigating a lot of "stuff"
Audrey now says that Austin And Jace are trying to get DA out next week. Saying she's manipulating people "It would be simpler to get her out next week"
Audrey – Liz lied blantaly with no emotion didn't blink once.. Austin admitted everything.
Meg – what do they want this week
Audrey and Da reply " they want Jeff to go"
They laugh.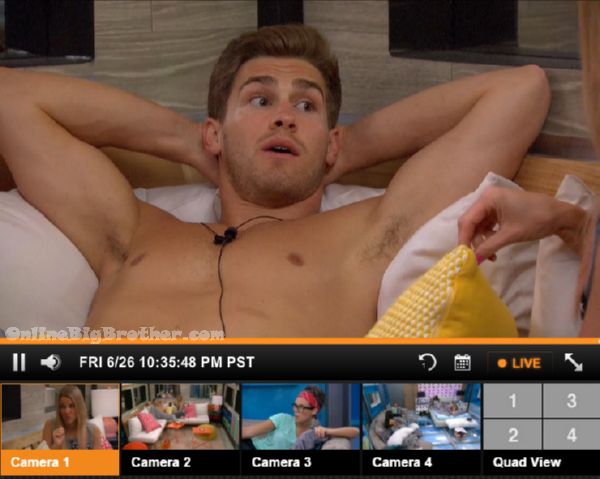 10:33pm Clay and Shelli
Clay tells her about the 5 alive alliance says he doesn't want to be part of any of these. Adds there's an alliance with JEff, DA, Jason, Audrey and Meg. (High Rollers)
Shelli – you're trying to tell me Jeff is in an alliance with DA
Clay – yes they're all over the place.
Shelli is getting sick of not being included in plans she hears about these alliances 2nd hand.
Clay has had enough of Audrey's scheming says she's getting involved in way too much sh1t and it's dragging him in it. He's suspecting that DA caused most of today's drama.
Shelli tells him she has a hard time following him because he's talking so fast.
Shelli – where does James stand and where does he want the house to be
Clay – James wants Jace out
Clay says James told his this before the POV Competition.
Shelli – then you really don't know.
Clay can still trust Audrey because she gives him information, he also trusts Austin but Doesn't trust James. Clay trusts Jeff in the short term.
(Cam switches)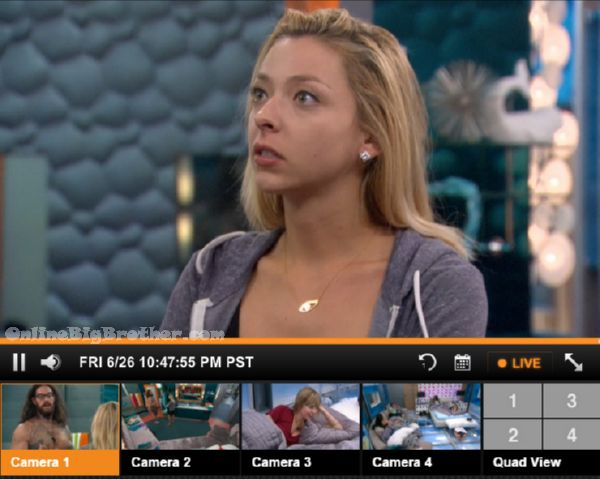 10:48pm Bathroom Liz and Austin
Austin says DA is a poker dealer. AS long as Clay and JAce are safe this week they are good.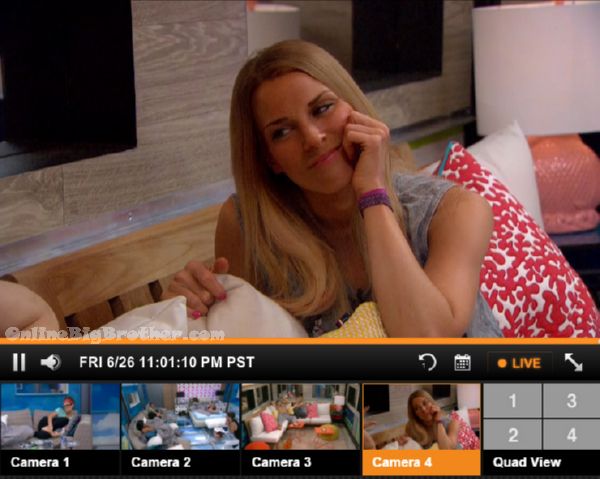 10:56pm Clay and Shelli
Clay says when Jace leaves Liz and Austin are going to be livid and go after Da.
Shelli – why would Austin go after DA for that was DA behind backdooring Jace
Clay – They don't like her at all.. they never liked her
Clay says Audrey persuaded Austin the drama originated from DA.
Clay – we'll see what happens
Shelli – you are some crazy people
Shelli – are you in an alliance with Meg
Clay – I was in that one but I got kicked out
Shelli complains about being left out of the game conversations.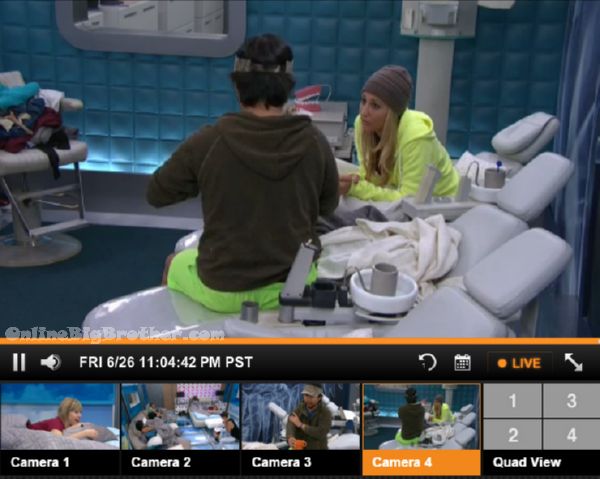 11:05pm James and Vanessa
She is telling him she's a vote that will go his way if she's off the block.
Clay rolls in.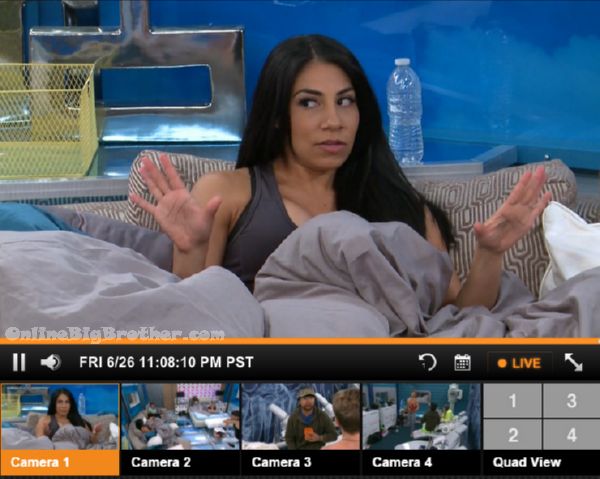 11:08pm HOH Jackie, Jason, Audrey Meg and DA
Talking about Jace is just on the show to gain instagram followers. They think Jace has ADHD. Jason mentions how people think he has ADHD but compared to Jace he's a "sane as a damn bird"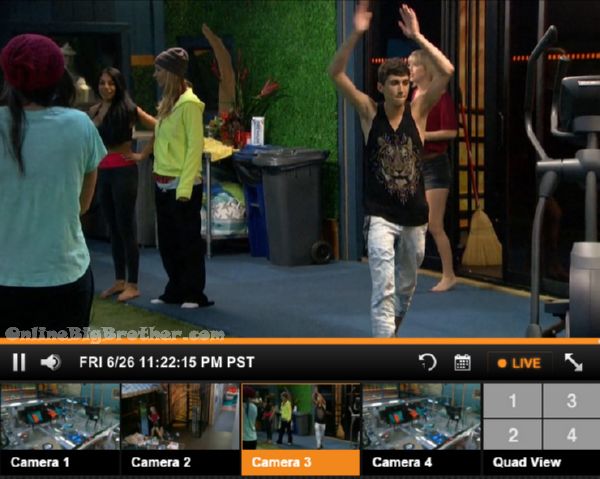 11:22pm Backyard open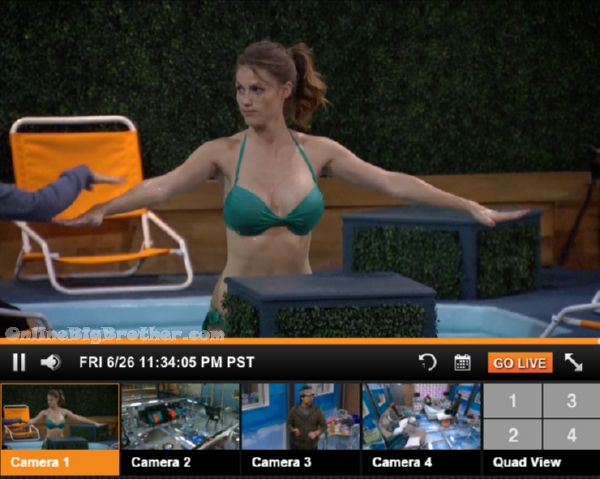 [envira-gallery id="116794″]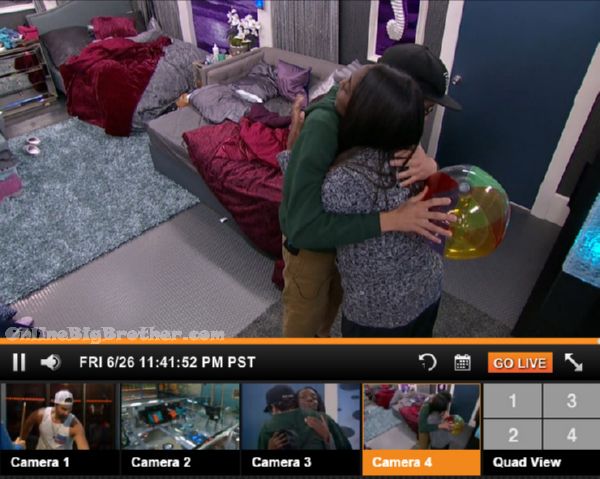 11:40pm DA, Audrey and Steve
(DA is pissed at Steve)
Steve – Hi DA can you tell me how you are feeling..
Da – I'm ok
Steve – I have not trashed talked a person in this house not even in the DR
Steve – what is she mad at
Audrey – she's upset she heard her name
Da tells him it's OK they hug.
Steve – I'm so sorry you just scared me so much
DA – oh baby we're OK no it's ok we don't need to talk about it water under the bridge
Steve – I have not said a bad word about anyone in this house.
Da leaves.
Steve tells her he's not going down in history next to marcellas he is using the veto on himself
Audrey says Liz is a ruthless liar explains it as Liz pulling a "Bill Clinton" and says she "didn't sleep with that women. "
Steve has been trying to distance himself from Liz and Austin.
Steve – Jace is working me and trying to buddy buddy with me
Audrey – do you know where Vanessa's head is at
Steve says she's had a rough couple days, "I'm good friends with her and i'm trying to help her through this"
Steve claims to not talk game with Vanesa.
11:54pm Steve to Camera

Audrey is good at this game if had to call a winner right now it would be audrey
[envira-gallery id="116805″]
12:01am they get alcohol two bottles of wine and 6 beers.
Live Feed subscription gives you CBS All Access thousands of archived shows. Live Shows like Big Brother, all the Big Brother Seasons, and 24/7 coverage of what is happening inside the Big Brother House. Plus there's flashback that lets you go back to any second of the feeds and rewatch what happened. Simon and Dawg will index the season just watch the parts worth watching.
All this for $5.99 a month try it out 1 week free. Support our efforts and get your feeds via a link on this site. Live feed subscritpion Sign up